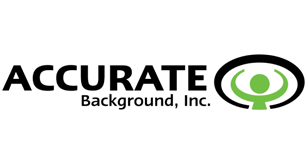 Accurate Background, Inc. has emerged as a leading strategic partner with clients throughout the U.S. and internationally needing precise and timely background screening solutions. We offer innovative and cutting-edge patent-pending products meeting the needs of human resource, loss prevention, and security/legal professionals. Our comprehensive reports, easy-to-use interfaces, ATS integrations, and FCRA & compliance services give you the tools you need to make accurate hiring decisions.
Accurate Background, Inc. provides comprehensible background screening services — gathering information on a domestic and global scale necessary in today's businesses environment. We can address and meet the varying needs of any organization. We host suites of packages or single searches per your request. While researching at a level marked with accuracy, consistency and quality, our turnaround times reflect the true nature of Information you can trust from People you can trust.
Our consultative approach helps you create, define, and establish a screening program that's right for you, reviewable in customized, easy-to-read online reports.
Products
Background Screening
Drug Testing
International Background Screening Searches
Solutions by Industry
Compliance Services
Implementation & Support
System Integration Solutions
Technology & Security

Accurate Background, Inc.
6 Orchard, Suite 200
Lake Forest, CA 92630
949.609.0155
949.609.0166
www.accuratebackground.com
sales@accuratebackground.com