Browse by Company Alphabetically:
A
B
C
D
E
F
G
H
I
J
K
L
M
N
O
P
Q
R
S
T
U
V
W
X
Y
Z
Employment Screening Companies "E"



Employment Screening Resources (ESR)
www.ESRcheck.com
The firm that wrote the book on pre-employment background screening
7110 Redwood Blvd., Ste C
Novato, CA. 94945
415-898-0044



Employment Screening Resources (ESR) provides employment background screening nationwide and internationally, with emphasis on legal compliance, instant Internet access, and professional HR assistance. The ESR website at www.ESRcheck.com contains numerous educational articles, reports and resources on safe hiring.

ESR was rated as the top-screening firm in the US in the first independent industry study by HR.com. See the article at www.ESRcheck.com

Read More >


---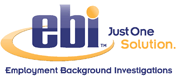 Employment Background Investigations, Inc. (EBI)
P.O. Box 629
Owings Mills, MD 21117
Toll Free: (800) 324-7700
Ph: (410) 486-0730
Fax: (410) 486-0731
www.ebiinc.com



Tailoring Our Services To Your Needs.

From the moment you decide to work with us, our team will join with yours to define the essentials of your situation; then we'll craft a set of custom-made solutions to meet your objectives. It's as simple as that.

We'll apply our years of expertise to ensure an elegant design functionality as well as compliance with all legal guidelines, local and federal. Our aim? A seamless, user-friendly implementation. Complete program management, performed to your complete satisfaction.

Read More >


---


4853 Galaxy Parkway, Bldg. K
Cleveland, Ohio 44128
---


Gary Dewitt
President
Epic Concepts
PO Box 436054, Louisville,
Kentucky, USA 40253
Phone: (502) 454-4473
Fax: (502) 454-4481
www.epicconcepts.net
gdewitt@epicconcepts.net



Epic Concepts is a software integrator specializing in secure data communications. With nearly two decades of experience in software development and support of mission critical systems involving personal confidential data, we are experienced and can handle the changing business conditions. Our latest product offering "EZyCHECK" is a 100% .NET and PCI Certified Secure to assure our dedication of protecting all parties. With direct experience as a former 10 year CRA providing information on a retail basis, we know first hand what you and end users clients need and expect.

We welcome the opportunity to demonstrate our capability and knowledge.

Read More >


---



Employment Screening Services
2500 Southlake Park
Birmingham, AL 35244
866.859.0143
www.es2.com
results@es2.com


Employment Screening Services (ESS) is dedicated to protecting companies and their employees through extensive background screenings and substance abuse testing. ESS combines customized solutions, experience, advanced technology and unparalleled customer service to ensure that an employer's screening services are fast, affordable and effective. We provide a wide range of solutions that help our clients reduce turnover, limit liability and solve problems -all while improving their bottom line. ESS offers integration solutions giving clients the ability to streamline their screening and hiring process with on-going HR management of employees directly through their ATS solution of choice.

ESS is also one of only a few providers that are recognized as National Association of Professional Background Screeners (NAPBS) Accredited confirming ESS' commitment to excellence, accountability, high professional standards, and their industry expertise.



---
E-Screening.com
7200 E. Hampden Ave, Suite 206
Denver, CO 80224
Ph: (888) 690-0077
Fax: (303) 948-0467
E-Verifile.com
900 Circle 75 Pkwy., Suite 600
Atlanta, GA 30339
Ph: (770) 859-9899
Fax: (770) 859-0717
Eagle Investigative Services
P.O. Box 725267
Atlanta, GA 31139
Ph: 1 + 800-867-3930
Fax: 1 + 770-234-4246
Eagle Communications
45568 Mayfield Road #213
Cleveland, Ohio 44121
Voice: 888-646-9179
Fax: 216-297-3203
East Bay Detective Agency
3542 Fruitvale Ave., #231
Oakland, CA 94602
Ph: (888) 226-6122
Fax: (510) 535-0331
easyBackgrounds
PO Box 952
Newfields, NH 03856
(US Toll Free) 800-538-6525
EBS Inc. (subsidiary of The Delphic Group)
1591 Reed Street
Lakewood, CO 80214
Phone – 303-374-1246
Fax- 303 374 1248

Edge Information Management, Inc.
100 Rialto Place, Suite 800,
Melbourne, FL 800-725-3343
Toll Free: (800) 725-3343
Fax: (800) 780-3299
EDPM, Inc
Jason Dailey
505 20th St. North, Ste. 1200, Financial Center
Birmingham, AL 35203
P: 800.833.9412
F: 205.716.3044
Edverify Inc.
2240 W. Woolbright Road, Suite 347
Boynton Beach, FL 33426
Ph: (561) 853-1100
Fax: (561) 853-1155
Toll Free: (877) 338-3743
Een Streepje Voor BV
Haansbergseweg 30
Rijen, State: Noord Brabant
The Netherlands
5121LJ
Phone: (0031)161231837
Fax: (0031)842206230
eeVoices
15/F, Nexxus Building,
41 Connaught Road Central,
Hong Kong
(852) 2262 2727
Fax : (852) 2262 2672
e-FindOutTheTruth.com
2637 E. Atlantic Blvd., # 107
Pompano Beach, Florida 33062
1-888-408-7490

Ekeholm and Associates, LLC
Post Office Box 4561
Breckenridge, CO 80424
(877) 219-0732
Empire Consulting, LLC
23 Alton Road
Stamford, CT 06906
Phone: 203-249-1538
Fax: 203-323-2461

Empire Personnel Services, Inc.
1660 Chicago Ave., Suite M-11
Riverside, CA 92507
Ph: (909) 784-7142
Fax: (909) 784-4728
Empire Surveillance & Investigations
Mariners Drive
P.O. Box 15812
Newport Beach, CA 92660
800-830-7030
Employee Assurance, Inc.
Ph: (888) 640-9847
Employee Facts
P.O. Box 2111
Renton, WA 98056
Ph: (425) 271-8065
Toll Free: (800) 289-8065
Fax: (425) 228-3296 or (800) 289-9246
Employee Relations, Inc.
20720 Ventura blvd., Woodland Hills, California
phone: 818-593-5555 toll free: 800-716-7773
EmploySecure.com
2 Dundee Park
Andover, MA 01810
800-850-0019 Tel
800-850-0661 Fax
Employers ChoiceOnline.com
5042 Wilshire Blvd., Ste.569
Los Angeles, CA 90036
800-424-7011
Employers Unity, Inc.
7903 Allison Way
Arvada, CO 80005
303-424-7004
Employers Reference Source - NW
8002 NE Hwy 99 ste B
Vancouver, WA 98665
Phone: (360) 737-2744
Fax: (503) 228-3039
Employment Background Investigations, Inc. (EBI)
P.O. Box 629
Owings Mills, MD 21117
Toll Free: (800) 324-7700
Ph: (410) 486-0730
Fax: (410) 486-0731
Employment Investigative Services
37111 Euclid Avenue Unit F
Willoughby, Ohio 44094
Phone: 440-918-0140
Fax: 440-918-0148
Employment Record Service LLC
363 Hwy. 46 West
3rd Floor
Fairfield, NJ 07004
Phone: 800.775.2958
Fax: 888.508.7600
Employment Research Services (ERS)
P.O. Box 1206
Gretna, LA 70054
Toll Free: (800) 948-0015
Fax: (800) 948-0016
Employment Screening Alliance (ESA)
800 Compton Rd., Bldg. #17
Cincinnati, OH 45231
Ph: (513) 521-1400
Toll Free: (800) 706-8848
Fax: (513) 521-9900
Employment Screening Alliance Group
Ph: (727) 532-3005
Toll Free: (866) 830-3724
Fax: (727) 532-3028
Employment Screening Associates
8010 Blue Ash Rd
Cincinnati, OH 45236
Phone: 800-706-8848
Fax: 513-521-9900
Employment Screening & Information Specialists
P.O. Box 1133
Largo, FL 33779
Toll Free: (800) 275-2966
Ph: (727) 581-3603

Employment Screening Professionals, Inc.
301 East Patrick St., Suite 300, Frederick, MD 21701
Toll Free: 877-620-9970 Local: 301-620-9970
By Fax: 301-620-1437 & 301-620-9971
Employment Screening Resources
1620 Grant Avenue, Suite 7
Novato, CA 94920
888-999-4474
Employment Screening Services Inc.
627 E. Sprague Avenue
First Floor
Spokane, WA 99202
Toll Free: (800) 473-7778
Fax: (800) 321-2905
Employment Screening Services, Inc.
1630 29th Court South
Birmingham, AL 35209
Ph: (205) 879-0143
Toll Free: (866) 859-0143
Fax: (205) 380-7548
Employment Screening Services, Inc.
800-826-4426
The Employment Source
1815 Grant St. Bettendorf,
IA 52722
Employment Verification Resources, Inc.
1005 Terminal Way, Ste 294
Reno, NV 89502
1-775-322-3558
EmploySecure.com
2 Dundee Park
Andover, MA 01810
800-850-0019 Tel
800-850-0661 Fax
EMPS PTY LTD
269 Pendoring Road
Northcliff (Entrance Northcliff Drive)
PO Box 73557
Fairland
2030
Tel: 011 678 0807 or 27116780807
Fax: 011 678 0842 Alt: 086 568 1650
Epic Concepts, Inc.
Ph: (770) 952-1891
Equifax Insurance Services
P.O. Box 740241
Atlanta, GA 30374
1-404-885-8000
E-Renter USA Ltd
435 Martin Street #3140
Blaine WA 98230
Tel: 1.360.332.0078
Fax: 1.360.933.8928
ERC Dataplus Inc.
50 Washington St., Suite 510
Norwalk, CT 06854
800-700-2562
Ergometrics and Applied Personnel Research, Inc.
115 Skyline Drive
Edmonds, WA 98020
(425) 774-0829
ERS Hire LLC.
114 Essex Street
Rochelle Park, NJ 07662
1-800-775-2985
Espy Investigative Services
PO Box 968
Ripon, CA 95366
(209) 609-2676
ESR Check
1620 Grant Ave., Suite 7
Novato, CA 94945
Ph: (415) 898-0044
or (888) 999-4474
Fax: (800) 399-5423
Eurocom C.I. Ltd
Kent House, Upper Mulgrave Road
Cheam, Surrey SM2 7AY
Tel: +44 (0)845 880 5888
Fax: +44 (0)20 8643 8384
EuropeanBackground.com
Benhams House
West Meon
Hampshire, UK
GU32 1LG
(44) 1730 829202
Evolution Consulting, LLC
502 Court Street
Binghamton, NY
607-773-2266
EWI & Associates
1119 South Main St.
Chelsea, MI 48118, Ste. 119
734-433-2670
Examination Management Services Inc.
5100 EAST LA PALMA, SUITE 209
ANAHEIM HILLS, CA, 928072061
1-800-522-3674
Experian
475 Anton Blvd.
Costa Mesa, CA 92626
Ph: (714) 830-7000
Fax: (714) 830-2444
Experian Candidate Verifier
T: 0115 901 6004
United Kingdom

Browse by Company Alphabetically:

A B C D E F G H I J K L M N O P Q R S T U V W X Y Z
Click Here to Upgrade to an Enhanced Listing