Workforce Magazine's The Hot List - 2008 Employment-Related Screening Providers
In November 2008 Workforce magazine published it's annual 'The Hot List' - 2008 Employment-Related Screening Providers. The actual list is published in alphabetical order, however, I have listed the top ten providers based on the number of employment-related screenings performed in the last 12 months. Note that 9 of the 10 are our clients.
| | |
| --- | --- |
| 1. HireRight/USIS | 6. Axciom |
| 2. Lexis-Nexis | 7. Employment Background Investigations (EBI) |
| 3. EmployeescreeningIQ | 8. Sterling infosystems |
| 4. First Advantage | 9. Intellicorp Records |
| 5. ADP | 10. Accurate Background |
To read the full article and get the other details on 'The Hot List' go to http://www.workforce.com/section/06/feature/25/97/72/index.html
Family Watchdog LLC To Incorporate The National Sex Offender Registry Into The Visual Analytics And ˜Real- Time' Data Center
Visual Analytics Inc. (VAI) and Family Watchdog LLC are pleased to announce their newly formed partnership as of January 1, 2009. Under the partnership agreement, Family Watchdog LLC, an expert in the field of sex offender information, will make their National Sex Offender Registry data available through the VAI Data Clarity technologies. This information is updated daily and will provide a real-time integration for agencies already using VAI's DIG and VisuaLinks software products. This high-value source of information will enable law enforcement officers to quickly identify sex offenders in the context of their Federated Search and Analysis by automatically comparing the Sex Offender Registry alongside of their existing local and information sharing sources.
For more information please visit www.familywatchdog.us and www.visualanalytics.com.
Some Cities Look Other Way In Hiring Of Former Inmates
Hoping to prevent convicts from being shut out of the work force, some major U.S. cities are eliminating questions from their job applications that ask whether prospective employees have ever been convicted of a crime. Most of the cities still conduct background checks after making conditional job offers, but proponents say the new approach will help more convicts find work and reduce the likelihood they will commit new crimes.
For More Information Go To: http://www.stltoday.com/stltoday/news/stories.nsf/nation/ story/4A924C13A19682778625753600108A5E?OpenDocument
Massachusetts Extends Effective Date for Compliance with Data Security Regulations
According to the Office of Consumer Affairs and Business Regulation (OCABR), the effective date for compliance with Massachusetts' data privacy and security regulations has been extended generally to May 1, 2009. Under the extension, businesses will have until January 1, 2010, to obtain certification from vendors concerning their compliance with the regulations and to encrypt portable devices other than laptops. Even with the extended deadlines, the regulations create a number of new requirements for businesses that will take time to implement, such as the risk assessment, policy preparation and training requirements.
For More Information Go To: http://www.jacksonlewis.com/legalupdates/article.cfm?aid=1566
New Hire Attacks Employee: Was The Company Liable For Negligent Hiring?
It's one of HR's worst nightmares: An employee's injured after an attack by a co-worker. If it turns out the attacker had a history of violent behavior, can the company be sued for hiring him? That question was asked in one recent court case. Here's what happened: An employee was sexually assaulted by her newly hired co-worker. The attacker had no criminal record, but during the investigation, it turned out that he'd been fired from his last job after groping a female employee. The victim sued for "negligent hiring," claiming the company should have known his history and never offered him a job. On the other hand, the company argued it had thoroughly investigated his background and found nothing that would indicate he shouldn't have been hired. Background checks were clean.
To See Who won the case Go To: http://www.hrlegalnews.com/new-hire-attacks-employee-was-it-hrs-fault/
Softech Offers MVRs In All 50 States And The Canadian Provinces
Robert Collier said "success is the sum of small efforts, repeated day in and day out." In that spirit, Softech International continually strives to improve their services and provide quality assistance to their clientele. They now offer their clients access to all 50 states as well as to some Canadian Provinces, and are currently working to secure access to international MVRs to facilitate the MVR ordering experience.
Softech International definitely makes things happen! They are moving mountains and their customers and partners are reaping the benefits of their victories, while their competitors are wondering how this small business is able to give large industries a run for their money.
To Find Out More About Softech International – Your Preferred MVR Provider Go To: www.softechinternational.com or contact Reid Rodroguez at 1.888.318.7979 or info@softechinternational.com
Accu-Screen CEO Discusses Resume Lying on Fox 13 News Tampa Bay
Platinum Member Accu-Screen Founder and CEO Kevin Connell appeared on the 10 p.m. edition of the Fox 13 News in a segment focusing on resume lying among job-seekers. Following its broadcast the segment will be available for archived viewing on the Fox 13 website.
For More Information Go To: www.accuscreen.com or contact Kevin Connell at Kevinconnell@accuscreen.com or 800/689-2228.
'Congratulations Platinum Member'
Applicant Insight Business Team of the Year Finalist
Applicant Insight (Ai), a leading provider of background screening and drug testing, is a finalist for Business Team of the Year awarded by the Tampa Bay Business Journal. This award is bestowed upon companies whose employees' collective efforts make a unique difference in their workplaces and communities. Thanks to a fantastic team, Ai made the cut.
To Read the full announcement please go to: http://www.applicantinsight.com/news.htm
Welcome to the Legal Challenge Question!
Your Advertisement Could Be Here - Get Four Exposures for the Price of One
Click Here for More Informaiton
As the background screening industry continues to get more competitive the firms that will ultimately succeed will be those that create competitive advantage through their people by offering continuous learning opportunities to heightened their knowledge and capabilities. We believe that having employees that are very knowledgeable about the legal landscape of background screening is essential to continued success.
We are grateful to Pam Devata, Seyfarth Shaw LLP for providing the expertise for this valuable endeavor. For information regarding the answers to the Legal Challenge Questions, please contact Pamela Devata at Seyfarth Shaw LLP at pdevata@seyfarth.com or 312-460-5000 or visit www.seyfarth.com.
Please choose your answer by clicking on it:
2009 Marketing Portfolios for:

Background Screening (CRAs) Firms
International Background Screening Firms
Suppliers to the Background Screening Industry
We Specialize in Promoting the Products and Services of businesses in the Background Screening Industry. Click on the specific Marketing Portfolio above that fits your business.
DATA PROTECTION AND FRAUD
Liars Index® Has its Ups and Downs in 2008
The Liars Index®, which reflects a percentage of executives misstating their academic credentials on their resumes, slipped back to 11.43% in the last half of 2008. Over the last three years the trend of volatility in the Index continued, as the rate declined 4.48 points from the first half of the year, bringing the running two-year average down to 13.21%. Over the years since its inception in 1995 the Liars Index® has reached as high as 23.30% (in 2000), with a low of 6.06% in 2003, so employers can assume that, on average, one in seven resumes will fudge their education claims. Jude Werra, President of the Brookfield, WI executive search and selection firm, Jude M. Werra & Associates, said, "Verification of education claims is an uncomplicated, but often overlooked, wise first step in considering candidates' representations."

Liars Index®/Add One
To Read The Full Article on the latest Liars' Index go to: www.workplaceviolence.com/LiarsIndex/Liars_Pressrelease_2009_01.pdf
Companies Warned To Safeguard Competitive And Sensitive Data From Disgruntled Employees Being Laid Off
Fifty eight percent of office workers faced with being laid off or given the sack admit they will take valuable data with them, if they could get away with it! The majority are downloading sensitive company secrets right now under their bosses nose in anticipation that they could lose their job. That's the findings of a survey by IT security experts Cyber-Ark from research they carried out into "The recession and its effects on work ethics" amongst 226 office workers on New York's busy Wall Street. 57% of workers admit to already downloading competitive corporate data. Top of the list of desirable information that is currently being extracted from employers is the customer and contact databases, with plans and proposals, product information, and access / password codes all proving popular choices. Memory sticks are the smallest, easiest, cheapest and least traceable method of downloading huge amounts of data, which is why this is often considered the "weapon of choice." Adam Bosnian, VP of Products, Strategy and Sales of Cyber-Ark says, "The damage that insiders can do should not be underestimated. It can take just a few minutes for an entire database that has taken years to build to be copied to a CD or USB stick. With a faltering economy resulting in increased jobs cuts, deferred promotions and additional stress, companies need to be especially vigilant about protecting their most sensitive data against nervous or disgruntled employees. 62% of USA workers admitted that it was easy to sneak company information out of the office.
To view the full report "The global recession and its effect on work ethics" visit Cyber-Ark's website at: http://www.cyber-ark.com/constants/white-papers.asp?dload=Ethics-Survey-Results.pdf
Data Breaches Up Almost 50 Percent, Affecting Records of 35.7 Million People
According to The Identity Theft Resource Center's 2008 breach report data breaches increased dramatically in 2008. Data breaches reached 656 reported breaches at the end of 2008, reflecting an increase of 47% over last year's total of 446. Nearly 37 percent of the breaches occurred at businesses, while schools accounted for roughly 20 percent of the reported incidents. The center also found that the percentage of breaches attributed to data theft from current and former employees more than doubled from 7 percent in 2007 to nearly 16 percent in 2008. The largest single cause of data breaches came from human error, the center found. Lost or stolen laptops and other removable electronic devices, along with the accidental exposure of consumer data -- such as the inadvertent posting of personal data online -- were named as the cause for more than 35 percent of reported incidents. Computer hacking and software that steals data were blamed for nearly 14 percent of breaches. "This [increase in the number of breaches] may be reflective of the economy, or the fact that there are more organized crime rings going after company information using insiders," said Linda Foley, the center's co-founder. "
To Read The Full Report Go To: http://www.idtheftcenter.org/artman2/publish/lib_survey/ITRC_2008_Breach_List.shtml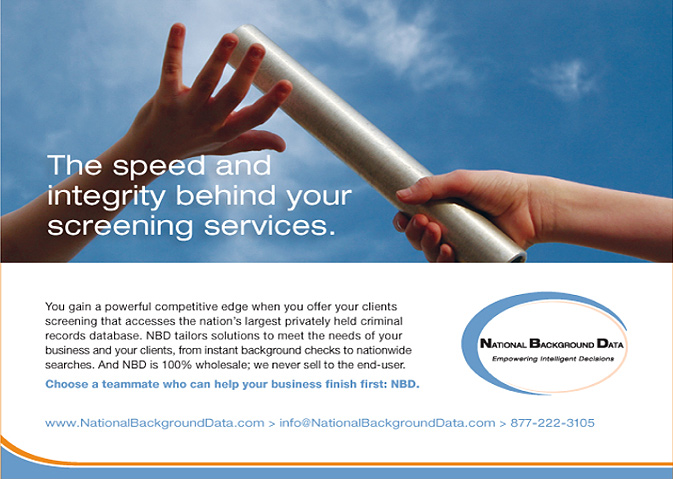 Revolutionary Sourcing Products Partnership Drastically Shifting the Recruiting Landscape
While this announcement does not directly impact background screening firm it alerts us to an emerging new technology which already is addressing one aspect of pre-screening and could spread to include background screening. It may be something worth keepong an eye on.
TalentDrive, the creator of the innovative SaaS recruitment technology, TalentFilterSM, announced a partnership with InterActive ApplicantTM (www.interactiveapplicant.com), an automated multimedia candidate screening system. This strategic partnership offers clients a revolutionary sourcing product pairing that is game changing for the recruitment industry. TalentDrive and InterActive ApplicantTM offer tools for the two main issues facing recruiters today: sourcing and pre-screening. To learn more about this partnership, click here to watch a video.
To learn more, visit our website at www.talentdrive.com or contact Darryn at darryn@interactiveapplicant.com or 403.450.7870
Random Drug, Alcohol Testing Of Teachers Debated
Graham County, N.C., which has fewer than 1,200 students, is one of a small group of school districts in the nation attempting to establish random drug tests of teachers and other employees. The district would be among the "very, very few" to randomly test teachers, American Civil Liberties Union staff attorney Adam Wolf says. In North Carolina, a lawsuit by the state teachers' association prevented a 2007 start for random drug testing in Graham County schools. Reports of drug use have spurred testing efforts. "Like many other folks, we have had a number of our employees either on or off the job found with drugs or been accused of having drugs," said Jim Withrow, Kanawha County Schools' general counsel.
For More Information Go To: http://www.usatoday.com/news/education/2009-01-18-randomteachertests_N.htm
BOOK REVIEW: SECURITY MANAGEMENT MAGAZINE

Background Screening and Investigations: Managing Hiring Risk from the HR and Security Perspectives
By Barry Nixon, SPHR, and Kim Kerr, CPP; Reviewed by Peter Psarouthakis

Managing risk in the hiring process can be a challenging task for an organization's human resources (HR) and security departments. Having the right resources and experience to properly conduct a background screening or an investigation is vital. Fortunately, there is a growing amount of valuable material available. Background Screening and Investigations is one of them. Authors Barry Nixon and Kim Kerr lay a good foundation by explaining the risks posed by not having an appropriate screening process. Next, they address how legal issues can affect background screening and an organization as a whole. The authors then issues can affect background
screening and an organization as a whole. The authors then explain how security and HR must collaborate in this important process. The chapter titled "Background Checking Policy" is one of the book's many highlights. Nixon and Kerr explain the importance of having a policy in place and the laws governing background screening. The usefulness of this chapter cannot be overstated. The reader could easily use the authors' detailed arguments in making the case to management that a policy is needed. Later, the chapter provides detailed examples of hiring policies, focusing on specific issues the documents must address. Other chapters in this book are just as detailed and informative. Those who conduct background screening or investigations know the importance of keeping current on the ever-changing environment of background screening. Background Screening and Investigations is an important resource that anyone involved in hiring or the background screening business should keep close at hand.

http://www.securitymanagement.com/article/background-screening-and-investigations-managing-hiring-risk-hr-and-security-perspectives-00
One Site! Many Suppliers!

Looking for the Top Suppliers in the Industry? Need to find a new Supplier?
Visit PreemploymentDirectory.com's VENDOR SHOWCASE which features suppliers to the Background Screening Industry (go to www.PreemploymentDirectory.com, click on 'Click Here' and then scroll down to Vendor Showcase for Background Screening Industry Suppliers)
STOP STRUGGLING WITH WRITING AND PUBLISHING YOUR NEWSLETTER:
We can help you have a high quality e-newsletter to help nurture your relationship with your clients and attract new clients. Our customized newsletter service will take over your newsletter task or create a new one for you. We can manage the creation of your newsletter for you.
We are constantly researching information to use for The Background Buzz and you can put our research to use for you. Using the information rich content from The Background Buzz (minus the ads and competitors information) we will create a custom newsletter for you.
Use your staff's time to do more valuable work and save all the hassle of researching or writing articles, formatting and managing all the other ezine tasks with our customized ezine process.
Contact Barry Nixon at 949-770-5264 or at wbnixon@aol.com for more information.
Global Employment Survey Finds Confidence 'Faltering But Not Evaporating'
A new survey of hiring and firing trends covering businesses in 107 countries around the world has found a definite slowdown in job prospects for professionals and managers, but also that 43% of the organisations questioned still intended to recruit at this level in the first quarter of 2009. The quarterly 'Global Snapshot' from the international recruitment firm, Antal, asked over 2700 major companies in 23 key markets such as western and eastern Europe, Africa, India and China and in 84 other countries around the world whether they were currently hiring at professional and managerial level. It then asked whether they planned to do so in the coming quarter and whether they were currently letting staff go or were planning to do so in the next three months.
To Read the Full Article Go To: http://www.onrec.com/newsstories/23501.asp
$160,000 Fine For Not Checking References
A company has won more than $160,000 compensation from a recruitment firm that recommended a manager who was a former bankrupt and fraud. The firm failed to conduct adequate background checks on the sales manager, who subsequently defrauded the company of $120,000. Sydney water treatment equipment supplier Wedeco hired Driver Recruitment, trading as Authorised Solutions, to find sales manager for Southeast Asia, reports The Australian. According to a NSW Court of Appeal judgment, the successful candidate, Stephen Riddell, worked for Wedeco for 18 months before it was discovered that his qualifications were false. Wedeco found Riddell was an undischarged bankrupt and that "in his business activities he had engaged in fraudulent practices.''
To Read The Full Article Go To:http://www.news.com.au/business/story/0,27753,24800997-5012426,00.html
Canadian Immigration Developments in 2008
There have been significant Canadian developments relating to both the temporary foreign worker program and to the permanent resident program. On the permanent resident front, new programs and policies are aimed at providing government with more control over the occupational skill set of those who apply for permanent resident status, while making it easier for most foreign workers already in Canada to obtain permanent resident status.
For More Information Go To: http://www.gowlings.com/resources/enewsletters/ImmigrationUpdate/htmfiles/specialBulletin_20090107.en.html
Staff Verification Norms To Be Tightened
Bangalore - Shaken by the magnitude of the terror that struck the two hotels in Mumbai, companies across industries would step up employee verification procedures, especially for contract employees and those employed in 'sensitive positions' such as security staff, hospitality and airlines frontline staff and telecom employees. Mr Rajesh A R, Vice-President of staffing solutions company TeamLease Services says that for 'sensitive positions,' there is likely to be additional verifications like checking permanent addresses, apart from routine education and previous employment checking. "Before the Mumbai incident, companies did not feel the need to spend the money on additional checks such as these, especially for employees whose salaries were about Rs 4,000-Rs 5,000/ month." Companies will therefore prefer to employ people who come with third party verification. "Candidates who have got themselves verified would stand a better chance of being employed," he feels. Very soon, he believes, this would also become mandatory for temp (contract) employees in the hospitality, airline, BFSI, retail and telecom sectors.
For More Information Go To: http://www.thehindubusinessline.com/2008/12/08/stories/2008120851340200.htm
INTERNATIONAL RESOURCE CENTER

The International Resource Center is a valuable resourceresource for anyone looking for information on international background verifications, vetting or verifications.

New Posting

The Act on the Protection of Personal
Information and its Enforcement Status in Japan

January 23, 2007
Cabinet Office, Japan
Outline of Act, History of enforcement,
Scheme of the System, Duties of Entities,
Handling of Complaints, Exercise of Authority
http://www5.cao.go.jp/seikatsu/kojin/forei
gn/outline070123.pdf

International Training Resources:

World Federation for Personnel Management, Events, http://www.wfpma.com/dates.html

To view the International Section go to http://www.preemploymentdirectory.com/ look in the middle of the page for the gray bar like the one below.


Data Protection - Framework Code Of Practice For Sharing Personal Information

The Information Commissioner's first statutory duty is to promote the following of good practice in the handling of personal information. 'Good practice' means practice that appears to the Commissioner to be desirable, having regard to the interests of individuals and the organisations that process personal information about them. Good practice includes, but is not limited to, compliance with the requirements of the Data Protection Act 1998. The Commissioner has produced this framework code to help organisations to adopt good practice when sharing information about people. The framework code is intended to be of use to all organisations involved in information sharing. Using the framework code will help organisations to ensure that they address all the main data protection compliance issues that are likely to arise when personal information is being shared.
http://www.ico.gov.uk/upload/documents/library/data_protection/practical_application/ico
_information_sharing_framework_draft_1008.pdf
Verifile Acquires Tigerbrook Employment Screening Division
Verifile, Europe's leading background screening company today announced its acquisition of Tigerbrook's employment screening division. Verifile's acquisition comes on top of rapid organic growth through 2008. Through the economic gloom Verifile has continued to be a success story. Tigerbrook's employment screening division currently serves over 50 blue-chip companies, including many household names. Tigerbrook sold the division in order to focus on other service offerings. Verifile took over the provision of the employment screening service to Tigerbrook's former clients from 1st November 2008.
To Read The Full Article Go To: http://www.personneltoday.com/articles/2008/11/26/48497/verifile-acquires-tigerbrook-employment-screening-division.html
FSA Signals Tougher Vetting Requirements for Approved Persons Warns Pre-Employment Screening Company Powerchex
London, United Kingdom - The Financial Services Authority (FSA) has published a consultation paper (CP) that clarifies the FSA's expectations of those within firms that perform a 'significant influence' functions. In a move reminiscent of the Sarbanes Oxley legislation in the US, the FSA vows to pursue cases against individuals who breach the FSA's Principles and the Code of Practice for Approved Persons. "The FSA has made a strategic decision to investigate more individuals" says Alexandra Kelly, MD of City pre-employment screening company Powerchex, "they (the FSA) believe that this increased scrutiny will discourage questionable individuals from applying for significant management roles within the industry." "This represents a significant change for financial firms. By introducing fines the FSA is sending a clear sign to companies that they should focus on undertaking proper due diligence." claims Kelly. "As a further safeguard, firms should keep proper documentation of their vetting process in case they need to justify their decision on a particular applicant. They also need to be aware that this new process will introduce delays to the deployment of senior managers and plan accordingly." The other significant amendment proposes to extend the rule obliging firms to provide references for applicants of the CF30 (customer function) to all controlled functions if requested to do so.
For More Information Go To: www.powerchex.co.uk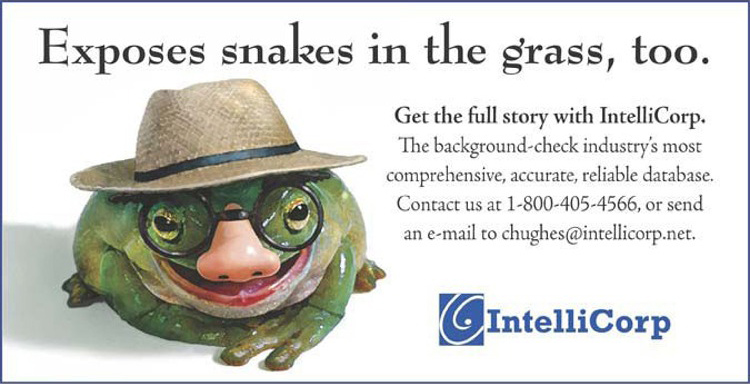 Understand Recruitment Cycles to Give Your Firm an Edge
When it comes to hiring timing isn't everything, but it's certainly something. Tuning into industries' and employers' annual recruitment cycles just might give you an edge in the marketplace. This is how professional recruiters with their fingers on the pulse of seasonal variations in hiring maximize their results. It is likely that background screening follows the same pattern given its connection to the hiring process.
To Learn About a Quarter-By-Quarter Summary Of How These Hiring Dynamics Play Out Go To:
http://career-advice.monster.com/job-search/Getting-Started/Job-Search-Recruitment-Cycles/article.aspx?WT.mc_n=CRMUS000096
7 Signs A Pre-Employment Test May Be Illegal
The Americans with Disabilities Act prohibits employers from giving applicants medical tests before a job is offered — and that might include examinations used to learn about candidates' personality traits. The key is distinguishing between personality tests and medical examinations that can be used to diagnose psychological disorders.
Read The Full Article To Learn How Can Companies Tell The Difference And How The EEOC Determines Whether Tests May Be Illegal Go To: http://www.hrlegalnews.com/7-signs-a-pre-employment-test-may-be-illegal/

We invite you to pull up a chair, take a break and join us in the Background Bistro to sip a latte and chat with this weeks guest – Ken Will, CEO, AdMed Consulting Inc..

Ken has a distinctive background as a former elected county Sheriff and is a former Assistant Attorney General for the State of North Dakota. He later merged his business with a good friend and took it public. He has been doing mergers and acquisitions since 1996.

AdMed Consulting Inc. assists companies with mergers and acquisitions. In addition, they help business owners prepare their companies to be sold or to purchase other companies.

Living in North Dakota provides an ideal atmosphere for Ken's passion, which is being an outdoorsman. Hunting and fishing are his sports of choice and is how he spends the majority of his time when he takes a break from working. "North Dakota is pretty much a mecca for hunting and fishing, which works out really well for me. I generally fish Walleye and fresh water Salmon. When it comes to hunting, I have shot a 6x6 Royal Elk, along with bear, turkey and several other types of fowl. My wife prefers not to have too many dead creatures around the house, (as he states with a laugh) so I am limited to two mounts for now."
North Dakota does not have a professional sports team, so watching and fallowing pro teams is not a big part of Ken's life. However, high school football is, "I really prefer to watch live sports rather than watch them on television, especially high school football." There is one exception to the professional aspect - Brett Favre, Ken has actually met the future NFL Hall of Fame quarterback and has enjoyed following his stellar career.
Ken is not all outdoors and sports. For additional relaxation, he and his wife occasionally take in a play in New York City. "Recently we went to Cabo San Lucas, she prefers sun and fun and I prefer the mountains," says Ken.
Ken certainly keeps busy these days with all the complexities of the business world. One of the main focus area for his company is to help ease the process of buying and selling. Making the process more efficient for his clients is what allows him to retain a consistent clientele. Ken said, "The reason you hire a consultant in the first place is because buying and/or selling a company is a very intense process. I help my clients avoid the "tire kickers" and qualify potential clients before they even meet my clients." The feedback that Ken gets from companies that utilize his services is very positive. All feel that he is the commensurate professional and many of them often use his services again. "There are a number of businesses that I have assisted in the merger and acquisition process and the biggest accolade one can receive is to have that business use you again."
To help spread the word and market his firm, Ken relies on good old-fashioned networking, stating "I have been in this business since1982, so I have a long list of contacts. Many of these people in my contact list are business owners themselves, so much of my marketing is done through person to person contact. On top of that, I do use some traditional forms of advertising as well."
Ken considers his negotiating skills to be his strongest asset. "Most of my deals require a good amount of negotiating, particularly because the sales cycle is so lengthy. Before the economic slowdown, it generally took 9-12 months to sell a company, acquisitions are a bit shorter though," says Ken.
Unlike many CEOs Ken does not have any immediate plans to expand or implement new services into his firm. "I am very happy with where I am right now and exactly where I need to be. I wear all of the hats, President, secretary, accountant, etc."
As we closed the interview Ken commented on the future – he feels very optimistic about the future of AdMed Consulting considering the landscape of business today and added that, "If a company survives past the three-year mark, generally they need an influx of capital or an investor to create an infrastructure to survive or they will have to merge" and that is exactly where Ken Will fits into the picture."
For more information on AdMed Consulting visit their website at www.admedconsulting.com or contact Ken at 701- 258-7127 or kenwill@btinet.net.
Building Market Share In Troubled Times
By Gary Kuty
Positioning your company for future growth is essential in today's highly competitive business climate, especially in the background screening industry, which has never enjoyed more aggressive growth than the past several years. Factor in a current struggling economy, an upcoming change in the political climate and the country's uncertain economic growth, and you have a volatile cocktail that does not bode well for corporate growth in the near future. Now is the time for a background screening company to pay careful attention to developing a marketing strategy that sets it apart from the competition. Merely maintaining a sales department alone will not automatically increase your business. A great sales team is but one component of what should be your overall marketing strategy. How well your company is identified in the marketplace is in direct correlation to your marketing and sales efforts. Are you the "best kept secret in town?" If you are not advertising, marketing or dedicating staff to sales, I suspect you are. With the increased competition, especially from national and regional background screening companies, it will be an uphill battle to increase sales by doing the same old things you used to do to build the business.
To Read The Full Article To Learn More About Branding, Sales, Marketing And Hiring Considerations For Sales Staff Go To: http://www.kutyassociates.com/newsevents/article_bldgmarketshare.html
All Hail, Content!
by Jay Eidelman
There's an old maxim in the publishing industry: "Content is King." In an Internet age, however, this notion is no longer restricted to print publishers. Even information giants, from Google to Amazon, recognize the value for bringing in content to enlighten users, engage customers, and attract business. Once upon a time, for most businesses, it was enough to be an online box store, little more than a catalog and a brochure gone digital. But those days are behind us. There are good reasons now to treat content as king in every industry, reasons that have a lot to do with how modern marketing works. In today's environment, businesses struggle once again to grab the attention of current and new customers. Instead of spending oodles of cash on print advertising—no doubt contributing to the decline of newspapers—they hunt for search engine optimization (SEO) specialists. In a world where showing up among the first 5 to 10 hits on Google may determine whether your balance sheet runs black or bleeds red, is it any surprise some firms are willing to pay top dollar for SEO services?
To Read The Full Article Go To: http://projectpublish.blogspot.com/2009/01/all-hail-content.html. Contact Jay Eidelman, a marketing consultant and president of New Prospect Consulting for more information. He can be reached at jeidelman@newprospectconsulting.com or 954-323-8770
FACTOID – Based on the latest Bureau of Labor Statistics data workplace homicides rose by 13% in 2007 to 610 after hitting a low of 540 the year before.
Workplace Violence Tops 2009 Concerns Of Security Professional
As we turn the calendar to a new year, we here at Security Director News embarked on our annual survey to determine what risks our readers are most concerned about in 2009. While acts of terrorism dominated headlines in 2008, only 24 percent said they were primarily concerned about terrorism. Instead, 49 percent reported that workplace violence topped their security concerns and 27 percent were primarily concerned about intellectual property theft.
Projected economic conditions for 2009 are contributing largely to heightened security concerns within the United States, specifically concerns about workplace violence, said John Dowd, senior account manager for Kratos Defense and Security Solutions. "With the domestic issues we have in this country, both economically and financially, concerns about workplace violence far outweighs and is more prevalent than threats of terrorism," he said. "If companies aren't taking security seriously, they're in for a rude awakening when they see a spike in workplace violence" in the next 12 to 18 months, Dowd predicted.
To Read The Article Go To: http://www.securitydirectornews.com/article/sd200901v3ivxk/Workplace%20vi
olence%20tops%202009%20concerns
(You may need to register to access the full article)
ADVERTISERS IN THIS EDITION

UPCOMING CONFERENCES & EVENTS

2009 Events (Click Here to View full list of 2009 Events) – Updated Monthly
SHRM State Conferences, visit http://www.shrm.org/Conferences/StateAffilliateConferences/Pages/default.aspx
Drug and Alcohol Testing Industry Association (DATIA), 2008 Training Course Schedule, visit http://datia.org/index.php?option=com_content&task=category&sectionid=15&id=33&Itemid=131
World Federation for Personnel Management, Events, http://www.wfpma.com/dates.html