Chertoff Wants Critical Infrastructure Businesses to Assess 'Insider' Threats
WASHINGTON – In a speech to the National Infrastructure Advisory Council, US Homeland Security Secretary Michael Chertoff told business leaders they should explore the insider threat to critical infrastructure systems to identify "sleepers who could be the source of the threats." He also asked them to assess the potential conflict between national security demands and employee privacy laws regarding risks to the nation's critical infrastructure, such as water, energy and other utilities. "It's something businesses must reflect upon and strike the right balance between security with respect to their work force and the privacy workers expect," Chertoff.
For More Information Go To: http://biz.yahoo.com/ap/070116/homeland_security_inside_threat.html?.v=2
School Employees'Background Checks Not Catching Some Convictions
10 Investigates found people who lied about their past on their job applications to obtain a license to be in Ohio classrooms. Some were convicted of crimes ranging from sexual abuse to child endangering and domestic violence, 10TV's Tanisha Mallett reported. The Ohio Department of Education revoked 30 school employee's licenses between 2005 and 2006 when it was discovered that these school employees failed to disclose criminal convictions or teaching suspensions on their applications.
For More Information Go To: http://www.10tv.com/?sec=news&story=sites/10tv/content/pool/200702/623077439.html


Pilot Program Scans School Visitors' Background
Three Abilene public schools are piloting a program that requires visitors to submit to a quick background check to determine if they are sex offenders. The Web-based program, called V-soft, stands for visitors, student or faculty tracking. When visitors at a school check in at the front office, their driver's license or other government-issued identification is scanned with an optical reader. The scanner, which is attached to a computer, checks public databases to determine if the person is a registered sex offender. The scan takes about 15 seconds. Once complete, a name badge with the visitor's picture is printed out for them to wear. Raptor Technologies Inc. in Houston developed V-soft to help schools track who is coming and going.
For More Information go To: http://www.reporter-news.com/abil/nw_local/article/0,1874,ABIL_7959_5353116,00.html
Federal Contractors May Need to Undergo A Criminal Background Check
The Federal Acquisition Regulation (FAR) generally governs most executive agencies' acquisitions. The FAR is issued and maintained jointly by the Secretary of Defense, the Administrator of GSA, and the Administrator of NASA. Under FAR, contracting officers are responsible for ensuring contracts are awarded only to those contractors who are capable, responsible, and ethical. FAR, Part 9, prescribes policies, standards, and practices for determining contractor responsibility and requires that agency contracting officers make an affirmative determination of responsibility before contract award. Implementation of Homeland Security Presidential Directive12 could require that contractor personnel who have access to federally controlled facilities or federal information systems undergo a criminal background check.
For More Information Go To: http://www.gao.gov/new.items/d07215r.pdf
REAL ID Offers Real Protections to Personal and National Security
Fifteen months before the REAL ID Act is scheduled to be fully implemented, a handful of state DMVs, together with fringe groups on the far left and far right, are mounting an all-out offensive to repeal the measure. The REAL ID Act requires that driver's licenses and other government issued identity documents meet certain security standards to ensure that they are not abused by terrorists and other criminals.
For More Information Go To:
http://www.stevenspublishing.com/Stevens/identityPub.nsf/frame?open&redirect
=http://www.stevenspublishing.com/stevens/IdentityPub.Nsf/0364b6cbeb76b02586256
7110057705d/073ba73e7308698e8625728300772654?OpenDocument
Immigration Reform: Colorado's New Employment Verification Requirements
The State of Colorado has implemented a package of immigration laws designed to ensure that individuals working within the state are legally authorized to work. These laws create new obligations for all employers with employees in the State of Colorado as well as some out-of-state employers who conduct business with the State or one of its subdivisions. This webcast will address many facets of this issue, including new paperwork requirements, issues concerning contract for services, enforcement concerns, and contradictions with federal laws. Please join us for this lively and informative discussion.
SHRM Webcast Now available - register for and view this webcast at https://compx17.eventcenterlive.com/cfmx/ec/register/reg.cfm?BID=1&RegID=35CD4EED
Ten Tales of Betrayal: The Threat to Corporate Infrastructure by Information Technology Insiders Analysis and Observations
This report offers an overview and analysis of 10 significant cases of information technology (IT) insider events in which trust betrayal occurred by an insider or former insider, having had legitimate access to a critical information system. The report details the abused or violated trust for personal advantage or to exact revenge on a person ororganization. In each case the actions of a disgruntled or self-interested offender seriouslydamaged or compromised the operability of a critical information system. The report also includes a discussion of common themes and patterns emerging from theexamination of these incidents and lessons learned from each incident having implications for corporate policy or national security.
For More Information Go to: http://www.ntis.gov/search/product.asp?ABBR=ADA441293&starDB=GRAHIST


Insider Threat Study: Computer System Sabotage in Critical Infrastructure Sectors
The insider Threat Study (ITS) was designed to analyze these incidents from both a behavioral and a technical perspective. The cases examined in the Insider Threat Study are incidents perpetrated by insiders (current or former employees or contractors) who intentionally exceeded or misused an authorized level of network, system, or data access in a manner that affected the security of the organizations' data, systems, or daily business operations. Cases involved incidents that have occurred in critical infrastructure sectors between 1996 and 2002. Research for this report found that the majority of the insiders who committed acts of sabotage were former employees who had held technical positions with the targeted organizations. As a result of their involvement in the incidents reviewed for this study, almost all of the insiders were charged with criminal offenses. The majority of these charges were based on violations of federal law. The key findings from this study of insider sabotage across critical infrastructure sectors are the following:
Click Here to Read the Key Findings: http://www.secretservice.gov/ntac/its_report_050516_es.pdf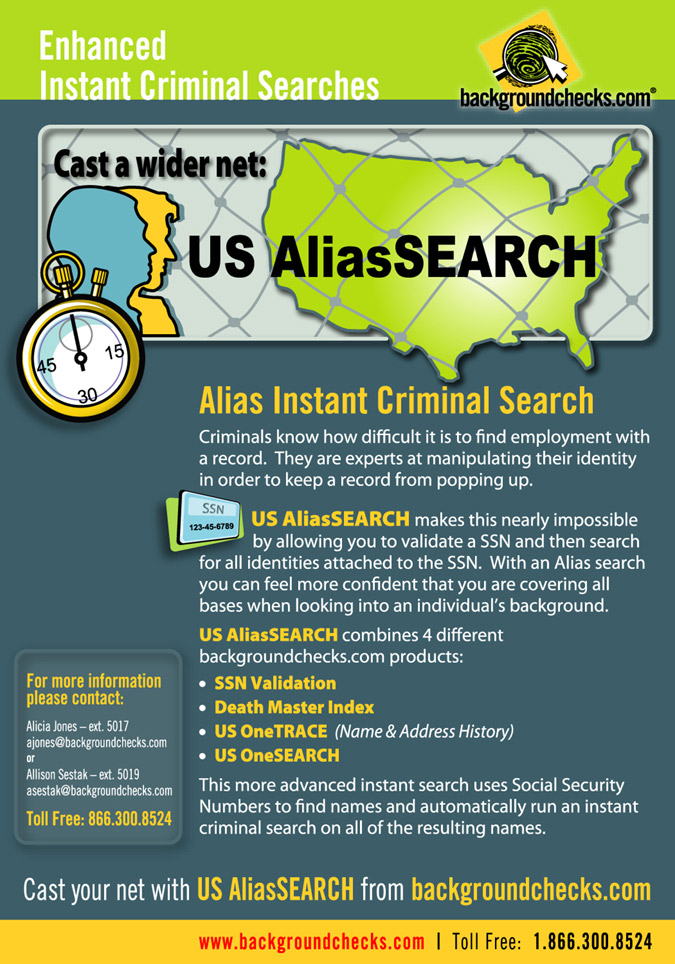 EXCLUSIVE WEB SITE FOR PLATINUM MEMBERS LAUNCHED
We have launched our newest web site to exclusively promote our Platinum Members
We are committed to finding new and innovative ways to create additional sales opportunities for you. Stay tune for more exclusive Platinum web sites.
LUNSFORD ACT - Workers' Pasts May End Jobs
More than three dozen local phone company workers are finding that past transgressions, unearthed by Miami-Dade County School Board criteria related to the Jessica Lunsford Act, may now cost them their jobs. The workers are rarely, if ever, on school grounds, and are bewildered because their crimes have nothing to do with children. But AT&T says the company cannot allow the workers to continue to go out on calls if they aren't cleared by Miami-Dade's standards. AT&T and the workers' union say the Miami-Dade criteria is more strict than that in neighboring counties. Take Carlos Balido. Almost 20 years ago, the service technician pleaded no contest to possession of marijuana. Now, with four years to go to retirement, Balido is being told that act will cost him his current position with AT&T. 'I'm in jeopardy of losing everything, just because of the way that they're interpreting the law,'' Balido said.
For More Information Go To: http://www.miami.com/mld/miamiherald/16752830.htm

The above situation illustrates the problems that firms can run into with Post Hire Screening. Infinity Screening Services was started to help firms avoid problems on the front end to avoid lawsuits on the back end. Let us help you sell your continuous screening solutions and offer a total screening solution to your clients. They will think you for later.
For more information call Barry Nixon at 949-770-5264
What's the use of an online system too difficult for your clients to use?

InstaScreen™ background screening software is so easy to use that your clients will actually enjoy placing orders!

If your current applicant screening system is so cumbersome it discourages end-users from using it, you owe it to yourself to choose a system your customers will actually use. Imagine receiving more orders and saving your processors valuable time by getting your clients to enter the orders for you.

Simple and powerful, InstaScreen™ is intuitive, easy to use, and flexible to accommodate your clients specialized needs.

Call (801) 572-7401 or visit www.tazworks.net and demo our easy-to-use technology first hand.


How does the latest National Credit Act affect South African recruiters?
by Kirsten Halcrow
The "National Credit Act No.34 of 2005" was passed into law by Parliament and signed by the President during March 2006, effective from 1 June 2007. This Act has many implications for South African recruiters using Credit Reports for screening purposes. Understanding those implications is key to utilising credit information. It is all good and well to understand the purposes of the Act and what it intends to achieve, but as recruiters and individuals using Credit Data for recruitment decisions, one needs to understand when one is allowed to request and use this data. According to the Act, Credit data can be obtained for the following purposes;
For more information on the National Credit Act contact go to:
http://www.workplaceviolence911.com/servlets/wpvDoc?action=display&key=2080
Mounties Seek Secret Access To Personal Info
Canada -The federal privacy commissioner is squaring off against the Royal Canadian Mounted Police (RCMP) for seeking legal changes that would compel companies to give police personal information on employees and customers without their knowledge or consent - changes the watchdog says would invade the privacy of Canadians. The RCMP is also seeking changes to the Personal Information Protection and Electronic Documents Act (PIPEDA) that would prohibit banks, employers and other institutions - without the RCMP's permission - from letting Canadians know the police are looking at their personal information. The situation has raised serious alarm with privacy commissioner Jennifer Stoddart and some MPs, who say the changes would be a critical invasion of privacy and create massive potential for abuse. "It's a basic tenet of our democracy that the citizen cannot be constrained by the state except in certain circumstances," Stoddart said in an interview yesterday.
For More Information Go To: http://www.wednesday-night.com/privacy.asp

Canada Privacy Commissioner Endorses Notification
At the end of January, Canada's privacy commissioner said she wants financial institutions and corporations to be required by law to notify their customers when a security breach takes place. The federal privacy act, in effect since 2001, currently doesn't require companies to notify individuals or the privacy commissioner's office when a breach occurs. Amending privacy laws "will ensure we are able to help the companies deal with the problem and also that individuals can take the proper steps they need to take to protect their personal information," said Hayden. "A lot of the time companies do notify our office. It is just that they don't have to."
For More Information Go To: http://www.naidonline.org/news/02-06-2007_1.html
Dhabi Health Authority to Verify Healthcare Professionals' Licenses
The General Authority for Health Services (GAHS) in the Emirate of Abu Dhabi today announced that they have signed an agreement with IntegraScreen to outsource the verification of the credentials of health care workers who apply to be licensed. This forms part of a major new initiative to enhance its background checking process for health professionals. Eng. Zaid Al Siksek, director of Health Policy and Regulation, General Authority of Health Services, Abu Dhabi, said that "the new initiative will ensure that the process is completed as accurately and efficiently as possible. The GAHS background check program helps to ensure that the public is protected from unqualified and fraudulent health care workers, in line with best international standards and practices". Mr. Al Siksek also added that the programme would not introduce delays into the licensing process.Commenting on the agreement, Mr. Al Siksek said "This contract is part of GAHS' vision for the future of health care in Abu Dhabi in which an efficiently regulated, predominantly private sector delivers world class health care."
For More Information Go To: http://www.albawaba.com/en/countries/UAE/209052
Labor Law and Employment Issues in China
Overview of Chinese Labor Law
Foreign invested enterprises are permitted to employ foreign nationals, but they must hold work permits and appropriate visas before they can be employed in China. http://www.chinalyst.net/node/7077
The Road to (Inland) China -
As companies move westward into China, HR executives need to help expats cope with fewer amenities and more difficult living conditions. http://www.atimes.com/atimes/Southeast_Asia/HI30Ae01.html
Up to 50 Percent of 'Top Producers' at Asia-Pacific Firms Ready To Bolt
Between one-third and one-half of employees identified as top producers at companies throughout the Asia-Pacific region say they would leave their positions if they received a better offer, says a study by a global employee research and consulting firm. http://www.shrm.org/global/news_published/CMS_020508.asp
"GOT INTERNATIONAL INFORMATION?"
Our intent is to continuous add relevant information to create a valuable resource that will be used over and over by anyone looking for information on doing international background verifications, vetting or verifications. It includes information on EU countries data protection and other laws, Canada, terrorist searches and much more. Also included is very practical information on time zones, locating cities, etc. Check it out and I am sure you will want to Bookmark it so you can use it over and over. To view the International Section go to www.PreemploymentDirectory.com and look under the line in the middle of the page:

2007 Background Buzz MEDIA RATES:
We have added some NEW advertising Options to The Background Buzz!
Click here for more information about advertising in The Background Buzz and PreemploymentDirectory.com (Sections: US Provider, International, Vendor Showcase.)
| | |
| --- | --- |
| | One of the true test of any association or organization is the added value it gives to its members. In today's fast pace environment busy professionals have to make choices about how to spend their time and which organizations they want to be associated with. The following is one person's experience that clearly demonstrates the value that NAPBS has contributed to him. |
NAPBS has benefited my organization by giving a structure and forum for networking with hundreds of industry players which has helped my company grow and prosper. Knowing that we have an organization that will help prevent the passage of laws or court rulings that will negatively impact the industry is of the utmost importance. Active participation in an NAPBS Committee has resulted in strong, trusting business relationships with several co-committee members

Bruce Berg, Berg Consulting GroupFor More Information on NAPBS and to Join go to: www.NAPBS.com
HAVE YOU VISITED OUR VENDOR SHOWCASE LATELY?
Looking for the Top Suppliers in the Industry? Need to find a new Supplier?
Visit PreemploymentDirectory.com's VENDOR SHOWCASE which features suppliers to the Background Screening Industry (go to www.PreemploymentDirectory.com, click on 'Click Here' and then scroll down to Vendor Showcase for Background Screening Industry Suppliers)
One Place! Many Suppliers!
Driver's License Photos Become Fraud-Detection Tool
At least seven states have or are working on enormous databases of driver's license photographs that, coupled with increasingly accurate facial- recognition technology, may become a radical innovation in law enforcement, the New York Times reports. While current technology requires good- quality photographs, the day may not be far off when images from ordinary surveillance cameras will routinely help solve crimes.
For More Information Go To: http://www.nytimes.com/2007/02/17/us/17face.html?ex=1172552400&en=711bb4c0f9493e25&ei=5070 (You may need to register to get free access to the full story)
Are You Interested in Reaching Over 691,000 Human Resource Recruiters
Thru the Largest Recruiter Information Portal on the Web?
Onrec.com's Online Recruitment Magazine has become the #1ranked online recruitment information portal on the Internet.
If you are interested in finding out how we can increase the traffic to your web site and your sales visit us at http://www.onrec.com or call Tim Hartrich at 630-985-3006 today.
All Preemployment Directory.com members will get a 10% Discount on Enhanced Vendor Profiles. Call Tim Hartrich at 630-985-3006 and mention code: PD.COMWBN
Arizona Research & Retrieval Services, Inc., a leading provider of public recordsresearch in Arizona, acquired JRW Documents & Lien Services, LLC, located inYuma, Ariz. JRW Documents provides public records research services includingcriminal and civil records research, pre-employment screening, and corporate services.Terms of the transaction were not disclosed. (January 4, 2007)
For More Information Go To: http://www.azretrieval.com/news.htm
Results from the 4th Annual Rocket-Hire Online Screening and Assessment Usage Survey
A real revolution in recruitment and hiring is underway as technology is playing an ever increasing role in the process. For the last four years, Mark C. Healy & Charles A. Handler of Rocket-Hire have surveyed people professionals who use web-based screening and assessment products to enhance and quantify their hiring processes. In line with previous surveys, specific skills and knowledge certifications, checks of criminal background, and personality inventories are becoming routine. However, this year's results signify a substantial jump in the level of adoption of these instruments. Moreover, the assessment of "fit" or alignment with the culture or style of a job or work environment is a current trend in assessment, underscored by high rates of usage across our sample of companies.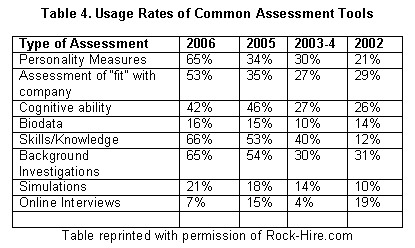 To Read the full study go to: http://www.rocket-hire.com/newsletter/2006/04/feature.html

PREEMPLOYMENTDIRECTORY.COM
Become a Platinum Member and Join the High Achievers
PLATINUM MEMBERSHIP HAS IT'S PRIVELIGES
CLICK HERE TO LEARN MORE ABOUT HOW TO CREATE ADDITONAL SALES OPPORTUNITIES FOR YOUR FIRM AND TO BECOME A MEMBER OF THE PLATINUM CLUB
Targeted Promotions That Hit the Mark
What can you do to improve your impact and relevance? Providing a thoughtful match between the interests and informational needs of your client/prospect target individuals proves to be a powerful start. The following tip looks at how you can focus on the right answers at the right time for your program.
When you are looking for a show giveaway, spend the time to find something truly relevant to your business and your customers; perhaps a book by an expert in the field. Skip the trinkets and offer information – educational materials such as white papers and access to webinars. Just be sure they are really educational, and not just a sales pitch in disguise.
Establish credibility by giving something of value that is relevant to the relationship you're trying to build. Make it useful. A lot of people argue this point. People like FUN stuff, they say. Well, sure. But toys are picked up by people like me, to bring home to our kids, so we don't have to shop at the airport …and then buried in the toy box. Instead, choose something your prospects will want to keep at their workplace, and keep for a long time.
An even better idea is to find something that truly helps them do their job. One of our best promotions for a scientific client base was a slide-rule type calculator that helped engineers develop system specifications. They used them. They called to ask me for more, for their new hires. (The still do, even with all the on-line calculators that abound these days.) Our company looked smart and helpful – the people to go to for good, useful stuff.
Lisa Schaertl, President, Tech Savvy Marketing"Used by permission of Skyline Exhibits."
http://www.skyline-exhibits.com/skyline.asp?cmd=%21dsp%20tst_archive
A gunman shot and killed three executives at Zigzag Net Inc., a marketing company and killed himself in a Philadelphia board room on February 12, 2007. Two other men had been bound with duct tape, but not attacked. One of those men told officers the gunman had shot himself after exchanging fire with police. American workers everywhere were reminded that violence can erupt without warning when business decisions and personal emotions intersect.
For More Information Go To: http://www.usatoday.com/news/nation/2007-02-13-navy-yard-shooting_x.htm
SHRM's Report on Weapons in the Workplace
More than three-quarters of organizations have weapons policies in place. Nearly one-quarter of organizations did not have weapons policies, but over one-quarter of these organizations intended to create weapons policies in the next 12 months. The majority of organizations investigated the background of potential employees. Of the organizations that conducted or required background investigations, nearly all conducted criminal background checks, three-quarters checked references and almost the same proportion checked potential employees' previous work histories. Of the organizations that had employees who were required to carry weapons as a function of their job duties, three out of five required additional background investigations for potential employees who would be required to carry weapons.
To Read the Full Study Go To: http://www.shrm.org/hrresources/surveys_publishe0Survey%20Report.pdf
JOB BOARD DEDICATED TO THE BACKGROUND SCREENING INDUSTRY :
| | |
| --- | --- |
| | Find resumes of people with industry experience and industry employers seeking industry experience. |
Employer/Recruiter Testimonials - "This is a super concept. Thanks for helping the industry." - RK Looking for candidates with industry experience! Visit backgroundscreeningjobs.com today!
The Real Cost Of Customer Attrition?
By Robert Harris
Here's the question of the day. What is a satisfied customer? Before you read on, please take a moment and think about your answer. Some people might have said, A satisfied customer is one you never get a complaint from. Others might answer it by saying they get exactly what they pay for; they give you referrals; they pay their bill; or they are happy with the service you provide. In reality, a satisfied customer is statistically eight-times more likely to dump you for a cheaper competitor than is a delighted customer! Having merely satisfied clients is not good for your business.
http://www.workplaceviolence911.com/servlets/wpvDoc?action=display&key=2079
UPCOMING CONFERENCES & EVENTS:
Society for Human Resource Management (SHRM), Annual Conference, Las Vegas, NV, June 24-27, 2007, http://www.shrm.org/conferences/annual/
For Details on State Conferences, go to http://www.shrm.org/conferences/state/CMS_004287.asp
CUPA-HR National Conference & Expo 2007, November 8-10, 2007, http://www.cupahr.org/ http://www.cupahr.org/conferences/conference/exhibitsponsor.html For Details on Regional Conferences go to http://www.cupahr.org/newsroom/news_template.asp?id=1982
World Federation of Personnel Management Associations (WFPMA), World Congress, For Details on International events by date go to http://www.wfpma.com/dates.html


2007 Events (Click Here to View full list of 2007 Events)