BRB PUBLICATION'S PUBLIC RECORD RETREIVERS NETWORKk AND PREEMPLOYMENTDIRECTORY.COM PARTNER TO BRING COMPREHENSIVE INFORMATION ON BACKGROUND SCREENERS, LEGAL AND INVESTIGATIVE PROFESSIONALS TO THE BUSINESS COMMUNITY
PreemploymentDirectory.com the preeminent source for employers to find background screening resources on the Internet has join forces with BRB Publication's Public Record Retreivers Network The dominant online portal for the public records industry to make public records retrievers contact information available thru PreemploymentDirectory's Vendor Showcase. This will dramatically increase the visibility of public records retrievers, legal and investigative professionals.
Read More: http://www.Workplaceviolence911.com/docs/April23PRRNNetworkJoinsForces1.htm
NEW SITE LAUNCHES TO CLEAR 1 MILLION EX-OFFENDERS RECORDS NATIONWIDE

ARRESTFREE.COM has released the 1st ever website solely dedicated to removing minor arrest offenses by providing expungement serviceS. By combining innovative technology and the latest U.S provisions on expungement policy, ARRESTFREE's revolutionary approach plans to clear over 1 million users' arrest records now eligible under new laws across the U.S. The initial launch took place in the state of Illinois. ARRESTFREE.COM will provide people a meaningful avenue to maximize their chances of re-establishing a solid reputation in their career and community. 10% of ArrestFree.com's profit goes back into the community it serves with employment, expungement and training sponsored events as part of its mission of expunging 1million eligible citizens arrest records across the U.S.

Read More: www.arrestfree.com



SECURITY SCREENING OF INDIVIDUALS EMPLOYED IN A SECURITY ENVIRONMENT CODE OF PRACTICE
How up-to-date are your security standards? British Standards has now published the replacement to BS 7858:2004 - BS 7858:2006 Security screening of individuals employed in a security environment. Code of practice BS 7858:2006 gives recommendations for the security screening of individuals to be employed in an environment where the security and safety of people, goods or property is a requirement of the employing organization's operations and/or where such security screening is in the public interest.
Read More: http://www.bsi-global.com/en/Standards-and-Publications/Industry-Sectors/Security/Security-Products/BS-78582006/


ADP PRE-EMPLOYMENT SCREENING INDEX REVEALS 20 PERCENT INCREASE IN THE NUMBER OF ANNUAL BACKGROUND CHECKS PERFORMED BY EMPLOYERS
ROSELAND, NJ--(MARKET WIRE)-- ADP® Employer Services (ES), a division of Automatic Data Processing, Inc. (NYSE:ADP - News), a leader in outsourced payroll, HR and benefits administration solutions, has released its annual Screening Index, a yearly evaluation of employment screening and hiring trends. Last year alone, ADP Screening and Selection Services conducted 5,815,511 background checks, a nearly 20 percent increase over the previous year. This year marks the 10th anniversary of ADP's annual Screening Index. The results of the 2007 Screening Index reveal that organizations continue to see the importance of background screening. As the industry evolves, employers are increasingly adopting processes to automate applicant screening and evaluation to save time and resources while ensuring a safe and trustworthy workforce.

To view the results of ADP's annual Screening Index go to www.Workplaceviolence911.com/docs/E-ADP2007ScreeningIndex.pdf and to read the full release go to www.adphire.com/screeningIndex
SECURITY CLEARANCE CHALLENGE: USIS DEVELOPS FASTER, MORE EFFICIENT SYSTEM
Falls Church, Va.,– USIS, the leading provider of background investigations to the federal government that has more investigators in the field than any other company in North America, has developed a case management and tracking system aimed at helping to eliminate the current backlog and timeliness challenges impacting the federal security clearance process. Catalyst was developed by the company to continue to demonstrate to U.S. government agencies that background investigations can be done quicker and more cost effectively than the current security clearance case management system. Following a successful pilot program and testing phase, USIS is now using Catalyst with its federal customers other than OPM as a replacement for older systems that are redundant and costly to maintain. USIS used its subject matter experts from IT, data entry, field investigations, case review, and quality control to design, develop, and implement the new case management and tracking system. "We've created what we believe to be the new industry standard for best practices in managing investigations," said Catherine DeLeonardis, USIS director of information security and business systems.
Read More: http://www.usis.com/pr_Security_Clearance_Challenge.htm
59% of Firms include employee screening in the Security Department Budget

Source: IOMA, Security Director's Report, March 2007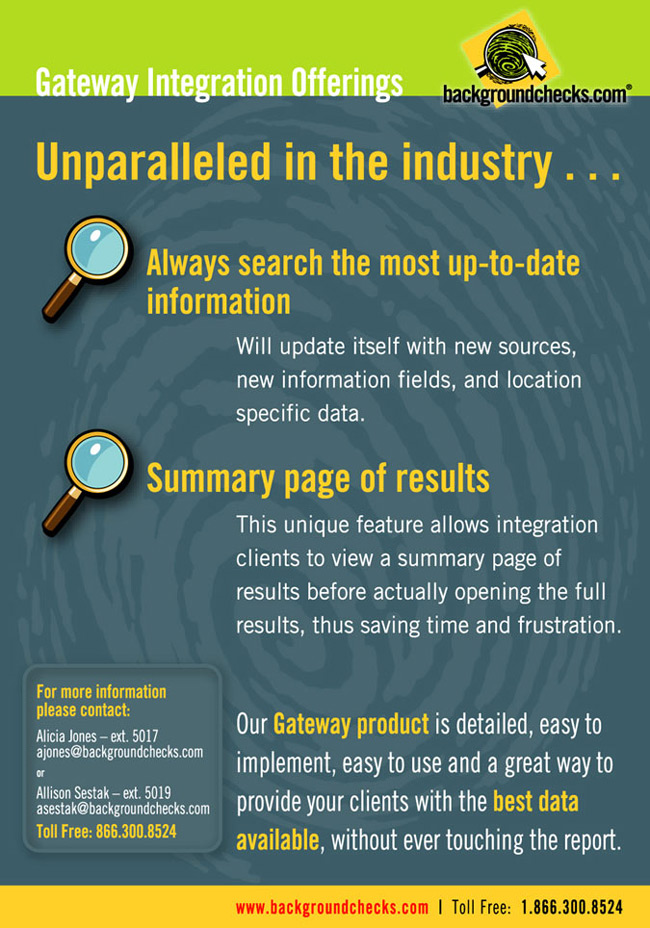 SOUTHERN BAPTIST PASTORS TO ADDRESS CLERGY SEX ABUSE…

Dallas, Tex. In response to the recent exposure that the nation's largest Protestant denomination has received concerning clergy sexual abuse, Oklahoma pastor Wade Burleson of Enid's Emmanuel Baptist Church and Texas pastor Benjamin Cole of Arlington's Parkview Church intend to ask the Southern Baptist Convention to address the issue. "Southern Baptists must be proactive when it comes to protecting children under our ministerial care . . .Cole said of his and Burleson's initiative. In recent weeks, Southern Baptists have scrambled to respond to a rising number of its ministers who have been arrested for abusing children. The president of the national convention, Frank Page of Taylors, SC, issued a statement this month calling on "every local church to develop written policy guidelines for the care of children and youth . . . [and] to have a system or policy in place to deal with any accusations made." "Even one instance of sexual molestation is one too many,"

Burleson Motion Regarding the Development of a Convention Database of Sexual Predators "I move that the Southern Baptist Convention requests the Executive Committee to conduct a feasibility study concerning the development of a database of Southern Baptist ministers who have been convicted of sexual harrassment and abuse, and that such a database be accessible to Southern Baptist churches seeking to maintain the highest standards of sexual ethics for its ministry candidates."

Read More: http://baptistblog.wordpress.com/2007/04/12/southern-baptist-pastors-to-address-clergy-sex-abuse/
COLORADO DOL REVISES REQUIREMENT FOR WORK AUTHORIZATION VERIFICATION
BEYOND FEDERAL I-9
Effective January 1, 2007, Colorado became the first state in the U.S. to impose employment verification obligations on all employers, adding new state requirements to the existing federal statutory scheme for completing I-9 forms and inspecting work authorization documents for all new hires. (A.B.-S1017, passed in August 2006) The Colorado statute requires that, in addition to I-9 requirements, all Colorado employers keep copies of employment authorization documents submitted by new employees during the I-9 process and that the employer (or its representative) sign a special "affirmation" confirming his/her inspection of the legal work status of new employees. More information about the Colorado statute is available at The Colorado Department of Labor and Employment.
Since publication of Colorado Department of Labor (DOL) questions and answers about A.B.-S1017 on December 26, 2006, it appeared that the Colorado DOL, charged with enforcement of A.B.-S1017, read the statute to require "legal work verification" steps more onerous than those required by federal law, by suggesting that compliant employers should enroll in the Social Security Basic Pilot program or use the Social Security payroll verification system "SSNVS" to confirm a new employee's social security number. Many employer representatives, including Littler attorneys, urged Colorado officials to reconsider this position. Employer representatives argued that the Colorado DOL exceeded statutory authority and the use of the Social Security SSNVS program for work authorization purposes is contrary to federal Social Security guidelines strictly limiting access to and use of that data.
Read More: http://coworkforce.com/lab/GeneralInformation1017.pdf
USCIS LAUNCHES PHOTO SCREENING TOOL PILOT PROGRAM
As an enhancement to its employment eligibility verification (EEV) program, Basic Pilot, the US Department of Homeland Security's (DHS) Bureau of US Citizenship and Immigration Services (USCIS) has launched a new pilot for employers to compare Lawful Permanent Residence cards (i.e., green cards) and other employment authorization documents containing photographs presented by new employees during the hiring process to the official photographs stored in DHS databases. "This enhancement to the Basic Pilot Program adds another level of security for employers during the hiring process and sets the foundation for continued technological improvements," stated Christopher Bentley, a spokesperson for USCIS, in an interview with CCH. Tool Pilot Program has the participation of 48 companies and is scheduled to last three months. The Photo Screening Tool Pilot was created out of demands from employers for a greater level of technological capacity in Basic Pilot. "Putting a biometric component into Basic Pilot is the next evolutionary step to enhance the program," stated Bentley. The aims of the Photo Screening Tool Pilot are to ensure that the process is not burdensome for employers and easy to use.
Read More: http://hr.cch.com/news/employment/041907a.asp
NEW EDUCATIONAL WEBCAST SERIES OFFERRED
EXCLUSIVE WEB SITE FOR VENDOR SHOWCASE PLATINUM MEMBERS LAUNCHED
We have launched our newest web site to exclusively promote our Platinum Members that are in our Vendor Showcase
We are committed to finding new and innovative ways to create additional sales opportunities for you. Stay tune for more exclusive Platinum web sites focused on driving more traffic to you.
HIRE FOR CHARACTER, TRAIN FOR SKILLS
Today, the concept of risk management is so fundamental that most large organizations dedicate entire departments to assessing factors that create risks of financial loss or physical injury. The first job of risk managers is to identify conditions that increase the likelihood of a damaging event. If the concern is fire, for example, they would focus on overloaded electrical circuits and sloppy handling of flammable substances. The second aspect of risk management is reducing the harm in the event of a fire. Requiring sprinklers and firewalls reduce the risk of damage. If we`ve learned anything from the last few years of unrelenting budget-breaking, reputation-damaging, energy-diverting scandals, it`s that people with weak character or bad judgment constitute a far greater jeopardy than fires. Thus, treating good character as an essential job competence is an important and potent risk-management strategy. Unfortunately, in a litigious environment dominated by fears of getting sued, many companies neither seek nor give comprehensive and candid background information on new employees. That`s a great mistake. If one has to choose, hire for character and train for skills. This means developing a robust program of screening and weeding. First, spend more time ascertaining the character of job applicants through background checks and require them to sign a waiver authorizing their former employers to disclose all relevant information.
Read More: http://underfire.vox.com/library/post/character-counts.html
What's the use of an online system too difficult for your clients to use?

InstaScreen™ background screening software is so easy to use that your clients will actually enjoy placing orders!

If your current applicant screening system is so cumbersome it discourages end-users from using it, you owe it to yourself to choose a system your customers will actually use. Imagine receiving more orders and saving your processors valuable time by getting your clients to enter the orders for you.

Simple and powerful, InstaScreen™ is intuitive, easy to use, and flexible to accommodate your clients specialized needs.

Call (801) 572-7401 or visit www.tazworks.net and demo our easy-to-use technology first hand.


SEARCH ENGINE OPTIMIZATION: HOW TO OPTIMIZE YOUR SITE WITHOUT SPENDING A FORTUNE
Did you know that SEO (search engine optimization) can cost you at least $100 - $2,000 per month with no guarantee that the high rank for those search terms will actually turn into any new business?You can do better than that! Guest contributor, Ryan Chapin of Nuts & Bolts Interactive, shows us how to affordably optimize your website AND drive relevant buyer traffic to your site. This is the number one activity that will help your search engine rankings. The more content relevant to your products or services, the more likely you are to come up in search results. The following are a few recommendations for content to add to your site:

Read More: http://www.turningpointemarketing.com/Free_Resources/eArticles.html
?COMP=clog_list&cmd=detail&cs_clog_entries_ref=97
HAVE YOU VISITED OUR VENDOR SHOWCASE LATELY?
Looking for the Top Suppliers in the Industry? Need to find a new Supplier?
Visit PreemploymentDirectory.com's VENDOR SHOWCASE which features suppliers to the Background Screening Industry (go to www.PreemploymentDirectory.com, click on 'Click Here' and then scroll down to Vendor Showcase for Background Screening Industry Suppliers)
One Place! Many Suppliers!
DATA PROTECTION ADVANCES IN ASIA PACIFIC REGION
Cross-border information flows between economies around the Pacific Rim are dramatically increasing in volume as IT businesses globalize their information processing services via the Internet. "Supply and distribution chains are becoming more globally integrated," said Joe Ahladeff, Oracle's Vice President of Global Public Policy, who spoke at the opening session of the First Technical Assistance Seminar on Cross-Border Privacy Rules (CBPRs) in Canberra, Australia held on 22 23 January. "The Internet has created a global marketplace that drives both price and service competition across regions. Consumers are freed from reliance on local vendors." Due to the importance of protecting personal information and the proliferation of e commerce, the APEC privacy initiative was launched to include the development of the APEC Privacy Framework and seminars to help economies implement privacy law. In their 2006 Annual Statement, APEC Ministers emphasized the need to ensure "responsible and accountable cross border information flows and effective privacy protection without creating unnecessary barriers."
Read More: http://www.apec.org/apec/enewsletter/mar_vol12/onlinenewsd.html
IS BRITAIN BECOMING A NATION OF LIARS?
Research undertaken by BackgroundChecking.com, an Experian® company, has revealed an alarming level of dishonesty amongst the British workforce which starts the moment a candidate applies for a job. Of the 1,003 working adults questioned who admitted that they would consider falsifying information on their CV, the vast majority (87 per cent)* said that if they knew that companies thoroughly checked all details on a CV, it would act as a deterrent to falsifying any information. Yet, 66 per cent of people do not believe that employers thoroughly check the details on all CVs and job application forms. Perhaps more alarmingly for businesses, if it was thought it would to go undetected, 39 per cent of people would lie on their CV and a worrying 42 per cent of those questioned claim to know individuals who have falsified information on their CV or on application forms.
Read More: http://www.onrec.com/content2/news.asp?ID=16309

CRIMINAL BACKGROUND CHECK REQUIREMENT IN UK CRITICIZED
London - As Britain moves towards running criminal checks on everyone who volunteers with children, a civil liberties group has warned that the step could strangle the nation's youth groups. From late 2008, every adult who volunteers in any sort of youth-related activity - such as coaching sports teams or after-school clubs - will be compelled to undergo a criminal records check. The government is already encouraging this practice, and when the new regulation goes into force, anyone found working with children without having being checked will face a $10,000 fine. Across the country, dozens of organizations that work with children are currently vetting their members, including the Football Association, which is reportedly checking around 20,000 coaches and referees in youth soccer leagues. Passed two years ago as a reaction to a number of child care scandals rocking the country, the Safeguarding Vulnerable Groups Act has been hailed by supporters as a law that will make parents feel more secure. But opponents say it will chill the interaction between adults and children. It will also mean that up to one-third of British citizens will have to be vetted by the government.
Read More: http://www.crosswalk.com/news/11538575/
DRIVERCHECK INC. AND ISB CORPORATE SERVICES ANNOUNCE ICHECK(TM) DRUG AND ALCOHOL TESTING AND PRE-EMPLOYMENT SCREENING SERVICES
Toronto, - DriverCheck Inc., the Canadian leader in drug and alcohol testing in the transportation industry, and ISB Inc., the Canadian leader in source document acquisition, are pleased to announce the launch of ICHECK(TM), a program that provides a single source for all customers to obtain drug and alcohol testing and pre-employment screening services. Through ICHECK(TM), DriverCheck clients and the Canadian transportation industry in general can now access a full suite of pre-employment and ongoing-employment background checks such as criminal records, driver abstracts, CVORs, credit checks and previous employment verifications, among other documents and services. In addition, ISB now offers a full suite of drug and alcohol testing to current and future ISB customers through DriverCheck.
Read More: http://www.isbcorporate.com./pdf/DriverCheckISBiCheckPressRelease.pdf
"GOT INTERNATIONAL INFORMATION?"
Our intent is to continuous add relevant information to create a valuable resource that will be used over and over by anyone looking for information on doing international background verifications, vetting or verifications. It includes information on EU countries data protection and other laws, Canada, terrorist searches and much more. Also included is very practical information on time zones, locating cities, etc. Check it out and I am sure you will want to Bookmark it so you can use it over and over. To view the International Section go to www.PreemploymentDirectory.com and look under the line in the middle of the page:

PREEMPLOYMENTDIRECTORY.COM
Become a Platinum Member Today
PLATINUM MEMBERSHIP HAS IT'S PRIVELIGES
CLICK HERE TO LEARN MORE ABOUT HOW TO CREATE ADDITONAL SALES OPPORTUNITIES FOR YOUR FIRM AND TO BECOME A MEMBER OF THE PLATINUM CLUB

SEXUAL OFFENDERS IN THE WORKPLACE
When a grocery store manager opened his inbox he found an anonymously sent envelope containing a page that had appeared to have been printed from a "Megan's Law" Web site, which states set up to identify sex offenders to the public. The manager immediately recognized the man in the mug shot. It was one of his store employees. According to the printout, the employee had a six-year-old conviction for indecent assault. He typed the employee's last name into the search field for Megan's Law and up came a page bearing general information about his employee's conviction. Now what?(While in this situation the employer wasn't conducting a post hire screen it is the exact same scenario that continuous screening is likely to uncover. Will you know what to do? We can help. Call Barry Nixon at (949) 770-5264 today to find how the Infinity Screening Solutions consulting can contribute to increased sales, revenue and increased customer satisfaction)
Read More: http://www.workforce.com/archive/feature/24/81/55/index.php?ht=sex%20
offenders%20in%20the%20workplace%20sex%20offenders%20in%20the%20workplace
ID Thefts Prevalent at Work
More than half (51 percent) of all identity thefts occur in the workplace, according to a recent study by Michigan State University. Organizations that carelessly process and store personnel records create perfect opportunities for "inside jobs," according to Guillaume Deyback, president and CEO of Washington-based Worldwide Assistance, a provider of identity-theft resolution services. Workplace settings have become increasingly attractive for identity theft because criminals are aware of the personal data stored there, such as birth dates, Social Security numbers, bank-account numbers and credit-card information, among others, he says. The annual cost of such identify thefts to corporations and consumers is about $50 billion, says Deyback, and innovative criminals have developed techniques that exclude almost no one from the scourge of stolen information created by the prevalence of personal data. But organizations are becoming more aware of the problem, says Troy Allen, chief fraud solutions officer at Nashville, Tenn.-based Kroll Fraud Solutions. "Just a few years ago a stolen laptop was viewed as a loss of hardware," Allen says. "Today, organizations and individuals are acutely more aware that the sensitive data a laptop contains is of different, greater value." He says HR executives must "stop thinking about data protection as solely an IT responsibility." Practitioners need to "examine and reinforce physical security practices, both brick and virtual operations."
Read More: http://www.hreonline.com/HRE/story.jsp?storyId=10889049&sub=false
FREE WHITE PAPER "BUILDING PRACTICAL DATA PROTECTION STRATEGIES"

Will traditional data protection applications survive the demands for ultra-high availability and the growing requirements for nearly instantaneous recovery? In this paper, data protection expert Fred Moore of Horison Information Strategies explores today's backup and recovery strategy options, comparing traditional methods, such as Backup, Disk Mirroring, Snapshots, CDP, and VTLs. What are the trade-offs associated with each and, more important, how do new data deduplication techniques change storage economics and impact data protection decisions and purchases? Data recovery options must align with application and business requirements to yield the highest availability. Creating a full backup to tape is no longer economical nor does it provide the highest availability when compared to next generation solutions. Included is a checklist with considerations to make this task easier.

Read More: http://www.datadomain.com/solutions/701300000008hUG_lp.html
2007 Background Buzz MEDIA RATES:

Click here for more information about advertising in The Background Buzz and
PreemploymentDirectory.com (Sections: US Provider, International, Vendor Showcase.)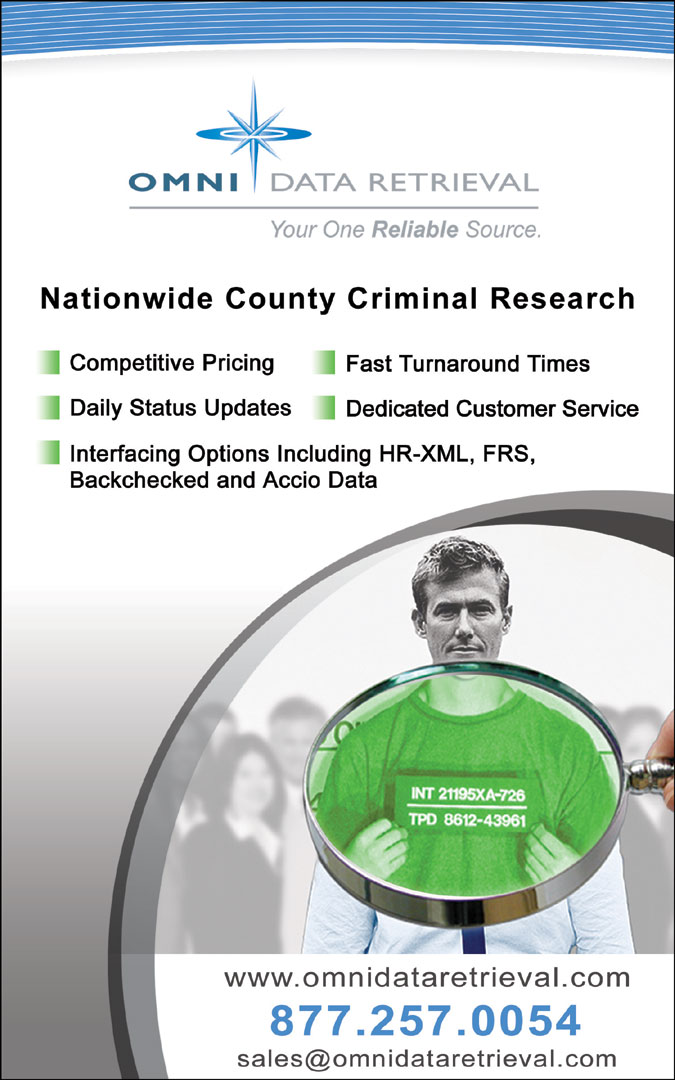 SHOOTINGS UNDERSCORE NEED FOR 'AGGRESSIVE FOCUS ON PREVENTION
April, 9 2007 - Police say an office worker killed one person and wounded two others at an office building about 15 miles north of Detroit on April 9, 2007, part of the latest rash of violence erupting in the workplace. A week earlier, on April 2, a University of Washington researcher was shot to death in her office by a former boyfriend who then fatally shot himself, and a former boyfriend was the alleged killer of a woman shot while on her job at CNN Center's Omni Hotel the next day. In March, a disgruntled print shop employee in Signal Hill, Calif., shot and seriously wounded three co-workers and then committed suicide. "What we're seeing in general is an increase in crime around the country, particularly in major urban areas," as well as the younger generation's "much higher propensity to use force to resolve conflicts," said W. Barry Nixon, SPHR, executive director of the National Institute for the Prevention of Workplace Violence Inc. Historically there is a link between a general increase in crime and crime in the workplace, he said, but "typically there is a longer lag than what's going on right now," he added. There are steps employers can take to protect workers and make their organization a safe environment:
Read More: http://www.shrm.org/hrnews_published/archives/CMS_021130.asp
BACKGROUNDSCREENINGJOBS.COM HAS 2 EXCITING NEW JOB POSTINGS:
The first one is for an Operations Manager and the other for a Sales Executive, both with competitive compensation packages. Visit the website for details on these great opportunities at a good size background screening company.

http://www.backgroundscreeningjobs.com

Click the above link to see these new job postings or to review the 18 job seekers' resumes waiting for you. For any additional information contact Cindy Sullivan of Berg Consulting Group at 561-712-1277 extension 5#.
UPCOMING CONFERENCES & EVENTS:

CUPA-HR National Conference & Expo 2007, November 8-10, 2007,
http://www.cupahr.org/ For Details on Regional Conferences go to http://www.cupahr.org/conferences/upcomingevents.asp

May 2, 2007 – Barry Nixon, Workplace Violence: A World Perspective May 3, 2007 – Marc Davey, Verify Screening and Barry Nixon, The Emerging Practice of Background Screening in Asia Pacific
Emerging Trends in Security, 05/07/2007 - 05/09/2007, San Antonio, TX,
http://www.asisonline.org/store/program_detail.xml?id=42944701#sessions
W. Barry Nixon, Infinity Screening: Background Screening That Never Ends


World Federation of Personnel Management Associations (WFPMA), World Congress, For Details on International events by date go to http://www.wfpma.com/dates.html


SINGAPORE HR CONGRESS & BUSINESS CONNECT EXPOSITION 2007

May 2, 2007 – Barry Nixon, Workplace Violence: A World PerspectiveMay 3, 2007 – Marc Davey, Verify Screening and Barry Nixon, The Emerging Practice of Background Screening in Asia Pacific


2007 Events (Click Here to View full list of 2007 Events)