Sealing Of Crime Pasts Up To Colorado Governor
Ray Hupp was 22 when he got caught with $25 worth of cocaine. That screw-up has trailed the 44-year-old construction- company owner half his life, and he'd like to erase it. People convicted of certain nonsexual crimes could petition a judge to seal their criminal records 10 years after completing prison time, probation or parole, wiping their pasts clean. "I kick myself all the time," said Hupp, recalling all the job applications he filled out, checking the "yes" box on whether he had committed a crime. "Nobody ever called." Some say House Bill 1107 offers the gift of a second chance. But to critics, who imagine an employer unknowingly hiring someone convicted of embezzlement to keep their books, it strips away the public's right to know. The bill under consideration by the governor says a person with a sealed conviction can check "no" to the question about criminal history on job applications. Rep. Mike Cerbo, D-Denver, said the bill he sponsored "completes the cycle of justice" by letting people who've done their time "move on with their lives." And there are enough safeguards in the bill to protect employers and the public, he said. Ritter's spokesman said the governor is reviewing the bill. He has until June 4 to sign it.

http://www.denverpost.com/ci_5945039Ziptuit
New Hampshire Offers Vetting Of Foreign Companies
New Hampshire exporting businesses have a new tool for checking the background of foreign companies. The state International Trade Resource Center is offering access to credit reports on companies outside the United States from Coface, a leading provider of credit insurance and credit information services. Coface reports include a company's credit rating, financial statements and other technical information, according to a ITRC press release. It is an effective tool to identify possible problems or business potential with any firm in question, the release says.
For More information Go To: http://www.concordmonitor.com/apps/pbcs.dll/article?AID=/20070408/REPOSITORY/704080356/1265/BUSINESS


HireRight Honored as 2007 Outstanding Private Company in AeA's 14th Annual High-Tech Innovation Awards
IRVINE, Calif. - HireRight, a leader in on-demand employment screening, was honored as the 2007 Outstanding Private Company at AeA's 14th Annual High-Tech Innovation Awards. The High-Tech Innovation Awards were presented by the Orange County and Inland Empire Council of AeA on May 10th, honoring Southern California's top innovators in technology and education. "We are sincerely honored to be named Outstanding Private Company of the Year by AeA. This is truly a testament to the talent and dedication of the entire HireRight team," said Eric Boden, Chairman and CEO, HireRight. "This award is also an acknowledgement of our commitment to technology innovation in delivering our employment background and drug screening solutions, and it's gratifying to have our efforts recognized." The 14th Annual High-Tech Innovation Awards were presented at the Fairmont Hotel in Newport Beach on May 10th. AeA set record levels for nominations and attendance with more than 125 nominations received, 20 innovators recognized, and nearly 600 guests at the awards ceremony.
For More Information Go To: http://www.hireright.com/release_details.asp?id=56
deverus, Inc. Named one of Central Texas' Best Places to Work
AUSTIN, Texas - deverus, the leader in background screening technology, today announced that it has been recognized by the Austin Business Journal for being one of the 2007 Best Places to Work in Central Texas. The Austin Business Journal holds the contest annually. This year over 160 companies were nominated in three categories. The Journal chose winners based on companies with the best climate, team atmosphere, benefits, and engaged employees through employee feedback. deverus was one of only a handful of companies chosen in the small business category. This achievement reiterates the importance and success of deverus' commitment to a positive work environment which fosters employee growth and well being.
For More Information Go To: www.deverus.com.
http://www.send2press.com/newswire/2007-05-0529-004.shtml




APSCREEN Tests U.S. Department of Justice Sex Offender Website
Rancho Santa Margarita, Calif. -APSCREEN one of the early pioneers of comprehensive background checks for pre-employment screening, has tested the new DOJ sex offender website and found it to be a useful tool for the public. APSCREEN has provided free national searches for registered sex offenders at www.nationalsexoffenderregistry.net as a public service since 2005. APSCREEN recommends that when searching sex offender records, individuals should use multiple sources to increase accuracy of results. A list can be located at www.apscreen.com/nsor.htm. The new government database is called Dru Sjodin National Sex Offender Public Website can be located at www.nsopr.gov
"This website represents the next generation of efforts by our Federal Government to try to help with the ongoing problem of identifying sexual predators in our society," said Lawson. "We applaud the Attorney General's office for their efforts and look forward to the day when they can put us out of the sex offender research business." Lawson continues, "Preliminary tests show that between just this new government website and our existing one, there is much less room for missing a registered sex offender, and now the public is armed with the best tools available for identifying registered sex offenders in their own area."
http://www.emediawire.com/releases/2007/4/emw522516.htm
23% of security functions outsource employee screening based on newspoll conducted in January by Secuirty Director News.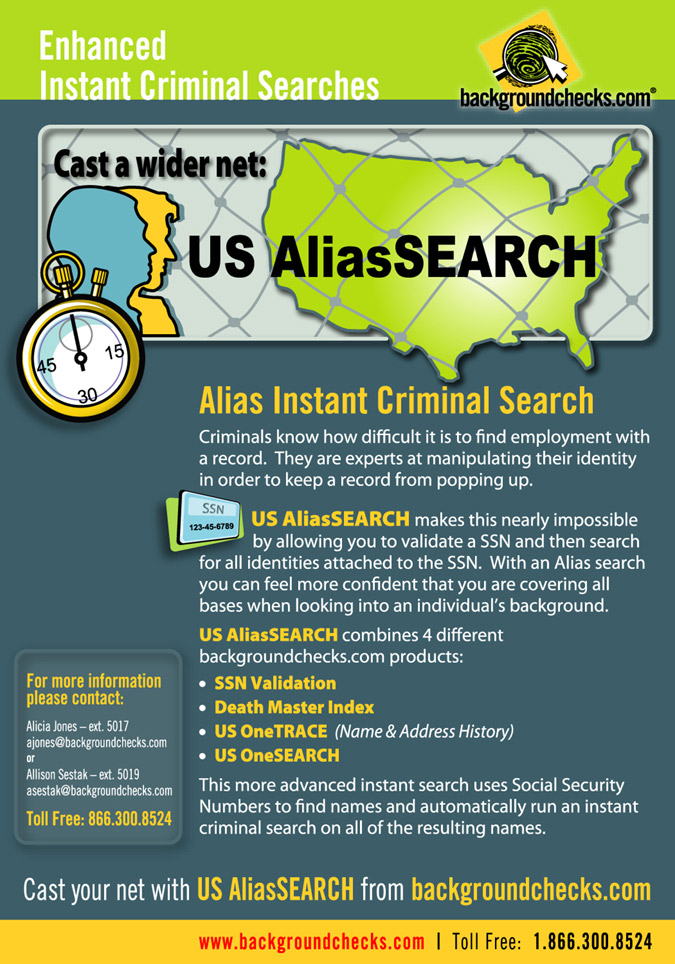 Accurate Background Offers First Fully Integrated Fingerprinting Solution with Proprietary Technology that Directs Applicants to a Nationwide Network of Collection Sites
Lake Forest, CA – Accurate Background, Inc., a leading provider of background screening services announced the release of the first and only fully integrated background screening and fingerprint solution. The new bundled fingerprint/background suite of services safeguards its qualifying clients, creates a positive experience for applicants and provides for faster hiring decisions. "We're seeing increased levels of fraud and embezzlement as applicants try to cheat the traditional background screening methods, get hired and cause monetary losses in the thousands or even millions of dollars," explained Dave Dickerson, president of Accurate Background, Inc. "Accurate's reports focus on uncovering additional criminal history – even outside of counties where the applicant has lived, worked or attended school. We collect and run fingerprints through the FBI database, conduct further research at the county level to maintain FCRA compliance, and integrate the results into a comprehensive background report." To further enhance the fingerprinting process Accurate also designed a proprietary module which acts as an intelligent locator to quickly locate digital or traditional collection sites for the applicant.
In a recent pilot project undertaken by Accurate where fingerprinting was included with a comprehensive background check, over 40% more potential undesirable applicants were identified. Due to the broader net of information only available through the FBI database, Accurate found additional criminal records nationwide that would not have been otherwise uncovered using traditional means.
For More Information Go To: www.Accuratebackground.com
deverus, Inc. Launches the TrueDocs(TM) Document Management Tool for the Background Check Process
AUSTIN, Texas - deverus announced the launch of their TrueDocs(TM) document management tool for the Ziptuit line of software. Combined with deverus' powerful zHire(TM) Applicant Tracking System and electronic consent, deverus continues to leverage technology and industry expertise to provide for a better and faster screening process.
For better management of applicants, the TrueDocs(TM) document management service speeds the background check and verification process by allowing signed releases and other important documents to be stored with the applicant throughout background check process. The TrueDocs(TM) document management service enhances the communication between the screening company and its clients by allowing the screening company to attach recent training materials, marketing materials, and needed compliance documents for specialized reports (such as credit reports) in a consistent and reliable location. This offering enhances the role of the screening company from a simple provider of data to a trusted expert and partner in hiring safe, qualified employees. "We are excited to launch another feature on our Ziptuit platform specifically aimed at helping our clients meet the technology and services needs of human resource departments," said deverus CEO, Shawn Rucks.
For More information Go To: www.deverus.com.
What's the use of an online system too difficult for your clients to use?

InstaScreen™ background screening software is so easy to use that your clients will actually enjoy placing orders!

If your current applicant screening system is so cumbersome it discourages end-users from using it, you owe it to yourself to choose a system your customers will actually use. Imagine receiving more orders and saving your processors valuable time by getting your clients to enter the orders for you.

Simple and powerful, InstaScreen™ is intuitive, easy to use, and flexible to accommodate your clients specialized needs.

Call (801) 572-7401 or visit www.tazworks.net and demo our easy-to-use technology first hand.


GIS Partners with Edentify to Deliver Its Identity Fraud
BETHLEHEM, Pa.- Edentify Inc. a leading provider of identity management and fraud detection solutions, announced its partnership with General Information Services, Inc. (GIS), one of the first background investigation providers and largest human resources-solution providers in the country. GIS will add Edentify's technology to its offering. With IDAssess, GIS customers can review and verify the identity of literally thousands of employees in up to two days. Edentify's IDScreen solution helps GIS customers examine the identity of their employees in real time, which prevents potentially fraudulent activity by verifying that the employee's identity matches the person using it. The last component, IDAlert, notifies GIS employees when their identity has been breached, and monitors their identity every 30 days until fraudulent activity is detected. GIS clients can offer the IDAlert solution to their employees as a company benefit.
For More Information Go To: www.GenInfo.com or
http://home.businesswire.com/portal/site/google/index.jsp?ndmViewId=news_view&newsId=20070
Measures passed by SEC to ease burden of Sarbox
US regulators yesterday approved measures to ease compliance with Sarbanes-Oxley five years after the law was passed in the wake of big corporate scandals. The move is a sign a more "principles-based" approach to financial regulation is gaining ground in the US. Specifically, the SEC's new "interpretive guidance for management" would allow executives to "scale and tailor their procedures to fit the facts and circumstances" of a company's situation, according to SEC chairman Christopher Cox. The guidance is not only "scalable" according to size of company but also takes account of the complexity of a company's business.
For More Information Go To: http://www.ft.com/cms/s/d94949a6-0992-11dc-a349-000b5df10621.html
North Dakota Legislature Passes Background Check Bill To Honor Slain University Student:
North Dakota passed a bill inspired by the murder of Valley City State University student Mindy Morgenstern which doubles the number of jobs in North Dakota that require background criminal history checks and fingerprints. The bill will require criminal history checks for certain state and local government employees including corrections officers, security personnel and other positions of public trust. They would also include fingerprinting which would catch criminals who've changed their names to avoid detection. Besides corrections officers background checks would also be required for college students in particular higher education programs, dentists, nurses, realtors, pharmacists, school staff.
For More Information Go To: http://www.kxnet.com/news/local/86125.asp
Department Of Justice Seeks To Deny Public Electronic Access To Some Criminal Records
The US Department of Justice is asking the Federal courts to deny the public electronic access to specific court documents, being plea agreements, in criminal cases. Internet users can globally access the US government subscription website, PACER, which is an acronym for Public Access to Court Electronic Records, and read exact details of the cooperation agreed to by defendants in Federal criminal cases. Due to the widespread publication of this sensitive information on the web, American law enforcement is seeking to deny remote access through the governmental website. Commercial websites, such as " who's a rat.com" are selling this information, and prosecutors fear that criminal elements will use the data, seeking to name and shame cooperating witnesses. Of course, this is the electronic, not actual hard copy, version of the plea agreement. Unless it is sealed by court order, it is available in the court file at the District Court clerk's office. However, one must be in that city to view it. PACER is accessible from anywhere there is Internet access. Some Federal courts are already restricting access to plea agreements.
For More Information Go To: http://www.world-check.com/articles/2007/05/23/department-justice-seeks-deny-access-criminal-reco/
Washington State Outlaws Employers Access to Credit Records
Washington state governor Christine Gregoire signed S.B. 5827 into law on April 18. This new law prohibits employers in Washington state from having access to the credit reports of employees or job applicants unless such information is substantially related to the individual's current or potential job responsibilities. It is worth noting that the new law does not apply to an employer review of the credit report of an employee "who the employer has reasonable cause to believe has engaged in specific activity that constitutes a violation of law." Four other states (Hawaii, Pennsylvania, New York and Wisconsin) have similar restrictions on employers using credit reports. While it is obvious the new law applies to employers based in Washington and employees and job applicants who are residents of Washington, it could also apply to a Washington employer with out-of-state job applicants or employees, an out-of-state employer with employees and applicants that live in Washington, and possibly even a business that interviews job applicants who would need to relocate to Washington to perform the job.
For More Information Go To: http://www.realtime-itcompliance.com/laws_regulations/2007/05/employee_privacy_new_credit_ch.htm
New Background Checks for Chemical Workers
In an effort to better safeguard America's chemical plants, some workers will be subjected to a higher level of scrutiny. The U.S. Department of Homeland Security (DHS) recently issued an interim final rule, which requires employers to conduct background checks of current and future employees and contractors that have unescorted access of the facilities. The rule, which is scheduled to take effect on June 8, 2007, also requires chemical plants to prepare "Security Vulnerability Assessments" for potential terrorist threats. Additionally, DHS sets forth employer recordkeeping requirements, as well as inspections and audit procedures. To access a copy of the DHS April 9 rule, please click here. SHRM HR Issues Update - May 18, 2007.
June 27, 2007

Comparing Apples and Oranges:
Criminal Records 101
Elaine Whitton and
Leann Filburn
EXCLUSIVE WEB SITE FOR VENDOR SHOWCASE PLATINUM MEMBERS LAUNCHED
We have launched our newest web site to exclusively promote our Platinum Members that are in our Vendor Showcase
We are committed to finding new and innovative ways to create additional sales opportunities for you.
Stay tune for more exclusive Platinum web sites focused on driving more traffic to you.
Study: 45 Percent of Workers Steal Data When Changing Jobs
Of the 45% of respondents to The International Information Security Survey who said they've taken data with them when they've left a job, some said they simply e-mailed data to a personal address. Others said they walked out the door with the data, usually on a peripheral storage device, tucked in a bag or pocket. Eighty-seven percent said they're allowed to use flash drives, while 69% can use external hard drives. Even MP3 players, which are used by 46% of respondents, can be used as external hard drives. The study also showed that with so many admitting to taking data with them when they leave jobs, it's no surprise that 53% of respondents said they suspect their companies' intellectual property is being used by the competition. Among manufacturing employees, a whopping 71% said their competition has used their companies' intellectual property. Over 40 percent of those polled cited their company security policies as overly stringent, non-existent, or flimsy. Of technology employees polled, 48 percent said their companies had security flaws.
For More Information Go To: http://www.informationweek.com/news/showArticle.jhtml?articleID=199500629
ID Thefts Prevalent at Work
More than half (51 percent) of all identity thefts occur in the workplace, according to a recent study by Michigan State University. Organizations that carelessly process and store personnel records create perfect opportunities for "inside jobs," according to Guillaume Deyback, president and CEO of Washington-based Worldwide Assistance, a provider of identity-theft resolution services. Workplace settings have become increasingly attractive for identity theft because criminals are aware of the personal data stored there, such as birth dates, Social Security numbers, bank-account numbers and credit-card information, among others, he says. The annual cost of such identify thefts to corporations and consumers is about $50 billion, says Deyback, and innovative criminals have developed techniques that exclude almost no one from the scourge of stolen information created by the prevalence of personal data. But organizations are becoming more aware of the problem, says Troy Allen, chief fraud solutions officer at Nashville, Tenn.-based Kroll Fraud Solutions. "Just a few years ago a stolen laptop was viewed as a loss of hardware," Allen says. "Today, organizations and individuals are acutely more aware that the sensitive data a laptop contains is of different, greater value." He says HR executives must "stop thinking about data protection as solely an IT responsibility." Practitioners need to "examine and reinforce physical security practices, both brick and virtual operations."
Read More: http://www.hreonline.com/HRE/story.jsp?storyId=10889049&sub=false
Are You Interested in Reaching Over 691,000 Human Resource Recruiters
Thru the Largest Recruiter Information Portal on the Web?
Onrec.com's Online Recruitment Magazine has become the #1ranked online recruitment information portal on the Internet.
If you are interested in finding out how we can increase the traffic to your web site and your sales visit us at http://www.onrec.com or call Tim Hartrich at 630-985-3006 today.
All Preemployment Directory.com members will get a 10% Discount on Enhanced Vendor Profiles. Call Tim Hartrich at 630-985-3006 and mention code: PD.COMWBN
HRmarketer Webinar - Learn "The New Rules" of Marketing and PR"
Date: June 14, 2007
TIME: 10:00 - 11:00 a.m. PST

Are traditional marketing and PR tactics keeping you competitive as a vendor in the Human Resource marketplace? Today, marketing messages and advertising are increasingly ignored. Marketing has never been more difficult for HR suppliers. However, never before have vendors had a greater opportunity to reach HR buyers directly.
The Webinar will also include success stories from HR suppliers utilizing "the new rules" of marketing and PR.
For More Information Go To: https://www.gotomeeting.com/register/647874262
European Union: Data Protection Developments In Europe
Recent developments regarding Data Protection in individual member states around Europe.
In Belgium, the SWIFT saga continues with the Belgian Privacy Commission issuing a strong second advisory opinion on SWIFT's failure to comply with its obligations when transferring data to the US. The Commission also issued a recommendation containing basic principles on whistleblowing, which will affect companies which implement whistleblowing schemes.
In Germany, the thresholds for the requirement for a data protection officer have been increased. In France, the regulator (CNIL) has sought to balance the prohibition on collecting data relating to a person's racial or ethnic origin with employers' needs to collect such data in order to implement policies preventing racial and ethnic discrimination in the workplace.
Whilst in the UK, security breaches are all the rage, with the FSA applying a fine of almost £1 million on Nationwide Building Society, and the Information Commissioner accepting undertakings from other banks for their disposal of personal data. These serve as a reminder that firms must continue to assess Information Security risks, and to evolve plans for dealing with breaches of security.
For More Information Go to: http://www.mondaq.com/article.asp?articleid=48078&email_access=on
Tyco Healthcare France, US Subsidiary Fined For Improper Transfers Of Employee Data To The U.S.
In what may foreshadow a new era of more aggressive enforcement, France's data protection authority - La Commission Nationale de L'informatique et des Libertés (CNIL) - recently fined Tyco Healthcare France (THF), the local subsidiary of a U.S. multinational organization, €30,000 (approximately $41,000) for, among other things, improperly transferring employee information to Tyco's U.S. headquarters. The fine appears to be the first imposed on a U.S.-based company accused of unlawful cross-border transfers of human resources data. The French government's enforcement action coincides with recent public declarations by other European data protection authorities, calling for more aggressive enforcement of the European Union's strict data protection regime.
For More Information Go To: http://www.mondaq.com/article.asp?articleid=48691&email_access=on

Watch Out For 'Senior' CV Fraud
The revelation by a number of media organizations that former Absa and Fidentia director "Dr" Danisa Baloyi may have fudged her claim to a doctorate degree once again highlighted the problem of credentials fraud and the need for background screening, said Ina van der Merwe, CEO of South Africa's largest background screening company Kroll International. Van der Merwe said the problem was far more widespread than most people thought and many fraudsters holding down high-paying jobs continued to get away with it because human resources divisions at companies neglected to do even the most basic of background checks before appointing individuals.
Despite the fact that Baloyi holds advanced degrees from Columbia University in New York, the doctorate degree that she evidently laid claim to wasn't completed. Van der Merwe said close to 25 percent of all CV's checked by her company at the moment were "problematic" to some degree. She said a major problem with employing individuals with false qualifications was the fact that in some cases, the employee lacked the skills to do the job properly.
For More Information Go To: http://business.iafrica.com/news/864844.htm
"GOT INTERNATIONAL INFORMATION?"
We have greatly enhanced our International Resource Center to be a valuable resource for anyone looking for information on doing international background verifications, vetting or verifications. It includes information on EU countries data protection and other laws, Canada, terrorist searches and much more. Also included is very practical information on time zones, locating cities, etc. Check it out and I am sure you will want to Bookmark it so you can use it over and over. To view the International Section go to www.PreemploymentDirectory.com and look under the line in the middle of the page:

Beltway Trucker Piled Up Citations
Before Roger C. Scofield Jr.'s tractor-trailer crashed into the back of a car on the Capital Beltway last month, the trucker had spent years crisscrossing at least seven states: Maryland, Virginia, Delaware, New Jersey, New York, Connecticut and Rhode Island. Scofield racked up traffic citations in each of those states and convictions in at least two, court records show. The citations include speeding, careless driving, inattentive driving, driving with defective brakes and driving on a suspended license. Records indicate that Scofield has at least 56 entries in his driving history in Delaware for various violations, including nonpayment of court fines. His license was suspended there and in Virginia, Maryland State Police said. Reciprocity laws between states generally prohibit a driver with a suspended license in one state from driving in another. The fact that Scofield was on the road March 19, driving on a suspended license in the late-night accident in Prince George's County that left one man dead and two injured reflects the challenges of enforcing driving standards and trucking regulations across state lines. "It's frightening to think that people like Scofield and others are out there," said attorney Ron Karp, who filed a wrongful-death suit last week against the driver and his employer. "There are people behind the wheels of trucks that just shouldn't be, and it's becoming a national epidemic."
"If a company has operating authority from the U.S. Department of Transportation and they are not vigilant in checking their employees and making sure they have valid driver's licenses, the companies are the ones we're going to go after," DeBruyne said. Smith gave varying accounts of what B.K. knew about his driving record. He said the company checked his driving record when it hired him as a subcontractor about eight months ago and found no cause for concern. The company checks its drivers' records annually, Smith said. During the interview in Newfield, Smith said B.K. was only aware of a speeding ticket Scofield received while "driving his own personal vehicle" in Virginia last year. He said Scofield's license was suspended because he failed to appear for a court date because the notice about the speeding citation was inadvertently sent to his ex-wife's address.
In the Beltway accident, Scofield was initially charged with several traffic violations, including reckless driving and driving on a suspended license. Since then, state and federal authorities have begun separate investigations and are considering whether to charge him with vehicular homicide, said 1st Sgt. Russell Newell, a Maryland State Police spokesman.
http://www.washingtonpost.com/wp-dyn/content/article/2007/04/08/AR2007040801259.html?hpid=topnews
Contact Barry Nixon at (949) 770-5264 or barry@wvp911.com today to find how the Infinity Screening Solutions consulting can help clients avoid tragedies like this as well as ways to increased YOUR sales, revenue and increase customer satisfaction.
PLATINUM MEMBERSHIP HAS IT'S PRIVELIGES
Become a Platinum Member Today
CLICK HERE TO LEARN MORE ABOUT HOW TO CREATE ADDITONAL SALES OPPORTUNITIES
FOR YOUR FIRM AND TO BECOME A MEMBER OF THE PLATINUM CLUB
Training Supervisors and Employees to Recognize the 'Early Warning Signs' is a Key Step to Preventing Violence in the Workplace
The National Institute for Prevention of Workplace Violence, Inc. has re-released its' list of the warning signs called the 'Unlucky 13' that businesses should educate their supervisors and employees about.
To view the full list go to: http://www.workplaceviolence911.com/docs/unlucky13.htm. This is an excellent resource to share with your clients.
2007 Background Buzz MEDIA RATES:
Click here for more information about advertising in The Background Buzz
JOB BOARD DEDICATED TO THE BACKGROUND SCREENING INDUSTRY :
| | |
| --- | --- |
| | Find resumes of people with industry experience and industry employers seeking industry experience. |
Employer/Recruiter Testimonials -
"This is a super concept. Thanks for helping the industry." - RK
Looking for candidates with industry experience!
Visit backgroundscreeningjobs.com today!
UPCOMING CONFERENCES & EVENTS:

CUPA-HR National Conference & Expo 2007, November 8-10, 2007, http://www.cupahr.org/conference2007/index.asp
http://www.cupahr.org/conferences/conference/exhibitsponsor.html


World Federation of Personnel Management Associations (WFPMA), World Congress, For Details on International events by date go to http://www.wfpma.com/dates.html


2007 Events (Click Here to View full list of 2007 Events) – The List is Updated Monthly)