Firm pays $2M for bad hire
A Lynnfield, MA investment firm is paying nearly $2 million to settle charges of failing to supervise a broker who, after arrested on a charge of rape, allegedly admitted stealing $3 million from clients. Secretary of the Commonwealth William Galvin announced yesterday that Investors Capital Corp. agreed to cover $1.7 million of client losses and pay a $250,000 fine for lax supervision of Stephen Clifford. ``Whether you're Bernie Madoff or some guy from around the corner, it doesn't matter,'' Galvin told the Herald. ``You need procedures in place to protect investors.'' Investors Capital is settling allegations that it failed to properly supervise Clifford or run adequate background checks before giving him a job. Galvin claimed Investors Capital founder Theodore Charles, a longtime Clifford friend, ordered the man hired even though a credit check showed the suspect had some $442,000 in debts.
To read the full article go to: http://www.istockanalyst.com/article/viewiStockNews/articleid/3246790
Veritas Capital Acquires Kroll Government Services, Inc.
Veritas Capital, a leading private equity firm with a focus on companies that provide services and products to the government market, announced the acquisition of Kroll Government Services, Inc. from Kroll, Inc., a subsidiary of Marsh & McLennan. In conjunction with the transaction, Kroll Government Services, Inc. has been renamed KeyPoint Government Solutions, Inc.
For more information, please visit http://www.veritascapital.com


71% of Young Workers Have Aspirations to Leave Job When Recession Ends
Adecco Group North America's latest American Workplace Insights Survey finds the most serious threat to employers in this recession may come at its end. The survey indicates every company's greatest asset, its human capital, might be its most tenuous, as employers could see an unprecedented exodus of talent when the job market rebounds. The youngest age group of current professionals indicate they plan to be knocking on the doors of their competitors with (71%) of employed adults between the ages of 18 and 29 saying they are at least somewhat likely to look for new jobs once the upturn begins. "These findings should be an eye-opener for employers who are so focused on cost containment that they are losing focus on retention," says Bernadette Kenny, chief career officer of Adecco Group North America . "In good times companies focus on how to keep their best and brightest talent and this becomes more important in bad times. Younger Generation Y employees bring a lot of new ideas and skills to the table, they are a generation who likes to be challenged, and if they lose this at their current job are not afraid to seek it elsewhere."
For More Information Click Here
USIS Acquires Labat-Anderson, Professional Services Firm Labat-Anderson Adds New Depth To USIS' Solution Approach To Government Market
Platinum Member, US Investigations Services, Inc. (USIS), the largest commercial provider of security investigation services to the federal government, a leading provider of pre-employment screening solutions, and a top provider of information services to the insurance industry, announced the close of the financial transaction and acquisition of Labat-Anderson, Incorporated, a professional services firm serving government agencies in the areas of litigation support and information systems and services. Terms of the transaction were not announced. "The Labat-Anderson business and its team of professionals adds to the solutions we provide our government customers and creates additional momentum behind our corporate strategic growth initiatives in the government markets we serve," said Mike Cherkasky, Chief Executive Officer of USIS. "This is another significant step forward for our growth initiatives in the government sector of our business, adding another suite of solutions that we can deliver to the markets we serve."
For More Information Go To: http://www.usis.com/news/2009_05_19_USIS_Aquires_LabatAnderson.aspx
Intelius Buys Spock, The People Search Engine
Platinum Member, Intelius, a company that performs background checks on people, has acquired Spock, a people search engine, for an undisclosed amount. Spock's initial marketing launch sparked a little buzz in Silicon Valley, but over time much more attention continued to go to people-focused sites like Facebook and LinkedIn. Facebook remains more closed to users searching data about other people, but LinkedIn, while having less of a community around it, allows open searching. Spock remained more behind the scenes: It was early to create widgets that resided on other sites; it also created syndication deals that powered search on other sites (Friendster, for example). While several buyers passed, several others made offers, Singh said. "There was strong interest," he said. Intelius made sense as a buyer, because Intelius charges money to people who want to do background checks on others. Spock fits with that mission, Singh said, because it too recently moved to a mixed free-premium model, where Spock offers users basic information about people, but requires extra payment to get more detailed data. So now, when a user lands on a user's profile, Spock can also refer the user to Intelius' service to do a more in-depth background or credit searches.
For More Information Go To: http://venturebeat.com/2009/04/30/intelius-buys-spock-the-people-search-engine/
HireRight Forms Alliance With Monster To Offers Background Screening Services Through The Leading Online Recruitment Resource
Monster.com®, the leading global online careers and recruitment resource and flagship brand of Monster Worldwide, Inc. announced the availability of HireRight®'s candidate background screening services through Monster. The background screening services will be offered through an alliance with Platinum Member, HireRight, one of the world's largest employment screening providers, and will help streamline the candidate background-check process for businesses, increase the quality of new hires and help reduce liability. The service will be fully integrated with the Monster.com desktop and candidate management tools, allowing employers to speed up the screening process and make more informed decisions when hiring. "At a time when resources and budgets may be limited, hiring the best candidate the first time is critical for return on your recruitment investment and ultimately strong business performance. The wrong hire can cost a business time, resources and revenue," said Puneet Bhasin, SVP of employer product & technology, Monster. "This new service provided by HireRight is a natural extension of Monster's offering, designed to ensure that the talent search and acquisition process is highly effective, affordable and that employers find the right person for the job."
For More Information Go To: http://phx.corporate-ir.net/phoenix.zhtml?c=131001&p=irol-newsArticle&ID=1292314&highlight=
ANNOUNCEMENTS (continued)
Congratulations Platinum Member
Corporate Screening Wins 2009 Crain's Leading EDGE Award
Corporate Screening has earned recognition as a 2009 Crain's Leading EDGE award winner. The award was presented by Crain's Cleveland Business and the Entrepreneur's EDGE (Economic Development through Growth & Entrepreneurship) on Wednesday, May 20th, at Kent State University. "We are pleased that Corporate Screening is being recognized as an innovator in our market with the Leading EDGE award," said Dennis Drellishak, President and Founder of Corporate Screening. "The scoring metrics of this award quantify value to the community, and we are grateful to be part of something so positive affecting Northeast Ohio." The Entrepreneur's EDGE selected over 90 winners based upon a metric that enables the region to measure and track companies throughout the 17 counties of Northeast Ohio that are creating the most value for themselves as well as for the community. Qualifying companies have sales revenue up to $750 million and currently sell some of their goods or services outside the region, or have plans to do so.
For More Information Go To: www.Corporatescreening.com
Accurate Background Introduces New Online Technology for Background Checks
Platinum Member, Accurate Background, Inc. released today its latest technology for pre-employment background screening. Called AccurateNow, it allows small to medium-size businesses and human resource professionals an on-demand solution to create their own corporate account online and begin ordering comprehensive background checks on job applicants within minutes. AccurateNow is ideal for organizations wanting to implement a screening program quickly and realize the need to get accurate, current information that is compliant with state and federal regulations. Designed to offer the same products and services available through Accurate Background's Enterprise solution, this flexible online technology is an effective tool allowing small to medium-size businesses to streamline their screening process and get comprehensive information from reliable sources. AccurateNow provides all of the online training and documentation needed to be compliant with state and federal regulations. If clients elect to use the National Criminal search option offered through AccurateNow, criminal history reported by that search will be automatically confirmed by AccurateNow for accuracy using county level services which are researched directly through the county courthouses.
For more information about AccurateNow, visit http://www.accuratenow.com/
New, Integrated Hiring Solutions Platform Announced by S2Verify, the New Process Innovator in Employment Screening
At the leading edge of an industry that has been increasingly commoditizing its services to different customer segments with widely varying needs, S2Verify LLC, a new process innovator in the background screening market, announced the launch of its new Integrated Hiring Solutions platform and website, http://www.s2verifyhire.com/. This new offering - the first fully integrated hiring solution, is focused exclusively on the needs of human resources departments, and specifically on providing staffing managers with a seamless platform to streamline the management of their end-to-end hiring process. Bill Whitford, a long-time pioneer and innovator in the employment screening industry and the company's CEO, says " We have simplified these processes to reduce cost and eliminate other indirect expenditures, we have developed a best-in-class technology that enables our clients to use one solution for applicant tracking, assessments, employment screening and on-boarding their applicants, including I-9 E-Verify services." This powerful new tool helps companies meet their hiring needs with fewer resources.
For More Information Go To: http://www.prweb.com/releases/2009/05/prweb2397264.htm
The Federal Trade Commission will delay enforcement of the new "Red Flags Rule"
The Federal Trade Commission will delay enforcement of the new "Red Flags Rule" until August 1, 2009, to give creditors and financial institutions more time to develop and implement written identity theft prevention programs. For entities that have a low risk of identity theft, such as businesses that know their customers personally, the Commission will soon release a template to help them comply with the law. Today's announcement does not affect other federal agencies' enforcement of the original November 1, 2008 compliance deadline for institutions subject to their oversight.
For More Information Go To: http://www.ftc.gov/opa/2009/04/redflagsrule.shtm
Welcome to the Legal Challenge Question!
FETCH Technologies
As the background screening industry continues to get more competitive the firms that will ultimately succeed will be those that create competitive advantage through their people by offering continuous learning opportunities to heightened their knowledge and capabilities. We believe that having employees that are very knowledgeable about the legal landscape of background screening is essential to continued success.
We are grateful to Pam Devata, Seyfarth Shaw LLP for providing the expertise for this valuable endeavor. For information regarding the answers to the Legal Challenge Questions, please contact Pamela Devata at Seyfarth Shaw LLP at pdevata@seyfarth.com or 312-460-5000 or visit www.seyfarth.com.
Please choose your answer by clicking on it:

Which of the following states generally preclude employers from using sex offender registry information in making employment decisions?

A. Nevada
ClearStar.net Announces Collaborative Filtering Feature: StreamlineTM Reduces Data Entry Requirements and Simplifies Ordering
ClearStar.net, the leading technology provider for the employment and tenant screening industry, announced the release of StreamlineTM , the new collaborative filtering process designed to help reduce data entry requirements for screening requests. StreamlineTM simplifies the order selection process through the use of a single Direct Profile Entry Screen. "With StreamlineTM we can accelerate the data entry process for customers by using derived intelligence - account user preferences, interactions and other historical information - to present suggestions for locations and even alias names," explains Kevin Lenahan, Chief Technology Officer of ClearStar.net. The system can be configured to automatically populate past addresses and alias names as well as use information provided by the applicant to make recommendations of services. Screening firms will be able to configure the system differently according to the decision making rules of each customer.
For More Information Go To: www.ClearStar.net

Based on staffdigest's research 96.7% of respondents to their survey of staffing firms perform background checks and 83.6% use an outside service to do this work.
Source: April 2009 Edition, staffdigest (For more information go to: http://www.staffdigest.com)
DATA PROTECTION AND FRAUD
Data Security Trends: Staying Ahead of the Bad Guys
What you can do now to stay a step ahead of the changing vulnerability landscape. As soon as companies began securing database at rest, they went after data in transit in wireless networks. Companies then reacted by taking steps to secure wireless transmissions and those with business partners. Now, the bad guys are going after sensitive information being transmitted internally throughout enterprises causing IT security officers to have to shore up protection of internal data transfers.
What's Next for Cybercriminals?
Cybercriminals will:
try to crack encrypted data by stealing encryption keys and certificates,
take advantage of confidential data in virtual environments,
prey on unsecured data as it moves around organizations inside the firewall,
access inventory where your personally identifiable information is stored, including both electronic data as well as physical hardcopy data,
intercept data in transit with your business partners and clients.
Data security threats continue to evolve as cybercriminals change their attack strategies. The most effective defense is offense to protect the information entrusted to your organization wherever it resides or travels.
To Read The Full Article Go To: http://esj.com/Articles/2009/04/28/Security-Trends.aspx?Page=2
Preventing Theft And Unauthorized Modification Of Electronic Data With New ISO/IEC Standard
Security is perhaps one of the greatest concerns of the millions of users that routinely exchange data over the Web or store information in computers which may be accessed by unauthorized parties. To protect the confidentiality and integrity of data being transferred or stored, ISO and the International Electrotechnical Commission (IEC) have jointly developed a new standard which defines authenticated encryption mechanisms that provide an optimum level of security. "With the rise of electronic transactions involving sensitive information, such as the transfer of bank data or personal identity information, this standard responds to a growing need for increasingly demanding security requirements." says Prof. Chris Mitchell, Project Editor of the new ISO/IEC standard. The standard, ISO/IEC 19772, Information technology – Security techniques – Authenticated encryption, specifies six encryption methods (based on a block cipher algorithm) that can be used to ensure:
Data confidentiality (protecting against unauthorized disclosure of data)
Data integrity (enabling recipients to verify that the data has not been modified)
Data origin authentication (helping recipients to verify the identity of the data).
The standard takes the specific security needs of different operations into account. For instance, while encryption may be used to prevent eavesdropping when data is being exchanged, Message Authentication Codes (MACs) or digital signatures are ideal for protecting data from being modified. Some situations may require a combination of operations, but not all combinations will provide the same security guarantees.
SOURCE: International Organization for Standardization
(see http://www.iso.org/iso/catalogue_detail?csnumber=46345)
For More Information Go To: http://www.iso.org/iso/pressrelease.htm?refid=Ref1221
The Criminal in the Next Cubicle
Fear is one reason for the increase in fraud. When companies decide to lay off workers and employees start to worry, they think of ways to protect themselves, says Greg Bangs, vice president and crime manager with Chubb & Son, based in Warren, N.J. Technology has enabled fraudulent employees to transfer more money more quickly before anyone raises the alarm, he adds. Employee fraud has always been around, but in a recession companies are more likely to notice because they are tighter with budgets. "Companies are looking under the hood," Bangs says. What they are finding isn't pretty. According to a recent survey by the Austin, Texas-based Association of Certified Fraud Examiners, the equivalent of an estimated 7 percent of companies' assets are stolen every year. ACFE data released in a 2002 survey found that the majority of corporate fraud -- 64 percent -- is committed by employees. Not surprisingly, frauds committed by managers or executives are three-and-a-half times more costly than frauds committed by other employees.In a recessionary economy, companies lose even more, and as much as "$994 billion is walking out the door to theft," Bangs says. Some preventive measures are more effective than others. The cardinal rule among fraud fighters is never, ever, let the same employee handle the same transaction from beginning to end.
For More Information Go To: http://www.hreonline.com/HRE/story.jsp?storyId=209736419
Standing Guard In Tough Times Against Computer Saboteurs
Don't underestimate the wrath of a disgruntled ex-employee. As the downturn forces businesses to shed jobs, employers should watch for computer sabotage by laid-off employees, says Gary Kessler, a computer forensics expert. Just one vengeful act can cost a company thousands of dollars in repairs and lost productivity, and he said that these days it probably happens more often than many employers realize. In a global survey by CA, an information technology management software company that released the results last week, seven of every 10 companies said they believe layoffs have increased the internal threat to their information technology systems, and 40 percent said they planned to increase their security budgets. History shows the damage can be devastating. Three years ago, for instance, a Bergen County man was convicted of creating a cyber-bomb that crashed hundreds of servers and computers at UBS Webber offices across the country in 2002, costing $3 million to repair.
For More Information Go To: http://www.nj.com/business/index.ssf/2009/04/standing_guard_in_tough_times.html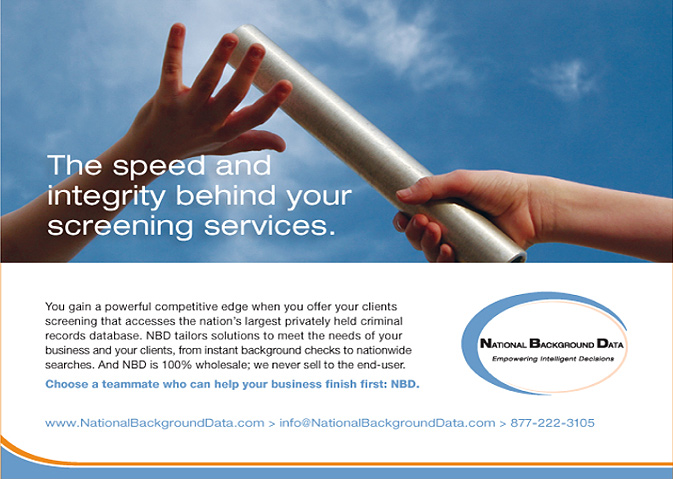 Successful Exhibiting Strategies in Uncertain Times
Skyline and Marketech have teamed up to create a White Paper that gives you a fresh perspective on how you can go beyond just surviving to thrive in the challenging economic times. Here are some excerpts from the White Paper for your enjoyment.
| | |
| --- | --- |
| Make Trade Shows a Part of Your Integrated Marketing Communications Plan | Exhibiting is Not Just Collecting Names or Swiping Badges |
| Proactively Evaluate the Shows in Which You Participate | Plan to Work the Show Every Moment the Show is Open |
| It's the Quality of the Audience, Not the Quantity | What is Your Measure of Success? Measure the Results |
| Create a "Follow-up TEAM" | Exhibit for the Right Reasons |
The answer to surviving this potential downturn is not to avoid exhibiting altogether, but instead to exhibit smarter.
To Read The Full Report And Download The White paper Go To: http://www.skyline.com/Request/Successful-Strategies-White-Paper/
7 Things You Need to Measure Your Trade Show Program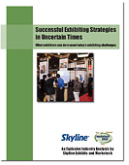 While many exhibitors say measurement is important, even essential, to their trade show marketing, too often they don't know where to start. So here are the seven things you need to measure your trade show marketing. First, you need to know what measurements are possible, and a tool to store and report the data you are measuring. To help with that, we're introducing Measurement Made Easy!, our updated and expanded Trade Show and Event Calculator software program (which you can get at no cost; just click to get your copy). This tool is designed to help you make sound exhibiting and event decisions and report them to your internal team. There are 14 calculators for use after your show, and feature popular measurements such as Return On Investment (ROI), cost per lead, new product introductions, sponsorships, presentations, and estimated versus actual budget calculations. But software alone won't do it all. To successfully measure your trade show program, you also need the other 6 factors:
To Read The Full Report And Request A Copy of The Successful Strategies Whie Paper Go To: http://www.skyline.com/Request/Successful-Strategies-White-Paper/
Used by permission of Skyline Exhibits - www.skyline.com.
How to Avoid Hiring Mishaps
By Lester S. Rosen
Knowing what data to search and what information to avoid is critical when vetting job candidates. Special care must be applied when using criminal databases compiled from public sources, for example. Other critical issues include the proper vetting of educational claims and the use of social networking sites.
To Read The Full Article Go To: http://www.securitymanagement.com/article/how-avoid-hiring-mishaps-005529
10 Tips to Consider Before Placing an Order with a Record Retriever
By Mike Sankey
Accurately communicating needs and expectations goes a long way to avoid major misunderstandings between clients and retrievers.Be clear at the outset on what you expect a record retriever to do for you. Here are ten aspects of a search we think are essential to review before you hire a retriever. Of course, the one big question not on this list that you will want to ask the retriever is "What is the cost?" This answer cannot be determined until the ten items below are clear to both parties.
1. Determine Exactly What Type of Records You Want Searched
You must always be crystal clear about what information you need. Do not give the retriever vague instructions. Asking a researcher to do a "criminal record search" is not an adequate description. For example, is the search to be conducted for felonies only, for felonies and misdemeanors, or for both? If misdemeanors are desired, should the search include DWIs? Another consideration is if a federal court search is also required.
2. Determine Where You Want to Search
7. Decide What Results are to
be Reported if Identifiers are Lacking
3. Decide the Time Period to Search
8. Determine if you Want Documents
as Part of a Search
4. Know the Subject's Name
9. Determine When and How You
Want the Results Given to You
5. Let the Retriever Know if You
Anticipate Records or Hits
10. Keep a Written or Electronic Log o
of the Request Instructions
6. Prepare to Ask How the
Search Will be Conducted
This article was provided by the Public Record Retriever Network - PRRN For More Information Go To: www.prrn.us
BOOK REVIEW: SECURITY MANAGEMENT MAGAZINE
Background Screening and Investigations: Managing Hiring Risk from the HR and Security Perspectives
By Barry Nixon, SPHR, and Kim Kerr, CPP; Reviewed by Peter Psarouthakis
| | |
| --- | --- |
| | Managing risk in the hiring process can be a challenging task for an organization's human resources (HR) and security departments. Having the right resources and experience to properly conduct a background screening or an investigation is vital. Fortunately, there is a growing amount of valuable material available. Background Screening and Investigations is one of them. Authors Barry Nixon and Kim Kerr lay a good foundation by explaining the risks posed by not having an appropriate screening process. Next, they address how legal issues can affect background screening and an organization as a whole. The authors then explain how security and HR must collaborate in this important process. The chapter titled "Background Checking Policy" is one of the book's many highlights. Nixon and Kerr explain the importance of having a policy in place and the laws governing background screening. |
The usefulness of this chapter cannot be overstated. The reader could easily use the authors' detailed arguments in making the case to management that a policy is needed. Later, the chapter provides detailed examples of hiring policies, focusing on specific issues the documents must address. Other chapters in this book are just as detailed and informative. Those who conduct background screening or investigations know the importance of keeping current on the ever-changing environment of background screening. Background Screening and Investigations is an important resource that anyone involved in hiring or the background screening business should keep close at hand.
http://www.securitymanagement.com/article/background-screening-and-investigations-managing-hiring-risk-hr-and-security-perspectives-00
Reprinted with permission of Security Management magazine. This is not intended to be an endorsement by Security Management magazine or ASIS International.
One Site! Many Suppliers!

Looking for the Top Suppliers in the Industry? Need to find a new Supplier?
Visit PreemploymentDirectory.com's VENDOR SHOWCASE which features suppliers to the Background Screening Industry (go to www.PreemploymentDirectory.com, click on 'Click Here' and then scroll down to Vendor Showcase for Background Screening Industry Suppliers)
STOP STRUGGLING WITH WRITING AND PUBLISHING YOUR NEWSLETTER:
We can help you have a high quality e-newsletter to help nurture your relationship with your clients and attract new clients. Our customized newsletter service will take over your newsletter task or create a new one for you. We can manage the creation of your newsletter for you.
We are constantly researching information to use for The Background Buzz and you can put our research to use for you. Using the information rich content from The Background Buzz (minus the ads and competitors information) we will create a custom newsletter for you.
Use your staff's time to do more valuable work and save all the hassle of researching or writing articles, formatting and managing all the other ezine tasks with our customized ezine process.
Contact Barry Nixon at 949-770-5264 or at wbnixon@aol.com for more information.
2009 Marketing Portfolios for:

Background Screening (CRAs) Firms
International Background Screening Firms
Suppliers to the Background Screening Industry
We Specialize in Promoting the Products and Services of businesses in the Background Screening Industry. Click on the specific Marketing Portfolio above that fits your business.

China Academic Degrees & Graduate Education Development Center
Cooperators
The Accreditation Department has established degree accreditation entrustment cooperation with numerous institutions in many different countries.
For More Information and To See The Full List of Cooperators Go To: http://www.cdgdc.edu.cn/xwweben/xw_accred.jsp
Managing Your Fraud Risks in Turbulent Times by Gagandeep Singh Puri, KPMG
The following information is excerpted from a presentation by Mr Gagandeep Singh Puri of KPMG at a recent CEO Forum session presented to The NASSCOM Regional Council of Guragon. Mr Puri, spoke about how the corporate world has been absolutely ravaged by fraudulent acts, defying both geography and time.
Some of the statistical data from by the KPMG India Fraud Survey of 2008:
Nearly 50 % of the respondents agreed that fraud was a major problem in India and out of the remaining 50 %, a whopping 37 % "somewhat agree;" which means that 87 % of the population seriously consider fraud as a severe roadblock.
Some 32 % of the senior people admitted to the knowledge of how such acts were perpetrated in their companies,
60 % of the respondents admitted to experiencing some kind of "fraud" in the last two years.
The recent spate of fraudulent corporate behavior - on a scale which can only be termed leviathan - has truly triggered the crisis that businesses face and has led to the birth of "fraud loss management." Consequences of fraud to the company often include bankruptcy, significant changes in ownership, delisting by national exchanges and financial penalties imposed. Finally, Mr. Puri discussed some preventive measures: pre employment screening, sound internal controls, process level fraud risk assessments, effective whistle blowing policies, good internal audit function. He noted that prevention is often better (and often cheaper) than cure.
For More Information Or To View the Presentation Go To: http://blog.nasscom.in/emerge/2009/04/managing-your-fraud-risks-in-turbulent-times-by-gagandeep-singh-puri-kpmg/
Background Screening, An Integral Part Of HR Activity
By Ashish Dehade, Managing Director (West Asia), First Advantage Pvt. Ltd. email: ashish.dehade@fadv.com
Human capital is increasingly being acknowledged as the most important investment for any company. Finding the right talent is a humungous challenge that the HR teams are facing in the current hiring scenario. With the advent of a truly global workforce, multi-location operations has led to an exponential increase in the risks associated with candidate recruiting and contract staff/vendor hiring. In addition, the nvolvement of individuals from corporates in various crimes have led to increased realisation about the value for background screening all employees.
The concept of background screening was introduced in India about seven years back. This was triggered by the changed security environment post the 9/11 attacks in the USA. With a number of Fortune 1000 companies initiating business in India it was expected that their India based entities/partners (mainly IT and BPO/ITeS companies) would background screen their employees as well as their outsourced staff. The concept of background screening is growing to include firms in manufacturing, petroleum, hospitality, health care, retail, travel, telecom, educational institutions and entertainment industries. It is becoming a part of the standard outsourcing contract and therefore Indian companies continue to proactively adopt it as part of their business process. The background screening industry is still in its nascent phase, however, collaborative online database solutions involving the candidate, the recruiter, the verifier, the verifying authorities, etc., are coming which will help in developing a 'pre-qualified and pre-checked' ready-to-hire talent pool — which is the need of the hour in the present Indian economic scenario.
For More Information And To Read The Full Article Go To: http://www.deccanherald.com/content/3396/background-screening-integral-part-hr.html
INTERNATIONAL RESOURCE CENTER
Transliteration from Arabic to English is No Piece of Cake
A challenge for the due diligence process in the Middle East is ensuring proper spelling and transliterating of Arabic names to and from English. When conducting due diligence inquiries, even slight name variations can produce false positives, lead to superfluous results, or (most worryingly) cause a researcher to inadvertently overlook potentially significant adverse information. Transliteration from Arabic to English for non-Arabic speakers is particularly difficult because there are no agreed standard spellings, and numerous variations can exist for each name. For example, a 1994 IBM-led research project on Arabic name algorithms concluded that the name Suleiman has as many as forty English variations. Even high profile subjects lack standardization. There are at least 32 different spellings for "Moammar Al Ghaddafi," which would be good news if writing a term paper (difficult to misspell). However, when searching standardized English databases – such as litigation records or enforcement actions – precise spellings are necessary. For More Information Go To:http://www.corprisk.com/publications/newsletters/dd/Challenges%20of%20Du
e%20Diligence%20in%20the%20%20Middle%20East.pdf
International Training Resources:
World Federation for Personnel Management, Events, http://www.wfpma.com/dates.html
To view the International Section go to http://www.preemploymentdirectory.com/
look in the middle of the page for the gray bar like the one below.
Crisis May Fuel 'Crimes Of Passion' In Offices
Symantec believes that insider threats from under-pressure employees may increase with layoffs and pay freezes, reports Amit Roy Choudhury. A recent study by Symantec Corp notes that 50% of SMBs (Small and Medium-sized Businesses) in Singapore plan to increase IT security and storage spending over the next 12 months, despite the present economic crisis. The results are a part of the Asia- Pacific, including Japan (APJ) findings of Symantec's 2009 Global Small and Medium-sized Business (SMB) Security and Storage survey. Symantec believes that insider threats will increase as economic pressure rises, Mr Hoh added. According to him, when companies lay off staff, freeze salaries and suspend promotions, or when employees fear such events are imminent, the pressure is more likely to prompt employees into making bad choices out of fear. 'Insiders may try to steal confidential data and trade secrets, often via e-mail, for financial gain or merely to 'get even'.' He noted that malicious insider incidents are mainly 'crimes of passion' and are not part of long-term plans, but more of a thoughtless action during an emotional moment. The survey also revealed that the top three concerns of APJ SMBs are viruses, data breaches, and loss of confidential or proprietary information through USB and other devices.
For More Information Go To: http://www.asiaone.com/Business/SME%2BCentral/Tete-A-Tech/Story/A1Story20090514-141394.html
Launch Of The New Vetting And Barring Scheme
The Home Office announced new measures to protect the vulnerable with the launch of the new Vetting and Barring Scheme later this year. The changes planned for 12 October 2009 and the new safeguards that will be introduced to enhance the protection of children and vulnerable adults are outlined below.
The creation of two new ISA barred lists. These lists will replace the existing List 99 and POCA, POVA Lists.
Access to these new ISA lists will be available on request as part of an Enhanced CRB check.
Eligibility for Enhanced CRB checks will expand to include more employment and voluntary positions; such roles will be known as regulated positions.
Standard CRB checks will no longer be available for those working with children or the vulnerable.
There is no change to the current application form or application process.
Additonal requirements go into effect on July 2010 and November 2010
.For More Information And To Read The Additional Requirements Go To: http://www.crb.gov.uk/default.aspx?page=5290
Britain's Unemployment Rises To 2.2m
Unemployment in Britain rose again in March, with official figures showing that the number of jobless rose to 2.2m, a 13-year high. Unemployment is up by 244,000 since December, and by nearly 600,000 in the past year. The unemployment rate jumped from 6.7% in February to 7.1% in March. The number of people claiming benefits in March climbed 57,000 to just over 1.5 m. However, the increase in the jobless numbers was down on recent months, providing some grounds for cautious optimism that the economy may be close to bottoming out. The 57,000 rise in the numbers out of work last month compared with a 74,000 jump in April, and a137,000 increase in March. Hugo Sellert, head of economic research at Monster Worldwide, told Recruiter: "In line with the latest ONS results, the Monster Employment Index UK is starting to show a stabilisation in the rate of decline in the UK job market.
In April, the Index registered its second gain in three months, partially halting the downward trend seen between May 2008 and January 2009.
For More Information Go To: http://www.recruiter.co.uk/unemployment-rises-to-22m/1001533.article
Lawful and Unlawful Employment Vetting and Background Screening
Recruitment decisions are difficult and are often taken under acute pressure of time. There are a number of legal risks, including the possibility of a discrimination claim from an unsuccessful candidate. If an unsuitable appointment is made, then the consequences can be very expensive, and on occasion disastrous. Employment vetting is about one specific aspect of the recruitment process: namely, identifying potential employees who present an unacceptable risk of serious harm to the organisation, or to its customers or service users. Vetting raises significant problems, not simply for employers, but for society as a whole. For instance, a balance needs to be struck between preventing individuals from having their careers blighted by unproven allegations, and protecting vulnerable groups (such as children, the elderly and disabled people) from the risk of financial, physical or sexual abuse. The available methods of employment vetting include asking for references, carrying out Criminal Records Bureau (CRB) checks, ensuring that prospective employees are not on any statutory barring list, and the use of employment blacklists. There may also be issues (not dealt with in this article) about checking immigration status and ensuring that a candidate is entitled to work in the UK. As the Facebook generation enters the workforce, we will doubtless see employers searching the internet for evidence of drug or alcohol abuse, political extremism, or even an intention to start a family in the near future.
For More Information And To Read The Full Article Go To:http://www.legalweek.com/Articles/1197875/Employment+Background+information.html
Over A Third Of City Workers Would Steal From Employers
A survey by Infosecurity Europe of office workers in London's financial district has found that over a third (37%) would steal company information from their employer if the price was right. City workers were still fairly scrupulous, though, with around two thirds saying that they would never download and hand over sensitive information. Researchers from Infosecurity Europe asked City professionals what it would take to tempt them to download and hand over sensitive company information to a stranger, with incentives ranging from a 'slap up meal' to over ten million pounds. The type of information that the workers had access to included customer data bases (83%); business plans (72%); accounting systems (53%); Human Resources data bases (51%); and IT admin passwords (37%). 'Even in the current downturn British workers are still basically very honest, but this cannot be relied upon by organisations to protect valuable company information and confidential customer data', said Tamar Beck, Group Event Director, Infosecurity Europe.
For More Information Go To: http://news.hereisthecity.com/news/business_news/8988.cntns
Trade Union Blacklists To Be Prohibited
Following action by the Information Commissioner to shut down a blacklist of construction workers in March this year on the basis of data protection law, there has been much speculation as to whether the practice of blacklisting will be outlawed generally. Business Secretary Lord Mandelson has today announced that the Government intends to introduce new regulations to prevent union members being victimised at work or denied access to employment due to blacklists. This is likely to make unlawful the compiling, dissemination or use of prohibited lists subject to certain limited exceptions. Consultation on the proposed regulations will be launched in early summer.
For More Information Go To: http://www.mondaq.com/article.asp?articleid=79454&email_access=on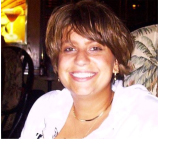 We invite you to pull up a chair, grab your latte and take a break while you join us for this month's issue of The Background Bistro. This week's guest is Heather Arndt, CEO of ABC Service, Inc.
Heather Arndt, along with her mother-in-law, Wanda Arndt, purchased ABC Service, Inc. in 2000. Prior to purchasing the business, Heather was a bookkeeper. It was then that she learned about different employment laws and accessing public records. "I have worked in this industry for the past nine years and it is what I expected it to be. I have enjoyed learning about all of the laws and how the court system works," says Heather.
ABC Service, Inc. is unique in a number of ways. For one, it is a small family-owned establishment, which allows the company to have a one-on-one approach with its clients. It also allows the company to handle each case with a personal touch. "Everyone that works in our office is very versatile. Each employee can perform all duties of the job, from going to the courthouse and gathering information to accessing computer data for our clients. Even though I have a leadership position, I perform all of the day-to-day duties," states the Minnesota native.
ABC Service, Inc. provides many benefits to its clients. For example, you never get a voice mail; there is always someone to answer the phone and provide you with the necessary information. All employees are aware of current projects that the company is handling and are able to answer all questions a client may have. In addition, ABC Service, Inc. specializes in compliance laws of Minnesota. "We don't have to get back to you on any questions the client may have, we know the answers right away. Also, we are able to customize our rates, while most other background check companies have a flat rate," says the CEO.
Heather feels that the biggest key to the company's success is communication, stating, "Communication is a big deal when it comes to our clients, it is something that we have to have."
For those who have used ABC Service, Inc. has been very positive, "Everyone is very satisfied with the services that we provide for them. We do 10-15 year searches without any extra charge. They love our fast turnaround and extra effort," says Heather.
Obviously, ABC Service, Inc. is a big part of Heather's life, but she still manage to make time for a fun and fulfilling personal life as well. Heather has been married for ten years to her husband Brad and has two children, daughter Chase and son Hayden. "We live on a lake and do a lot of boating. My husband and I do a lot of golfing and our children are starting to get into it as well."
Heather also enjoys collecting antiques. She has a couple of antique blow guns in her collection. One is from Malaysia and the other from India.
Heather is a big sports fan who follows hockey, baseball and NASCAR. Heather has even had the opportunity to meet one of her favorite players, Joe Nathan, of the Minnesota Twins stating, "Meeting him was really cool, me and my family are also really big Curt Busch fans, too."
When wanting to escape and relax Heather turns to music. Her tastes range from country to jazz, with some occasional classical thrown in too. She reveals an interesting fact about her favorite band, "The lead singer of the group Green Day, Billie Joe Armstrong, actually married a lady from Minnesota and comes back here once a year."
Aside from her work and leisure activities, Heather volunteers for the United Fund Board. She also is a member of the Le Center Chamber of Commerce and NAPBS.
As with most leaders in her field, Heather sees a great future for her industry, stating, "I think that the laws are going to become much stronger when it comes to verification. Also with the way the economy is, I foresee a lot of companies going out of business or the bigger companies buying out the smaller ones. However, in the end, I think the industry will stay strong because I believe that every company should have background screening which means in the long run there will be plenty of work to go around."
For More Information About ABC Service, Inc. or to Reach Heather call 507.357.6320.
ADVERTISERS IN THIS EDITION
UPCOMING CONFERENCES & EVENTS

2009 Events (Click Here to View full list of 2009 Events) – Updated Monthly
SHRM State Conferences, visit http://www.shrm.org/Conferences/StateAffilliateConferences/Pages/default.aspx
Drug and Alcohol Testing Industry Association (DATIA), 2008 Training Course Schedule, visit http://datia.org
| | |
| --- | --- |
| | National Association for Professional Background Screeners (NAPBS), 2009 Webinar Schedule, visit www.napbs.com |
World Federation for Personnel Management, Events, http://www.wfpma.com/dates.html