There Are Several Things That Are "Wrong" With The Background Screening Industry.
In the current July edition of Security Director News the Editorial is entitled 'Are you in the know about pre-employment screening?' It starts out with "There are several things that are "wrong" with the background screening industry. Some of the issues stem from misinformation, and some stem from bad business practices. But the bottom line is that most of the companies in the United States are not getting good information.
The biggest issues are the misconceptions concerning database searches. There are companies all over the place that sell criminal record searches that are "national". But there is no such thing as a national database search, period. Even the famous FBI database search, the NCIC, has flaws. In 2005, the National Association of Professional Background Screeners commissioned a study on the accuracy of the NCIC and the results were shocking to say the least. The study found that in a significant percentage of searches, the FBI database returned erroneous or incomplete information."
For More Information Go To: http://securitydirectornews.com/index.php?p=article&id=sd200707UzxrfZ
Bruce Berg 2007 SHRM Report for the Background Screening Industry
Attendance was up again this year, to a record 15,000 attendees and another 7000 or so exhibitors, staff and others. Note: there are over 225,000 SHRM members. The number of pre-employment screening companies exhibiting was up about 10 to 55. It really seemed that there were more background checking companies than any other category. Some even had booths right next to the other or across the row. Regardless, the exhibiters I spoke with were very excited about the quantity and quality of the leads. Of course, as we know so well, these are only "leads" and must be worked to turn into Accounts. The point is, people are looking for something better and those exhibiting have a good shot at knowing who those companies are. NAPBS had a booth again this year, talking about the value to the end user in using a NAPBS member as a quality background screener and giving out a special SHRM edition of the slick NAPBS Journal. The hot topic again this year for background screening companies was The Complete Recruiting Suite.
http://www.bergconsultinggroup.com/id51.html


Excons Need Not Apply: Are We Creating A New Underclass That Is Not Able To Get A Job?
The U.S. locks up more people than any other nation, and therefore releases more people from prison each year - more than 650,000 per year (120,000 per year in L.A. County alone). And with a job market that increasingly locks out people with criminal convictions experts say it is no wonder that nearly 70% of people who come home from California prisons return within one year of their release. "How can we in good conscience expect people with past convictions to turn their lives around when we force them to wear shackles," said Supervisor Yvonne Burke. Her motion called the Fair Employment Resolution would remove the criminal conviction question from L.A. applications. More U.S. Cities Removing Criminal Record Questions from Job Applications. Across the country cities and counties are undoing the stigma and discrimination that follows people with criminal records. Major U.S. cities (including Boston, Chicago, Minneapolis, San Francisco, St. Paul and Alameda County California) are calling the dreaded question - hypocritical and discriminatory.
For More Information Go To: http://www.blackvoicenews.com/content/view/41044/4/
DHS Efforts to Eliminate Redundant Background Check Investigations
DHS components are in the preliminary stages of implementing several initiatives, that may consolidate, coordinate, and harmonize2 such background check programs. Because it is too early to determine the effectiveness of these initiatives, we did not make specific recommendations to eliminate any redundancies and inefficiencies specific to the DHS background check programs examined. To identify programs with background check requirements similar to those for the HME program, we examined the various programs' background check requirements and held discussions with Transportation Security Administration (TSA), Coast Guard, Customs and Border Protection (CBP), and DHS Screening Coordination Office (SCO) officials. On the basis of this information and as agreed with committee offices, we compared the HME program to the following five DHS programs:
http://www.securitymanagement.com/library/gao07756_backgroundscreening0707.pdf


Accurate Background, Inc. Wins "Supplier Diversity Award" - JCPenney Names Accurate Background as their Leading Minority-Owned Business Vendor.
Accurate Background, Inc., a leading provider of background screening services, announced today it has received the prestigious Procurement Supplier Diversity Award during the annual JCPenney Supplier Summit. "With over 2,000 procurement vendors supporting JCPenney throughout the year, it is an honor to be recognized for our commitment to quality and service," remarked Dave Dickerson, president of Accurate Background, Inc. "We admire JCPenney's dedication to incorporating minority-owned vendors, such as ours, in its key business strategy."
For More Information Go To: http://www.accuratebackground.com/pdfs/JCP%20Supplier%20Diversity%20Award%2007.pdf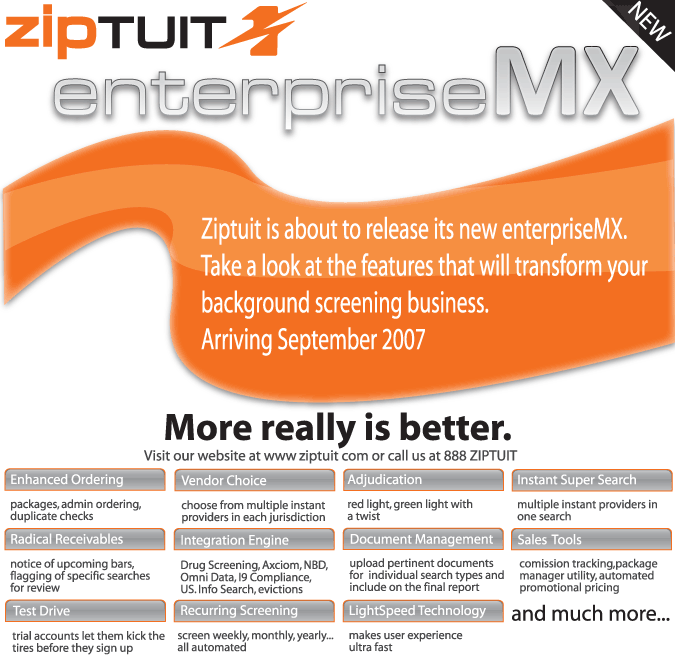 Secure Document Destruction Sold To Cintas
Secure Document Destruction, a division of James M. Sweeney and Associates, Inc. has been sold to Cintas Corporation. Secure Document Destruction provided secure onsite shredding of confidential documents and materials in the Quad Cities and surrounding area. Cintas is an experienced national shredding services provider and will operate the onsite shredding business from their Moline, Illinois offices.
For More Information Go To: http://www.quadcitytimes.com/articles/2007/07/10/news/business/doc469318b01ee45334658818.txt
Verified Person Receives New Round Of Funding
New York-based background screening company Verified Person Inc. announces it has received a Series D round of equity funding from an undisclosed group of new investors, and return participation from initial investors. With this round the company plans to expand its sales and marketing organizations as well as focus on product development. "We are fortunate to have such a committed group of investors supporting Verified Person," said Verified Person CEO Jim Davis. "This new round of funding provides additional resources to further expand market share in both new and existing markets."
For More Information Go To: http://www.verifiedperson.com
SPECIAL PROMOTIONAL CAMPAIGN FOR RELEASE OF COMPREHENSIVE GUIDE FOR SELECTING A BACKGROUND SCREENING FIRM SELLS OUTS!
Thank you for making our Special Promotion campaign to release our landmark booklet 'Comprehensive Guide For Selecting A Background Screening Firm' an overwhelming success. It not only Sold Out, it over sold, so we will be doing a second one shortly with slots already pre-sold. The new campaign will be sent to a new set of 5,000 Human Resource Managers.

Contact Barry Nixon at wbnixon@aol.com to put your name on the interest list


deverus, Inc. Announces The Launch Of Enhanced Sales Tools

deverus announced today the launch of their newest sales tools for its customers, the ExpressAccounts - They allow background screening prospects to quickly sign up, place live orders at an initially discounted rate, and track marketing campaign effectiveness. Not only can background check companies more fully demonstrate their capabilities to prospects, they can now better track target prospects and campaign effectiveness! Some examples include:

For More Information Go To: www.deverus.com


Verifications, Inc. Introduces VI Applicant Manager

Verifications, Inc., a leading provider of global employment screening and applicant processing services, announced a revolutionary new product at the SHRM annual conference in Las Vegas June 24-27. The new product,VI Applicant Manager, combines employment screening, applicant management and onboarding. No other product on the market provides these services via a single software system. The application has been in development for over eighteen months and will be delivered using the software as a service model.

For More Information Go To: www.verificationsinc.com
Cyber Security: Data Breach Insurance Gains in Popularity
What do you think it would cost your institution if a laptop with 10,000 customer records went missing? A new online calculator created by Darwin Professional Underwriters puts the cost per breached record at $166 per record (www.tech-404.com/calculator), and shows the cost breakdown among internal investigation, notification and crisis management, and regulatory costs. Every time there's a major data breach insurance companies that write policies to cover the technical side of breaches and privacy-protection policies prepare for a deluge. "Demand for netAdvantage has been outstanding," says Nick Economidis, VP and Product Manager at National Union Fire Insurance Co., a wholly owned subsidiary of AIG, which has offered a security-risk policy called netAdvantage for years. "We've seen a significant uptick in interest and a significant uptick in buying as a result of data-disclosure events, most notably in the last couple of months," he says.
For More Information Go To: http://www.banktechnews.com/article.html?id=20070525TLBOP8OV
New Law Strengthens Bus Driver Screenings
Connecticut - A new state law calls for the state Department of Motor Vehicles to follow the same screening standards for school bus drivers that the state Department of Education uses for teachers, administrators and coaches. Gov. M. Jodi Rell this month signed the bill requiring additional background checks of people applying to drive school buses. The check includes reviewing the state child abuse registry. The new law prohibits anyone convicted of or arrested for a major felony or crime associated with child abuse or neglect from driving schoolchildren on buses. It also requires the DMV to deny a bus driver's license to anyone convicted of a serious criminal offense if the person has not completed his or her sentence within the past five years.

http://www.thestamfordtimes.com/stamford_templates/stamford_story/297286036244890.php
Congressman Seeks Background Check For Long-Term Care Workers
Florida Rep. Tim Mahoney, D-Fla., whose district includes part of Charlotte County, has introduced a House version of a bill that would create a national background check system for long-term care employees. The proposal has been pushed by Sen. Herb Kohl, D-Wisc., who says the background checks are needed to prevent people with criminal histories and abuse records from working with the elderly in nursing homes and other long-term care settings. A seven-state test of the idea, included in the 2003 Medicare Modernization Act, ends in September. More than 5,000 people were excluded from long-term care work in those states. "This legislation would build on that success by providing better protection for our friends and family who are entrusted to the care of others,"Mahoney said in a press statement.
For More Infomration Go To: http://www.heraldtribune.com/article/20070720/BLOG30/70720017&start=1
NEW EDUCATIONAL WEBCAST SERIES OFFERRED
| | | |
| --- | --- | --- |
| June 25, 2007 | Advanced Criminal Record Checks - Obtaining and Using | Larry Henry |
Register Here:: http://www.napbs.com/images/pdf/Webinar%20Information/July_Webinar_Registration_Form.pdf
What's the use of an online system too difficult for your clients to use?

InstaScreen™ background screening software is so easy to use that your clients will actually enjoy placing orders!

If your current applicant screening system is so cumbersome it discourages end-users from using it, you owe it to yourself to choose a system your customers will actually use. Imagine receiving more orders and saving your processors valuable time by getting your clients to enter the orders for you.

Simple and powerful, InstaScreen™ is intuitive, easy to use, and flexible to accommodate your clients specialized needs.

Call (801) 572-7401 or visit www.tazworks.net and demo our easy-to-use technology first hand.


LOOKING FOR THE TOP SUPPLIERS IN THE INDUSTRY? NEED TO FIND A NEW SUPPLIER?
Visit PreemploymentDirectory.com's VENDOR SHOWCASE which features suppliers to the Background Screening Industry (go to www.PreemploymentDirectory.com, click on 'Click Here' and then scroll down to Vendor Showcase for Background Screening Industry Suppliers). The VENDOR SHOWCASE now includes BRB Publication's PRRN Network the dominant online portal for the public records industry
Check Out our newest web site to exclusively promote our Platinum Members that are in our Vendor Showcase
WWW.BACKGROUNDSCREENINGVENDORS.COM
One Place! Many Suppliers!
THE FUTURE OF BACKGROUND CHECKING
Background checks long have been a means for employers to look into the pasts of potential or current employees. Although some consumers might find this practice unnecessarily nosey, others recently have starting turning the tables. Many employees now buy their own background checks and even bring them to their interviews. HR executives want to be able to allow applicants to use their background checks in other areas of life such as housing, rentals, volunteer organizations and online dating services," he said. "Background checks are just being used more and more in life. It's kind of like credit reports in the late '70s and early '80s — they were only really being used by employers, but nowadays, you can go buy your own credit report, look at your score and analyze it." We predict the next five years, a major percentage of employers will at least be offering applicants the opportunity to buy their own background check."
For More Information Go To: http://www.talentmgt.com/recruitment_retention/114/index.php
Global
CEOs Go Global For Talent: Companies looking overseas for skilled employees.
More companies are tapping into overseas talent to deal with a lack of qualified workers in North America, according to a Deloitte & Touche LLP survey. The firm's Technology Fast 500 CEO survey shows 55% of CEOs plan to offshore talent in the next five years. Thirty percent of respondents also say by 2012 they plan to offshore up to 10% of their workforce, while 27% say they'll offshore up to 20%. Less than one-fourth of respondents (20%) plan to offshore up to 30% of their workers, and 15% expect to offshore up to 40% of their workforce.
For More Information Go To: http://www.industryweek.com/ReadArticle.aspx?ArticleID=14352
India
Screening Out The Bogus Staff: Undercover Journalists Can Damage Your Company's Profile
Barclays and G4S are just two recent victims of bad press coverage broken by undercover journalists. So what can HR do? Background screening at the recruitment stage to help spot bogus CVs and references is one way of screening out potential troublemakers.
For More Information Go To: http://www.personneltoday.com/Articles/2007/07/17/41497/Screening
India - Bill To Regulate Private Detectives
NEW DELHI: Aiming to regulate private detectives and outsourcing some policing jobs to detective agencies in the country, the government is set to introduce a Bill in the monsoon session of Parliament. Drafted by the Home ministry, the Private Detective Regulation Bill 2007 seeks to bring the private detective agencies under government control and eliminate fly bynight operators.
For More Information Go To: http://timesofindia.indiatimes.com/Bill_to_regulate_private_detectives_soon/articleshow/2226008.cms

United Kingdom
Tackling Employee Fraud and Dishonesty: Managing and Mitigating Risk
Recent research by CIFAS – the UK's Fraud Prevention Service – has confirmed that staff fraud has a reputational, financial, regulatory, internal and customer service impact on businesses. As a result, staff fraud is now emerging as the single most significant fraud risk to the financial services industry and a serious risk to all businesses. The growing threat from staff fraud can be effectively combated by organisations co-operating and adopting a common approach that includes zero tolerance of all types of staff fraud and a rigorously anti-fraud internal culture that promotes honesty, openness, integrity and vigilance throughout the workforce.
For More Information Go To:http://www.cipd.co.uk/subjects/hrpract/general/_tklgstffrd.htm?IsSrchRes=1
Strict New Checks For Foreign NHS Doctors
Background security checks on foreign doctors and other health workers migrating to Britain are to be stepped up after the weekend bomb scares in London and Glasgow. Recruitment of overseas medical staff will also be reviewed and the worldwide watch lists for terrorists expanded. New agreements are being sought with countries around the world to ensure a co-ordinated response to the terrorist threat. Gordon Brown announced the moves in the Commons as police continued to question eight suspects, all of whom worked in the NHS. "It is vitally important that the message is sent out to the rest of the world that we will stand strong, steadfast and united in the face of terror," he said. The prime minister, during his first Question Time in the Commons, said the Government would strengthen background checks on highly skilled migrants.
For More Information Go To: http://www.telegraph.co.uk/news/main.jhtml;jsessionid=CINVOVEMUWKY
Ireland
New Laws To Protect Personal Data
Insurers will face prosecution for hiring private investigators to dig up confidential information on customers, according to new rules coming into force at the end of this year. The rules are part of a new code of practice for insurers which is being drawn up by the Data Protection Commissioner, Billy Hawkes, who is responsible for upholding the privacy rights of individuals. During recent audits of insurance companies, Hawkes discovered that civil servants in the Department of Social and Family Affairs (DSFA) had leaked sensitive social welfare records to insurers. ''I am concerned that such leaks are happening," said Hawkes. ''The DSFA has sensitive information on people, many of whom come from a poor background. When people entrust their details to the state, they should have the confidence that this information will be kept confidential and only used for the purposes for which it is given in the first place." Under data protection law, it is a criminal offence for a company to obtain someone's confidential information without their consent.
For More Information Go To: http://www.sbpost.ie/post/pages/p/story.aspx-qqqt=IRELAND-qqqm=news-qqqid=25336-qqqx=1.asp
"GOT INTERNATIONAL INFORMATION?"
Our intent is to continuous add relevant information to create a valuable resource that will be used over and over by anyone looking for information on doing international background verifications, vetting or verifications. It includes information on EU countries data protection and other laws, Canada, terrorist searches and much more. Also included is very practical information on time zones, locating cities, etc. Check it out and I am sure you will want to Bookmark it so you can use it over and over. To view the International Section go to www.PreemploymentDirectory.com and look under the line in the middle of the page:

How Would You Like to Get More Sales Leads?
Platinum Membership Just Got Better
We have just added 5 new Platinum Members Only Web Sites to promote our Platinum Members.
Hawaii's High Court Has Ruled That A Company Wrongfully Fired An Employee Based on Prior Criminal Record
Hawaii 's Supreme court said that an employee's conviction must bear a rational relationship to the employee's job before it can take action. Wright, a Home Depot employee with about one year tenure applied for a promotion to department supervisor. During the review period for the promotion, Wright was tested for drugs twice. Both test were negative. Home Depot also conducted a criminal background check on Wright as part of the review. The check uncovered Wright's drug conviction and Home Depot fired him. (Description based on information provided in Legal Report in March, 2007 Security Management magazine.)
For summary of the courts findings go to Wright v. Home Depot, Hawaii Supreme Court, No. 27190,2006
http://www.state.hi.us/jud/opinions/sct/2006/27190.htm
Nuclear Regulatory Commission to Address Rescreening of Employees
The Nuclear Regulatory Commission (NRC) has issued a final rule requiring that those who have access to nuclear safeguards information—defined as sensitive, unclassified, security-related data—be fingerprinted and undergo an FBI criminal records check. Under the rule, those who have completed a background check within the past five years or who have an active security clearance need not be rescreened at this time. The fingerprinting requirement is required under the Energy Policy Act of 2005, and is effective immediately. The NRC is currently working on a more comprehensive rule addressing the other issues set out in the act. The upcoming rule will address issues such as security precautions to preserve the integrity of safeguard information and how often employees must be rescreened. (Source: http://www.securitymanagement.com/ )
For More Information Go To: http://www.nrc.gov/reading-rm/doc-collections/acrs/tr/fullcommittee/2006/ac090706.pdf
Embezzling Cases Are On The Rise
People in all corporate ranks — even longtime, trusted employees — are now being charged with embezzlement, police and prosecutors say — after simply slipping cash from the till or creating an elaborate cover-up that allows them to steal from their employers for years. Raleigh County Prosecuting Attorney Larry Frail said embezzlement cases compared to two years ago, has increased. "It's anyone from the management on down. Cashiers — everyone — can fall prey." He note not only embezzlement, but also forgery, uttering and credit card fraud. Screening new hires is the best way to prevent embezzlement, but Frail noted that even long after some employees have worked for one company, they resort to theft. Detective Lt. Jeff Shumate of the Beckley Police Department said "The biggest mistake is when you entrust one person with all the financial duties. Some of these people have worked at a company for 15 to 20 years. Over that time, trust has been built up. The business doesn't think it will be a victim."
For More Information On Recent embezzlement arrests, indictments and convictions Go To:
http://www.register-herald.com/local/local_story_161230603.html
Situation identified in April edition is now an Official Complaint Before the Federal Trade Commission with a Request for Investigation, Injunction and Other Relief
For More Information Click Here
(See Railroad Abruptly Fires Longtime Workers - http://www.rainbowpush.org/FMPro?-db=rpodata.fp5&
-format=rainbowpush/data06/d006&-max=20&-recid=33547&-find=)

With the right advice and counsel it is highly likely this situation and complaint could have been avoided. How much time, resources and money is now involved in resolving this situation? This is an example of a situation that Infinity Screening Solutions could have helped resolve before it got to this level.
Let us help your clients avoid unnecessary situations that waste time, resources and money!
Contact Barry Nixon at 949-770-5264 or at Barry@wvp911.com to learn more about how Infinity Screening Solutions can help you increase revenue while helping your clients avoid unnecessary headaches.

Data Administrator Charged With Enforcing Data Access Rights Steals 2.3M In Consumer Records from Company
Call it the case of hiring a fox to guard the hen house. A senior database administrator at a subsidiary of Fidelity National Information Services Inc. who was responsible for defining and enforcing data access rights at the company instead took data belonging to about 2.3 million consumers and sold it to a data broker.
For More Information Go To: http://www.computerworld.com/action/article.do?command=viewArt
icleBasic&articleId=90261 66&intsrc=hm_listhttp://www.computerworld.com/action/article.do?com
mand=viewArticleBasic&articleId=9026166&intsrc=hm_list
2 Billion Personal Records May Be Compromised By Year End: Organizational Mismanagement Most Likely Cause, Not Hackers
If Phil Howard's, an assistant professor of communication at the University of Washington, calculations prove true, by year's end the 2 billionth personal record -- some American's social-security or credit-card number, academic grades or medical history -- will become compromised, and it's corporate America, not rogue hackers, who are primarily to blame. According to Howard malicious intrusions by hackers make up a minority (31 percent) of 550 confirmed incidents between 1980 and 2006; 60 percent were attributable to organizational mismanagement such as missing or stolen hardware; the balance of 9 percent was due to unspecified breaches.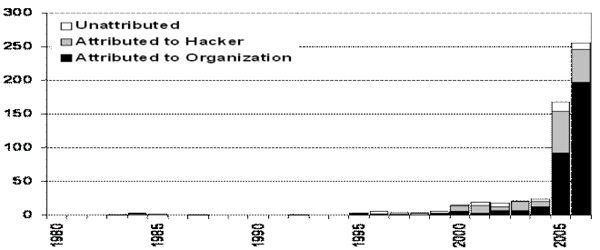 Source: A Case of Mistaken Identity? News Accounts of Hacker, Consumer, and Organizational Responsibility for Compromised Digital Records, 1980-2006; A Case of Mistaken Identity? News Accounts of Hacker, Consumer, and Organizational Responsibility for Compromised Digital Records, 1980-2006, by Philip N. Howard and Kris Erickson, Journal: Journal of Computer-Mediated Communication. Figure 1: Hacker and Organizational Culpability in Reported Incidents of Compromised Records, 1980-2006
For More Information Go To: http://uwnews.washington.edu/ni/article.asp?articleID=31264
2007 Background Buzz MEDIA RATES:
Click here for more information about advertising in The Background Buzz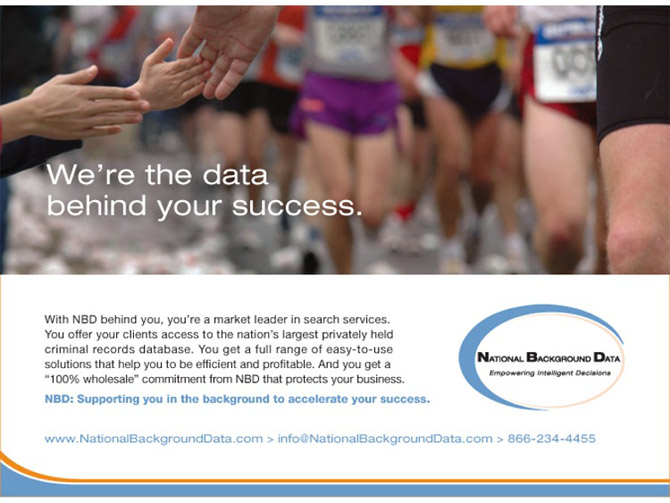 Employees May State a Claim for Wrongful Termination if Terminated for Reporting Credible Threats of Violence in the Workplace
The California Court of Appeal, Second Appellate District, recently ruled that an employee who was terminated for complaining to his employer's human resources department and the local police department about threats of workplace violence stated a claim for wrongful termination in violation of public policy. In Franklin v. Monadnock Co., __ Cal. App. 4th __ (May 24, 2007), the appellate court held that the public has a vital interest in ensuring that employees are provided a workplace that is free from credible threats of violence and physical assaults. In order to attain a safe and crime-free workplace, employees must be free to bring to the employer's attention illegal conduct or credible threats of violence without the fear of termination.
For More Information: http://www.mondaq.com/article.asp?articleid=49920
BACKGROUNDSCREENINGJOBS.COM HAS 2 EXCITING NEW JOB POSTINGS:
| | |
| --- | --- |
| | Find resumes of people with industry experience and industry employers seeking industry experience. |
Employer/Recruiter Testimonials -
"This is a super concept. Thanks for helping the industry." - RK
Looking for candidates with industry experience!
Visit backgroundscreeningjobs.com today!
UPCOMING CONFERENCES & EVENTS:
United States of America
National Association for Professional Background Screeners Mid-Year Conference (NAPBS) 2007 Mid-Year Meeting, September 9 through 11, 2007, Chicago, Ill, see www.NAPBS.com
2007 HR-XML Global Partnering & Integration Summit, September 26-28, 2007, Las Vegas, NV, USA
http://www.partneringsummit.com
2007 Annual Pre-Employment Screeners Conference, November 11 - 14, 2007, Clearwater, Florida
http://www.search4crime.com/Conference/index.htm
INTERNATIONAL
Business Forums International's 11th Annual Pre-Employment Vetting & Screening Conference, October 17, 2007, London, England, http://www.bfi.co.uk/event.php?idEv=28
Background Investigator's India Pre-employment Screening Conference, December 6-7, 2007, Bangalore,India, http://www.search4crime.com/Indiaconference
World Federation of Personnel Management Associations (WFPMA), World Congress, For Details on International events by date go to http://www.wfpma.com/dates.html


2007 Events (Click Here to View full list of 2007 Events) – The List is Updated Monthly)