Top Background Screening and Checking Providers
Workforce Magazine has republished its 'Hot List' of the top background screening firms which is based on the number of employment background-related screenings conducted and Kroll Background Screening Group leads the pack and Hireright has been added.
Click here to see the full list of the top background screening firms: http://www.workforce.com/tools/hot_list/HL12_12_05.pdf
Diploma Mill Nightmare Continues
There are more than 300 unaccredited universities now operating. While a few are genuine start-ups or online ventures, the great majority range from merely dreadful to out-and-out diploma mills-fake schools that will sell people any degree they want at prices from $3,000 to $5,000.
It is not uncommon for a large fake school to "award" as many as 500 Ph.D.'s every month.
The aggregate income of the bad guys is easily in excess of $200 million a year. Data show that a single phony school can earn between $10 million and $20 million annually.

With the closure of the FBI's diploma mill task force, the indifference of most state law enforcement agencies, the minimal interest of the news media, and the growing ease of using the Internet to start and run a fake university, things are rapidly growing worse.
The scary part is that this data is based on research from the early 2000's and it is highly likely that these institutions have significantly increased. The lack of law enforcement resources focused on eradicating these fake degrees virtually ensures they will continue to proliferate. The best defense is educated employers who verify the credentials of new hires to ensure they have valid degrees.
For more information go to: http://www.degree.net/html/diploma_mills.html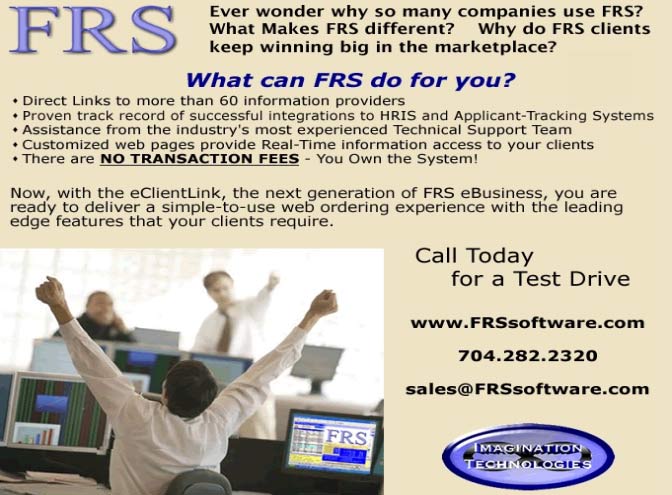 KPMG Corporate Finance's Valuation Update for the Security Industry
The security industry maintained consistent deal flow through the month of July as highlighted by the following publicly announced news and transactions:
First Advantage Corporation acquired Refsure Worldwide Pty Ltd., the leading provider of employment background screening services in Australia and New Zealand. Refsure provides screening programs to multinational and local companies in financial services, telecommunications, and retail industries. Financial terms of the transaction were not disclosed. This deal comes on the heels of First Advantage's May 2005 acquisition of Quest Research, a provider of background screening services in Asia. With these acquisitions, First Advantage has established itself as the leading provider of employment screening services in the Asia-Pacific market. (July 24, 2006)

ChoicePoint Inc. announced their intent to divest various business segments following a company-wide strategic review. As a result of the divestments, ChoicePoint has revised their business segments for financial reporting purposes. The business services segment has been broken out into two segments: the screening and authentication service segment and the financial and professional services segment. ChoicePoint released 2005 segment results from continuing operations under their new configuration. Screening and authentication services revenues of US$242 million in 2005 accounted for 26.5 percent of total revenues. For 2005, screening services recorded an operating profit margin of 24.4 percent. Furthermore, the segment realized 11.3 percent organic growth and 13.8 percent growth including acquisitions. For the first quarter 2006, screening and authentication services reported revenues of US$61.8, a 23 percent operating profit margin, and an internal revenue growth rate of 11.1 percent. (July 10, 2006)

Garda World Security Corporation, a major supplier of physical security, cash-handling, investigative, and pre-employment screening services in North America, has acquired Toronto-based Intertec Security Corp for CAN$4.9 million. Intertec has annual revenues of CAN$16.1 million, implying a revenue multiple of 0.3x . Intertec's services include providing security officers, mobile patrols, executive protection, and parking control. (July 1, 2006)
For a copy of the full report contact Cherie Smith Homa at 410-949-8692 (csmith@kpmg.com) or Jason Cross at 410-949-8683 (jecross@kpmg.com).


902 East 5th Street Suite 101
Austin Texas, 78701
(v) 888.690.9297
(f) 512.485.3111
sales@deverus.com



What if you could give HR exactly what they really want? What if you had the cutting edge solutions to the most pressing issues, the best technology and expert team to make it happen?

deverus is the leader in technology solutions for the background check industry. From the most powerful industry software applications and data exchange solutions to process consulting and tools that connect disparate background data sources, we enable background check companies to deliver more of what HR wants, quickly and profitably.

Call us today to find out how we can help 888.690.9297

TECHNOLOGY & DATA PROTECTION:
State: Felons must provide DNA
Thousands of convicted Indiana felons are being required to give DNA samples at county probation offices. Felons in Marion County must begin providing the samples. Felons in counties surrounding Indianapolis must begin the process in August, with the rest of the counties phased in after that. By matching the DNA from old crime scenes with that from the felons tested, "we're going to get hits, we're going to get investigative leads, we're going to get suspects," said Mark Renner of Strand Analytical Laboratories, which will extract the samples.
All 50 states have criminal DNA databases. Some test only those convicted of murder or other violent offenses. Some states collect samples from juveniles convicted of crimes that would be felonies if committed by an adult. Several states, including Virginia, permit DNA tests on people upon their arrests.The information also will be put in a national database, which contains the genetic "fingerprints" of more than 3 million Americans.
For more information go to: http://www.indystar.com/apps/pbcs.dll/article?AID=/20060730/NEWS01/607300406
Laptop Loss Rampant
Vontu, a data loss prevention provider sponsored the "U.S. Survey: Confidential Data at Risk" of 500 information security professionals. The survey was conducted by the Ponemon Institute. Key findings included reporting that more than 80% of U.S. firms who responded said they had lost one or more laptops containing sensitive information during the last year. Additionally, nearly 65 percent of companies reported never conducting an inventory of sensitive consumer information or employee data. A surprise was that most companies said they would "never" be able to determine what data was actually on a lost or stolen laptop, desktop, fire server or mobile device.
For more information go to: http://www.vontu.com/uploadedFiles/global/Ponemon-Vontu
Background Screening The Way You Want It
Easy to use
Feature-rich
Affordable and Flexible
Robust and Reliable· Backed by Personal service
Motor Vehicle Records, Criminal Records, Credit Reports, Tenant Screening, Social Searches, and more!
Whether you're just getting started in screening, or looking for a new provider, give us a call. You'll be glad you did.
TECHNOLOGY & DATA PROTECTION (continued)
Outbound Email and Content Security in Today's Enterprise, 2006 Survey by ProofPoint, Inc
| | |
| --- | --- |
| Outgoing emails contain content that poses a legal, financial or regulatory risk | 23% |

| | |
| --- | --- |
| Ordered by court or regulatory body to produce employee email | 25% |

| | |
| --- | --- |
| Business impacted by the exposure of sensitive or embarrassing information | 35% |
To download the complimentary report go to: http://www.proofpoint.com/id/outbound/index.php

The Insider Threat Benchmark Report: Strategies for Data Protection
| | |
| --- | --- |
| This research report discusses key findings from 88 companies surveyed to determine the degree by which best-in-class organizations are utilizing a security solution to address the risk of the insider threat, also referred to as "data leakage" or "data loss prevention." http://www.apani.com/cso-insider | |
Take Your Firm to the Next Level
So you have done a great good job at bringing in new clients to your firm that you're swamped with business, your firm is growing, and all parts of your marketing system are in place and running smoothly? Even if this is true for your firm, what happens next in many successful firms, however, is not good news. Instead of sticking with what's created success in the first place, the focus shifts away from a marketing mindset. Instead of being an essential lens through which people in your firm view their role, marketing as an every-day focus fades from importance. After all, why continue to invest the time and resources on marketing when you've got more business than you can handle now anyway? And shouldn't you spend time on what's now important, like internal operations, serving current clients, and other more urgent priorities? The answer is an emphatic NO! Not only will you erode all the hard work you've invested to get to where you are, but it will be much harder (and expensive!) to turn your now larger and more complex ship around, once you lose that marketing mindset.
To Read the Full Article go to: http://www.turningpointemarketing.com/Free_Resources
Alternatives to Webzines
Those of you that already have webzines or those that have started one and not continued, know first hand that while it sounds great to publish a webzine it takes a lot of time to do it on an on-going basis particularly keeping up with constantly finding content. Fortunately, there is more than one way to skin a cat (it is just an old saying, animal rights activist please don't start a campaign against me.) Here are two alternative approaches to helping you achieve your goal of establishing credibility, staying in touch with your prospects, and capturing your Web site visitors.
Click Here to Read the Full Article
JOB BOARD DEDICATED TO THE BACKGROUND SCREENING INDUSTRY LAUNCHED
Find resumes of people with industry experience and industry employers seeking industry experience.
BackgroundScreeningJobs.com - your one stop source to quickly and easily find people in the background screening industry. Go to backgroundscreeningjobs.com today!
| | |
| --- | --- |
| | One of the true test of any association or organization is the added value it gives to its members. In today's fast pace environment busy professionals have to make choices about how to spend their time and which organizations they want to be associated with. The following is one person's experience that clearly demonstrates the value that NAPBS has contributed to her. |
Contributed by Lisa Olvera:
I have been with Corporate Intelligence Consultants for almost 5 years now and can see how I have grown. My first NAPBS conference was great. The information was useful and helpful with issues I was dealing with regarding courthouses, runners, different states, their laws and now my concentration in the marketing area. The part of NAPBS that I am most proud of is the community or team we are all a part of. The interaction of members is impressive. Instead of looking at the person sitting next to you at lunch at the conference as a competitor, they have become a confidant! To illustrate my point, Barry Nadell was invaluable in helping me with problems I was having. We see Barry speak at the conference or other conferences, but he shared information with me, one on one. His counsel was priceless. The entire association is accessible, Tracy Seabrook our director has played a vital role in our committee, she works, and she works hard! I constantly tell other associations I belong to about NAPBS and how proud I am of the work everybody does to keep it running. This association takes hard work from all its members, but especially the committees. I look forward to becoming more involved in the near future.
Lisa A. Olvera, Corporate Intelligence Consultants, 419-467-2482, lolvera@corpintel.com
Go To www.NAPBS.com to Join Today
START GETTING ADDITIONAL SALES OPPORTUNITIES TODAY:
JOIN PREEEMPLOYMENTDIRECTORY.COM
PLATINUM MEMBERSHIP HAS IT'S PRIVELIGES
You are provided a full page to display your marketing message.
Your web site URL appears with your listing and is linked to your web site so potential clients can go directly to you.
You get an automatic pop up email to connect visitors directly to your sales staff.
Your logo will be placed at the top of the page along with other Platinum member's logos in the alphabetical and geographical (US or International) sections. In addition, Your logo will rotate on the front page giving you a substantial advantage over non Platinum members.
On your specific alphabetical and geographical (US or International) page your firm's logo will appear at the top ahead of all other non platinum listings.
You can update your ad copy at no charge if you introduce new products and services or your marketing campaign changes.
CLICK HERE TO LEARN MORE ABOUT PLATINUM MEMBERSHIP AND TO BECOME A PLATINUM MEMBER TODAY

New International Series will Give Insight to Conducting Background Investigations Around the World

Employer Responsibilities for Employees Driving on company business:
Under Section 87 (2) of the Road Traffic Act 1988, you are liable if you encourage or permit an employee to drive a vehicle of any class without the correct licence. The offence can carry a penalty of 3 points and a fine of up to £1000. You can find the full text of the Road Traffic Act 1988 at the following location:http://www.opsi.gov.uk/acts/acts1988/Ukpga_19880052_en_4.htm. Additionally, employers are vulnerable to prosecution for offences ranging from corporate manslaughter to aiding and abetting in the event of a serious incident. Read more to find out about Scope of Employer Responsibilities, Potential Offences and What Employers Should Do.
Click Here for More Information
London Firm Analyzes CV Discrepancies
Powerchex a London-based pre-employment screening agency has just completed an extensive research survey analysing CV discrepancies as they occur in the financial services industry (banks, insurance firms, asset managers etc). 2,487 employment applications were examined over the period on one month (July 2006) in an extensive project conducted in conjunction with the Shell Technology and Enterprise Project.
Key research findings include:
25% of applicants for positions in banks and other financial institutions have lied on their application forms.
38% of applications submitted by British men had at least one major lie on their application form.
The income group with the largest amount of discrepancies were earning £80,000 to £90,000 per year.
51-60 year old applicants have the most discrepancies on their application forms.
For more information go to: http://www.powerchex.co.uk/
I-9 Employment Eligibility
USIS' Commercial Services Business has launched its I-9 Employment Eligibility Verification Product. It is designed to verify that an employee is legally authorized to work in the United States. The I-9 Employment Eligibility product uses information provided by the employee on the I-9 form. USIS will then submit a request to search the files of the Social Security Administration as well as the Department of Homeland Security to determine if the employee is eligible to work in the U.S. However, this product cannot be utilized during the pre-employment process and must be utilized within three days of hire. After the information is submitted by the employer, the results of the screen are completed by USIS and returned back to the customer. Based on the results, additional action may be required by the employer.This verification is available in all 50 states and can be implemented on a location by location basis.
For More Information go to: http://www.usis.com/commercialservices/I9_Employment_Eligibility.htm
Easylobby®, Inc. Partners With Ecustoms For Restricted Party Screening
For many years EasyLobby has had a Watch List feature in their visitor management system to alert customers about unwanted visitors. Traditionally, their customers have used the Watch List feature to stop ex-employees, estranged spouses, and the like from entering their facilities" said EasyLobby CEO Howard Marson. "With the integration of eCustoms' Restricted Party Screening solution, we are now able to extend the Watch List concept to identify and bar entry to individuals who appear on any one of the government's Restricted Party lists, in real time, and without having to periodically download those lists into our own database."
For More Information go to: http://www.easylobby.com/about_easylobby/EasyLobby%20eCustoms2%20press%20release2.pdf
New series of mini-courses introduced for the ESR Safe Hiring Certification Training
Novato, CA -- August 29, 2006 -- Employment Screening Resources (ESR), a leading nationwide pre-employment background screening firm, announced today it has released a new series of mini-courses for the ESR Safe Hiring Certification Training -- the first and only online educational and professional development courses in safe hiring and employment screening. The four new modules enable users to take and complete installments of the ESR 30-hour intensive course. As an approved provider of human resources programs by the Human Resources Certification Institute (HRCI), HR professionals can also take the programs to receive recertification credits.

The online course is the first in-depth training and education opportunity aimed at employers, human resource and security professionals, background screeners and anyone responsible for risk management and due diligence in hiring.
For More Information go to:http://www.esrcheck.com/ESRonlineSafeHiringCourse.php
NEW INTERNATIONAL RESOURCE CENTER:
"Got International Information?"
We have greatly enhanced our International Resource Center to be a valuable resource for anyone looking for information on doing international background verifications, vetting or verifications. It includes information on EU countries data protection and other laws, Canada, terrorist searches and much more. Also included is very practical information on time zones, locating cities, etc. Check it out and I am sure you will want to Bookmark it so you can use it over and over. To view the International Section go to www.PreemploymentDirectory.com and look under the line in the middle of the page:
With the advent of 'Continuous Employee Screening' tools becoming available we believe this will be an invaluable tool to assist firms in knowing who is on their payroll and addressing the issue of negligent retention. This tool will help firms to be able to identify whether mandatory licenses or professional certifications are current as well as derogatory issues such as DUI's, criminal warrants, convictions, etc. that could have an impact on an employee continuing to qualify for their position or a proposed one.
Implementing a continuous screening program will require careful consideration by organizations because of a number of potential employee relations, organizational and legal issues that need to be addressed. To begin with it will be critical that firm's have a comprehensive background screening policy in place that addresses how problem situations will be handled. In addition, the need to have pre-identified 'sensitive jobs' with clear qualifications and prerequisites included in job descriptions will become even more important than ever. Each company will need to develop a decision tree regarding how potential issues will impact employees. Because of these issues the National Institute for Prevention of Workplace Violence, Inc. has established a new consulting practice specifically focused on addressing these issues and helping firms to implement continuous screening.
Since overwhelming employers use outsourced background screening firms to conduct their background checks, we have decided to primarily offer this consulting service through background screening firms. This will be a value added service that you can offer to your clients when you are selling them your 'continuous screening' tool. We have developed a proprietary implementation process for assisting firms with continuous screening that you can offer to your clients. Contact Barry Nixon at 949-770-5264 or online at wbnixon@aol.com for more information.
Call Barry Nixon at (949) 770-5264 today to find how the Continuous Employee Post Hire Screening consulting can contribute to increased sales, revenue and increased customer satisfaction
SOCIETY OF HUMAN RESOURCE MANAGEMENT (SHRM) 2006 FORECAST:
Implications of the 2006 SHRM Forecast on Background Screening Industry
In reviewing the SHRM 2006 Forecast and its likely impact on the business of background screening one of the most pervasive trends that cuts across much of the results that are projected to have major impact on Human Resources is the rapid growth of outsourcing, particularly its popular twin offshoring. Some of the noteworthy trends mentioned include increased concerns about security, privacy, offshoring in Asia (top six destinations), global expansion and economic growth in Asia. Overall, my assessment of the forecast is that many of the projections are likely to expand opportunities for background screening worldwide, but particularly in Asia.
Click Here for More Information
Zero to $1 billion
A new study shows that companies that spurt from saplings to giants tend to share the same seven traits. How does your business stack up? The Seven essentials:
Create an sustain a breakthrough value proposition
Exploit a high growth market
Focus relentlessly on cash flow
Leverage big brother alliances
Pack your board with industry experts
Use blue-chip customers to gain credibility
Bu8ld an inside-outside leadership teamHow does your business stack up?
To Learn more go to: http://money.cnn.com/magazines/fsb/fsb_archive/2006/05/01/8376202/index.htm
As many of you know, Bruce has been providing expert consulting in the industry for many years. Earlier this year he embarked on a new exciting venture and started BackgroundScreeningJobs.com, an online job board specifically for the background screening industry. I had the opportunity to talk with him about his new service and he shared many of his thoughts on the job board.

1. What led you to start the BackgroundScreeningJobs.com?
As the premier consultant in the background screening industry, I would regularly get calls both from people looking to change employers and from employers looking for candidates with industry experience. I would try to hook these two up when there was a match. I was happy to help both parties. In addition, I was asked several times to do recruiting, but I felt that to effectively accomplish this, I would have to "steal" good people from companies that were, or had the potential to be, clients. I felt this was not ethical. I found myself spending several hours a week "helping," but this was getting in the way of "earning." Thus, why not put it up on a Job Board for this exchange of information to take place more efficiently and effectively.
2006 Background Buzz MEDIA RATES:
Click here for more information about advertising in The Background Buzz and PreemploymentDirectory.com (Sections: US Provider, International, Vendor Showcase.)
Terry Corley from Global Screening Solutions, Inc., a Platinum member, will be speaking at the HR-XML European HR/Staffing Conference in Barcelona, Spain Oct 25 where he will be speaking on the topic of "Credential Verification Goes Global" He will speak on the Increasing labor mobility in Europe and through out the world has brought additional attention to the issue of credential fraud. Identifying "inflation" of achievements and experience claimed on CVs and resumes as well as fraudulent licenses and certifications is difficult within a single country. How might enterprises reasonably manage this challenge globally? Moreover, the level and variety of data privacy and consumer reporting and investigation laws vary considerably from country to country. This session will examine how enterprises might protect themselves against employee and candidate fraud without running afoul of an increasingly complex web of data privacy protections in Europe, North America, and beyond.
UPCOMING CONFERENCES & SEMINARS:
Society for Human Resource Management (SHRM) - For Details on State Conferences, go to http://www.shrm.org/conferences/state/CMS_004287.asp
World Federation of Personnel Management Associations (WFPMA) For Details on International events by date go to http://www.wfpma.com/dates.html
Business Forums International's HR RISK SUMMIT 2006, September 5, 2006, London W6, http://www.bfi.co.uk
Global Security China 2006, Shenzhen Convention & Exhibition Centre, Shenzhen, China, 5 - 7 September 2006, http://www.globalsecchina.com/docs/GSC-brochure.pdf
ASIS International's 52nd Annual Seminars and Exhibits, San Diego, CA, September 25-28, www.Asisonline.org
Ninth Annual HR Technology Conference, October 4-6, Chicago. Go to for special invitation and to register - http://www.hrtechnologyconference.com
Business Forums International's European Employee Vetting Conference, October 12, 2006, London, England, http://www.bfi.co.uk
ISC East, October 24-25, 200 New York, NY, http://www.isceast.com
HR-XML Summit, Oct. 25-26, Barcelona, Spain, http://www.hr-xml.org/meetings/barcelona/
Securing New Ground, New York City, November 15-16, http://www.securingnewground.com
PRINT ARTICLES OF INTEREST (HARDCOPY):
How to Spot a LIAR
The US government has reputedly spent millions researching new lie detector technologies including exploring exotic areas such as magnetic resonance imaging, electroencephalogram, periorbital thermography (eye scans) and microexpressions.
See 'How to Spot a LIAR,' Time. Augusts 28, 2006, page 46.
Personality Testing Controversial, But Poised to Take Off

Advocates of personality testing say such assessments offer useful and legitimate insights into how well people might fit into an organization including assessing honesty and integrity. Because of expensive turnover, it is likely these assessments tools will continue to gain in popularity despite critics concerns about false positives.
See 'Personality Testing Controversial, But Poised to Take Off,' Workforce Management, August 15, 2006