Kress Employment Services -2007 Background Screening Trends
Launched in July 2007, the "Background Screening Trends" survey includes online responses from 277 HR professionals and executives who interact with the background screening process regularly.
Key Findings
More information leads to better hiring decisions
Better background screens yield better employees
The intricacies of the laws affecting background screening are not fully understood
In addition, the survey revealed an important change in the selection criteria HR Professionals are using to select background screening provides:
HR professionals value three components of the background screening process: accuracy, turnaround times and customer service. This is a significant change from the past, when the primary selection criterion was cost. This is evidence of a maturation of the background screening industry in that HR providers are evaluating quality. Accuracy, turnaround times and customer service are the top selection criteria for respondents from all company sizes, selected by 90.6 percent, 87.4 percent and 69.3 percent, respectively.
Accuracy
Accuracy was ranked as the single most important criterion by 64.8 percent of respondents, and 94.2 percent of respondents completely agree that the accuracy of each screen is important. Respondents also indicated that accuracy is worth the time it takes; 77.3 percent of respondents said they believe further research is necessary to locate complete and accurate information in case of a discrepancy.
For More Information or to Get the Complete Survey Results Go To www.Kressinc.com or contact comment@kressinc.com
Violent Crime Reports Up 1.9 Percent In 2006: New FBI Data
Violent crime reports in the U.S. increased 1.9 percent last year compared with 2005, the FBI reported today. The rise was greater than that reported in the FBI's preliminary report for last year issued in June, which gave the figure as 1.3 percent. The new volume includes data from more law enforcement agencies. While the rate of violent crime-473.5 per 100,000 inhabitants-rose for the second straight year, it is the third lowest total in the past two decades. Property crimes rates dropped to their lowest level since 1987.
The FBI report showed murders up 1.8 percent, from 16,740 to 17,034. The preliminary report had murders up .3 percent from 2005. Robbery reports jumped 7.2 percent, from 417,438 to 447,403. Property crimes were down 1.9 percent. Of specific property crimes, motor vehicle thefts dropped 3.5 percent and larcenies 2.6 percent but burglaries increased 1.3 percent. The full data report can be accessed on the FBI's Web site.
For More Information Go To: http://www.fbi.gov/page2/sept07/cius092407.htm


JPL Scientists Sue Federal Government and Caltech for NASA's Background Checks
Over his four decades at the California Institute of Technology's Jet Propulsion Laboratory, Dennis Byrnes worked on the Apollo 7 spacecraft, set the Galileo probe on a course to Jupiter and received a NASA Exceptional Engineering Achievement Award. But because Byrnes won't let federal investigators snoop into intimate details of his personal life, he could lose his job. Byrnes is one of 28 Jet Propulsion Lab (JPL) senior scientists and engineers who today sued NASA, the Department of Commerce and CalTech over background checks required of all federal employees by the Department of Homeland Security. "We're talking about the best and brightest scientists in the world. We're talking about jet propulsion, the Mars probe, the lunar landing, Galileo, the comet landing project," said Dan Stormer of Hadsell & Stormer, the civil rights law firm representing the scientists. "And they're being asked to give up their constitutional rights in order to keep their jobs." At issue is Homeland Security Presidential Directive-12, issued in 2004 but only recently implemented by NASA. It requires all federal employees to sign a broad privacy waiver before being approved for government work.
For More Information Go To: http://blog.wired.com/wiredscience/2007/08/jpl-scientists-.html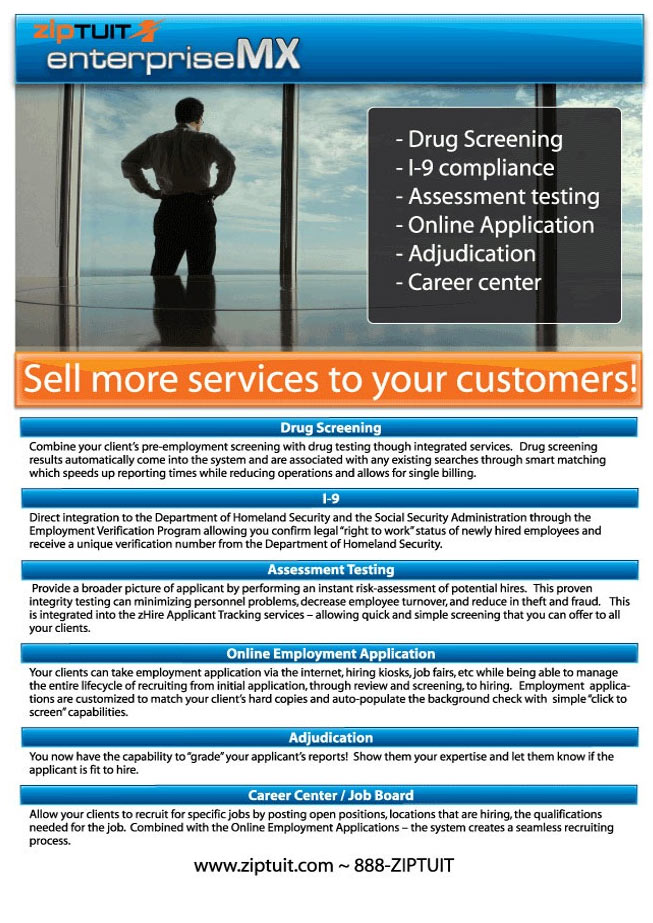 Inc. Magazine Ranks Alliant Diagnostics as One of the Fastest Growing Companies in America
BOCA RATON, FL--Alliant Diagnostics, Inc., a rapidly growing provider of hiring management services, announced today that Inc. Magazine has ranked Alliant Diagnostics number 864 in the Inc. 5000 Fastest Growing Private Companies in America. Additionally, Alliant Diagnostics was ranked number 20 in the Top Companies in Miami-Fort Lauderdale-Miami Beach, FL geographic area, number 55 in the Top Companies in Human Resources, and number 89 in the Top 100 Companies intending to go public or that have gone public since Dec. 31, 2006. Alliant Diagnostics, which has grown nearly 400% in the last three years, continues to expand its client base through its success in adapting hiring and risk management solutions to the Human Resources market. "We are proud to be recognized by Inc. Magazine as one of the fastest growing companies in America. Our success is directly linked to our ability to provide a level of service, flexibility, innovation, expertise, and new product development not typically found at traditional pre-employment screening companies. Our strategic approach to hiring solutions has resulted in programs that consistently deliver proven results for clients," said Jesse Berger, Chief Executive Officer.
For More Information Go To: www.AlliantDiagnostics.com
Sterling Testing Systems, Inc. Ranked Number 28 in Deloitte's Technology Fast 50 Program for New York
Sterling Testing Systems, Inc., a leading provider of employment screening services, announced it has been named to Deloitte's prestigious Technology Fast 50 Program for New York, a ranking of the 50 fastest growing technology, media, telecommunications, and life sciences companies in the area by Deloitte & Touche USA LLP, one of the nation's leading professional services organizations. Rankings are based on the percentage revenue growth over five years from 2002–2006.
Sterling's CEO, William Greenblatt, credits commitment to excellence and unwavering focus as drivers for the company's 442% revenue growth from 2002–2006. Greenblatt is passionate about helping organizations create a safer workplace environment by supplying better information through innovative technologies.
For More Information Go To: http://www.sterlingtesting.com/News/Press.aspx?prId=43
Clearstar.Net Transforms Background Information Reports With Clearstar.Net Interactive Reporting™
ClearStar.net, a leading information services provider for the background, employment and tenant screening industry, announced today the release of ClearStar.net Interactive Reporting.™ The new report framework makes the interpretation of complex information easy and formats results to meet the specific needs of the client. "Now we can accept supplier data in any format and present it in a consistent and easy to interpret report that is driven by customer specific business logic," explained Ken Dawson, CIO of ClearStar.net. "By turning the report into a business tool, we have taken the next step in driving more value from the raw data by making it an active participant in the report instead of just words on the page." The framework also provides greater flexibility in the presentation of complex data by allowing advanced formatting features including columns, tables, fonts and incorporation of graphic images as well as page and report headers and footers. "Clearly communicating background information has been difficult because the information in reports comes in various formats and structures that are not always consistent or compatible," continued Dawson. "For this release we focused entirely on improving the customer experience and are pleased to unveil a fully indexable, highly customizable and completely intuitive report." "With report generation now in excess of 1 million per month, ClearStar.net is playing a critical role in delivering background information for thousands of organizations," concluded R.J. Vale, CEO of ClearStar.net. "Creating this more robust report engine is central to our strategy for meeting the dynamic growth of our client's business by providing them with reliable solutions that help put their customer first."
For More Information Go To: http://www.clearstar.net/ClearStarInteractiveReporting.pdf
HRMC, Inc. and Employment Background Investigations, Inc. Partner to Integrate Pre-employment Verification in Candidate Screening and Assessment Platform
Human Resource Management Center, Inc. (HRMC), a pioneer in applying cutting-edge technology to talent acquisition, today announces a partnership with Employment Background Investigations, Inc. (EBI), an industry leading provider of global background screening, drug testing, and occupational healthcare solutions, to integrate a pre-employment verification process in HRMC's automated candidate screening and assessment platform. EBI's technology extends the functionality of HRMC Acclaim,SM a comprehensive Web and IVR-enabled screening and assessment solution, by adding background checks and drug test reporting as the final phase of the hiring process for qualified candidates. "This partnership offers a holistic approach to candidate recruiting and screening while delivering component-based services, such as background checks and competency assessments, that improve the reliability and quality of candidates," says Rick Kurland, President and CEO of EBI. "It has becoming increasingly important for employers to screen new hires to ensure that they are individuals of character and dependability. We are pleased to be able to partner with HRMC and offer a secure best-of-breed solution that identifies, assesses, and validates the quality and integrity of potential employees."
For More Information Go To: http://www.ebiinc.com/pdf/hrmc_release_9_07.pdf
Bill Passed That Would Create A State Registry Of Emergency Medical Technicians Awaits Governors' Signature
The measure would create a state registry of emergency medical technicians and rules on checking for criminal activity in their pasts. Ambulance and fire department medics disciplined for patient care problems and other wrongdoing would be tracked across the state and not be allowed to float unhindered from one jurisdiction to another under a last-minute bill that was passed late Tuesday by the California Legislature. The measure would close two major loopholes in the oversight of the state's estimated 70,000 emergency medical technicians, or EMTs. It would establish a centralized registry for EMTs, through which hundreds of fire departments and ambulance companies across the state could determine whether an employee had had a previous medical-care or disciplinary problem. And for the first time, all prospective rescuers would be required to undergo FBI and California law enforcement background checks before being hired by a fire department or private ambulance company. California is the only state in the nation that has no uniform registry for EMTs or statewide requirements for criminal background checks. Rescuers disciplined or fired in one jurisdiction have been able to get jobs in others, with their new employers unaware of their previous problems. The bill is being sent to Gov. Arnold Schwarzenegger's office. His press office said Wednesday that the governor has not decided whether he will sign the measure.
For More Information Go To: http://www.latimes
Personal Care Company Sued For Negligent Hiring and Not Conducting Background Check
T-L-C Caregivers, a Pensacola-based personal care company owned by state Sen. Don Gaetz, his wife and a third person, is being sued by a man who alleges he was sexually molested by a caregiver. Jeremy Empie, who has had cerebral palsy since birth and has little use of his arms or legs, alleges that former employee Kelly Campbell fondled him in December 2004 while assisting him in the restroom of his home. Empie's attorney, Todd Ladouceur, claims that Campbell had served four years for aggravated battery in a Louisiana prison prior to applying for the caregiver's job. He also alleges that Campbell made it clear to the people at T-L-C that he was a convicted felon. "There are multiple statutes that protect people with developmental disabilities," Ladouceur said. "There's a whole list of convictions that disqualify you from doing this type of (caregiver) work. Aggravated battery is one of those." Ladouceur also contends that companies like T-L-C are required to conduct state and national background checks before hiring anyone. The full FDLE background check was not completed before Campbell was hired, Moore said.
For More Information Go To: http://www.nwfdailynews.com/article/7588
New Foster Care Bill Includes Stringent Background Checks
Sen. Tom Niehaus recently introduced Senate Bill 163, a foster care reform bill spurred by an incident in Clermont County OH — the Marcus Fiesel case.
The 3-year-old boy's foster parents bound him, tied him up and locked him in a closet where he died while they went to a family reunion in Kentucky for the weekend. The bill provides some requirements for additional background checks for foster parents. This would include a Bureau of Criminal Investigation and Identification background check and other additional checks that are required.
According SB 163, in part, the list of offenses that disqualify a person from providing out-of-home care, being certified as a foster parent, or being approved as an adoptive parent will be expanded to include the following: cruelty to animals, permitting child abuse, menacing by stalking, menacing, soliciting or providing support for act of terrorism, making terrorist threats, terrorism, identity fraud, inciting to violence, aggravated riot, ethnic intimidation, or two or more state OVI or state OVUAC violations committed or substantially equivalent offenses within the three years immediately preceding the submission of the person's application. It also allows a public children services agency to access the otherwise confidential criminal records checks for prospective out-of-home care providers, foster caregivers, or adoptive parents.
For More Information Go To: http://www.irontontribune.com/articles/2007/09/17/news/news374.txt
Manpower Employment Outlook Survey Reveals Steady U.S. Hiring Plans for Fourth Quarter 2007
U.S. employers plan to maintain a stable, yet cautious approach toward hiring in the final quarter of 2007, according to the seasonally adjusted results of the latest Manpower Employment Outlook Survey conducted quarterly by Manpower Inc. "It is not unexpected that U.S. employers have conservative hiring plans for the fourth quarter," said Jeffrey A. Joerres, Chairman & CEO of Manpower Inc. "The market forces that impact hiring do not conclusively point toward growth or decline, and that is a likely contributor to the prudent hiring trends apparent in the survey throughout 2007." Of the 14,000 U.S. employers surveyed, 27% expect to increase their workforces during the fourth quarter of 2007, while 9% expect to trim their payrolls. Fifty-eight percent expect no change in the hiring pace, and 6% are undecided about their hiring plans. The strongest fourth quarter hiring prospects reported globally were in Peru, India, Singapore, Costa Rica, Argentina, Japan, Australia, New Zealand, South Africa and Hong Kong. Italian employers again reported the least robust hiring plans globally. Employers in 11 countries and territories are reporting improved hiring plans compared to the third quarter, while job prospects are expected to improve in 14 countries on a year-over-year basis.
For More Information Go To: http://www.us.manpower.com
Advertise in The
Background Buzz
Click here for rates

Fortune and Forbes magazines reported in 2006 that:

Within 18 months of being hire, 46% of all new hires will fail.
Only 11% of employees fail due to lack of technical skills, yet most interviews focus solely on technical skills and abilities

As read in Hire Excellence a publication of ZERRORISK HR, INC., Summer 2007
New Innovative Web Based Approach to Reference Checking Solves Company's Biggest Hiring Dilemma
Reference checking is critical to ensuring that companies make sound hiring decisions. Despite its accepted importance most firms find that getting quality reference information remains a major challenge. Businesses know that the higher the quality of information that is gathered about a candidate, the better the hiring decision will be and the likelihood of hiring the right person. When companies base hiring decisions on high quality data about candidates, they increase staff retention and productivity, and reduce legal risks. But the traditional method of checking references by telephone is time-consuming, inefficient and ineffective. References are hard to reach and usually unable or unwilling to provide any critical information about the candidate, or offer a detailed assessment of their abilities. SkillSurvey provides a web-based solution that lets businesses quickly and confidentially verify references and capture consistent, honest, and indepth information about a candidate's qualifications and background. SkillSurvey technology raises employee selection to a whole new level of productivity, sophistication, ease and accuracy.
For More Information Go To: http://www.skillsurvey.com/white/SkillSurveyWhitePaperApr06.pdf
How Would You Like to Get More Sales Leads?
Platinum Membership Just Got Better
We have just added 5 new Platinum Members Only Web Sites to promote our Platinum Members.
NEW EDUCATIONAL WEBCAST SERIES OFFERED
October 24, 2007

The Good, the Bad and the Ugly:
Employment, Education and Reference Verification
John Beaudette and Laura Goble
Register Here: http://www.napbs.com/content.php?id=289
What's the use of an online system too difficult for your clients to use?

InstaScreen™ background screening software is so easy to use that your clients will actually enjoy placing orders!

If your current applicant screening system is so cumbersome it discourages end-users from using it, you owe it to yourself to choose a system your customers will actually use. Imagine receiving more orders and saving your processors valuable time by getting your clients to enter the orders for you.

Simple and powerful, InstaScreen™ is intuitive, easy to use, and flexible to accommodate your clients specialized needs.

Call (801) 572-7401 or visit www.tazworks.net and demo our easy-to-use technology first hand.


Stop Struggling With Writing And Publishing Your Newsletter
We can help you have a high quality e-newsletter to help nurture your relationship with your clients and attract new clients. Our customized newsletter service will take over your newsletter task or create a new one for you. We can manage the creation of your newsletter for you.
We are constantly researching information to use for The Background Buzz and you can put our research to use for you. Using the information rich content from The Background Buzz (minus the ads and competitors information) we will create a custom newsletter for you.
Use your staff's time to do more valuable work and save all the hassle of researching or writing articles, formatting and managing all the other ezine tasks with our customized ezine process.
Contact Barry Nixon at 949-770-5264 or at wbnixon@aol.com for more information.
We have extended our Bonus Offer: Sign up before December 30th and we will create a customized header for your newsletter at no additional charge.
HAVE YOU VISITED OUR VENDOR SHOWCASE LATELY?
Looking for the Top Suppliers in the Industry? Need to find a new Supplier?
Visit PreemploymentDirectory.com's VENDOR SHOWCASE which features suppliers to the Background Screening Industry (go to www.PreemploymentDirectory.com, click on 'Click Here' and then scroll down to Vendor Showcase for Background Screening Industry Suppliers)
Check Out our newest web site to exclusively promote our Platinum Members that are in our Vendor Showcase
One Place! Many Suppliers!
International Faux Pas
Although the submissions we have received span a variety of embarrassing situations, the most common types of faux pas are those which involve inadvertently saying something steaming with sexual innuendo. While the best way to avoid this sort of mishap may be to memorize every possible word with sexual connotations and save them for when you really need them, it's not always that easy. Many of you have found it's sometimes hard to know which words have double entendres until your foot is already in your mouth.
Take the case of a Monster member who wrote of her disastrous experience shopping for a pair of pants in Britain:
I went into various stores and kept asking the sales clerk if they had any pants to match my blazer. I kept getting strange looks, and each clerk insisted that they had nothing like that. I wasn't looking for an exact match on the material, just black dress pants. I went home with nothing. My brother later informed me that "pants" in Britain means underwear! I should have been asking for trousers.
Sometimes actions speak louder than words. But in general, the way to avoid getting yourself into a sticky situation is to stop whatever it is you're doing if you hear someone shouting something like "Stop!" or "No!"
For More Information Go To: http://content.monster.com/articles/3485/19214/1/home.aspx?WT.mc_n=MNL000307

Save By Screening Applicants
Garda, a Canadian security company, says Canadian companies are leaving money on the floor because of lax pre-employment screening. "If you're looking at hiring a person and there's a moderate amount of training involved, you're looking at $10,000 to $15,000 in costs for one year," says Dan Fallows, manager of Garda's pre-employment screening division. "If you don't have the proper screening in place and the employee turns out to be a bad hire, you're basically throwing that money away." "It's hard to get Canadians to understand it because we don't have the same historic terrorism or the pressures of brand image," says Fallows. He estimates 30 to 40 per cent of Canadian companies properly screen employees, but he sees that increasing in the next few years. "As U.S. corporations come north, you'll see it happen more and more," he said.
For More Information Go To: http://www.lfpress.com/cgi-bin/publish.cgi?p=193958&s=food
Court Protects Worker's Casual Drug Use
Two competing cases on the controversial practice of workplace drug testing show a growing schism in the courts on the validity of such actions, making it harder for employers to figure out when their practices are outside the bounds of the law. Both cases deal with employees who were terminated after testing positive for marijuana use during pre-employment screening. Neither employee claimed to be drug dependent, which can be considered a disability under some provincial human-rights legislation. The cases also considered Entrop v. Imperial Oil, the leading Canadian drug-testing ruling, which came down hard on employers who test employees and prospective employees, even in safety-sensitive positions.
For More Information Go To: http://thiscanadian.typepad.com/this_canadian/2007/08/financial-post-.html

Global Sources and Verify Limited Launch the Sourcing Industry's Most Comprehensive Online Supplier Credit Reporting Service
HONG KONG, Global Sources has partnered with Verify Limited to provide global buyers with the sourcing industry's most comprehensive online credit reports on Greater China suppliers. Free to buyers, Credit Check provides data on up to 13 different legal and financial business areas, including corporate status, shareholders, licenses and permits. The service forms one more element of the new version of Global Sources Online ( http://www.globalsources.com ), scheduled to launch next month. Companies listed on Global Sources Online that have opted to participate in the program will carry a 'Credit Check' logo to show their information has been verified. Buyers can click the logo to access detailed credit information for suppliers participating in the program. In the fourth quarter of this year, Global Sources and Verify will offer buyers more extensive reports which will include credit ratings, litigation, banking relationships and risk analysis metrics. Buyers will be able to purchase these additional reports online to check any Global Sources supplier.
For more information about Verify Limited, visit http://www.verifyscreening.com/
Math Teacher Accused of Child Abuse Stirs Calls for Background Checks of Teachers
New Delhi - Parents erupted in anger after discovering that a Math teacher, entrusted with nurturing their children, violated them in the worst possible way. An expose on a TV channel showed, Usha Khurana, a teacher at the government school, shooting pornographic films at the last school where she worked. Khurana would allegedly offer private tuition to students and then drug them and allow strangers to molest them. In most Indian schools there are no background checks on teachers and references are rarely checked and sometimes not needed at all. As a formality some schools do check the last place of employment. But even teachers who do not match the criteria often get the job. In government schools teachers qualify if they clear class 12 and have a diploma in education. Experience is not a criterion for teacher's post.
For More Information Go To: http://www.ndtv.com/convergence/ndtv/story.aspx?id=NEWEN2007002443
5&ch=8/30/2007%208:32:00%20PM
Violence Is 'Rife' In The Workplace
Members of Parliament were told on Tuesday that workplace violence is widespread in South Africa. Susan Steinman of the Workplace Dignity Institute told members of the portfolio committee on labour that the violence affects public and service sectors more than the private sector. Steinman said that though physical abuse is easily recognisable and taken care of in terms of criminal procedures, emotional abuse is difficult to identify. "It has a profound impact on the psychological health and well-being of the victim," she said. "Post-traumatic stress syndrome is a typical reaction with devastating effects." She told the committee that research shows that few employers have policies in place to deal with violence, but when policies are in place the frequency of workplace violence, both physical and emotional, reduces drastically by up to three quarters. She showed that besides physical violence, other types include bullying or mobbing, verbal abuse, and racial and sexual harassment. It also affects female more than male employees. She called on the legislators to broaden the existing codes of labour legislation to include workplace violence and also sought a service charter for victims of workplace violence.

http://business.iafrica.com/news/519444.htm
Background Checks On Overseas Supply Teachers Lack Consistency
53% of education recruitment agencies questioned in a survey say that minimum legal requirements governing teacher background checks for recruiting candidates from overseas should be clarified and enhanced. The REC survey is based on detailed feedback from specialised recruitment agencies in the education sector. Commenting on the survey findings, John Dunn, Chair of the REC's Education Sector Group, says: "Professional recruiters in the education sector have welcomed the increasing focus on safe recruitment since last June's OFSTED report and have been actively involved in the Government's consultation on the new vetting & barring scheme. "However, it is essential to ensure that mechanisms are also in place for effectively checking the suitability of overseas nationals coming to work in the UK. The Government is aware of this issue and ongoing initiatives – for example aimed at enhancing the exchange of criminal records information between EU countries – must deliver in order to alleviate some of the concerns highlighted in the survey".
For More Information Go To: http://www.rec.uk.com/press/news/89
First Advantage Exploring Providing Services in Vietnam
FIRST ADVANTAGE ASIA PACIFIC, the largest provider of Employment Background Screening Services in the Asia region has recently started pursuing the option of setting up an office in Vietnam in order to provide the local and international market access to our world class services. According to Wayne Tollemache, Executive Vice President and Regional Managing Director "as Vietnam continues to grow exponentially we see significant value in our services for business operating in Vietnam." The company currently runs comprehensive programs for over 700 companies in the Asia Pacific region and their clients include top investment banks, financial services, technology, software services, oil exploration firms and many from the manufacturing sector including some from the top five business conglomerates in India.
For More Information Go To: http://www.fadvasia.com/
"INTERNATIONALRESOURCE CENTER"
We have greatly enhanced our International Resource Center to be a valuable resource for anyone looking for information on doing international background verifications, vetting or verifications. It includes information on international data protection and other laws, terrorist searches and much more. Also included is very practical information on time zones, locating cities, holidays in different countries, etc.
International Training Resources
We have just added a new section, International Training Resources, to the International Resource Center. We will update this section as we identify new training and educational opportunities.
Bookmark this valuable resource so you can use it over and over.
To view the International Section go to www.PreemploymentDirectory.com and look under the gray line like below in the middle of the page:
PREEMPLOYMENTDIRECTORY.COM
Become a Platinum Member Today
PLATINUM MEMBERSHIP HAS IT'S PRIVELIGES
CLICK HERE TO LEARN MORE ABOUT HOW TO CREATE ADDITONAL SALES OPPORTUNITIES FOR YOUR FIRM AND TO BECOME A MEMBER OF THE PLATINUM CLUB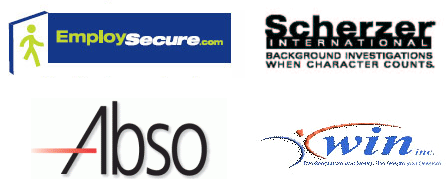 Are You Interested in Reaching Over 691,000 Human Resource Recruiters
Thru the Largest Recruiter Information Portal on the Web?
Onrec.com's Online Recruitment Magazine has become the #1ranked online recruitment information portal on the Internet.
If you are interested in finding out how we can increase the traffic to your web site and your sales visit us at http://www.onrec.com or call Tim Hartrich at 630-985-3006 today.
All Preemployment Directory.com members will get a 10% Discount on Enhanced Vendor Profiles. Call Tim Hartrich at 630-985-3006 and mention code: PD.COMWBN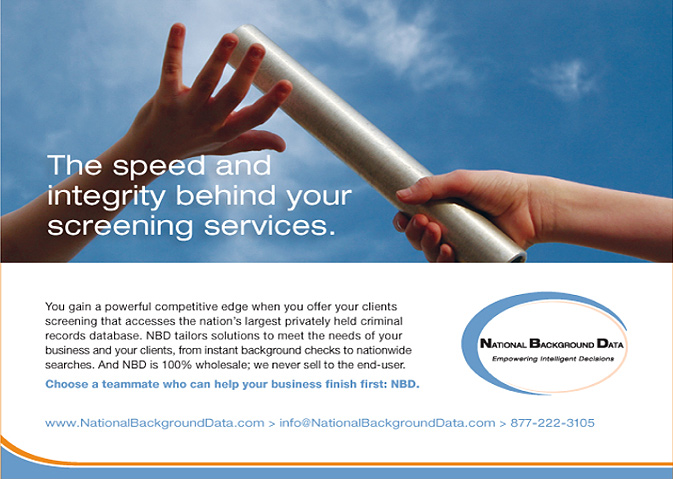 JOB BOARD DEDICATED TO THE BACKGROUND SCREENING INDUSTRY
| | |
| --- | --- |
| | Find resumes of people with industry experience and industry employers seeking industry experience. |
Employer/Recruiter Testimonials -
"This is a super concept. Thanks for helping the industry." - RK
Looking for candidates with industry experience!
Visit backgroundscreeningjobs.com today!
ESR Announces New printing of the Safe Hiring Manual!
Employment Screening Resources (ESR), announces the release in September, 2007 of an updated and revised fourth printing of "The Safe Hiring Manual -The Complete Guide to Keeping Criminals, Terrorists and Imposters Out Of Your Workplace," by Lester S. Rosen. "The Safe Hiring Manual" is the first comprehensive book on how to conduct background checks and how to exercise due diligence throughout the hiring process. The revised release examines developing issues in background checking, such as the use of the Internet and social networking sites to screen candidates, screening employees post-hire and the dangers of utilizing home-based operators or foreign data centers for background screening. The book also updates users on new laws and recent developments in the use of credit reports.
For More Information Go To: http://www.esrcheck.com/SafeHiringManual.php
Click here to get your $50.00 off coupon
UPCOMING CONFERENCES & EVENTS
UNITED STATES
2007 Annual Pre-Employment Screeners Conference, November 11 - 14, 2007, Clearwater, Florida
http://www.search4crime.com/Conference/index.htm
INTERNATIONAL
UK Personal Data Integrity Summit 2007, London, Thursday 4 October 2007
Protecting personal data within your organisation - A vital event for both private and public sector organisations. http://www.bfi.co.uk/index.php
The 11th China Public Security Expo, Nov 1-4, 2007, Shenzhen-China, http://www.cpse.com.cn/en/main.asp
European Pre-employment Vetting & Screening Summit 2007,Amsterdam, Netherlands, Friday 30 November 2007, Amsterdam, Netherlands, http://www.bfi.co.uk/event.php?idEv=30
Background Investigator's India Pre-employment Screening Conference, December 6-7, 2007, Bangalore, India, http://www.search4crime.com/Indiaconference
World Federation of Personnel Management Associations (WFPMA), World Congress, For Details on International events by date go to http://www.wfpma.com/dates.html


2007 Events (Click Here to View full list of 2007 Events)