BACKGROUND SCREENING NEWS
Pepsi Settles EEOC Charges of Racial Bias in Screenings for $3M
Pepsi Beverages, formerly known as Pepsi Bottling Group, has agreed to pay $3.1 million, develop a new background check policy and provide job offers and training to resolve a race discrimination charge filed against them for violating Title VII of the Civil Rights Act of 1964. An investigation by the Equal Employment Opportunity Commission (EEOC) revealed that more than 300 blacks were adversely affected when Pepsi applied a criminal background check that disproportionately excluded black applicants from permanent employment. Under Pepsi's former policy, job applicants who had been arrested pending prosecution were not hired for a permanent job even if they had never been convicted of any offense. The EEOC also said Pepsi's former policy had denied employment to job applicants who had been arrested or convicted of certain minor offenses. The EEOC advises employers to take more factors into consideration before completely excluding applicants, such as the nature and gravity of the offense and the time that has passed since conviction, etc.
To read more, click here
Staffing Firm Settles Lawsuit Filed by Amazon Applicant

Integrity Staffing Solutions (ISS) has settled a discrimination lawsuit brought by an African-American man convicted of manslaughter almost 30 years ago, after ISS denied him a job at Amazon.com because of his criminal record. ISS was accused of violating the federal Civil Rights Act. Jennifer Clarke, Executive Director of the Public Interest Law Center of Philadelphia says, "Employment policies that impose a blanket exclusion on people with past convictions, without any consideration of the relationship of the conviction to the job in question, can constitute unlawful discrimination." The Public Interest Law Center says ISS "has reaffirmed its policy of providing equal employment opportunity for people with past criminal convictions" and "also has further re-emphasized to supervisors and personnel engaged in the hiring process the importance of and appropriate review of a job applicant's criminal convictions."

To read more, click here
Best Practices for Conducting Criminal Background Checks
The National Employment Law Project (NELP) has created the guide, Criminal Background Checks: A Best Practices Guide for Employers to help HR departments save time and money and create a larger pool of qualified candidates. NELP advises employers to: carefully survey positions to determine which require a background check to avoid unnecessary costs; do not inquire into criminal history on the initial application; include notice on your job application that a conviction is not an automatic bar to employment; do not ask about or consider arrest records; comply with the Fair Credit Reporting Act requirements by providing notice and obtaining worker consent, giving the applicant a copy of the background report prior to any rejection and allowing the applicant to correct information; only consider convictions that are both job-related and recent; consider the circumstances of the offense and any evidence of rehabilitation; give the applicant a written notice of the potentially disqualifying conviction(s) and allow the applicant to provide information regarding the offense(s), including evidence of rehabilitation.

To read more, click here
Feds Consider Taking Ex-Offenders Out of the Box
With nearly 1 in 4 adults in the U.S. having a criminal record, there is a call by civil rights organizations, politicians and some employers to change Equal Employment Opportunity Commission (EEOC) guidelines to "ban the box"- the portion on a job application asking candidates to reveal details of their criminal history during the application process. While ban-the-box laws have not yet been decided on a federal level, some states are independently changing their guidelines. According to the New Haven Prison Reentry Initiative, Connecticut in June 2010 became the fourth state after Minnesota, New Mexico and Hawaii to enact ban-the-box laws for state jobs. The laws allow employers to ask about criminal history once they're face to face with applicants and do not prohibit background checks. However, ban-the-box supporters say eliminating the question on applications gives job candidates an opportunity to get an interview and explain their past. Advocates hope to create a level playing field, which in turn can broaden an employer's pool of qualified job candidates.
To read more, click here (registration may be required to read full article)
When Background Checks Aren't Enough

Despite paying a top-notch company to conduct a thorough background check, a Florida based security company is shocked to learn that their recently hired door-to-door sales rep stands charged with raping and attempting to murder a potential customer in her home, while on duty. SecureWatch, an ADT authorized dealer, based their hiring decision for the offending sales rep on his background check, which revealed no criminal record.

"There was nothing. The guy was as clean as a whistle," Paul Victor, company COO said. "Then it turned out because of the level of access we had in our commercial background search, we didn't see until I read in the paper that he had some juvenile offenses." Because background-check companies don't always have access to all criminal databases, the Electronic Security Association is urging the passage of federal legislation that would allow electronic security companies to search the FBI's database to determine whether job applicants have a criminal record.

To read more,click here

Tenant Screening Should Include Eviction Reports
In today's economic climate, small-time mom-and-pop landlords should not only run credit checks on would-be tenants, but also make sure prospective tenants haven't been forcibly removed from their previous residences. Eviction reports are one of the most important tools landlords can use to screen prospects. According to the National Sheriffs' Association, forceful evictions by law enforcement officers have been on the upswing for the last few years, giving rise to a new group of nomadic tenants. Evictions resulting in money judgments can be found in the public records section of an individual's credit report. However, according to MicroBilt, a risk management information company, three out of four eviction filings don't result in money judgments, and those that don't are not listed on the credit report.

In addition, Matthew Roesly of MicroBilt says, it often takes 60 to 90 days for a money judgment to show up on a credit report, leaving plenty of time for recently evicted individuals to find a new place before the eviction shows up. Roesly recommends every landlord pay for an eviction report, especially if your property is located in a tenant-friendly jurisdiction. "The cost of just one bad apple could be in the thousands, not just in lost rent but also in damages and legal fees," he said.
To read more, click here
EmployeeScreenIQ Names Angela Bosworth, Vice President of Compliance and General Counsel

EmployeeScreenIQ, a global provider of employment background screening services, has announced the appointment of Angela Bosworth to vice president of compliance and general counsel. In her new role, Bosworth will lead corporate compliance initiatives and help shape strategy that positions the fast-paced organization for future growth. Bosworth joins EmployeeScreenIQ with broad industry experience including more than 20 years as a licensed attorney and over 10 years in the background screening industry, most recently as executive vice president of the national screening company OPENonline. She has extensive expertise in employment law, government affairs, compliance best practices and policy initiatives. She serves on the Board of Directors of the National Association of Professional Background Screeners (NAPBS), is a member of the NAPBS Background Screening Credentialing Council (BSCC), and is actively involved in the Society for Human Resource Management (SHRM) and ASIS International, the preeminent organization for security professionals. Bosworth, a frequent speaker and educator to the industry, is also a member of the Ohio State and Columbus Bar Associations.
Click here for more information
Promesa Enterprises d.b.a. Integrated Screening Partners Achieves Background Screening Credentialing Council Accreditation

The National Association of Professional Background Screeners (NAPBS®) Background Screening Credentialing Council (BSCC) announced today that Integrated Screening Partners has successfully proved compliance with the Background Screening Agency Accreditation Program (BSAAP) and will now be formally recognized as BSCC Accredited. This recognition will stand as the industry "seal" representing a background screening organization's commitment to excellence, accountability, high professional standards and continued institutional
improvement.

To read more, click here
Online Privacy Debate Heats Up with FTC and Commerce Dept. Reports Coming Soon

The Commerce Department and FTC will soon be releasing reports outlining the Obama administration's position on online privacy issues, making this the first acting administration in U.S. history to introduce or endorse a federal privacy law. With the rise of social networks, online shopping, and targeted advertising, the topic of online privacy has ignited a heated debate between companies and consumers. Companies blame consumers for not utilizing privacy tools in place, while consumers expect companies to be clear about information collected and how to opt-out when necessary.

Jules Polonetsky, the Director of the Future of Privacy Forum, believes privacy legislation is on its way and, "If we are able to craft privacy law that supports innovation [and] gives users more protection, we'll win." The Commerce Department framework would likely encourage companies to develop rules for their industries, potentially enforced by the FTC's Safe Harbor rules. Polonetsky also notes that companies who want to avoid federal legislation need to be proactively proving they are self-regulating.
To read more, click here
Welcome to the U.S. Legal Challenge Question!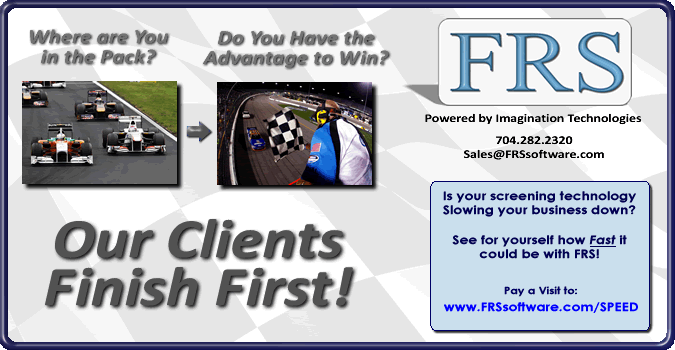 As the background screening industry continues to get more competitive the firms that will ultimately succeed will be those that create competitive advantage through their people by offering continuous learning opportunities to heightened their knowledge and capabilities. We believe that having employees that are very knowledgeable about the legal landscape of background screening is essential to continued success.
We are grateful to John Fay, Vice President of Products and Services and General Counsel at LawLogix, Inc for providing the expertise for this valuable endeavor. In his current role, John serves as, a leading provider of Electronic I-9 Compliance, E-Verify and Immigration Case Management Software and is responsible for overseeing product design and functionality while ensuring compliance with rapidly changing immigration and employment eligibility rules.
For information regarding the answers to the Legal Challenge Questions, please contact John Fay at (602) 357-4240 and for more information about LawLogix e-verify and immigration support services please visit www.Lawlogix.com
Please choose your answer by clicking on it:
Publicly Reporting Expunged Conviction Records Does Not Create Liability For Defamation
Publicly reporting expunged conviction records does not create liability for defamation if the information disclosed is true, according to the New Jersey Supreme Court . In the case, a political campaign publicized the expunged drug conviction of an opponent's aide in a flyer.
The Court ruled that defendants in this case were entitled to assert truth as a defense to the defamation and other related tort actions, even though the plaintiff.'s conviction was subject to an expungement order. Second, the plaintiff failed to establish that the flyers were not substantially accurate. Lastly, the plaintiff had no reasonable expectation of privacy that information so long in the public domain before the entry of the expungement order would be erased from the public's mind or from papers already widely disseminated.
To read more click here
We're Wary But Hopeful As 2012 Gets Underway
It appears things are looking up for 2012. Consumer confidence is at its highest level in months, the U.S. economy has been adding jobs now for more than a year, the stock market is up decisively reflecting strong growth in manufacturing and increased construction spending, and employers are looking to add more staff this year. A survey by CareerBuilder found that one in four employers plans to add permanent staff this year. Manpower's quarterly employment survey found that 14 percent of employers intend to add jobs in the first three months of the year. Consumer attitudes are increasingly more hopeful as reflected in the 25-point climb in the Consumer Confidence Index. In addition, Challenger, Gray & Christmas revealed that 30 percent of the callers to its annual free, phone-in job help line were optimistic they would land a job within three months compared to only 18 percent the previous year.
CareerBuilder's CEO Matt Ferguson predicts a somewhat brighter employment picture for 2012 than the numbers, or the job seeker survey, might imply. "Historically, our surveys have shown that employers are more conservative in their predictions than actual hiring," he says. "Barring any major economic upsets, we expect 2012 to bring a better hiring picture than 2011, especially in the second half of the year."
To read more, click here
Steady Employment Growth Expected in 2012: Survey

For the third year in a row, an increased number of employers plan to add full-time, permanent employees with a continued emphasis on hiring in technology and revenue-producing fields, according to a survey by CareerBuilder. Information Technology (IT) is the top functional area employers are recruiting for in 2012, with 37 percent of the 292 HR professionals surveyed planning to add IT positions. Following behind IT, are the areas of administrative, engineering, accounting and finance, HR, production, customer service, business development, sales, and marketing. The survey also revealed 34 percent of employers plan to hire full-time, permanent employees in 2012, compared with 29 percent for 2010, while 18 percent of employers expect to hire part-time employees. More employers will also be relying on contract or temporary workers to supplement leaner staffs this year (66 percent).
"Even as the global economy continues to struggle, Canada is expected to add jobs at a steady pace in 2012," said Brent Rasmussen, president of CareerBuilder North America. "Our survey data and increases in job postings on CareerBuilder.ca indicate that companies will hire in functional areas that support the efficiency of their business."
To read more, click here
STOP STRUGGLING WITH WRITING AND PUBLISHING YOUR NEWSLETTER:
We can help you have a high quality e-newsletter to help nurture your relationship with your clients and attract new clients. Our customized newsletter service will take over your newsletter task or create a new one for you. We can manage the creation of your newsletter for you.
We are constantly researching information to use for The Background Buzz and you can put our research to use for you. Using the information rich content from The Background Buzz (minus the ads and competitors information) we will create a custom newsletter for you.
Use your staff's time to do more valuable work and save all the hassle of researching or writing articles, formatting and managing all the other ezine tasks with our customized ezine process.
Contact Barry Nixon at 949-770-5264 or at wbnixon@aol.com for more information.
Sponsored by:
Public Record Update
By Mike Sankey, May, 2011
The FBI Will Lower Fee for Fingerprint Searches

Authorized users requesting fingerprint-based Criminal History Record Information (CHRI) checks for certain noncriminal justice purposes will see a lower fee starting March 19, 2012. The charge for a CHRI check when submitting fingerprints will decrease by $2.75, and if for a volunteer there is a $.25 decrease.

For example the current fee in effect for electronic submission by authorized users will decrease from $19.25 to $16.50. The fee for Centralized Billing Service Providers (CBSPs) will decrease from $17.25 to $14.50. The fee for "volunteers" will decrease from $15.25 to $15.00, and if CBSP then $13.25 to $13.00.

This new fee should lower the cost when the FBI performs the fingerprint search for background checks performed by state occupational licensing boards and also for the issuance of HAZMSAT endorsements for commercial driver licenses.

More information about this decrease is viewable on the Federal Register at www.gpo.gov/fdsys/pkg/FR-2011-12-20/html/2011-32544.htm .


Makeup of Death Master File Changed

Effective November 1, 2011, the Social Security Administration (SSA) is no longer including state death records in the SSA's Master Death File (DMF). The law governing this action is found at www.ssa.gov/OP_Home/ssact/title02/0205.htm . Section 205(r) prohibits the SSA from disclosing state death records it receives, except in limited circumstances.
Since it can no longer add these entries, the SSA further decided to remove 4.2 million existing state records from the DMF. This removal represents a little over 4.7% of the entire database. One of the significant pieces of information that the state records data added to the DMF was the last known residence (state, county) of a subject.
Please note that the SSA does not have a death record for all persons. The DMF as a verification tool is good, but the absence of a particular person does not guarantee the person is alive.
For more information contact Michael Sankey at mike@brbpublications.com or visit www.brbpublications.com/updates.aspx
Accept No Substitutes
A new 'marker' system has been developed to curb drug test manipulation by detecting substituted samples that don't belong to the individual who submitted them. Until now, sample substitution has only been detectable through diligent, gender-specific, full-frontal supervision by staff members; a process that results in a 15-20 percent human error rate. The new Marker Test is a non-disruptive process which requires clients to ingest a liquid "marker" that can be seen when the sample is sent to the lab for analysis. If the marker isn't there, it's proof that the sample was substituted. Although this doesn't necessarily conclude that the subject is using drugs, it does indicate an attempt to manipulate the sample. To date, the Marker Test has been used in over 400,000 drug tests in Europe and the Middle East, and will soon be available in the United States.

With more than 1,000 distinct markers possible, it's statistically improbable to predict which marker an individual will receive. In addition, the marker is also kept secret from the administrator, eliminating a biased test on either side. The Marker Test improves the integrity of samples, frees staff of babysitting test takers and identifies those clients attempting to manipulate their drug test thus revealing their state of mind, which can be used to help improve their treatment.

To read more, click here
200 Million People Worldwide Use Illegal Drugs, Study Says

An estimated 200 million people worldwide use illegal drugs every year, according to a new study in Australia's medical journal, The Lancet. The health consequences of this use include overdose, dependence, violence or injury due to intoxication, as well as heart disease, mental disorders and cirrhosis. The report found that marijuana is the most used drug, followed by amphetamines, cocaine, and opioids. It also found that illegal drug use is highest in developed countries and those who use illegal drugs usually use more than just one type. According to the World Health Organization, drugs caused 2.1 million years of life lost in 2004, followed by alcohol, which caused a loss of 1.5 million years. Drug-related deaths tend to strike younger people, accounting for the higher number of years of life lost compared with other causes of death.
To read more, click here
Prescription Drug Abuse Results in One Death Every 19 Minutes in U.S.

One person dies every 19 minutes from prescription drug abuse in the U.S., according to the Centers for Disease Control and Prevention (CDC). An estimated 27,000 unintentional drug overdose deaths occurred in 2007. The rise in unintentional drug overdose deaths has been driven by an increase use of opioids. The rate of opioid misuse and overdose deaths are highest among non-Hispanic whites, men ages 20-64, and poor and rural populations. The CDC says the two main groups at risk for prescription drug overdose are the nine million people who report long-term medical use of opioids, and the roughly 5 million who have used opioids without a prescription or medical need in the past month.

To read more, click here
Industry Launches International Drug and Alcohol Free Workplace Standards
The Drug & Alcohol Testing Industry Association (DATIA) has announced the launch of an international standards program for drug and alcohol free workplace programs with the goal of supporting effective drug and alcohol free workplace programs on a global level. Based on a recent study conducted by DATIA and the Society for Human Resource Management (SHRM), the benefits of such programs were established and through the iDATIA Accreditation program, they hope to enable international organizations to take advantage of the many benefits of a drug and alcohol free workplace. Currently there are no international standards or accreditation programs for drug testing policies or programs.
"This has been a serious problem for organizations operating outside the United States who want
to ensure their workplace is drug free by testing applicants and employees," said Patricio Labatut
and Brian Drew, Co-Chairmen of DATIA's International Committee. "Without an international
standard some companies have been testing incorrectly and missing substance abusers, costing
their companies in the end."

To read more, click here
One Site! Many Suppliers!
Looking for the Top Suppliers in the Industry? Need to find a new Supplier?
Visit our VENDOR SHOWCASE which features suppliers to the Background Screening Industry.
Winter 2012 Directory of Suppliers to the Background Screening Guide Coming Soon!
Click here to find out how to get your firm included.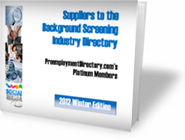 Teaching Hospital Agrees to Pay $115,000 for Discrimination During the I-9 Process
The University of California San Diego Medical Center has agreed to pay a civil penalty of $115,000 after failing to comply with proper I-9 procedures for non-citizens who are authorized to work in the United States. The Department of Justice (DOJ) filed suit against UCSD Medical for an alleged pattern or practice of requesting excessive I-9 documentation. Under the terms of the settlement, UCSD Medical has also agreed to conduct supplemental training for its human resources personnel and work with the DOJ to ensure compliance with proper Form I-9 processes across all University of California campuses, medical centers and facilities. As ICE continues to step up its enforcement activities, many employers are scrambling to follow the confusing rules and procedures, oftentimes resulting in accidental or intentional discrimination during the hiring process as well as "document abuse." Employers can ensure that I-9s are completed properly without engaging in unlawful discrimination by: engaging experienced immigration counsel to evaluate your current processes and procedures; developing policies documentation and training; and using a smart Electronic I-9 and E-Verify program.

To read more, click here
The Current STATE of E-Verify
E-Verify is quickly becoming the not-so-voluntary system of choice for verifying new hires' eligibility to work in the United States. Regardless of whether or not you believe the system is "fast, free, and easy" or "too flawed to be mandatory," the reality is that many employers are required to use E-Verify through an ever-expanding web of state requirements. There are currently 9 states which require E-Verify for all or most employers; 8 states which require E-Verify for public employers, contractors, and/or both; and 5 states which require employers to use E-Verify in certain local or municipalities. The following states have new E-verify laws now in effect as of January 1, 2012: Alabama (Act No. 2011-535), Georgia (HB 87), Louisiana (Act 376 and Act 402), South Carolina (Act 69), and Tennessee (HB 1378).

Employers need to make a coordinated effort to successfully manage their I-9 and E-Verify obligations by working closely with experienced immigration counsel to ensure compliance with both state and federal rules. In addition, employers are advised to use an integrated I-9/E-Verify system which can automatically control the submission of I-9s to E-Verify by work location or impose other state-specific rules.
To read more, click here

USCIS and Mississippi Implement New E-Verify Tool to Combat Fraud
U.S. Citizenship and Immigration Services (USCIS) today launched Records and Information from DMVs for
E-Verify (RIDE) , a new feature which allows USCIS's E-Verify program to validate the authenticity of Mississippi driver's licenses used by employees as Form I-9 identity documents. "RIDE reflects our commitment to continually improving E-Verify," said USCIS Director Alejandro Mayorkas. "This important enhancement strengthens E-Verify's anti-fraud capabilities and will play a key role in helping employers in the U.S. maintain a legal workforce."
More than 80 percent of employees present driver's licenses to establish their identities when completing the Form I-9. By enabling E-Verify to compare driver's license data against state records, RIDE will improve E-Verify's accuracy and help combat document fraud when determining employees' eligibility to work in the United States-while observing safeguards to protect employee's personal data. RIDE helps combat document fraud by enabling E-Verify to confirm the authenticity of an additional identity document. For example, previously, if an employee presented a driver's license to establish his or her identity and a social security card to establish his or her employment authorization, E-Verify would only have been able to confirm the validity of the social security card. RIDE enables E-Verify employers in Mississippi to confirm the validity of both documents.
To read more click here
Dobro pozhalovat (welcome) to the
International Legal Challenge Question!
Most industries and firms now compete in a global marketplace which is continuing to increase the need for background checks for new hires that will reside in another country or that are being hired from another country. Commensurate with this growth in background checks is the need to understand the myriad of data protection, privacy, human rights and local laws that govern the practice of conducting background checks. To help background screening firms around the world to further enhance their knowledge we have launched this International Legal Challenge.
We are grateful to Brian Arbetter a Partner with the global law firm of Baker & McKenzie LLP for providing the question and answer to the questions in the International Legal Challenge. Brian is based out of the Firm's Chicago and San Diego offices. His practice focuses on international law issues, with particular emphasis on labor and employment, as well as workplace privacy. For information regarding the answers to the International Legal Challenge questions, please contact Brian at brian.arbetter@bakermckenzie.com.
Please Choose One of the Following Answer in Response to the Question
For information on sponsoring The International Legal Challenge Question please Click Here
International Personal Privacy Compliance for Global Staffing Directors
The responsibilities and obligations of employers under European Data Protection Directives and the UK Data Protection Act can trigger a lot of issues when working in a global marketplace. When handling and transferring employee data from the EU to third countries such as the U.S., companies are required to identify and implement a legal basis for such transfers. Employers operating in the EU that collect or process personal information without adhering to member state laws or that transfer personal information from the EU to a country without adequate protection or a relevant exception, may incur substantial legal liability.

Effective management of overseas data privacy, HR policies related to international applicants, and security involves a multi-disciplinary approach involving policy development, legislation, technology and business processes in order to fully understand data protection and privacy issues. In addition, HR data management is a process that must include a comprehensive Human Resource Data Privacy Management Plan for responding to the constant changes of both internal and external factors.
To read more, click here
Immigration: Check Your Employees or Pay the Price
The Department of Immigration and Citizenship (DIAC) has sent out a stark warning of the significant risks faced by employers that fail to check the immigration status of their prospective employees. Individuals responsible for employing illegal workers face fines of up to $13,200 and two years imprisonment if convicted under Commonwealth legislation. Additionally, companies can also be fined for overall organizational negligence, and face fines of up to $66,000 per illegal worker. "It is the responsibility of employers to ensure that non-Australian workers they hire hold a visa with valid work rights," a DIAC spokesman said. "Illegal workers in Australia will not be tolerated and the department actively investigates community reports and takes swift action to apprehend non-citizens without work rights."

To read more, click here
RCMP Adding Fingerprint Scanners to Speed up Background Checks
The Royal Canadian Mounted Police (RCMP) is taking steps to speed up the checking of fingerprints submitted by Canadians seeking employment or volunteer positions as coaches, child-care workers and caregivers for the elderly. Under new rules that came into effect in 2010, anyone who wants to work or volunteer with vulnerable groups must submit fingerprints to Ottawa for analysis to ensure they aren't the same person. As a result of the new law and consequently a large increase of "vulnerable" background checks needing to be processed, RCMP says it will install 32 additional electronic fingerprint-scanning devises and order 50 more.
To read more, click here
Ontario Court Paves Way for Victims of Privacy Intrusion to Sue Snoopers

The Ontario Court of Appeal has created a new way for individuals to sue people who invade their private information, a ground-breaking step in the legal system's attempts to come to terms with the digital age of online record-keeping and communications. With information being generated and stored at a staggering rate, legislation has not kept pace, leaving aggrieved parties no recourse against those who violate their privacy, until now. In his ruling, Judge Sharpe created a new legal tort called "intrusion upon seclusion." The decision will provide a legal avenue for those whose sexual practices, private correspondence or personal records have been snooped on for no legitimate reason. This poses a threat to companies that fail to safeguard their customers' private information or allow it to be used for unintended purposes, Toronto lawyer Scott Hutchinson said. The court has placed a $20,000 ceiling on damages, a decision that could encourage malicious behavior and lead individuals with ample resources to violate an individual's privacy for a small price.

To read more, click here
European Data Protection Supervisor Releases "Inventory" of 2012 Priorities
Peter Hustinx, the European Data Protection Supervisor (EDPS), has released his annual "Inventory" of issues of strategic importance for 2012. The EDPS is an independent supervisory authority devoted to protecting personal data and privacy. His strategic proposals include: new legal framework for data protection; technological developments and the Digital Agenda, IP rights, and Internet; further developments in the Area of Freedom, Security, and Justice; and financial sector reform. Hustinx also identified trends of focus for 2012, which include: employment of effective information-gathering and investigative tools by administrative authorities; significant exchanges of information between national authorities; and developments in the field of technology.
To read more, click here
Commission Proposes a Comprehensive Reform of Data Protection Rules

The European Commission has proposed a comprehensive reform of the EU's 1995 data protection rules to strengthen online privacy rights and boost Europe's digital economy. The Commission's proposals update and modernize the principles enshrined in the 1995 Data Protection Directive to guarantee privacy rights in the future. They include a policy Communication setting out the Commission's objectives and two legislative proposals: a Regulation setting out a general EU framework for data protection and a Directive on protecting personal data processed for the purposes of prevention, detection, investigation or prosecution of criminal offences and related judicial activities.
A single law will do away with the current fragmentation and costly administrative burdens, leading to savings for businesses of around €2.3 billion a year (roughly 3 billion U.S. dollars). The initiative will also help reinforce consumer confidence in online services, providing a much-needed boost to growth, jobs and innovation in Europe. The Commission's proposals will now be passed on to the European Parliament and EU Member States (meeting in the Council of Ministers) for discussion.

To read more, click here
Animal Rights Extremism In Europe - Where Are We Now?
Animal rights extremism includes clearly biomedical research, fur, intensive farming, meat, greyhound and horse racing, hunting and in fact anything to do with animals can result in a protest campaign. The last two to three years have seen what can only be described as serious, organised criminality, where companies have not only been demonstrated against, but have suffered serious attacks involving the use of incendiary devices, other arson attacks and the personalisation of targeting against senior management. In total in 2009-2010 there have been 27 attacks in 7 Member States, 11 of which involved arson or incendiary devices being used. Small scale demonstrations continue against all the causes mentioned above. Other criminal activity continues and there may well be further infiltration and subsequent exposés of activity within research laboratories. In addition, leading activists in the UK are now being released from lengthy prison sentences, and whilst there is a relatively low level of animal rights activity this may now change. It would seem, therefore, prudent to mitigate this threat.
Companies and organisations need to be informed in respect of what they are doing that may make them a target for extremism, and what the activists are doing. This understanding of the threat allows the risk assessments to be considered and any contingency plans to be tested. If you are undertaking research, I would suggest an effective way of mitigating the threat of infiltration and exposé is to ensure the welfare of your research animals is first rate and that you publish on your website and in other corporate literature exactly what you are doing. Having a robust infiltration prevention plan including extensive pre-employment screening and interviewing and selection skills is also essential. This should ensure there can be no shocks or surprises. Finally, you should always liaise with your local police.
To read more http://www.agenda-security.co.uk/Animal-rights-extremism.asp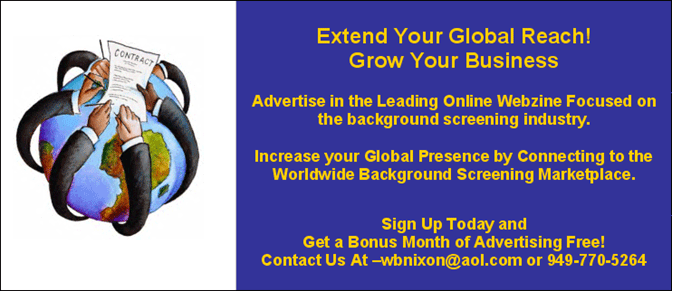 Country Background Screening Essentials
The primary law governing background checks in Germany is The Federal Data Protection Act (Bundesdatenschutzgesetz (BDSG). As of 1 September 2009 the BDSG provides comprehensive regulation of the processing of personal data. In addition, each German State has privacy legislation and data privacy commissioners to enforce State laws. The German federal government amended the existing law on the processing of employee data in June 2010.. This new law now applies to virtually all data collected and used by employers over the course of an employment relationship. The new law allows employees to consent to the background check; however, it is very strictly limited.
According to Sec. 32a para. 8 of the law, any personal data shall only be collected directly from the affected employee or applicant. Any collection of data on the applicant from a third party requires prior opt-in consent. An exemption is made only for data that is publicly available so that Internet searches on the individual will generally remain permissible. In case an employment relationship has not been founded, the data of the applicant may only be stored further if the applicant has consented. In addition, a prospective employer may only ask questions relating to particularly sensitive subject matter if the information is significantly and decisively pertinent to the work. In this context, sensitive data includes: disabilities, health, religious or political views - as well as criminal records and financial standing.
To read more click here

Commission Raises Concerns about Hungary's Constitution
The European Commission (EC) has expressed concern with the Hungarian government over whether changes to its constitution comply with EU law. Olivier Bailly, a Commission spokesman, said that the Commission is currently studying 30 laws, which were adopted as part of the revised constitution. Viviane Reding, the European commissioner for justice, fundamental rights and citizenship, is particularly concerned with whether the laws guaranteed the independence of national judges and the national supervisor on data protection. Reding wrote to Hungarian ministers in December "spelling out her doubts" over the laws.

To read more, click here
Right To Privacy May Become Fundamental Right
The law ministry is working on a proposal to make right to privacy a fundamental right in the Indian Constitution.
The right to privacy would include the right to confidentiality of communication, confidentiality of private or family life, protection of his honour and good name, protection from search, detention or exposure of lawful communication between individuals, privacy from surveillance, confidentiality of banking, financial, medical and legal information, protection from identity theft of various kinds, protection of use of a person's photographs, fingerprints, DNA samples and other samples taken at police stations and other places and protection of data relating to individual. If the legislation is passed, it would address several concerns expressed by some sections of the civil society. For instance, there has been outrage over the `compromise' of an individual's privacy in a project like UID, where all personal data will be available at the click of a mouse.
To read more click here
The Netherlands Needs A Privacy Watchdog With Sharper Teeth
The Netherlands needs a privacy watchdog with sharper teeth to make sure government, companies and individuals are more careful with people's personal details, Jacob Kohnstamm, head of the privacy watchdog CBP, said on Wednesday. 'There are almost limitless options to store and process information, Kohnstamm said at the publication of the CBP's annual report. And, the increase in digitalisation and globalisation make it increasingly difficult to keep abreast of everything being done to private information.
To read more click here
Scotland Sees Labour Market Improve In April
April's Bank of Scotland Report on Jobs has signalled continued improvement in the Scottish labour market. Both permanent and temporary staff appointments rose in April due to greater demand from clients, while temporary contract candidate availability rose, but permanent staff availability remained unchanged. Donald MacRae, chief economist at Bank of Scotland, says: "The latest Report on Jobs shows a further improvement in the Scottish labour market. The number of people placed in to permanent positions increased for the seventh consecutive month, while demand for permanent staff rose markedly in April, with recruitment consultants registering a larger number of vacancies. All eight employment sectors registered greater demand for permanent staff in April.

To read more click here
Personal Information Protection Act: Issues for Employers
Korea recently enacted the Personal Information Protection Act in order to protect rights and interests in connection with personal information. Although the act went into effect on September 30 2011, the Ministry of Public Administration and Security has provided for a six-month transition period, allowing time to educate companies. If any person processing personal information fails to comply with the obligations set out in the act, such person may be subject to penalties including criminal punishment up to 10 years or an administrative fine of up to KRW50 million (approximately $44,000).

Under the act, 'personal information' includes general, family, communication, location, and hobby/habit information and now extends beyond customer information to employees as well. Previously in Korea, it was common practice for employers to collect, use and provide their employees' personal information with almost no restrictions. With the implementation of the act and the consequent penalties therein, employers will be required to obtain consent from employees throughout the different stages of employment and to adopt a systematic approach to the management of personal information.

To read more, click here
Information Commissioner Lays Out Plans for This Year

UK Information Commissioner, Christopher Graham, believes the start of 2012 "marks a pivotal moment for both data protection and freedom of information." The ICO has released its Information Rights Strategy, which reveals their priorities in the areas of health; credit and finance; criminal justice; Internet and mobile services; and information security. For the first time, the ICO describes the information rights outcomes they are seeking and explain their approach to securing compliance. Their approach for the coming year will be "practical but principled" and focused on speaking up for information rights. Graham cautions businesses under economic pressures to avoid cutting corners and pushing boundaries when it comes to data protection and freedom of information because severe consequences can and will result.

To read more, click here
Facebook, Twitter and Other New, Risky Recruitment Tools
A recent study by Chartered Psychologist Rob Bailey from OPP, concludes that companies who use social networking sites (SNS) to vet potential new employees are at risk of violating employment and data protection laws. SNS screening has the potential to result in a charge of discrimination if a job applicant is denied based on subjective biases rather than sound work-related criteria. The online study analyzed a nationally representative sample of more than 1,000 people of working age in the UK and Ireland. The study found that 65 percent of respondents said they were likely to look at a potential employee's online presence prior to interviewing them. Bailey advises those organizations that choose to run the risk of using SNSs in their recruitment process to, "prepare a clear company policy based on sound legal advice." He also advises potential job candidates to protect themselves by having privacy settings completely activated.

To read more, click here
Information Commissioner Offers One Day Advisory Visits
The Information Commissioner's Office (ICO) has introduced informal advisory visits for small to medium sized businesses, charities, not-for-profit organizations and public authorities seeking improvement ideas on their data protection practices. The ICO has indicated it will put a priority on audits of organizations it considers high-risk, but the informal visits will provide lower-risk organizations with access to the ICO's good practice team. The one-day advisory visits will focus on the areas of security, records management and requests for personal data. The ICO will also ensure the policies and procedures are appropriate and being followed. A follow-up report will then summarize the findings and identify areas for improvement.

To read more, click here
INTERNATIONAL RESOURCE CENTER - YOUR INTERNATIONAL INFORMATION RESOURCE
World Information Center:
ADVERTISERS IN THIS EDITION

| | | | |
| --- | --- | --- | --- |
| | | | Background Screening Jobs |
Visit the Job Board for the Employment and Tenant Screening Industry. Here you will find resumes of people with industry experience and employers seeking applicants with experience in Employment and Tenant Screening and related businesses.
www.backgroundscreeningjobs.com

UPCOMING CONFERENCES, COURSES & EVENTS
2012 Events ( Click Here to View full list of 2012 Events ) - Updated Monthly
SHRM State Conferences, visit http://www.shrm.org/Conferences/StateAffilliateConferences/Pages/default.aspx
Drug and Alcohol Testing Industry Association (DATIA), 2011 Training Course Schedule, visit
http://datia.org
SAPAA Training Institute Learning Events, http://www.sapaa.com/
CUPA-HR Conferences: http://www.cupahr.org/
World Federation of People Management Associations, Events, http://www.wfpma.com/events/byregion.asp