AlliedBarton Security Services Enters Background Screening Arena
AlliedBarton Security Services, a leader in security services, has reportedly acquired background screening firm VanElla. Although there has been no formal announcement of the transaction, conference attendees and website information indicates the transaction has been completed. Chicago-based VanElla provides employers with access to fast, highly detailed employment screening services via a robust, online management and reporting system. VanElla allows companies of every size to better manage the employment screening process, reduce cost-to-hire, and improve employment-related risk management through superior employment screening practices. This acquisition represents AlliedBarton's entrance into the background screening industry. (September 2007)
Source: KPMG Corporate Finance's Valuation Update for the HR Outsourcing Industry - 09.30.07
Terrorist Watch List Swells To More Than 755,000 Names
According to a report by the Government Accountability Office (GAO) the federal terrorist watch list has grown to more than 755,000. The size of the list, typically used to check people entering the country through land border crossings, airports and sea ports, has been growing by 200,000 names a year since 2004 and the swelling of its ranks has raised worries about the list's effectiveness. Some lawmakers, security experts and civil rights advocates warn that it will become useless if it includes too many people. "It undermines the authority of the list," says Lisa Graves of the Center for National Security Studies. "There's just no rational, reasonable estimate that there's anywhere close to that many suspected terrorists." The exact number of people on the list, compiled after 9/11 to help government agents keep terrorists out of the country, is unclear. Leonard Boyle of the FBI's Terrorist Screening Center, urges that the list be used for screening by businesses where workers could "carry out attacks on our critical infrastructure that could harm large numbers of persons or cause immense economic damage."
For More Information Go To: http://www.usatoday.com/news/nation/2007-10-23-Watchlist_N.htm


How To Hire a Good Private Investigation Agency
When you are thinking of hiring a private investigation agency, you are either checking up on the background of a person or on a group of people, location of missing persons, location or recovery of missing property or causes of fires, libels, or losses. There are plenty of private investigation agencies on the market but you have to find a good one that you can trust especially when you need help with more personal matters like a cheating spouse. You need to know what are the things that you should look out for and what questions to ask in order to find the best agency.
For More Information on the 5 Ways To Locate A Good Private Investigation Agency Go To:http://umeshfiteny.i-creation.org/2007/10/05/how-to-hire-a-good-private-investigation-agency/
Eid Passport Integrates Background Screening With Vendor Access Management Programs
Eid Passport, Inc., a leading provider of vendor access management programs, has deployed its RAPIDGate(TM) program to enhance security at the United States Coast Guard Headquarters in Washington, D.C. Eid Passport's RAPIDGate Program improves security and efficiency by registering and screening vendors, contractors, and suppliers, and then providing credentials and access management systems that quickly prove their identities and authorize their privileges to enter a secure facility. The Program integrates a number of best-of-breed products and services: the self-service Registration Stations for program applicants; identity proofing; background screening for outstanding wants, warrants (including the "terrorist watch list"), sexual offender/predator lists, and felony convictions; fraud-resistant, personalized RAPIDGate badges for qualified applicants; access management and biometric systems to identify credential-holders at secure access points; and reports of ingress and egress activity.
For More Information Go To: http://www.womantwist.com/eid-passport/
ClearStar.net Partners with SharperLending LLC to Deliver Broad Spectrum of Credit Data Services
ClearStar.net, a leading information services provider for the background, employment and tenant screening industry, announced today the formation of a partnership with SharperLending LLC, technology provider of secure, Web-based lending management platforms. Under terms of the agreement, SharperLending will provide ClearStar.net with real time gateway access to data from all three credit bureaus and its proprietary suite of service offerings in standard MISMO XML format. "Flexibility and security of credit related data is critical to the decision making capability in background screening and gives us more flexibility to deliver services that ensure that our clients maintain their competitive edge," explained R.J. Vale, CEO of ClearStar.net. "Now that we can parse and measure the data, we will be able to deliver a tri-merged credit report and bundle the credit data with other data elements to provide total scoring models. ClearStar.net also gains the ability to further analyze data according to industry-specific business rules to more effectively present information in a variety of graphical formats. The partnership comes as a culmination of combined development efforts to build an open architecture gateway based on their common platform of Microsoft .NET and web services.
For More Information Go To: http://www.clearstar.net/ClearStarSharperLendingPartnership.pdf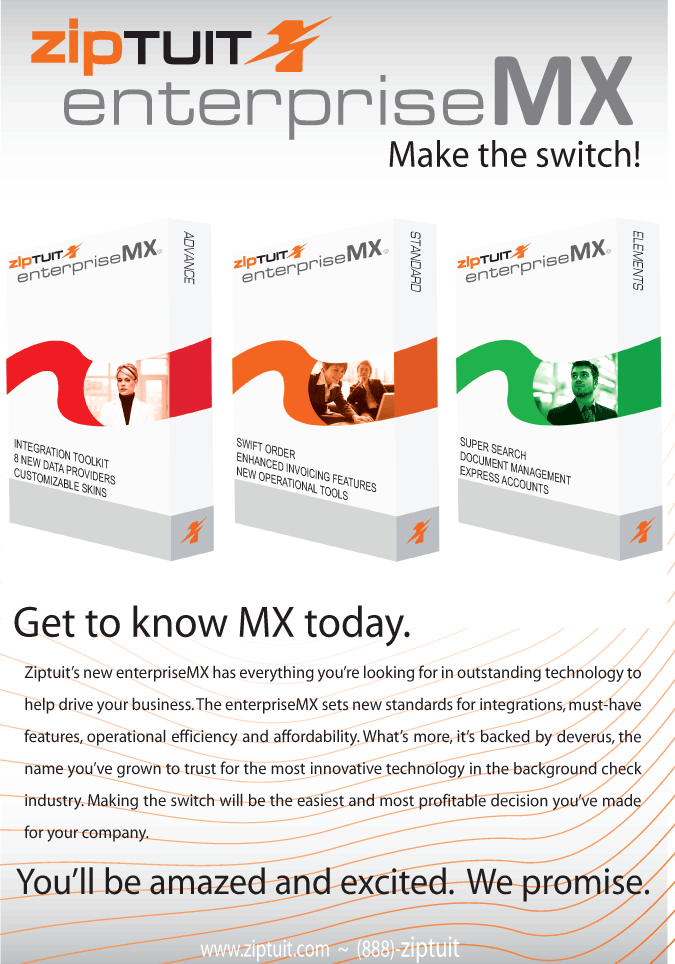 INDUSTRY ANNOUNCEMENTS (continued)
Powerchex Declared National Finalist in the NatWest Service Business of the Year Awards in United Kingdom
The Startups Awards sponsored by NatWest provide a great opportunity to recognise the massive contribution small businesses make to the UK economy, and the great entrepreneurs behind them. NatWest Business is proud to sponsor the awards for the 3rd year running and I wish all of the entrants the best of luck. "After five grueling caffeine-fuelled days and nights sifting through mountains of applications, business plans and account files,the startups editorial team finally emerging victorious grasping the much-anticipated Startups Awards 2007 shortlist.
Congratulations to Powerchex for making the 2007 shortlist! Good luck with being selected as the winner.
For More Information Go To: http://powerchex.co.uk/
Grants Being Issued By DHS to Raise Port Security
Biometric screening, background checks and beefed up security are part of a new identification system - the Transportation Worker Identification Credential (TWIC) Program was conceived six years ago in the wake of the Sept. 11 terrorist attacks. But the effort to screen the estimated 75,000 port workers and strictly control access to the nation's ports with a sophisticated tamper-proof identification card system proved problematic, with concerns over costs and privacy rights. The first ID card system at the Port of Wilmington in Delaware is scheduled to be up and running starting the week of October 16, 2007. While many ports have not set a specific date to start the program for port workers, grants are being issued and preparations are being made for the coming identification system. There may be significant screening opportunities at ports throughout the country.
For More Information Go To: http://www.tsa.gov/what_we_do/layers/twic/index.shtm
New Restrictions On Inquiries and Consideration of Conviction Records
Effective November 1, 2007, New York employers may no longer inquire into, or make an adverse employment decision based on, an applicant's or employee's having been convicted of a criminal offense when the conviction record has been sealed pursuant to Section 160.55 of the Criminal Procedure Law or when the conviction is classified as a youthful offender adjudication under Section 720.35(1) of the Criminal Procedure Law. The new law, which is an amendment to Section 296(16) of the New York State Executive Law (the "Human Rights Law"), does not apply to the licensing activities of governmental bodies in relation to the regulation of guns, firearms and deadly weapons or in relation to an application for employment as a police or peace officer. See Assemb. A3379, 2007-2008 Reg. Sess. (N.Y. 2007). This change expands the protections from discrimination for ex-offenders and is in keeping with New York public policy to provide employment opportunities to individuals who have already "served their debt to society" and reduce recidivism caused by lack of employment and income.
For More Information Go To: http://www.mondaq.com/article.asp?articleid=53586&email_access=on
Lawmakers Seeking Stricter Caregiver Rules
A state senator says she wants to improve the background screening of nurse aides and other caregivers after gaps that allow criminals to work in nursing homes were identified in a recent Star-Telegram report. Advocates for nursing home residents and the industry also expressed concern that some workers banned by the Texas Department of Aging and Disability Services for abuse, neglect and theft have been certified as nurse aides by the same department. Some found new jobs caring for the elderly and disabled. Sen. Judith Zaffirini, D-Laredo, said she was troubled to learn that crimes barring employment in nursing homes, such as murder and rape, don't prevent aides from being recertified. Aides and other such workers give the vast majority of care at nursing homes and also work at doctors' offices and hospitals.
For More Information Go To: http://www.star-telegram.com/state_news/story/267828.html
FRAUD, THEFT AND DATA BREACHES
Survey: Shoplifter, Employee Theft On The Rise
According to the 19th Annual Retail Theft Survey conducted by Jack L. Hayes International, "the seriousness of retail theft is a much greater problem than many people realize." The annual survey reports on over 530,000 apprehensions taking place in just 23 large retail companies representing 14,118 stores with combined 2006 annual sales in excess of $537 billion. Shoplifters and dishonest employees stole over $6.0 billion in 2006 from these 23 major retailers. "This is only the second time in the past 9 years where both the apprehensions and recovery dollars from shoplifters and dishonest employees has increased. Shoplifting apprehensions and recovery dollars were up an amazing 11.2 percent and 13.9 percent respectively", said Mark R. Doyle, president of Jack L. Hayes International. "And while employee theft apprehensions were up just under 7 percent, the recovery dollars were up over 16 percent.
For More Information Go To: http://www.hayesinternational.com/thft_srvys.html
Tips: Safeguard Sensitive Information
Every day, corporations deal with confidential information containing everything from company trade secrets and marketing research, to social security numbers and addresses of employees, customers and vendors. In the last two years, 85 percent of businesses have experienced a data breach involving the loss or theft of customer, consumer or employee data. In that same period of time, more than 150 million records have been exposed. The financial implications stemming from the theft of proprietary information in the workplace are startling, as the crime cost U.S. businesses and consumers $56.6 billion in 2005. On average, data losses cost companies $182 per compromised record in 2006, an increase of 31 percent from 2005. "With an ongoing exchange of paper in offices, the workplace is an increasingly desirable target for identity thieves," said Ira Winkler, national security consultant. Financial implications are only a portion of the consequences, as businesses can now face penalties, such as fines and lawsuits, if they neglect to properly store and destroy sensitive information.
For More Information Go To: http://www.secprodonline.com/articles/50382/
FRAUD, THEFT AND DATA BREACHES (continued)
Study: Severity Of Information Security Breaches Increasing
Organizations broke down their costs of security breaches as follows:
Employee productivity impacted -- 35 percent .
Server or network downtime -- 21 percent .
Revenue-generating activities impacted -- 20 percent.
Physical assets impacted -- 17 percent.
Legal fees and/or fines -- 8 percent.
The survey also revealed that not all security breaches originate externally. Among organizations that experienced a security breach, nearly one in four (23 percent) indicated an insider security breach or threat in the last year.
For More Information Go To: http://www.secprodonline.com/articles/50543/
How Would You Like to Get More Sales Leads?
Platinum Membership Just Got Better
We have just added 5 new Platinum Members Only Web Sites to promote our Platinum Members.
Checking IT Backgrounds
The recent sentencing of a former UBS Paine Webber employee is a case in point. The former systems administrator received eight years in prison for planting a "logic bomb" on company networks and then betting that the firm's stock would decline. He planted the malicious code shortly after quitting his job in 2002, and it resulted in the deletion of approximately 10 billion files on 1,000 company computers. A thorough background check on the culprit would likely have revealed his criminal record, which included burglary and aggravated assault convictions. Strong checks, including criminal background, education, and employment are particularly important for IT staff because of their high-level access to systems and data, say industry experts.
For More Information Go To: http://www.securitymanagement.com/article/checking-it-backgrounds
THE INSIDER THREAT TO TRADE SECRETS
When it comes to information security, many organizations rely heavily on a tactical and operational approach. The bulk of budgets and resources are directed toward technical solutions like firewalls and filters to keep the bad guys—hackers, spammers, phishers and thieves—out. But the greatest threat to an organization's information is already inside the firewall. It's the organization's own employees and the daily interaction with critical information assets that creates the greatest risk. In fact, 80 percent of all security breaches are committed by those working within an organization. These breaches happen in a variety of ways—like when employees take work home in an effort to be more productive or when they share company information with external people—because employees don't realize the information is sensitive.
For More Information Go To: http://www.secprodonline.com/articles/50504/
What's the use of an online system too difficult for your clients to use?

InstaScreen™ background screening software is so easy to use that your clients will actually enjoy placing orders!

If your current applicant screening system is so cumbersome it discourages end-users from using it, you owe it to yourself to choose a system your customers will actually use. Imagine receiving more orders and saving your processors valuable time by getting your clients to enter the orders for you.

Simple and powerful, InstaScreen™ is intuitive, easy to use, and flexible to accommodate your clients specialized needs.

Call (801) 572-7401 or visit www.tazworks.net and demo our easy-to-use technology first hand.


Advertise in The
Background Buzz
Click here for rates

States are voluntarily building security enhancements for driver's license systems not tied to Real ID. A new Digital Image Exchange program (DIEP) will allow states to exchange driver's license photos, helping to reduce identify theft and fraud. Both Digimarc and L-1 Identity Solutions (ID) are working on this program.
NAPBS OFFERS EDUCATIONAL WEBCAST SERIES OFFERRED
November 28, 2007

Re-Verifications and Disputes
Butch Hite and
Vince Pascarella
Register Here: http://www.napbs.com/content.php?id=289
STOP STRUGGLING WITH WRITING AND PUBLISHING YOUR NEWSLETTER:
We can help you have a high quality e-newsletter to help nurture your relationship with your clients and attract new clients. Our customized newsletter service will take over your newsletter task or create a new one for you. We can manage the creation of your newsletter for you.
We are constantly researching information to use for The Background Buzz and you can put our research to use for you. Using the information rich content from The Background Buzz (minus the ads and competitors information) we will create a custom newsletter for you.
Use your staff's time to do more valuable work and save all the hassle of researching or writing articles, formatting and managing all the other ezine tasks with our customized ezine process.
Contact Barry Nixon at 949-770-5264 or at wbnixon@aol.com for more information.
We have extended our Bonus Offer: Sign up before December 30th and we will create a customized header for your newsletter at no additional charge.
New Challenges In Selling To HR Marketplce
Today, 40,000 vendors, all certain that their offerings are strategic, are calling into HR Departments around the world. Job Boards, Background companies, Talent Management services, compensation data, HR Consulting, Search Engine Optimization and a thousand other offerings flood the mail baskets and voice mail baskets of supervisors in Recruiting, Staffing and HR. Our market has changed from the days in which it was a little village that could stand cowboy marketing. Today, it takes persistence and perseverance to make a dent in the challenge of creating a brand.
For More Information Go To: interbiz@interbiznet.com The Electronic Recruiting News In Email_071001
HAVE YOU VISITED OUR VENDOR SHOWCASE LATELY?
Visit PreemploymentDirectory.com's VENDOR SHOWCASE which features suppliers to the
Background Screening Industry (go to www.PreemploymentDirectory.com, click on 'Click Here'
and then scroll down to Vendor Showcase for Background Screening Industry Suppliers).
The VENDOR SHOWCASE now includes BRB Publication's PRRN Network
the dominant online portal for the public records industry
Check Out our newest web site to exclusively promote our Platinum Members that are in our Vendor Showcase
WWW.BACKGROUNDSCREENINGVENDORS.COM
One Place! Many Suppliers!
INTERNATIONAL
Employment Screening Handbooks To Help Industry Minimise Risk
Standards Australia is set to launch its latest publications: the Employment Screening Handbook; and a Handbook for Reference Checking in the Financial Services Industry which was developed in close collaboration with the Australian Securities and Investments Commission (ASIC). Supporting the Australian Standard for Employment Screening (AS 4811-2006), the only Standard of its type in the world, the Handbooks have been produced to assist employers reduce the risk of potential security breaches and ensure the identity, credentials and integrity of staff and contractors. While the Employment Screening Handbook offers advice to all types of industries, the Handbook for Reference Checking has been developed specifically for the Financial Services Industry in close collaboration with ASIC. "The Handbook for Reference Checking in the Financial Services Industry will play a critical role in an organisation's risk management process," said Mr Tucker. Used together with the Standard, the Handbooks will provide a framework for significantly reducing the recruitment and/or movement of unsuitable candidates both between and within organisations.
For More Information Go To: http://www.standards.org.au/downloads/071011_Employment_Screening_Handbooks_Launch.pdf

Thumbs up for ID Card / Criminal record check trial
Plans for a new service using ID cards to help make Criminal Records checks faster and more robust have been given a resounding thumbs-up based on trials of the new process. In line with recommendations from the Bichard Report, the Criminal Records Bureau (CRB) is examining the security benefits that ID cards may bring. In a joint trial with the Identity and Passport Service (IPS), 160 volunteers piloted two online services aimed at accelerating and toughening-up background checks on people who want to work with children and vulnerable adults. The first is a short-term process using UK passports, the second a longer-term process using ID cards under the National Identity Scheme. A report published today reveals that the overwhelming majority of trial participants back the new services, with 96% saying the passport-linked service is an improvement on current arrangements, and 87% saying that the ID card-linked service would be even stronger. "By linking your details to your fingerprints, the National Identity Scheme will make it easier and quicker to prove identity as well as protecting your personal details from fraudsters." The CRB has issued over 13 million Criminal Records disclosures since it began operation in 2002, however, an improved application process using ID cards to confirm identity via online application could dramatically reduce turnaround times. The first ID cards for UK citizens will be issued in 2009, with large-scale volumes being issued by the Identity and Passport Service in 2010.
For More Information Go To: http://www.bapcojournal.com/news/fullstory.php

Employee Dishonesty: Surveillance - Undercover Work
Employee fraud is estimated to set UK business back £2 billion a year. So it is little wonder companies are using an ever-increasing range of methods to monitor staff. One of the biggest bugbears of modern Britain is best described in a phrase once uttered by information commissioner Richard Thomas - 'the surveillance society.' There are 4.2 million CCTV cameras in the UK - one for every 14 people making Britain one of the most watched countries in the world. The media incessantly bombards the public with these statistics, but what does it all mean to HR? A great deal, it seems. This tendency to 'watch' members of the public out onthe street could be moving into the workplace. With companies finding it harder to determine the profile of the average fraudster, surveillance may seem to be the obvious option to curb theft. Methods used by employers include: computer data mining; key logging (a method used to measure productivity, by recording impressions on a keyboard); and overt CCTV in workplaces. Some companies monitor their employees' location by tracking their mobile phones. Some even have them followed by private detectives. According to the information commissioner, more methods look likely to emerge, including the use of web cams to monitor remote workers. But such measures should only be implemented when all other options have been exhausted, say some. "Surveillance can be self-defeating by undermining the mutual trust that should form the basis of any employment relationship," says the TUC's employment rights officer, Alison Bulchin.
For More Information Go To: http://www.humanresourcesmagazine.com

So, who are the fraudsters?
What are the characteristics of the typical application fraudster? Data analysis by CIFAS, The UK's Fraud Prevention Service, reveals that, of those who lie in applications for credit, financial services or insurance:
most are aged between 26 and 40, with only 7% over the age of 50.
9% of men and 7% of women lie about their employment or salary.
10% use a false document to support their application.
To See More of the Analysis Go To: http://www.powerchex.co.uk/employmenttribunals.html
Warning On UK Private-Eye Licences
Plans to license private investigators could hobble a growing industry and leave its multinational clients at sharper risk of corruption and money laundering, leading security businesses have claimed. The companies say proposals drafted partly to prevent abuses by cowboy divorce investigators and their kind could unintentionally undermine key anti-fraud work relied on by banks and other international businesses. The dispute is coming to a head as consultation on the proposals ends this week, after which the watchdog Security Industry Authority (SIA) will publish final rules. Jeff Katz, chief executive of Bishop Group, a corporate investigator, said the new rules could mean the companies were not able "to service the financial institutions, law firms and corporations that are our clients". "[The proposals] present major problems for the corporate investigation companies," he said.
For More Information Go To: http://www.ft.com/cms/s/0/069b356a-7fed-11dc-b075-
0000779fd2ac.html?nclick_check=1
"INTERNATIONALRESOURCE CENTER"
We have greatly enhanced our International Resource Center to be a valuable resource for anyone looking for information on doing international background verifications, vetting or verifications. It includes information on international data protection and other laws, terrorist searches and much more. Also included is very practical information on time zones, locating cities, holidays in different countries, etc.
International Training Resources
We have just added a new section, International Training Resources, to the International Resource Center. We will update this section as we identify new training and educational opportunities.
Bookmark this valuable resource so you can use it over and over.
To view the International Section go to www.PreemploymentDirectory.com and look under the gray line like below in the middle of the page:
HUMAN RESOURCE MANAGEMENT
Full Disclosure: Sex Offender Registration Laws Present Challenges for HR Managers
The law requiring sex offenders to register their presence in a community can present HR with complex, but manageable, retention issues. When Michigan Attorney General Mike Cox released the names of 200 registered sex offenders in the state who had been using the popular networking site MySpace, some employers may have been surprised to discover names on the list that were also on their payrolls. MySpace dropped all 200 profiles, but the fallout continued. Corrections officials discovered some offenders were using computers in violation of the terms of their release. And employers began to confront the long-standing question of what they can do if they find employees' names on a state registry of convicted sex offenders. The answer is as complex as the question is simple.
For More Information Go To: http://www.shrm.org/hrmagazine/articles/0907/0907cadrain.asp
Are You Interested in Reaching Over 691,000 Human Resource Recruiters
Thru the Largest Recruiter Information Portal on the Web?
Onrec.com's Online Recruitment Magazine has become the #1ranked online recruitment information portal on the Internet.
If you are interested in finding out how we can increase the traffic to your web site and your sales visit us at http://www.onrec.com or call Tim Hartrich at 630-985-3006 today.
All Preemployment Directory.com members will get a 10% Discount on Enhanced Vendor Profiles. Call Tim Hartrich at 630-985-3006 and mention code: PD.COMWBN
Federal Judge Sides with SHRM in Oklahoma Gun Case
SHRM's Weapons in the Workplace position has received a big boost from the courts. In a long-awaited decision, a federal judge of the U.S. District Court in Oklahoma sided with SHRM in finding that a workplace weapons bill passed by the Oklahoma legislature in 2004 (and amended in 2005), which prohibits employers from establishing policies banning employees from bringing weapons onto company property, is pre-empted by the federal Occupational Safety and Health Act's (OSHA) 'general duty' clause. SHRM had filed a "friend of the court" brief in this Oklahoma case, known officially as ConocoPhillips v. Henry, et al. At press time, it is unclear what impact (if any) the Oklahoma ruling might have on similar laws passed in Kentucky, Alaska, Minnesota, and most recently in Kansas. SHRM expects this decision will be appealed. In the meantime, Oklahoma businesses are free to enforce their own workplace policies regarding weapons on company property. SHRM's position throughout this debate has been that individual employers should have the freedom to decide what policies best fit their work establishments.
For More Information Go To: http://www.shrm.org/government/update/101907_1.asp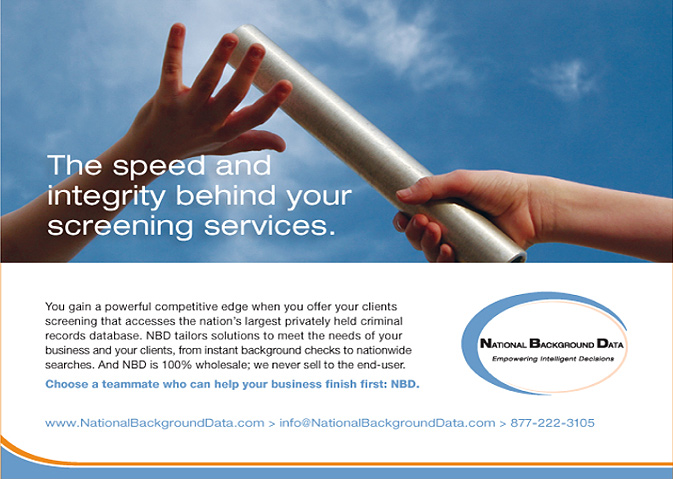 JOB BOARD DEDICATED TO THE BACKGROUND SCREENING INDUSTRY
| | |
| --- | --- |
| | Find resumes of people with industry experience and industry employers seeking industry experience. |
Employer/Recruiter Testimonials -
"This is a super concept. Thanks for helping the industry." - RK
Looking for candidates with industry experience!
Visit backgroundscreeningjobs.com today!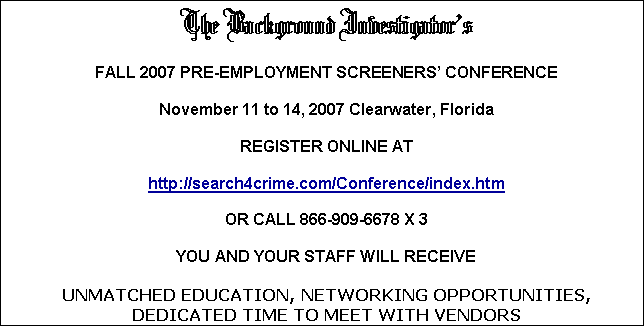 UPCOMING CONFERENCES & EVENTS
UNITED STATES
2007 Annual Pre-Employment Screeners Conference, November 11 - 14, 2007, Clearwater, Florida
http://www.search4crime.com/Conference/index.htm
INTERNATIONAL
November
Understanding Data Protection Law, Chartered Institute of Personnel and Development, 20 November 2007, London, United Kingdom
Course overview: This practical 1-day course enables participants to understand the law that
applies to the collection, storage and use of personal data in the workplace, from the beginning to the end of the employment relationship. For More Information Go To:
http://www.cipd.co.uk/subjects/emplaw/dataprot/dataprotec.htm?IsSrchRes=1

Employing & Vetting Non-UK Nationals, Unravelling Critical and Complex Issues for Recruiters
22nd November 2007, London, http://www.symposium-events.co.uk/pages/attending/HR052/images/brochure.pdf
HRO World Europe 2007: Transform to Perform - From Strategy to Reality, 27-29, Nov 2007
Conrad Hotel - Brussels – Belgium, http://www.hroaeurope.com/file/3835/

European Pre-employment Vetting & Screening Summit 2007, Amsterdam, Netherlands, Friday 30 November 2007, Amsterdam, Netherlands, Friday 30 November 2007

December

Background Investigator's India Pre-employment Screening Conference, December 6-7, 2007, Bangalore,India, http://www.search4crime.com/Indiaconference


2008 Events (Click Here to View full list of 2008 Events)