BACKGROUND SCREENING NEWS
2011 Baker's Dozen Customer Satisfaction Ratings: Employee Screening
The rankings contained within the 2011 Baker's Dozen Customer Satisfaction Ratings Employee Screening are based on customer survey data. The indices result from a multi-step process. HRO Today identified the top employee screening providers. Our survey research team then asked providers to identify customers to be surveyed. Using the HRO Today database, we identified other buyers to survey. Each respondent was asked about services provided, scope and scale of services, and the quality and satisfaction with the services.

We hope this ranking provides you some insight into your next RFP process.
1. Universal Background Screening
2. FirstPoint Background Screening Resources
3. SecurTest
4. TalentWise
5. EmployeeScreenIQ
6. General Information Services

7. Global HR Research (GHRR)
8. Employment Background Investigations
9. Corporate Screening Services
10. Orange Tree Screening
11. HR Plus
12. Verifications
13. Sterling Infosystems
Source: Magazine Issue: Vol. 10 No. 9 - November 2011

To read the full article click here
No Link Seen Between Low Credit Scores and Bad Job Behavior
A soon-to-be published study by researchers at Louisiana State University, Northern Illinois University and Texas Tech University finds no connection between poor credit scores and bad behavior on the job. The findings are of interest because many companies conduct credit checks on potential new hires as part of the employment screening process. Yet the validity of using an applicant's credit history as a measure of future job performance has been largely unexamined.
The study will be published in The Journal of Applied Psychology and is currently available online. It used personality data collected from 142 employees and performance data provided by supervisors. The researchers then asked the employees to obtain their credit scores from FICO. Limitations include the relatively small size of the study.
Jeremy Bernerth, assistant professor at L.S.U.'s business school and a lead author of the study, said the findings showed that poor credit scores weren't related to an employee's propensity, say, to steal from an employer or engage in other "deviant" behavior.
To read more click here
Recidivism, Re-Entry Policy and Facts
Sexual predation is back in the national spotlight since Jerry Sandusky, the former Penn State defense coordinator who's accused of sexually assaulting eight boys over 15 years, and two top university officials have been charged covering up the abuse.
There are nearly 740,000 registered sex offenders in the United States. The percentages rearrested (but not necessarily guilty) for the "same category of offense" for which they were most recently in prison for were:
13.4% of released robbers
22.0% of released assaulters
23.4% of released burglars
33.9% of released larcenists
19.0% of released defrauders
41.2% of released drug offenders
2.5% of released rapists
Contrary to popular belief, as a group, sex offenders have the lowest rate of recidivism of all the crime categories. These statistics completely fly in the face of conventional wisdom about sex offenders being the most likely group of criminals to re-offend for their initial crime, but these are the facts.
Independent studies of the effectiveness of in-prison treatment programs for sex offenders have shown that evidence-based programs can reduce recidivism by up to 15 percent and can be further reduced up to 30 percent with after prison intervention. However, our current policies make no sense; we release many offenders to the public without some form of post-release supervision.
"Effective strategies to deal with sex offenders [should] not be based on anecdote, emotion, or case examples of just one; they [should be] based on facts and what we know about the issue. At times we hear about a high profile event; but it is important to remember that high profile events are high profile precisely because they are unusual and unlikely. Making policy based on high profile events is a surefire way to overreact and make inefficient and, worse, ineffective policy.
To read more click here
Electronic Security Association Supports Background Check Law

The Electronic Security Association (ESA) is asking its members to take an active role in making the industry safer by supporting background check legislation. Traditionally, the government has allowed various industries - including banks, credit unions and private security firms - access to utilize the FBI's database for criminal background checks of potential employees. But electronic security companies are not afforded that same level of access.
That's why ESA has endorsed S. 1319, the "Electronic Life Safety and Security Systems Federal Background Check Act," which was introduced in the U.S. Senate on June 30 by Sen. Chuck Schumer (D-NY). The bill would permit industry companies to access the FBI database for hiring purposes, and also would direct the Attorney General to work with ESA to establish a nationwide system of criminal background checks for employers and employees at electronic security industry companies. ESA Government Relations Director John Chwat says what is needed now is contact from ESA members and other industry professionals to their Senators.
To read more, click here
Obama Administration Extends Crackdown on Illegal Hires
The Obama administration has extended its crackdown on employers of illegal immigrants, notifying 500 companies across the nation in recent weeks that the government will inspect their hiring records.The audits of employee records by Immigration and Customs Enforcement (ICE)can result in civil and criminal penalties and can lead firms to lose large numbers of employees, face lower productivity and steep legal fees. Since January 2009, ICE has audited almost 6,000 employers suspected of hiring illegal labor and imposed more than $72 million in sanctions. According to the Pew Hispanic Center, approximately $11 million illegal immigrants currently live in the U.S., with roughly two-thirds of them employed. The Obama administration has made employers the focus of its efforts to curb illegal immigration.
To read more, click here
Tenant Is Suing to Stay Off List of Tenants Who Get Sued
Information meant to help landlords avoid difficult and irresponsible tenants is now hurting responsible tenants and keeping them from renting for years to come. The New York State Office of Court Administrationengages in a practice of selling the names of everyone who is sued in housing court for eviction to private companies who then sell it to landlords. However, those screening lists do not make a distinction between renters who ultimately win their cases and those who lose, which is putting many innocent people on a "tenant blacklist." To avoid facing their landlords in court, many people are sacrificing their tenant rights and are opting to move out instead.

James Whelan, a tenant of 17 years, was asked to move by his landlord who wanted his apartment for a relative. Fearful of being blacklisted and refusing to move out, Whelan has preemptively filed a suit in state court to keep his name off those tenant-screening lists.If he wins, the practice of collecting and selling those names in New York may be halted entirely. His lawyer, Mr. Fishman, said: "The state gives tenants lots of rights, but then the state participates in a process that takes away all those rights. If you can't assert those rights, you might as well not have them."
To read more, click here
Beware of Screening Tenants Via Facebook

As online searches of applicants' social media postings on Facebook and Twitter continue to rise in the employment area, landlords are joining suit and putting themselves at legal risk. Landlords who acquire information from these sources, whether using it to make a decision or not, may run into troubleif challenged by an applicant to prove that knowledge of the applicant's religion, ethnicity, age and other extraneous information was irrelevant. Tenants are also taking the risk of rejection by exposing personal information online and may have difficulty proving whether or not a future landlord or employer factored social media postings into their decisions.

To read more, click here
Background Check Company's Investigative Efforts On Potential Job Candidate Do Not Violate The FCRA
Plaintiff was contacted by Harrison Turnbull ("Turnbull"), a principal of Defendant Waverly Partners, LLC ("Waverly") to discuss her interest in a general counsel position with a company outside of North Carolina. Over the next two weeks, Plaintiff faxed her resume and a list of references to Waverly, had several in-depth telephone conversations about the position, and had an in-person interview with Turnbull. Soon thereafter, Turnbull sent various forms to Plaintiff, including a Fair Credit Reporting Act ("FCRA") consent form. Plaintiff signed and returned the form, which permitted verification of Plaintiff's former employment. Significantly, the consent form did not permit Waverly to contact Plaintiff's current employer, Cato. Turnbull told Plaintiff that no references would be contacted unless she was the final candidate for the job and then only the specific individuals listed as personal references would be contacted. Waverly hired Defendant AlliedBarton Security Services, LLC ("AlliedBarton") to conduct a background check on Plaintiff. AlliedBarton faxed a copy of the consent form to Cato, which resulted in her firing days later. Subsequently, Waverly informed Plaintiff that she was not considered for the general counsel position. AlliedBarton moved to dismiss Plaintiff's claim for invasion of privacy, claim for a violation of the FCRA, and a claim for unfair and deceptive trade practices. The Court granted the motion to dismiss. Plaintiff subsequently filed his Motion to Reconsider as to Plaintiff's § 1681d(d) and § 1681b claims. The Court denied Plaintiff's Motion.
Shawn Smith v. Waverly Partners, LLC et al., 2011 U.S. Dist. LEXIS 90135(W.D.N.C. Aug. 12, 2011)
To read more click here
Welcome to the U.S. Legal Challenge Question!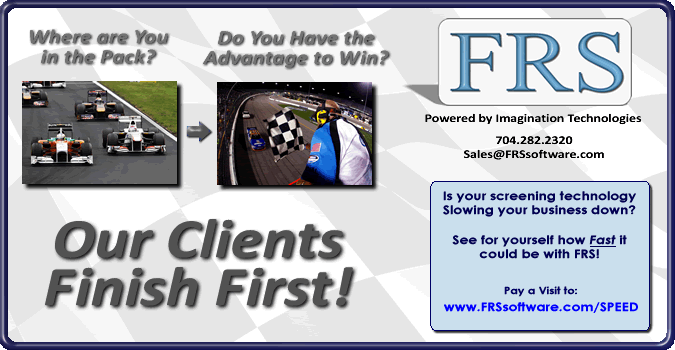 As the background screening industry continues to get more competitive the firms that will ultimately succeed will be those that create competitive advantage through their people by offering continuous learning opportunities to heightened their knowledge and capabilities. We believe that having employees that are very knowledgeable about the legal landscape of background screening is essential to continued success.
We are grateful to John Fay, Vice President of Products and Services and General Counsel at LawLogix, Inc for providing the expertise for this valuable endeavor. In his current role, John serves as, a leading provider of Electronic I-9 Compliance, E-Verify and Immigration Case Management Software and is responsible for overseeing product design and functionality while ensuring compliance with rapidly changing immigration and employment eligibility rules.
For information regarding the answers to the Legal Challenge Questions, please contact John Fay at(602) 357-4240and for more information about LawLogix e-verify and immigration support services please visit www.Lawlogix.com
Please choose your answer by clicking on it:
EmployeeScreenIQ Integrates with Taleo Business Edition to Provide Seamless Background Checks
EmployeeScreenIQ announced the completion of its certified integration with Taleo Business Edition. This new integration allows Taleo's users to perform legally compliant background checks through a seamless and paperless solution.Taleo combines leading on-demand talent management solutions with the industry's largest ecosystem of customers, partners and candidates. Taleo's solutions provide businesses of all sizes with the Talent Intelligence they need to know their workforce and grow their businesses. Taleo Business Edition serves the talent needs of small and mid-sized organizations ranging from one to 5,000 employees.

'Taleo is a dominant force in the talent management space, so we're pleased to offer this important integration,' said Jason B. Morris, president and chief operating officer at EmployeeScreenIQ. 'It's good for our customers and for prospective clients, and we were happy to respond to the opportunity.'

To read more click here
FRS Completes Automated Integration with TALX Employment Verification Service for
Streamlined and Accelerated Background Screening Capabilities

FRS™, powered by Imagination Technologies, today announced that it has successfully completed an integration platform that joins FRS' background screening technology with TALX employment verification service, The Work Number â. Using this new platform, mutual clients of The Work Number and FRS can now more efficiently complete employment verifications when performing background checks for the onboarding of their HR clients' new employees.
"The Work Number is the preeminent source of employment verification information for most of the major employers in the U.S. This integration represents an important new value for our clients," said Philip Chapman, President of FRS. "The employment screening companies who utilize our technology solutions have a daily need for this information and are always looking for an edge to compete. Automation to services they use most often provides that competitive edge in the market. Our clients need to provide their customers with the most accurate information so they can make informed choices when hiring new resources, making The Work Number's integration with our technology platform one of the most economical and sought-after options available in the background screening industry."
To read more click here

Tazworks Announces Simple Background Check Ordering
TazWorks LLC, a web-based background screening software company, has added a new variety of ordering to the InstaScreen Premiere 2.0™ software. Background Screening Agencies now have the option to provide clients with a simplified ordering process along with the traditional, empowered style of ordering.
To read more click here

Data Facts Offers Ongoing Monitoring Through Infinity Screening™
Data Facts, Inc. , the nation's leading provider of comprehensive background screening and credentialing , has recently partnered with Innovative Enterprises to offer Infinity Screening™. A highly effective post-hire screening solution, Infinity Screening™ monitors enrolled employees on an ongoing basis, alerting employers to new criminal record information as well as changes to existing records.
Screening after an applicant has accepted a position is particularly important in the health care industry. With many new regulations coming into effect which hold medical organizations accountable by imposing civil monetary penalties, post-hire screening is more important now than ever before. Infinity Screening™ empowers employers to proactively identify factors which increase their risk to negligent retention claims, workplace violence, loss due to internal shrinkage and public embarrassment through negative publicity.
"Data Facts has a proven track record as an industry leader in the health care
space and shares our commitment to employing recognized best practices to reduce our shared clients' exposure to risk," Clifford J. Williams, Innovative's Vice President and Chief Operating Officer said. "This partnership greatly enhances the ability of professional health care organizations to detect post-hire behavior which may represent an increased risk in their workplaces or a danger to the vulnerable populations they serve."
To read more click here
Tazworks Enhances Background Check Security
November 1st, 2011
TazWorks LLC, a web-based background screening software company, in an ongoing effort to continually improve security, has enhanced the Multi-Factor Authentication (MFA) available in InstaScreen Premiere 2.0™. Background Screening Agencies will be able to utilize this feature to guarantee the security of their sensitive business data.
To read more click here
Nelson Staffing Leverages Checkster to Ensure High-Quality Candidates

Nelson, the largest independent staffing firm in Northern California announced today that it has implemented Checkster across all its divisions to improve business efficiencies and ensure quality of service for Nelson's clients and candidates. With Checkster Reference Checkup, Nelson can more readily deliver candidates who have been fully vetted by professional consultants and by over five managers or colleagues.

"Today's business leaders expect their staffing company to provide not only qualified candidates, but also candidates who deliver results and fit into their company's culture," says Tony Bartenetti, SVP of Nelson Staffing. "Thanks to Checkster, we can efficiently perform peer-rating validation, one of the most accurate methods of ensuring a successful candidate match."
To read more click here
Social Security Death List Enables Dead Children's ID Theft

A little-known but widely used federal database meant to protect Americans from fraud has itself become a major source of fraudulent tax refunds. Thieves simply take the Social Security number and other personal information of a deceased person, or most often recently deceased children, which can be found in the widely public and freely accessible, Social Security Administration's Death Master File. This data is then used to falsely claim the deceased as dependents in order for thieves to receive the refund. The Internal Revenue Service estimates that this damaging loophole has enabled tax filers to improperly submit 350,000 returns on dead Americans, approximately $1.25 billion in refunds during this tax season alone. Not only has the Death Master File become a major source of tax fraud, but a recent investigation by Scripps Howard noted that it accidentally lists about 14,000 living Americans each year in the death database. The Social Security Administration says it is powerless to act due to restrictions set forth by the Freedom of Information Act, which requires information contained in the Death Master File to be publicly released.

"While we believe that wider notification (to people at risk) is a piece of that protection, we also believe that narrowing the range of information included in the public release, delaying the public release to allow for corrections, and similar actions are at least as important," said Assistant Inspector General Jonathan Lasher.
To read more, click here
Hiring Limited, Layoffs Up in November
The U.S. labor market's struggles will continue inNovember, as job creation will slow and job cuts will
rise in the manufacturing and service sectors comparedwith a year ago, according to the Society for HumanResource Management's (SHRM) Leading Indicatorsof National Employment (LINE) survey for November2011.
Job growth in November will be limited. The rateof job creation will fall slightly in manufacturing and
moderately in services in November compared with ayear ago.
Recruiting difficulty inches up in both sectors.
More HR professionals in manufacturing and servicesreported increased difficulty with recruiting key candidatesin October.
To read more click here
Passport To Screening Paradise For Cititec ?
With increasingly stringent reference and background checks at banks and other City institutions, director of operations and co-founder of City IT recruiter Cititechas told Recruiter the company is considering creating a screening passport. Robert Grant says: "This is a concept we're trying to develop with some of our screening agents, and I suppose only time will tell if it comes off." To see the video on Grant's passport idea click here . For the full story, see p25 of Recruiter magazine, 2 November
To read more click here
STOP STRUGGLING WITH WRITING AND PUBLISHING YOUR NEWSLETTER:
We can help you have a high quality e-newsletter to help nurture your relationship with your clients and attract new clients. Our customized newsletter service will take over your newsletter task or create a new one for you. We can manage the creation of your newsletter for you.
We are constantly researching information to use for The Background Buzz and you can put our research to use for you. Using the information rich content from The Background Buzz (minus the ads and competitors information) we will create a custom newsletter for you.
Use your staff's time to do more valuable work and save all the hassle of researching or writing articles, formatting and managing all the other ezine tasks with our customized ezine process.
Contact Barry Nixon at 949-770-5264 or at wbnixon@aol.com for more information.
Sponsored by:
Public Record Update
By Mike Sankey, brbpulications
Maryland Driver License Suspensions Alert
A recent law change has caused a huge spike in driver license suspensions in Maryland, with many drivers not even knowing they have been suspend. Effective January 1, 2011, when a driver receives a traffic ticket the Maryland Motor Vehicle Administration (MVA) is no longer following up with a mailing to set a court date. The driver must now initiate contact with the court within 30 days or the driver's license is suspended (punishable with a $500 fine and up to 60 days jail time). Many drivers are claiming they are unaware of this new procedure and suspensions have risen 35%.
Maryland-based employers and insurance companies who use the MVA's License Monitor System (LMS) to monitor their employees' or insured drivers' driving records for violations and suspension have no doubt seen this in suspensions. LMS informs the business or agency when someone on a list of submitted drivers has activity on the driving record. More information about this monitoring system is found at www.mva.maryland.gov/Driver-Services/DrRecord/MVRs/LMS.htm .
Onsite Access to Court Records at National Archives Centers
Since there are few if any identifiers found by searching the online content available of a federal court case, it is often necessary to view or obtain the physical case files. Most closed federal bankruptcy, civil, criminal, and court of appeals case files are physically stored at one of the 14 Federal Record Center locations of the National Archives and Records Administration (NARA).
Until recently most of the NARA locations provide a research room where the public may view case files onsite, often by appointment. However, over the past several year seven NARA locations in Atlanta, Boston, Dayton, Denver, Philadelphia, Seattle, and Washington have closed their research rooms to the public to view court documents.
Effective October 1, 2011 six more NARA locations in Chicago, Fort Worth, Lee's Summit, Lenexa, Riverside and San Bruno will not permit the public to physically view the files. The only NARA office still permitting onsite record access is the Anchorage Alaska office.
Since case files may no longer be viewed, copies must be purchased. The fee for a "copy package" of preselected documents or of the docket sheet is $35.00. The entire case file is $90. Add $15.00 for certification.
All of the NARA Federal Record Centers participate in an online ordering system for record access. Most of the Centers also accept requests by mail, fax, telephone or email.

For more information about NARA and how to access these records visit www.archives.gov/research/court-records .
Crackdown on Fake Driver's Licenses Aims to Eliminate Tool of Criminals, Terrorists
In just over two years, tough new federal rules will require all states to confirm an applicant's legal status, social security number and other information before issuing a driver's license. The 9/11 Commission claims an ID can be just as valuable to a terrorist as a weapon. Stricter enforcement however, leads to increased counterfeiting and forgery as many criminals try to cash in. While fake IDs may look real to the naked eye, Homeland Security's Forensics Document Lab, equipped with new overt and covert security measures can easily detect the difference. Dawn Nelson, Chief of ICE's Homeland Security Investigations for Identity and Benefit Fraud Unit, warns that using a fake driver's license is a federal felony, whether it is to board an airplane or to buy a beer.

To read more, click here
THE WASHINGTON REPORT BY MONTSERRAT MILLER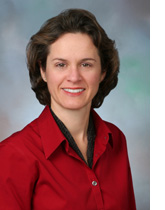 Montserrat Miller is a Partner with the law firm Arnall Golden Gregory, LLP and is based in Washington, DC. Ms. Miller's practice focuses on privacy and immigration compliance, as well as representation before Congress and federal regulatory agencies such as the Federal Trade Commission, Equal Employment Opportunity Commission, Consumer Financial Protection Bureau and the Department of Homeland Security.
You can contact Monterrat at Montserrat.Miller@AGG.com or visit http://www.agg.com/Contents/Home.aspx
Update on New Credit and Criminal History Guidance reported by Consumer Reporting Agencies
It appears that new guidance could be issued by the Equal Employment Opportunity Commission ("EEOC" or "Commission") as soon as December. Such guidance would impact the use of credit and criminal history records used by employers and others as a part of a background check.
At this juncture, new guidance on the use of credit in employment screening will be the first out of the gate. The thinking is that limitations on the use of credit will be first, followed by limitations on the use of criminal history records. New guidance impacting how employers will be able to use credit history for employment screening purposes has been drafted and we believe reviewed by at least some of the Commissioners.
With respect to revised criminal records guidance, the issue that seems to keep popping up is the placing of a time limitation of seven years…akin to a blanket prohibition…on the use of criminal records by employers. In other words, one could not use a conviction for employment screening purposes if it occurred beyond seven years from the job application.
Click Here to read the full article
THE BRUCE BERG REPORT - NAPBS Mid Year Conference
The total count of attendees at this mid-year conference was 342, up 16% from 294 last year and up from the attendance of 249 in 2009. There were 45 exhibitors, up significantly from 32 last year. In addition, a true highlight was the count of accredited companies reaching 20 from the first ones passing accreditation last year.
Kudos to the board of directors for the hundreds of hours they put into keeping our association valid, vibrant and functional. They moved from not being able to get a rating of "sustainable" on a regular audit to a point of now having a positive cash flow and being able to set aside money to have the reserves necessary to sustain the association and pass an audit.

Dean Carras did a fantastic job again as chair of the Conference Committee in pulling off a super meeting. Thanks Dean and the entire committee.

To read the full report with industry trends and people announcements click here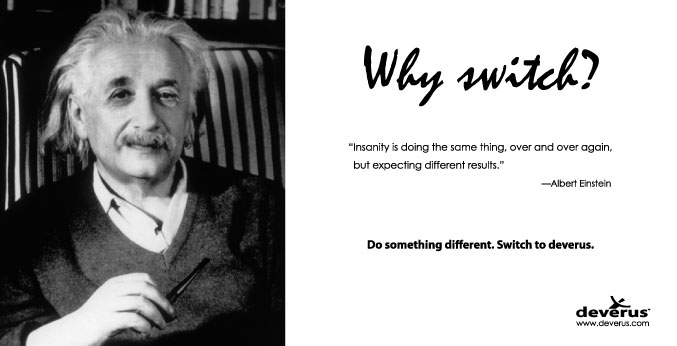 Nelson Staffing Leverages Checkster to Ensure High-Quality Candidates

Nelson, the largest independent staffing firm in Northern California announced today that it has implemented Checkster across all its divisions to improve business efficiencies and ensure quality of service for Nelson's clients and candidates. With Checkster Reference Checkup, Nelson can more readily deliver candidates who have been fully vetted by professional consultants and by over five managers or colleagues.

"Today's business leaders expect their staffing company to provide not only qualified candidates, but also candidates who deliver results and fit into their company's culture," says Tony Bartenetti, SVP of Nelson Staffing. "Thanks to Checkster, we can efficiently perform peer-rating validation, one of the most accurate methods of ensuring a successful candidate match."
To read more click here
SkillSurvey Tops 2 Million People Entered into its Reference-Checking Database
SkillSurvey®, Inc. , the inventor and leading provider of online reference-checking solutions, announced that over 2 million people have been entered into its Pre-Hire 360® database. This milestone has been achieved as a result of more companies using its products to hire better. Pre-Hire 360 ® automates the process of gathering input from a job applicant's references by using behaviorally-based surveys delivered through an electronic platform. The surveys delve into a candidate's strengths and developmental needs, as borne out on the job. Confidential input from managers, peers, direct reports and business partners provides a multi-dimensional view of the candidate's past performance.
"It is exciting to think that over two million people have been exposed to our reference-checking solution," said Ray Bixler, president and chief executive officer of SkillSurvey. "SkillSurvey has been experiencing superb growth in recent years, as a result of expanding its services to help organizations across many market sectors get behavioral information on their job candidates before they hire them."
To read more click here


SHRM & DATIA Poll: Half of Employers Conduct Drug Tests on Final Job Candidates
More than half of employers (57 percent) conduct drug tests on all job candidates, while only 29 percent do not conduct drug tests on any job candidates, according to a poll released today by the Society for Human Resource Management (SHRM) in collaboration with and commissioned by the Drug & Alcohol Testing Industry Association (DATIA).Most employers who use tests on job candidates have done so for seven years or more (69 percent), and 12 percent have used them for five to six years.
"Among the organizations using these testing programs, the tendency is to continue the use of them over relatively long periods of time," said Mark Schmit, director of research at SHRM. "In addition, organizations are reporting positive impacts related to drug and alcohol testing that supports the efficacy of these programs."
The SHRM/ DATIA poll - Drug Testing Efficacy - found that some employers noticed an impact on employee productivity, absenteeism and workers compensation incidence rates after implementing drug testing programs.
To read more click here


Women Say Duct Cleaner With Criminal History Stalked Them After Slipping Through Background Check
Two women share some frightening stories about the same man they say terrorized them. He came to their homes when they responded to ads from a major department store to have their air ducts cleaned.
Shortly after two servicemen visited her home Carrie Smith received several vulgar texts. Smith called police, and they traced the messages to one of the servicemen's cell phone. What Smith didn't know at the time is that Jason Meinke, the serviceman, has a long criminal record and a history of stalking and harassing women. The 7 Action News Investigators found seven personal protection orders against Meinke taken out by seven different women over 11 years.He has six criminal convictions, misdemeanors and felonies going back to 1999, according to court records. Meinke's latest conviction in 2011 is for aggravated stalking.
Beth Morgan, another victim, according to courts records Morgan met Meinke when she called the same company to get her air ducts cleaned and chatting turned into dating and then a relationship. When Morgan discovered Meinke's dark side and criminal history she tried to shake him but she couldn't. She said he started stalking her.
As it turns out when Morgan's attorney confronted Meinke's manager he provided a copy of a background check that was done in December 2010 saying Meinke passed.
How is that possible? Meinke had just been released from prison a few months earlier. That's information anyone can get for free on the Michigan Department of Correction's web site .
To read more click here


Electronics Manufacturer Ordered to Pay $43,000 for 62 I-9 Violations
Due to the unpredictability of I-9 penalties, now is the time for organizations to evaluate their I-9 program, enlist the help of experienced attorney auditors, and move to an electronic I-9 system before an ICE Audit occurs. Alyn Industries (an Electronics Source Company) learned their lesson the hard way after being fined $43,000 by the ICE in an I-9 investigation. The fines resulted from Alyn's failure to prepare and/or present I-9 forms for 2 employees, ensure that section 1 of the Form I-9 was completed for 1 employee, and properly complete section 2 of the I-9 form for 59 employees; a grand total of 62 I-9 violations. ICE originally sought a fine of $63,767, calculating their fine base due to the presence of unauthorized workers, however Judge Thomas found these fines too high and rejected these arguments because of insufficient evidence of the discrepancies.

Alyn admitted to all of the violations and argued they were a small business with no previous violations and the victims of poor economic conditions. Judge Thomas found each of the aforementioned statutory factors to be neutral in this case and ultimately came up with her own fine amount. Her fine wasbased mainly on a perception of fairness by determining the seriousness of the violations themselves, ranging from serious to utterly trivial set forth by OCAHO case law.
To read more, click here
EVERIFY & IMMIGRATION (continued)
Michigan Dairy Farm and its Owners Sentenced for Employing Illegal Aliens,Ordered to Pay Nearly $3 Million in Penalties
The owners of Aquila Farms, LLC, were sentenced to three years of probation and ordered to pay fines totaling $234,000 for hiring illegal aliens and aiding and abetting each other to do so. The convictions were the result of an investigation conducted by U.S. Immigration and Customs Enforcement's (ICE) Homeland Security Investigations (HSI). The company encouraged or induced an alien to come to, enter or reside in the United States for commercial advantage or private financial gain knowing it was in violation of the law. Aquila Farms was sentenced to probation for five years, ordered to pay a fine of $500,000 and required to make payments totaling $2,000,000 in lieu of forfeiture.

"Building and supporting a business through the intentional use of people not lawfully authorized to work here is a model that we won't tolerate," said Brian M. Moskowitz, special agent in charge of ICE HSI in Detroit. "The defendants in this case were given an opportunity to bring their workforce into compliance and failed to do so and the significant ramifications of their actions speak for themselves."

To read more, click here
Missouri Pork Producer Agrees to Pay the Highest Civil Penalty on Record for Discrimination During the I-9 Process
The Department of Justice has announced a record anti-discrimination settlement agreement of $290,400 with Farmland Foods, Inc. to resolve allegations that the company engaged in a pattern or practice of discrimination during the I-9 process. According to the lawsuit filed on behalf of the Office of Special Counsel for Immigration Related Unfair Employment Practices (OSC), Farmland required all newly hired non-U.S. citizens and some foreign-born U.S. citizens to present specific and, in many cases, extra work-authorization documents; a clear violation of the anti-discrimination provision of the Immigration and Nationality Act (INA).
When employers think about I-9 rules, most focus solely on making sure that the form is completed properly, original documents are reviewed, and everything is retained for the right amount of time in order to avoid potential issues and fines by ICE. However, employers should also be aware of "document abuse" which includes improperly requesting that employees produce more documents than are required by Form I-9 to establish the employee's identity and employment authorization.
To read more, click here

The Government Gets Back in the Ring…Employers Around the Country Report a New Round of ICE Audits
ICE appears to be conducting a new round of audits and an estimated 500 employers nationwide will be receiving Notices of Inspection (NOIs). NOIs will include requests for hiring, payroll and other records to determine compliance with employment eligibility verification laws. Employers will be expected to produce original I-9s within three days from service of the NOI. Immigration compliance can no longer be ignored as ICE's inspections become more sophisticated with the use of electronic I-9s, additional monitoring of the E-Verify system and a better trained and focused core of ICE agents. To avoid legal trouble, employers should engage in proactive compliance planning and training.
To read more, click here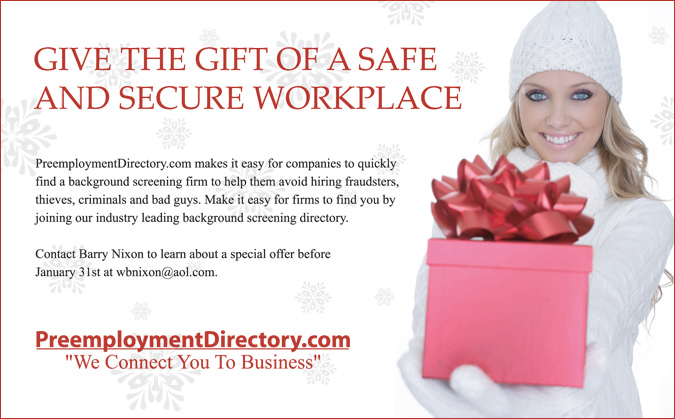 Welcome to the International Legal Challenge Question
Most industries and firms now compete in a global marketplace which is continuing to increase the need for background checks for new hires that will reside in another country or that are being hired from another country. Commensurate with this growth in background checks is the need to understand the myriad of data protection, privacy, human rights and local laws that govern the practice of conducting background checks. To help background screening firms around the world to further enhance their knowledge we have launched this International Legal Challenge.
We are grateful to Brian Arbetter a Partner with the global law firm of Baker & McKenzie LLP for providing the question and answer to the questions in the International Legal Challenge. Brian is based out of the Firm's Chicago and San Diego offices. His practice focuses on international law issues, with particular emphasis on labor and employment, as well as workplace privacy. For information regarding the answers to the International Legal Challenge questions, please contact Brian at brian.arbetter@bakermckenzie.com.
Please Choose One of the Following Answer in Response to the Question
For information on sponsoring The International Legal Challenge Question please Click Here
Privacy: Laws Play Catch-up with Online World
Companies suffering from a breach of sensitive data or mishandling customer information are becoming commonplace and because of this, online privacy is a central issue for businesses in every industry. Policymakers around the globe have begun introducing new privacy laws and have become stricter about those already on the books. The rules differ widely from country to country, with varying degrees of enforcement, making it difficult for businesses to organize compliance, especially those operating in multinational markets.

Proactively protecting privacy is crucial to a business's success and security and RSA (The Security Division of EMC), lists three key steps to securing data: 1) taking an inventory of what needs to be secured; 2) secure this information through access controls, encryption, etc.; 3) make sure there is ample documentation of the security systems in place, known as "governance risk and compliance."
To read more, click here
Asia-Pacific Economic Cooperation Leaders Endorse Cross-Border Privacy Rules
On November 13, 2011, Asia-Pacific Economic Cooperation ("APEC") leaders endorsed the APEC Cross-Border Privacy Rules ("CBPRs") system at an APEC meeting in Honolulu, Hawaii. The Leaders' Statement also endorsed interoperability between national and regional privacy and data protection regimes to facilitate moving data around the globe while protecting privacy.
"Implementing the APEC Privacy Framework through Cross Border Privacy Rules enables greater information flows that support innovation and promote interoperability across global data privacy regimes, while enhancing data privacy practices; facilitating regulatory cooperation; and enabling greater accountability through the use of common principles, coordinated legal approaches, and accountability agents."
To read more click here
Drugs And Alcohol At Work - Developing An Effective Policy
An employee who is affected by drugs or alcohol in the workplace presents a risk to themselves, other employees, customers and your business. Costs to the business can include increased sick leave, damage to property, injury and reputational damage. But what can you do about it?
An employer's Occupational Health and Safety obligations are generally viewed as paramount when compared to an individual employee's privacy concerns, at least where the employee is working in what is called 'safety sensitive' work (for example, using heavy machinery, working at heights or with flammable materials, driving or flying). Where disputes have arisen in Australia in the past over whether the employer should be able to undertake such testing on employees, industrial tribunals have upheld the employer's right to do so where 'safety sensitive' work is involved.
An employer's drug and alcohol policy has to be developed to meet the needs of its particular workplace and the type of work involved - there is no 'one size fits all'.The drug and alcohol policy should also be openly communicated to employees. All employees should be given a copy of the policy and asked to sign an acknowledgment that they have read, understood and accepted the policy. It is equally important that the policy is actually followed on every occasion.
To read more click here
Changes to PIPEDA
Bill C-12, Safeguarding Canadians' Personal Information Act, re-introduces substantive amendments and if passed, will clarify a business' responsibility under the Personal Information Protection and Electronic Documents Act (PIPEDA). This Bill addresses concerns raised by the government's first Parliamentary review of PIPEDA and intends to: protect and empower consumers; clarify and streamline rules for business organizations; improve investigation and enforcement of the privacy law; and improve the language of legislation and technical drafting corrections. Significant amendments include: a definition of valid consent;a mandatory reporting provision; and a disclosure exception. In addition, personal information can be collected, used or disclosed, without the consent or knowledge of the individual if it is produced in the course of their employment; required to manage, establish or terminate employment relationships; or is related to business transactions.
To read more, click here


Commissioner Wants Extra Cash To Handle Privacy Revamp
Elizabeth Denham told a committee of MLAs she needs more money next year because of sweeping reforms to the Privacy Act, which pave the way for Internet-based government services, new high-tech CareCards and widespread sharing of personal citizen data between ministries.. "I think $490,000 to fund a new team that will handle the work is the minimum amount required to undertake this new mandate," she said. Her office budget this year is almost $5 million.
"The reality is that these types of massive data-linking initiatives, if not done with proper regard for protection of privacy or robust independent oversight, is a privacy disaster in the making," Denham told MLAs. She added that B.C. is pushing into territory that no other provinces have covered. "Without new resources, we will not be able to deliver on those new responsibilities," she said.
To read more click here
New Chinese Legislation Includes Provisions Protecting Personal Information

Two separate acts of legislation have been passed in China to address the protection of citizens' personal information. An amendment to the Law of the People's Republic of China on Resident Identity Cards provides additional provisions to protect the personal data contained on the cards. The amendment requires agencies and organizations that process the identity card data to keep the information confidential. Violations of the act could result in possible criminal sanctions, imprisonment, fines or civil liabilities.

The Regulation of Information Technology of Jiangsu Province (the "Regulation") serves as a milestone in China's development toward a national personal information protection law. This law goes into effect on January 1, 2012 and addresses the collection and use of personal information, extending protection beyond individual industry sectors. Those who violate the Regulation face administrative penalties such as fines and criminal sanctions.
To read more, click here
Source: http://www.privacylaws.com
European Commission Wants All Non-European Business to Adhere to Data Protection Directive
The European Commission (EC) wants all companies that store data on European citizens, whether based in the EU or not, to be subject to an updated version of the Data Protection Directive due to be unveiled in January. EU justice commissioner Viviane Reding and EC vice president Ilse Aigner stated, "We both believe that companies who direct their services to European consumers should be subject to EU data protection laws. Otherwise, they should not be able to do business in our internal market." In addition, they expressed their desire for consumers to have more rights to protect their data, such as being able to provide explicit consent before any data is used by businesses and having the right to delete their data at any point.
To read more, click here
Regulators Disagree About Approach To Online-Privacy Rules
Data and privacy regulators from governments around the world met in Mexico City last week for the 33rd International Conference of Data Protection and Privacy Commissioners to discuss online privacy issues. The topic of debate centered on big databases and how their benefits can be tapped into without the costs of discrimination and invasion of privacy and whether or not all of this big data is being used to observe general patterns of online behavior, or being used to target and identify specific individuals. Many commissioners, especially those from Europe and Latin America, believe their countries must enact very tough privacy laws that tightly restrict what can be collected, how long it can be held and what can be done with it. Yet others advocate a more flexible approach of requiring consumers to consent to "cookies" being place on their computers by Web sites. While everyone does not necessarily deem cookies as bad, it is widely agreed upon that people should know if they are being tracked, and also have the ability to turn the tracking off.

To read more, click here
Testing A Worker's Sobriety
Amendments to the Act on Sober Upbringing and Counteracting Alcoholism went into force on 1 July 2011. Some of the changes concern entities authorized to initiate and conduct testing of the sobriety of an employee who is not permitted to work because of a justified suspicion that he showed up for work intoxicated or consumed alcohol during working time.
Previously , in such circumstances, only the employee could demand a test of his own sobriety, and the regulations did not identify the entities that could conduct such testing.
Now the director of the workplace or another person appointed by the director may also demand a sobriety test of an employee. This change thus enables the employer to conduct a sobriety test without the consent of the employee, which was not possible under prior law.
To read more click here
INTERNATIONAL: PROFESSIONAL WORKSHOPS AND ASSOCATION CONFERENCES
( Click Here to View full list of 2011 International Events ) - Updated Monthly
ADVERTISERS IN THIS EDITION

| | | | |
| --- | --- | --- | --- |
| | | | Background Screening Jobs |
Visit the Job Board for the Employment and Tenant Screening Industry. Here you will find resumes of people with industry experience and employers seeking applicants with experience in Employment and Tenant Screening and related businesses.
www.backgroundscreeningjobs.com
UPCOMING CONFERENCES, COURSES & EVENTS
2011 Events ( Click Here to View full list of 2011 Events ) - Updated Monthly
SHRM State Conferences, visit http://www.shrm.org/Conferences/StateAffilliateConferences/Pages/default.aspx
Drug and Alcohol Testing Industry Association (DATIA), 2011 Training Course Schedule, visit
http://datia.org
SAPAA Training Institute Learning Events, http://www.sapaa.com/
CUPA-HR Conferences: http://www.cupahr.org/conferences/regconf.asp
World Federation of People Management Associations, Events, http://www.wfpma.com/events