BACKGROUND SCREENING NEWS
Former NBA Star Conducts Background Checks

Cartwright made a name for himself on the basketball court protecting the hoop and blocking shots as a center. Now, the legendary NBA player and coach is chairman of CartwrightDownes, a company that conducts confidential background investigations. The firm specializes in serving the nuclear and transportation industries, but Cartwright wants to expand into other industries such as medical, education and real estate. "Every day companies make key hiring decisions that could easily change their reputation. And when your reputation is on the line, you have to be protected," Cartwright said. "What happens if a company unknowingly hires someone with a shady background or a person who has embellished his or her resume? That could create bad publicity, damaging a company's brand and reputation beyond repair." Cartwright retired as a player following the 1994-95 NBA season, having collected three NBA championship rings and experiencing success with New York Knicks, the Chicago Bulls and the Seattle Supersonics. He returned to the Bulls in 1997 as a member of the coaching staff.
SHRM Survey on Employee Background Checks

Seven out of 10 organizations (69%) claim they conduct criminal background checks on all job candidates, according to a 2012 background check survey from the Society for Human Resources Management. That survey shows another 18% conduct such checks on select job finalists and only 14% say they don't research candidates for criminal records. When conducting employee background checks, consider this Top 10 list of dos and don'ts when it comes to protecting your business against bad hires: do be broad and thorough; do follow the law; do be consistent; do locate patterns; and do use a professional agency to process your background check. On the other hand: don't use the "box"; don't bend the laws; don't fail to communicate; don't seek out only the negative; and don't run a limited search yourself.

Read More
Best Practice for Internet Background Checks
Results of the survey's data around social media and Google background checks in the Monster/BLR Survey of Recruiting Best Practices.
Have your hiring decisions been influenced by what you found online?
Forty-one percent have been positively influenced to hire based on information they found online, while twenty-six percent have turned down a candidate based on what they found online.
Do you visit candidates' social media pages (e.g., FaceBook pages) as part of your background checking procedures?
Nineteen percent of respondents indicated that they did visit candidates' social media pages.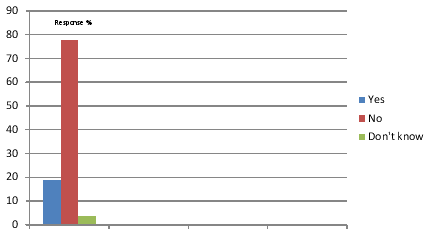 TSA Doing Background Investigations by the Book but Not Fast Enough, IG Says

TSA is carrying out background investigations of employees in the legacy Transportation Threat Assessment and Credentialing Office (TTACO), which is charged with keeping tabs on individuals with access to the U.S. transportation system. However, the DHS inspector general (IG) says the investigations have not been timely. While the secure flight operations center and the security threat assessment operations adjudication center within TTACO identified potential insider threat risks, limited resources weaken internal control at the security threat assessment adjudication center and the shift and supervisory structure at the secure flight operation center represent an inefficient use of resources. The IG concluded that there has been a pattern of poor management practices and inappropriate use of informal administrative processes to assess and address misconduct. TSA agreed with recommendations to improve background investigations, internal controls, staffing models, data system development coordination, and use of TSA or DHS formal complaint processes. This includes the development of a restructuring plan to enhance operational effectiveness in the secure flight operations center staffing model.
BACKGROUND SCREENING NEWS continued
Background Screening & Hiring Costs
Employers conduct checks of job applicants' background to mitigate risk, reduce liability, improve the quality of new hires, promote workplace safety, and meet regulatory compliance requirements. The process has been simplified in recent years by the rapid growth in the professional background screening industry-and most companies take advantage of these firms' services, according to respondents. Only 21 percent of companies rely exclusively on in-house staff to conduct security background checks on new hires, and those that do tend to be smaller employers. In addition to ease of use, cost is another motivation to utilize outside firms to conduct background checks. The median cost for conducting a security background check is 25 percent less when utilizing an outside agency than exclusive use of in-house staff, according to respondents. Interestingly, companies that leverage the different strengths of both in-house staff and contract firms in their background check process report paying the least-just $62.50 per new hire.
The lure of using an outside firm to conduct background checks can't blind organizations to their limitations, however. These firms may inflate the extent of their databases, and security teams need to assess what they cover and how frequently the provider updates them. Tests of online screening firms have shown that applicants with criminal histories can slip through, and companies should conduct their own tests-by periodically sending in a name for which a criminal history is known-to see whether the provider accurately identifies it.
Background Checks Prone to Mistakes

In a recent case highlighting the inaccuracy of background checks, Darlene T. Martinez was confused with Darlene Foster Ramirez, who was found guilty in 2009 of dangerous-drug possession in Navajo County. The employer offering Martinez a job then rescinded their offer, and Martinez was left scrambling to remove another person's felony from her record and find a new job. Legal experts say background checks can be filled with errors due to incomplete databases and confused identities. These errors can be difficult to fix, costing applicants job opportunities and disrupting livelihoods. Martinez filed a lawsuit in U.S. District Court against the Phoenix-based company that did the search, Universal Background Screening, alleging that it failed to notify her about the damaging report and that it didn't follow the necessary procedures to ensure accuracy. In addition to different last names, Martinez and Ramirez also have different birthdays. The suit seeks undetermined damages for violating the federal Fair Credit Reporting Act. Universal Background Screening has denied any wrongdoing, saying that it rarely makes mistakes and that the company followed all necessary guidelines and protocols to ensure accuracy.
Reputational Risk Still a Top Concern for Boards
For a second straight year, boards of directors see reputational risk as their top concern. They're also displaying a new optimism about a financial recovery, and are making plans to hire staff to support CFOs, according to a survey by EisnerAmper LLP. The study, "Concerns About Risks Confronting Boards," found that 66% of 193 directors see reputational risk as their top concern, compared with 59% who view regulatory risk as the top concern. While survey respondents' worries about regulatory risk have remained relatively stable, "the concern about reputation has grown over the last couple of years," says Kreit. He notes that their reason for concern is "the very high-profile issues that have occurred with companies over the last few years," including, for instance, the BP oil disaster on the Gulf Coast.
Taken together, the top areas of concern in reputational risk are product quality, liability, and customer satisfaction, at 39%. Second is a combination of concerns about integrity, fraud, ethics, and the Foreign Corrupt Practices Act, which totaled 24%.
Tenant Screening! It's Critical If You're a Rental Apartment Landlord!

Tenant screening is crucial for landlords and property management companies. It's better to be prepared; so always trust, but verify! In today's rental atmosphere getting a property rented to a qualified tenant will require a ridged tenant screening check that includes a complete and informative application, credit check the tenant provides, first and last month rent, cleaning deposit, and an extra deposit for any pets. And since most landlords already have their hands full with the tedium of the daily activities of overseeing a plethora of rental units, property management companies have pretty much taken over the tenant screening process. They will handle rental payments and deposits and when necessary, initiate the eviction of a tenant. However, one must "tread softly" in dealing with all tenants thanks to the Fair Housing Laws. Some states have extremely strict tenant-landlord laws that many times favor the tenant. It has been said by many property owners that about 90% of most any tenant problems can quickly be eliminated via your initial tenant screening check.

Read More
LeaseRunner Tool Puts Rental Applications in Ads

Landlords and real estate professionals can now incorporate rental applications and tenant screenings right into rental listing ads. The Colorado based, paperless property leasing company, LeaseRunner, has launched its "Apply Now" service, allowing users to accept rental applications and screen potential tenants directly from ads on Craigslist, Facebook, Twitter, WordPress and other websites. LeaseRunner digitizes the rental process for property managers and tenants, including rental applications, background checks, e-signatures and rent collection. The Apply Now service is free to LeaseRunner customers and, should the landlord require them, prospective tenants pay for any credit or background checks. "By integrating applications and screening into the listing ad, LeaseRunner is transforming the leasing process," said Joe Buczkowski, CEO and founder of LeaseRunner. "Landlords save time, money and hassle. Renters gain the ability to complete the leasing process digitally and securely." Moreover, other than any screening fees, there's no downside risk to the applicant. The tenant does not share his or her Social Security number with the landlord, and LeaseRunner's background checks do not 'ding' the applicant's credit score.

Read More
Background Check Legislation Takes Huge Step Forward in U.S. Senate Judiciary Committee

The Electronic Security Association (ESA) is pleased to announce that a major legislative priority for the association - gaining access to the FBI's database for criminal background checks of potential security industry employees - has cleared a major hurdle in the U.S. Senate. The Senate Judiciary Committee approved language from the "Electronic Life Safety and Security Systems Federal Background Check Act" as an amendment to another bill, the "Child Protection Improvements Act." The entire measure is expected to head to the floor of the Senate, where it can be scheduled for a vote. If the bill passes the Senate, it would then move to the House for a vote before it could move to President Obama for signature into law. This bill is the culmination of years of intensive ESA efforts to give electronic security companies the same access to background checks that is currently available to other industries, including banks, credit unions, aviation, and nursing and home healthcare.
New Development with FCRA -Required Forms
With the January 1, 2013 deadline for using the new CFPB model FCRA forms on the horizon, the CFPB apparently took another look at those forms and realized that they contained a few glitches. On November 14, the CFPB published a notice in the Federal Register correcting various typos and technical errors, effective immediately. The forms in question, the Summary of Consumer Identity Theft Rights, Summary of Consumer Rights, Notice of Furnisher Responsibilities, and Notice of User Responsibilities, appear, respectively, in Appendices I, K, M and N of Regulation V, which the CFPB issued back on December 21, 2011.
Welcome to the U.S. Legal Challenge Question!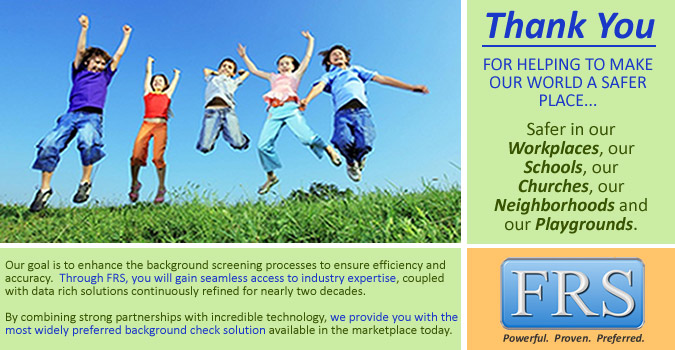 As the background screening industry continues to get more competitive the firms that will ultimately succeed will be those that create competitive advantage through their people by offering continuous learning opportunities to heightened their knowledge and capabilities. We believe that having employees that are very knowledgeable about the legal landscape of background screening is essential to continued success.
We are grateful to Ann Cun, Counsel and Principal Editor at LawLogix, Inc for providing the expertise for this valuable endeavor. For information regarding the answers to the Legal Challenge Questions, please contact Ann Cun, Counsel and Principal Editor, LawLogix Group, Inc. at (602) 357-4240 and for more information about LawLogix e-verify and immigration support services please visit www.Lawlogix.com
Please choose your answer by clicking on it:

Innovative Enterprises Welcomes Timothy Brothers as Director of National Sales
Innovative Enterprises, Inc., a strategic partner to the background screening industry and expert provider of court research information products, smart data solutions and ancillary services, today announced that Timothy Brothershas joined the firm as Director of National Sales.

Mr. Brothers brings nearly two decades of industry experience serving the CRA, mortgage reporting, consumer credit, tenant and employment screening markets. He has served the National Association of Professional Background Screeners in an active leadership capacity as a committee co-chairman and as a member of the NAPBS® board of directors. In his new role, Mr. Brothers will work directly with professional screening firms, connecting them with Innovative's industry-leading suite of products and services.

"Tim is intimately in tune with the needs of his customers and possesses unquestionable integrity," stated Clifford J. Williams, Innovative's Vice President and Chief Operating Officer. "I know that Tim will be a great resource to our industry friends and partners, and we're very excited to have him on the team."

"I've known Cliff and the Innovative team for years, and we've worked together in many different capacities," commented Mr. Brothers. "I have always admired Innovative's commitment to delivering the very best products to the industry, and I couldn't be more excited about joining the team."



Smart Business recognizes InfoMart's World Class Customer Service
InfoMart was named as an honoree for the Smart Business World Class Customer Service Awards. The Five-Star World Class Customer Service Awards honors companies that distinguish themselves with superior customer service while raising the awareness of its importance in the business world. The event was presented by Comcast Business Class and sponsored by The DiJulius Group, Northwestern Benefit Corporation of America, Freeman Mathis & Gary LLP, Atlanta Pro AV, Country Club of the South, and Smart Business.
"One of the things that sets InfoMart above and beyond our competition is our dedication to personalized customer service. Our customers stay with InfoMart year after year because of the close relationships they develop with our team, and it is exciting to see their hard work recognized by Smart Business," said Tammy Cohen, InfoMart's president and chair.
HireRight and PeopleAdmin Announce Integrated Solution to Streamline Recruitment and Employment Background Checks for Higher Education
HireRight, a leader in on-demand employment screening,drug and health screening, and employment eligibility verification programs, today announced a new integration with PeopleAdmin, the leading provider of on-demandtalent management solutions for higher education and government, designed to streamline the recruitment and employment background check process.
The integration enables customers to order, track and manage their employment screening processes directly from PeopleAdmin SelectSuiteTM. This increases efficiency, while improving the time-to-hire. In addition, it enables universities and other educational institutions to more effectively and efficiently screen multiple candidate types, such as staff, faculty and contractors.
"Our driving mission is to help our customers strengthen and simplify their talent management processes," said Tod Klubnik, vice president of sales and business development, PeopleAdmin. "HireRight has a deep focus in higher education with expertise in background checks for groups ranging from staff and international faculty to contractors. We are thrilled to work with them to offer our customers a seamlessly integrated solution for improving employment screening, a critical step in the recruitment and on-boarding processes to ensure the highest quality hires."
PreCheck, Inc. Announces Background Screening Partnership with Synernet, Inc.
PreCheck, Inc., a background screening firm specializing in the healthcare industry, announced a new partnership with Synernet, Inc., a healthcare administrative shared services organization and member of MaineHealth healthcare system. The partnership will allow both PreCheck and Synernet to enhance their offerings for healthcare medical staffing departments, with a complete solution for credentialing and running criminal background checks on their physicians. PreCheck's background screening expertise in the healthcare industry will add value to Synernet's credentials verification administrative services.
Not Having Procedures for Maximum Possible Accuracy: Riding a Dead Horse
Have you noticed the recent action by the FTC against a CRA? Are you aware of the legal actions by plaintiff attorneys against CRAs, especially in California? Did you happen to catch the NBC Today Show on background screening that aired November 9?
"It's not paranoia if people are really after you. "
The recent NBC Today Show went back to 2006 and found a lady that had a criminal record run on her and the record actually pertained to a different lady with the same name. And, to make the industry look really silly, they had pictures of the two ladies, one being white and one being African American.
The NAPBS did a good job of responding the same day, saying part "NBC's Today Show and reporter Jeff Rossen have done a disservice to employers and the general public by focusing on a small number of unfortunate instances in an attempt to indict an entire industry that is critical to the safety of our homes and workplaces," and "For our part, NAPBS has developed a comprehensive individual certification program and a company based accreditation program with more than 58 specific standards of compliance to ensure our members provide the highest level of performance."
Workplace Fraud on the Rise - While Profits Slip Out the Back Door

Organizations around the world - both large corporations as well as small businesses - lose an estimated 5% of annual revenues to fraudulent activities, according to a study conducted by the Association of Certified Examiners (ACFE) with 42% of fraudsters being employees, 38% managers and 18% owner/executives. A great majority of this fraudulent activity occurs within the 23 million small businesses in the U.S. that account for 54% of all sales and provide 55% of all jobs. Small businesses in particular are extremely susceptible to employee fraud as they often lack the anti-fraud controls or policies found in larger organizations. Businesses are urged to take steps to minimize the impact of fraud by evaluating their employee screening process and by implementing anti-fraud policies and controls. Other tips include: conduct a thorough background check that goes back over the past seven years on all employees before hiring to see if there is a criminal history; with a signed release, check their credit report for any fiscal irresponsibility; and institute anti-fraud controls to monitor all employee activity.

Read More
Assessing Risk: Data Breach Litigation in U.S. Courts
Along with the growth of electronic consumer databases, there has been an increase in the numbers of data breaches. A June 2011 Ponemon Institute study revealed that 90 percent of surveyed companies had experienced a data breach within the past year. Companies may want to assess the level of risk posed by the possibility of litigation when determining how to respond to a data breach. Common factors that may impact the likelihood that a lawsuit will be filed following a data breach includes: type of data breached; cause of the breach; misuse of personal information; and size of the breach. Until recently, consumer plaintiffs have met with very little success in the courtroom, but this could change as the general public becomes increasingly aware that companies are maintaining detailed information about their customers. Courts may soon recognize that an individual consumer has a reasonable expectation that such information should be protected and that a data breach violates that expectation. In addition to consumer lawsuits, companies should be aware of other sources of litigation risk, including federal regulators, state attorneys general and/or financial institutions impacted by the data breach.

Read More


Experian Customers Unsafe as Hackers Steal Credit Report Data
Instead of directly targeting the big three credit bureaus, data thieves often target affiliated businesses that utilize credit background checks. When hackers broke into computers at Abilene Telco Federal Credit Union last year, they gained access to sensitive financial information on people from far beyond the bank's home in west-central Texas. The cyber thieves broke into an employee's computer and stole the password for the bank's online account with Experian Plc, the credit reporting agency with data on more than 740 million consumers. The intruders then downloaded credit reports on 847 people, taking Social Security numbers, birthdates and detailed financial data on people across the country. The incidents shed new light on security weaknesses at credit bureaus at a time they are under investigation by both houses of Congress over how much data they collect and how it's used.

Sen. Richard Blumenthal (D-CT) said, "This is profoundly important because it illustrates a growing problem when it comes to data breaches and security-the chain is only as strong as its weakest link," adding, "If their customers have inadequate security practices, so do the credit bureaus."

Read More
Sponsored by:
Public Record Update
By Mike Sankey, PRRN
We welcome the following New Members to PRRN!
Professional Process Service LLC of Waterbury, CT
Maskew and Associates of Lubbock, TX
Special Delivery Service of Dallas, TX
Intelligence & Investigative Solutions LTD of Niagara Falls, NY
Barbara Fallacara Accounting of Ft. Myers, FL
District Background Services of Washington, DC
About Local Courts and Recorders
Alabama
Effective October 1, 2012, Chief Justice Chuck Malone entered an Order mandating that all attorneys must e-file their documents in civil, domestic relations, and child support cases. Per this Order and the Administrative Procedures, the Circuit Clerks' offices will eventually go completely paperless in civil cases.
See www.alacourt.gov/pdfppt/EfilingAdminOrder%209-6-12_001.pdf
Colorado
This month Eagle County is in the process of moving to a new software provider for searching recorded documents. The site has new options available, see http://acclaim.eaglecounty.us/ .
California
California counties continue to close court sites or cut back on operations. The Kings County Superior Court location in Lemoore was closed last month. Also all Kings County court location hours have been permanently cut back. All clerk's windows are now open 8AM-4PM Monday thru Thursday and 8AM-Noon on Friday. In addition the Court intends to close locations in Avenal and Corcoran and reduce hours and staff at Hanford over the Christmas week.
As many other CA counties have already done, effective November 5, 2012 the San Diego Superior Court will only provide court reporters in criminal felony, family, and juvenile matters during regular court hours. Official court reporters will not be available in probate or other civil matters. Also, effective December 28, 2012, official court reporters will only be available in family matters for Domestic Violence Restraining Order hearings, Contempt hearings, and Request for Order hearings of 40 minutes or less.
Effective November 1, 2012, Glenn County will be increasing their recording fees by $1.00 per document title.
Oregon
OJIN is the acronym for the online program provides court case information from Circuit Courts in all 36 counties in the state. The Oregon Judicial Department OJD is working to migrate the online platform from OJIN to a designated vendor (Odyssey). The purpose is to create a more modern, user-friendly environment for record access, compared to the OJIN command line based system.
South Dakota
The South Dakota Unified Judicial System (UJS) recently changed the county serving as the centralized mail request center for statewide criminal record searches. The UJS asks that all mail requests be directed to the processing center at: Jackson County Clerk of Court, PO Box 128, Kadoka, SD 57543. 605-837-2122, fax 605-837-2120. Note the UJS will periodically change the designated county to operate the processing center. Be sure to call first.
Washington (State) Driving Records
Effective October 1, 2012, the fee for a driving record in Washington (state) increased from $10.00 to $13.00. This fee increase affects all access methods and record types. There is no fee increase passed along to vehicle records or collision reports.
New Release of ACD in the Works
The AAMVA Code Dictionary (ACD) is a translation table used to exchange conviction and withdrawal information between the states' driver licensing authorities. The AAMVA Code Dictionary (ACD) is copyrighted by the American Association of Motor Vehicle Administrators (AAMVA).
A primary function of the ACD is to enable the state to use the Commercial Driver's License Information System (CDLIS) to exchange convictions and withdrawals. Other applications, such as the Problem Driver Pointer System (PDPS), use these codes as well. Also, many states use the ACD to indicate out-of-state convictions on driving records.
The most recent version is Release 4.0.0. However, the AAMVA is now in the process of finalizing a newer release with fairly significant changes. There will likely be 5 new codes added, 6 codes retired and several dozen with changes. At this point, the changes are still subject to final approval and have not yet been formally released. Note: the AAMVA has provided BRB with an overview of these probable changes for our subscribers at www.mvrdecoder.com .
Statement on Recent Marijuana Legalization Ballot Initiative
Colorado and Washington state voters have passed historic measures to legalize marijuana for recreational use by adults. By approving Amendment 64, Colorado became the first state to end marijuana prohibition in the United States. Meanwhile, Washington state voters passed Initiative 502, which regulates and taxes sales of small amounts of marijuana for adults. Under the soon-to-be implemented Washington state law, adults in the state may now possess up to an ounce of marijuana, 16 ounces of marijuana products and 72 ounces of liquid infused marijuana products. Neither initiative changes the ability of employers to maintain their current employment policies, nor does it prevent them from creating whatever policies they see fit. Additionally, nothing changes as far as workplace drug testing because it has never been based on the assumption that the user was doing something illegal under a criminal law - instead it has always been based on safety and the efficiency of your workforce. The ramifications will be closely watched throughout the country, as federal law remains unchanged defining marijuana as an illegal drug.

Read More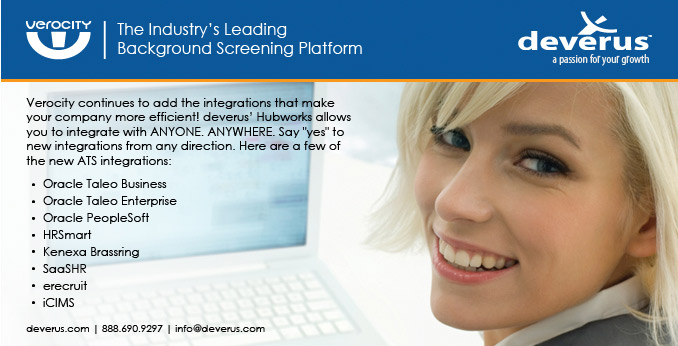 The ADA And Workplace Drug Testing: What Are An Employer's Rights?
An employee who works under the influence of drugs or alcohol at work may, at the very least, have diminished productivity and poor work performance; at worst, he poses a serious safety risk to himself and those around him. As an employer, you have both a right and an obligation to maintain a safe and healthy work environment. Enacting a clear drug testing policy to eliminate workplace substance abuse is an important step toward maintaining a safe work environment.
In developing and enforcing a drug testing policy, you want to protect your managerial rights while respecting your employees' legal rights. The Americans with Disabilities Act (ADA) protects recovering and recovered alcoholics and drug addicts from discrimination, which can present difficulties in enforcing an effective drug testing policy. How do you navigate the ADA's regulations while maintaining an alcohol- and drug-free workplace? Below are some tips for ensuring your policy complies with the ADA, as well as recommendations for components that should be included in an effective drug testing policy.
OCCUPATIONAL FRAUD (continued)
Medical Board Investigates More Fake Doctors
California is considering expanding investigations by the state medical board to combat the disturbing trend of fake doctors, California Watch reported. Called Operation Safe Medicine, the medical board's investigative unit was established in 2000, but it disbanded three years later because of budget issues. In 2009, however, the investigative board reopened due to public cries about unlicensed persons practicing as providers.

Operation Safe Medicine sent 61 cases to prosecutors for review for the fiscal year ending in June, up from 31 cases the previous year. Since 2009, Operation Safe Medicine's investigations have resulted in six felony convictions and 18 misdemeanor convictions, California Watch noted.

"It is especially noteworthy to see the 203 percent increase in cases referred for criminal action due in large part to the re-establishment of the Operations Safe Medicine Unit," the state report explained about the numbers from 2006 to 2012.

Read More
One Site! Many Suppliers!

Looking for the Top Suppliers in the Industry? Need to find a new Supplier?
Visit our VENDOR SHOWCASE which features suppliers to the Background Screening Industry.
2012 Fall Edition of Suppliers to the Background Screening industry Guide
Now Available!

Click here or on image to get a copy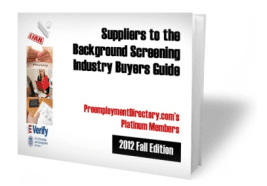 Contact Barry Nixon at wbnixon@aol.com for information on getting your firm listed in the Summer Edition.
Economists Confident That Hiring Gains Will Help Sustain US Recovery
Hiring through the rest of 2012 will lag the brisk pace set early this year.
But it will be strong enough to push the unemployment rate below 8 percent by Election Day.That's the view that emerges from an Associated Press survey of 32 leading economists who foresee a gradually brighter jobs picture. The survey results come before a report Friday on hiring during April. The April report is eagerly awaited because employers added surprisingly few jobs in March. That result contributed to fears that the economy might struggle to sustain its recovery.
But the economists think the recovery will manage to reduce unemployment to 7.9 percent by Election Day from 8.2 percent in March.Yet the AP economists think it will be at least three more years before unemployment falls below 6 percent, which would be a sign of a healthy economy.
They predict the economy will grow 2.5 percent this year, up from 1.7 percent in 2011. In a healthy economy, 2.5 percent annual growth is usually adequate. Not so when 12.7 million people are unemployed. The economy would have to grow about 4 percent for a year to lower unemployment another percentage point.The economists expect job growth to average 177,000 a month from April through June and 189,000 in the second half of the year. That would be down from an average 212,000 jobs added monthly from January through March. Last year, job growth averaged 158,000 a month.
The SHRM LINE Employment Expectations Report for May 2012
Key findings:
Manufacturing is poised for another solid month in May. A net of 40.5 percent of manufacturers will add jobs in May, and a net of 30.4 percent of servicesector companies will conduct hiring.
Minimal change for recruiting difficulty in April. Difficulty in recruiting candidates for key positions rose slightly in manufacturing and fell slightly in services compared with a year ago.
STOP STRUGGLING WITH WRITING AND PUBLISHING YOUR NEWSLETTER:
We can help you have a high quality e-newsletter to help nurture your relationship with your clients and attract new clients. Our customized newsletter service will take over your newsletter task or create a new one for you. We can manage the creation of your newsletter for you.
We are constantly researching information to use for The Background Buzz and you can put our research to use for you. Using the information rich content from The Background Buzz (minus the ads and competitors information) we will create a custom newsletter for you.
Use your staff's time to do more valuable work and save all the hassle of researching or writing articles, formatting and managing all the other ezine tasks with our customized ezine process.
Contact Barry Nixon at 949-770-5264 or at wbnixon@aol.com for more information.
USCIS Launches Spanish-language I-9 Central on USCIS.gov

U.S. Citizenship and Immigration Services (USCIS) has launched a Spanish-language version of I-9 Central, an online resource center designed to provide information and assistance related to the most frequently accessed form on USCIS.gov: Form I-9, Employee Eligibility Verification. This free, easy-to-use website provides employers and employees simple one-click access to resources, tips and guidance to properly complete Form I-9 and better understand the Form I-9 process. The launch of the Spanish I-9 Central is the most recent in a series of resource guides related to USCIS employment-related forms and processes. These resources include E-Verify Self Check, a service that allows workers and job seekers in the United States to check their own employment eligibility status online, and an updated "Handbook for Employers: Instructions for Completing Form I-9 (M-274). Both are also offered in Spanish.

Read More
ICE Releases Guidance on Evaluating Electronic I-9 Systems

The U.S. Immigration and Customs Enforcement (ICE) has released the first-ever official guidance document for evaluating electronically generated and stored I-9 records during an audit. The document provides guidance to Homeland Security Investigations (HSI) special agents and auditors on what information they should collect from employers using electronic I-9 systems as well the minimum electronic audit trail requirements for use in determining I-9 related fines. The regulations require that whenever an electronic I-9 is created, completed, updated, modified, altered or corrected, an electronic I-9 system must create a secure and permanent record that establishes the date accessed, who accessed it, and what action was taken. Employers storing electronic I-9s are also required to maintain an "indexing system" and to "reproduce legible and readable hardcopies" of the electronically completed and retained I-9 forms. Employers are well advised to partner with a vendor that takes the most conservative approach to audit trails (and the regulations) in designing their software.

Read More


Recent Study Reveals E-Verify Shortcomings
The CATO institute released a highly critical report on the actual impact E-verify has on employers in Arizona. The 2007 Legal Arizona Workers Act (LAWA) required statewide businesses to enroll and use the E-Verify system by January of 2008. Arizona industries, including construction, agriculture and real estate, have suffered significantly not only as a result of the economy, but also from the effects of LAWA. While LAWA decreased the unauthorized resident population by 36% between 2008 and 2010, it also suppressed housing sale prices and raised the cost of conducting business, preventing employers from expanding or hiring more workers. In addition, the E-Verify system produces a 4.1% inaccuracy rate for workers, 3.3% of those initially found to be unauthorized actually are authorized to work, and it fails to identify 54% of unauthorized workers, due primarily to employment-based identity-fraud. It is evident that improving the accuracy rate of E-Verify is an essential step towards widespread adoption by businesses. Favorable adoption by businesses of the E-Verify will increase only when the cost of adoption by employers is outweighed by the benefits.

Read More
Employers Not Immune from Punishment by OSC for E-Verify Violations

The Justice Department has entered into a settlement agreement with Diversified Maintenance Systems, LLC, a provider of janitorial and facilities maintenance services based in Tampa, Florida. This is one of the first publicized cases where OSC investigates discrimination based on an employer's conduct related to the use of E-Verify. The employer told the employee in question about her tentative non-confirmation that was generated as a result of data mismatch. The employee was unable to correct her data because she was lacking the proper E-verify paperwork and the E-Verify system ultimately produced an erroneous final non-confirmation. After being fired, the employee called the E-verify hotline, where the OSC informed her she was authorized to work. However, the employer refused to reinstate her. The employee subsequently filed a complaint with the OSC on account that she had asserted her right to work under the INA provisions for anti-discrimination and that the employer had retaliated against her when she exercised this legal right. Before any further legal action was taken the employer agreed to settle the case with the Justice Department, which resulted in fines and additional training requirements.

Read More

Tennessee Lawful Employment Act
The Tennessee Lawful Employment Act (TLEA) took effect January 1, 2012, and requires employers to obtain lawful resident/employment verification information. The TLEA requires all employers in Tennessee to demonstrate that they are hiring and maintaining a legal workforce either by: enrolling and verifying the employment eligibility of all newly hired employees through the E-Verify program, or requesting all newly hired employees and "non-employees" to provide one of the following identity and employment authorization documents: A valid Tennessee driver's license or photo identification; A valid driver's license or photo identification from another state where; A birth certificate issued by a U.S. state, jurisdiction or territory; A U.S. government issued certified birth certificate; A valid, unexpired U.S. passport; A U.S. certificate of birth abroad; A report of birth abroad of a U.S. citizen; A certificate of citizenship; A certificate of naturalization; A U.S. citizen identification card; Valid alien registration documentation or other proof of current immigration registration. Federal law still requires all employers to complete an I-9 form for all new hires.

Read More
$46,575 Civil Penalty - The High Cost of Form I-9 Document Abuse

The Justice Department has released another press release detailing its recent settlement with Advantage Home Care, LLC, a home health care provider based in New Jersey. According to the release, during its employment eligibility verification (Form I-9) process, Advantage Home Care allegedly required its new hires who were lawful permanent residents to present more or different documents than other employees. The employer had refused to employ a new hire, whose social security number generated a false-negative on a background check, even after the employee had resolved the issue with the Social Security Administration. The pattern of practice of requesting different or more documents from a legal permanent resident was uncovered after this employee had filed a complaint with the Department of Justice's Civil Rights Division Office of Special Counsel (OSC). Advantage Home Care agreed to pay $1,633 in back wages to the complaining employee and $46,575 in civil penalties payable to the government.

Read More
Complying With I-9 Rules After a Natural (or Man-Made) Disaster
The issue of I-9 compliance following a major disaster is not something employers typically contemplate, much less prepare for. The USCIS' "I-9 Central" website states that employers whose Forms I-9 are missing and/or destroyed as a result of a natural disaster should complete new Forms I-9 to the extent reasonably possible for those employees and attach a memo stating the reason they were redone. Where the loss of I-9s is caused by circumstances beyond an employer's control, it is likely that ICE would be willing to work with the employer. Planning for disasters is an integral step to mitigating risks. Practice tips for doing so include: safety must come first; return to normalcy; clearly inform employees; allow flexibility when needed; prepare a memo documenting the disaster; and notify ICE immediately. Employers who have already migrated their paper I-9s to an electronic software system may find that physical disasters do not affect their electronic records. A smart electronic I-9 vendor exceeds industry standards for data backup and retention and can easily provide employers with the vendor's disaster recovery plan for review, upon request.

Read More
New E-Verify Laws Effective January 1, 2013, In Georgia, North Carolina, Pennsylvania, & Tennessee
Georgia, North Carolina, and Tennessee will require many private employers to register for and begin using E-Verify. In Georgia, companies employing more than 10 people must register for E-Verify by July 1, 2012. In North Carolina, companies employing 100 or more personnel must be registered for and using the E-Verify system on January 1, 2013. Tennessee's law is most expansive, requiring companies with more than 5 employees to register and begin using E-Verify by January 1st.
The Pennsylvania law is limited to state contractors and sub-contractors, which must register for E-Verify beginning January 1, 2013, if a project is worth $25,000 or more.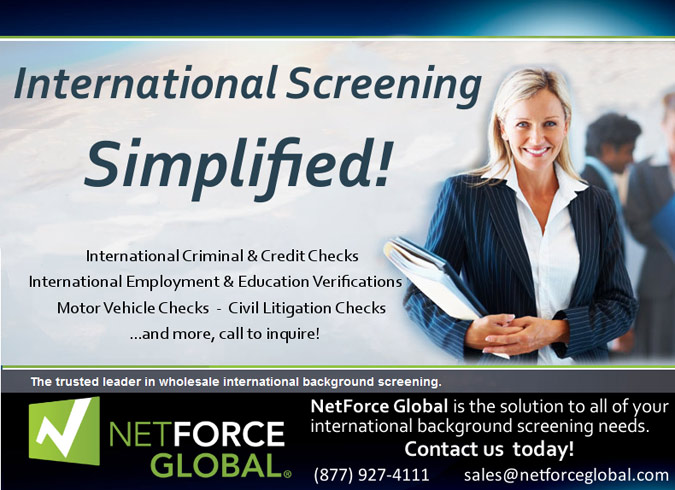 Drug Testing Staff? Doubts Over Test Efficiency

History has been made in the U.S. following the passing of laws in both Colorado and Washington, which legalize both medicinal and recreational use of marijuana. In Australia, drug use remains illegal in all states and territories, and therein lies the issue for employers. The use of marijuana by employees has ramifications for the workplace in a number of ways. Drug testing is essential to ensure the safety of workers, but according to a new report, current testing practices are inefficient and often lead to workers simply changing drugs or avoiding reporting incidents. National Centre for Education and Training on Addiction deputy director Ken Pidd said there is currently little evidence to support the view that current testing practices are effective and the central issue is that workers routinely change their consumption patterns or drug types to avoid detection. Yet drug testing is in many ways a reactive response rather than proactive response. Pidd urges employers to utilize high quality education and training programs, which help develop a workplace conducive to health and safety.

Read More
Cheat Sheet: A Quick Guide to Doing Business in China

China has the second largest economy in the world, the largest population and the fastest-growing market of any country. While it's easier now to break into China's market than it was 10 years ago, the government still plays a large role in controlling business within the country. Expect to have to seek government approval at just about every turn, and find a local lawyer to help you understand the country's evolving regulations. But don't forget about U.S. regulations, either, especially the Foreign Corrupt Practices Act. Personal relationships are very important in the Chinese business community-as important as any written document or contract, and such ties can be easily abused or interpreted as bribery. Make sure to keep your relationships on the legitimate side of the law. China has a civil law system, meaning it isn't bound by stare decisis, the rule that says lower courts must rely on judicial precedent. However, the country is trying to push for more uniform decision-making among its courts. China is also trying to move away from its image as a manufacturing mecca, and promote indigenous innovation.

Read More
New Data Protection Act Sought
After being stung by a slew of data theft and misuse issues leading to the denting of investor confidence in the BPO industry in AP, state IT minister Ponnala Lakshmaiah has written to the Centre, seeking the formulation of a new Act on data protection for IT companies. In a letter written to the Union minister for communication and information technology, Mr Kapil Sibal, the state minister said that the various incidents of data theft and misuse of private and personal information had raised concerns about outsourcing to India.
India does not feature in the list of countries complying with Data Protection Standards, prepared by the EU. The need for a specific and stringent legislation in line with the EU or the US Act is of paramount importance, if India has to sustain investor confidence, especially among foreign entities which send large amounts of data to India for back-office operations," the minister said.

Read More
One Third of Graduates Carry Fake Credentials
According to Kola Olugbodi, CEO, Background Check International, BCI,, about 33 percent of applicants present forged credentials, submit fabricated, exaggerated and misleading CVs just to become employable. "Certificate forgery has gained ground because the Nigerian society places too much priority on certificates, thus the need for background checks during recruitment," Olugbodi said. Citing instances of doctors, bankers, lawyers, engineers, among others, that have forged certificates to get jobs, Olugbodi said that certificate forgery is not gender sensitive.
He said about 10 percent of most companies' workforce has tainted backgrounds or such tendencies.
More organisations are making background checks on new recruits. When they find out that you are fake, you won't have any excuse."
He also cited cases of people that didn't go to school at all but forged certificates just to gain employment.
Philippines Background Checks More Important than Ever
As the world's economy keeps scaring people through a boomerang effect that began three years ago and some economist predict will last seven more, scams in the Philippines and the entire Asian region seem to be evolving. Criminals and internet scams are not cyclical, they in fact do quite well in an economic downturn. Business scams are often the highest volume in recessions, while romance scams and online dating scams seem to stay steady regardless of the economy. Given the ongoing uncertainly and trouble in the global economy, business fraud levels are very high, and the Philippines remains a high risk area, and for investigators considering conducting business or starting a new relationship in this island nation, a professional background check is key.
Philippine scammers are becoming more sophisticated and experienced criminals can be far more devastating than the average internet scammer. Criminal groups conducting online business fraud and scams can now be organized and highly effective, with management or bosses coordinating the scams even from other countries, such as Malaysia or Hong Kong. The NBI (National Bureau of Investigation) in Manila says business fraud is a greater risk than ever for foreign firms looking to invest in the Philippines and Malaysia. Joint law enforcement agencies between the two countries have had some success, but when one network gets shut down, another quickly rises.

UK Continues to Oppose New Single EU Data Protection Law Regime

The UK remains opposed to a single data protection regime across member states and is joined in its resistance by Denmark, Slovenia, Belgium, Hungary and Sweden. The countries plan to back a new data protection directive, while Bulgaria, Germany, Spain, the Netherlands, Luxembourg, France, Italy, Greece and Ireland have indicated support for a new regulation instead. In January the Commission outlined plans to bring the EU's data protection framework up-to-date with the digital age. Its proposed General Data Protection Regulation would replace the existing regime. Currently EU member states have slightly different data protection laws from one another, a consequence of the way those countries have implemented the 1995 Data Protection Directive into national laws. While the wording of EU Directives does not have to be precisely copied into national laws, EU Regulations do contain a binding set of rules that, if approved, apply across the entire trading bloc.

UK Justice Minister Helen Grant said, "I believe that the proposed EU data protection legislation is too prescriptive, which is why I am pushing for legislation that is less burdensome-providing protection without stifling growth and innovation."

Read More
Jobs Picture Looks Brighter, Say Reports
Recruitment activity in the UK is growing.
Financial services firm ICAP says there is more demand for jobs in both the temporary and permanent recruitment markets, with a growth of 7.6% in vacancies.
The Chartered Institute of Personnel and Development's (CIPD) Labour Market Outlook report also suggests positive news on the job front for the rest of the year.
Online recruitment in the UK has grown for the third consecutive month, according to the Monster Employment Index.
UK Government Challenges Expected Benefits of Draft European Data Protection Regulation
The UK government published its Impact Assessment of the draft European data protection regulation and challenges the European Commission estimated that harmonizing the European data protection regime would bring a net administrative benefit of €2.3 billion to the EU. The UK Ministry of Justice analysis of the proposals concluded that for the UK alone there would be an annual net cost of between £100 million and £360 million.
The UK government takes the position that the Commission failed to take into account all of the costs that would arise from the draft regulation.
The UK government stated that it will use the evidence set out in its Impact Assessment to "continue to push for a lasting data protection framework that is proportionate, and that minimizes the burdens on businesses and other organizations, while giving individuals real protection in how their personal data is processed."

Council of Europe Promotes Personal Data Protection in Latin America

The Council of Europe is promoting international co-operation in the field of personal data protection, in particular by encouraging non member states to ratify the Convention for the protection of individuals with regard to Automatic Processing of Personal Data, also known as Convention 108. Uruguay has initiated the ratification process and therefore may become the first non-Council of Europe member state to do so. Council of Europe's Jörg Polakiewicz said, "The eventual accession of Uruguay will be a key step towards the global promotion of the convention and intergovernmental cooperation on personal data protection," adding, "We are sure, hopefully, that Uruguay will be the first of many non-European countries to join the treaty." This convention is the first binding international treaty which protects individuals against abuses which may accompany the collection and processing of personal data. Created in 1981, it remains the only legally binding standard which has the potential to be applied worldwide, providing legal certainty and predictability in international relations and open for signature by any country.

Read More
World Information Center:
INTERNATIONAL RESOURCE CENTER FEATURE OF THE MONTH
Earth Calendar – Celebrate Everyday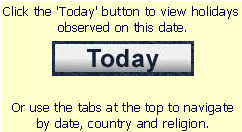 How To Use Personalized PR To Create Big Buzz for your HR Business

Success with personalized PR is mounting, yet most companies still default to mass emails to large distribution lists. These mass depersonalized emails—"Dear (NAME)"—flood journalists' in-boxes, from dozens to hundreds per day. Amidst this deluge, the companies that tailor communication to specific journalists stand out, and thus get more attention.

Download your complimentary copy of How To Use Personalized PR To Create Big Buzz to learn the three steps of personalized PR and whether "spray & pray" still works in PR.

ADVERTISERS IN THIS EDITION

| | | | |
| --- | --- | --- | --- |
| | | | Background Screening Jobs |
Visit the Job Board for the Employment and Tenant Screening Industry. Here you will find resumes of people with industry experience and employers seeking applicants with experience in Employment and Tenant Screening and related businesses.
www.backgroundscreeningjobs.com
UPCOMING CONFERENCES, COURSES & EVENTS
2012 and 2013 Events ( Click Here to View full list of Events ) - Updated Monthly
SHRM State Conferences, visit http://www.shrm.org/Conferences/StateAffilliateConferences/Pages/default.aspx
Drug and Alcohol Testing Industry Association (DATIA), 2012 Training Course Schedule, visit
http://datia.org
SAPAA Training Institute Learning Events, http://www.sapaa.com/
CUPA-HR Conferences: http://www.cupahr.org/
World Federation of People Management Associations, Events, http://www.wfpma.com/events/by-region#quicktabs-tab-view__events__page_3-4