BACKGROUND SCREENING NEWS
2012 Baker's Dozen Customer Satisfaction Ratings: Screening
HRO Today's Baker's Dozen rankings announced:

Once collected, response data are loaded into the HRO Today database for analysis to score each provider that has a statistically significant sample. For this survey, we required 13 responses from 10 companies, and we received feedback from more than 700 verified customers.
1. SecurTest, Inc.
2. TriCor Employment Screening Ltd
3. Background Profiles
4. FirstPoint Background Screening Resources
5. TalentWise
6. Aurico
7. Verifications Inc.
8. Sterling
9. Global HR Research
10. Universal Background Screening
11. EmployeeScreenIQ
12. IntelliCorp
13. Orange Tree Employment Screening
Click here to view the Overall leaders and the Breadth of Service leaders.

Click here to view the Size of Deal leaders and Quality of Service leaders.
National Retail Federation Tells Civil Rights Commission Criminal Background Checks Should Continue
National Retail Federation (NRF) asked the U.S. Commission on Civil Rights to closely examine new guidelines on the use of criminal background checks to screen job applicants, saying the regulations threaten to undermine retailers' attempts to protect their customers and employees. "NRF believes that the criminal background question needs to remain on employment applications," NRF Vice President for Loss Prevention Richard Mellor said. "This vital information is every bit as relevant as an applicant's education, previous employment experience and formal training."

"The retail industry wants to keep our workplaces safe," Mellor said. "Earlier interpretations of the guidelines were working fairly (but) this overly burdensome guidance will add risk, increase expenses, and cause confusion and legal challenges for many retailers."
Mellor was among witnesses testifying at a hearing the civil rights panel held on guidelines issued in April by the federal Equal Employment Opportunity Commission.

Read More
E.U. Privacy Watchdog Expects No Immediate Change in Data Protection Standoff with U.S.

The European Union's top data protection watchdog expects only a select band of U.S. IT companies will meet E.U. data protection standards for some time to come. Under the E.U. Data Protection Directive, personal data cannot be transferred out of the E.U. unless the destination country's data protection laws are deemed adequate. There are, however, exceptions for U.S. companies that agree to abide by seven "safe harbor privacy principles" for the protection of E.U. citizens' personal data. This data includes sensitive information such as patient records required for telemedicine. The U.S. Ambassador to Europe, William Kennard, called for the U.S. to be given "adequate" status in a speech at the Annual European Data Protection and Privacy Conference. To date, only a tiny number of jurisdictions have been deemed adequate: Argentina, Canada, Guernsey, the Isle of Man, Israel, Switzerland and Uruguay. European Data Protection Supervisor, Peter Hustinx, thinks the ambassador was being too optimistic and suggests that rather than declaring a company's laws adequate outright, a sectoral approach to data adequacy might be more useful.

Read more
Lack of Criminal Background Checks by National Youth Organization Led to Alleged Sexual Abuse of Youths
The refusal of the Boy Scouts of America (BSA) to conduct criminal background checks on all volunteers until 2008 allowed convicted child sex offenders to join the organization and led to a significant amount of alleged sexual abuse of youths, according to a Los Angeles Times analysis of confidential BSA files. The BSA - one of the oldest and largest youth groups in the United States - admitted more than 230 men to Scouting with previous arrests or convictions for sex crimes against children who were accused of molesting nearly 400 boys in Scouting from 1985 to 1991. The Times also reported previously expelled men slipped back into the program to molest again and that BSA officials failed to report hundreds of alleged abusers to police and often hid allegations from parents and the public. While background checks became required for Scouting employees in 1994 and mandatory for all new volunteers in 2004, the BSA refused to conduct checks on current volunteers who were already in the organization until four years later. According to the Times, BSA officials argued background checks would cost too much, scare away volunteers, and provide a false sense of security and they successfully lobbied to kill state legislation that would have mandated FBI fingerprint screening.

Read more
BACKGROUND SCREENING NEWS - continued
2013 Brings Significant Criminal Background Check Changes for Ohio Home Health Agencies
The Ohio Department of Health has proposed new administrative rules scheduled to take effect January 1, 2013 that will significantly impact the obligations of a home health agency ("HHA") regarding background checks of its current and potential employees.
The new rules require HHAs to conduct criminal background checks on applicants before hiring and on all employees at least once every five years. HHAs must initially check current employees hired prior to January 1, 2008 no later than thirty days after the anniversary of the employee's date of hire and employees hired on or after January 1, 2008 no later than thirty days after the fifth anniversary of the date of hire. Prior to conducting the required checks, the HHA must check six specified electronic databases. The new rules also enhance the list of "disqualifying offenses" and provide a tiered exclusionary period system based on the offense committed.
The new rules alter the definition of "direct care," which will include skilled nursing care, physical therapy, speech-language pathology, occupational therapy, medical social services, and home health aide services provided in a patient's home. It further includes any activity that requires the person performing the activity to be routinely alone with the patient or routinely have access to a patient's personal or financial documents. The new rule also broadens the term by applying it to "a patient" rather than merely "an older adult" as under the current rule.
Use of Advanced Truth Verification Technology Increases
The Computer Voice Stress Analyzer CVSA ® is the only voice stress analyzer in the world with two US Patents, and the only system worldwide incorporating the FACT® scoring system, which uses scientifically validated processes to reliably and precisely evaluate the results of CVSA examinations. The CVSA is now used by close to 2,000 agencies and is the most widely used truth verification system in the US, far surpassing the number of agencies that use older polygraph equipment.

A soon to be published research study will report the accuracy rate of the CVSA is greater than 95%, an assertion long made by the system's manufacturer. The study's results are further supported by current US Government funded voice analysis research which has found voice technologies performed well for border security applications.

Research conducted in both Europe and the US over the past several years supports the superiority of voice stress analysis technology over older polygraph equipment, which explains the rapid adoption of the CVSA for truth verification applications in Latin America.

Read More
The Nuances of Statewide Searches
There are two types of statewide searches, it is important to distinguish between two types: a state repository and a unified statewide database. It's important to understand the differences.
A state repository is a law enforcement database that contains some or all records of law enforcement activity related to a given subject. As a general rule, anytime someone is arrested at the local level, there is a robust mechanism to report that information to the state repository. It is this mechanism that in part, makes certain that individuals who are arrested go to court.
By contrast, there is an administrative office of the court statewide database, which is sometimes referred to as a unified statewide database. This is the state court administrators' consolidated portal by which you can look at the individual case results of some or all of a subject's state/county court records.
Organizations commonly use a state repository search when there is a statutory mandate that requires them to do so. In some instances repository searches may be limited by a statutory requirement. Unified searches are a viable alternative if there is no requirement or guidance compelling or dictating the nature or scope of a background check. In most instances the turnaround time is shorter and the methods of access are less burdensome.
Tenant Screening! It's Critical If You're a Rental Apartment Landlord!

Tenant screening is crucial for landlords and property management companies. It's better to be prepared; so always trust, but verify! In today's rental atmosphere getting a property rented to a qualified tenant will require a ridged tenant screening check that includes a complete and informative application, credit check the tenant provides, first and last month rent, cleaning deposit, and an extra deposit for any pets. And since most landlords already have their hands full with the tedium of the daily activities of overseeing a plethora of rental units, property management companies have pretty much taken over the tenant screening process. They will handle rental payments and deposits and when necessary, initiate the eviction of a tenant. However, one must "tread softly" in dealing with all tenants thanks to the Fair Housing Laws. Some states have extremely strict tenant-landlord laws that many times favor the tenant. It has been said by many property owners that about 90% of most any tenant problems can quickly be eliminated via your initial tenant screening check.

Read More

LeaseRunner Tool Puts Rental Applications in Ads

Landlords and real estate professionals can now incorporate rental applications and tenant screenings right into rental listing ads. The Colorado based, paperless property leasing company, LeaseRunner, has launched its "Apply Now" service, allowing users to accept rental applications and screen potential tenants directly from ads on Craigslist, Facebook, Twitter, WordPress and other websites. LeaseRunner digitizes the rental process for property managers and tenants, including rental applications, background checks, e-signatures and rent collection. The Apply Now service is free to LeaseRunner customers and, should the landlord require them, prospective tenants pay for any credit or background checks. "By integrating applications and screening into the listing ad, LeaseRunner is transforming the leasing process," said Joe Buczkowski, CEO and founder of LeaseRunner. "Landlords save time, money and hassle. Renters gain the ability to complete the leasing process digitally and securely." Moreover, other than any screening fees, there's no downside risk to the applicant. The tenant does not share his or her Social Security number with the landlord, and LeaseRunner's background checks do not 'ding' the applicant's credit score.

Read More
Welcome to the U.S. Legal Challenge Question!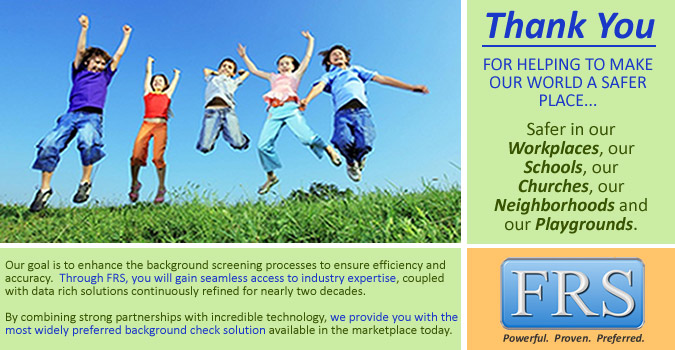 As the background screening industry continues to get more competitive the firms that will ultimately succeed will be those that create competitive advantage through their people by offering continuous learning opportunities to heightened their knowledge and capabilities. We believe that having employees that are very knowledgeable about the legal landscape of background screening is essential to continued success.
We are grateful to Ann Cun, Counsel and Principal Editor at LawLogix, Inc for providing the expertise for this valuable endeavor. For information regarding the answers to the Legal Challenge Questions, please contact Ann Cun, Counsel and Principal Editor, LawLogix Group, Inc. at (602) 357-4240 and for more information about LawLogix e-verify and immigration support services please visit www.Lawlogix.com
Please choose your answer by clicking on it:







The Department of Justice Civil Rights Division's Office of Special Counsel (OSC) reviews and investigates employers for what types of employment discriminations:

d. Retaliation or Intimidation




Take Privacy Seriously - Why the Anne Marie Rasmusson Case Matters to Employers
The $1 million-plus settlement in the Anne Marie Rasmusson case is a costly example of why employers need to make certain that their employees do not abuse their access to confidential information. Rasmusson, a former St. Paul police officer, filed a lawsuit against numerous Minnesota cities and police officers in March of 2012 alleging that her driver's license information was improperly accessed 425 times by 104 police officers between 2007 and 2011. Rasmusson's complaint asserted claims arising under the Driver's Privacy Protection Act of 1994, as well as claims for invasion of privacy. Many police officers who accessed Rasmusson's data acknowledged that they did not have legitimate reasons to do so. The overall theme of the lawsuit was that the various police departments and officers involved allowed a culture to develop in which her private data was not protected and was routinely accessed for illegitimate reasons. While most employers do not have employees who have access to driver's license data, many do have employees who have access to other private and confidential data. Employers who fail to ensure that strong policies and procedures are in place to prevent employee abuse of confidential data may be subject to significant liability.

Read more


DOT Reiterates that Marijuana Use by Safety-Sensitive Transportation Employees is Not Authorized, Regardless of Recent Passage of State Recreational Marijuana Use Laws
The U.S. Department of Transportation's (DOT) Office of Drug and Alcohol Policy Compliance has issued a Notice to address the recent passage of state initiatives purporting to legalize marijuana use for recreational purposes. The DOT requires testing of applicants and employees in safety-sensitive transportation positions for marijuana, cocaine, opiates, amphetamines, and phencyclidine. Applicants must be drug tested before they begin performing DOT-covered safety-sensitive duties, and employees must be drug tested in certain circumstances, including following an accident, randomly, and when reasonable suspicion of drug use exists. During that review process, the test subject is permitted to provide the medical review officer (MRO) with information that would explain the positive test result, such as a prescription. If the test subject provides a legitimate medical explanation for the confirmed positive test result, then the MRO will report the test result to the (prospective) employer as verified negative. If the test subject does not provide a legitimate medical explanation, he or she must be removed from safety-sensitive duties and referred to a substance abuse professional for evaluation. Applicants for and employees in safety-sensitive transportation positions will not be allowed to explain away a confirmed positive test for marijuana based on recreational or medical use purportedly authorized by state law.

Read more
FTC to Study Data Broker Industry's Collection and Use of Consumer Data
The Federal Trade Commission (FTC) issued orders requiring nine data brokerage companies to provide the agency with information about how they collect and use data about consumers. The agency will use the information to study privacy practices in the data broker industry and to make recommendations on improved privacy practices. Earlier this year, the FTC called on the data broker industry to improve the transparency of its practices as part of a Commission report. In the Privacy Report, the FTC set forth a voluntary framework of best practices for businesses based on the concepts of privacy by design, consumer control, and increased transparency for the collection and use of consumer data. The Report noted that while data brokers collect, maintain, and sell a wealth of information about consumers, they often do not interact directly with consumers. Rather, they get information from public records and purchase information from other companies. As a result, consumers are often unaware of the existence of data brokers as well as the purposes for which they collect and use consumers' data. There are no current laws requiring data brokers to maintain the privacy of consumer data unless they use that data for credit, employment, insurance, housing, or other similar purposes.

Read more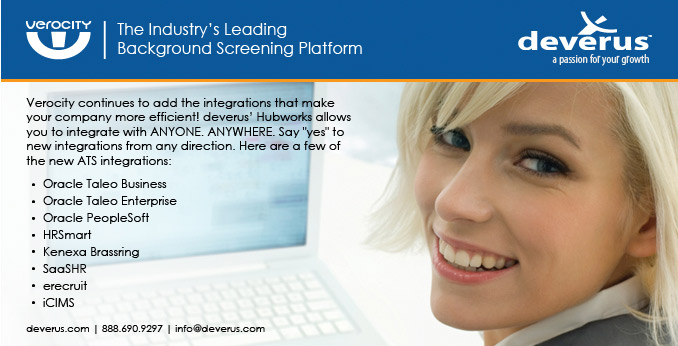 TENANT SCREENING - continued
Keytrak Partners With ScreeningOne To Help Property Owners Identify Risky Tenants
Keytrak, a leading provider of key and asset management systems, recently partnered with ScreeningOne, a web-based tenant screening systems provider, to help companies in the multifamily industry manage the potential risks posed by tenants.
"We Are Pleased To Partner With ScreeningOne, as this will help us deliver additional benefits to the multifamily industry. Screening potential tenants will reduce the risk of loss for properties and add peace of mind, which are also major benefits of Keytrak key management systems," said Keytrak Vice President of Sales Richard Battle.
Keytrak provides key control systems that secure keys and assets in a tamper-proof drawer, record employees' use of keys and supply detailed reports on system transactions. By partnering with ScreeningOne, Keytrak will be able to help companies in the multifamily industry uncover security concerns and limit their liability. "Keytrak Is widely recognized as a market leader in the multifamily industry, so we are very excited to help them enhance and expand their product offering to include our tenant screening services. Property managers and landlords across the country can now go to one place for all of their risk management needs," said ScreeningOne President Mike Byrd.
DATA PROTECTION & PRIVACY
The Centre for Information Policy Leadership at Hunton & Williams LLP Releases Accountability Self-Assessment Tool to Help Organizations Evaluate Their Privacy Programs
The Centre for Information Policy Leadership at Hunton & Williams LLP (the "Centre") released today an accountability self-assessment tool designed to help organizations evaluate their internal privacy programs and practices. The tool is the product of the Global Accountability Project for which the Centre serves as secretariat.
"In an accountability model, organizations implement and demonstrate adherence to a comprehensive data protection compliance program," says Marty Abrams, President of the Centre. "In collaboration with experts from privacy enforcement agencies, industry, civil society and academia, we've outlined the key elements of a sound program to help organizations take the concrete steps necessary to be accountable."
The Accountability Project is a global, multi-stakeholder process that convenes academic experts, privacy enforcement agencies, government representatives, industry and civil society to develop an approach to data protection that relies on the fair information practice principle of accountability. At meetings in Dublin in 2009; in Paris in 2010; Madrid in 2011; and in Brussels in 2012, the Project developed essential, commonly-accepted elements of accountability and articulated the nature of the programs and processes accountable organizations would implement. The Project will continue its work in Warsaw and Toronto in 2013
For information contact Eleanor Kerlow, Senior Public Relations Manager
Hunton & Williams LLP, +1 (202) 955-1883 or at ekerlow@hunton.com
Incident Response Plan Template: A New Deliverable From The NAPBS Best Practices Committee
The Data Breach Prevention Sub-Committee of Best Practices Committee of NAPBS announced their newest deliverable for NAPBS membership, titled Incident Response Plan Template. It's a well-formatted and comprehensive template for any company handling personally identifiable information.
Only available to NAPBS Members. To access sign on and then hover over Members navigator button. Scroll down the drop down list to Member Resources, click on Member Research and Background Information, click on Other Resources and click on Incident Response Plan Template
New Jersey's Appellate Division Limits Parameters of Workplace Drug and Alcohol Policy
In A.D.P. v. ExxonMobil Research & Engineering Co., the Superior Court of New Jersey, Appellate Division reversed in part the lower court's ruling granting summary judgment by holding that ExxonMobil applied a facially discriminatory drug and alcohol policy against its employee based on her disability of alcoholism. The employer's policy's requirements of total abstinence and a minimum of two years of random testing for only those employees who were identified as alcoholics, were found to demonstrate hostility toward members of the employee's class. The Appellate Division concluded that the employee's employment was terminated not because of her job performance but solely because of her disability. This decision underscores the imperative that employers must carefully draft and consistently apply workplace alcohol and drug policies. Although employers are permitted under the law to maintain an alcohol- and drug-free workplace, employers cannot adopt a one-size-fits-all policy. To avoid liability, employers must remember to perform individual assessments, reasonably accommodate their alcohol- or drug-disabled employees who are otherwise qualified, and refrain from adverse actions unless they are based on legitimate, non-discriminatory reasons.

Read more
Employers' Anti-Drug Policies Remain Enforceable Under Colorado's Marijuana Regulation Act
"Amendment 64: The Regulate Marijuana Like Alcohol Act of 2012," amends the Colorado state constitution to allow persons over 21 to possess up to one ounce of marijuana and grow up to six marijuana plants for personal use. It also authorizes the licensing of retail facilities for sales of marijuana to adults. Public consumption and unlicensed sales in the state will remain illegal. The licensing provisions of the amendment will not go into effect until 2014. This is intended to provide the state time to develop regulations for the sale and taxation of marijuana. The personal use and cultivation provisions, however, become effective as soon as Governor John Hickenlooper signs the bill, which by state law must be within 30 days of the November 6 vote. Employers may continue to enforce their drug-testing policies against employees and applicants who test positive for marijuana, to publish and enforce policies prohibiting the possession or consumption of marijuana during working hours, and to discipline any employee whose job performance is impaired because of the use of marijuana.

Florida Outlaws 22 Additional Synthetic Drugs

Florida Attorney General Pam Bondi has signed an emergency rule that outlaws 22 new synthetic drugs. The outlawed drugs are various forms of baths salts, or synthetic marijuana, known as K2 or Spice. In 2011, the state legislature banned a number of synthetic drugs. This year, the legislature banned additional versions of the drugs. Bondi is planning legislation in the coming year to permanently outlaw the 22 drugs targeted in the new emergency rule. Several of the drugs could be appealing to children because one has the consistency of cotton candy, while another is marketed as a "Scooby Snack." Law enforcement began contacting convenience stores this week, asking them to voluntarily surrender any products that have been newly banned. The emergency rule makes it a third-degree felony for someone to "sell, manufacture, or deliver, or possess with intent to sell, manufacture or deliver" these drugs.

Read more
Workplace Drug Testing vs. Marijuana Legalization in Washington State and Colorado
Although some universities and organizations in Washington and Colorado have already issued statements that they are not going to change anything in their drug testing policy in response to the legalization of recreational marijuana use, others continue to consult with their lawyers and await further announcement from the government. Nothing within the provisions of Colorado and Washington State's marijuana legalization measure specifically addresses employers' rights to drug test their employees. Legal expert, Michael W. Groebe from Foley & Lardner LLP, advises employers to continue focusing on the employee's conduct while at work because the new laws will unlikely protect them from discipline if they are under the influence of marijuana at work. Groebe also stressed that employers should remember that marijuana remains prohibited under federal law. "Even with Colorado's 'Lifestyle' law that prohibits employers from disciplining employees for engaging in lawful conduct while off-duty, federal law still makes the use of marijuana unlawful," he said. Additionally, if an employer requires drug testing, including the policy in the employee handbook and informing job applicants and existing employees could prevent the organization from wasting money on pre-employment drug tests.

Read more
A Diverse Landscape Of State Laws
As more types of drug testing technologies arrive on the scene, it is essential for employers to be aware of laws governing drug testing practices in the workplace. Speaking only of the private sector, Bill Current, president of WFC & Associates, a national consulting practice for testing companies, says that the existence and extent of drug testing laws vary considerably among states.
Among the states that have drug testing laws, two different types of laws exist, and Current explains these as "mandatory" and "voluntary." The difference between the two is fairly straightforward. Minnesota, a state that has a mandatory law, says that any employer that practices drug testing in the state must obey the provisions of that specific law. Florida, a state that has a voluntary law, offers an incentive to encourage employers to conduct drug testing. In this specific case, that incentive is a 5% workers compensation premium discount, but in order to qualify for it the employer has to drug test according to guidelines provided by the state.
It begins to get complicated with employers that do business in multiple states. Current says, "If you're a multistate employer, you're constantly grappling with the various state laws that apply to you. The basic rule is that all applicable state laws apply.
Sponsored by:
Public Record Update
By Mike Sankey, PRRN
BRB's FREE RESOURCE CENTER
For the MOST COMPREHENSIVE RESOURCE describing all access methods, restrictions, fees, and search procedures on over 26,000 government and private agencies visit the Public Record Research System (PRRS-Web) . We provide the extensive details and in-depth data you will not find doing a Google search!
CRAHelpDesk
PO Box 27869
Tempe, AZ 85285
800-929-3811
Fax: 800-929-3810
mike@brbpublications.com
www.CRAHelpDesk.com

Compliance with the myriad of state laws is a complex subject affecting CRAs and their clients. The State Rules Register provides an uncomplicated explanation in plain English of state laws for what is reportable to the client, usable by the client, and the necessary steps to take to be in compliance with state laws. Also included are best practices, practical tips, and ongoing notification when state and federal laws change. Create your own matrix reports. Use the special Resource Tabs of Guidelines and Special Instructions.

See www.CRAHelpDesk.com.

We Help Consumer Reporting Agencies
For more information contact Michael Sankey at mike@brbpublications.com or visit www.brbpublications.com/updates.aspx
Relying on References in the Recruiting Process
When it comes to checking references, a recent survey has revealed surprising insights into just how closely HR leaders rely on the personal referees provided by applicants. Close to two thirds of respondents reported having contacted a referee who did not give positive feedback about the job applicant. In addition, a significant proportion of those polled (29%) said that they had caught a fake reference on an applicant's CV. Results revealed that hiring managers and HR practitioners do rely, to an extent, on references. Some 80% of employers said that they contact a referee when evaluating potential employees and 16% of those respondents said that they would do so even before inviting the candidate to a job interview. In addition, 70% of employers acknowledged having changed their minds about a candidate after having spoken with a referee. Perhaps most surprisingly, almost half of those said that they came away with a less favorable opinion of the applicant while only 23% said that the referee gave them a more favorable opinion of the candidate than they had previously. Thirty-one percent said references haven't swayed their decisions on a candidate.
Nearly Three-in-Ten Employers Have Caught a Fake Reference on a Job Application
A new study from CareerBuilder cautions job seekers about the references they cite when applying to companies. Three-in-five employers (62 percent) said that when they contacted a reference listed on an application, the reference didn't have good things to say about the candidate. Twenty-nine percent of employers reported that they have caught a fake reference on a candidate's application.
The study included 2,494 hiring managers and human resource professionals and 3,976 workers across industries and company sizes. The study reported that 80 percent of employers said they do contact references when evaluating potential employees. Sixteen percent of these employers will contact references even before they call the candidate for a job interview.
Sixty-nine percent of employers said they have changed their minds about a candidate after speaking with a reference, with 47 percent reporting they had a less favorable opinion and 23 percent reporting they had a more favorable opinion. Thirty-one percent said references haven't swayed their decisions on a candidate one way or the other.
One Site! Many Suppliers!

Looking for the Top Suppliers in the Industry? Need to find a new Supplier?
Visit our VENDOR SHOWCASE which features suppliers to the Background Screening Industry.
2012 Fall Edition of Suppliers to the Background Screening industry Guide
Now Available!

Click here or on image to get a copy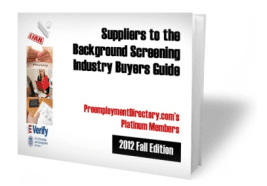 Contact Barry Nixon at wbnixon@aol.com for information on getting your firm listed in the Summer Edition.
Experts Predict a Hiring Boom in 2013
Hiring is expected to pick up in the New Year, according to career counselors, but uncertainty surrounding the strength of the economy will likely prevent the hiring season from being as robust as in years past. Last month, the economy added 146,000 jobs, well beyond the expected 85,000 experts predicted. And a strong holiday shopping season is buoying hopes that December will beat expectations as well.
"Historically, the first quarter of any fiscal year is always the best time to expect hires because of the normal cycle of business," says Robert Meier, president of Job Market Experts. "Companies are kind of lying low, but now is the time when they do the talent evaluation. If you can get into the evaluation cycle, you have a good chance of getting hired."
But Philip Noftsinger, creator of the CBIZ Small Business Employment Index, doesn't expect hiring in 2013 to match the employment hikes that have occurred during past economic recoveries. He says uncertainty about the impact of politicians on the recovery and the inability of job seekers to properly market themselves will delay many jobs from being filled. The outcome of the fiscal cliff-the tax increases and spending cuts set to take effect at the end of the year-is also directly tied to the state of the job market. "If we don't reach compromise [on the cliff], I think you're looking at demand-driven hiring," he says.

Unemployment Rates Fall In 45 States In Nov.
Unemployment rates fell in 45 states and the District of Columbia in November, reflecting a sharp drop in the national jobless rate despite Superstorm Sandy and the budget standoff in Washington.
The jobless rate fell dramatically in several states, with the largest declines in Louisiana and Nevada. Nevada continued to have the highest unemployment rate at 10.8%, followed by Rhode Island at 10.4%. North Dakota, which is making the most of an oil boom, continued to have the lowest rate at 3.1%
The Federal Reserve agreed to continue its easy-money policies, with Fed Chairman Ben Bernanke noting the labor market is "a bit weaker" than the jobless rate suggests.
Government estimate of economic growth in the third quarter were revised to 3.1% from 2.7%, noting exports and consumer spending were stronger than initially believed. And while consumer sentiment has weakened during federal budget battles, the housing market continues to rebound, and the government reported Friday that personal spending rose solidly in November.
STOP STRUGGLING WITH WRITING AND PUBLISHING YOUR NEWSLETTER:
We can help you have a high quality e-newsletter to help nurture your relationship with your clients and attract new clients. Our customized newsletter service will take over your newsletter task or create a new one for you. We can manage the creation of your newsletter for you.
We are constantly researching information to use for The Background Buzz and you can put our research to use for you. Using the information rich content from The Background Buzz (minus the ads and competitors information) we will create a custom newsletter for you.
Use your staff's time to do more valuable work and save all the hassle of researching or writing articles, formatting and managing all the other ezine tasks with our customized ezine process.
Contact Barry Nixon at 949-770-5264 or at wbnixon@aol.com for more information.
Confidently Compliant

The Immigration and Customs Enforcement's (ICE) pursuit of employers who violate federal immigration compliance laws is expected to be moving full speed ahead in 2013, and in some instances accelerating in comparison to prior years. As a result of both substantially increased funding for enforcement actions and an outcome of the public debate about illegal immigration, ICE will continue to audit thousands of employers during the next year. I-9 employment verification is not a choice-it's the law. Although the paperwork appears deceptively simple, employers continue to struggle with properly completing the form on time, which often results in substantive, procedural, or technical violations. Fines for each incorrect or missing Form I-9 range from $110 to $1,100 per instance. Unauthorized worker violations start at $375 and can climb to $16,000 per undocumented-or improperly documented-employee. To lessen the risk of immigration compliance liability, employers should conduct periodic internal audits and adopt best practices and standard operating procedures to show good faith compliance practices.

Read more
E-Verify Begins Checking Driver's License and ID Cards from the State of Florida

The United States Citizenship and Immigration Services (USCIS) announced that the E-Verify system now checks driver's license and ID cards from the state of Florida when presented by a new hire as a List B document for the Form I-9. Florida is the second state (behind Mississippi) to join the Records and Information from DMVs for E-Verify (RIDE) Program, which was officially launched last year. The E-Verify RIDE initiative automates motor vehicle document verification between participating Motor Vehicle Agencies (MVA) and the E-Verify employer. The process itself is fairly straight-forward: if the employee presents a driver's license, driver's permit, or state-issued ID card during the I-9 process, the employer is prompted to enter the document number and expiration into the E-Verify system which will automatically check against MVA records. The system will then check to see if the data itself is valid and issue a tentative non-confirmation (TNC) if it does not match DMV records. The USCIS has been looking to partner with even more states to broaden RIDE's footprint, but they've faced various obstacles, including concerns over privacy of the shared data and technical resources.

Read more

OSC Doles Out E-Verify Non-Compliance Punishment to Oregon Homecare Provider
The Justice Department's Civil Rights Division Office of Special Counsel (OSC) has issued another penalty case to an Oregon-based homecare provider for sick and elderly patients for violating three cardinal E-Verify rules. The company failed to provide an employee with their Tentative Non-Confirmation (TNC) documentation and an opportunity for the employee to contest it, demanded additional identity and employment authorization documents, and refused to allow the employee to work when they were unable to furnish the demanded documents. The company eventually settled this case by agreeing to pay approximately $525 in back wages and a civil fine of $1,210. Other conditions included HR training to avoid employment eligibility verification discrimination and reporting and compliance monitoring by the Justice Department for 18 months. Although the penalty and back wages are modest, the repercussions from the publicity and the prolonged government audit period are aspects the company would rather move past. A well-developed E-Verify software, coupled with legal counsel, can easily help an employer avoid a visit from the OSC altogether as a result of (alleged) unlawful conduct.

Read more

Back to Basics - Top 10 Must Haves for Immigration Compliance
With the recent increase in immigration enforcement, significant penalties, and the potential for bad press, employers are well advised to create an immigration compliance program or give an existing program a facelift. Employers should be aware of the Top 10 Must Haves for Immigration Compliance: conduct a Form I-9 audit annually using outside immigration counsel; conduct annual Form I-9 training; conduct annual immigration compliance training for relevant employees; have a written document retention policy for Form I-9 and ensure it is being followed; implement electronic storage and/or electronic completion of the Form I-9; have a written Social Security No-Match Policy; review relevant E-Verify requirements annually; conduct an annual audit of your employees' work visas, if applicable; ensure you're your business team understands that corporate deals often have immigration consequences and that immigration must be part of your mergers & acquisitions due diligence checklist; and review your contracts with any contractor who supplies labor to the employer's workforce to ensure that the contractor has appropriate responsibility for its own immigration-related obligations.

Read more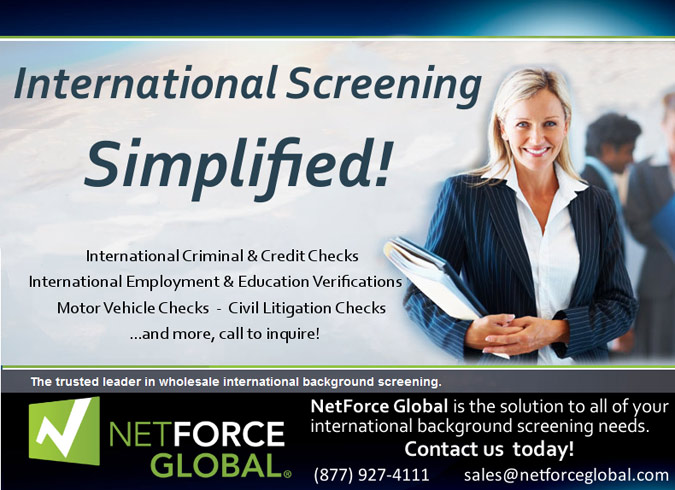 Francophone Regulators to Adopt BCR-style Framework in 2013
During their 6th Annual Meeting, the Association of Francophone Data Protection Authorities (AFAPDP) considered proposals for a framework for international data transfers between French-speaking nations. Members have requested additional time to assess the proposals, therefore adoption is postponed and should occur no later than at the next annual meeting or by the end of 2013. The documents are largely based on the Binding Corporate Rules (BCR) model developed at European level, supplemented by an agreement of cooperation between the francophone data protection authorities. "A francophone domain of data protection is in the process of being established [which] should lead us to the adoption of a framework and a cooperation mechanism to regulate the international transfer of data within the francophone space," said Jean Chartier, President of the AFAPDP and the Quebec data protection authority. "One of the main aims of the AFAPDP is to bring together all francophone countries concerned with the question of data protection and encourage the governments, especially those in Africa, to enact data protection laws."

Read more
Mixed Reaction to Improved Privacy Protection
There has been a mixed reaction from the ICT industry to amendments to the Privacy Act with some organizations welcoming the changes while others say more work needs to done on privacy issues. The Privacy Amendment (Enhancing Privacy Protection) Bill 2012 legislation was passed in Parliament and will give privacy commissioner Timothy Pilgrim more powers, including the right to seek civil penalties in the case of serious breaches of privacy. The legislation also permits the commissioner to conduct assessments of privacy performance for both Australian government agencies and private companies. The reforms introduce a single set of privacy principles called the Australian Privacy Principles (APPs) and a number of changes to how personal information is handled, including when it can be used for direct marketing and sent overseas. The Association for Data-driven Marketing & Advertising (ADMA)'s CEO Jodie Sangster welcomed the amendments but said she was disappointed that the opportunity to create a model privacy framework for the digital era had been missed. Organizations that collect or hold information in Australia will need to change their practices to comply with the Privacy Bill before commencement in 15 months' time.

Read more
Drug Testing Pits Privacy Against Safety
Cases involving employer drug testing and employee privacy are set for hearings in two Canadian courts. First, the Alberta Court of Appeal will hear from an energy company that is arguing against an injunction preventing the company from implementing random drug testing of employees. The Supreme Court of Canada will then hear a case involving a company's plans to have employees submit to mandatory breathalyzer tests. Unlike the United States, where workplace drug tests are relatively common, Canada has had little experience with randomly administered on-the-job tests. Both companies argue the testing improves job safety, but others argue it infringes on employees' right to privacy. Ed Secondiak, president of ECS Services - which has designed drug testing programs for large and small corporations for 18 years - says there are ways to ensure employees' rights are respected while still reducing the risk of on-the-job substance abuse. Employers, safety companies and privacy experts, will watch each case closely as the courts try to find a balance between safety on the job and an individual's right to privacy.

Read more


Taxi Company Says Privacy Laws Limit Driver Checks

A St. John's-based taxi company has said that provincial privacy law is preventing it from accurately checking employees' driving history. A company representative said his organization can mandate that drivers produce a certified driving record and ask drivers to update any changes to their record, but beyond that, provincial law prevents the company from further investigation. "They don't give us the power to phone in motor vehicles and ask for a particular person's driver's license, if it expired or not," the representative said. Drivers can give written permission to have their records checked, but this would cost companies thousands of dollars every month. The taxi company is calling for a return to the old system, when a city inspector licensed the drivers. Unfortunately for the cab companies, however, City Hall is not interested in going back.

Background Check Changes Proposed for Ontario Bus Drivers
The Ontario government has proposed changes for school bus driver criminal record checks that the Ontario School Bus Association (OSBA) said would be a major improvement over the current requirements. According to OSBA, most school boards now insist on a "vulnerable sector search" for school bus driver applicants, which is a separate criminal check from the check that's required under the Highway Traffic Act (HTA) to qualify for and hold a Class B or E (school bus) driver's license. The criminal check required for the B or E driver's license doesn't include a check of the pardoned sexual offender database. The vulnerable sector check adds even more time and cost to the process for hiring a new school bus driver, and the association's members have expressed frustration over the delays in getting background checks cleared for applicants. Under the changes proposed by the Ministry of Education, the HTA would be amended to eliminate the requirement for a criminal record search as a condition of getting a Class B or E driver's license. Instead, the Education Act would be amended to require that school bus drivers have a vulnerable sector search only, which is the same requirement for school board employees. The proposed date of implementation is July 1, 2013.

Read more
Researchers Publish Study of Indian Privacy Perceptions
In an effort to better understand privacy perceptions in India, two researchers have conducted the largest-ever survey on the topic. Professor Ponnurangam PK (PK) and Niharika Sachdeva have published "Privacy in India: Attitudes and Awareness V 2.0," which follows a smaller version of the study, published in 2005. The survey aimed to better understand how Indians' view their own privacy, particularly given advances in technology and government projects such as Unique ID (UID), which aims to give each Indian citizen an identifying number. Some of the study's key takeaways include: participants' concerns about privacy surrounding mobile phones and the Internet-more than other platforms or venues; participants' lack of awareness about privacy concerns in public, such as surveillance cameras; participants' increasing likelihood to store private information on mobile devices; participants' beliefs that privacy laws existed where they did not, and a decline in government trust since 2004. The authors say this indicates an overall concern and awareness of privacy since 2004 and that India is "on the path" to becoming a "privacy-aware and privacy-concerned" society.

Read more

Wary Hotels Put Staff Under Lens

After terrorists took over and held hostages in the Taj and Trident Hotels during the 2008 Mumbai terror attacks, rumors circulated throughout India that the terrorists had been helped by employees at the hotels, prompting Mumbai's hospitality industry to begin running detailed background checks on employees. Private security agencies and the police are helping the industry to build this intelligence. Shashikant Shetty of Mumbai's Ahar restaurant and bar association says it has become a norm for candidates to submit photographs, proofs of age and residence, references of people and contact numbers with the employment form. TOPS Security Company representative Brigadier Jaisinghani says his company is one of many private security firms now conducting background checks almost full time. "We check an employee's passport, lease agreements, bank accounts, property details, previous employment records as well as permanent address," said Jaisinghani. "These details are then passed on to other private security firms, police, and government security agencies for further verification."

Read more


Hiring to Pick Up in 2013 Led by Retail, Banking
The year 2012 has proved to be a mixed bag for the Indian job market as most sectors were slow on their business and employment outlook, but the coming year holds promise driven by the government's reform push. According to various surveys and experts, hiring activity in the country in 2013 is likely to be at a slower pace, but India would still fare better than its global peers, who are reeling under economic uncertainty. The public sector is expected to see large-scale hirings among banks and the retail sector. The hiring numbers for public sector banks are expected in the range of 50,000 to 70,000 people in 2013, while the private sector banking space could also see a fair amount of such activities if licenses are given to new players. High-performers can look forward to pay hikes of 10-15 percent in 2013, but companies may not hesitate to lay off non-performers and carry out restructuring exercises to do away with non-performing business units. Despite the continuing impact of global macro-economic situation and the uncertainty around the economic and political environment, employers' hiring intentions in India remain positive across sectors and geographical regions.

Read more

Duplicate Crime Checks for Volunteers to be Scrapped, Home Office Confirms
Beginning Spring 2013, a service will be launched that the Home Office says will save time and cut the burden of bureaucracy that volunteers currently face when they apply for work in different roles.
Individuals will only have to apply once to the Disclosure and Barring Service (DBS) for a certificate and then with consent, organizations will be able to use an online service for an instant check to find out whether the document is still valid. At the moment, a person who has been screened to volunteer in a school needs to have a separate check before helping out a different group. The changes also affect people who need to be vetted for their jobs, such as doctors and agency workers, who often need new checks when moving posts or changing agencies. Volunteering campaigners have welcomed the move, as unpaid workers will be able to use the online service for free when they apply for different opportunities. For paid employees, there will be an annual subscription fee.

Read more
World Information Center:
INTERNATIONAL RESOURCE CENTER FEATURE OF THE MONTH
Earth Calendar – Celebrate Everyday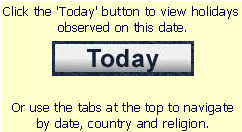 How To Use Personalized PR To Create Big Buzz for your HR Business

Success with personalized PR is mounting, yet most companies still default to mass emails to large distribution lists. These mass depersonalized emails—"Dear (NAME)"—flood journalists' in-boxes, from dozens to hundreds per day. Amidst this deluge, the companies that tailor communication to specific journalists stand out, and thus get more attention.

Download your complimentary copy of How To Use Personalized PR To Create Big Buzz to learn the three steps of personalized PR and whether "spray & pray" still works in PR.

ADVERTISERS IN THIS EDITION

| | | | |
| --- | --- | --- | --- |
| | | | Background Screening Jobs |
Visit the Job Board for the Employment and Tenant Screening Industry. Here you will find resumes of people with industry experience and employers seeking applicants with experience in Employment and Tenant Screening and related businesses.
www.backgroundscreeningjobs.com
UPCOMING CONFERENCES, COURSES & EVENTS
2012 and 2013 Events ( Click Here to View full list of Events ) - Updated Monthly
SHRM State Conferences, visit http://www.shrm.org/Conferences/StateAffilliateConferences/Pages/default.aspx
Drug and Alcohol Testing Industry Association (DATIA), 2012 Training Course Schedule, visit
http://datia.org
SAPAA Training Institute Learning Events, http://www.sapaa.com/
CUPA-HR Conferences: http://www.cupahr.org/
World Federation of People Management Associations, Events, http://www.wfpma.com/events/by-region#quicktabs-tab-view__events__page_3-4