BACKGROUND SCREENING NEWS
A Tribute to Merchants Information Solutions for Achieving 100 Years in Business
Merchants Information Solutions, Inc., a Phoenix-based company that provides services such as employment, tenant-background screening and protection against identification theft turned 100 on Wednesday, February 14, 2012. The company started the day after Arizona became a state in 1912 as the Merchants & Manufacturers' Association and has gone through several changes in names and focus.
Merchants created the ID Theft Advisory Board with Avnet, Inc., Go Daddy, the FBI and other organizations in 2010. Last year, it was among the first companies to receive accreditation through the NAPBS.
To read more click here
Liars Index® Rises To Another Record Level, Lyin' King For 2011 Chosen
The Liars Index®, both for the second half of 2011 and the Index's two-year running average, has reached new records," said Jude Werra, President of the executive search and selection firm Jude M. Werra & Associates.
The Liars Index® has been calculated semi-annually for nearly twenty years,
Our Latest Data:
Data Point

1st
Half
2008

2nd
Half
2008

1st
Half
2009

2nd
Half
2009

1st
Half
2010

2nd
Half
2010

1st
Half
2011

2nd
Half
2011

Semi-annual

Percentage

15.91%

11.43%

15.87%

16.07%

21.43%

17.46%

21.05%

27.27%

Prior Two Year

Average

14.25%

13.21%

13.39%

14.82%

16.20%

17.71%

19.00%

21.80%
Printed with permission of Jude M. Werra
To read more click here
A Scientifically Proven Assessment Test Is The Missing Link To Red Flag Child Sexual Abusers
Don Dymer, CEO,SingleSource Services, a founding member of the NAPBS and a member of Concerned CRAs believes after years of careful searching, he has found the assessment tool that works in helping to identify child sexual abusers. It is called the Diana Screen®. A test that to a high scientific degree of accuracy alerts you that this is not a person who should be placed in a position of trust with children and youth. The test meets the goal: "To select the best possible people for staff and volunteer positions and to screen out individuals who have sexually abused youth or are at risk to abuse," as set by The Centers for Disease Control and Prevention.
Don Dymer and SingleSource Services are taking this assessment tool to the background screening industry and is urging them to take it to their clients. "The goal is to make our industry peers aware that this established, yet mainly unknown screen needs to be part of their background screening programs in order to weed out those who pose a sexual threat to children and seek access to them through employment or as volunteers." Don explains that research tells us that less than one-tenth of 1% of child sexual offenders will have a criminal record of sexual abuse and consequently, strictly relying on finger printing, criminal background checks and drug testing won't give you the whole story.to keep sexual abusers away from children.
To read more about the Diana Screen®. click here
In Million-Dollar Theft Case, Church Worker with a Secret Past
An employee of the Roman Catholic Archdiocese of New York has been arrested and charged with embezzling over $1 million from the organization over a seven-year period. Prosecutors say that 67-year-old Anita Collins used her job in the accounts payable department to write nearly 470 checks from the archdiocese for personal expenses. Joseph Zwilling, a spokesman for the archdiocese, said Collins was confronted about the missing money in December after an annual audit raised red flags. When Collins was hired in 2003, no criminal background check was conducted, which would have revealed her past of a grand larceny conviction and a guilty plead to a misdemeanor. In fact, unbeknownst to the archdiocese, Collins was still on probation when she began working. Following the discovery of the alleged theft, the Archdiocese of New York has begun performing additional reviews of financial procedures and oversight. Collins, who has confessed to stealing the money, faces as much as 25 years in prison if convicted on the charge of first-degree grand larceny.

To read more, click here
School Fire Private Security Firm with Convicted Felons as Guards
Penn State-Shenango in Mercer County has fired a private security company after discovering that some guards were convicted felons and sex offenders. Three other local public school districts, Reynolds School District in Mercer County, Grove City Area School System and the Moniteau School District in Butler County will also end it's contract with Pond Security. Kelly Sieber, Pond's executive director, says the company is requiring new background checks of all its employees and stricter hiring practices to make sure all employees are legally permitted to work for them and be placed in schools.

To read more, click here
White House Announces New Privacy Framework Including Consumer Privacy Bill of Rights
The White House has released its long-awaited Privacy " White Paper " that outlines the Obama Administration's proposal for a new American privacy framework. The more than year-long process that culminated in today's release of the White Paper began in December 2010 when the Department of Commerce's Internet Policy Task Force released a "Green Paper" entitled: " Commercial Data Privacy and Innovation in the Internet Economy: A Dynamic Policy Framework ."
To read more click here

Drug Test for Tenants May Not Fly
Many landlords often wonder whether or not they can ask prospective tenants to submit to random drug testing as a condition of tenancy. Although the implementation of prospective tenant screening policies and practices that include credit checks and criminal background checks have become relatively standard with many large property management firms, pre-tenancy screening which includes drug testing of individual tenants is not a policy or practice that has been implemented to any great extent among small individual property rentals. Pre-employment drug testing has also become accepted or even routine by some employers or in certain job classifications, yet the concept of random drug testing of employees is very controversial and fraught with legal issues or challenges if not properly handled from the time of initial employment through the actual implementation.
To read more, click here


Screen Tenants Without Getting Yourself Into Trouble
When it comes to managing a rental property, a bad tenant can be worse than an empty property. Property damage, late payments and lease default are just a few of the time consuming and expensive problems that can happen with a bad tenant. Fortunately, the application process provides a chance to weed out the good tenants from the bad. There are several things landlords can do to help protect themselves:Move up Move down Take the time to put together a complete screening process; be aware of federal fair housing laws; inform applicants of lease terms at the beginning; take time to check references, and stick to the standards you began with. Put it in writing, and include all of the things that you expect from your future tenant because the screening process relies on a comprehensive lease application. While the most time consuming part of the screening process is checking the references an applicant provides, it is also the most vital part of choosing the right person for the property.

To read more, click here
CRAzoom Announces Comprehensive Program To Assist Background Screening Companies Achieve NAPBS Accreditation
CRAzoom, LLC has announced the launch of a unique service that will enable Consumer Reporting Agencies (CRAs) to more quickly and efficiently become National Association of Professional Background Screeners (NAPBS) Accredited. The service consists of a workbook that details every clause and sub-clause, briefly explains the clause, bullets exactly what a company must do to achieve compliance with the clause and then provides a model policy, procedure, user agreement clause, etc. The second part of the service is a supplemental materials package that provides compliant, key documents that firms will need to achieve and maintain compliance.

"I believe in the mission of NAPBS and especially in the accreditation program, said Derek Hinton, founder and president of CRAzoom. "The accreditation process will improve the background screening industry and individual firms'-- processes, employees and legal compliance. And in so doing it will help the industry as a whole."

To read more about CRAzoom, click here
Innovative Enterprises Introduces VerifIE ™ Instant Employment and Income Verification Solution
Innovative Enterprises, Inc., a strategic partner to the background screening industry and expert provider of court research information products, smart data solutions and ancillary services, today introduced the official release of VerifIE™, an employment and income verification solution designed to instantly determine applicants' past and present employers, including salary information, in a secure, electronic transaction from official state records. The first of a rapidly growing list of available states is now available through VerifIE™.
VerifIE™ greatly reduces the time it takes employers and property managers to screen prospective employees and tenants by eliminating the inefficient patchwork of chasing down information, faxing release forms, returning missed calls and dealing with incomplete responses and uncooperative former employers. VerifIE™ easily overcomes many of the most common forms of resume fraud including failure to disclose former employers and overstatement of salary by going directly to official state records instead of relying on applicants to self-disclose their employment and salary histories."VerifIE™ is the employment and income verification tool of the 21st century," stated William J. Bollinger, Innovative's Executive Vice President. "It's instant. It's accurate. It integrates seamlessly into the existing applicant signed release processes. It's a win for employers and property managers who will find the right people faster. It's also a win for applicants seeking jobs or apartments who will find these decisions being made much more quickly using VerifIE™."
VerifIE™ is not sold directly to employers and property managers but is instead available through Innovative's carefully-selected network of Screening Industry Partners™.
To read more click here
Welcome to the U.S. Legal Challenge Question!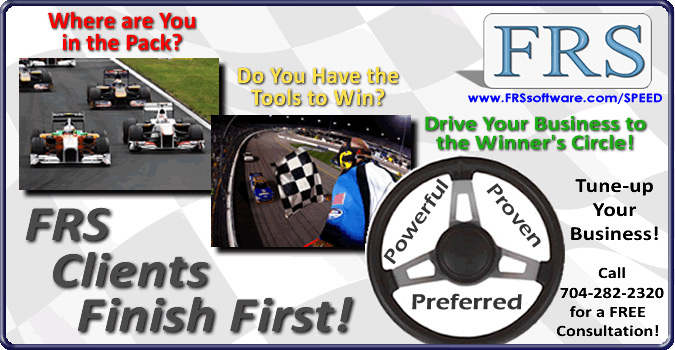 As the background screening industry continues to get more competitive the firms that will ultimately succeed will be those that create competitive advantage through their people by offering continuous learning opportunities to heightened their knowledge and capabilities. We believe that having employees that are very knowledgeable about the legal landscape of background screening is essential to continued success.
We are grateful to Pam Devata, Seyfarth Shaw LLP for providing the expertise for this valuable endeavor. For information regarding the answers to the Legal Challenge Questions, please contact Pamela Devata at Seyfarth Shaw LLP at pdevata@seyfarth.com or 312-460-5000 or visit www.seyfarth.com.
Please choose your answer by clicking on it:
ANNOUNCEMENTS - continued
HireRight Receives Three 2012 MarketTools ACE (Achievement in Customer Excellence) Awards
HireRight a leader in on-demand employment screening, today announced that for the fifth year in a row the company is a winner of the prestigious MarketTools ACE (Achievement in Customer Excellence) Awards. HireRight received three ACE Awards this year for its customer feedback programs measuring Overall Satisfaction by customers in the health care industry, the transportation industry, and a General category of customers from a broad range of industry segments.
"This year's awards are particularly gratifying because we have worked diligently to address unmet needs in key markets like health care and transportation and our customers are rewarding us for delivering the kind of experience they want," said Mike Petrullo, HireRight president and CEO. "We look forward to continuing to earn their validation by adding more value through differentiated service, solutions and expertise."
To read more click here
InforMart Celebrates Black History Month

Each year, InfoMart's employees host a special luncheon celebrating Black History Month. While InfoMart has many events throughout the year, our Black History Month program is one of the most celebrated.

InformMart invited its valued clients to their 7th Annual Black History Month Celebration which was held on Friday, February 24th. The theme for this year's program was Black History: Celebrate Life, Love & Giving. The keynote speaker will be JaQuitta Williams, anchor and reporter for CBS Atlanta. Previous keynote speakers include Alisha Morgan, Georgia House Representative (Cobb County-39th District-Austell) and Rashan Ali, former V-103 Radio Atlanta on-air personality. The event was broadcast live via Internet Radio and U-Stream.
To view the celebration online, click the link http://www.helixradio.com/webcam.html . Definitely check out the young steel drum band. The music made me want to pack for the Caribbean.
TalentWise and Jobvite Join Forces to Deliver Integrated Employment Screening Solutions
TalentWise , a leading Hiring Process Management (HPM) solutions provider, and Jobvite today announced their partnership to integrate employment screening into Jobvite's leading recruiting platform for the social web.The TalentWise employee screening integration helps solve a critical need for Jobvite customers - one streamlined solution to manage every step of the candidate workflow. One button click in Jobvite's platform will launch any of TalentWise's custom HPM solutions, including background checks, employment eligibility verification and social media screening solutions. Jobvite securely transmits all candidate data to TalentWise, increasing efficiency and avoiding manual transcription errors. TalentWise then posts status updates in real time and adds direct links to access its reports within Jobvite. The integration will enable employers to hire screened job applicants more quickly and efficiently.
"The Jobvite integration is an opportunity for TalentWise to partner with one of the top innovators in recruiting today and help Jobvite's world-class customers improve and streamline their hiring process," remarked Todd Owens, COO of TalentWise. "Together we make it easier for HR and recruiting professionals to maintain a more productive workplace, and ultimately, find the best talent for their employment needs."
To read more click here
OCCUPATIONAL FRAUD AND DATA PROTECTION, PRIVACY
33% of Corporate Fraudsters are CEOs
A recent KPMG global survey on corporate frauds has found that executives and directors on company boards are the biggest perpetrators of corporate fraud. In fact, the involvement of top bosses in corporate frauds has more than doubled since 2007 and results in 33% of such cases. The survey, which tracked 348 fraud investigations KPMG member firms carried out in 69 countries, revealed an average financial loss of $1 million in every case of corporate fraud. In 2010, the Association of Certified Fraud Examiners estimated the total value of corporate embezzlement at $2.9 trillion. The average corporate fraudster is male; 36 to 45 years old; works in the finance function or in a finance-related role; holds a senior management position; and is employed by the company for more than 10 years. More importantly, the survey highlights how weakening control structures make the opportunity to commit fraud easier. It is time for companies to consider how they contribute to fraud when failing to detect or respond to lapses or gaps in controls, or by setting extremely steep targets.
To read more, click here
Status of Euclid University
On May 23, 2011, Accredibase received a letter from Euclid University complaining that "erroneous information" concerning Euclid had been included in its database and that they were incorrectly listed as "unaccredited." In response, Accredibase launched a lengthy and in-depth investigation into Euclid's recognition status and contacted relevant government agencies from around the world where Euclid claims to operate from. During this time Accredibase received several more communications from Euclid, presenting various documents and urging Accredibase to update their status. After seven months of research, Accredibase has decided to maintain its original listing of Euclid University as an "unaccredited institution." Accredibase has also chosen to make available to the public the various documents, which Euclid University provided in their correspondences.
To read more, click here
FTC Warns that Background Searches Via Mobile App May Violate the Fair Credit Reporting Act

The Federal Trade Commission ("FTC") has sent warning letters to three companies that market, in total, six mobile phone applications ("Apps") that provide users with background check reports, warning that the Apps may violate the Fair Credit Reporting Act ("FCRA"). Under the FCRA, individuals or organizations that use outside entities (such as the Apps) to procure certain background information on employees or applicants in connection with their employment (or potential employment) must comply with certain notice, authorization, and other rules. In addition, they must receive proper authorization from employees or applicants when background checks are performed. As a best practice, it is crucial to train managers regarding the FCRA and its requirements, develop policies regarding background checking procedures, and make sure that managers are aware of these procedures and that all such policies comply with applicable state credit reporting laws.
To read more, click here
Ten Things Massachusetts Employers Should Know About Upcoming Changes in the CORI System
In August 2010, Massachusetts enacted a statute that set in motion two waves of reform in the state's Criminal Offender Record Information ("CORI") system. Employers already have had at least fifteen months to adjust to the "ban the box" reform that became effective in November 2010. The second wave of CORI reforms is scheduled to take effect on May 4, 2012 and employers should start preparing for the new rules now. Highlights of the new CORI system from an employer's standpoint include: "Criminal offender record information" will have essentially the same meaning; A criminal record that has been sealed will not be accessible in the typical employment situation; A limited amount of criminal offender information in an unsealed record will continue to be available to almost anyone who requests it; An employer will be able to obtain more criminal offender information than a mere member of the general public; etc.
To read more, click here
Senate Committee Passes Bill to Stop Pre-employment Credit Checks
The Senate Judiciary Committee has approved Senate Bill 3, the Employment Opportunity Act. The Act prohibits pre-employment credit checks that some companies use to screen candidates. Employers can only usecredit report information if it is directly related to the position for which a candidate is applying, such as a money or asset management role. Employers found in violation of this law would be subject to civil penalty. The bill will now be considered by the full Senate.
"Credit scores were never intended to be used in hiring practices," said bill sponsor, Sen. Morgan Carroll D-Aurora. "Tying credit scores with employment opportunity creates a vicious circle that unfairly punishes struggling Coloradans. We should be doing everything in our power to get citizens back to work, and this legislation ensures that we are removing unnecessary punitive barriers and helping citizens get back on their feet."
To read more, click here
We're Wary But Hopeful As 2012 Gets Underway
It appears things are looking up for 2012. Consumer confidence is at its highest level in months, the U.S. economy has been adding jobs now for more than a year, the stock market is up decisively reflecting strong growth in manufacturing and increased construction spending, and employers are looking to add more staff this year. A survey by CareerBuilder found that one in four employers plans to add permanent staff this year. Manpower's quarterly employment survey found that 14 percent of employers intend to add jobs in the first three months of the year. Consumer attitudes are increasingly more hopeful as reflected in the 25-point climb in the Consumer Confidence Index. In addition, Challenger, Gray & Christmas revealed that 30 percent of the callers to its annual free, phone-in job help line were optimistic they would land a job within three months compared to only 18 percent the previous year.
CareerBuilder's CEO Matt Ferguson predicts a somewhat brighter employment picture for 2012 than the numbers, or the job seeker survey, might imply. "Historically, our surveys have shown that employers are more conservative in their predictions than actual hiring," he says. "Barring any major economic upsets, we expect 2012 to bring a better hiring picture than 2011, especially in the second half of the year."
To read more, click here
Steady Employment Growth Expected in 2012: Survey

For the third year in a row, an increased number of employers plan to add full-time, permanent employees with a continued emphasis on hiring in technology and revenue-producing fields, according to a survey by CareerBuilder. Information Technology (IT) is the top functional area employers are recruiting for in 2012, with 37 percent of the 292 HR professionals surveyed planning to add IT positions. Following behind IT, are the areas of administrative, engineering, accounting and finance, HR, production, customer service, business development, sales, and marketing. The survey also revealed 34 percent of employers plan to hire full-time, permanent employees in 2012, compared with 29 percent for 2010, while 18 percent of employers expect to hire part-time employees. More employers will also be relying on contract or temporary workers to supplement leaner staffs this year (66 percent).
"Even as the global economy continues to struggle, Canada is expected to add jobs at a steady pace in 2012," said Brent Rasmussen, president of CareerBuilder North America. "Our survey data and increases in job postings on CareerBuilder.ca indicate that companies will hire in functional areas that support the efficiency of their business."
To read more, click here
STOP STRUGGLING WITH WRITING AND PUBLISHING YOUR NEWSLETTER:
We can help you have a high quality e-newsletter to help nurture your relationship with your clients and attract new clients. Our customized newsletter service will take over your newsletter task or create a new one for you. We can manage the creation of your newsletter for you.
We are constantly researching information to use for The Background Buzz and you can put our research to use for you. Using the information rich content from The Background Buzz (minus the ads and competitors information) we will create a custom newsletter for you.
Use your staff's time to do more valuable work and save all the hassle of researching or writing articles, formatting and managing all the other ezine tasks with our customized ezine process.
Contact Barry Nixon at 949-770-5264 or at wbnixon@aol.com for more information.
Sponsored by:
Public Record Update
Seattle Health System Finds Early Success with Program to Prevent Opioid Misuse

A Seattle-based health care system that implemented a program last year to prevent opioid misuse and overdose in patients with chronic noncancer pain is beginning to see positive results.Claire E. Trescott, MD, Primary Care Director of Group Health, says the initiative aims to standardize opioid prescribing and make it safer. All patients on chronic opioid therapy for noncancer pain now have a standard chart template that includes treatment goals, medication regimens, frequency of monitoring visits and requirements for drug screening, if applicable. In addition, the program instated the use of electronic health records, a new pharmacy refill plan, and mandatory drug screening. When the initiative launched, almost 6,000 patients on long-term opioid therapy met with their clinicians to develop care plans. As of January, almost all of the system's 7,000 patients in this category have care plans.
"Now, if someone needs a refill, we aren't treating them like a criminal anymore," Trescott said. "And if someone is abusing substances, we catch it quickly and address it. The system has been fair, respectful, honest and transparent."

To read more, click here
Defense Department Expands Drugs Testing Program
The Defense Department announced this week it is expanding its drug testing program to include hydrocodone and benzodiazepines. The program already tests for codeine and morphine. The new screenings were announced 90 days before they would take effect, giving service members who are addicted to prescription drugs time to seek medical help.
Hydrocodone and benzodiazepines are being added to the list of testable substances because they are among the most abused prescription drugs on the market, according to Joe Angello, the Defense Department's Director of Operational Readiness and Safety. "You're not at your peak mental acuity when you're using drugs," he said in a news release. "The military has some of the finest men and women this nation has to offer; we cannot have people in the business of arms with drug impairments."
To read more click here
Workplace Homicides Still a Threat
On a Friday morning in January, a man walked into the McBride Lumber Co. warehouse in Star, N.C., and, armed with a 12-gauge shotgun, began firing away, killing three people and seriously wounding another before fleeing the scene and then shooting himself. The local sheriff's department says the shooter was an employee at the lumber warehouse and had -- prior to the shooting -- written a six-page letter in which he expressed rage at his Hispanic co-workers, whom he felt were making fun of him.
It was one more episode in what has seemed like an endless cycle of workplace shootings over the years. And yet, according to Violence in the Workplace, a recent analysis of Bureau of Labor Statistics data by the National Council on Compensation Insurance , work-related homicides and injuries due to workplace assaults are down dramatically from their levels in the mid-1990s.
Homicides still account for 11 percent of workplace fatalities, according to the NCCI, with men accounting for a disproportionate share of the victims: 85 percent of workplace homicide victims in 2009 were men, even though they account for just 53 percent of the employed population. "The people most likely to be victims of workplace homicides are those who are out in front, working late hours, dealing directly with the public" says Plansky, who previously served as deputy criminal justice coordinator for the mayor of New York and an assistant district attorney with the Manhattan DA's office.
To read more click here
One Site! Many Suppliers!
Looking for the Top Suppliers in the Industry? Need to find a new Supplier?
Visit our VENDOR SHOWCASE which features suppliers to the Background Screening Industry.
Winter 2012 Directory of Suppliers to the Background Screening Guide Coming Soon!
Click here to find out how to get your firm included.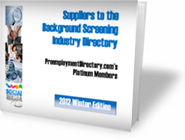 12 Steps to Immigration Compliance in 2012

There are 12 steps all employers should take in 2012 to comply with the multitude of immigration laws and to avoid monetary and criminal penalties. These steps include: conduct an annual I-9 audit; incorporate immigration policies in handbooks; audit H-1B public access files; properly withdraw H-1Bs; implement hiring practices that avoid discrimination claims; and abide by E-verify. Someone other than the person responsible for completing I-9s should conduct the I-9 audit to avoid repeating the same errors. The remaining steps include: do not ignore SSN No Match letters; implement export control practices; avoid taking a hands-off approach; avoid passing immigration fees onto employees; utilize contract employees properly; and budget time and expenditures for immigration.

To read more, click here

Warning: ICE Build-Up a Worry for Employers Navigating I-9 Compliance

The Obama Administration is launching another round of worksite investigations-this time, returning to employers that have already been the subject of I-9 inspections during the last three years. Approximately 500 employers are being re-visited by Special Agents to confirm that noncompliant activity identified during prior reviews has been remedied, according to U.S. Immigration and Customs Enforcement. Maintaining that its strategy has elevated employers' awareness of their responsibilities, ICE is continuing a robust plan to audit thousands of businesses nationwide. In an effort to combat the increasing instances of identity theft, record checks will also be conducted on the identities of all current employees to determine if there are unauthorized workers in the workforce.

To read more, click here
Huānyíng (welcome) to the
International Legal Challenge Question!
Most industries and firms now compete in a global marketplace which is continuing to increase the need for background checks for new hires that will reside in another country or that are being hired from another country. Commensurate with this growth in background checks is the need to understand the myriad of data protection, privacy, human rights and local laws that govern the practice of conducting background checks. To help background screening firms around the world to further enhance their knowledge we have launched this International Legal Challenge.
We are grateful to Brian Arbetter a Partner with the global law firm of Baker & McKenzie LLP for providing the question and answer to the questions in the International Legal Challenge. Brian is based out of the Firm's Chicago and San Diego offices. His practice focuses on international law issues, with particular emphasis on labor and employment, as well as workplace privacy. For information regarding the answers to the International Legal Challenge questions, please contact Brian at brian.arbetter@bakermckenzie.com.
Please Choose One of the Following Answer in Response to the Question
For information on sponsoring The International Legal Challenge Question please Click Here
Looking for Trouble
One of the issues in policy making these days is whether employers can or should reference-check candidates by accessing their social media profiles - commonly LinkedIn, Facebook and Twitter. Most of the debate focuses on the legal issues, yet the fundamentals of why we conduct references and whether using social media in a hiring decision is a good idea in the first place, have been left untouched. At its basic level, conducting a reference is done to see that the CV and interview stories check out and to get evidence of competencies from previous employers. It is true that checking out someone's LinkedIn profile would possibly highlight discrepancies, but a devious candidate probably would have falsified both their application CV and LinkedIn profile equally. Some are questioning why we would go out of our way to look for extraneous hints from their personal life, when it is the business context we should spend time exploring. The point is that a good reference is not an FBI check to discover embarrassing secrets. It may be time for us to accept that people at work are not necessarily the same as they are at home or on the sports field for that matter, and that this is OK.
To read more, click here

How to Implement a Cross-Border Human Resources Policy

In this era of internationally aligned business operations, multinational headquarters launch many different types of cross-border human resources policies.While drafting a cross-border human resources policy may be a challenge, legally implementing a global policy across multiple jurisdictions is an even bigger undertaking. Six legal issues should be considered when implementing a headquarters-driven HR policy locally. These issues include: repealing or aligning existing policies and work rules; creating one global policy, a "rest-of-the-world" version, or a local version; dual employers or cross-border policies on foreign affiliate entities only, consultation with a company's own foreign management-side labor liaisons that discusses strategy and timing; foreign translation requirements; acknowledgement from all employees showing they have read the policy and are willing to comply or personal distribution of a new-cross border policies by HR staff.

To read more, click here


Lax Data Privacy Laws Hurt Australia

Australia may be setting a bad example and limiting its options when it comes to providing offshore services due to a lack of strong data protection laws, according to the Council of Europe head of data protection and cybercrime division, Alexander Seger. Seger said that Australia should examine whether it would be appropriate to join Convention 108 — an international agreement for the protection of individuals' privacy when dealing with automatically processed data. The absence of strong data privacy laws would result in a country missing out on being able to provide offshore services to European citizens. On the matter of cyber security and the requirement for internet service providers to preserve data for 180 days under the Cybercrime Legislation Amendment Bill 2011, Seger noted the problem was even more complex due to different countries specifying different retention periods. He said that the conditions specified by legislation in each country needed to be clearer and, ideally, harmonized to provide greater clarity.


To read more, click here
Recruitment of International Graduates on the Rise
The annual Graduate Outlook Survey by Graduate Careers Australia (GCA) showed a marked increase in the proportion of employers recruiting international graduates, especially in the communication, technology and utilities sector. Executive director of GCA, Dr Noel Edge, said there appeared to be more employment opportunities for international graduates than seen in recent years and many graduate employers continued to rate employment history as a key element of an applicant's curriculum vitae. In fact, a survey by the International College of Management Sydney (ICMS) demonstrated that employers are right to place emphasis on employment history, as out of more than 500 students, some 76% were not confident in their understanding of current workplace environments.

To read more, click here
Will Shortage of Talent Derail the Brazilian Economy?
Brazil is on track for yet another year of above-average GDP performance. Driven by a number of factors -- including Chinese demand for raw materials, a fast-growing and highly acquisitive middle class, large inflows of foreign investment,and the ongoing development of its vast pre-salt oil deposits-- the country is experiencing a multiyear growth spurt unlike any in its recent past. However, economic growth brings a host of new challenges such as a shortage of qualified labor. In fact, Brazil recently placed third in a global ranking of countries coping with labor shortages and 57% of employers said they are unable to find skilled workers they need to operate their businesses. At its most basic level, Brazil's shortage of qualified labor is little more than a supply-demand imbalance and Brazil's historical underinvestment in education is the primary culprit.Most experts agree the solution to Brazil's labor shortage is a long-term one that involves broadening access to education, building more schools and improving the quality of existing educational institutions.
To read more, click here
Canadian CEOs Optimistic, Predicting Growth in 2012: Survey

Although nearly one-half of Canadian CEOs believe the global economy will decline even further in the next 12 months, they are optimistic about growth for 2012, according to a survey by PwC. Canadian CEOs believe their organizations have been less affected by global turmoil than leaders in other countries."Compared to other leaders, Canadian CEOs found their companies to be less affected financially by major 2011 crises events," said Gino Scapillati, PwC's national managing partner. The survey also found that 56 percent of Canadian CEOs increased their headcount over the past 12 months and more than half expect to do so in the next 12 months. Despite the optimism, 66 percent still had some concern about uncertain or volatile economic growth and plan to make changes to their strategies this year.

To read more, click here
Workplace Fraud 'Like an Atomic Bomb'

Workplace fraud is costing Canada's small and medium enterprises (SMEs) at least $3.2 billion a year and the problem appears to be growing. Roughly 290,000 SMEs were victims of one or more instances of work-place fraud in the past year, says a Certified General Accountants Association of Canada (CGA-Canada) study. In addition to financial loss, workplace fraud also damages staff morale and management confidence. "It can be like an atomic bomb going off inside of a business," Greg Draper, national leader of investigative forensic ser-vices with MNP LLP says. "There's shock, frenzy and you don't want to believe it happened." Companies should invest in pre-employment background checks, monitor internal controls and systems, enforce a zero-tolerance policy, and tailor prevention and detection measures to the needs of the organization.

To read more, click here
Chinese Ministry of Industry and Information Technology Issues New Data Protection Regulations
The Ministry of Industry and Information Technology of the People's Republic of China (the "MIIT") recently issued a regulation entitled, "Several Provisions on Regulating Market Orders of Internet Information Services" (the "New Regulations"). The New Regulations, which will take effect on March 15, 2012, include significant new data protection requirements applicable to Internet information service providers ("IISPs"). Consistent with data protection regimes currently in place elsewhere in the world, IISPs will be required to provide much stronger protection for the personal data they collect from users in China, and will be subject to notice and consent requirements, collection limitations and use limitations. The New Regulations also impose custody, remedy and breach notification obligations.
To read more, click here
EU Terrorist Watch List
The Council has concluded that the persons, groups and entities listed in the Annex to this Regulation have been involved in terrorist acts within the meaning of Article 1(2) and (3) of Council Common Position 2001/931/CFSP of 27 December 2001 on the application of specific measures to combat terrorism ( 4 ), that a decision has been taken with respect to them by a competent authority within the meaning of Article 1(4) of that Common Position, and that they should continue to be subject to the specific restrictive measures provided for in Regulation (EC) No 2580/2001.
To see the Terrorist Watch List click here
Data Protection and Employment
Under Section 4 of the Data Protection Acts 1988 and 2003 (the 'Acts') an employee is entitled, subject to a number of explicit exemptions, to receive a copy of his or her personal data as held by their employer.It is useful for employers, when approaching subject access requests, to adopt a clear structured process that includes: reviewing the request; collating all relevant personal data;assessing that personal data in light of statutory exemptions; andresponding to the request. An employer must respond to a subject access request within 40 days of receipt.

The employer's responseshould include three files: two files containing all information which will be provided to the employee along with a third file setting out all personal data relating to that employee, including personal data which has been withheld. Also include a letter which informs the employee of their right to complain to the DPC and which also informs the employee of the categories of personal data being processed by the employers, the purposes for such processing and the identities or categories of any recipients to whom the data may be disclosed.
To read more, click here
NandanNilekani on UID Controversy

Unique Identification Authority of India (UIDAI) Chairman NandanNilekani discusses concerns surrounding India's unique ID program. UIDAI will assign each citizen a unique identifying number, the world's first online ID system that can be verified anywhere. But legal experts and advocates have said the plan doesn't provide enough privacy safeguards. Nilekani says that privacy is "something you trade for convenience" and that once people understand the plan's convenience, "they will understand what they are giving up is very trivial." Although biometrics are collected (name, age, date of birth and sex), the data is anonymized, not shared with private companies and no one has access to it. In the future, Nilekani sees each Indian citizen having three "empowering" numbers: Aadhaar number -the number with which you can confirm who you are to anybody; mobile number, and bank account number.
To read more, click here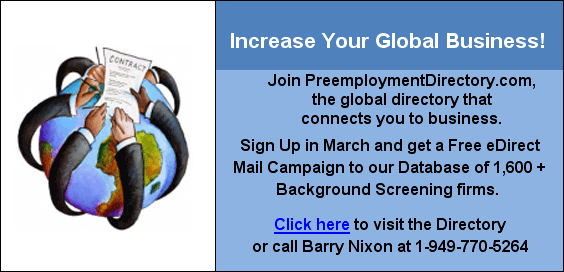 Privacy Concerns Grow in India
The Indian government's recent announcement that it taps nearly 300 new phones every day has sparked a debate about privacy. This growing desire for privacy stems from changing family structures and lifestyles among the urban middle class, a mass media explosion and the Internet, and the government's biometric identification program, just as the government has begun tapping more phones and using surveillance cameras in more public places. In fact, Mumbai officials recently announced they plan to add 6,000 new cameras to the existing 400.India's constitution does not guarantee a right to privacy, nor does the country have a data protection law to guard against the misuse of personal information. However, the government has proposed a wide-ranging privacy law, and a coalition of organizations and activists, including the newly formed advocacy group Privacy India, is trying to help shape it.
To read more, click here
Proposal to Have Privacy Officer to Implement Data Protection Law
New Zealand's Assistant Privacy Commissioner Katrine Evans has suggested that Malaysia have privacy officers to implement the data protection law. A privacy officer is the person in an agency who can understand its business and, at the same time, help the agency get it right in handling personal information."I don't know whether Malaysia has the requirement for every agency to have a privacy officer but, if it doesn't, you should have one," she said when delivering her talk on 'First Steps for a Data Protection Commissioner: Some Suggestions from New Zealand' at the inaugural seminar on personal data protection. The seminar was opened by Information, Communications and Culture Minister Datuk Seri DrRaisYatim, who announced the setting up of the Personal Data Protection Department under the ministry.

To read more, click here
Proposal to Have Privacy Officer to Implement Data Protection Law
New Zealand's Assistant Privacy Commissioner Katrine Evans has suggested that Malaysia have privacy officers to implement the data protection law. A privacy officer is the person in an agency who can understand its business and, at the same time, help the agency get it right in handling personal information."I don't know whether Malaysia has the requirement for every agency to have a privacy officer but, if it doesn't, you should have one," she said when delivering her talk on 'First Steps for a Data Protection Commissioner: Some Suggestions from New Zealand' at the inaugural seminar on personal data protection. The seminar was opened by Information, Communications and Culture Minister Datuk Seri DrRaisYatim, who announced the setting up of the Personal Data Protection Department under the ministry.

To read more, click here
Unemployment Dropped to a 14-year Low in 2011
The unemployment rate in Singapore has dropped to a 14-year low despite substantial layoffs in the last quarter, according to the latest report by the Ministry of Manpower. In 2011, the unemployment rate averaged two percent overall, which was the lowest recorded in 14 years, after declining from 2.2% in 2010.Likewise, employment growth remained strong in 2011, as total employment grew by 36,300 in the last quarter. The majority of employment gains continued to come from services, which added 95,100 workers in 2011.Despite the strong employment gains, layoffs increased substantially in the last quarter, doubling the preceding quarter.
To read more, click here
Man Evaded Police for Six Years
A man on the run for six years for a dangerous driving offence was caught through a criminal record check conducted by his prospective job. In 2004, CharndeepDayal admitted to dangerous driving, driving without a licenseor insurance, and avoiding penalty by giving the police false identity details and failing to answer his bail. Dayal failed to stop for the police after running a red light at a pedestrian crossing and eventually collided with a park car. He then gave officers his brother's name, date of birth and address in Essex and was released on bail.He failed to attend at court and when police questioned his brother, they realized he was not the culprit.Dayalwas given a 48-week jail sentence, banned from driving for three years, will have to do 250 hours of unpaid work, was placed on a three-month curfew, and ordered to pay £1,000 in costs.
To read more, click here
Guide to Freedom of Information Published
The Information Commissioner has published a new plain English Guide to Freedom of Information to help public authorities better understand what the Act says and how to apply it. The guide takes a straightforward look at the law and explains in simple terms what organizations need to do to comply, including how to respond to requests and deciding what information they should routinely publish.

"The new Guide to FOI is about demystifying the Act by making the legislation more user-friendly and intelligible," said Information Commissioner, Christopher Graham. "We've done away with legalistic terms in favor of plain and simple language and, for the first time, all of the basic information and advice now lives in one place."
To read more, click here

INTERNATIONAL: PROFESSIONAL WORKSHOPS AND ASSOCATION CONFERENCES
World Information Center:


ADVERTISERS IN THIS EDITION

| | | | |
| --- | --- | --- | --- |
| | | | Background Screening Jobs |
Visit the Job Board for the Employment and Tenant Screening Industry. Here you will find resumes of people with industry experience and employers seeking applicants with experience in Employment and Tenant Screening and related businesses.
www.backgroundscreeningjobs.com
UPCOMING CONFERENCES, COURSES & EVENTS
2012 Events ( Click Here to View full list of 2012 Events ) - Updated Monthly
SHRM State Conferences, visit http://www.shrm.org/Conferences/StateAffilliateConferences/Pages/default.aspx
Drug and Alcohol Testing Industry Association (DATIA), 2011 Training Course Schedule, visit
http://datia.org
SAPAA Training Institute Learning Events, http://www.sapaa.com/
CUPA-HR Conferences: http://www.cupahr.org/
World Federation of People Management Associations, Events, http://www.wfpma.com/events/by-region#quicktabs-tab-view__events__page_3-4