BACKGROUND SCREENING NEWS
New Workforce, New Tools

Background screening is a critical component of any talent acquisition strategy. Without a standard and efficient approach to compiling and authenticating candidate information, organizations will lose their best talent and become vulnerable to risk and compliance issues. Yet, according to Aberdeen's talent acquisition research, only 4% of organizations cited background screening as the top talent acquisition priority in 2012. In today's highly competitive market, HR leaders need to think more strategically about background screening-particularly around their technology investments. Many organizations are only investing in screening at specific job levels, while others fail to invest in credible providers that provide accurate information on candidates. With a new set of regulations and an increasing number of dubious providers offering inaccurate information on potential candidates, organizations can no longer afford a haphazard approach to screening. The top criteria used to select a provider include accuracy, turn-around time, compliance and customer service. Additional criteria that organizations should consider include globalization, social media, a positive candidate experience, and total talent acquisition.

Read more
To Screen or Not to Screen?

According to HireRight's 2012 Employment Screening Benchmarking Report, 34% of respondents perform background checks on current employees, and experts in the field believe the trend is growing. It's a step toward furthering risk management and maintaining a safe working environment for employees and clients. "Since a background check is a snapshot in time, employers should be interested in ongoing screening to help identify employees who may commit crimes that would have precluded their initial hire," notes Steven James, founder and chief operating officer of Background Profiles. Certain industries are more prone to receive the value of investing in annual background screens such as in the health care, transportation, and financial services industries. Various factors should be taken into consideration if your organization moves forward with annual background screening: Consent is key; Keep cost and relevancy in mind; Think about compliance; Communicate and be consistent; Contractors count too. And if every year isn't in your budget, think about spacing apart total workforce screens every two years.
These 5 Trends Are Shaping the Future of Pre-hire Assessments
2013 is going to present the start of a major tipping point in the way people find jobs and are evaluated for jobs, and a blend of technology and assessment content will play a big role in these ongoing changes. This opinion is not founded on trends within the pre-hire assessment industry, but rather on the bigger picture of emerging trends in Internet technology: Social Connectivity; Collective Intelligence; Gamification; Credentialing; and Entrepreneurial Culture. The ability of data to drive useful connections with others who share the same interests and the ability to share information across relationships is rapidly gaining teeth. It is now possible to use personal preferences, connections, and interests to provide meaningful insights into almost everything. In terms of hiring, connectivity continues to make sourcing (and job searching) easier. The emerging Internet has introduced many sites and businesses who offer the ability to collect input from multiple persons, aggregate the data, and report on it such that one overall opinion creates an accurate representation of the views of many. When combined with increases in connectivity, we gain the ability to collect insight about a person, product, or service that may not be exactly in line with what is outwardly represented.

Read more
State Pushing for Federal Background Checks at Daycares
A CBS Atlanta News investigation revealed that 24,000 daycare workers in Georgia are on the job without having undergone a federal background check. A local background check is currently all that is required by the state. Kellen Stennett, owner of The Goddard School in Buckhead, said that he believes the state should require more thorough background checks on daycare workers. In response, the Georgia Department of Early Care and Learning is pushing new legislation to require a federal fingerprinting background check. They receive more than 100 complaints a month related to possible inappropriate activity at daycare centers. "The federal background checks are a little bit more complicated," said Stennett. "They cost a lot more money, they take a lot longer to get the results back so particularly if you're looking to make a quick hire or something like that it can be restricting." Georgia is expecting lawmakers to pass legislation this session to strengthen background checks.


DATA PROTECTION & PRIVACY
Kick-Starting a Privacy Program
It is not enough for a business to create a privacy policy and place it on its website; a business must define policies and practices, verify that their employees are following the practices and complying with policies, and confirm that third-party service providers are adequately protecting any shared information as well. As customer demands and regulatory requirements change, the business' privacy practices and policies must be reviewed and revised to meet this changing business environment.
So, how do you get started? Well, every journey begins with the first step. Here are 10 steps to kick-start your organization's privacy program.
Guarding Privacy in the Digital Age: Maine Lawmakers Take up the Challenge
As more and more of our personal information is shared, it is also at risk. The American Civil Liberties Union of Maine and a group of bipartisan legislators have unveiled a new package of laws aimed at better protecting Mainers' privacy. Maine legislator Diane Russell's bill - The Maine Online Privacy Protection Act - would require commercial websites to conspicuously let Maine consumers know when personal information is being collected and shared. Republican Rep. Mike McClellan, wants to protect social media privacy at work. His bill would block employers from getting passwords to their employee's social media accounts, something that's already happening. These are just two of a package of five bills with bipartisan support that aim to protect personal privacy. The others would limit drone use for domestic spying and require law enforcement to get warrants before they can track cell phone data and text messages. With identity theft being one of the fastest growing crimes in the U.S., it's time for laws to catch up with technology. While these bills have bipartisan sponsors, it's unclear whether there will be support from businesses or law enforcement.

Read more
Top Five Information Security Threats to Data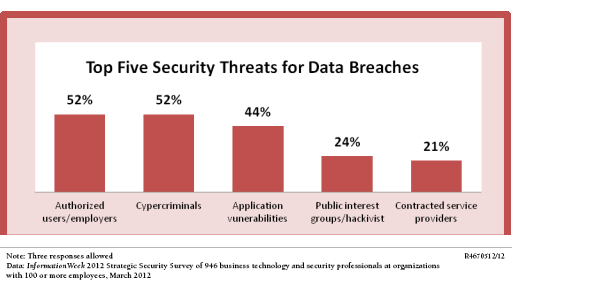 To see the full survey results
New Attention is Given to Privacy Trade Issues
Privacy and trade will be considered as linked issues during the looming EU-U.S. trade negotiations, reports Hogan Lovells privacy leader Chris Wolf in one of the inaugural blog posts on the first-ever blog of the International Association of Privacy Professionals, Privacy Perspectives, which just launched. An investigation has begun at the United States International Trade Commission that will examine the impact of privacy regulations on digital free trade and as the negotiation of a EU-U.S. Free Trade Agreement soon will begin-a negotiation that inevitably will look at the issue of the compatibility of privacy laws on both sides of the Atlantic, and that likely will put data protection harmonization on the negotiating table.
States Focus on Reducing Employer's Access to Social Media

Increasing numbers of Americans use social media both on and off the job. Recently, some employers have asked employees to turn over their usernames or passwords for their personal accounts. Some employers argue that access to personal accounts is needed to protect proprietary information or trade secrets, to comply with federal financial regulations, or to prevent the employer from being exposed to legal liabilities. But others consider requiring access to personal accounts an invasion of employee privacy.
State lawmakers introduced legislation beginning in 2012 to prevent employers from requesting passwords to personal Internet accounts—including email, banking and social networking sites—to get or keep a job. Some states have similar legislation to protect students in public colleges and universities from having to grant access to their social networking accounts.
To see a full list of pending bills by state
So far during the 21st century there have been more than 9,000 people who were either murdered or killed themselves at work.
Source: 2013 Workplace Violence Fact Sheet
Welcome to the U.S. Legal Challenge Question!
As the background screening industry continues to get more competitive the firms that will ultimately succeed will be those that create competitive advantage through their people by offering continuous learning opportunities to heightened their knowledge and capabilities. We believe that having employees that are very knowledgeable about the legal landscape of background screening is essential to continued success.
We are grateful to Pam Devata, Seyfarth Shaw LLP for providing the expertise for this valuable endeavor. For information regarding the answers to the Legal Challenge Questions, please contact Pamela Devata at Seyfarth Shaw LLP at pdevata@seyfarth.com or 312-460-5000 or visit www.seyfarth.com.
Please choose your answer by clicking on it:

What Employers Need to Know About New York's Beefed-up Social Security Number Protection Law
New York Governor Andrew Cuomo recently signed an amendment to the state's Social Security Number Protection Law. The amendment is designed to strengthen consumer privacy and protect against identify theft. The amendment prohibits a person, firm, partnership or other business entity from requiring an individual to disclose or furnish his or her Social Security number for any purpose, and from refusing any service, privilege or right to an individual because the individual refuses to disclose his or her number. The amendment includes an exception which allows employers to request an individual's Social Security number in the course of the administration of a claim, benefit or procedure related to the individual's employment; in the course of procedures related to retirement from employment or injury suffered during the course of employment; or to check on an unemployment insurance claim. It also allows employers to request a Social Security number to conduct a criminal or other background check permitted by New York State law, where the individual consents to its use, where it is being requested for the purposes of collecting child support, etc. Failure to comply with the law can result in a fine of up to $500 for the first violation and up to $1,000 dollars for any further violation.

Read more
Kmart Settles FCRA Class Action for $3 Million
Kmart Corporation has agreed to a $3 million settlement stemming from allegations that it violated the Fair Credit Reporting Act (FCRA) when using background checks to make employment decisions. The class-action suit alleged Kmart violated the FCRA by failing to provide "certain specific disclosures before it use[d] the report for an adverse action." The putative class action complaint argued that a purpose of the FCRA is to grant consumers a meaningful opportunity to correct inaccuracies and omissions in background reports before employers take adverse employment actions. In the case, the plaintiff's rights under the FCRA were undermined when Kmart deprived them of an opportunity to make such a correction. Kmart has denied any fault, wrongdoing or liability whatsoever, but will pay $3 million and will be granted a 'narrow release' covering only the FCRA claims.

Read more
The In-House Lawyer's Guide To Marijuana Legalization: How Companies Should Clarify Their Policies, And What To Look Out For On The Enforcement Front
In the recent November elections voters in Washington state and Colorado voted to legalize the recreational use of marijuana. What does that mean for company drug policies? Should I panic?
Zero-tolerance drug policies should still be fine. So should drug testing programs. The courts have so far upheld employers' rights to enforce drug-free workplaces, even if an employee is legally taking medical marijuana. "Go ahead and enforce your zero-tolerance drug policies regardless of the reason for marijuana use, whether medical or recreational, without regard to the new state laws," says Richard Meneghello, a partner at Fisher & Phillips.
However, employers in Arizona, Connecticut, Rhode Island and Maine should be careful. These states all have laws that require employers to accommodate medical marijuana, but though federal law may preempt those measures, none has yet faced a court test. Unless you want your company to be the test case, tread cautiously.
A New Workplace Social-Networking Privacy Bill Surfaces In Philly

This proposed amendment to Title 9 of The Philadelphia Code, entitled "Regulation of Businesses, Trades and Professions," would, in City Council's words, "add a new Chapter, protecting social networking privacy, by prohibiting an employer from requesting or requiring access, in any manner, to an employee's or prospective employee's account or profile on a social networking site and providing for enforcement and penalties, all under certain terms and conditions."
Indeed, this new bill is so broad that it could preclude HR from conducting an effective investigating claims of harassment in the workplace. The bill prohibits employers from requesting access to an employee's Facebook account through a co-worker who is a Facebook friend.

Read more
According to a 'How Does Your Department Compare? study of HR practices conducted by HRDailyAdvisor.com of those HR Departments that outsource any function, the most frequently outsourced function is background reference checks at 60%.
Source: HRDailyAdvisor
Corporate Screening Unveils New Search Product: CS HealthSweep
Corporate Screening Services, Inc . (CS) is pleased to announce the launch of its new product, CS HealthSweep. Customized by state, this unique tool was developed to assist healthcare employers by conducting a simultaneous primary source search of multiple disciplinary action/sanction databases.
"States track disciplinary actions and other sanctions through many different agencies and associations. Our experience has shown that this can make it a cumbersome process for healthcare employers to conduct a reasonable and legally compliant search effort," said Greg Dubecky, President of Corporate Screening. "We developed CS HealthSweep to save healthcare employers time and administrative hassle. The product is tailored to each state's requirements, and offers employers the most efficient and accurate search methods available."
Former CRA Manager Joins the FRS Team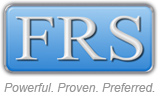 FRS is very pleased to announce that Nichole Disser has joined our team as a Strategic Account Manager. Nichole brings with her 9+ years of experience in the screening industry. Originally working with Pre-employment Assessments, she quickly moved into the background arena serving in Operations and Account Management for Pinkerton, ChoicePoint, LexisNexis and Accurate Background. Nichole's focus will be on client advocacy and communications, as well as product add-on sales. She will be a key member of our Product Marketing Steering Team. Nichole is also a member of the NAPBS Best Practices Committee concentrating on the Litigation Avoidance and Drug Testing sub-committees, as well as a new member of the National Association of Professional Women.
Nichole has an excellent working knowledge in the ever-challenging area of compliance for background screening, and we have already put her skills to use in this area. At our recent user's conference, Nichole led the two Compliance breakout sessions. She also spearheaded the 2013 compliance education project to ensure that all of the Consumer Reporting Agencies (CRAs) utilizing the FRS platform were notified about upcoming changes with the Fair Credit Report Act (FCRA) that took effect on January 1, 2013. Nichole has been available to consult with our CRAs to assist with questions regarding the changes, as well as information about the Consumer Financial Protection Bureau (CFPB) and its new role with regard to the FCRA.
Can You Spot a Fake Reference?

Sites offering fake reference services continue to spring up, raising questions over whether the process is flawed from the outset, and whether it's time to up the ante and background-check referees. According to background screening expert Jeff Wizceb, the process of signing up for a fake reference is easy and these sites are doing big business. Five tips for effective reference checking include: At interview stage confirm with the candidate who is the appropriate person to call. Do not rely on who is written on the resume; If the referee to call is not the person noted on the resume, ask the candidate why and ask for written permission to contact the referee; Ensure you identify the person you are talking to; never conduct reference checks on mobile telephone numbers; Ask the dates of employment, but be sure not to offer these yourself - get the referee to offer them. Ensure the questions are relevant and open-ended rather than those requiring 'yes/no' responses. You may need to do more than one reference check at a single organization to rule out any personal issues, ill-feeling between people, or importantly, a bona fide fake.


How Reference Checks Can Help to Prevent Workplace Fraud
Employers are often stunned to find that a valued employee has been committing workplace fraud, but statistics show that it is often the most trusted employees who steal. Many of these employees are terminated without charges ever being filed, leaving them free to target the next company and trusting employer. Introducing these fraudsters into your organization can have devastating consequences. Aside from workplace fraud, they can also open you up to legal trouble and even bankruptcy. To ensure you aren't the next fraud target, conduct a thorough reference check on potential employees before you make a job offer. The degree of background investigation you conduct on a potential employee should reflect the potential for damage. Confirm past employment, confirm education that they claim they have and actually call references. Depending on the level of the job, you may also want to consider conducting criminal, civil and bankruptcy checks. Background checks and verifications can weed out some higher-risk employees and are the key components of your company's fraud prevention program.
Colorado's Marijuana "Legalization" Amendment Task Force OKs Recommendation to Permit Employers to Terminate Employees for Off-Duty Marijuana Use
A task force convened by Colorado's governor to address issues arising out of Amendment 64, a state constitutional amendment that purports to legalize the recreational use of marijuana by adults in Colorado, recommended that "employers may maintain, create new, or modify existing policies in response to the passage" of the law. The recommendation is a preliminary signal that even as the state liberalizes its marijuana laws concerning medical and recreational use, employers still may regulate all marijuana use, even off-duty and off-premises use, by their employees. Although the task force's recommendation lacks the force of law, its implications for employers are important. Employers should review and update their drug policies to ensure that employees understand that they apply to the use of all drugs that are illegal under state or federal law, including marijuana. Employers in others states seeking to enact liberalized marijuana laws should work vigilantly to ensure that those measures include strong, clear protections so they will be able to maintain, change, and enforce their drug-free workplace, zero-tolerance, random drug testing, and related policies.
Sponsored by:
Public Record Update
By Mike Sankey, PRRN
BRB's FREE RESOURCE CENTER
For the MOST COMPREHENSIVE RESOURCE describing all access methods, restrictions, fees, and search procedures on over 26,000 government and private agencies visit the Public Record Research System (PRRS-Web) . We provide the extensive details and in-depth data you will not find doing a Google search!
CRAHelpDesk
PO Box 27869
Tempe, AZ 85285
800-929-3811
Fax: 800-929-3810
mike@brbpublications.com
www.CRAHelpDesk.com

Compliance with the myriad of state laws is a complex subject affecting CRAs and their clients. The State Rules Register provides an uncomplicated explanation in plain English of state laws for what is reportable to the client, usable by the client, and the necessary steps to take to be in compliance with state laws. Also included are best practices, practical tips, and ongoing notification when state and federal laws change. Create your own matrix reports. Use the special Resource Tabs of Guidelines and Special Instructions.

See www.CRAHelpDesk.com.

We Help Consumer Reporting Agencies
For more information contact Michael Sankey atmike@brbpublications.com or visit www.brbpublications.com/updates.aspx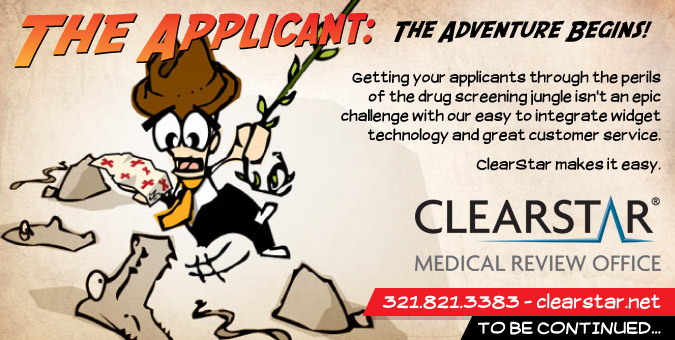 Drug Screening - A Breath Away from
Seeing a Finger Print Solution Is there an App for that?

The start of employment drug screening can be traced back to the 80's and President Ronald Reagan. President Reagan issues executive order 12564, on September 15th, 1986 and it established a goal of a Drug Free Federal Workplace. This executive order only applied to Federal employees but soon became adopted by private and public enterprise. From the late 80's and into the 90's Drug Free Workplace programs sprouted up in most of corporate America. The standard for testing was urine. To this day, urine is still considered the "gold-standard" for drug screening and the only method allowable for Federal employees. The private workforce has always looked for ways to have more options for their Drug Free Workplace programs.

Hair Drug Screening picked up steam in the 90's as an alternative to the traditional urine screening. The biggest advantage was the detection window of drugs was 90 days, instead of the 3 days for urine (for most drugs). The biggest drawback was the price tag, coming in at 3 times the price of a urine screen. Many employees jumped on this technology as it provided more of a lifestyle snapshot and not just a look back to the last 3 days of the applicant's life. In the mid 2000's Oral Fluid became the new in thing for drug screening. Its biggest draw was it was easily collected and could do so anywhere. There were no gender issues as you had with urine, or running into "follicle challenged" individuals with hair screens. The biggest drawback to Oral Fluid was the detection time was around 24 hours, which is 1/3 of the time of a typical urine screen. Many Drug Free Workplace programs today use a mixture of these methods, as each has advantages and disadvantages. When they are used together in one program you are able to use all of it to betterment of your program and company.

Fast forward to today, the year is 2013 and what is next? All signs point towards Finger Prints, Breath and Retina Scans.

TODD SHOULBERG
Director of Drug
Screening Services

Company Statement:

ClearStar offers a suite of Occupational Health Screening services to help you provide testing options for your clients. With little effort, our drug screening services can be deployed in any technology for a seamless customer experience. Our staff of industry experts is dedicated to the highest quality of customer service.

For More Information:

ToddS@ClearStar.net 321.821.3383 main │ 321.216.3155 fax www.clearstar.net



Kevin Coy is a Partner in the Washington DC office of Arnall Golden Gregory LLP. Kevin advises background screening companies and other clients on a wide range of privacy and consumer regulatory issues, including Fair Credit Reporting Act, Gramm Leach Bliley Act, Drivers' Privacy Protection Act, and Dodd Frank Act compliance issues, as well as data breach matters. Kevin also represents clients with matters before the Federal Trade Commission, the Consumer Financial Protection Bureau, and other consumer protection agencies.
Kevin can be contacted at Kevin.Coy@agg.com or 202-677-4034.
THE WASHINGTON REPORT - February 2013
While the new Congress in many respects is still just getting underway, it has been a busy month in Washington when it comes to developments which could result in long term impacts on background screeners, even though screeners were not the primary focus of many of the developments.
At the FTC
On February 11th, the FTC released its most recent report to Congress-required by the Fair and Accurate Credit Transactions Act of 2003-regarding the accuracy of consumer credit reports. Headlines generated by the report emphasized a finding that one in five credit reports may contain an error, without noting another finding in the study underlying the report that only 2.2% of the credit reports contained an error sufficient to change the consumer's credit score risk tier.
The night before the public release of the FTC Report, CBS aired a "60 Minutes" story-titled "40 million mistakes"--referencing the FTC Report and highly critical of the reinvestigation practices of the three national credit reporting systems. While the focus of the FTC Report and the ensuing media attention is the three national credit reporting systems, the report and the ensuing media coverage potentially has important implications for all consumer reporting agencies, including background screeners, because any changes in law or regulation regarding accuracy or reinvestigation requirements could impact all consumer reporting agencies, not just the three national credit reporting systems
At HUD
On February 8th, the Department of Housing and Urban Development (HUD) issued a Final Rule implementing the Fair Housing Act's "discriminatory effects" standard and raised the possibility of future guidance regarding the use of arrest and conviction information for tenant screening purposes. Similar to the disparate impact doctrine supported by the Equal Employment Opportunity Commission (EEOC), HUD long has interpreted the Fair Housing Act to prohibit practices with an "unjustified discriminatory effect" without regard to whether there was any intent to discriminate. The Final Rule announced on February 8th is an effort to standardize the application of the test nationwide, given variations in applicable case law.
One Site! Many Suppliers!
Get Your Copy of the Suppliers Buyers Guide
Looking for the Top Suppliers in the Industry? Need to find a new Supplier?
Visit our VENDOR SHOWCASE which features suppliers to the Background Screening Industry.
Suppliers to the Background Screening industry Guide Now Available!

Click here or on image to get a copy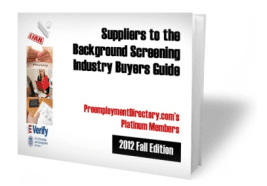 Contact Barry Nixon at wbnixon@aol.com for information on getting your firm listed in the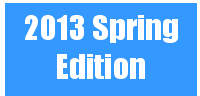 The Conference Board Employment Trends Index™ (ETI) Decreased Slightly in January
The Conference Board Employment Trends Index™ (ETI) edged down in January. The index now stands at 109.38, down from 109.47 in December. The January figure is 2.7 percent higher than a year ago. "Despite the dip in January, the Employment Trends Index continues to signal a moderate improvement in the labor market," said Gad Levanon, Director of Macroeconomic Research at The Conference Board. "However, employment growth has outpaced economic growth in recent months, and the ETI suggests that this rapid pace of improvement in hiring may not continue in the coming months."
January 2013: ADP National Employment Report®
U.S. Economy Added 192,000 Private-Sector Jobs in January, According to ADP National Employment Report.


- See more at: http://www.adpemploymentreport.com/#sthash.hchpeEwm.dpuf
STOP STRUGGLING WITH WRITING AND PUBLISHING YOUR NEWSLETTER:
We can help you have a high quality e-newsletter to help nurture your relationship with your clients and attract new clients. Our customized newsletter service will take over your newsletter task or create a new one for you. We can manage the creation of your newsletter for you.
We are constantly researching information to use for The Background Buzz and you can put our research to use for you. Using the information rich content from The Background Buzz (minus the ads and competitors information) we will create a custom newsletter for you.
Use your staff's time to do more valuable work and save all the hassle of researching or writing articles, formatting and managing all the other ezine tasks with our customized ezine process.
Contact Barry Nixon at 949-770-5264 or at wbnixon@aol.com for more information.
Rhode Island Dances with E-Verify Bill Again in H. 5236
A new House Bill has been introduced that would impose a mandatory E-Verify enrollment and use upon all employers who employ three or more employees in the state of Rhode Island. The following employers under this bill would be exempt: the federal government, employers by another state, or another "political subdivision of Rhode Island or another state." The following phases for participation in E-Verify would go into effect if the bill were to be passed into law: On or before January 1, 2014: Employers with 200 or more employees required to participate; On or before July 1, 2014: Employers with 50-199 employees required to participate; and, On or before January 1, 2015: Employers with 3-49 employees required to participate. Although the bill provides mechanisms for employers who enroll in E-Verify to notify the State, the only penalty (thus far) for failure to enroll in E-Verify appears to be getting referred by the State's Department of Labor to the Immigration and Customs Enforcement for non-compliance. The absence of a hefty penalty provision may signal the legislature's willingness to compromise in order to get the law passed. Finally, the bill may also reflect the reality that the state itself lacks funding to finance an enforcement team - a reality often faced by other states that have imposed obligatory E-Verify laws.

Read more
Negotiate with ICE - Reduce Those I-9 Fines!
When you receive your first Notice of Intent to Fine (NIF) from a client or a potential client, the process can be overwhelming for the client and for you as counsel. If you are retained at the NIF stage as attorney, actions taken by your client and by ICE from the NOI (Notice of Inspection) to the NIF can have a significant effect on the process moving forward. Remember there is still time to negotiate at this stage. To reduce these fines, it is important to keep photocopies of all of the I-9 forms and all correspondence and documents turned over to ICE since the issuance of the NOI. Document any discussions with the ICE agent or auditor during the process. Always ask for an OCAHO (Office of the Chief Administrative Hearing Officer) hearing and be organized and methodical. Be prepared to argue the "Five Factors" to mitigate fines spelled out in ICE's 2008 Guidance. Read prior OCAHO decisions and review the regulations and existing guidance documents for exactly what they say and don't say. Review the M-274 Handbook for Employers, the I-9 Central on the USCIS website, and any other guidance on worksite enforcement for inconsistencies that can be used in your client's favor, and make a counter-offer to ICE.

Read more

Three Important Updates to E-Verify All Employers Should Know
There are three top latest developments that will ultimately (and significantly) affect employers. 1. USCIS is monitoring your E-Verify usage: Part of the enrollment process for E-Verify requires entering into a Memorandum of Understanding with USCIS that includes allowing USCIS to monitor an employer's E-Verify usage. USCIS is indeed monitoring employer E-Verify usage to "detect, deter, and reduce misuse, abuse, and fraud." In the event any misuse, abuse or fraud is detected, USCIS will not issue fines but will refer employers to the appropriate enforcement agencies for further investigation. 2. Heavier burdens directed at employers, including mandatory E-Verify (or some version of it) on immigration reform: The real debate remains how Congress would alter the existing E-Verify program, if at all, or fold the program (as-is) into a mandatory provision of immigration reform. 3. Alternatives to mandatory E-Verify? Opponents of E-Verify, including the American Civil Liberties Union (ACLU) who is concerned about the 1% error rate, questions whether the government should be standing in the way of an (authorized) worker and their new job and proposes the enforcement of labor laws instead.
2012 OCAHO Decisions - Trends Every Employer Should Know
In 2012, the Office of Chief Administrative Hearing Officer (OCAHO) issued 21 decisions. Of the 21 decisions, 11 were substantive decisions concerning alleged violations of the Immigration Reform and Control Act (IRCA), six decisions involved Office of Special Counsel issues and four decisions were procedural. The most obvious trend in the 11 substantive decisions is the level of success that employers had in reducing the amounts of the fines/penalties sought by ICE. In seven of the 11 cases, the issue of the amount of fines was litigated and employers averaged a reduction of approximately 45%. The most common factors in the reduction of the fine were an employer's ability to pay and/or the small size of the company. In addition, employers tended to have success when challenging I-9 fines on legal grounds. One of the surprising observations is how few cases have been litigated before OCAHO in light of the level of success achieved by employers. With the increase in the number of cases from 2010 and 2011, this fact might be changing.
APEC and EU Bodies Discuss Regional Interoperability

The Asia-Pacific Economic Cooperation (APEC) announced that Mexico has become the second formal participant of the APEC Cross Border Privacy Rules (CBPR) System. APEC economic leaders first endorsed the CBPR in November 2011 with the aim to promote region-wide privacy policy compatibility, ensure consumer protection, and lower regulatory compliance costs. Mexico's participation follows the U.S., which was announced as the first formal participant in July 2012. The U.S. has indicated that it is expecting its first application from an organization seeking certification as an APEC CBPR accountability agent. Some believe that a lack of a 'culture of privacy' in countries such as Mexico could slow down implementation of the CBPR system. Paula Bruening, Vice President of Global Policy at the Centre for Information Policy Leadership at Hunton & Williams, says the APEC has made remarkable progress towards making practical implementation of cross border privacy rules in the region a reality. She also noted that the APEC Data Privacy Subgroup also discussed CBPRs for processors.
Citizenship and Immigration Canada Announces Start-up Visa Program
Citizenship, Immigration and Multiculturalism Minister Citizen Jason Kenney (the Immigration Minister) has announced that Citizenship and Immigration Canada (CIC) will launch a Start-Up Visa Program to recruit innovative immigrant entrepreneurs who will create new jobs and spur economic growth. A "start-up" visa program differs from existing investor and entrepreneur options to the extent that the entrepreneur would not need to be the source of investment capital. Such a program would enable entrepreneurs who establish start-up businesses using capital contributed by third parties, such as venture capital firms or angel investors, to seek permanent residence in Canada. Pursuant to agreements signed with CIC, these organizations will recommend which of their members should be designated as eligible to participate in the Start-Up Visa Program, establish expert peer review panels to assist CIC officers in case determinations, and provide assurance that industry standards of due diligence were followed. Foreign entrepreneurs will have to meet certain criteria regarding language proficiency and educational qualifications. The Start-Up Visa Program is a pilot program that will commence on April 1, 2013, and will run for five years.

Read more
China's Evolving Personal Data Privacy Landscape

The first ever national standard on personal data privacy protection has come into force in China. The guidelines, called the Information Security Technology - Guide for Personal Information Protection within Public and Commercial Information Systems (Guidelines), were originally proposed by the nation's telecoms regulator, the Ministry of Industry and Information Technology in 2011 and subsequently released by the Standardization Administration of China. The Guidelines provide guidance on protecting personal information handled in information systems and applies generally to the private sector. While the Guidelines do not have the force of law, the introduction of a general national standard on personal data privacy protection marks a significant move for China. The China Software Evaluation and Test Centre have announced it is forming a self-regulatory group to play a consultative role in future legislation in the personal data privacy arena. Organizations should take active measures now to prepare their data collection, handling and processing/use practices for compliance with the best practice Guidelines.

Read more
European Directives: Born and Bred
The largest economy in the world isn't the United States or China, according to the Central Intelligence Agency World Factbook. It's the European Union. This group of 27 member states has also been at the forefront of employment law trends, addressing topics ranging from conditions of employment and leave laws, to digital data privacy protections. For employers to conduct business in the world's largest economy, HR professionals must know what the region's employment laws are and how they are developed. Most EU employment laws are enacted as directives. Like regulations, directives are binding on the member states and have precedence over domestic laws. Don't make the mistake of thinking they work like U.S. employment laws. Directives don't tell companies how to treat employees, for example. Rather, directives set an objective or policy and then "direct" the governments of member states to take steps to meet that objective. A directive sets a minimum standard or base line, and each EU member state must pass legislation to give effect to that standard or base line. There is a call for deregulation in response to the global economic downturn and the need to increase competitiveness. Given the already comprehensive coverage of EU employment law, such a trend will be welcomed by employers.

Read more (SHRM Membership required to access)
Amended Data Protection Law Enters into Force
The amended Ukrainian Data Protection Law - which came into force December 2012 - introduced new grounds for data processing, removed mandatory registration of employee databases and increased the Data Protection Authority (DPA)'s powers, amongst other things. The grounds for processing personal data without requesting individuals' consent were expanded to include grounds relating to the performance of contractual obligations, protection of individuals' vital interests, and the legitimate interests of data controllers and third parties. Under the amended Law, the Ukrainian DPA was granted more independence and a broader list of powers relating to monitoring, advisory and consulting activities, as well as responsibilities in approving industry codes, called Corporate Code of Conduct. Data controllers can now provide privacy rights notification in any form and the amendment allows free data transfers to the European Economic Area, while transfers to other countries are subject to an adequate level of protection or other specific grounds.

Read more
Dealing With Substance Misuse in the Workplace

Britain's Trade Unions Congress recently estimated that between 3 and 5 percent of all workplace absences in the UK are the result of alcohol use and misuse, while drug screener Concateno estimates that 1 in 30 UK employees have drugs or alcohol in their system while at work. UK employers have responded with an array of drug testing and anti-drug policies. The degree of testing, which can range from urine to blood tests, and the disciplinary approaches taken in the case of a positive result can vary widely between industries, with safety-critical organizations being far more rigorous. Concateno laboratory director Dr. Claire George says that, "the introduction of a balanced policy that includes an Employee Assistance Program providing support and education, as well as drug testing, has been proven to reduce the level of substance misuse in the workplace over time." Employer support is a crucial element of effective policies on drug and alcohol misuse, and covers counseling services, referral to occupational health practitioners and possibly time off for attendance at support groups such as AA. Disciplinary procedures are a last resort and largely reserved for those 'caught' in workplace testing.


Employee Fraud Went Up 40% in 2012

Fraud committed by employees in the UK rocketed by over 40% last year, according to the UK's fraud prevention service, CIFAS. Fraud ranges from deception in the hunt for employment, namely by holding or falsely declaring information such as qualifications or failing to disclose previous convictions. Furthermore, attempts to gain benefit by deception or manipulation while in a job (such as stealing cash from customer accounts or employers) increased by 22%. Beyond the damage done by fraudsters within the organization's walls - namely to the balance sheets, customer confidence and staff morale - CIFAS communications manager Richard Hurley said it can also lead to regulatory and legal punishments to organizations. "Some organizations have invested in better protection and controls - enabling them to identify and prevent more fraud," said Hurley "While these types of fraud are thankfully less commonplace than fraud attempts from outside an organization, the damage that they can cause is as serious, if not more so." Employers can help to prevent fraud by sharing data on confirmed cases in order to prevent such fraudsters from simply moving on to another organization.
ADVERTISERS IN THIS EDITION

| | | | |
| --- | --- | --- | --- |
| | | | Background Screening Jobs |
Visit the Job Board for the Employment and Tenant Screening Industry. Here you will find resumes of people with industry experience and employers seeking applicants with experience in Employment and Tenant Screening and related businesses.
www.backgroundscreeningjobs.com
UPCOMING CONFERENCES, COURSES & EVENTS
Feature Education:
FCRA Basic Certification Webinar Series Update

The FCRA Basic Certification program series is now available for purchase.
2013 Events ( Click Here to View full list of Events ) - Updated Monthly
SHRM State Conferences, visit http://www.shrm.org/Conferences/StateAffilliateConferences/Pages/default.aspx
Drug and Alcohol Testing Industry Association (DATIA), 2013 Training Course Schedule, visit
http://datia.org
SAPAA Training Institute Learning Events, http://www.sapaa.com/
CUPA-HR Conferences: http://www.cupahr.org/
World Federation of People Management Associations, Events, http://www.wfpma.com/events/by-region#quicktabs-tab-view__events__page_3-4