BACKGROUND SCREENING NEWS
Though Not Yet Banned, Requiring Social Media Information Is a Bad Idea
Employers continue to wrestle with the issue of whether to require employees and prospective employees to divulge their social media passwords. Some critics of the practice, including Owen Kerr of George Washington University Law School, have asserted that surrendering a Facebook password is like handing over a key to a home.
So far, few courts have issued decisions that provide any guidance about the legality of seeking social media login information from employees or prospective employees. In Pietrylo v. Hillstone Restaurant Group, 2009 U.S. Dist. LEXIS 88702 (D.N.J. Sept. 25, 2009), a federal trial court case in New Jersey, the plaintiffs were restaurant employees who belonged to a chat group. Access to that group required an invitation and then a member's MySpace account and password. One of the restaurant's managers asked another restaurant employee for her login information for the chat group, which the employee provided. The plaintiffs brought a civil suit against the restaurant, claiming (among other things) that the managers had violated the Stored Communications Act (SCA). The jury found in favor of the plaintiffs and awarded them, collectively, $3,403 in compensatory and punitive damages.
California, Ilinois, Maryland and New Jerseyhave active legislative efforts to regulate employers'collection and use of login information regarding social media sitesand federal law may follow. In the meantime, however, the practice currently is not prohibited. Even so, employers should refrain from doing so.
To read more click here
Prisoner Reentry, Employment, Signaling, and the Better Identification of Desisters

Prisoner reentry remains one of the most critical social problems confronting America, one that brings with it many social and economic costs. The mass incarceration that has occurred in recent decades has resulted in 1.6 million individuals currently in state and federal prisons with approximately 730,000 inmates released annually. More than two thirds will be re-arrested within 3 years of release. The fact that ex-prisoners face challenges upon release, which contribute to these adverse outcomes, creates substantial cause for concern for the well being of these individuals and for the communities to which they return. Policy makers and researchers have responded to the problem through a plethora of new policies and programs and an increasingly large body of research on prisoner re-entry. Successful efforts to promote large-scale improvements in prisoner re-entry require more information about effective programs and policies, but such efforts depend heavily on accurate information about the factors that give rise to the types of successful re-entry experiences that benefit ex-prisoners and, in turn, society.

To read more, click here
Details on FTC Recommendation of Legislation to Address Practices of Information Brokers
On March 26, 2012 the Federal Trade Commission (FTC) issued its report, " Protecting Consumer Privacy in an Era of Rapid Change: Recommendations for Businesses and Policymakers ." In a previous blog post we provided an overview of the report and noted that one of the five "action items" highlighted by the FTC in the report is to focus on the practices of information brokers and "data brokers." Most notably, the FTC calls on Congress to consider enacting targeted legislation to provide greater transparency for, and control over, the practices of information brokers and to allow consumers to access their data maintained by information brokers. The FTC notes in the report that Congress could model any such legislation on H.R. 2221 (the "Data Accountability and Trust Act") , a bill that the House passed during the 111th Congress, as well as similar bills introduced in the 112 th Congress.
To read more click here
Felonbook.Com Gives Criminals A Social Network Of Their Own
Americans with criminal records now have their own online community - felonbook.com. Mr. X (con), the sites' anonymous creator, had the idea for felonbook while serving a federal prison term. He looks "to give personal power back to those with a criminal history" by encouraging users to think about how to better their situation and change "the system." "This is done when an individual member of the community creates a Group, gives details about something he or she would like to change, and then through discussions 'sell' their plan to the Group. Game Changer plans, if approved by the Community can get financial support.
To read more click here
Facebook, Lawmakers Warn Employers Not to Demand Passwords
Facebook and lawmakers have warned employers against requesting Facebook passwords while screening job applicants, a controversial practice that underscores the blurring distinction between personal and professional lives in the era of social media. The practice has reportedly grown more commonplace as companies increasingly regard profiles - or embarrassing photos from wild nights out - as windows into a prospective employee's character. In some cases, job applicants were asked to browse through their Facebook accounts with an interviewer present. Facebook Inc's Chief Privacy Officer, Erin Egan, says the social networking company could "initiate legal action" against employers that demand Facebook passwords. Democratic Sens. Chuck Schumer of New York and Richard Blumenthal of Connecticutare asking Attorney General Eric Holder to investigate whether employers asking for Facebook passwords during job interviews are violating federal law, and lawmakers in several states say they are willing to introduce bills to prohibit this behavior. Opponents also warn employers they may be setting themselves up for legal issues regarding invasion of privacy and discrimination. "Employers have legitimate questions about a person's job performance, but they can get that information the regular way, without cutting corners and violating people's privacy," said Leland Yee, a California state senator.

To read more, click here

Washington State Governor Sign 'Fair Tenant Screening' Bill
Washington State has laws like the landlord - tenant act that address housing discrimination. But some landlords find ways to get around the mandates, until now.
On March 15, 2012 Governor Christine Gregoire signed the 'Fair Tenant Screening Act' which forces landlords to make public details about potential tenants collected in screening reports. The reports could be misleading about an applicants past, such as their income, disability or domestic violence.
To read more click here
Tenant Background Check: Ideas for Property Managers

It is crucial to use a tenant background check to filter rental candidates. Landlords have the right to defend their personal property from undesirable tenants by confirming identification, credit history profile, verifying issuance monitor reports and knowing about previous evictions. However, there is more to tenant background checks than just a criminal record. The best tenant background checks can be attained from a vendor that provides a thorough personal track record of the applicant that consists of all relevant authorized information for the two civil and criminal court docket documents.A criminal information verification can help reassure property managers that their house and property will not be abused, however tenant background screening companies offer these for an additional cost. Make sure you inform all future tenants that they are required to go through a tenant screening process and answer questions about previous landlords.

To read more, click here
Innovative Enterprises Launches FirstAAlert™ Real-Time Criminal Incident Service
Innovative Enterprises, Inc., a strategic partner to the background screening industry and expert provider of court research information products, smart data solutions and ancillary services, today introduced the official release of FirstAAlert™, a unique core service powering an emerging suite of products designed to provide the earliest insight into criminal incident information currently available in the commercial screening market.
FirstAAlert™ utilizes more than 3,000 interfaces with law enforcement agencies across the country to access real-time arrest information, along with tens of millions of historical incarceration and booking records representing nearly three quarters of the jail population. FirstAAlert™ is updated within minutes of booking through an integrated agency, providing the most timely insight into criminal incident information currently available.
"FirstAAlert™ knows about an arrest within minutes," stated Clifford J. Williams, Innovative's Vice President and Chief Operating Officer. "The suite of solutions we are building out around this core service will provide actionable intelligence to our partners in a way that is simply not possible with today's marketplace solutions and will help us to deliver on our mission of building safer workplaces and communities."
The FirstAAlert™ product family is available to qualified entities through Innovative's carefully-selected network of Screening Industry Partners™.
To read more click here
Connotate Acquires Fetch to Meet Enterprises' Growing Demand for Big Data Aggregation
On March 6, 2012 Connotate, Inc., the leading provider of solutions that help organizations monitor and collect data and content from the Web, today announced that it has acquired Fetch Technologies, the leader in making Web data accessible and useful for the enterprise. Combining two leaders in the data aggregation space with a shared vision enables the company to quickly broaden its footprint and meet the growing demand for solutions that monitor and aggregate real-time Web data; delivering any data from any site any time in a structured format."With a common philosophy of leveraging the value of Web data to the modern enterprise and kindred technologies, Connotate and Fetch coming together will strengthen the company's overall market position while creating innovations that customers will love," said Liam Donohue, Co-Founder and Managing Director of .406 Ventures and Connotate Chairman.
"Fetch is very excited to combine our information extraction, integration, and data analytics solution with Connotate's monitoring, collection and analysis solution," said Ryan Mullholland, Fetch's former CEO and now President of Connotate. "Our similar product and business development histories, but differing go-to-market strategies creates an extraordinary opportunity to fast-track the creation of world-class proprietary 'big data' collection and management solutions."
To read more click here
LawLogix Wins Silver Stevie® Award for Customer Service Department of the Year
LawLogix' winning entry was based on a 121% increase in client contacts in 2011, due largely to a growing client base in both its I-9 Compliance and Immigration Case Management product lines. LawLogix attributes this continued growth to its knowledgeable customer support representatives who receive ongoing training in immigration, I-9, and E-Verify topics to better serve and understand client needs. This substantial knowledgebase enables LawLogix to deliver top-notch service and resolve most client issues on the very first call.
"We take great pride in providing our clients with the best, most thorough U.S based customer support out there," said Dan Siciliano, Co-founder of LawLogix. "LawLogix continues to grow in the I-9, E-Verify, and immigration software market through our relentless commitment to hands-on client support. We are honored to be recognized for our commitment to customer service."
To read more click here
Innovative Enterprises Launches AssuredTenant™ Comprehensive Resident Screening Solution
Innovative Enterprises, Inc., a strategic partner to the background screening industry and expert provider of court research information products, smart data solutions and ancillary services, today introduced the official launch of AssuredTenant ™, a comprehensive resident screening solution for property owners and managers serving the multi-family housing market.
" AssuredTenant ™ fulfills my vision of arming screening professionals with a superior resident screening solution that overcomes the limitations of current market offerings," stated William J. Bollinger, Innovative's Executive Vice President. " AssuredTenant ™ is the largest compilation of actionable landlord-tenant records of its kind and will prove to be an invaluable tool for our Screening Industry Partners™ and the property management communities they serve."
AssuredTenant ™ is available to qualified entities through Innovative's carefully-selected network of Screening Industry Partners ™. To locate a partner , please visit http://www.knowthefacts.com .

To read more click here
PRIVACY KNOWLEDGE = BETTER EMPLOYMENT DECISIONS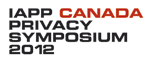 Get the education you need at the IAPP Canada Privacy Symposium 2012
Today, it's crucial for everyone touching personal data to stay on top of developments in privacy, not just the privacy and data protection officers at the organization. And there's no better place to get up-to-date on the Canadian privacy landscape than at the IAPP Canada Privacy Symposium 2012 in Toronto May 9-11, where you'll hear about the use of social media in the workplace, online behavioral advertising, freedom of information in the Canadian public sector, recent legislative activity and how it may impact your organization and much more. Don't miss this opportunity to advance your knowledge and take your practice to the next level at the Symposium. Register now !
FRS Partners with The National Student Clearinghouse, Builds Integrated Solution for Educational Degree Verification

FRS, powered by Imagination Technologies, today announced it has partnered with The National Student Clearinghouse to create an integrated technology platform that streamlines education and degree verification searches for The Clearinghouse's online users. This integrated platform will help The Clearinghouse clients – in need of educational verification for background screening – to continue to access the information they need online, but in a more efficient manner at a reduced overall cost.

To read more click here
Welcome to the U.S. Legal Challenge Question!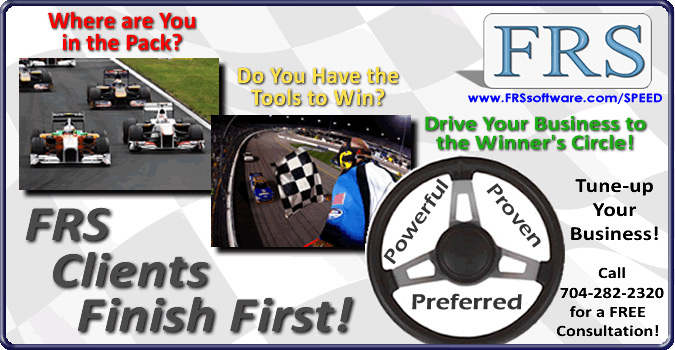 As the background screening industry continues to get more competitive the firms that will ultimately succeed will be those that create competitive advantage through their people by offering continuous learning opportunities to heightened their knowledge and capabilities. We believe that having employees that are very knowledgeable about the legal landscape of background screening is essential to continued success.
We are grateful to Pam Devata, Seyfarth Shaw LLP for providing the expertise for this valuable endeavor. For information regarding the answers to the Legal Challenge Questions, please contact Pamela Devata at Seyfarth Shaw LLP at pdevata@seyfarth.com or 312-460-5000 or visit www.seyfarth.com.
Please choose your answer by clicking on it:
Most 2011 Cyberattacks Were Avoidable

Despite rising concern that cyberattacks are becoming increasingly sophisticated, hackers used relatively simple methods for the vast majority of data breaches in 2011, according to a report compiled by Verizon. In fact, 97% of the data breaches could have been easily avoided using basic protection. Verizon's annual report also found that in 80% of attacks, hackers hit victims of opportunity rather than companies they sought out. The findings suggest that while companies are spending increasing sums of money on sophisticated new security controls, they are also continuing to overlook fundamental security precautions. Very often, the companies breached had no firewalls, had ports open to the Internet or used default or easily guessable passwords. In addition, the report found that 85% of victim companies were mostly in the retail, hospitality and food services industries.

To read more, click here
OCCUPATIONAL FRAUD AND DATA PROTECTION, PRIVACY
New Study Offers Tips to Combat 'Sweethearting'

A first-of-its-kind study on "sweethearting"--a form of employee theft when the employee gives away products or services for free or at a discount--claims traditional mitigation strategies used by loss prevention professionals often don't work. The study's authors approached sweethearting from a marketing perspective, aiming to expose the "dark side" of the practice that hadn't been previously studied. Employee theft and fraud costs U.S. companies $600 billion each year and it is believed sweethearting is responsible for 35% of companies' annual profit losses in the retail sector. Sweethearting differs from the traditional definition of employee theft in that the thieving employee takes all the risks and breaks the law without any direct gain. The indirect benefits come in the form of increased tips, increased social status, and "tit-for-tat" agreements. The study found that without taking the motivations behind sweethearting into account, currently used techniques such as register tracking systems and video surveillance, would not serve as deterrents. Two suggested strategies for combating sweethearting include: making sure employee training includes an ethics component, and pre-employment screening for the following three personality traits: personal ethics, need for social approval and general risk taking.

To read more, click here
ALERT! How to spot a FAKE degree
A recent research has estimated that the fake degree industry is worth over Rs. 12,000 crores worldwide. In case of India, the UGC maintains a list of fake universities, but it does not provide you the list of online fakes. We requested Dr.John Bear, the world renowned authority on online degrees, to explain to our readers how to spot a fake degree grading institution. There is no unanimity on what a degree mill is. No one denies that a 'university' operating from a mailbox service, selling diplomas to anyone, no questions asked, is a mill. But what if there were a requirement of one month of study and a 10-page thesis? Six months of study, 50 pages? Two years of study and 200 pages? Would it be still a fake university?
A survey of dozens of definitions of 'degree mill' found five relevant factors in determining school legitimacy:
What degree-granting authority has it?Amount of work required
Quality of work required
Process for awarding credit for prior learning
Credentials of people who make decisions
Thus a degree mill can be defined as an entity in which:
Degree-granting authority does not come from a generally-accepted government agency;
Procedures for determining the amount and quality work do not meet generally-accepted standards; and
People making these decisions do not have relevant credentials, training, or experience.
To read more click here
Watching the Private Eye: A Bill to Regulate Private Investigators
HB80, a bill regulating the licensing, education and requirements to be a private investigator, has passed out of the House Governmental Affairs Committee and will now go before the full House for approval. The bill will require private investigators in the sate of Alabama to be licensed, tested and approved by a board that the HB80 will create. Presently, Alabama has no laws that oversee, regulate or offer any standard to become a private investigator. Everyone who has a business license to be a private investigator currently will be grandfathered in, but it will only allow those who have had a business license for five consecutive years be considered for the board. There are a few exceptions to the bill such as CPAs that do forensic accounting. Proponents of the bill believe that the sensitive information that private investigators acquire should only be in the hands of licensed professionals.

To read more, click here

Proposed Law Would Expand FBI Background Checks of Private Security Officers
A bill recently introduced in the House of Representatives would allow employers to use authorized third-party screeners to conduct FBI background checks on private security officers when such checks are not available from the employer's state. The bill--H.R. 4112, the Private Security Officer Screening Improvement Act--would amend the Private Security Officer Employment Authorization Act. Jeff Flint, NASCO's executive director, points out the gap in the existing law that requires state agencies to conduct background checks on behalf of employers, but that many states still do not provide. "The [amended law] will dramatically increase availability of FBI criminal background checks for all private security officers," said Flint. "And that will make the public safer."
To read more, click here
Manpower Report Says U.S. Employers Plan to Add Jobs Next Quarter
Manpower announced its second-quarter employment index climbed to 10 percent, the highest level since late 2008, from 9 percent in the previous three months on a seasonally adjusted basis. That marked a second consecutive gain. An improving job market puts Americans in a better position to increase spending, which accounts for about 70 percent of the economy. At the same time, rising gas prices are weighing on household budgets and may lead to fewer purchases of non- essential items in coming months. "Positive hiring intentions tell us that employers are seeing increased demand for their products and services, and that is good news for the labor market," Jonas Prising, president of the Americas for Milwaukee-based Manpower, said in a statement. "Although we are not out of the woods yet, our data shows that this hiring progression is increasingly solid."
Manpower interviewed more than 18,000 employers in the U.S. The survey is conducted quarterly, and the margin of error for U.S. data is plus or minus 0.6 percent.
To read more click here
States Hardest Hit by Housing Collapse Lead U.S. Jobs Recovery
Arizona, California, Florida and Nevada -- the states that were most hurt in the real estate collapse over the past five years -- are now leading the U.S. labor market expansion. The four states added 222,100 jobs from August through December, accounting for 28 percent of the increase in U.S. employment in that period, according to Labor Department figures. Their outperformance may continue, say economists at Moody's Analytics Inc. and IHS Global Insight.
To read more click here
STOP STRUGGLING WITH WRITING AND PUBLISHING YOUR NEWSLETTER:
We can help you have a high quality e-newsletter to help nurture your relationship with your clients and attract new clients. Our customized newsletter service will take over your newsletter task or create a new one for you. We can manage the creation of your newsletter for you.
We are constantly researching information to use for The Background Buzz and you can put our research to use for you. Using the information rich content from The Background Buzz (minus the ads and competitors information) we will create a custom newsletter for you.
Use your staff's time to do more valuable work and save all the hassle of researching or writing articles, formatting and managing all the other ezine tasks with our customized ezine process.
Contact Barry Nixon at 949-770-5264 or at wbnixon@aol.com for more information.
Sponsored by:
Public Record Update
by Mike Sankey
Pending New Jersey Bill Will Increase Many Court Fees

NJ Bill A763 was passed by the NJ State Assembly and now is making its way to the State Senate. In general, the bill contains fee increases that include (but are not limited to) the fee to file motions (papers) in the courts; the recording of judgments or orders in the Special Civil Part; the fee to affix a seal, or certify a copy or for an exemplification; and the fee to file a lien. The bill also authorizes the Judiciary to fund a statewide digital e-court information system which would include public access to digital court records. Indication from the bill's primary sponsor is the Senate and the Governor both favor the bill's current language. If and when signed, the new law would take affect July 1, 2012.For more information, visit the state's legislative site at www.njleg.state.nj.us/ and search for bill number A763.
San Luis Obispo County, CA
San Luis Obispo County, CA
Per PRRN Member Judith Smith, the Executive Director of the San Luis Obispo Superior Court - Ms. Susan Matherly - has simply had enough. Ms. Matherly has had it with all the public record search firms hired by employers to check criminal records of local residents that apply for jobs. On March 14th she announced at a local Bar Association luncheon that she was shutting down the public access terminal to background screening firms. And on Monday March 19th she did it. The IT staff removed the public access computer and put it in a locked room to be accessible only by attorneys and their investigators.
To better understand Ms. Matherly's logic, consider the following summarized statements she also made at the March 14th luncheon, as reported by Ms. Smith:
Public access information was never intended for background screeners. Background screening companies just make people not get hired.
Employers shouldn't be using background screening companies, but rather should be using the DOJ/LiveScan [the FBI].
There are penal codes stating that the type of research that background screening researchers are doing is illegal. [But she refused to mention what these laws are.]
Background screening companies and researchers are not trained to know what they are doing.
There is no identifying information in the computer to know if a researcher has indentified the correct person. [Note: The terminal does display a full name and the DOB.]
At present according to Judith Smith, MsMatherly has instructed the Superior Court Clerks to do the following:
Only attorneys and their investigators now have access to the locked room where the public access computer with access to the public records now resides.
Clerks are not allowed to provide dockets to anyone except to the defendant or their attorney of record.
Record searchers may only provide clerks with 10 names a day.
Clerks may only provide very limited information (for free) if there is only one recent case. Only data provided are the case #, violation and disposition date, the charge and disposition for convictions. If a charge was dismissed the clerk will not inform the requester. Also, no information is provided on sentencing or parole violations. However, the researcher can obtain this information for a $15.00 fee.
If a subject name has more than one case, the clerks will only provide the case numbers. The researchers then must order each file to review for a $15.00 fee per case.
For those interested:
Judith Smith can be reached at Judie@jhsmithconsulting.com.The presiding judge and Ms. Matherly's supervisor is Judge Barry LaBarbera.
Ms. Matherly can be reached at:
Ms. Susan Matherly
Executive Director, Superior Court
1050 Monterey Street
San Luis Obispo, CA 93408
susan.matherly@slo.courts.ca.gov
805-781-5421
Florida Aims to be First to Test Public Workers
A new extension of Florida's drug-testing law now allows agency heads to randomly test public workers for illegal drugs, prescription drugs, and alcohol, but it exempts the governor and state legislators. This is a first-in-the-nation move that lawmakers from other states may copy, even as labor unions, civil libertarians, and small-government advocates rail against it.Florida already tests welfare recipients for drug and alcohol abuse. Under the law, agency heads are allowed (but not required) to randomly test up to 10 percent of their workforce every three months. Supporters say the measure is intended to give workers who have drug problems a way to get clean, while at the same time protecting the broader citizenry from impaired public servants.No state yet requires those collecting unemployment to undergo drug testing, but Arizona, Oklahoma,Georgia, and Utah are among those considering it. The US Department of Labor now allows states to require drugs tests for unemployment recipients whose job search is confined to industries that already require drug testing, such as aviation.

To read more, click here
Drug Rules for Commercial Motor Vehicle Drivers Updated
The Federal Motor Carrier Safety Administration ("FMCSA") has published another final rule, which is now in effect. This rule addresses the drug use of commercial motor vehicles drivers, and the FMCSA aims to eliminate inconsistencies in at least three areas. First, the final rule amends the physical qualifications for commercial motor vehicle ("CMV") drivers to clarify that drivers may not, under any circumstances, use Schedule I drugs (drugs and substances on the DEA's controlled substance schedules) and be qualified to drive a CMV. Secondly, the FMCSA have replaced the term "actual knowledge" throughout certain sections with the word "knowledge," clarifying that the relevant prohibitions refer to the knowledge of test results, not employer observation of prohibited conduct. Lastly, the final rule makes their regulation consistent with DOT-wide drug and alcohol testing rules by including pre-employment and return-to-duty testing as additional prohibitions to drivers refusing to submit to post-accident, random, reasonable suspicion, or follow-up drug or alcohol tests.

To read more, click here
Consistent Application of Zero Tolerance Drug Policy Trumps Wrongful Termination Claim

In Martin, et al. v. Quick Chek Corporation, et al., the New Jersey Appellate Division affirmed a trial court decision and held that Quick Chek's consistent application of its zero tolerance drug policy constituted a legitimate, non-discriminatory basis for its decision to terminate Erik W. Martin's employment. The plaintiff, who suffers from Parkinson's disease, filed suit alleging wrongful termination and disability discrimination when he was fired for failing a drug test. At the time of the drug test, Martin had been taking a non-prescription medication for a back injury he had sustained at work, unrelated to his disease. The court found that Quick Chek terminated Martin's employment pursuant to an extremely strict drug test, and that Martin failed to demonstrate that Quick Chek's stated reason for the termination (i.e. Martin's failed drug test) was a pretext for discrimination. This decision demonstrates not only the importance of having employment policies, such as drug abuse policies, but also the importance of administering the policies in a consistent manner.
To read more, click here
NAPBS ANNUAL CONFERENCE SESSION
The Canadian Privacy Landscape Is Different!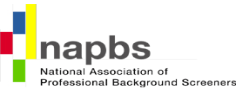 Canadian privacy laws are markedly different than those in the United States. Unlike the United States, Canada has comprehensive privacy laws that cover all aspects of personal information handling including both the public and private sector. An important point to understanding is that Canadian laws are based on 10 privacy principles. These include: being accountable, identifying the purpose for the collection, collecting only that which is necessary, obtaining consent, limiting use and disclosure, safeguarding the information, keeping the information only for as long as necessary, begin open and transparent about what you do with the information, and providing a mechanism for people to challenge your information handling practices.
Lastly, Canadian laws are enforced by Privacy Commissioners who have powerful rights of investigation. Some argue that their enforcement sanctions are not as severe as in some European countries, but there is a movement afoot in Canada to add monetary fines for non-compliance. And, just because an organization may be located outside of Canada does not mean that they don't have to comply. The Federal Court of Canada has already ruled that Canadian privacy laws extend beyond the borders and must be followed by any organization dealing with the personal information of Canadians.
To read more click here and also attend the Canadian Privacy and Data Protection Session at the NAPBS Conference
Workplace Homicides Still a Threat
On a Friday morning in January, a man walked into the McBride Lumber Co. warehouse in Star, N.C., and, armed with a 12-gauge shotgun, began firing away, killing three people and seriously wounding another before fleeing the scene and then shooting himself. The local sheriff's department says the shooter was an employee at the lumber warehouse and had -- prior to the shooting -- written a six-page letter in which he expressed rage at his Hispanic co-workers, whom he felt were making fun of him.
It was one more episode in what has seemed like an endless cycle of workplace shootings over the years. And yet, according to Violence in the Workplace, a recent analysis of Bureau of Labor Statistics data by the National Council on Compensation Insurance , work-related homicides and injuries due to workplace assaults are down dramatically from their levels in the mid-1990s.
Homicides still account for 11 percent of workplace fatalities, according to the NCCI, with men accounting for a disproportionate share of the victims: 85 percent of workplace homicide victims in 2009 were men, even though they account for just 53 percent of the employed population. "The people most likely to be victims of workplace homicides are those who are out in front, working late hours, dealing directly with the public" says Plansky, who previously served as deputy criminal justice coordinator for the mayor of New York and an assistant district attorney with the Manhattan DA's office.
To read more click here


One Site! Many Suppliers!
Looking for the Top Suppliers in the Industry? Need to find a new Supplier?
Visit our VENDOR SHOWCASE which features suppliers to the Background Screening Industry.
Winter 2012 Directory of Suppliers to the Background Screening Guide Coming Soon!
Click here to see the Winter Edition of the Supplers Guide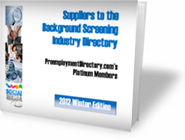 Bad Hires Are Expensive
41% of companies that made a bad hire last year (2011) estimate that it cost the organization more than $25,000.00 while 25% say a bad hire cost their company more than $50.000.00 according to a survey of 2,696 employers.
Source: CareerBuilders, Chicago
E-Verify Map Created by Legal Experts and Updated Regularly
E-Verify is Required For:

All or Most Employers
Public Employers and/or Contractors
Public Employers Only
Contractors Only
Employers through local or municipal requirement only
Pending Legal Decision
Requirement Rescinded or Expired
Get a Detailed Reference Chart With All50 State's E-Verify Requirements
Map reproduced with permission of LawLogix
During the past few years, LawLogix has chronicled the ever-changing E-Verify landscape on our interactive E-Verify Map that is completely free for the public to view. It contains information on effective dates, the employers that are impacted, penalties and direct links to the legislation. Our map is heavily copied, manipulated, and referenced, which makes it the most popular E-Verify legislation map currently available online. However, because E-Verify legislation (and court rulings and injunctions that significantly impact legislation) changes from month to month, it's critical that employers obtain this information directly from its original source.
LawLogix's map and accompanying state legislation analysis is and always has been copyrighted. You might have seen one version or another of our actual map and/or the legislation details on another website. If it doesn't contain the appropriate attribution to LawLogix, then the map wasn't authorized by us, and is most likely in violation of federal copyright laws and/or the Digital Millennium Copyright Act. We've always allowed our map/legislation details to be reprinted with permission. ( Click here to obtain permission .)
Because our map is frequently updated, we provide, as an added benefit to our authorized users, a chance to be automatically notified when our map and legislation is updated
To read more click here

Two Companies Ordered to Pay Penalties for Missing I-9s

The Office of the Chief Administrative Hearing Officer (OCAHO) recently published two precedent decisions where companies(Castles Daycare and Pegasus Restaurant) were ordered to pay penalties for missing I-9s. Immigration and Customs Enforcement (ICE) treats missing I-9s as the most serious of paperwork violations, and the court will adjust the fine only in cases where it's out of proportion to the company's resources. In other words, big companies beware! Both of the companies were unable to escape liability for missing I-9s because of the substantive nature of the errors, but each had their initial fines adjusted and substantially reduced based on the fact that they are small businesses. Typically, ICE will aggressively pursue the highest fine amount based on its own internal guidelines - the higher percentage of violations, the higher the fine. However, ICE's penalties are intended to deter future violations without putting a company out of business.
To read more, click here
Üdvözlöm (welcome) to the
International Legal Challenge Question!
Most industries and firms now compete in a global marketplace which is continuing to increase the need for background checks for new hires that will reside in another country or that are being hired from another country. Commensurate with this growth in background checks is the need to understand the myriad of data protection, privacy, human rights and local laws that govern the practice of conducting background checks. To help background screening firms around the world to further enhance their knowledge we have launched this International Legal Challenge.
We are grateful to Brian Arbetter a Partner with the global law firm of Baker & McKenzie LLP for providing the question and answer to the questions in the International Legal Challenge. Brian is based out of the Firm's Chicago and San Diego offices. His practice focuses on international law issues, with particular emphasis on labor and employment, as well as workplace privacy. For information regarding the answers to the International Legal Challenge questions, please contact Brian at brian.arbetter@bakermckenzie.com.
Please Choose One of the Following Answer in Response to the Question
For information on sponsoring The International Legal Challenge Question please Click Here
Criminal Checks For Volunteers
More than 1.3 million volunteers in junior sport and community groups involving children will be forced to undergo criminal history checks to weed out potential abusers and molesters. At the same time, job seekers who want to work with children will, for the first time, have to pay for their own background test before applying for a job.
Under the changes for volunteers, police records in every state and territory will be examined to check if they have convictions for sex or violence offences against children. The tougher NSW child protection laws, to go before Parliament later this year, will require volunteers, including sports coaches and administrators, to apply for a serial ''clearance'' number to show they are fit to work with children. That number will need to be provided every time the volunteer signs on to work with them.
If a person moves jobs, then they must undergo the screening procedure again.
To read more click here
Tread Carefully When Checking Civil Litigation History
Checking publicly available civil litigation information may ensure organizations safeguard themselves against hiring people found negligent or liable by a civil court, but involves a host of limitations and risks. Court record checks are in their infancy and databases only list more high-profile cases, writs, summons, things such as credit defaults, and cases not marked as private. As is the case with criminal history screening, an employee's full background must be considered in the context of the essential requirements of a role, and any findings should be discussed with the candidate in question to determine if it is relevant at all to the decision-making process. As an alternative effective measure, global media searches, which span country and language barriers, can be useful in providing articles related to any litigation and are usually easier to understand and more focused than a civil litigation search.

To read more, click here
The Canadian Privacy Landscape Is Different!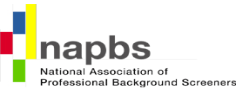 Canadian privacy laws are markedly different than those in the United States. Unlike the United States, Canada has comprehensive privacy laws that cover all aspects of personal information handling including both the public and private sector. An important point to understanding is that Canadian laws are based on 10 privacy principles. These include: being accountable, identifying the purpose for the collection, collecting only that which is necessary, obtaining consent, limiting use and disclosure, safeguarding the information, keeping the information only for as long as necessary, begin open and transparent about what you do with the information, and providing a mechanism for people to challenge your information handling practices.
Lastly, Canadian laws are enforced by Privacy Commissioners who have powerful rights of investigation. Some argue that their enforcement sanctions are not as severe as in some European countries, but there is a movement afoot in Canada to add monetary fines for non-compliance. And, just because an organization may be located outside of Canada does not mean that they don't have to comply. The Federal Court of Canada has already ruled that Canadian privacy laws extend beyond the borders and must be followed by any organization dealing with the personal information of Canadians.
To read more click here and also attend the Canadian Privacy and Data Protection Session at the NAPBS Conference
33 Diploma Mill Suspects Nabbed In Beijing

BEIJING police have arrested 33 suspects for allegedly selling fake diplomas and degree certificates and swindling 7.97 million yuan (US$ 1.23 million) out of 339 people, including nearly 200 senior company executives.

To read more click here
China's New Privacy Regulations Go Into Effect
The Ministry of Industry and Information Technology of the People's Republic of China's new privacy regulations entitled, Several Provisions on Regulation of the Order of Internet Information Service Market, have now gone into effect. The new regulation defines the personal information protection requirements applicable to Internet Information Service Providers ("IISPs"). It is the first national level of regulation that provides a definition of "user personal information" and that contains specific obligations and liabilities of IISPs to protect user personal information. Consistent with data protection regimes currently in place elsewhere in the world, IISPs will be required to provide much stronger protection for the personal data they collect from users in China, and will be subject to notice and consent requirements, collection limitations and use limitations.
To read more, click here
The Labor Market Bites Chinese Factories
At a time when China's wages and benefits are increasing, employers still face a labor shortage -- and their potential responses to it may have big implications for China and the rest of the world. In the past, there was an abundant supply of workers willing to work, and therefore employers did not have to pay much or treat employees especially well. However, employers are now the ones getting burned and arecomplaining about a labor shortage because they can't find workers at the wages they have been paying. On the upside, some employers have begun wondering whether there is a different way to manage labor; developing longer-term relationships with employees, for example. There may also be a new pool of potential workers coming in as China breaks the news that large numbers of new college grads are now earning less than most factory workers. This is shocking in a country that reveres education and expects college graduates to earn way more than low-status factory workers.

To read more, click here
Proposed EU Data Protection Bad for Business, Says CBI

The proposed data protection framework for Europe will restrict and burden businesses and threaten innovation, says the Confederation of British Industry (CBI).Compliance will place a cost burden on businesses, which could deter investment and be passed on to consumers. The CBI is calling on the European Commission (EC) to revise its proposals, in favor of a proportionate, risk-based approach to the scope of data protection regulation that balances the benefits with the costs of changes, the data protection rights of individuals with the needs of customers and businesses, and their impact on innovative business models."Since innovation is a key driver of economic growth, it's vital that governments here and in Europe support cutting-edge businesses to continue to innovate, before they get left behind by the rest of the world," said Matthew Fell, CBI director for competitive markets. Firms from across the commercial spectrum will also be affected by the proposed changes as better quality data increasingly drives improvements to business operations and services.

To read more, click here
Increased Data Protection Risks
The ICO has stepped up its enforcement of data breaches by businesses and organizations as well as individual staff members, and have begun issuing monetary penalty notices. So far the fines have totaled over £1m ($1.6 million dollars) across 13 cases and they appear to be on the rise. The fines either relate to unencrypted laptops or paper records being lost or stolen, or unlawful disclosures of personal information to the wrong recipients. In the vast majority of cases, the incidents are due to human error and are avoidable. One of the most noticeable changes over the last year has been the increase in individual criminal prosecutions for unlawfully obtaining personal data. Undertakings from data controllers and ICO audits are other enforcement actions that have increased. Organizations receiving personal data from unauthorized sources need to exercise extreme caution: if there is no audit trail to justify lawful obtaining of the personal data, the business will be placed at risk if it receives it and uses it.

To read more, click here
Hungary Files Further Amendments to Meet EU Conditions for IMF Aid Talks
Hungary's government filed further amendments to laws criticized by the European Commission that have blocked the start of talks on a European Union and International Monetary Fund loan. The latest changes narrow the prime minister's room to fire the independent data-protection commissioner, according to the amendment posted on Parliament's website yesterday. It doesn't address a second EU objection about the termination of the previous commissioner's mandate before it expired. The amendments aim to "strengthen the independence" of the data-protection agency "in line with the European Commission's concerns," according to the document.
The European Commission this week took a formal step toward seeking a court order to require Hungary to redraft laws on the judiciary and data-protection agency and asked for more information on planned changes to a new central bank law.
To read more click here
Indian Call Centres Accused of Selling Britons' Personal Data
Employees from Indian call centres are selling Britons' confidential personal data, including credit card information, medical and financial records to criminals and marketing firms for as little as two pence, an undercover investigation has discovered. Two 'consultants', claiming to be IT workers at several call centres boasted of possessing 45 different sets of personal information on nearly 500,000 Britons. The information, much of which is related to customers at major financial companies, including HSBC, Barclays, Halifax, Lloyds TSB and NatWest, would allow criminals to syphon thousands of pounds from bank accounts within minutes.
Indian authorities said their efforts to combat corruption have been thrwarted by the unwillingness of companies, keen to avoid negative publicity, reporting data losses.
To read more click here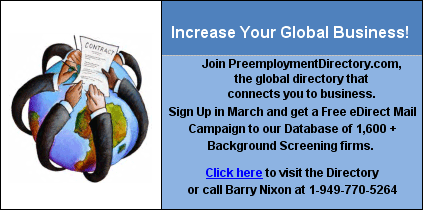 India's State to Regulate Private Detective Agencies
The state government will soon regulate private detective agencies that have mushroomed across Mumbai and the rest of Maharashtra. Home minister RR Patil told the legislative assembly on Tuesday that the state government would soon make a legal provision to make registration of detective agencies mandatory. He also assured criminal action against the heads of cell phone service providers if their company employees were found to have helped detective agencies with call records. "This law will fix responsibility and also decide the nature of investigation or detective work that these agencies can undertake," he said.
To read more click here
Police Bust Another Fake Degree Group
A day after unearthing a nine-member gang involved in making fake educational and other documents, UT Police SIT busted a four-member gang also involved in supplying fake degrees. The four-member gang, had been operating from two offices- a sub office in Sector 35 and a main office being run under the name of Sai Service Education in Zirakpur. The Gang focused on providing fake degrees for universities located in central and east India.
UT Police added that the scam needed a deeper probe as most of the degrees were not caught in verification which pointed towards them being authenticated at a later date. Police have also found out through middle men in Delhi, that degrees in two universities were being authenticated. Police have identified 18 persons who bought degrees from the gang.
To read more click here
Privacy laws to be overhauled

Justice Minister Judith Collins today announced the Government would repeal and re-enact the Privacy Act 1993 following a Law Commission report released last year, which made more than 100 recommendations. "Our current privacy law has been in place for almost 20 years and predates the creation of the internet," Collins said. "Huge changes to technology and information flows have occurred during that time and they have overtaken our privacy laws." "The foundations of the Act are sound, but it needs to be updated to reflect our changing attitudes and the way people, business and government use information in the 21st century."
"Privacy is as important to people as it's ever been. But the Act doesn't always give people the protection they expect and need, particularly in the context of modern technology."
To read more click here
Senate Approves Data Privacy Act on 3rd Reading
The Senate has passed the Data Privacy Act. The bill is based on European Directive 95/46/EC and requires certain data security standards in addition to provisions on the handling of data by business process outsourcers (BPOs). It mandates public and private entities to protect and preserve the integrity, security and confidentiality of personal data collected in its operations and emphasizes the importance of complying with international data security standards.The bill's author, Sen. Edgardo Angara, feels it will help spur investment in the Philippines BPO and IT sectors. Under the Act, a National Privacy Commission will be established to implement and enforce the regulations of the bill. "By establishing such a policy framework, we actually protect Internet freedoms while making sure the Web remains safe,"Angara said. "In this way, we reduce the risk for true harm to be inflicted and heighten the opportunity for our digital space to be a truly productive and collaborative venue."

To read more, click here
Ministry of Information, Communications and Arts Issues Paper on Personal Data Protection Bill
The Ministry of Information, Communications and the Arts (MICA) has issued a consultation paper on Singapore's Personal Data Protection Bill. The Data Protection Bill concerns the regulation of the collection, use, disclosure, transfer and security of personal data. The proposed introduction of a DP regime in Singapore seeks to create a balance between the need to protect individuals' personal data against organisations' need to obtain and process such data for legitimate and reasonable purposes. It seeks to protect the interests of consumers and deliver economic benefits for Singapore. The proposed Data Protection regime seeks to safeguard individuals' personal data against misuse, at a time when such data has become increasingly valuable for businesses and more easily collected and processed with information technology. The legislation will also provide for a Commission, referred to in this paper as the Data Protection Commission ("DPC"), to be set up to oversee compliance with the new Data Protection law and to undertake DP education and awareness efforts. It is believed that this legislation will strengthen and entrench Singapore's position as a trusted hub for businesses, a key national economic strategy for Singapore. MICA will accept written comments on the paper until 30 April.

To read more click here
Spanish Supreme Court Annuls Limitation on Processing of Personal Data
It was reported in November, the Court of Justice of the European Union ("CJEU") declared that Spain's refusal to permit the "legitimate interest" justification for the processing of personal data -- instead, requiring data subjects' consent as the way of carrying out the majority of the data processing in Spain -- violated section 7.f of the European Data Protection Directive 95/46/EC. The Spanish Supreme Court has now incorporated the CJEU's ruling into Spanish law. The Spanish Supreme Court also annulled article 10.2(b) of the Royal Decree developing the Spanish Data Protection Law ("DPL"). This modification will have significant consequences for the ways in which companies process personal data in Spain since, until today, the Spanish data protection framework was organized around obtaining data subject consent.
To read more, click here
Voluntary Sector Wants Free CRB Checks

Oxfordshire Community and Voluntary Action (OCVA) says the new Criminal Record Bureau (CRB) system should be free, to ease the burden on the voluntary sector. Changes will come into place in 2013, which will mean checks can be made online. The new system will also mean volunteers will not have to take a different background check for every volunteer role they take up. OCVA has written to local MPs about its concerns over additional administration fees for the new system and have added their support to Volunteering England's campaign for entirely free checks for volunteers. "Additional costs like these will take away from the fantastic work the sector does in caring for the most marginalized in society and providing vital services for our communities," said Lindsay Watts, manager of OCVA's volunteer centre.

To read more, click here

INTERNATIONAL: PROFESSIONAL WORKSHOPS AND ASSOCATION CONFERENCES
World Information Center:
Bookmark the World Information Center for easy use whenever you need information

ADVERTISERS IN THIS EDITION

| | | | |
| --- | --- | --- | --- |
| | | | Background Screening Jobs |
Visit the Job Board for the Employment and Tenant Screening Industry. Here you will find resumes of people with industry experience and employers seeking applicants with experience in Employment and Tenant Screening and related businesses.
www.backgroundscreeningjobs.com
UPCOMING CONFERENCES, COURSES & EVENTS
The Good, the Bad, and the Ugly of Electronic I-9 Implementations: Lessons Learned From Corporate America
Curious to hear the stories of other companies who have moved to an Electronic I-9 system? Wondering which factors are most important when considering to go Electronic? Don't knowhow to break up with your existing vendor? Uncover real-life case studies from your peers and take an honest look at the realities behind implementing and using an Electronic I-9 solution.
Date: Thursday, April 5 at 11:30am EST

When: Thur., April 5, 2012, 11:30 - 12:30 am EST

Panelists: John Euler, General Counsel and Compliance Manager, Southern Company
Kelly Zwyer, HR Manager, ConAgra Foods
Steve Collier, Director of Human Resources, BWI Companies, Inc.
John Fay, General Counsel and VP of Product Dev., LawLogix Group Inc.

2012 Events ( Click Here to View full list of 2012 Events ) - Updated Monthly
SHRM State Conferences, visit http://www.shrm.org/Conferences/StateAffilliateConferences/Pages/default.aspx
Drug and Alcohol Testing Industry Association (DATIA), 2011 Training Course Schedule, visit
http://datia.org
SAPAA Training Institute Learning Events, http://www.sapaa.com/
CUPA-HR Conferences: http://www.cupahr.org/
World Federation of People Management Associations, Events, http://www.wfpma.com/events/by-region#quicktabs-tab-view__events__page_3-4