BACKGROUND SCREENING NEWS
Workforce Magazine Releases 2012 Background Screening 'Hot List'

Based on the number of individuals screened in the most recent 12 months the top ranked background screening firms were:
| | |
| --- | --- |
| 1. Lexis Nexis | 5. Accurate Background |
| 2. HireRight | 6. HR Plus |
| 3. Sterling | 7. ADP |
| 4. Intellicorp Records | 8. Employment Background Investigations |
To see the full 'Hot List' click here (You may be required to register with Workforce to access the full list)
Human Resources Outsourcing Industry Insight
HighBankreleases their first quarter Human Resources Outsourcing ("HRO") Industry Insight. We anticipate increased utilization of SaaS and cloud based HRO services. Additionally, we believe M&A activity will accelerate in 2012 and 2013 as large, multinational HRO providers continue to build scale, expand their geographic capabilities and enhance product depth. The report also contains our recently issued views on the global economy and its anticipated impact on the HRO industry.
For a full copy of Human Resources Outsourcing Industry Insight - Q1 2012 Click Here
Obama Targets Diploma Mills That Market To Vets

The Obama administration wants to trademark the term "GI Bill" in an effort to shield veterans and military families being swindled or misled by schools that target their federal education benefits. President Barack Obama signed a wide-ranging order that partially addresses growing complaints about fraudulent marketing and recruiting practices aimed at military families eligible for federal education loans under the GI Bill. The executive order mandates several new education protections for military service members. There is little the federal government can do to shut down diploma mills, but the new protections would make it harder for post-secondary and technical schools to misrepresent themselves to military students. Obama's order will also set a new gauge that potential students can use to calculate how much a school will really cost in tuition and fees called "Know Before You Owe" system.
The main target of the White House action is for-profit colleges and universities that market heavily to military families because of the easy availability of federal loan money under the GI Bill. Federal money, most of it through the financial aid students receive, accounts for up to 90 percent of for-profit colleges' revenue -- even more if veterans attend the school on the GI Bill. Some post-secondary schools target current and former military service members using deceptive military-themed websites that appear to be government-run or connected to the GI Bill benefit system, administration officials said.
To read more click here
The Old L-1 Morphs into MorphoTrust

L-1 Identity Solutions, acquired last year by international conglomerate Safran, has been reorganized and reintroduced as U.S.-focused MorphoTrust.MorphoTrust CEO Bob Eckel, said the company expects to have $400 million in revenue this year and has more than 1,100 employees.Since the Safran deal was finalized last August, Eckel has been busy with a major reorganization.While the capabilities of MorphoTrustare essentially the same as L-1, MorphoTrusthas now integrated functionsacross the company. In addition, MorphoTrust is comprised of three business units that provide solutions to customers: Services, ID Solutions, and Enterprise Solutions.MorphoTrust "focuses on identity management, credentialing, service centers, biometric and enterprise solutions," Eckel said. The service centers provide a range of identity-related services for state and federal agencies and commercial entities as well. Those services include fingerprinting and background checks, passport photos, and child ID kits.

To read more, click here
5 Takeaways From The EEOC's New Guidance On Use Of Criminal Records
The U.S. Equal Employment Opportunity Commission (EEOC) has revised its long-standing guidance to employers on how to properly evaluate job applicants' criminal histories in pre-employment screening. The revised guidelines provide more clarification and detail on the standards that have existed since 1987. They also make recommendations on how employers can avoid EEOC scrutiny when they're considering job seekers with previous arrests and convictions.
You can read a full press release on the updated Enforcement Guidance here. The press release includes a link to questions and answers about the EEOC's Enforcement Guidance.
To read a summary of the most important points click here
BACKGROUND SCREENING NEWS (continued)
81% of IT Professionals Believe Thorough Screening Processes Improve Chances for a Great Candidate / Employer Match
TEKsystems®, a leading provider of IT staffing solutions, IT talent management expertise and IT services, report from its quarterly IT Professional Perspectives Survey (ITPPS)thatorganizations need to have a comprehensive screening process. In fact, 81% of IT professionals agree that the more thorough the process, the greater the chance the candidate and employer will be a quality match. In addition, four out of 10 IT professionals say it is common for IT professionals to get positions for which they are unqualified. The ITPPS also revealed that only 50% of staffing firms perform face-to-face interviews prior to submitting candidates to employers, even though 94% agree this is the best way to qualify candidates.
"Making a great match between talent and opportunity doesn't just happen. To make successful placements, organizations must perform two critical tasks: validate the candidates' qualifications for the job and allow the candidate to confirm the job's employee value proposition is right for them," said TEKsystems Director, Rachel Russell. "These tasks take time and dedication -- but it's a cost that's worthwhile considering that a quarter of employers say the average cost of a poor hire is estimated to be more than $50,000."
To read more, click here
$10M Verdict for Family of Woman Slain by Neighbor in Edgewater Apartment
A Cook County jury has awarded a $10 million verdict to a family whose 21-year-old daughter was killed by another tenant. The victim, Melissa Dorner, was raped, beat and strangled to death by her neighbor Roberto Ramirez in January 2005. The jury assessed 90 percent liability to Ramirez and 10 percent to the management company of the property, Wilmette Real Estate and Management Co., for not following its own policies and procedures in screening prospective tenants. Ramirez gave a false social security number on his rental application, which should have ruled him out as a renter.Attorneys for the family argued Ramirez assaulted another woman in the building just two months before the slaying and though the on-site manager was alerted, there was never any follow up. Ramirez fled to Mexico but authorities extradited him, and he later pleaded guilty. The family is happy the management company's name is now public, and theyhope that the case highlights the need for renters to be very careful in choosing an apartment.
To read more, click here
Tenant Screening: A Comprehensive Background Check to Avoid Bad Tenants
Conducting a background check on a prospect tenant should be a standard operating procedure for landlords. Sometimes a tenant's background check may simply consist of verifying employment status, checking with previous landlords, and managing a credit check. Rental applications alone go a long way in helping to check basic facts such as the names of employers and previous landlords and whether the tenant is a smoker. Landlords mustget permission to talk with employers or prior landlords and they must have written permission to access a person's personal credit profile. Frequently, perspective tenants have to pay the fee to confirm credit, so they're automatically aware that credit rating is a potential consideration.There are also many tenant referencing online tools on the market that help landlords and agents get rid of the risk of both the commercial and residential leasing processes. Online software acquires information including: bankruptcies, unresolved cases, payment records, repossessions, etc.

To read more, click here
CONGRATULATIONS to our Platinum Members named to Workforce's 2012 'Hot List'
| | |
| --- | --- |
| - Accurate Background | - HR Plus |
| - Corporate Screening Services | - Infomart |
| - EmployeeScreenIQ | - LexisNexis Screening Solutions |
| - Employment Background Investigations | - Sterling Infosystems |
| - HireRight | - Talentwise Solutions |
TalentWise and Bullhorn Expand Partnership to Include Employment Eligibility Verification
TalentWise, a leading Hiring Process Management (HPM) solutions provider, and Bullhorn®, the global leader in online staffing and recruiting software, are expanding their integration partnership to allow Bullhorn customers to manage all employment eligibility verifications directly within the Bullhorn platform. With the newly expanded integration, Bullhorn customers can benefit from an entirely electronic Form I-9 process, including employment eligibility verification through a real-time integration with the Department of Homeland Security's E-Verify system. All records, including the electronically signed I-9, images of supporting documents, and a comprehensive audit trail are stored securely for easy access and audit.
"Navigating state and federal employment laws is a daunting task, and the stakes are high. TalentWise is committed to bringing products and services that help our customers remain compliant," said Todd Owens, COO of TalentWise. "Our intuitive, integrated solution allows Bullhorn customers to hire more efficiently and cost-effectively, while eliminating the potential for human error."

To read more, click here


Innovative Enterprises Announces Major Expansionof the Infinity Screening™ Solution Set
Innovative Enterprises, Inc., a strategic partner to the background screening industry and expert provider of court research information products, smart data solutions and ancillary services, announced several significant new product offerings in its Infinity Screening ™solution set. New services now available include Infinity Screening™ FirstAAlert™, a premier criminal incident monitoring solution which provides a full year of protection, providing proactive alerts when new arrest information is discovered through any of the more than 3,000 real-time interfaces with law enforcement agencies across the country.
The Infinity Screening ™solution set now includes nine unique product offerings and is available to qualified entities through Innovative's carefully-selected network of Screening Industry Partners ™.
To read more click here
Tazworks Background Screening Software Now Interfaces With Applicantpro Applicant Screening Dashboard
TazWorks LLC, a web-based background screening software company, has successfully integrated their InstaScreen Premiere 2.0™ screening application with ApplicantPRO, a fast-growing industry competitor in applicant tracking systems. The integration enables qualifying Background Screening Agencies to combine the power of TazWorksInstaScreen Premiere 2.0™ with the convenient and streamlined hiring process that ApplicantPRO offers. This partnership will be tremendously beneficial for Background Screening Agencies, employers, and applicants alike, as ApplicantPRO specializes in giving employers the quality and attention they deserve through an easy-to-use and cost-effective system.
TazWorks' revolutionary Standardized Data Exchange Gateway makes it easy to integrate background checks from InstaScreen Premiere 2.0™ into Third-Party Applicant Tracking Systems (ATS) and Human Resource Management Systems (HRMS). Integration improves turnaround, lowers costs, increases data security, and reduces human error, allowing for a healthier bottom line. "The ease of integration with our software will provide our Background Screening Agency clients with greater opportunities and sales channels to market background checks and increase sales revenue", said Barton Taylor, Founder of TazWorks.
Learn more about TazWorks by visiting http://www.tazworks.com/
Why Background Checks Are Necessary
There was nationwide coverage given to the tragic event in New Hampshire where a police chief was killed and four other officers wounded in a botched attempt to serve a search warrant. The raid was aimed at ridding the town of what the police called "a menace," referring to the culprit Cullen Mutrie.
Following the operation, the police found Mutrie and his girlfriend both dead from apparent suicides or murder/suicide. While the news was rightly focused on the tragedy of the police officers, the investigation also revealeda lot more about drug dealer, Cullen Mutrie. Despite his growing criminal record (aggravated assault, drug possession, etc.)Mutrie was serving as a volunteer firefighter and had hopes to become a paid firefighter on a New Hampshire department. It appears that Mutrie had created a fake resume on both Facebook and LinkedIn to portray himself in a better light in order to have the court remove some of his criminal charges from his record. This shows that background checks are crucial, especially those of firefighters and EMT applicants. Just "surfing the web" does not equate to a bona fide investigation and there is no excuse to avoid performing this function.
To read more, click here
Welcome to the U.S. Legal Challenge Question!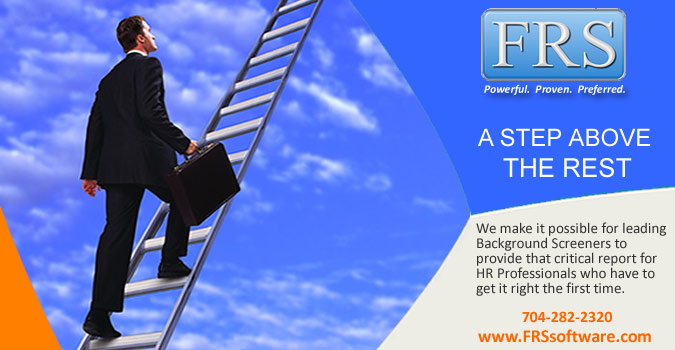 As the background screening industry continues to get more competitive the firms that will ultimately succeed will be those that create competitive advantage through their people by offering continuous learning opportunities to heightened their knowledge and capabilities. We believe that having employees that are very knowledgeable about the legal landscape of background screening is essential to continued success.
We are grateful to John Fay, Vice President of Products and Services and General Counsel at LawLogix, Inc for providing the expertise for this valuable endeavor. In his current role, John serves as, a leading provider of Electronic I-9 Compliance, E-Verify and Immigration Case Management Software and is responsible for overseeing product design and functionality while ensuring compliance with rapidly changing immigration and employment eligibility rules.
For information regarding the answers to the Legal Challenge Questions, please contact Ann Cun, Ann Cun
Counsel and Principal Editor, LawLogix Group, Inc. at(602) 357-4240and for more information aboutLawLogix e-verify and immigration support services please visit www.Lawlogix.com
Please choose your answer by clicking on it:
Federal Trade Commission Privacy Report Recommends Legislation to Regulate Data Brokers

The Federal Trade Commission (FTC), the nation's chief privacy policy and enforcement agency, recently issued a final report - "Protecting Consumer Privacy in an Era of Rapid Change: Recommendations For Businesses and Policymakers'- urging businesses to adopt best practices to protect the privacy of American consumers and containing important recommendations regarding data brokers, giving consumers greater control over the collection and use of their personal data. While Congress considers such privacy legislation, the FTC urges individual companies and self-regulatory bodies to adopt the principles contained in the privacy framework if they have not already done so. The FTC will work to encourage consumer privacy protections by focusing on greater transparency whereby companies should disclose details about their collection and use of consumer information and provide consumers access to the data collected about them. This is crucial because information compiled by data brokers, especially criminal record data, is not always accurate. The FTC report also recommends companies to develop clear standards regarding privacy and to train their employees to follow them.

To read more, click here
Georgia Bill Would Hide Arrest Information
A provision in sentencing reform legislation that would restrict public access to arrest records of people later cleared of charges has raised concerns among First Amendment proponents. House Bill 1176 includes an "expungement" provision that would streamline the way individuals cleared of criminal charges can get their records restricted from public view, provided a number of conditions are met. The executive director of the Georgia First Amendment Foundationsaid the provision will,"tilt the balance dangerously towards secrecy and away from the public's interest in open government." Proponents argue that the current system prevents many people who had charges dismissed from getting jobs because the information stays on their record. "We're trying to offer a layer of protection on access to that information because it's causing so much harm to so many individuals," said Marissa McCall Dodson, a Georgia Justice Project. "We're trying to make the process more transparent by allowing the public and the individuals to know which dispositions will qualify for restriction and how they can go about the process."

To read more, click here
Maryland "Facebook Law" Raises New Obstacles for Employers Vetting Applicants and Investigating Employees, but with Important Exceptions
Maryland is the first state to pass a law to expressly restrict employers from asking applicants and employees for social media account log-in credentials. Effective October 1, 2012 (assuming the Governor signs the law), employers are prohibited from requiring, or even asking, that applicants or employees disclose "any means for accessing," such as a user name or password, for "any personal account or service" accessed through "computers, telephones, personal digital assistants, and other similar devices." The Maryland law also prohibits an employer from taking or threatening any form of adverse action based on an employee's or applicant's refusal to provide a user name or password to a personal account. Notably, the Maryland law contains no enforcement provision. It remains to be seen through judicial interpretation whether the Act's restrictions bar an employer from, for example, asking an employee or applicant to log into a personal account without disclosing the log-in credentials to the employer so the employer can observe the content of the personal account.

To read more, click here

Class Action Against LexisNexis Survives
A federal judge rules LexisNexis cannot dismiss claims that its background-check service violates the Fair Credit Reporting Act (FCRA). LexisNexis Risk & Information Analytics Group offers a service called Esteem that conducts background checks and informs employers when job applicants have a history of theft or fraud. They also send letters, known as "pre-adverse action letters," to employees or prospective employees who match their records.The FCRA gives employees the right to review such reports before their employer can take adverse action and requires CRAs to clearly and accurately disclose all information in a consumer's file upon request. In a federal class action, two individuals claimed LexisNexis violated the FCRA by taking adverse action against them before providing them with a copy of their consumer reports and for refusing to turn over parts of their files.LexisNexis disputed this characterization in a motion to dismiss. The judge refused to dismiss both counts and found that the class can only claim punitive damages for LexisNexis's refusal to disclose files because the action was willful.

To read more, click here
Background Checks For School Bus Drivers Signed Into Law
Iowa Gov. Terry Branstad signed a bill into law that mandated background checks for Iowa school bus drivers that was championed by an Osage, Iowa woman's concern for child safety. Kim Koenigs of Osage worked and advocated for the bill, taking her concerns about the lack of checks to the Iowa Department of Education. Education officials agreed to author the bill. Under the new law, background checks must be done using the dependent adult abuse, child abuse and sex abuse registries, as well as a mandatory check of Iowa Courts Online, for criminal and driving background checks. Anyone found on the registries can not be hired. The checks must be conducted every five years and paid for by the school district. School officials must also maintain documentation that demonstrates compliance.
To read more click here
Hotel Hiring Rebounds as U.S. Tourism Overcomes Slump
Jobless Americans are using increased tourism as a pathway back to employment, finding jobs at hotels and motels as those facilities step up hiring to meet growing demand. With a 4.1 percent increase in first-quarter hotel bookings from a year ago, it appears U.S. tourism is rebounding. A rise in leisure and business travel is "creating employment opportunities all across the country in the travel industry that is helping in the job recovery and benefiting the economy," said David Huether, senior vice president of economics and research at the U.S. Travel Association in Washington. The travel industry accounted for "a substantial component" -- 2.7 percent -- of 2010 gross domestic product, according to a Jan. 19 statement from the White House. In addition, the industry's employees tend to be younger and more diverse -- ethnically and educationally -- than others. "Many people who are jobless lack a college degree, so tourism "provides opportunities to the very portion of our population looking for work," said Huether.
To read more, click here
Conference Board Employment Trends Index Records First Decline Since May 2011
Gad Levanon, Director of Macroeconomic Research, The Conference Board reported that "After five months of strong growth, the Conference Board Employment Trends Index (ETI) declined slightly in March." Together with the disappointing job growth released and only moderate improvement in economic activity in recent months, it seems that employment growth in December to February, averaging almost 250,000 a month, may not be a sustainable trend."
To read more click here
STOP STRUGGLING WITH WRITING AND PUBLISHING YOUR NEWSLETTER:
We can help you have a high quality e-newsletter to help nurture your relationship with your clients and attract new clients. Our customized newsletter service will take over your newsletter task or create a new one for you. We can manage the creation of your newsletter for you.
We are constantly researching information to use for The Background Buzz and you can put our research to use for you. Using the information rich content from The Background Buzz (minus the ads and competitors information) we will create a custom newsletter for you.
Use your staff's time to do more valuable work and save all the hassle of researching or writing articles, formatting and managing all the other ezine tasks with our customized ezine process.
Contact Barry Nixon at 949-770-5264 or at wbnixon@aol.com for more information.
Sponsored by:
Public Record Update
By Mike Sankey, PRRN
FREE DRIVER LICENSE STATUS CHECKS

Motor vehicle records (driving records, title, registration, accident reports, etc.) are not public when the records contain personal information. A requester must have a permissible use per both federal and state law. However, some states do provide some useful records online, without personal identifiers, at no charge. The selected list below for a free search of a DL status is taken from The MVR Access and Decoder Digest.
Florida - https://services.flhsmv.gov/DLCheck/
Idaho - https://www.accessidaho.org/secure/itd/reinstatement/index.html
Kansas - https://www.kdor.org/DLStatus/login.aspx?ReturnUrl=%2fdlstatus%2fsecure%2fdefault.aspx
Massachusetts - https://secure.rmv.state.ma.us/LicInquiry/intro.aspx
Minnesota - https://dutchelm.dps.state.mn.us/dvsinfo/mainframepublic.asp
Nebraska - https://www.nebraska.gov/dmv/reinstatements/client.cgi
North Dakota - https://secure.apps.state.nd.us/dot/dlts/dlos/requeststatus.htm
Ohio - www.ohiobmv.com/abstract.stm
South Carolina - https://www.scdmvonline.com/DMVpublic/trans/DRecPoints.aspx
Washington - https://fortress.wa.gov/dol/dolprod/dsdDriverStatusDisplay/
West Virginia - http://www.transportation.wv.gov/dmv/Pages/dlverify.aspx
Wisconsin - https://trust.dot.state.wi.us/occsin/occsinservlet?whoami=statusp1
To read the full BRB's Record Update click here
Brand New ATS Saves Recruiters More Time than Ever
Online Resourcing has launched a brand new candidate management system to tackle the gap between what clients want and what they actually need. Working with one of their leading clients, Online Resourcing created the most client-focused system that tackles the main problems that in-house recruiters are finding with their current candidate management systems. The number one issue that Talent Match has solved is reduction in actual recruitment time. Talent Match now gives a percentage of suitability for each applicant so that recruiters can see immediately who is a perfect talent match. The easy to use, easy to access cloud based system means that every company can have multiple users who can access the candidate management system at anytime, anywhere.
"We spoke to our clients and asked them what they needed!" said Oliver Adderley, Managing Director at Online Resourcing. "It made no sense to create software that didn't actually answer HR professional's recruitment needs, that's why we worked closely with our clients to create it and make it perfect."

To read more, click here
Failed Drug Tests Limit Employers' Options
As manufacturers increase the use of drug testing, seeking candidates who are less likely to pose safety risks on the job due to substance-related impairments, employers are being stymied in the search for skilled workers because of failed drug tests. Although employers are not required to make individuals take a drug test, hiring someone with an addiction puts the company at risk. Annie Short, grant coordinator for Healthiest Manitowoc County 2020, said employers are seeing as many as half of potential employees fail the drug test, preventing them from being hired. Most of the companies reporting failed drug tests are in the manufacturing industry with marijuana making up 95 percent of all failed tests. "It all continues to be a vicious circle, because we know a lot of people are using drugs because of the economy, because they're depressed or because they can't get a job. And yet they can't get a job because they're using drugs," said Short. Short also said she already has sent a letter to state legislatures stating this issue is concerning on numerous levels.

To read more, click here
One Site! Many Suppliers!
Looking for the Top Suppliers in the Industry? Need to find a new Supplier?
Visit our VENDOR SHOWCASE which features suppliers to the Background Screening Industry.
2012 Winter Edition of Suppliers to the Background Screening industry Guide
Now Available!
Click here or on image to get a copy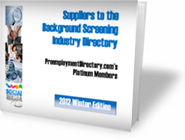 Contact Barry Nixon at wbnixon@aol.com for information on getting your firm listed in the Summer Edition.
Thirty-Seven Percent of Companies Use Social Networks to Research Potential Job Candidates
Nearly two in five companies (37 percent) use social networking sites to research job candidates, according to a new survey from CareerBuilder. Of the employers who do not research candidates on social media, 15 percent said their company prohibits the practice. Eleven percent report they do not currently use social media to screen, but plan to start.Hiring managers are using social media to evaluate candidates' character and personality outside the confines of the traditional interview process. Employers are primarily using Facebook (65 percent) and LinkedIn (63 percent) to research candidates; 16 percent use Twitter. A third (34 percent) of hiring managers who currently research candidates via social media said they have found information that has caused them not to hire a candidate. That content ranges from evidence of inappropriate behavior to information that contradicted their listed qualifications. However, employers are also looking for information that could potentially give a job seeker an advantage and 29 percent have hired a candidate because of information obtained from social media.

To read more, click here
The Nitty Gritty of Preparing for an I-9 Audit
The I-9 Compliance Strategy requires thoughtful planning. The strategy should include 1) goals for the organization, 2) an assignment of time and budgetary resources and 3) an executable list of steps that occur before, during and after an I-9 audit (whether the audit has been conducted by an internal expert, an external expert, or the government). Identifying all key team members in the I-9 process is critical to ensuring a successful and compliant strategy. This includes top-level executives as well as individuals who manage daily I-9 activities. It is also important to create a timeline in which to plan, execute and maintain an I-9 compliance strategy. Creating a firm timeline with deadlines allows an organization to move forward and accomplish more. If you want more specific guidance on executable tips and plans from legal experts, you can register for the I-9 Audit 101: A Three-Part Webinar Series to learn more.

To read more, click here
Homeland Security Continues Enforcement Efforts Against Companies Employing Undocumented Workers
The United States Department of Homeland Security, working in concert with U.S. Immigration and Customs Enforcement (ICE), is maintaining its crackdown on U.S. employers who fail to properly verify their workers are authorized to work in the U.S. According to ICE's figures in Fiscal Year (FY) 2011 compared to FY 2008 figures, ICE: conducted I-9 audits of 2,496 employers, up from 503; initiated 3,291 worksite enforcement cases, up from 1,191; criminally arrested 221 employers, up from 135; issued 385 Final Orders for $10,463,987 in fines, up from 18 Final Orders for $675,209 in fines; and debarred 115 individuals and 97 businesses, compared to zero individuals and zero businesses in FY 2008. There have been many recent examples of these heightened enforcement efforts. Such cases have involved three Atlanta business owners who were sentenced in a tax and immigration fraud case, two companies who admitted to hiring illegal aliens and had to forfeit $2 Million, a Dayton-area restaurant fined after an I-9 audit, and more.
To read more, click here

Two Companies Ordered to Pay Penalties for Missing I-9s
Time and time again, case law has proven that missing I-9s are among the worst possible paperwork errors for employers today. ICE consistently considers them to be serious violations (demanding the highest possible fines allowed), and the court will typically lower the fines only in situations where the employer lacks appropriate resources or funds. And even in those cases, it's hard to put a price tag on the time/money spent in fighting the violations and dealing with the negative press!
BothCastle Daycare and Pegasus Restaurant learned this the hard way. Castle was fine $18.500 and Pegasus was fined $131,554.50.
To read more click here
Üdvözlöm (welcome) to the
International Legal Challenge Question!
Most industries and firms now compete in a global marketplace which is continuing to increase the need for background checks for new hires that will reside in another country or that are being hired from another country. Commensurate with this growth in background checks is the need to understand the myriad of data protection, privacy, human rights and local laws that govern the practice of conducting background checks. To help background screening firms around the world to further enhance their knowledge we have launched this International Legal Challenge.
We are grateful to Brian Arbetter a Partner with the global law firm of Baker & McKenzie LLP for providing the question and answer to the questions in the International Legal Challenge. Brian is based out of the Firm's Chicago and San Diego offices. His practice focuses on international law issues, with particular emphasis on labor and employment, as well as workplace privacy. For information regarding the answers to the International Legal Challenge questions, please contact Brian at brian.arbetter@bakermckenzie.com.
Please Choose One of the Following Answer in Response to the Question
For information on sponsoring The International Legal Challenge Question please Click Here
US Workers to Fill Skills Gap
Federal Skills Minister, Chris Evans, announced a new streamlined plan to bring skilled U.S. workers to Australia in order to fills gaps in the labor market, especially in the engineering and trades sectors.The measures will allow workers from the U.S. in licensed occupationsto be granted immediate access to provisional Australian licenses on arrival. More broadly, the skills assessment process will assure Australian employers that the skills of U.S. workers align with their needs.Evans said as the demand for skilled construction workers is likely to peak over the next three to five years and a number of large-scale resource projects are due to commence, both governments recognize the potential to match the demand with a steady supply of workers in the U.S.Currently, workers need to be assessed onshore, which can mean waiting months between entering the country and starting work. Under the new skills assessment process, U.S. workers will be assessed against Australian regulatory requirements before entering Australia.
To read more, click here
Wrong Side of the Tracks: Criminal Record Discrimination by Employers
In the recent case of Mr CG v State of NSW (Rail Corporation NSW) [2012], the NSW passenger train operator, RailCorp was found to have discriminated against a job applicant based on his criminal record.A criminal record is a ground of discrimination under the Federal Human Rights Commission Act 1986 (HRCA) and certain State discrimination laws, and the results cannot form the basis of any decision to reject an applicant unless there is a 'tight and close' connection between the conviction and the inherent duties of the position.Criminal records include convictions, charges, police investigations, spent convictions and unrecorded convictions, but not all of these will appear on official police records. Employers should: ensure that any equal opportunity policy also relates to recruitment decisions and should educate staff about this policy; consider their obligations under privacy legislation when retaining criminal history information on an employee's file; and only require information about a candidate's criminal record if there is a close connection between position requirements and the criminal record.
To read more, click here

Confusion Over Workplace Substance Tests
The outcome of an appeal against a controversial Fair Work Australia (FWA) ruling could determine whether employers will be restricted in their ability to administer appropriate on-site drug and alcohol testing procedures. According to the peak body for employers in the resource industry, the AMMA, the recent decision by Fair Work Australia (FWA) to only allow Endeavour Energy to conduct saliva-based drug tests, as opposed to urine tests, is contradictory to previous rulings by the arbitrator.
To read more click here
Supreme Court of Canada to Consider Random Alcohol Testing in the Workplace

The Supreme Court of Canada has granted the union leave to appeal a case in which the New Brunswick Court of Appeal decided that an employer can conduct random alcohol testing of employees in safety sensitive positions in an inherently dangerous workplace, without having to show a pre-existing alcohol problem. This is the first case in which the Supreme Court of Canada will directly address alcohol testing in the workplace. An employee, who refrains from drinking for religious reasons, filed a grievance after being randomly selected for alcohol testing. According to the arbitration board's balancing of interests approach, the employer was required to provide evidence of alcohol problems in the workplace or show that the workplace was "ultra dangerous".Because neither was established, the grievance was upheld. The New Brunswick Court of Queen's Bench then overturned the decision, rejecting the "ultra dangerous" requirement (finding that "dangerous is dangerous"), and holding that the potential for a catastrophic accident justified the employer's alcohol testing policy.The Court of Appeal upheld this decision.

To read more, click here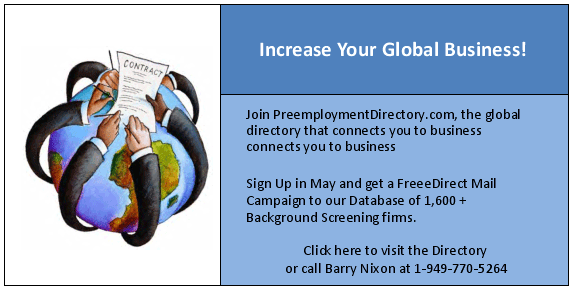 Facebook Passwords Not an Appropriate Background Checking Tool, Ontario Human Rights Commission Warns
In recent weeks, several U.S. job candidates reported that prospective employers had requested their Facebook passwords in order to secure personal details about them. Shortly thereafter, there was an outpouring of candidates relaying anecdotes to the media of employers asking them to log onto their social networks on computers at the job site or hiring managers requesting to become "friends" on Facebook during the interview process. In Canada, the Ontario Human Rights Commission has concluded that this hiring practice is not permissible because it may be violating Ontario's Human Rights Code. The Commission stated that any employer requesting this information could be open to a claim of discrimination under the Code. In fact, the Commission highlighted 15 prohibited grounds, including: race, color, religion, etc. that could be found directly or indirectly on a Facebook profile and used in a discriminatory manner against prospective employees.

To read more, click here
Privacy Management Program Guide Will Hopefully Help With Accountability
The Office of the Privacy Commissioner of Canada (OPC), and the Offices of the Information and Privacy Commissioners (OIPCs) of Alberta and British Columbia have developed a guide titled Getting Accountability Right with a Privacy Management Program. The guide aims to help organizations implement an effective privacy management program that meets private-sector privacy legislation and to provide consistent direction on what it means to be an accountable organization when dealing with individuals' personal information, accountability being the first and foremost obligation under privacy legislation. These guidelines will help businesses take data protection from policy to practice, explained BC Information and Privacy Commissioner, Elizabeth Denham.
To read more click here
Data Protection Bill Passed

The parliament of Ghana has passed the Data Protection Bill into an Act to set out the rights and responsibilities of data controllers, data processers and data subjects in relation to personal data. The Act, which is awaiting presidential assent to be fully operational, is also intended to establish a Data Protection Commission. This will provide for the protection of privacy relating to individuals including the process by which information is obtained, held, used or disclosed. It provides a framework to ensure that an e-country principle is entrenched in using the Information Communications Technology (ICT) platform for administrative and business activities, the issues that arise from data subject privacy and third party use of data subject information would be regulated in a manner which would ensure confidence in the development of ICT mediator platforms and technologies. According to Communications Minister, the absence of legislation on this matter is an infringement of the right to privacy.

To read more, click here
India Seeks 'Data Secure Nation' Status, More Hi-end Business from European Union
New Delhi has demanded that the European Union lift restrictions on flow of sophisticated outsourcing business to India by designating it as a data secure country. Currently, India is among the countries not considered data secure by the EU, which prevents flow of sensitive data, such as patient information for telemedicine, to India under data protection laws. "Recognition as a data secure country is vital for India to ensure meaningful access in cross border supply," a government official told ET, adding, "We have made adequate changes in our domestic data protection laws to ensure high security of data that flows in." The EU Data Protection Directive requires member countries to ban transfer of personal data to a non-EU country unless the nation ensures adequate privacy protection. Lifting of data flow restrictions can boost trade manifold for India's $100-billion IT-BPO industry, 30% of whose exports are to the European market.
To read more, click here
Privacy laws to be overhauled Korea To Ban Online Collection Of Resident Numbers
Resident registration numbers will no longer be requested by websites and companies as the government announced measures for better data protection. The announcement came amid privacy concerns after a series of large-scale hackings into major portals and other data related crimes such as identity theft and voice phishing here.

Aimed at minimizing the collection and use of resident registration numbers, the new plan contains stronger measures to prevent potential data leakage. More specific regulations will be finalized through the pending revision to the personal information protection law that is scheduled in the second half of the year, officials said.
To read more click here
Employment Court Finds Random Drug Tests by 'Stealth'
The cases ofCoca-Cola Amatil (NZ) Limited v Hooper and Patchett v Contour Roofing(awarding $4,000 and $15,000 compensation to employees, respectively)are timely reminders to employers of the importance of having a well-drafted alcohol and drug policy, and of adhering to procedural standards when carrying out testing. Recent figures from the New Zealand Drug Detection Agency show that drug screening in the workplace has almost doubled in the last 12 months in New Zealand. Employees may not be tested without "reasonable cause" and while random testing is permitted, it may only be carried out where it is expressly provided for in a company's policy. Employers should ensure that their alcohol and drug policies:clearly set out the employer's position on alcohol and drug use in the workplace, when testing may be carried out, and possible consequences of breaching policy; clearly indentify"safety sensitive areas"; and are properly promulgated in the workplace in consultation with employees (and unions if appropriate).
To read more, click here
Privacy laws to be overhauled Employment Court Finds Random Drug Tests By 'Stealth'
While the issue of random drug testing in the workplace is not new, recently we've seen two cases of companies dismissing employees based on drug test results that were procedurally flawed and therefore invalid. Coca-Cola Amatil (NZ) Limited v Hooper and Patchett v Contour Roofing are timely reminders to employers of the importance of having a well-drafted alcohol and drug policy, and of adhering to procedural standards when carrying out testing. Random testing is permitted, but may only be carried out where it is expressly provided for in a company's alcohol and drug policy. Employees may not be tested without "reasonable cause".
To read more click here
Privacy laws to be overhauled The European Labor Market Slows Down but Spain's is 'Nearing Collapse', According to FedEE
The Federation of European Employers (FedEE) has reported in the EU27 as a whole the labor market was expanding throughout 2010 but the trend has been downward since Q2 2011 - mainly due to the rise of real earnings relative to production. Spain's labor market index began 2010 well below the EU-average level and has continued to deteriorate over the entire period.During the last two years the Spanish economy has been characterized by alternating periods of quasi-zero growth and periods of substantial negative growth. This appears to be primarily due to its poorly performing industrial sector leading to a sustained decrease in labor demand.
Robin Chater, secretary-general of the FedEE, said: "Looking at unemployment rates alone can often be highly misleading as there is often a lag between job affordability (real labour costs per unit of output) job creation and the filling of new vacancies. The index shows how these fundamentals come together into a true swing of supply and demand."
To read more, click here
Privacy laws to be overhauled Employers and Recruiters Fined 65.3 Million Since 2008 for Inadequate Candidate Checks, Reveals FOI Request by Giant
Over the last year, 12 million in fines has been issued to employers and recruiters for failing to carry out adequate checks to verify candidates' right to work in the UK, according to Giant, back office solutions provider to the recruitment industry. According to data obtained under the Freedom of Information (FOI) Act, the UK Border Agency has issued 6,953 Notification of Liability (NOLs) notices with a total value of 65.3 million since the new system was introduced in February 2008.This new system gave the UK Border Agency the power to issue civil penalties of up to 10,000 to employers for every illegal worker.Despite the tougher regime, not all employers and recruiters consistently carry out right to work checks during the recruitment process.
Matthew Brown, MD of Giant, said: "With unemployment high and immigration a burning political issue, employers and recruiters need to make doubly sure that candidates are fully vetted."
To read more, click here
Encouraging Year-On-Year Figures for European Recruitment
The newest Monster Employment Index Europe found that recruitment rose by eight percent across the continent, compared to the figures for March 2011. Germany remained at the forefront of recruitment opportunities, with the number of vacancies being advertised on online recruitment portals rising by 23 percent.The UK and Sweden both managed encouraging showings, measuring growth of eight and two percent respectively. Belgium and the Netherlands, however, both experienced major declines of 12 and 20 percent respectively.
"While overall online recruitment remains positive with the Index exhibiting both month-over-month and annual growth, this is combated by a broader deceleration across key markets and industries," said Monster Europe's, Alan Townsend. "However, from an occupational standpoint, growth remains strong across the technical and associate level positions, which suggests a hiring of support workers to meet the more immediate business needs."

To read more, click here
World Information Center:
Bookmark the World Information Center for easy use whenever you need information

ADVERTISERS IN THIS EDITION
| | | | |
| --- | --- | --- | --- |
| | | | Background Screening Jobs |
Visit the Job Board for the Employment and Tenant Screening Industry. Here you will find resumes of people with industry experience and employers seeking applicants with experience in Employment and Tenant Screening and related businesses.
www.backgroundscreeningjobs.com
UPCOMING CONFERENCES, COURSES & EVENTS
2012 Events ( Click Here to View full list of 2012 Events ) - Updated Monthly
SHRM State Conferences, visit http://www.shrm.org/Conferences/StateAffilliateConferences/Pages/default.aspx
Drug and Alcohol Testing Industry Association (DATIA), 2012 Training Course Schedule, visit
http://datia.org
SAPAA Training Institute Learning Events, http://www.sapaa.com/
CUPA-HR Conferences: http://www.cupahr.org/
World Federation of People Management Associations, Events, http://www.wfpma.com/events/by-region#quicktabs-tab-view__events__page_3-4