BACKGROUND SCREENING NEWS
Getting Beyond "Name, Rank, and Serial Number"- Nebraska Passes Job Reference Immunity Law

Add Nebraska to the growing number of states that have granted civil immunity to employers that provide job references to prospective employers of their current or former employees. Approved by Nebraska Governor Dave Heineman, the law, LB 959, will take effect on July 18, 2012. The new law authorizes employers in Nebraska to disclose, with the employee's written consent: Dates and duration of employment; Final pay rate and wage history; Job description and duties; Attendance information; Drug and alcohol testing results within one year prior to the date of the reference request; etc. Prospective employers wishing to take advantage of the new law will need to revise their application forms. Immunity will not apply where it can be shown that the employer has discriminated or retaliated against the current or former employee. Therefore, employers should be cautious to ensure that information provided as a reference does not appear to be motivated by discrimination or retaliation against an employee who has exercised his or her state or federal statutory rights.

To read more, click here
Use of Credit Information in Employment 2012 Legislation
To date, 39 bills in 20 states and the District of Columbia have been introduced or are pending in the 2012 legislative session. Out of the total 39 bills, 38 address restrictions on the use of credit information in employment decisions. The total number of states that limit employers' use of credit information in employment is now seven: California, Connecticut, Hawaii, Illinois, Maryland, Oregon and Washington.
To see the chart listing state legislation introduced or pending during the 2012 legislative session relating to the use of credit information in employment click here
Illinois' New Social Media Password Law Raises Substantial and Unjustified Obstacles to Employers' Legitimate Business Activities
With last week's approval by Illinois' Senate of a House bill entitled, "The Right to Privacy in the Workplace Act," Illinois (assuming the Governor signs the bill) will soon become the second state, joining Maryland, to forbid employers from requesting or requiring log-in credentials for an applicant's or employee's social networking site. This bill, like Maryland's law, raises significant interpretative challenges for employers while imposing unjustified and overbroad restrictions on their ability to run their own business.
To read more click here
Yahoo's CEO Steps Down Amid 'Resumegate'; Board Reshuffles

Yahoo's chief executive, Scott Thompson, has stepped down and "left the company" after four months on the job. Whether Thompson left on his own accord or was pushed remains unclear. It began when Dan Loeb, founder of Third Point, which has a 5.8 percent stake in Yahoo, wanted more seats on Yahoo's board. When Yahoo refused, Loeb fired back with allegations that Thompson had not been awarded a computer science degree at Stonehill College as was claimed on his Yahoo biography. Thompson did earn an accounting degree from Stonehill, a Catholic school near Boston, however he did not earn a computer science degree.Yahoo is calling it an "inadvertent error." The erroneous biography was made only more suspicious after it was ported from eBay pages while he was at the company. Despite having ample opportunities to correct the mistakes, even when interviewed in person, Thompson failed to do so. Yahoo pulled the biography from its website within hours of Loeb's allegations, but it didn't escape SEC filings.
To read more, click here
House Clears EEOC Appropriations Bill With Several Limiting Amendments
On Thursday, May 10, 2012, the House of Representatives approved 247-163 a fiscal year 2013 funding bill (H.R. 5326) for a variety of federal agencies, including the Equal Employment Opportunity Commission (EEOC), that includes a series of amendments that would curtail enforcement of certain labor- and employment-related regulations and programs. Last month the House Appropriations Committee approved by voice vote an amendment that would prohibit the use of any of the bill's funds from being used by the EEOC or Department of Justice (DOJ) to:
The Senate Appropriates Committee approved its own bill funding the EEOC last month. Once the full Senate passes a final appropriations bill, it will need to be reconciled with the House version.
To read more click here
THE LITTLER REPORT CRIMINAL BACKGROUND CHECKS: Evolution of the EEOC's Updated Guidance and Implications for the Employer Community

I am sure by now you have seen the numerous legal journals, websites and blogs that are full of articles on the newly announced EEOC Updated Guidance on use of criminal records checks for employment decisions. One of the best and most complete explanation is in The LITTLER REPORT written by attorneys from the renown Littler Mendelson, P.C. Law firm.
To read the report click here
Message to Tenant Screeners
Unfortunately the kind of verbiage that ultimately gave rise to the EEOC Guidance on criminal records is now being thrown around in the tenant screening space. This is the third time in less than a year where presentations such as this have been made. This one was geared toward the Fair Housing section within the City of Tacoma and was delivered on 4/17/2012. The name of the talk is: " The Harder they Fall: How the indiscriminate use of unlawful detainer records in rental housing admissions causes a disparate impact on women, people of color, and families with children" It was presented by Eric Dunn, Staff Attorney, Northwest Justice Project.Here is the link to the .pdf handout for the course: http://cms.cityoftacoma.org/hrhs/FHCMaterials/2012Materials/CasesPoliciesTrends
UNLAWFULDetainerNJPhandout.pdf
Our concern should be clear... this is the same sort of ground swell at the local level as seen in the employment screening sector which ultimately lead up to the current situation. Make no mistake, the presentation was aimed at tenant screening and attacked the use of both eviction (UD records) as well as criminal data. The Tenant Screening community needs to discuss this development and create a strategy to address the concerns to avoid momentum building to more legislation.
Source: Bill Bower, President/CEO, CIC; To discuss this further with contact Bill at P: 888.316.4CIC (4242) or wbower@cicreports.com
To read more, click here
Senator Klobuchar Seeks Legislation to Ban Employers from Getting Facebook Passwords
U.S. Senator Amy Klobucharhas announced that she will be co-sponsoring federal legislation to prohibit an employer from requiring that a current or potential employee turn over the password to a Facebook or other private online account. In recent weeks, news reports have described instances around the country where employers have demanded the Facebook passwords of job applicants as part of the hiring process. The Password Protection Act would prohibit employers from coercing job applicants or current employees to provide access to their private online systems, including Facebook, e-mail and other online storage.

"This is about the right to privacy," said Klobuchar. "No person should be forced to reveal their private online communications just to get a job. This is another example of making sure our laws keep up with advances in technology and that fundamental values like the right to privacy are protected."

To read more, click here


Judge Blocks Springfield's New E-Verify Law
A federal judge has blocked the city of Springfield from enforcing a voter-approved law requiring businesses to check employees' immigration status using the federal E-Verify system. U.S. District Judge Richard Dorr issued a preliminary injunction on the so-called E-Verify ordinance. The ruling came about after three companies and a Springfield businessman filed suit alleging the ordinance is unconstitutional and a violation of state and federal laws. The ordinance was drafted by the Ozarks Minuteman and passed by voters in February. Several Springfield officials had said they were hoping for a court challenge because of questions about its legality and how to enforce it. Dorr said he was granting the preliminary injunction because the plaintiffs would probably succeed on the merits of their complaint.
To read more, click here


FTC Joins Department of Justice and Consumer Financial Protection Bureau in Filing Brief Supporting the Constitutionality of the Fair Credit Reporting Act
The Federal Trade Commission has joined the Department of Justice and the Consumer Financial Protection Bureau in filing a memorandum brief in support of the constitutionality of the Fair Credit Reporting Act (FCRA), the law designed to protect the privacy of credit report information and ensure that the information supplied by consumer reporting agencies (CRAs) is as accurate as possible. In the filing, the CRAs urge a federal district court to uphold an important provision of the FCRA, which has protected consumers' privacy for more than 40 years.The provision in question bars CRAsfrom disclosing individuals' arrest records or other adverse information that is more than seven years old. The brief refutes GIS's argument that this FCRA protection is an unconstitutional restriction of free speech and concludes that the court should not invalidate the FCRA provision, as it "directly advances the government's substantial interest in protecting individuals' privacy," while also accommodating the interest of businesses.
To read more, click here

Federal Court: FCRA Does Not Apply To Independent Contractor Relationships
Here is one more potential advantage of using independent contractors rather than employers that so far has flown below the radar screen. According to the a Wisconsin federal district court in the case of Lamson vs. EMS Energy Marketing Service, Inc ., the Fair Credit Reporting Act's disclosure obligations do not apply to independent contractor relationships. Because EMS did not obtain the consumer report to evaluate Lamson for a position as an employee of EMS, the court granted EMS's summary judgment motion.
To read more click here


Governor Haslam Signs Drug Testing Bill for Welfare Recipients Into Law
Governor Bill Haslam has signed several pieces of legislation, including a measure to require drug testing as a condition for receiving welfare. The legislation -- which passed the Senate 24-9 and 73-17 in the House -- requires new welfare applicants to undergo a special screening process. If suspicion were raised after the screening, then the applicant would be drug tested. The proposal differs from an original version that would have required blanket testing. The state's attorney general opined that approach would violate applicants' rights not to be drug tested unless there is suspicion they are using drugs. Haslam told reporters that he's comfortable with the legislation because the Department of Human Services will develop the rules for the testing, and the state attorney general must make sure the process is constitutional.
To read more, click here

Welcome to the U.S. Legal Challenge Question!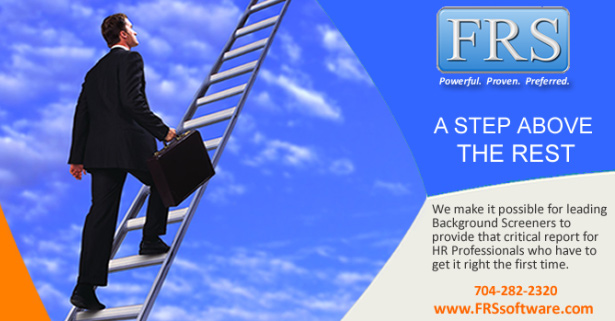 As the background screening industry continues to get more competitive the firms that will ultimately succeed will be those that create competitive advantage through their people by offering continuous learning opportunities to heightened their knowledge and capabilities. We believe that having employees that are very knowledgeable about the legal landscape of background screening is essential to continued success.
We are grateful to John Fay, Vice President of Products and Services and General Counsel at LawLogix, Inc for providing the expertise for this valuable endeavor. In his current role, John serves as, a leading provider of Electronic I-9 Compliance, E-Verify and Immigration Case Management Software and is responsible for overseeing product design and functionality while ensuring compliance with rapidly changing immigration and employment eligibility rules.
For information regarding the answers to the Legal Challenge Questions, please contact Ann Cun, Ann Cun Counsel and Principal Editor, LawLogix Group, Inc. at(602) 357-4240 and for more information about LawLogix e-verify and immigration support services please visit www.Lawlogix.com
Please choose your answer by clicking on it:
| | |
| --- | --- |
| | After an I-9 inspection (audit) by ICE, the John Doe Corporation has received its first uncorrectable technical violation. The lowest amount this violation may be is: |
Epic Concepts Unveils Suite of Integrated Screening Solutions Powered by Innovative
Epic Concepts, a trusted provider of web-based integration systems for the background screening and tenant screening industries, announced that it has completed the integration of the latest key services powered by Innovative Enterprises, Inc. Epic's customers using the flagship EZyCHECK(TM) web-based system now enjoy access to Innovative's full suite of comprehensive screening solutions, including a number of highly unique services that will deliver a significant competitive advantage. Innovative's core solution suite includes new services such as, AssuredTenant(TM), a comprehensive resident screening solution for property owners and managers; FirstAlert(TM), a real time arrest monitoring solution; and ACE(TM) Automated Criminal Extraction(TM), a highly efficient and cost effective solution providing quick access to hundreds of online public court record portals through a single interface.

To read more, click here


SJV & Associates Announces XML Integration with Innovative Software Solutions, a Leading Provider of Technology Solutions to the Background and Tenant Screening Industries
SJV & Associates has announced a successful integration with Innovative Software Solutions (ISS), a leading technology solutions provider to multiple industries including Background Screening, Tenant Screening, and Mortgage Reporting. Customers of ISS now have direct access to SJV & Associates' entire Domestic suite of products through a seamless XML integration."We greatly value our commitment to customer service, and with ISS we've found not only a technology partner, but a service partner as well," said Scott Vanek, President of SJV & Associates.
"With one easy to integrate solution we can now provide our customers additional options for County Court, Civil Court, Statewide Reports, and Federal Court information as well," said Robert Nevins, President of Innovative Software Solutions.
To read more, click here
FRS Announces Launch of Taleo ATS Integration to Help Clients Attract New Business
FRS, the nation's leading provider of background screening technology solutions, has just released a new integrated solution with Taleo. This solution provides an integration to one of the most widely used Applicant Tracking Systems (ATS) in the industry and gives background screening companies the ability to win more new business while also solidifying long-term relationships with their existing clients.
Leading background screening integration solutions provider, FRS, announces the launch of its Taleo integration. The new solution assists background screening companies in attracting more of their clients' business by giving them a tool to increase their own efficiency and sales. The integration to Taleo joins a long list of other integrated solutions from FRS that are designed to increase the profitability and efficiency of background screening companies. With direct integrations to more than 20 different applicant tracking systems, FRS leads the pack in providing its clients with the most ATS integrations available on one software platform.
Read More: http://frssoftware.com/News.aspx
HireRight Named as Finalist in TechAmerica High-Tech Innovation Awards
HireRight, Inc., a leader in on-demand employment screening, has been named a finalist in the Internet/E-Commerce product category for Applicant Center Mobile™ in the TechAmerica Orange County High-Tech Innovation Awards. Now in its 19 th year, this premier business event celebrates excellence and achievement in the region's technology industry and honors local companies, individuals and products that drive innovation. This year's winners will be announced at a ceremony on June 14, 2012, at the Hilton, Costa Mesa, Calif.
HireRight Applicant Center Mobile is believed to be the industry's first personalized, mobile, securely designed candidate portal for employment screening. It demystifies the screening process by allowing job applicants to manage their employer-requested background check and drug test in real-time from any mobile device. Accessed through a smart phone or tablet, HireRight Applicant Center Mobile provides candidates with an intuitive screening experience and a new level of transparency as they go through an employment background check or drug test, enabling them to upload information, view the status of a check or test, view their completed report and access live help while on the go.
For more information, visit www.techamerica.org/hta19.
Innovative Enterprises Partners with PeopleAssessments to Provide Professional Screeners with Best-In-Class Behavioral Assessment Solutions
Innovative Enterprises, Inc., a strategic partner to the background screening industry and expert provider of court research information products, smart data solutions and ancillary services, today announced that it has partnered with PeopleAssessments.com to deliver industry-leading, science-based assessment solutions to the professional background screening community. Through this new partnership, Innovative's network of Screening Industry Partners™ gains immediate access to a comprehensive suite of best-in-class behavioral assessment solutions designed to empower employers to hire the very best candidates.
"PeopleAssessments provides what is clearly the most advanced and scientifically validated set of assessment solutions available," stated Clifford J. Williams, Innovative's Vice President and Chief Operating Officer. "We are very pleased to partner with PeopleAssessments to bring enhanced value to our network of the industry's leading background screening professionals."
For more information click here
Tazworks Announces Seven New State Criminal Provider Integrations
As a leader in web-based background screening software, TazWorks is always on the cutting edge of technology. The true drive behind our success and client satisfaction is the number of high-quality integrations we are able to make with respected Providers in the market. TazWorks is pleased to announce the integration of seven new State Criminal Providers: Convergence Research, Dexter, G. A. Public Record Services, Omni Data Retrieval, Inc., Rapid Courts, SJV & Associates, and Trade House Data, LLC. Integrating seven providers at once was made easy, using TazWorks' Standardized Data Exchange Gateway
Third-party Data Providers can easily interface with TazWorks' InstaScreen™ background check software. This is accomplished through TazWorks' advanced, yet friendly, standardized XML gateway guide. TazWorks is enjoying great success adding valuable trading partner interfaces to its system, with several new projects currently underway.
Learn more about TazWorks by visiting http://www.tazworks.com/
New RealityTrack Background Screening Service Casts a Private Eye on Reality TV
RealityTrack has announced the launch of a background screening service designed specifically for the reality television market. Building on the extensive research expertise of its parent company, BackTrack Reports, an almost 20-year veteran of the world of financial due diligence, RealityTrack has developed a uniquely rigorous background screening service adapted to the particular needs of the reality television casting industry.
RealityTrack has tailored its background screening service with extensive input from individuals currently working on the production side of the reality television industry. "At RealityTrack our primary focus of the vetting process is to help our clients weed out people whose backgrounds are unsuitable or present an unacceptable level of risk," said Roth. "For example, our clients want to know when potential cast members have broken the law, or when their backgrounds suggest personality issues."
More information about RealityTrack can be found at http://www.reality-track.com/about.php

California Bill SB 1384 Would Authorize Consumers to Place Security Freezes on Consumer Reports
While existing law allows California consumers to place security freezes on their credit files maintained by the three major credit reporting agencies: Equifax, Experian, and TransUnion, new legislation - Senate Bill 1384 (SB 1384) 'Consumer Reporting Agencies Act' - would authorize consumers to place similar security freezes on certain other consumer reports containing private financial information. SB 1384 defines a "nationwide specialty consumer reporting agency" and "consumer file" for purposes of California law and if passed, would amend several sections of the Civil Code relating to consumer information privacy. The bill could potentially include background screening firms that maintain ongoing databases of past employment history of job applicants.

"The plain language of the bill does not appear to directly impact background screening firms that work directly with employers and only gather employment information on an applicant when a request for a background checks made," according to background check expert Lester Rosen. "However, there can be an impact if a consumer freezes their past employment history file, which could potentially delay obtaining that information."

To read more, click here

Background Check Into Workers' Comp Claims Isn't Subject To Fair Credit Reporting Act
Good news for employers that check workers' compensation claims against an applicant's claim he's never been injured on the job: You don't have to inform him where you got the information before you take action because workers' comp checks aren't background investigations subject to the federal Fair Credit Reporting Act (FCRA). This was the decision of the 5th Circuit Court of Appeals in the case of Bachman v. Donahoe, No. 11-11060, 5th Cir., 2012. It said the investigation wasn't a consumer report because his past injuries weren't related to his credit worthiness, character, general reputation or mode of living. (Bachman v. Donahoe, No. 11-11060, 5th Cir., 2012)
Source: http://www.businessmanagementdaily.com
To read the full case click here
Sixth Circuit Dismisses Class Action Over Personal Information Release
A federal appeals court has upheld the dismissal of a proposed class action lawsuit over the distribution of personal information from a state's motor vehicle records. The Kentucky plaintiffs claimed that Ascom Transport System Inc. violated the federal Driver's Privacy Protection Act (DPPA) and their common law right to privacy when the company obtained in bulk and then used, resold and disclosed their personal information contained in the state's motor vehicle records without a "permissible purpose" under the act. The district court ruled in December 2010 that the bulk purchase of such motor vehicle records without a "specific need for every record" does not violate the DPPA, and ultimately granted Ascom's motion to dismiss the plaintiffs' third amended complaint. When the Kentucky plaintiffs appealed, the Sixth Circuit affirmed the lower court's ruling. The Sixth Circuit held that obtaining personal information solely for the purpose of reselling such information is allowed under the DPPA -- so long as the information is used for purposes permitted. In addition, the plaintiffs' claim of common law right to privacy failed as a matter of law.

To read more, click here
New Reasons to Take a Fresh Look at your Background Check Practices
This an opportune time for employers to re-evaluate their background check practices. On April 25, 2012, the EEOC issued an updated Enforcement Guidance to employers on how to properly consider job applicants' criminal histories under Title VII of the Civil Rights Act of 1964 (Title VII). The revamped guidelines reinforce the EEOC's long-held position that employers' reliance on applicants' criminal background information may have a disparate impact on individuals because of their race or national origin, thereby violating Title VII. The EEOC's Enforcement Guidance contains some best practice recommendations for employers, such as: eliminating blanket policies or practices that automatically exclude individuals from employment based on any criminal record. In addition, recent Fair Credit Reporting Act (FCRA) class action cases highlight the need for close attention to the manner in which employers obtain consent from employees prior to initiating a background check. The FCRA requires that employers notify individuals of their intent to obtain a background report on a form that consists "solely" of that notice.
To read more, click here


Password Protection Act of 2012: A Good Start Against Employer Snooping
Senator Richard Blumenthal (D-CT), Representative Martin Heinrich (D-NM) and a number of cosponsors have filed the Password Protection Act of 2012 in the Senate and House to prevent employers from strong-arming employers and job applicants into sharing information from their personal social networking accounts. The good news is that the PPA is sweeping in scope in that it applies to any situation when an employer coerces an employee into providing access to information held on any computer that isn't owned or controlled by the employer. The bad news is that it doesn't provide the full level of necessary protection. The most glaring omission is the lack of coverage for students. In addition, the legislation includes unnecessary exemptions for government employees or employees who work with children under age 13 and whole classes of workers who come into contact with classified information, including soldiers. Further, the legislation doesn't make clear that states have a role to play.
To read more, click here
Sponsored by:
Public Record Update
By Mike Sankey, PRRN
New Site Offers Unique Access to Bankrupcy Records
An interesting new web page is giving the federal courts' PACER system a bit of competition for accessing bankruptcy case information. The new site, called Inforuptcy, gives requesters the ability to view or purchase previously downloaded PACER documents. See https://www.inforuptcy.com
The way it works is quite simple. The search is free. If the case document is available from a previously downloaded file, the HTML version can be viewed for no charge and a PDF version of the document is offered for $.05 a page, which is 50% of the PACER fee of $.10 a page. If the document is not already on the system, then Inforuptcy pulls the document from PACER at the PACER rate. Then the document is stored and later can be used by new requesters. Inforuptcy also has a Marketplace service that allows users to sell or purchase bankruptcy claims and assets. The Wall Street Journal published an article about Inforuptcy on April 18, 2012.


Accredibase Uncovers More Illegal Education Institutions

In the past month the world has seen a multi-million dollar fake degree operation shut down in Beijing, both India's and Tanzania's national media call for fake degrees to be 'stamped out', a legitimate college's Principal in the UK arrested for giving fake degrees to students to aid visa applications, a New York 'doctor' in court for fraud and using a fake degree, and Pakistan giving a prison sentence to yet another Government minister for a using a fake degree! On top of this, U.S. President Barack Obama has declared he will combat disingenuous degree providers from targeting military veterans. It seems the fake degree market is very much alive and well.
Within this time Accredibase , the global database of diploma and accreditation mills, has reported 6,042 suspected and confirmed mills globally. Accredibase utilizes information given by law enforcement agencies throughout the world, and its own in-house research team to ascertain the legal status of both institutions and accrediting agencies.
Read the latest Newsletter from Accredibase for details on these events.


Minnesota and Maryland State Law Workplace Alcohol Testing Update
This is to remind employers that workplace breath alcohol testing and saliva alcohol testing are not permitted in the state of Minnesota. This state law prohibition has been in place for a number of years, although the Chamber of Commerce in Minnesota has been attempting to change the law. Recently, there has also been some Drug and Alcohol Industry attention given to the issue of whether or not Maryland law permits breath alcohol testing for workplace testing. The Maryland statutory definition of specimen includes human blood, urine, hair, or saliva, but does not include breath testing for alcohol. Moreover, although conflicting guidance was provided in 2000 and 2001 by the Maryland Attorney General's Office on the permissibility of breath alcohol testing, it may be advisable to refrain from conducting breath alcohol testing in Maryland for legal risk mitigation reasons.

To read more, click here
OCCUPATIONAL FRAUD/DATA PROTECTION
2012 Report to the Nations - Key Findings and Highlights
Survey participants estimated that the typical organization loses 5% of its revenues to fraud each year. Applied to the estimated 2011 Gross World Product, this figure translates to a potential projected global fraud loss of more than $3.5 trillion. The median loss caused by the occupational fraud cases in our study was $140,000. More than one-fifth of these cases caused losses of at least $1 million.

Employees committing fraud typically are first-time offenders with clean employment histories, yet they usually display one or more behavioral red flags that could be used to detect and stop their crimes, according to a new report on global fraud.

The frauds reported to us lasted a median of 18 months before being detected and were more likely to be detected by a tip from an fellow employee rather than by any other method.

The report found that the banking and financial services industry was most commonly victimized. More than three-fourths of reported fraud was committed by individuals working in six departments: accounting, operations, sales, executive/upper management, customer service and purchasing.
With nearly half of victim organizations unable to recover their losses, proactive measures to prevent fraud are critical. Management should continually assess the organization's specific fraud risks and evaluate its fraud prevention programs in light of those risks. A checklist such as the one on page 69 can help organizations effectively prevent fraud before it occurs.
To read more click here
Companies Need To Remain Vigilant In The Face Of Escalating Fraud
Companies worldwide are battling to survive and grow in what have continued to be highly adverse economic conditions. In this environment, growth and ethical business conduct can sometimes appear to be competing priorities. Ernst & Young recently undertook the 12th Global Fraud Survey where they interviewed chief financial officers and heads of legal, compliance and internal audit, to get their views of fraud, bribery and corruption risk and how their organizations are mitigating them. These interviews highlighted specific risks, many of which could be missed without awareness, careful due diligence and oversight. The survey indicates that companies' awareness of the risks posed by fraud, bribery and corruption is high, and that a substantial majority of these companies are doing many of the right things to mitigate the risks. Despite this, there remain significant weaknesses in many organizations' responses and the use of forensic data analytics and other technology-related tools occurs too infrequently. In addition, the survey revealed that risks, instead of standards are rising, and due diligence on third parties is expected by regulators, but 44% of respondents report that background checks were not being performed.
To read the complete survey, visit Ernst & Young's website .
Reports Examine Lessons Learned from Breaches
Six years after a data breach that resulted in the Department of Veterans Affairs (VA) being vilified for disregarding its own gap-filled information security and privacy policies, the VA now stands as a model for how to effectively integrate tough safeguards into its daily operations.The breach produced a sea change at VA to protect veterans' information through policies and procedures that are now communicated clearly as a top priority from the secretary on down through the sprawling agency. VA relies on automated technologies, continuous monitoring and reporting, and periodic employee training and re-training for adherence. Some of VA's best practices include: an independent privacy breach analysis team made up of legal, technology, business and privacy officers who examine each incident that is reported to Congress, how it was handled and what else can be done to prevent it in the future; encrypted laptops;personal data does not flow outside the VA unless it's encrypted according to the latest federal information processing standard from the National Institute of Standards and Technology (NIST), etc.
To read more, click here
Threat to intangible assets likely to increase
The threat of intangible asset incidents is likely to increase according to Peter Hacker, Head of Communications, Technology and Media Practice at JLT.Speaking at this week's 9th forum on Global Communications, Technology & Media (CTM) in Salzburg, Hacker said that as the frequency and severity of cyber crimes is likely to increase so too will their damage to operations, reputations and other intangible assets.
According to JLT's CTM Benchmarking Industry Survey from the 2011 Salzburg Conference, JLT expect 50%-60% of all CTM corporations to revise their corporate privacy policy, catastrophe response plans and insurance requirements by the end of 2012.
To read more click here
Economists Confident That Hiring Gains Will Help Sustain US Recovery
Hiring through the rest of 2012 will lag the brisk pace set early this year. But it will be strong enough to push the unemployment rate below 8 percent by Election Day.That's the view that emerges from an Associated Press survey of 32 leading economists who foresee a gradually brighter jobs picture.
The survey results come before a report Friday on hiring during April. The April report is eagerly awaited because employers added surprisingly few jobs in March. That result contributed to fears that the economy might struggle to sustain its recovery.
But the economists think the recovery will manage to reduce unemployment to 7.9 percent by Election Day from 8.2 percent in March.Yet the AP economists think it will be at least three more years before unemployment falls below 6 percent, which would be a sign of a healthy economy.
They predict the economy will grow 2.5 percent this year, up from 1.7 percent in 2011. In a healthy economy, 2.5 percent annual growth is usually adequate. Not so when 12.7 million people are unemployed. The economy would have to grow about 4 percent for a year to lower unemployment another percentage point.The economists expect job growth to average 177,000 a month from April through June and 189,000 in the second half of the year. That would be down from an average 212,000 jobs added monthly from January through March. Last year, job growth averaged 158,000 a month.
To read more click here
The SHRM LINE Employment Expectations Report for May 2012
Key findings:
Manufacturing is poised for another solid month in May. A net of 40.5 percent of manufacturers will add jobs in May, and a net of 30.4 percent of servicesector companies will conduct hiring.

Minimal change for recruiting difficulty in April. Difficulty in recruiting candidates for key positions rose slightly in manufacturing and fell slightly in services compared with a year ago.
To read more click here
STOP STRUGGLING WITH WRITING AND PUBLISHING YOUR NEWSLETTER:
We can help you have a high quality e-newsletter to help nurture your relationship with your clients and attract new clients. Our customized newsletter service will take over your newsletter task or create a new one for you. We can manage the creation of your newsletter for you.
We are constantly researching information to use for The Background Buzz and you can put our research to use for you. Using the information rich content from The Background Buzz (minus the ads and competitors information) we will create a custom newsletter for you.
Use your staff's time to do more valuable work and save all the hassle of researching or writing articles, formatting and managing all the other ezine tasks with our customized ezine process.
Contact Barry Nixon at 949-770-5264 or at wbnixon@aol.com for more information.

Wells Fargo Background Checks Discover Employee Criminal Records

Wells Fargo Bank recently discovered,through the use of background checks, that some of their employees were convicted criminals who lied about their previous transgressions with the law.Wells Fargo has since dismissed them for past criminal records concerning dishonesty and breach of trust.As an insured depository institution, Wells Fargo is bound by Section 19 of the Federal Deposit Insurance Act that prohibits them from hiring or continuing the employment of any person who they know has a criminal record involving dishonesty or breach of trust - regardless of when the incidents occurred. This includes convictions as well as situations where the person has agreed to enter into a pre-trial diversion or similar program in connection with a prosecution for such an offense, even if the charges ultimately are dismissed. Wells Fargo has been performing thorough background checks on all its team members, which includes a fingerprint check with the Federal Bureau of Investigation.

To read more, click here
One Site! Many Suppliers!
Looking for the Top Suppliers in the Industry? Need to find a new Supplier?
Visit our VENDOR SHOWCASE which features suppliers to the Background Screening Industry.
2012 Winter Edition of Suppliers to the Background Screening industry Guide
Now Available!
Click here or on image to get a copy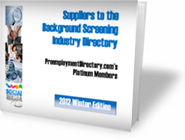 Contact Barry Nixon at wbnixon@aol.com for information on getting your firm listed in the Summer Edition.
USCIS Is Considering Some Bold Changes
In the past few years, directives from the government have expanded enforcement of I-9 related regulations on U.S. employers. U.S. organizations are increasingly finding it necessary to ally with experts knowledgeable in handling employment eligibility and compliance issues. Improper management, and worst yet, unwitting reliance on non-complaints software systems, can expose a publicly traded organization to unnecessary risks, including shareholder lawsuits and further review by the Securities Exchange Commission (SEC). In the past decade, the SEC's total enforcement activities have steadily increased 122%. In addition, USCIS is in the process of considering some bold changes to the Form I-9 by expanding this form to two, fillable pages and ICE is making an effort to expand E-Verify through the IMAGE program. The DOJ's Civil Rights Division Office of Special Counsel is helping employers by educating them on what not to do in certain employment instances and by regularly issuing advisory letters as well as webinars.

To read more, click here
Social Security Administration Reminds Employers About E-Verify
According to the Social Security Administration (SSA), employers have enrolled to use E-Verify at more than one million worksites. More than 2,500 new employers are enrolling every week. The number of employers enrolled in E-Verify has more than doubled since 2009. E-Verify is administered by the Department of Homeland Security (DHS) in partnership with the SSA. The program's focus is always on continuing to improve its performance. E-Verify is improving ever year. In fiscal year (FY) 2011, more than 98% of workers were automatically confirmed as work authorized, instantly or within 24 hours. A U.S. Government Accountability Office report found that E-Verify had reduced mismatches by more than five percentage points from 8% in 2007 to 2.6% in 2009. In FY 2010, that rate went even lower - to 1.7%. E-Verify participation grows dramatically, while the system's performance improves significantly every year. Here are some of the enhancements E-Verify has made over the past few years:
For more information click here

Spotting I-9 Document Fraud - Must Employers Become Document Experts?
During last week's keynote speech at the Second Annual Worksite Immigration Compliance Symposium, ICE Director John Morton mentioned that in the midst of the rising use of fraudulent documents and identify theft, he encouraged employers to enroll in E-Verify to ensure that the documents used were authentic. Despite Director Morton's recommendation though, the sentiment of many organizations is that their HR workforce must exercise some form of "document expertise" during the I-9 verification process that leaves many HR personnel with questions and concerns. In this regard, I asked three (prominent) immigration attorneys who practice I-9 compliance the following question and received different perspectives: "When corporate clients ask if they need to be 'document experts' when it comes to the I-9 verification process, how do you counsel them?"
Notwithstanding their varying advice above, they all agree that while employers don't have to be document "experts," there is an expectation that employers should respond to potential document fraud like a reasonable person would. One way to accomplish this is by implementing a document inspection strategy that makes sense for your organization; whether it's following instructions from the M-274, using a formal training program, or consistently abiding by a written (and practical) procedure.
To read more click here



Employer Best Practices During Worksite Enforcement Audits
To see the 'Do's and Don'ts click here
FTC Settlement Highlights the Importance of Protecting Sensitive I-9 Data in an Electronic World
The Federal Trade Commission (FTC) has reached an agreement with Electronic I-9 and E-Verify vendor, Lookout Services, Inc., to resolve charges that the company failed to employ reasonable and appropriate security measures to protect the I-9 data of their customers' employees following the company's highly publicized data breach in late 2009. Under the agreement, Lookout must implement a comprehensive information security program and obtain independent, third party security audits every other year for the next 20 years. The settlement sheds light on the potential hazards of storing sensitive I-9 information in an unprotected manner online. Proper data security involves a core set of principles and practices encompassing such topics as user authentication, access control, encryption, intrusion detection, and security management in general. Employers should always involve their IT security specialists at the beginning of the selection process to perform a detailed analysis of the vendor's systems and processes, as well as manual and automated penetration tests which gauge the effectiveness of the vendor's defenses against hacking attempts.

To read more, click here
New White Paper From HR Marketer
White Paper Social Influence:
Thriving in a New World of Media Relations
Social media has created a world of dizzying potential: it's incredibly easy to share your news with press, analysts, and decision-makers. Yet media relations is tougher than ever! As the pendulum swings from print to online media, the traditional roles of journalists and analysts are merging into a community of bloggers, HR professionals, consultants and other influencers.
To download the free white paper click here
Welcome to the International
Legal Challenge Question!
Most industries and firms now compete in a global marketplace which is continuing to increase the need for background checks for new hires that will reside in another country or that are being hired from another country. Commensurate with this growth in background checks is the need to understand the myriad of data protection, privacy, human rights and local laws that govern the practice of conducting background checks. To help background screening firms around the world to further enhance their knowledge we have launched this International Legal Challenge.
We are grateful to Neal Cohen with the law firm White & Case for providing the question and answer to the questions in the International Legal Challenge.
White & Case was founded in New York in 1901 and has grown into one of the world's leading global law firms. Among the Firm's core values are its commitment to excellence, teamwork, innovation and diversity, all in the service of and dedication to our clients around the world. Our clients include many of the world's most respected and well-established companies, visionary start-ups, governmental organizations and state-owned entities. In emerging and established markets, our lawyers use their knowledge of the laws, business practices and culture to advise our clients on their cross-border business. Our practices, systems and people are integrated across offices and jurisdictions, allowing us to leverage our global knowledge and resources to ensure our clients receive the same quality service, wherever they may be. White & Case has 38 offices in 26 countries around the world.
For information about White & Case go to http://www.whitecase.com/about/ or contact Neal at ncohen@london.whitecase.com.
Please Choose One of the Following Answer in Response to the Question
For information on sponsoring The International Legal Challenge Question please Click Here
International DPAs Meet on Enforcement
A dozen privacy enforcement authorities from around the world recently met at a two-day event in Montreal to explore ways to cooperate on enforcement. The temporary working group was formed under the Resolution on Privacy Enforcement Co-ordination at the International Level.The group agreed that there is nothing to be gained from a dozen authorities investigating the same incident in 'silos' and everything to be gained from them using their limited resources in a concerted fashion. Much of the discussion focused on practical suggestions that could be implemented immediately or in the very near future to overcome these obstacles - such as joining the Global Privacy Enforcement Network and using bilateral memoranda of understanding until multilateral co-operation agreements can be negotiated. Recognizing that the key to protecting the privacy of the citizens under their jurisdictions in light of global threats is to collaborate toward international enforcement, the members of the working group agreed to complete 10 action items.
To read more, click here
The Asian Talent Market: Challenges and Opportunities
With national and global organizations in growth mode, the pressure on the talent market has increased tremendously, and many employers are unprepared.According to the Universum IDEAL™ Employer Survey 2011, Asian students associate foreign employers with no job security, poor work/life balance, and a competitive and cut-throat environment. Large national employers, on the other hand, are perceived as offering exactly what new graduates are looking for: a stable career with opportunity for growth, market success, competitive benefits and a friendly work environment. Although Asian talent is known to have strong technical skills, there is a low supply of candidates exhibiting the soft skills that employers are looking for, making recruiting the right talent a challenge for 80% of global employers. With an organization's success depending on the management of the talent supply and the ability to attract and retain the right talent, it is more important than ever for organizations to have strong knowledge of the markets and the students they want to attract.This means fully understanding what their target audience is looking for, their preferences and career goals, but also the perception of the industry, the company's employer brand and that of the recruitment competitors.

To read more, click here
Drug Testing of Employees in Australia and New Zealand
A recent ruling by Fair Work Australia has found that making employees submit to urine tests for drug use is "unjust and unreasonable" as the tests can detect drug usage from the weekend. Union members argued that employees could fail a urine test even if they are not still under the influence of a particular substance because cannabis, for example, can remain in the body for up to 90 days. Oral swab tests will nowbe used instead of urine tests, which only detect THC a few hours after consumption when the user is still impaired and when their ability to do their job will be most affected.Drug testing of employees is becoming increasingly common in New Zealand in certain job sectors such as aviation and mining where the ability of employees to carry out their work safely is paramount. Unlike Australia, it appears that urine testing is still the preferred testing method for cannabis use in the workplace in New Zealand. However, in 2007, the Employment Court held that oral swab testing was not sensitive enough to reliably and accurately detect cannabis and it was criticized for returning more false positives or false negative results than urine testing.
To read more, click here
When Using Technology to Safeguard Personal Information, Sometimes Small Steps Can Prevent a Big Loss
An Office of the Privacy Commissioner of Canada (OPC) survey of 1,006 companies across Canada shows that many businesses are not employing recommended technological tools or practices to protect the digitally-stored personal information of their customers. The survey found that while the vast majority of companies are using passwords to protect personal information stored on digital devices, many do not ensure that passwords are difficult to guess or that their employees change them regularly. The survey also showed that almost 50% of companies that store personal information on portable devices like laptops, USB sticks, and tablets do not use encryption to protect the information. While the survey did find that many Canadian companies recognize the importance of protecting privacy, it is vitally important that businesses take the time to get it right - for their customers and for their own survival.

To read more, click here


Your Wallet Just Got a Bit Lighter: Ottawa Nixes SIN Cards
Ottawa is phasing out the SIN card in an effort to save money and help prevent identity theft. The low-tech white plastic cards carrying the social insurance numbers of Canadians do not have any of the modern security features that are now common on drivers' licenses and credit cards. Peter Boyd, Service Canada's director-general of service identity, authentication and epass, said the change is expected to save $1.5-million a year. While credit card companies can quickly and easily give customers a new credit card number if a card has been stolen, a compromised SIN number can be a much bigger hassle. It is the number that government and employers use to track income, taxes and eligibility for various programs like Employment Insurance. In light of concerns over identity theft, Boyd said Canadians should be living without the cards now. Officials from the Human Resources department also explained several changes in the bill dealing with privacy protection of SIN, EI and CPP files. The budget bill consolidates privacy rules into a single act, which includes more stringent privacy protection.
To read more, click here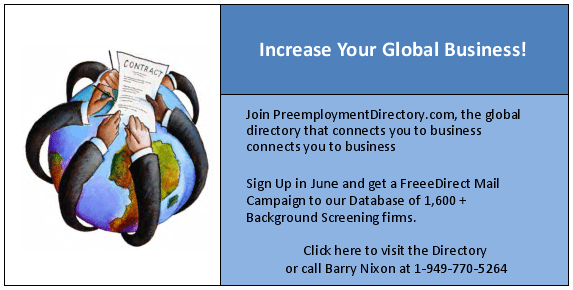 EU Sets Timeline for Consideration of Data Protection Reform
Jan Philipp Albrecht, the rapporteur to the European Parliament for the proposed EU Data Protection Regulation, has set forth a draft calendar that outlines the steps to be taken during the consideration of the Regulation. The proposed Regulation was published on January 25, 2012, and this calendar provides the first concrete timeline indicating how long debate over the Regulation may last, giving stakeholders a better sense of when a final Regulation may be in place. It is anticipated that by summer 2013 the Regulation should be ready for trilogue with the Council and Commission, and that the Regulation shall be put to a vote in the plenary session of the European Parliament in early 2014. The other committees involved must agree upon the calendar before it is finalized, and it will be modified as necessary as the proposed Regulation progresses towards finalization.

To read more, click here
Europe Pressures U.S. Tech On Internet Privacy Laws
America's big technology companies are negotiating the details of a new privacy system called "Do Not Track," to let people shield their personal data on websites. There's no deal yet, but American companies are feeling the pressure from Europe. "Enforcement actions against them will be taken," said European Privacy Regulator, Jacob Kohnstamm. "Not only should people be allowed to block websites from collecting and keeping their data, but that should be the default setting - on European browsers, at least." Europeans have sincere cultural reasons for tougher privacy rules and many view privacy as a potentially unequal relationship. However, according to privacy law expert Jane Winn, increased legislation is the last thing American companies want, especially in a global data-collection industry that they dominate - at least for now. If European rules become the global standard, then European companies may not be far behind.

To read more, click here
Fudging Your CV... Is It Worth It?
Interestingly, this is not the first time that such a senior level employee has been caught lying in his curriculum vitae (CV). In most of these cases, reported primarily from the western countries, strict action has been taken against the errant employees irrespective of rank and associated prestige. Had this kind of a case emerged in India would action have been taken on this scale? In fact, in a country like ours where a person is trusted more for his word and background checking seldom done, would falsification of this nature have been discovered at all?

It is very doubtful. Even in a day and age like this, most HR managers in top companies say that they conduct background screening only when doubts emerge. M S Venkatesh, who heads HR at Educomp, one of India's leading education companies, says, "Honesty and integrity are personal issues. We generally tend to believe a person if he or she claims to have a certain educational qualification but if we discover during an interview that something related to qualification or experience is not aligning, we go for a check." What do they do when this kind of a misrepresentation is detected? He says, "We don't hire that person."
But background screening agencies which have sprung up in India since the last five or six years, say that just letting employees go is not the right option, action should be taken against such people.

To read more click here
Growing Confidence Prompts Positive Outlook Among Business Services Sector
While official figures show the UK economy contracted in the first quarter of the year, data from the business services sector in the Business Factors Index from Bibby Financial Services shows more positive activity for the period.Increases in new customers, orders and business enquiries contributed to firms enjoying a positive start to 2012, despite official figures from the ONS in April announcing a return to recession.The report has found that performance among firms in the business services sector rose from 87.2 during Q4 2011 to 100 in Q1 2012. The number of firms winning new customers also rose from 27% to 46%. Businesses are increasingly more 'hopeful for the future' (up 9%), and it appears thatthe number of business services firms seeking external funds to expand and ensure their business is fit for economic recovery also increased.
Edward Winterton, executive director at Bibby Financial Services, says: "The results from the latest Index make encouraging reading for the business services sector, with increases in the number of orders being placed and new customers being won clearly having an impact on overall business confidence."

To read more, click here
CRB Checks Top 30 Million but Create 'Atmosphere of Mistrust'

Adults would rather ignore a lost or injured child than be accused of being a pedophile, according to campaigners who believe mass vetting over the past decade has actually left young people more at risk by creating an atmosphere of mistrust. New figures by The Daily Telegraph show that 32million Criminal Records Bureau (CRB) checks have been carried out in the past decade, at a cost of 1.5billion.Originally intended for professionals who work closely with children, background screening is now used for anyone involved in community work. The Manifesto Club, a libertarian group that campaigns against increasing state interference in everyday life, questions how many children and vulnerable adults have been protected by the vetting regime and argues that CRB checks are no guarantee of safety.
"The current system of employment checking has become excessive," said a Home Office spokesman. "This is why we are scaling the regime back to common sense levels so that the public are properly protected but the number of unnecessary checks is substantially reduced."

To read more, click here
The Protection of Freedoms Act Receives Royal Assent

The Protection of Freedoms Act contains amendments to the 'vetting and barring' scheme, which are of particular interest to health and social care organizations. The amendments were brought in by the previous Government under the Safeguarding Vulnerable Groups Act 2006 and were put on hold by the coalition in June 2010. In the meantime, health and social care organizations and individuals have been left dealing with a partially implemented scheme. The Act restricts the scope of the vetting and barring scheme and makes changes to the system of criminal records. In addition, regulated activity relating to children will no longer include any supervised teaching, training or instruction of children or the provision of care or supervision of children by a person who is being supervised by another. The Act also makes provision for the setting up of a new service, the Disclosure and Barring Service, which will take over the roles of the ISA and the Criminal Records Bureau. It remains the case that all institutions still need to carry out checks on individuals before allowing them to undertake regulated activity.

To read more, click here
World Information Center: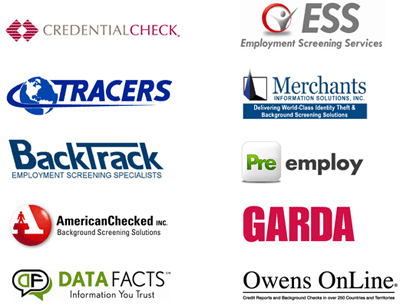 ADVERTISERS IN THIS EDITION
| | | | |
| --- | --- | --- | --- |
| | | | Background Screening Jobs |
Visit the Job Board for the Employment and Tenant Screening Industry. Here you will find resumes of people with industry experience and employers seeking applicants with experience in Employment and Tenant Screening and related businesses.
www.backgroundscreeningjobs.com
UPCOMING CONFERENCES, COURSES & EVENTS
Proposed Changes
to the Form I-9:
Your Questions ANSWERED
Wed., June 6 at 1:00pm EST


Back by popular demand, LawLogix invites you to attend a FREE one-hour webinar on the new proposed Form I-9, which is currently under review with the Department of Homeland Security.

For more information or to register click here
2012 Events ( Click Here to View full list of 2012 Events ) - Updated Monthly
SHRM State Conferences, visit http://www.shrm.org/Conferences/StateAffilliateConferences/Pages/default.aspx
Drug and Alcohol Testing Industry Association (DATIA), 2012 Training Course Schedule, visit
http://datia.org
SAPAA Training Institute Learning Events, http://www.sapaa.com/
CUPA-HR Conferences: http://www.cupahr.org/
World Federation of People Management Associations, Events, http://www.wfpma.com/events/by-region#quicktabs-tab-view__events__page_3-4