BACKGROUND SCREENING NEWS
German Regulator Calls for Termination of U.S. Safe Harbor
Ten years ago, the European Commission agreed to recognize the U.S. Department of Commerce (DOC) "safe harbor" principles, and that anniversary has prompted Schleswig-Holstein Data Protection and Privacy Commissioner Thilo Weichert to call for an end to the agreement. In a press release issued in the days leading up to the 10th anniversary, Germany's Independent Centre for Privacy Protection (ULD) raised questions about safe harbor as cited in a study by Australian privacy researcher Chris Connolly. According to the information included in the release, Connolly found that "2,170 U.S. companies claim to be safe harbor privileged; whereof 388 were not even registered with the Department of Commerce (DOC). Among the registered companies, 181 certificates were found to be not current due to lapse of time. The check on the seventh principle concerning enforcement alone showed that 940 out of the 2,170 U.S. companies do not provide information on how to enforce individuals' rights. 314 companies provide a dispute resolution scheme that costs between $2,000 and $4,000. Thus, it is hardly surprising that not a single complaint procedure has been carried out. Despite the more than 2,000 annual complaints about noncompliance with the safe harbor principles, the Federal Trade Commission (FTC) has prosecuted only seven organizations for falsely claiming safe harbor self-certification." The ULD contends that authorities in the U.S. have not done enough to stop the "misuse of safe harbor" by U.S. companies and organizations.
To Read The Full Article Go To:
https://www.privacyassociation.org/publications/2010_07_26_german_regulator_calls_for_t
ermination_of_u.s._safe_harbor/
SHRM Background Checking - Reference, Credit and Criminal Poll Results
Why do employers conduct background checks, what type of job candidates do employers investigate, what information in a job candidate's consumer report could have adverse effect on the decision to hire?
In November 2009, SHRM conducted a comprehensive survey that looked at background checking on job candidates. The survey explored the primary reasons organizations conduct background checks, the categories of job candidates organizations conduct background checks on and other related topics.
The research is divided into the following sections: (To access the presentations or download hover over the item hold down your Ctrl button and Click to go to the link)
Conducting Credit Checks (available to SHRM members only)
2010 Annual SHRM Report by Evan Zatt, Berg Consulting Group, Inc.
My take on the show was pretty positive. I think SHRM always puts on a great conference. Attendance was up this year. Last year's New Orleans show had roughly 6,800 paid attendees and 2010 saw this climb back to the 2008 level with 11,500. Total attendance, including exhibitors, guests, speakers, etc. was 16,400. It is great to hear people were willing to travel all the way to the West Coast for this show. As far as how many background screening companies exhibited, my count was 31 pre-employment screening companies, 2 drug testing companies, 2 assessment companies and 3 related exhibitors.
To Read The Full Report Go To: http://www.bergconsultinggroup.com/id95.html
Reference Check Leads to Million Dollar Judgment
Like many employers, Credit Argicole had a policy in place that limited information to anyone attempting to verify the employment of current or past employees. The policy is to provide dates of employment and the position the employee held or holds with the company - only. But like the best laid plans, a supervisor of a former employee disregarded this policy and told a prospective employer that a former employee "...had difficulty working with others and had mental issues." Consequently, the former employee of Credit Argicole did not get the job. What he did receive was a $2.4 million dollar judgment against Argicole after a jury deliberated for only five hours.
To Read The Full Article Go To: http://www.gtleblog.com/ http://www.pinewswire.net/2010/05/census-bureau-adopts-
stricter-rules-for-background-screening-of-census-workers
Oregon Law Continues Trend Disfavoring Credit Checks For Employment Purposes
In what seems to be a developing trend, another state has restricted the use of credit checks for employment purposes. Effective July 1, 2010, it is unlawful, except under limited circumstances, for an Oregon employer to use credit history in making employment-related decisions. Specifically, the law makes it "an unlawful employment practice for an employer to obtain or use for employment purposes information contained in the credit history of an applicant for employment or an employee, or to refuse to hire, discharge, demote, suspend, retaliate or otherwise discriminate against an applicant or an employee with regard to promotion, compensation or the terms, conditions or privileges of employment based on information in the credit history of the applicant or employee."

For More Information Click Here:
Court Rejects Technical Accuracy Approach, Holds That Duplicative Reporting Of Otherwise Accurate Criminal History Is Inaccurate Under § 1681e(B) Of The FCRA
Facts: Plaintiff brought suit against Defendant Hireright Solutions, Inc. ("Hireright"), a CRA that specializes in maintaining consumer files containing public record information and selling such files to potential employers. The Plaintiff alleged that Hireright willfully violated §§ 1681e(b) and 1681k of the FCRA by failing to notify him contemporaneously of the reporting of adverse criminal record history to potential employers and for failing to maintain strict procedures designed to ensure that such information was complete, up-to-date and accurate. Specifically, Plaintiff claimed that Hireright on three separate occasions provided consumer reports with duplicate entries of the same criminal record to potential employers. Hireright moved to dismiss Plaintiff's claims pursuant to Federal Rule of Civil Procedure 12(b)(6), which the Court denied.
For More Information Go To: http://www.lexology.com/library/detail.aspx?g=18b06353-06c5-482f-b7dd
-5a16a00ff967&utm_source=Lexology%20Daily%20Newsfeed&utm_medium=Email&utm_campaign=
Lexology%20subscriber%20daily%20feed&utm_content=Lexology%20Daily%20Newsfeed%202010-0
Welcome to the Legal Challenge Question!

As the background screening industry continues to get more competitive the firms that will ultimately succeed will be those that create competitive advantage through their people by offering continuous learning opportunities to heightened their knowledge and capabilities. We believe that having employees that are very knowledgeable about the legal landscape of background screening is essential to continued success.
We are grateful to Pam Devata, Seyfarth Shaw LLP for providing the expertise for this valuable endeavor. For information regarding the answers to the Legal Challenge Questions, please contact Pamela Devata at Seyfarth Shaw LLP at pdevata@seyfarth.com or 312-460-5000 or visit www.seyfarth.com.
Please choose your answer by clicking on it:
HireRight Announces Availability of 2010 Employment Screening Benchmarking Report
HireRight, a leader in on-demand employment background screening and drug screening, today announced the availability of the 2010 Employment Screening Benchmarking Report, which uncovers common screening policies, practices and trends that can assist organizations of all sizes in evaluating, developing and improving their screening programs. This third annual edition of the report is based on a comprehensive survey of human resources, security and other business professionals from organizations representing companies from a wide range of industries with offices around the world. The 2010 HireRight Employment Screening Benchmarking Report uncovers significant business drivers and industry trends. "The Benchmarking Report provides employers with a valuable, hard-to-find view of the screening practices of other organizations. In addition, the Report reveals market trends, current business drivers, common gaps, and best practices, helping employers identify areas of strength and weakness in their background screening, drug screening and employment eligibility programs."
According to Rob Pickell, senior vice president of customer solutions at HireRight, "The Benchmarking Report provides employers with a valuable, hard-to-find view of the screening practices of other organizations. In addition, the Report reveals market trends, current business drivers, common gaps, and best practices, helping employers identify areas of strength and weakness in their background screening, drug screening and employment eligibility programs."
For More Information on the 2010 Employment Screening Benchmarking report Go To: www.hireright.com/benchmarking.
MicroBilt Corporation Launches New Blog, Newsletter and Forum New Resources for Small Business on Issues of Credit, Collections, Fraud and the Underserved
MicroBilt, a leader in risk management information for small and medium-sized businesses, announces the launch of its new blog, newsletter and forum in addition to a number of new website enhancements. MicroBilt's new website will include a new product rating feature, an expanded section on PRBC® Consumer Reports with FICO® Expansion® Score and archives of the popular Rhett & Link I Love Local Commercials video series and GoRemy videos. MicroBilt is the sponsor of the highly acclaimed viral YouTube series, I Love Local Commercials starring Rhett & Link with over 10 million viewers to date. It has been featured on CNN, NPR, The New York Times, Forbes, Advertising Age, TMZ, as well as Jay Leno, Ellen, and George Lopez shows.
"We created our I Love Local Commercials program to celebrate small business, but also to connect with our customers. The success of the series has made us believers in the viral reach of social networks," says Bradley. "We have continued to explore new ways to connect with small businesses, and for our customers to share their experience at MicroBilt with their friends and followers. A perfect example is our new MicroBilt Connect referral program that allows MicroBilt customers to refer new customers to MicroBilt through Twitter and Facebook, as well as email or phone, and earn MicroBilt Reward points."
For More Information, Visit www.Microbilt.Com.


If You Are Interested In Getting More Than 100 Pre-Qualified Leads Click Here.
Verifyprotect.Com Has Joined Forces With Midatlantic Employers' Association
VerifyProtect.com, a division of ATS, Inc. American Tenant Services, has joined forces with MidAtlantic Employers' Association to provide customized employment background screening solutions, implementation services, and drug screening programs to MEA's membership of more than 700 companies. MEA is the region's largest source for human resources, employee training and development services, and business counseling and problem solving for small and mid-sized businesses. "What really sets us apart in the background screening industry is flexibility and technology. We've developed a custom VPO tool that allows the end user in real time to customize their screening program from the comfort of their office," says Taylor.

For More Information Go To: www.Verifyprotect.Com
TaxBreak and deverus Announce Strategic Alliance
TaxBreak, the leading expert in tax credit processing, and deverus, a market leader in background screening technology, announced a partnership to offer employee tax credit processing to the deverus client base. The alliance adds a critical service to deverus's already robust background screening product and service offering by allowing its clients to quickly screen candidates for tax credit eligibility prior to making a hiring decision. TaxBreak provides unique methods for screening and certifying applicants for such federal and state government incentives as work opportunity tax credits (WOTC) and empowerment or disaster zone credits. Its proprietary software enables companies to easily gather necessary information from the candidate or new hire and then complete the required documentation to submit to state agencies for certification. Today, many organizations employ hourly staff who qualify for these incentives and yet never reap the benefits of their employee selections. The two companies will work together to ensure a strong partnership is formed to provide maximum benefits to the deverus client base.
For More Information Go To: http://www.taxbreakllc.com/deverus_taxbreak_strategic_alliance.html
Ingram's, Kansas City's Business Magazine, recognizes Validity Screening Solutions as one of the 2010 "Best Companies to Work For"
Validity Screening Solutions , a premier provider of background screening and drug screening services has been recognized by Ingram's, Kansas City's Business Magazine, as one of the 2010 "Best Companies to Work For." The prestigious honor is awarded in three categories of large, medium and small companies. Validity is amongst five companies in the Greater Kansas City area named as a winner in their category. "I have had the privilege of working with Validity and Darren Dupriest, President and CEO, since 1999. After a short time away as a stay-at-home mom, the first place I turned when I was ready to return to work was Validity. It simply is the best place to work," said Lydia Wray, Director of Strategic Initiatives. Ingram's "Best Companies to Work For" recognizes workplaces of the highest quality in the Greater Kansas City area; those whose management practices, educational and advancement opportunities, benefits and spirit of teamwork set them apart from thousands of other companies throughout the region.
For More Information Go To: http://www.validityscreening.com/News-Releases/Validity-Screening-Solutions-Recognized-as-one-of-Kansas-Citys-Best-Companies-to-Work-For
DATA PROTECTION, PRIVACY & FRAUD
ACFE Estimates Organizations Worldwide Lose 5 Percent of Revenues to Fraud
Organizations around the world lose an estimated five percent of their annual revenues to fraud, according to a survey of Certified Fraud Examiners (CFEs) who investigated cases between January 2008 and December 2009. Applied to the estimated 2009 Gross World Product, this figure translates to a potential total fraud loss of more than $2.9 trillion. The Association of Certified Fraud Examiners (ACFE) published the results of the survey in its highly-anticipated 2010 Report to the Nations on Occupational Fraud & Abuse. For the first time, the Report includes global data and information from CFEs in 106 nations was compiled to develop the benchmarking statistics on occupational fraud losses, detection methods and perpetrators.
Some of the Key findings from the 84-page Report include:
Schemes can continue for months or even years before they are detected. The frauds in the study lasted a median of 18 months before being caught.
High-level perpetrators do the most damage. Frauds committed by owners and executives were more than three times as costly as frauds committed by managers, and more than nine times as costly as employee frauds. Executive- level frauds also took much longer to detect.
Small businesses are especially vulnerable to occupational fraud. These organizations are typically lacking in anti-fraud controls compared to their larger counterparts, which makes them particularly vulnerable to fraud.
The 2010 Report to the Nations is available for download online at the ACFE's web site: ACFE.com/RTTN The Report is in PDF format.
For more information about the ACFE, visit www.ACFE.com
US Conference Board: June Employment Trends Index Has Modest Gain
The moderate increase in labor data suggest companies remain unsure of the recovery, and that is limiting hiring gains, according to a report released Tuesday by the Conference Board.
The Conference Board's U.S. said that its June employment trends index rose 0.6% to 96.7 from May's revised 96.1, first reported as 95.7. The index has risen for 11 consecutive months and is up 9.8% from a year ago. The ETI report follows a weaker-than expected employment release that showed private payrolls rose just 83,000 in June. "The moderate increase in the employment trends index in the last two months suggests that many employers are now concerned that the recovery is losing momentum," said Gad Levanon, associate director.
For More Information Go To: http://online.wsj.com/article/NA_WSJ_PUB:BT-CO-20100706-706909.html
Manpower Cites Hiring 'Inflection Point'
U.S.employers' hiring plans for the upcoming third quarter are improved over the third quarter of 2009, according to Manpower Inc.'s new outlook survey just released. "We have been waiting for the labor market to show signs of a sustained recovery," Manpower Chairman and CEO Jeff Joerres said. "The survey results for the third quarter are indicating a trend of hiring intention that has historically proven to be the positive inflection point of accelerated job growth." Manpower's survey found that 18% of U.S. employers plan to add to their workforces in the third quarter, 8% planned to decreases, 70% planned no changes and 4% didn't know. That resulted in a net employment outlook of 10%, or 6% after seasonal adjustment.
Source: Daily News - North America - Staffing Industry Analysts
Monster Employment Index Rises For Fifth Consecutive Month,
Year-Over-Year Growth Rate Now 21 %
June 2010 Index Highlights :
· Index rises seven points in June as majority of industries continue expansion in hiring activity. Year-over-year growth rate climbs still further is now 21%
· Accommodation and food services sees largest rise in online job demand in June; manufacturing holds steady while transportation continues steady growth
· Management and healthcare support occupations see notable increases in June; while production and installation, maintenance, and repair remain flat
· All metro markets tracked by the Index exhibit positive annual growth
To Read The Full Report Go To: http://about-monster.com/sites/default/files/employment-index/MEIJun10Full%20Report.pdf
Using Traditional and Search Engine Marketing (and Social Networking) to Leverage Your Investments in Original Content and SEO

This complimentary article The Web has had a huge impact on how people research senior care products and services. Because of this shift, you must have a search-optimized "marketing" Web site with lots of original/educational content.  Download today!
Regulations Imposing New Obligations On Entities Furnishing Information To Consumer Reporting Agencies Go Into Effect On July 1
On July 1, 2010, final regulations will go into effect that impose new obligations on entities that furnish information about individuals ("data furnishers") to consumer reporting agencies ("CRAs") for use in reports about those individuals. These regulations require data furnishers to institute reasonable policies and procedures that (1) ensure the accuracy and integrity of furnished information and (2) allow individuals to formally dispute the correctness of certain information that is furnished about them to CRAs directly with the data furnisher.
The accuracy and integrity rules within the new regulations require data furnishers to "establish and implement reasonable written policies and procedures regarding the accuracy and integrity of the information relating to consumers that it furnishes to a consumer reporting agency."
Training staff that participates in activities related to data furnishing.
Deleting, updating, and correcting information in internal records, as appropriate, to avoid furnishing inaccurate information.
Conducting reasonable investigations of disputes.
In addition to the accuracy and integrity rules, the new regulations also contain rules requiring data furnishers in most cases to investigate disputes that individuals submit directly to them regarding the accuracy of information that the furnishers reported to a CRA. Previously, the law encouraged individuals to submit their disputes through a CRA, rather than directly to data furnishers.
To Read The Full Article Go To: http://www.hldataprotection.com/2010/06/articles/financial-privacy/regulations-imposing-new-obligations-on-entities-furnishing-information-to-consumer-reporting-agencies-go-into-effect-on-july-1/
The High Cost Of Violence
The most comprehensive study of its kind has found that violence costs the United States $70 billion annually, a figure that rivals federal education spending and the damage caused by hurricane Katrina. Phaedra Corso, lead author of study and associate professor of health policy at the University of Georgia College of Public Health and health economist at the Centers for Disease Control and Prevention, said the study illustrates how much money can be saved by investing in programs that decrease interpersonal violence and self-inflicted violence such as suicide. "Violence can be prevented, and this study highlights the benefits of prevention," said Corso, whose study appears in the June issue of the American Journal of Preventive Medicine. Corso and her colleagues at the CDC analyzed eight national data sets compiled by the federal government and calculated medical costs as well as productivity losses. The study also examines the costs of violence in different sub-populations and categories of violence, revealing specific targets for cost effective interventions.
For More Information Go To: http://www.georgiasafe-net.net/aboutUGA/research-violence.html
Social Media: The Next Generation
This article is designed to give marketers some highlights of what new initiatives, offerings, and companies appear to have traction. It's not for the social "expert." Rather it's geared to the generalist who wants a survey of some of the more important and interesting developments.
Facebook Open Graph and the socializing of content sites
Facebook's new Open Graph (OG) initiative is a means of adding value for its members across the web while simultaneously enabling content publishers to offer social features. In OG's launch week, more than 50,000 sites incorporated OG components. Many of those implementations were small, such as adding a "like" button embedded in content. Many organizations are using on a grander scale:
For More Information or to Read The Full Article Go To: http://www.imediaconnection.com/content/26912.asp
Finding Fake Urine A Real Challenge For Drug-Testing Labs
Kirt Haneberg started running a new kind of drug screening test on construction workers he deals with, he got a big surprise. The lab wasn't finding drugs in the urine. It wasn't finding urine in the samples, either.BRENT WOJAHNClearChoice Sub Solution is one of many synthetic urine test kits on the market.Scores of prospective workers were filling collection cups with synthetic urine they bought to slip past employer drug screens. In the first six months of testing — from January through June 2009 — 100 tests showed fake urine out of roughly 1,900 total samples. "Of the people who were retested within 24 hours, 98 to 99 percent of them came back positive" for drugs, said Haneberg, who manages the Construction Industry Drug-Free Workplace Program. That program gives pre-employment, random and post-accident drug tests to carpenters, bricklayers and masons in Oregon and southwest Washington, offering education and treatment to those who fail a test.
Some workers were surprised to finally get caught yellow-handed. "There are many scenarios where it was obvious people were getting away with it for years," he said. "And now they're not." "At some point, we'll revise our testing, if someone figures out what we're doing," Roberts said. "Sometimes this is sort of a cat-and-mouse game."
For More Information or to Read The Full Article Go To: http://www.oregonlive.com/health/index.ssf/2010/06/finding_fake_urine_a_real_chal.html
One Site! Many Suppliers!

Looking for the Top Suppliers in the Industry? Need to find a new Supplier?
Visit PreemploymentDirectory.com's VENDOR SHOWCASE which features suppliers to the Background Screening Industry (go to www.PreemploymentDirectory.com, click on 'Click Here' and then scroll down to Vendor Showcase for Background Screening Industry Suppliers)
Platinum Member Directory of Suppliers Now Available
Click Here to Download Your Copy
STOP STRUGGLING WITH WRITING AND PUBLISHING YOUR NEWSLETTER:
We can help you have a high quality e-newsletter to help nurture your relationship with your clients and attract new clients. Our customized newsletter service will take over your newsletter task or create a new one for you. We can manage the creation of your newsletter for you.
We are constantly researching information to use for The Background Buzz and you can put our research to use for you. Using the information rich content from The Background Buzz (minus the ads and competitors information) we will create a custom newsletter for you.
Use your staff's time to do more valuable work and save all the hassle of researching or writing articles, formatting and managing all the other ezine tasks with our customized ezine process.
Contact Barry Nixon at 949-770-5264 or at wbnixon@aol.com for more information.
World – Global Employment Market Improving
The latest 'Global Snapshot' report published by international recruitment firm Antal, based on research among 9,672 companies in Western and Eastern Europe, Africa, India, China and the USA has found that job prospects for professionals and managers continue to improve. Current hiring across the globe was up from 53% of respondents at the beginning of the year to 54% now. And the percentage of organisations intending to hire in the coming quarter was up from 55% to 58%. The percentage of organisations intending to shed staff had fallen slightly from 28% in the autumn to 22% now. However the general consensus was that this figure would drop to 25% over the coming quarter. Across the globe the sectors with the highest levels of recruitment at professional and managerial level were banking, engineering, FMCG, IT software and manufacturing. The lowest were shipbuilding, music and entertainment and airlines.
To read the full report please click here
Aussie Government Agency Proposes Finger Biometrics For Background Checks
Australian government agency, Crimtrac, has proposed tying fingerprints to passports and drivers licenses in an effort to reduce false identification for background checks. The plan, under high-level government talks, would reduce the time spent by law enforcement and customs agencies on sifting through possible identification matches. "When someone applies for a name-based check, it is limited because there could be a broad algorithm of variations in spelling, which brings back a large field that then must be manually eliminated," Kennett said. "Fingerprints are a much more targeted means of identification. It essentially tidies up matching, saves time and wrong identifications."
NSW police use mobile fingerprint scanners to verify criminal identities, shore-up convictions, and bail breaches. Captured fingerprints are uploaded to NAFIS using embedded wireless cards, and cross-checked with recorded fingerprints to provide officers with an identity match. The devices access the database, which contains some four million fingerprint records from every Australian state, within 90 seconds of capturing an offender's fingerprints.
http://homelandsecuritynewswire.com/aussie-government-agency-proposes-finger-biometrics-background-checks
Bill 38 – Criminal Record Checks for Volunteers Act
TThe proposed Act would preclude an organization from requiring a volunteer to provide a criminal record check as a condition of commencing or continuing work for the organization if (a) the volunteer provided a criminal record check that is less than one year old; and (b) the criminal record check is the latest one obtained by the volunteer. However, the organization can require the volunteer to provide it with notice of all proceedings which may result in a conviction, and may require a criminal record check if the organization has actual notice or reasonable grounds to believe that a conviction for an offence has been added to the volunteer's criminal record since the date of the most recent criminal record check for the volunteer that the organization has received.
For More Information or to Read the Full Article Go To:
http://www.lexology.com/library/detail.aspx?g=4349b433-0166-4aff-899d-8d024477f2ba&utm_source=Lexology
%20Daily%20Newsfeed&utm_medium=Email&utm_campaign=Lexology
%20subscriber%20daily%20feed&utm_content=Lexology%20Daily%20Newsfeed%202010-06-07&utm_term=
Commissioner Releases 2009 PIPEDA Report
For the Office of the Privacy Commissioner (OPC), "2009 was a watershed year," Commissioner Jennifer Stoddart writes in her report to parliament on the Personal Information Protection and Electronic Documents Act (PIPEDA). "The dominant theme of our work in 2009 was the protection of privacy in an increasingly online, borderless world," she notes. The report, which was submitted to parliament Tuesday, highlights such key issues as the "exponential growth" in technology-based investigations. Stoddart notes that while the OPC has been able to apply PIPEDA to tools and business models that did not exist when it came into force, it is essential to review privacy laws and administrative structures to ensure they keep pace with technology. "It is increasingly clear that if data protection authorities want to remain relevant," she writes, "the online world is where they need to be."
For More Information or to Read The Full Report Go To:
http://www.priv.gc.ca/information/ar/200910/2009_pipeda_e.cfm#sec2
More Companies Now Checking Out Potential Employees' Backgrounds
Companies in Canada have been doing their research on prospective employees before offering them a position, the Halifax News reports. Especially for companies that require their employees to handle cash or use payment processing systems, running a background check has become commonplace during the screen process. Despite the fees a company incurs from running a check - $35 per employment position record check and $15 per volunteer position - the safety measure has become an essential step.
To Read The Full Article Go To: http://www.pivotalpayments.com/ca/industry-news/more-companies-now-checking-out-potential-employees-backgrounds-19798040/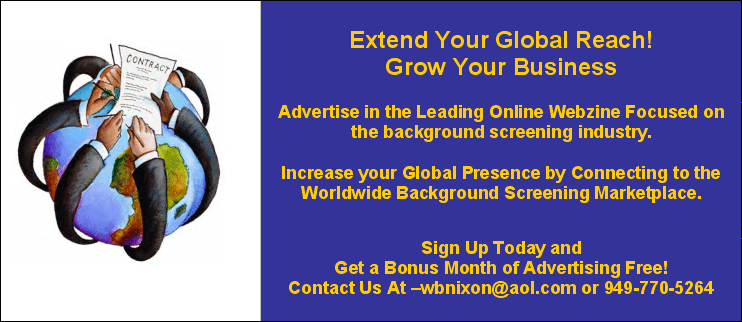 Handwriting Analysis As A Method Of Assessing Applicant Personality Traits
They say, "a picture is worth a thousand words", well it would seems that a hand-written paragraph is worth even more! Graphology, more simply known as Handwriting Analysis, is becoming a popular and accepted means of assessing applicant personality prior to employment. Handwriting is as unique to each individual as their fingerprints and a reliable indicator of personality and behaviour. As an emerging science, Graphology is gaining the attention of academics the world over as this science develops into a reliable and valid measuring instrument for a variety of applications, e.g. personnel selection, career coaching, team building and more. Handwriting analysis is a complex exercise which measures the involuntary impulses between the brain and the hand, foot or mouth, whichever is used to write. Graphology, like conventional personality tests is utilised to measure personality constructs of the individual. So, what makes handwriting analysis so unique- as personality measurement tool?
For More Information Go To: www.emps.co.za
United Arab Emirates: Recruitment Of Employees In The UAE: Background Checks
In the wake of the global economic crisis, many employers are reviewing and strengthening their policies in relation to background checks performed on prospective employees during the recruitment process. When performing background checks on a prospective employee, or in establishing a related policy, there are various legal obligations and considerations which an employer must bear in mind, the most important of which are addressed in this article.
For More Information Go To: http://www.mondaq.com/article.asp?articleid=101710&email_access=on
PreemploymentDirectory.com's 2010 Marketing Portfolios for:
We Specialize in Promoting the Products and Services of businesses in the Background Screening Industry.
Click on the specific Marketing Portfolio above that fits your business.
ADVERTISERS IN THIS EDITION
UPCOMING CONFERENCES & EVENTS

2010 Events (Click Here to View full list of 2010 Events) – Updated Monthly
SHRM State Conferences, visit http://www.shrm.org/Conferences/StateAffilliateConferences/Pages/default.aspx
Drug and Alcohol Testing Industry Association (DATIA), 2010 Training Course Schedule, visit
http://datia.org
CUPA-HR Conferences: http://www.cupahr.org/newsroom/news_template.asp?id=5445
World Federation for Personnel Management, Events, http://www.wfpma.com/events/byregion.asp