BACKGROUND SCREENING NEWS
United States: Indiana Gets Tough On Employers Of Illegal Aliens
On May 10, 2011, Governor Daniels signed a new law imposing significant consequences on Indiana employers who employ unauthorized workers. Under the law which go into effect July 1, 2011, the State may sue employers, who do not use E-Verify, to recover unemployment insurance benefits paid to a worker employed on or after July 1, 2011, who the employer knew was not authorized to work in the U.S. If the State prevails in this civil action, it also may recover reasonable attorneys' fees and costs. This law also includes adverse tax consequences for employers of illegal aliens, if the employers are not using E-Verify.
Starting July 1, 2011, State agencies and political subdivisions must use E-Verify for all new hires. These entities will be prohibited from entering into (or renewing) contracts with a contractor unless the contractor (and any subcontractors) participates in E-Verify and signs an affidavit certifying that it does not knowingly employ unauthorized aliens. The same restrictions will apply to businesses receiving State grants of $1,000 or more. If a contractor violates the law, the State must give the contractor 30 days to remedy the violation. Failure to remedy the violation within 30 days or to challenge the violation within 20 days of receiving notice will result in termination of the contract and possible damages (for example, if completion of the project by a new contractor results in higher costs). Contractors who use E-verify will have a rebuttable presumption that they did not knowingly employ an unauthorized alien.
To read more click here
Four Tips For Using Facebook Legally To Conduct Background Checks
As more people create Facebook profiles (500 million and growing), and sign on to the many social media sites available today, hiring managers are finding they have new opportunities to get background information on job candidates. Tapping into a potential hire's Facebook profile, or Twitter account, for information means you can learn more about a candidate's personality than you might get with just a job interview. A Facebook profile, or collection of tweets, can offer additional insight into whether or not a person might be a good fit with a corporation's culture. On the flip side, a thorough check of one's social media footprint might also uncover some serious missteps, or questionable judgments , a potential hire has made in their past.
Four tips to use to keep you out or legal hotwater:
Tip #1: If you're going to use Facebook to vet job applicants, make it clear, up front, in the hiring process

Tip #2: But remember, once you've viewed it, it can put you in a legal conundrum
Tip #3: Consider a third party to do the research for you

Tip #4: Understand what you find may not be reliable or accurate

To read more click here
FBI Uses Database To Connect The Dots
The FBI has built a database with more than 659 million records -- including terrorist watch lists, intelligence cables and financial transactions -- culled from more than 50 FBI and other government agency sources. The system is one of the most powerful data analysis tools available to law enforcement and counterterrorism agents, FBI officials said yesterday. The data warehouse is an effort to "connect the dots" that the FBI was accused of missing in the months before the 2001 attacks, bureau officials said. About a quarter of the information comes from the FBI's records and criminal case files. The rest -- including suspicious financial activity reports, no-fly lists, and lost and stolen passport data -- comes from the Treasury, State and Homeland Security departments and the Federal Bureau of Prisons. Names, Social Security numbers and driver's license details can be linked and cross-matched across hundreds of millions of records.
To read more click here
Idaho Passes "Diploma Mills" Legislation
Idaho lawmakers have approved a bill which will make it easier for the Board of Education to target bogus education providers operating in the state. The step was taken following concerns that unauthorized schools are moving into Idaho from other jurisdictions that have recently tightened their controls. The bill will allow the Board to issue cease-and-desist letters against those violating or continuing to violate the legislation. Criminal penalties for those knowingly or wilfully violating the rules could include a $10,000 fine and up to 12 months imprisonment.

To read more click here.
Another Social Media Discovery Ruling Employers Need to Know About
The Pennsylvania state court was asked to resolve whether a plaintiff's "privacy rights" would trump a defendant's request to access the plaintiff's Facebook and MySpace accounts to discover facts relating to the plaintiff's claim for damages in the case of Zimmerman v. Weis Markets, Inc . At issue in this case was Rane Zimmerman was suing his former employer, Weis Markets, after he injured his leg in a forklift accident while working and information found on his Facebook account was counter to statements he made in his deposition. Weis then filed a motion to compel discovery of the private portions of Zimmerman's Facebook and MySpace pages, arguing there may be other relevant information as to Zimmerman's damages claims on the private portions of those pages. The company sought the disclosure of Zimmerman's passwords, user names and login names to Weis' counsel." Zimmerman argued that his privacy interests outweighed the need to obtain discoverable material. Weis Markets countered that discovery rights trump privacy rights.
Court based ruling on 3 important tenants
In a very well-reasoned decision, the court agreed with Weis Markets, basing its decision on three important tenets:
A litigant has no "privacy rights" in non-public sections of social websites.
The "pursuit of truth as to alleged claims is a paramount ideal."
Courts generally allow liberal discovery.
In all, a well-reasoned decision, which helps employers the court ruled there's little expectation of privacy with social media
To read more click here
USCIS and Mississippi Implement New E-Verify Tool to Combat Fraud
U.S. Citizenship and Immigration Services (USCIS) today launched Records and Information from DMVs for
E-Verify (RIDE) , a new feature which allows USCIS's E-Verify program to validate the authenticity of Mississippi driver's licenses used by employees as Form I-9 identity documents. "RIDE reflects our commitment to continually improving E-Verify," said USCIS Director Alejandro Mayorkas. "This important enhancement strengthens E-Verify's anti-fraud capabilities and will play a key role in helping employers in the U.S. maintain a legal workforce."
More than 80 percent of employees present driver's licenses to establish their identities when completing the Form I-9. By enabling E-Verify to compare driver's license data against state records, RIDE will improve E-Verify's accuracy and help combat document fraud when determining employees' eligibility to work in the United States-while observing safeguards to protect employee's personal data. RIDE helps combat document fraud by enabling E-Verify to confirm the authenticity of an additional identity document. For example, previously, if an employee presented a driver's license to establish his or her identity and a social security card to establish his or her employment authorization, E-Verify would only have been able to confirm the validity of the social security card. RIDE enables E-Verify employers in Mississippi to confirm the validity of both documents.
To read more click here
Publicly Reporting Expunged Conviction Records Does Not Create Liability For Defamation
Publicly reporting expunged conviction records does not create liability for defamation if the information disclosed is true, according to the New Jersey Supreme Court . In the case, a political campaign publicized the expunged drug conviction of an opponent's aide in a flyer.
The Court ruled that defendants in this case were entitled to assert truth as a defense to the defamation and other related tort actions, even though the plaintiff.'s conviction was subject to an expungement order. Second, the plaintiff failed to establish that the flyers were not substantially accurate. Lastly, the plaintiff had no reasonable expectation of privacy that information so long in the public domain before the entry of the expungement order would be erased from the public's mind or from papers already widely disseminated.
To read more click here
Welcome to the U.S. Legal Challenge Question!

As the background screening industry continues to get more competitive the firms that will ultimately succeed will be those that create competitive advantage through their people by offering continuous learning opportunities to heightened their knowledge and capabilities. We believe that having employees that are very knowledgeable about the legal landscape of background screening is essential to continued success.
We are grateful to Larry Henry, Rhodes, Hieronymus, Jones, Tucker& Gable P.L.L.C.for providing the expertise for this valuable endeavor. For information regarding the answers to the Legal Challenge Questions, please contact Larry Henry at lhenry@rhodesokla.com or (918)582-1173 or visit www.seyfarth.com.
Please choose your answer by clicking on it:
Corporate Screening Named Preferred Background Screening Provider by Ohio Hospital Association Through its Subsidiary OHA Solutions
Corporate Screening Services, Inc. is pleased to announce its selection as the preferred background screening provider for theOhio Hospital Association through its subsidiary OHA Solutions. As a leader in the pre-employment screening and background investigation industry, Corporate Screening serves as a trusted partner for many of the nation's top employers and healthcare organizations. This selection also carries an endorsement by OSHRRA, the Ohio Society of Healthcare Human Resources Administrators, a professional society of hospital personnel executives organized under the auspices of OHA.
"We are honored to receive this designation from these well-respected OHA affiliates," states Greg Dubecky, president of Corporate Screening. "For more than 20 years, we have created custom solutions specifically for the healthcare market. We are eager to serve Ohio's hospitals assisting them in implementing the strategic solutions that will help to maintain the highest levels of safety and security."
To read more click here
Per Mar Security Services Acquires Employer's Security of Elkhart, IN
Per Mar Security Services is pleased to announce that effective May 27, 2011, we have acquired Employer's Security of Elkhart, Indiana. The company, which had been in business since 1956, was owned and operated by Nathan Soward and Gayle Davis. Employer's Security offered full electronic security and guard services including burglar and fire alarm systems, access control, CCTV installations, security officer, mobile patrol, and alarm response. Per Mar will continue to offer these services and the operation will move into our existing Mishawaka office, which will ensure that exceptional service continues to be provided to Employer's Security's former customer base. Per Mar is now the dominant provider of security services in the South Bend, Mishawaka, and Elkhart corridor; an additional 150 employees and 500 alarm customers have become a part of the Per Mar family, servicing a total of over 3,000 customers in this area.
To read more click here
ANNOUNCEMENTS (continued)
eScreen's Dr. Murray Lappe and Robert Thompson Named Winners of Ernst & Young Entrepreneur Of The Year® 2011 Central Midwest Award
eScreen today announced that Dr. Murray Lappe and Robert
Thompson have received the Ernst & Young Entrepreneur Of The Year® 2011 Central Midwest Award in the Technology category. According to Ernst & Young LLP, the award recognizes outstanding entrepreneurs who demonstrate excellence and extraordinary success in such areas as innovation, financial performance and personal commitment to their businesses and communities. Dr. Lappe and Mr. Thompson were selected by an independent panel of judges, and the award was presented at a gala event at the Sheraton in Overland Park, KS on June 7, 2011.
Dr. Murray Lappe said, "It was a great honor to be recognized by Ernst & Young. But it was through the combined efforts of all of my colleagues that made this possible. I'm looking forward to helping other entrepreneurs realize their dreams." eScreen President and CEO Robert Thompson stated, "This award is the result of years of hard work on thepart of the entire eScreen team, delivering value to clients every day through technology and a commitment tocustomer service in all we do."
To read more click here
The Conference Board Employment Trends Index™ (ETI) Declines
The Conference Board Employment Trends Index™ (ETI) declined for the second month in a row in May to
99.7, down from April's revised figure of 100.1. The May figure is up 5.3 percent from a year ago. Says Gad Levanon, Associate Director, Macroeconomic Research at The Conference Board: "Declines as we've seen in the Employment Trends Index in the last two months are usually associated with a slowdown in job growth. We expect moderate job growth to continue, but it is becoming clear that employers are reacting to the growing uncertainty in the U.S. economy by slowing down hiring."
To read more: http://www.conference-board.org/data/eti.cfm
The SHRM LINE Employment Expectations Report for June 2011 has been released.
Manufacturers and service-sector companies will continue to add jobs in June, but the pace of payroll growth remains insufficient to drive unemployment rates down significantly, according to the Society for Human Resource Management's (SHRM) Leading Indicators of National Employment (LINE) survey for June 2011.
Mixed results for hiring expectations in June.
The rate of job creation will rise slightly in manufacturing and fall moderately in services compared with a year ago.
Recruiting difficulty rises in both sectors.
More HR professionals in manufacturing and services reported increased difficulty with recruiting key candidates in May.
To read more click here
Job Growth slows
Private-sector employment growth slowed sharply in May, according to the national employment report released today by Automatic Data Processing Inc. Employment in the private sector rose by 38,000 on a seasonally adjusted basis in May, down from growth of 179,000 in April. Employment in the service-providing sector rose by 48,000 in May, the 17th consecutive month of employment gains. Employment in the goods-producing sector fell 10,000, following six months of increases.
To read more click here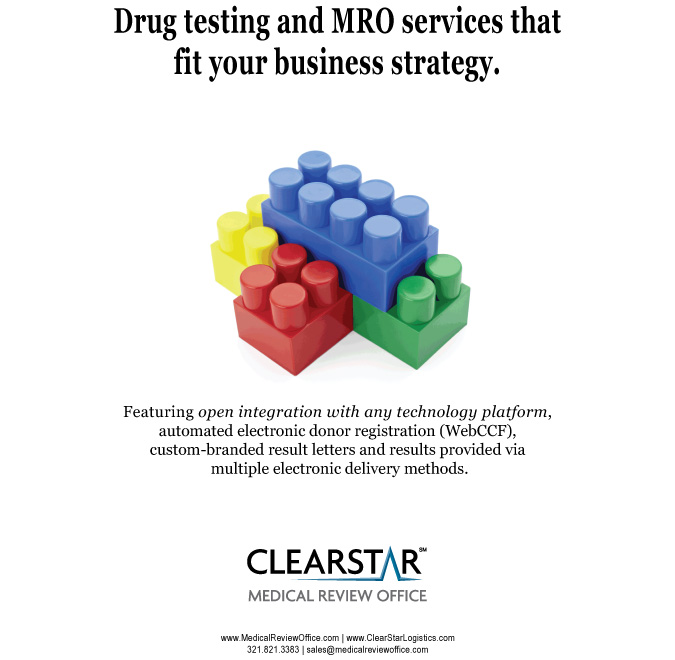 EMPLOYMENT OUTLOOK (continued)
Consulting Magazine Poll - What Client Industry Will Be The Busiest For Your Firm The Next Six Months?
| | | | | | |
| --- | --- | --- | --- | --- | --- |
| Healthcare | 41% | Energy | 16% | Retail | 8% |
| Financial Services | 21% | Manufacturing | 8% | Public Sector | 6% |
STOP STRUGGLING WITH WRITING AND PUBLISHING YOUR NEWSLETTER:
We can help you have a high quality e-newsletter to help nurture your relationship with your clients and attract new clients. Our customized newsletter service will take over your newsletter task or create a new one for you. We can manage the creation of your newsletter for you.
We are constantly researching information to use for The Background Buzz and you can put our research to use for you. Using the information rich content from The Background Buzz (minus the ads and competitors information) we will create a custom newsletter for you.
Use your staff's time to do more valuable work and save all the hassle of researching or writing articles, formatting and managing all the other ezine tasks with our customized ezine process.
Contact Barry Nixon at 949-770-5264 or at wbnixon@aol.com for more information.
Drug Use Among Job Applicants Is Growing Issue
Despite continued high unemployment figures, some area businesses are having a difficult time filling job openings and the main reason for the struggle may be surprising. There isn't a lack of qualified candidates for those jobs, according to Chemung-Schuyler-Steuben Workforce NY. But many of those candidates -- between 30 percent and 50 percent, the agency says -- bring one big disqualifying factor to the table: Drug use.
The number of job candidates who fail mandatory drug testing is shocking, said Dan Porter, executive director of CSS Workforce NY. "Surprise is not the word I would use. It's appalling," Porter said. "With unemployment in our area at 8.3 percent, you would think people would give everything they could to have an advantage. It's gigantic. It is a huge issue.
To read more click here
Sponsored by:
Public Record Update
By Mike Sankey, June, 2011
New Hampshire Courts Reorganization: The New Circuit Courts
Effective July 1, 2011, a new Circuit Court system in New Hampshire will consolidate the existing 32 District Courts, 10 Probate Courts, and 25 Family Courts. Under the new system each county will have a Circuit Court with three Divisions: District, Family, and Probate.
All current District Court locations will remain open. In most counties, the probate case records will be maintained in the District Court located at the county seat. The District Division will continue to handle misdemeanor, traffic, civil actions under $25,000, small claims, and landlord-tenant cases. The Probate Division will still have jurisdiction over wills, trusts and estates, guardianships and involuntary commitment proceedings, adoptions, name changes and partition of real estate. In most counties, the probate case records will be maintained in the District Court located at the county seat. Family Division cases include divorce/parenting action, child support, domestic violence petitions, guardianship of minors, termination of parental rights, abuse/neglect cases, children in need of services, juvenile delinquency, and some adoptions.
To read more click here
DRUG AND ALCOHOL TESTING (continued)
Is Drug Testing an Invasion of Privacy?
When you join a company, you usually are required to sign an employment contract. This contract contains several provisions, including the right to drug test you. Usually, a company will reserve the right to drug test someone if they believe you may be under the influence of drugs. However, in Florida, the governor wants to mandate drug testing for state employees, both new hires and existing. The ACLU has filed suit attempting to block this extended drug testing because they believe "it is an unnecessary and costly invasion of the basic privacy and dignity of all state workers to force us to submit to tests of our bodily fluids with absolutely no just cause. "
On the other hand, many people will argue that if you have nothing to hide, you shouldn't be afraid to take a drug test. The problem is that the ACLU won a similar lawsuit in 2004. The U.S. District Judge Robert Hinkle determined that the Department of Juvenile Justice was wrong to fire an office employee because he had no direct contact with children nor were there any safety reasons for the testing, such as carrying a gun or driving. Also, Outside of an agreement in your employment contract, the U.S. Supreme Court has looked at this issue. The Court will allow a suspicion-less drug test only if "the risk to public safety is substantial and real." This usually includes those who work with children, handling drugs, carry a weapon or drive vehicles.
To read more click here
HARD COPY ARTICLE IN PRINT
The Matrix Quandary

By Frederick G. Giles, CPP, and Pamela Q. Devata

Used properly, decision on hiring matrices can help aq company make good employment decisions, but misuse can land companies in legal hot water. The key is for employers to use such tools only after careful thought and legal review to ensure that they are well-conceived and legally defensible. For beginners, Human Resource and Security professionals tasked with vetting jobs candidates must ensure that any use of decision matrixes for employment background report evaluation does not violate the principles laid out in the landmark case Griffs v. Duke Power Company.

Anyone developing a hiring policy must understand what a decision matrix is, what the risks of using it are, and how an appropriate matrix can be developed to facilitate fair hiring of qualified employees without increasing liability.

To read the full article see - Security Management , June edition
THE WASHINGTON REPORT BY MONTSERRAT MILLER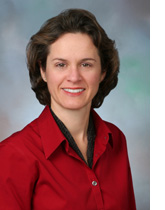 Montserrat Miller is a Partner with the law firm Arnall Golden Gregory, LLP and is based in Washington, DC. Ms. Miller's practice focuses on privacy and immigration compliance, as well as representation before Congress and federal regulatory agencies such as the Federal Trade Commission, Equal Employment Opportunity Commission, Consumer Financial Protection Bureau and the Department of Homeland Security.
You can contact Monterrat at Montserrat.Miller@AGG.com or visit http://www.agg.com/Contents/Home.aspx
Are You Prepared To Handle A Data Breach In A Positive Manner?
Recently I read an article regarding multiple data breaches and the executive of one company was actually receiving positive press relative to a data breach where individuals' personally identifiable information (PII) was compromised. Who knew such positive media coverage was possible! However, it wasn't the breach that was being lauded, but rather the company's response to the breach. Mind you that this could cut either way. Take the Sony Corp. example, where they were criticized for their consumer response when their PlayStation gaming system was hacked.
Given the sophistication of hackers, if you collect, use, maintain or disseminate PII you have a problem in that a data breach is one key stroke or one lost laptop away. It is important therefore to plan in advance, and have a written data security and breach notification policy in place, regarding if, who, how and when you will respond in the event of such a breach. Have a crisis response team in place, both internally and externally, which includes legal counsel, IT specialists and public relations experts. Recognize that consumer's PII is uniquely precious and the Holy Grail for identity thieves. While perhaps some hackers hack for the thrill of the challenge (super geeky) or others hack for military and espionage purposes (super bad), the type of hacker that you and I have to worry about on a daily basis is the one who steals credit card information or social security numbers for the purpose of committing identity theft.
To read more click here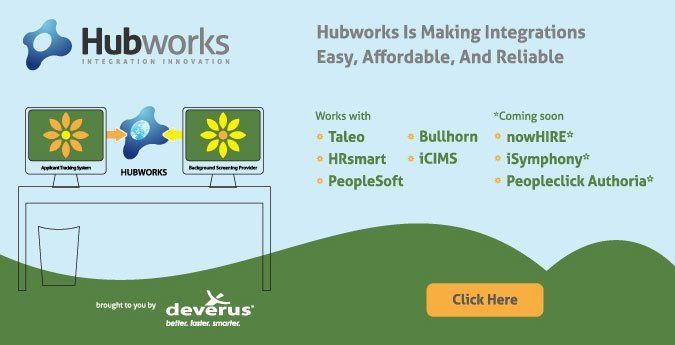 One Site! Many Suppliers!

Looking for the Top Suppliers in the Industry? Need to find a new Supplier?
Visit our VENDOR SHOWCASE which features suppliers to the Background Screening Industry.
New! Winter 2011 Directory of Suppliers Now Available - Click Here!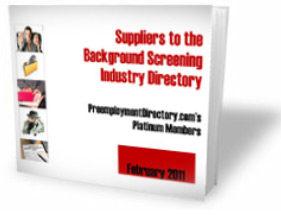 Sponsored by: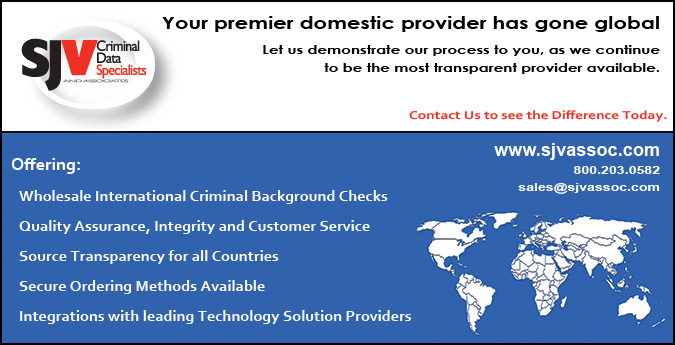 Most industries and firms now compete in a global marketplace which is continuing to increase the need for background checks for new hires that will reside in another country or that are being hired from another country. Commensurate with this growth in background checks is the need to understand the myriad of data protection, privacy, human rights and local laws that govern the practice of conducting background checks. To help background screening firms around the world to further enhance their knowledge we have launched this International Legal Challenge.
We are grateful to Brian Arbetter a Partner with the global law firm of Baker & McKenzie LLP for providing the question and answer to the questions in the International Legal Challenge. Brian is based out of the Firm's Chicago and San Diego offices. His practice focuses on international law issues, with particular emphasis on labor and employment, as well as workplace privacy. For information regarding the answers to the International Legal Challenge questions, please contact Brian at brian.arbetter@bakermckenzie.com.
Please Choose One of the Following Answer in Response to the Question
For information on sponsoring The International Legal Challenge Question please Click Here
Manpower Employment Outlook Survey - Global
Employers in India, Brazil, Taiwan and Turkey report the strongest third-quarter hiring plans, while those in Spain, Greece, Italy and Ireland report the weakest—and only negative—hiring forecasts. The hiring pace is expected to improve from three months ago in 20 of 39 countries and territories.
Regionally, employers in the Asia Pacific region report the most positive Net Employment Outlooks. Indian employers continue to anticipate the most optimistic hiring environment among all of the countries and territories that participate in the survey. Hiring intentions are positive in all eight countries and territories. However, employer demand for talent is marginally weaker from three months ago in five of eight Asia Pacific countries and territories surveyed.
In the Americas, employers in all 10 countries report positive third-quarter hiring intentions. Opportunities for job seekers are expected to remain relatively stable or improve in eight of 10 countries, year-over-year. The conservative hiring Outlook in the U.S. is unchanged quarter-over-quarter but improves slightly from last year at this time.
In the EMEA region, employers report positive hiring intentions in 17 of the 21 countries surveyed with
individual Outlooks improving in 13 of 21 countries from three months ago and year-over-year. Similar to the second quarter, regional hiring plans are strongest in the Eastern European countries of Turkey and Romania and weakest in Spain and Greece.
To read more click here
Canpro Global and King - Reed Merge to Create Canada's Largest National Investigation and Risk Mitigation Firm
Toronto, June 7, 2011: Canpro Global Services Inc. and King-Reed & AssoCANAciates LP have amalgamated to create the largest full-service risk mitigation and investigation company in Canada. The new organization, Canpro King-Reed LP, with combined annual revenues in excess of $40 million, becomes
the dominant service provider in its field. Chairman of the Board, Brian D. King, and President and CEO, Robert Burns, in a joint announcement said, "We now blanket the country from coast to coast and our clients get the broadest range of services in the industry. It's a perfect fit."
The combined firm will deliver uniform reporting and methodology and the ease of a single point of contact for national coverage. Clients will now have access to expanded technology, geographic coverage, resources and industry specialists across Canada and in some international locations.
Client services include Investigations, Security and Risk Consulting, Pre-employment Screening, Occupational Health & Safety, and Labour Risk Management.
To read more click here
Data Czar Says He Will Step Up Inspections
The European data protection supervisor (EDPS) has warned that he will step up inspections and monitoring to make sure EU institutions abide by EU data protection rules. Peter Hustinx, the European data protection supervisor, said in his office's annual report for 2010 released yesterday (15 June) that more on-the-spot inspections would be carried out this year on cases it receives where it has grounds to believe EU institutions are failing to comply.
His report added that the EDPS would also give special attention to how member states and the European Commission are drafting and implementing new legislation on border security checks, such as the proposed entry-exit system and the registered traveller programme, as well as an EU-wide system to collect data on airline passengers.
To read more click here
Animal Rights Extremism In Europe - Where Are We Now?
Animal rights extremism includes clearly biomedical research, fur, intensive farming, meat, greyhound and horse racing, hunting and in fact anything to do with animals can result in a protest campaign. The last two to three years have seen what can only be described as serious, organised criminality, where companies have not only been demonstrated against, but have suffered serious attacks involving the use of incendiary devices, other arson attacks and the personalisation of targeting against senior management. In total in 2009-2010 there have been 27 attacks in 7 Member States, 11 of which involved arson or incendiary devices being used. Small scale demonstrations continue against all the causes mentioned above. Other criminal activity continues and there may well be further infiltration and subsequent exposés of activity within research laboratories. In addition, leading activists in the UK are now being released from lengthy prison sentences, and whilst there is a relatively low level of animal rights activity this may now change. It would seem, therefore, prudent to mitigate this threat.
Companies and organisations need to be informed in respect of what they are doing that may make them a target for extremism, and what the activists are doing. This understanding of the threat allows the risk assessments to be considered and any contingency plans to be tested. If you are undertaking research, I would suggest an effective way of mitigating the threat of infiltration and exposé is to ensure the welfare of your research animals is first rate and that you publish on your website and in other corporate literature exactly what you are doing. Having a robust infiltration prevention plan including extensive pre-employment screening and interviewing and selection skills is also essential. This should ensure there can be no shocks or surprises. Finally, you should always liaise with your local police.
To read more click here
Germany – Country Background Screening Essentials
The primary law governing background checks in Germany is The Federal Data Protection Act (Bundesdatenschutzgesetz (BDSG). As of 1 September 2009 the BDSG provides comprehensive regulation of the processing of personal data. In addition, each German State has privacy legislation and data privacy commissioners to enforce State laws. The German federal government amended the existing law on the processing of employee data in June 2010.. This new law now applies to virtually all data collected and used by employers over the course of an employment relationship. The new law allows employees to consent to the background check; however, it is very strictly limited.
According to Sec. 32a para. 8 of the law, any personal data shall only be collected directly from the affected employee or applicant. Any collection of data on the applicant from a third party requires prior opt-in consent. An exemption is made only for data that is publicly available so that Internet searches on the individual will generally remain permissible. In case an employment relationship has not been founded, the data of the applicant may only be stored further if the applicant has consented.
In addition, a prospective employer may only ask questions relating to particularly sensitive subject matter if the information is significantly and decisively pertinent to the work. In this context, sensitive data includes: disabilities, health, religious or political views – as well as criminal records and financial standing.
To read more click here
Hungarian International Data Protection Conference
On June 16 and 17, 2011, the Hungarian Presidency of the Council of the European Union hosted a high-level international data protection conference in Budapest. The following are some highlights from the second day's events:
During the "New principles in the field" panel the principle of accountability was discussed
The second and final panel discussed "Global compatible standards of privacy / data protection,"
The conference ended with a speech by former Hungarian Data Protection Commissioner Attila Péterfalvi whom provided some details regarding upcoming legislation to amend the Hungarian data protection framework, Accordingly, the new legislation was designed to bring Hungary into compliance with the Directive, in particular by converting the Data Protection Ombudsman into an independent data protection authority with its own budget. The legislation would make the new DPA responsible for freedom of information as well as data protection. Approval of the amendments will require a two-thirds majority in the Hungarian parliament; it is hoped that the amendments may be approved some time this summer.
To read more click here
Right To Privacy May Become Fundamental Right
The law ministry is working on a proposal to make right to privacy a fundamental right in the Indian Constitution.
The right to privacy would include the right to confidentiality of communication, confidentiality of private or family life, protection of his honour and good name, protection from search, detention or exposure of lawful communication between individuals, privacy from surveillance, confidentiality of banking, financial, medical and legal information, protection from identity theft of various kinds, protection of use of a person's photographs, fingerprints, DNA samples and other samples taken at police stations and other places and protection of data relating to individual. If the legislation is passed, it would address several concerns expressed by some sections of the civil society. For instance, there has been outrage over the `compromise' of an individual's privacy in a project like UID, where all
personal data will be available at the click of a mouse.
To read more click here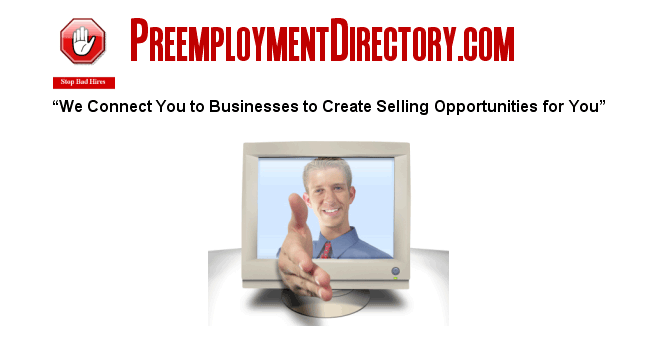 We Specialize in Promoting the Products and Services of businesses in the Background Screening Industry.
Click on the specific Marketing Portfolio above that fits your business.
Fake Flying License Scam: Four Arrested
Four persons, including a DGCA official and a pilot were arrested by Delhi Police in connection with the fake flying license scam in New Delhi on March 26, 2011.

DGCA had recently grounded 14 pilots who obtained their commercial licences by submitting fake records and document. These pilots whose licenses have been revoked had allegedly not flown the mandatory hours and are alleged to have got fake certificates from a Rajasthan flying training institute.

DGCA chief E K Bharat Bhushan said that DGCA would conduct third-party audit of all the 40 flying schools in the country in the wake of cases of forgery behind securing of licences coming to light. Bharat Bhushan, the Director General in DGCA, said essentially there are two types of frauds in regard to fake pilot licenses. One type of fraud related to not passing the Commercial Pilot License (CPL) exam and producing false marksheet to procure the flying license while the other related to flying schools crediting flying hours in certificates which has actually not been undertaken by the persons concerned, he said.
To read more click here
Malaysia to Establish New Government Department for Personal Data Protection
On June 20, 2011, Malaysia's Bernama News Agency reported that the Malaysian Ministry of Information, Communication and Culture will establish a government department to facilitate the implementation of Malaysia's new Personal Data Protection Act. Malaysia passed the Personal Data Protection Act in 2010, but the law has yet to go into effect. According to the report, enforcement of the Act is scheduled for early next year.
Source: Privacy and Information Security Blog
Report on the 2011 New Zealand Workplace Violence Survey
Some 96 organisations responded to the online 2011 Workplace Violence Survey conducted by Massey University which represents over 76,000 New Zealand employees (approx. 4% of the employed workforce). The survey respondent Was most frequently the organisation's health and safety manager, advisor or coordinator.
Just over one--half of the organizations participating in the study reported cases of workplace violence, With a roughly even split between physical assault and property---related violence. A total of nearly 2500 cases of workplace violence were reported in 2009 by the 96 organisations participating in the survey. Highest incidence of workplace violence was reported for the attempted assault' categories,
while a total of 436 cases involved some form of physical injury (18% of all reported cases).
To read the full study click here
Peruvian Privacy Law Expected by July 28, 2011
On June 7, 2011, the Congress of the Republic of Peru passed the Personal Data Protection Law ( Ley de Protección de Datos Personales, Proyecto de Ley 4079/2009-PE). If signed into law, the bill would make Peru the newest member of the group of Latin American countries with EU-style omnibus privacy legislation. View a copy of the Personal Data Protection Law (in Spanish) as passed on June 7, 2011.
To read more click here
INTERNATIONAL: PROFESSIONAL WORKSHOPS AND ASSOCATION CONFERENCES
Featured Courses:
Privacy Laws & Business 24th Annual International Conference, 11 to 13 July, 2011, Cambridge, UK, http://privacylaws.com/templates/AnnualConferences.aspx?id=641
Document Verification for non-UK National Employees Workshop, Business Forums International LTD - London – 19 July 2011, http://www.bfi.co.uk/event-detail.asp?eventid=129
( Click Here to View full list of 2011 Events ) - Updated Monthly
ADVERTISERS IN THIS EDITION

| | | | |
| --- | --- | --- | --- |
| | | | Background Screening Jobs |
Visit the Job Board for the Employment and Tenant Screening Industry. Here you will find resumes of people with industry experience and employers seeking applicants with experience in Employment and Tenant Screening and related businesses.
www.backgroundscreeningjobs.com

UPCOMING CONFERENCES, COURSES & EVENTS
2011 Events ( Click Here to View full list of 2011 Events ) - Updated Monthly
SHRM State Conferences, visit http://www.shrm.org/Conferences/StateAffilliateConferences/Pages/default.aspx
Drug and Alcohol Testing Industry Association (DATIA), 2011 Training Course Schedule, visit
http://datia.org
SAPAA Training Institute Learning Events, http://www.sapaa.com/
CUPA-HR Conferences: http://www.cupahr.org/
World Federation of People Management Associations, Events, http://www.wfpma.com/events/byregion.asp