BACKGROUND SCREENING NEWS
Results of the 2011 Employers' Background Screening Practices Survey
This year we continued our approach of sending out a pre-conference post card to encourage HR Managers attending the SHRM Annual Conference to complete the survey online and over 33% (more than 140) of our response were received this way. The attendees at the conference were very engaging and most rewarding for us it appeared that attendees were more knowledgeable about background screening and interested in the survey,
From a results perspective it was business as usual for the 'Top Challenges' with timeliness, cost and accuracy of data once again reigning as the top three issues of concern.
Most noteworthy about the question on desired innovations was the increase in the number of respondents that volunteered an innovation. Also while 'integration with HRIS systems' was the most frequently mentioned item the clear interest in timely responses was very evident and the dominant message.
Good news for the industry was that of the 378 responses to the question on level of satisfaction 61% were extremely or very satisfied with their current provider. However, despite this positive rating from a retention perspective only 32% of clients responded that they were not planning on changing providers. In other words 2 out 3 clients were either definitely planning or changing or were undecided whether to change. This survey is far too simplistic to decipher the underlying issues associated with the divergent responses on these two questions, however, even so, it does point to something that is happening that may be of concern to the industry.
To see the full results of the survey and observations click here.
Many Employees Would Sell Corporate Information, Finds Study

A recent SailPoint Market Pulse survey of more than 3,400 employees in the United States, Great Britain and Australia, found that many are willing to disclose classified, sensitive, or proprietary corporate information after they have resigned or been laid off. SailPointis a market-leading identity governance solution company that helps the world's largest organizations to mitigate risk, reduce IT costs and ensure compliance.

In Great Britain, an alarming 24 percent of employees with access said they would feel comfortable selling proprietary data for profit, compared with only 5 and 4 percent for Americans and Australians, respectively. In fact, British employees yielded the highest percentages for many of the questions when asked if they would feel comfortable doing something with the data, whether it be forwarding electronic files to a non-employee, or copying files and taking them with them when they left.

"Organizations should be very concerned about the number of employees that openly admitted to misusing proprietary data," said Jackie Gilbert, vice president of marketing and cofounder at SailPoint. "These results show that insider threats represent a significant risk to the business. Some of the biggest and most costly data breaches have been directly tied to company employees. Having a written policy is not enough to ensure data security. Organizations need to have automated controls in place to monitor and manage user access controls in order to minimize the risk of insider theft or sabotage."

To read the entire article, click here
SHRM Research - Use of Social Networking for Screening
Survey findings center on social networking websites and online search engines as a tool for screening potential job candidates. The data reveal that legal risks, lack of verifiable data and lack of the job-relatedness of the information gleaned from these sites can be just some of the reasons why organizations are avoiding these online resources as a method to screen potential job candidates.
Controversy Abounds In Employment Decisions Based On Social Media Searches
Social media legal experts and various literature point to a multitude of issues and risks faced by both the CRA and the employer who uses social media checks, which include, but are not limited to:
Problems under FCRA section 607(b) in exercising "reasonable procedures to assure maximum possible accuracy" of the information. Since the information on social media sites is self-reported and can be changed at any time, it is often difficult if not impossible to ascertain that the information is accurate, authentic and belongs to the subject. Online identity theft is not uncommon, as are postings under another person's name for the purpose of "cyber-slamming" (which refers to online defamation, slander, bullying, harassment, etc.)
Accessing the information may be in violation of the federal Stored Communications Act (SCA). To the extent that an employer requests or requires an employee's login or password information, searches of social networking sites may implicate the SCA (18 U.S.C. § 2701) and comparable state laws which prohibit access to stored electronic communications without valid authorization. A California court recently ruled that the SCA also may protect an employee's private information on social networking sites from discovery in civil litigation.
To read more click here
Managing Workplace Drug And Alcohol Testing
Workplace drug and alcohol testing is used by employers to screen applicants and test employees for illegal or unauthorized drug and alcohol use. For many U.S. employers, drug and alcohol testing has become standard practice, whether or not required by law. An effective and lawful testing program contains a number of important components that employers should consider when beginning a program, assessing a current policy or retooling an existing program to meet changing needs.
This article discusses the background of workplace testing; the reasons employers conduct testing; and the various constitutional, statutory and regulatory requirements for public and private employers in certain industries and locations. It provides HR professionals with the basic framework for administering a program and managing test results in a nondiscriminatory and legally compliant manner. It concludes with a discussion of the importance of program monitoring and assessment of benefits for measuring the return on investment.
To read more click here
BACKGROUND SCREENING NEWS (continued)

National Institute of Justice Publishes Fingerprint Sourcebook
The Department of Justice's National Institute of Justice (NIJ) today published The Fingerprint Sourcebook , a comprehensive examination of the science behind fingerprint identification that will serve as a definitive resource for experts in the field.
Written by more than 50 law enforcement and forensic experts worldwide, The Fingerprint Sourcebook consists of 15 chapters covering: the anatomy and physiology of friction ridge skin (the uniquely ridged skin found on the palms and soles); techniques for recording exemplars from both living and deceased subjects; the FBI's Automated Fingerprint Identifications Systems (AFIS); latent print development, preservation and documentation; equipment and laboratory quality assurance; perceptual, cognitive and psychological factors in expert identifications; and legal issues.
Individual chapters of The Fingerprint Sourcebook were previously published online. This publication is the complete book and will be available in PDF form.
To read more click here
Eviction Related Services Made Easy By Florida Eviction Services
With Florida Eviction Processing Service Inc.mission is to make eviction related services easier and more affordable for everybody, from landlords to property managers! Florida Eviction Processing Service Inc. is a one-stop eviction service. They prepare paperwork from information provided, and then follow the eviction through the legal process, ensuring that the eviction progresses as fast as possible.
They serve the three-day notice by placing it on the door or handing it to the tenant, if present, they meet the sheriff at the property, change the locks and remove the furniture. They provide tenant screening to help you get a new tenant and avoid a problem tenant.

To read more click here
Bill Calls for Background Checks at Utilities
A loophole in the law does not require workers hired at most power plants to undergo FBI background checks, even though a federal report warns the plants are a likely target for terrorists, Senator Charles Schumer said yesterday in unveiling legislation that would change that. Schumer cited a recent Department of Homeland Security report that found disgruntled former employees have sensitive inside information that would be sought by terrorists. The report also says current employees have been solicited by unidentified outsiders.
"Power plants and utilities present a tempting and potentially catastrophic target to extremists who are bent on wreaking havoc on the United States, which is why thorough background checks on all workers with access to the most sensitive areas of these operations are a must,'' Schumer said. His bill would require FBI background checks on all employees of major power plants, he said.

To read the full article, click here
Welcome to the U.S. Legal Challenge Question!

As the background screening industry continues to get more competitive the firms that will ultimately succeed will be those that create competitive advantage through their people by offering continuous learning opportunities to heightened their knowledge and capabilities. We believe that having employees that are very knowledgeable about the legal landscape of background screening is essential to continued success.
We are grateful to Pam Devata, Seyfarth Shaw LLP for providing the expertise for this valuable endeavor. For information regarding the answers to the Legal Challenge Questions, please contact Pamela Devata at Seyfarth Shaw LLP at pdevata@seyfarth.com or 312-460-5000 or visit www.seyfarth.com.
Please choose your answer by clicking on it:
E-VERFIY AND IMMIGRATION ISSUES
Latest I-9 Handbook Reveals New Guidance for Employers

The I-9 form has been updated again by the United States Citizenship and Immigration Services (USCIS) in their newly revised version of the I-9 Handbook for Employers also known as "the M-274" or more commonly known as, "America's most deceptively complicated one-page form." In June, the USCIS released what was supposed to be the new version, but had accidently uploaded a non-updated version instead. The mistake has now been fixed and it is time for employers to be aware of the latest changes. To save employers the trouble of scrutinizing all 69 pages of the handbook, the I-9 and E-Verify Blog has outlined the amendments employers must know to maintain updated Standard Operating Procedures (SOPs) and I-9 Training Guides, and to ensure their practices and policies are abiding by the new rules.

To view the simplified version, click here

ICE Fines New England Companies Hiring Unlawful Employees
Following an investigation and audit of Form I-9 documents by U.S. Immigration and Customs Enforcement's (ICE) Homeland Security Investigations (HSI), 14 New England employers have been fined this fiscal year for various violations that enabled companies to hire illegal aliens. The inspection of the employers' documents are part of ICE's worksite enforcement strategy, launched in 2009 to reduce the demand for illegal employment and protect employment opportunities for the nation's lawful workforce, by focusing its resources on the auditing and investigation of employers suspected of cultivating illegal workplaces by hiring workers who are later determined to be employed illegally.
Nationally, from fiscal year 2009 to date, ICE has initiated Form I-9 inspections against nearly 4,000 businesses resulting in fines of nearly $7 million.
"These settlements serve as a reminder to employers that ICE will continue to hold them accountable for hiring and maintaining a legal and compliant workforce," said Bruce M. Foucart, special agent in charge of ICE HSI in Boston. "We encourage companies to take the employment verification process seriously."
To read more click here
Applicant Insight Opens Sales and Collaboration Center in Tampa, FL

Applicant Insight, a recognized workforce screening solutions leader, has established a new, national office in Tampa, Florida. The state of the art facility will serve as headquarters to the Applicant Insight Sales Organization and Collaboration & Training Center, hosting customers, partners and user groups from across the nation.
"Opening our new sales office and Collaboration & Training Center was the next logical step in Applicant Insight's growth path," says Bon Idziak, CEO of Applicant Insight. "Coupled with our operations center in New Port Richey, FL, the new location strengthens our commitment by allowing us to share our expertise and provide personalized support and educational opportunities to users of our integrated solutions."
To read the full article, click here
EBI Achieves Cybertrust'sSiteSecure Security Management Recertification

Employment Background Investigations, Inc. has been granted certification under
the Verizon CyberTrust Security program for the 9th consecutive year. This certification reflects EBI's continued compliance with an extensive and continuous security assurance process, and validates the presence of risk reduction practices at EBI's headquarters and global operations center located in Owings Mills, MD. EBI continues its investment and commitment to consumer confidentiality and strict security protocols by achieving this certification since 2003. Verizon's auditors examined the security posture of EBI within the context of Cybertrust'sSiteSecure Security Management Program. Evaluation procedures were conducted pursuant to Cybertrust's risk reduction methodology, which addresses threats across six categories of risk.

"In today's world of increasing cyber-terrorism and overwhelming concerns of electronic identity theft, we place the absolute highest priority on safeguarding the information entrusted to us by our clients, their applicants and employees," says EBI's President and CEO, Richard Kurland.

To read more, click here
Innovative Enterprises Introduces Infinity Screening™ Advanced Post-Hire Screening Solution
Innovative Enterprises, Inc., a strategic partner to the background screening industry and expert provider of court research information products, smart data solutions and ancillary services, today announced the official launch of its Infinity Screening™ advanced post-hire screening solution. Infinity Screening™ leverages Innovative's industry-leading National Criminal Information Scan™ and monitors enrolled employees on an ongoing basis, alerting users to new criminal record information as well as changes to existing records. Simplified management tools empower users to easily manage pools of hundreds of thousands of enrolled employees with a few simple clicks. Using Infinity Screening™, employers can proactively identify factors which increase their risk to negligent retention claims, workplace violence, loss due to internal shrinkage and public embarrassment through negative publicity.
"As recent events such as the EEOC's July 26th hearing titled, 'Arrest and Conviction Records as a Barrier to Employment' illustrate, employers may soon bear the burden of making informed hiring decisions without the benefit of some or all of the information they are accustomed to relying upon," stated Clifford J. Williams, Innovative's Vice President and Chief Operating Officer. "At the same time, employers remain obligated to provide a safe workplace for their employees and clients, and they have a vested interest in identifying risks which increase their exposure to liability. The employer should know if their company driver picked up a DUI charge, if their child day care worker was arrested for molestation, if their cashier was indicted for embezzlement or if their in-home service technician was arrested for assault and battery. Infinity Screening™ resolves these concerns by proactively monitoring employees' public record information post-hire, alerting the employer to events which may represent an increased risk in their workplace or a danger to their employees and customers."
Infinity Screening™ is not sold directly to employers but is instead available through Innovative's carefully-selected network of Screening Industry Partners™.
To find out more visit http://www.knowthefacts.com
TazWorks Announces Proprietary Eviction Search
Tazworkshas launched its highly anticipated InstaEviction National Lookup. The all new InstaEviction National Lookup combines the power of Person Search with Trade House Data's National evictions database. By using the full name and address history associated with the applicant's SSN, deceptive applicant practices, such as omitting an address with an eviction, are prevented. This comprehensive search tool uses sophisticated algorithms to accurately match the applicant's address and name history essentially eliminating false positives.
"Through this unique tool and the depth of data provided by TradeHouse, eviction history searches are more thorough and accurate than ever before, allowing our clients to competitively compete against ANY of the national tenant screening providers with a more cost-effective product," said Barton Taylor, Founder of Tazworks.
To read the full article, click here
Employment Trends Index Declines

The Conference Board Employment Trends Index™ (ETI) decreased slightly in July to 100.6, down from June's revised figure of 100.9. The July figure is up 4 percent from a year ago.

Says Gad Levanon, Associate Director of Macroeconomic Research at The Conference Board: "The Employment Trends Index declined in three of the past four months, and is signaling employment growth of less than 100,000 per month through the end of 2011. Despite weak employment growth in recent months, GDP has been growing even slower in the first half of 2011. There is simply not enough growth in production to warrant stronger hiring."

To read the full report, click here
SHRM Leading Indicators of National Employment® (LINE)
SHRM's Leading Indicators of National Employment (LINE) report tracks trends in the labor market on a monthly basis, including hiring projections released one month ahead of the Bureau of Labor Statistics (BLS) Employment Situation report. Exclusive metrics also include new-hire compensation trends and recruiting difficulty, as well as job vacancies in exempt and nonexempt employment.
Source: August 2011 SHRM LINE Report
To read more click here
Nipping Dishonesty in the Bud
A recent survey conducted by the Institute of Finance and Management (IOFM) revealed employers are increasingly requiring all prospective employees to take online personality or integrity tests in hopes of weeding out dishonest or morally incompetent applicants. With unemployment rates as high as 18.7 percent in CA alone (Washington Post), employers have the luxury of hand-selecting their employees to help reduce stealing and other criminal behavior in the workplace. These pre-screening tests are already being utilized by 19 percent of the 300 organizations surveyed by IOFM and they are on the rise.

The survey also found integrity and honesty testing of all employees is most common among hospitals (37 percent), security firms (32 percent), and entertainment establishments (27 percent).
"This kind of test, in combination with appropriate information-gathering about prospective employees, could be a useful predictive tool," according to Elizabeth Rowe, a professor at University of Florida Levin College of Law, in a recent research study on causes of workplace theft.
To read the full article, click here
The 3 Types of Insider Threat

Anyone with privileged access to classified, sensitive, or proprietary data has the potential to become an "insider threat" to companies. The idea of insiders has haunted the minds of security professionals for centuries and, in today's technology-driven society, the opportunities for insiders to distribute and transfer information outside of the company have only multiplied. While the motivation for insiders to steal information has remained fairly constant overtime, (money, ideology, ego, coercion) Jeffery Jones and Ryan Averback define and detail three distinct categories of insiders that have emerged: trusted unwitting insider, trusted witting inside, and the untrusted insider.
The trusted unwitting insider threat is typically a person with legitimate access to a computer system or network, but who unknowingly assists in transmitting information. The trusted witting insider on the other hand, has the same type of access but this person makes a conscious decision to transmit information. Technical controls stand little chance against the new breed of untrusted insiders that have developed during the digital age, simply because network security is good at "stopping the wolf, but differentiating the wolf from the sheep is an extremely difficult problem to solve."
To learn more about the three types of insider threats, click here
23rd Annual Retail Theft Survey

Shoplifters and dishonest employees stole over $7 billion in 2010 from just 23 major retailers, according to the 23 rd Annual Retail Theft Survey conducted by Jack L. Hayes International, the leading loss prevention and inventory shrinkage control consulting firm. The 23 large retail companies surveyed apprehended more than 1 million shoplifters and dishonest employees in 2010 while recovering only $148 million from these thieves, down 7.3% from 2009.

"For the first time in over 10 years, total shoplifter and dishonest employee apprehensions, and the dollars recovered from those apprehensions all declined from the previous year," said Mark R. Doyle, President of Jack L. Hayes International. Doyle attributes these declines to the economy, fewer store employees, and less loss prevention staffing. "Both shoplifting and employee theft continue to plague the retail industry, which results in higher prices to the consumer and can force companies to close unprofitable stores," he added.

For more highlights from this survey click here

STOP STRUGGLING WITH WRITING AND PUBLISHING YOUR NEWSLETTER:
We can help you have a high quality e-newsletter to help nurture your relationship with your clients and attract new clients. Our customized newsletter service will take over your newsletter task or create a new one for you. We can manage the creation of your newsletter for you.
We are constantly researching information to use for The Background Buzz and you can put our research to use for you. Using the information rich content from The Background Buzz (minus the ads and competitors information) we will create a custom newsletter for you.
Use your staff's time to do more valuable work and save all the hassle of researching or writing articles, formatting and managing all the other ezine tasks with our customized ezine process.
Contact Barry Nixon at 949-770-5264 or at wbnixon@aol.com for more information.
Sponsored by:
Public Record Update
By Mike Sankey, brbpulications, August 2011
Important to Illinois Public Record Searchers
The Illinois Department of Professional Regulation recently issued a "cease and desist" letter to a PRRN (Public Record Retriever Network - www.prrn.us) member based in Illinois for performing public record research and not having a private investigator's license. The Department interpreted that the act of researching public records is considered to be performing an "investigation." This is regardless if the PRRN Member was merely researching and reporting to a attorney, private investigator, or consumer reporting agency (CRA) what is found in a court's public record docket.

The licensing of Private Investigators is governed by 225 ILCS §447. Article 5 defines, in part, that a private investigator is someone who "...engages in the business of, accepts employment to furnish, or agrees to make or makes investigations for a fee or other consideration..." Articles 10 and 15 list exemptions. See the statute at www.ilga.gov/legislation/ilcs/ilcs2.asp?ChapterID=24
To read more click here
THE WASHINGTON REPORT BY MONTSERRAT MILLER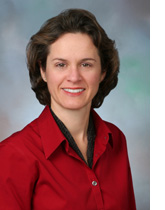 Montserrat Miller is a Partner with the law firm Arnall Golden Gregory, LLP and is based in Washington, DC. Ms. Miller's practice focuses on privacy and immigration compliance, as well as representation before Congress and federal regulatory agencies such as the Federal Trade Commission, Equal Employment Opportunity Commission, Consumer Financial Protection Bureau and the Department of Homeland Security.
You can contact Monterrat at Montserrat.Miller@AGG.com or visit http://www.agg.com/Contents/Home.aspx
Consumer Financial Protection Bureau and Background Screeners
By Montserrat Miller, Partner, Arnall Golden Gregory LLP
Have you been wondering whether the Consumer Financial Protection Bureau (CFPB) is something that you should be paying attention to with the FCRA being transferred under its auspices from the Federal Trade Commission?
The most basic reason is to pay attention is because the Fair Credit Reporting Act ("FCRA") was "transferred" to the CFPB from the Federal Trade Commission, and furthermore, because the CFPB has rulemaking and enforcement powers over consumer reporting agencies ("CRAs"). Unlike certain other industries, the CFPB does not have supervisory powers over CRAs. This is important because if certain consumer groups have their way, they would force the CFPB to have supervisory powers over CRAs. Why is this of concern? Primarily because the CFPB is tasked with ensuring that consumers have greater transparency and protections when it comes to financial products and services and background screening doesn't fit that mold since consumer reports used for employment and tenant screening aren't a financial product or service. In fact, Congress agreed and provided employment and tenant screening companies with an exception under the definition of "financial products or services" when it comes to the CFPB's supervisory powers.
However, several groups, led by the National Employment Law Project (NELP) and Community Legal Services of Philadelphia (CLS), provided letters to CFPB essentially trashing the background screening industry and asking that the CFPB include in its initial rule "the data and consulting industry that sells employment background checks among its products". NELP and CLS are aware of the above mentioned exemption, however, they want CFPB to disregard that exemption for those companies that may not only provide employment or tenant screening services, but other services or products as well. They want companies that may in fact offer "financial products or services", in addition to employment and tenant screening services, to be fully covered by the CFPB's supervisory powers. There would be no distinction between business units and any unit could consume the whole company.
Click Here to read more about why the Consumer Financial Protection Bureau ("CFPB") should be on your radar screen.
SkillSurvey Achieves 84-Percent Year-over-Year Bookings Growth for Q2
SkillSurvey®, Inc., the inventor and leading-provider of Web 2.0 reference-assessment solutions, has announced that its bookings for the second quarter of 2011 increased by 84-percent over the same period in 2010. "Even during these still uncertain times, SkillSurvey is experiencing tremendous growth due to the loyalty of our existing customers, the innovations we continue to bring to the market, and the fact that our solution continues to help companies and recruiters improve their performance and hiring decisions," remarked Ray Bixler, president and chief executive officer. "SkillSurvey now has over 500 clients on its roster."
The company also attributes its success to its commitment to ongoing improvement. "We pride ourselves on never resting on our laurels," said Bixler. Recently, SkillSurvey enhanced its Pre-Hire 360® and Passive Candidate Compiler® by opening its API so they can integrate with applicant tracking systems and background-screening systems that hiring companies are already using. Because the systems can now communicate seamlessly, human resources teams can enjoy an uninterrupted and coordinated workflow spanning the entire application-to-onboarding process.
To read more click here
REFERENCE CHECKING (continued)
A Negative Job Reference Can Lead To A Claim Of Retaliation
Providing negative job references could constitute unlawful retaliation in violation of the Americans With Disabilities Act (ADA), the Family Medical Leave Act (FMLA) and similar anti-discrimination laws. In Male v. Tops Markets, LLC, a federal court in New York ruled in favor of a former employee, who claimed that the company provided negative job references in retaliation for her having filed an earlier discriminationlawsuit. She claimed that in response to a question from a prospective employer regarding what kind of employee she had been, and would be, the former employer responded that she was a good employee the first couple of years, but thereafter began having personal problems that spilled over into her professional life, and missed and was late for work because of her personal and medical issues.
The court ruled the former employee's allegations were sufficient to support a claim of unlawful retaliation against her former employer. It also stated the alleged comment regarding her "medical issues" created a reasonable inference that the former employer was referring to her absences which she allegedly took under the FMLA or because of her alleged disability.Other courts, including the United States Supreme Court, have previously held that a negative reference also can support a claim of retaliation under Title VII of the Civil Rights Act of 1964. The EEOC's Compliance Manual notes that unlawful retaliation can occur even after the employment relationship has ended:
To read more click here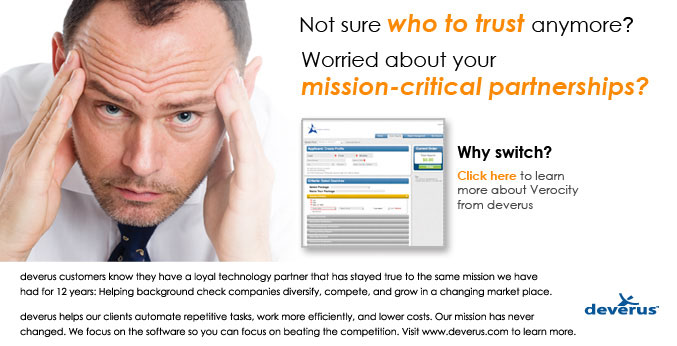 One Site! Many Suppliers!
Looking for the Top Suppliers in the Industry? Need to find a new Supplier?
Visit our VENDOR SHOWCASEwhich features suppliers to the Background Screening Industry.
2011 Summer/Fall Edition Directory of Suppliers Coming Soon!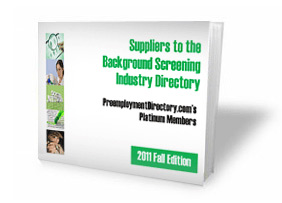 Welcome to the International Legal Challenge Question

Sponsored by: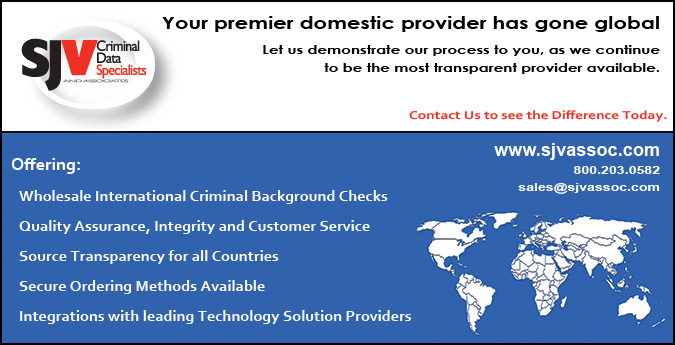 Most industries and firms now compete in a global marketplace which is continuing to increase the need for background checks for new hires that will reside in another country or that are being hired from another country. Commensurate with this growth in background checks is the need to understand the myriad of data protection, privacy, human rights and local laws that govern the practice of conducting background checks. To help background screening firms around the world to further enhance their knowledge we have launched this International Legal Challenge.
We are grateful to Brian Arbetter a Partner with the global law firm of Baker & McKenzie LLP for providing the question and answer to the questions in the International Legal Challenge. Brian is based out of the Firm's Chicago and San Diego offices. His practice focuses on international law issues, with particular emphasis on labor and employment, as well as workplace privacy. For information regarding the answers to the International Legal Challenge questions, please contact Brian at brian.arbetter@bakermckenzie.com.
Please Choose One of the Following Answer in Response to the Question
For information on sponsoring The International Legal Challenge Question please Click Here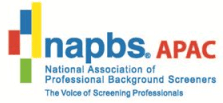 Become a Founding Member of the APAC Chapter of NAPBS
Are you interested in being recognized as a founding member for the APAC Chapter? The Chapter is currently accepting Founding Member donations. As a Founding Member of APAC you will be recognized on the APAC Chapter website. You can also display the APAC Chapter Founding Member logo on your company website and printed collateral. The Founding Member designation does not expire. Your company will always be recognized as a founding member as long as you are member-in-good-standing with the association. There is a onetime fee of $500 USD; this offer will expire on December 31, 2011. Click here to become a founding member today.
For more information on the APAC chapter contact Wayne Tollemache at Wayne.Tollemache@fadv.com
Privacy Commissioner Launches Handbook to Help Lawyers Apply Privacy

PIPEDA and Your Practice - A Privacy Handbook for Lawyers was launched by the Office of the Privacy Commissioner of Canada at the Canadian Bar Association Canadian Legal Conference and Expo 2011. The new handbook explains how the Personal Information Protection and Electronic Documents Act (PIPEDA) relates to the everyday practice of Canadian lawyers in the private sector. PIPEDA covers the collection, use and disclosure of personal information in the course of commercial activities. Like other organizations in Canada, lawyers and law firms must comply with the requirements of applicable privacy legislation in their jurisdictions.
"While lawyers may be familiar with privacy laws in general, they may benefit from some concrete guidance on how to apply the laws to their own practice," says Patricia Kosseim, General Counsel for the Office of the Privacy Commissioner of Canada. "Canadian lawyers have a leadership opportunity to serve as exemplars of ethical and respectful conduct on behalf of their profession and the clients they serve."Written by lawyers for lawyers, PIPEDA and Your Practice - A Privacy Handbook for Lawyers describes best practices in managing the collection, use and disclosure of personal information, responding to requests for access to personal information, and the potential application of PIPEDA. The Handbook covers practical privacy issues that arise in the course of managing a law firm and conducting litigation.

To view the handbook, click here
Court Okays Random Alcohol Testing
The recent decision of Irving Pulp & Paper, Limited v. Communications, Energy and Paperworkers Union of Canada, Local 30, 2011 NBCA 58, by the New Brunswick Court of Appeal has upheld random alcohol testing where the workplace is determined to be "inherently dangerous" and the method of testing is minimally intrusive. In this case, a grievance was brought by a 34-year-old millwright in the maintenance department of a pulp and paper mill. He was randomly selected for an immediate breathalyser test. The employer's policy on drug and alcohol use stated: "Employees involved in safety sensitive positions will be subjected to unannounced random tests for alcohol."
Although the employee passed the test, he challenged the policy. His union alleged there were no reasonable grounds to test because there had been no accident or incident that would justify such test. The court ruled that breathalyser testing was minimally intrusive. The policy only applied to a limited number of employees in legitimately safety sensitive positions. As a result, the policy was not out of proportion to the actual and expected benefit. The policy was justified in the circumstances. This decision is important for employers. It confirms the employer's right to implement random alcohol testing for safety sensitive positions in an inherently dangerous workplace. It must be noted, however, that this ruling would not necessarily extend to drug testing.
To read more click here

Obtaining Consent in Europe: Mission Impossible?

The Article 29 Working Party has adopted its opinion on the definition of consent this past July, clarifying the existing concept used in the Data Protection Directive and the e-Privacy Directive.

The opinion breaks down the definition of consent, which is currently used as the legal basis for processing personal data, into several conditions necessary for it to be valid. Consent includes "any indication of wishes…signifying the data subject's agreement," but needs to be expressed in a tangible form by way of an oral or written statement. It also should be freely given, specific, well informed, unambiguous, and in specific cases, explicit.

In addition, the opinion includes several proposals to be considered in the review of the Data Protection Directive.

To read the entire article, click here

Background Checks in Germany

Germany currently contains no specific legislation regarding background checks. However, statutory constraints do exist pertaining to the attainment and storage of personal data. Employers must stay within their rights and limitations outlined by the German Equal Treatment Act (AGG), the German Data Protection Act, and the personality rights of each applicant protected under the German Civil Code. Background checks in Germany rely most heavily on the principle of direct acquisition of data via the applicant.
Creditworthiness checks are also prohibited under the German Data Protection Act. Collecting personal data from the internet is allowed if this data is accessible to the general public, unless the protectable interests of the applicant outweigh this. Work-oriented sites such as LinkedIn are accessible to the public after log-in, whereas social networking sites like Facebook may not be available due to privacy settings.

Employers walk a fine line when acquiring information and must maintain that all enquires are limited to information on the duration and type of employment. Should employers breach any existing rights, or conduct any impermissible background checks, applicants can assert claims for damages
To read more click here
Country Background Screening Essentials
The primary law governing background checks in Germany is The Federal Data Protection Act (Bundesdatenschutzgesetz (BDSG)). As of 1 September 2009 the BDSG provides comprehensive regulation of the processing of personal data. At the federal level, this is supported by laws such as the Telecommunications Act of 22 June 2004 . In addition, each German State has privacy legislation and data privacy commissioners to enforce State laws. On August 25, 2010, the German federal government proposed amendments to the existing law on the processing of employee data. The draft law went before the German Parliament for a first reading on November 2010, and is now in effect. This new law now applies to virtually all data collected and used by employers over the course of an employment relationship. The new law also restricts background checks on individuals. A detailed explanation will be covered under Applicable Statutes.
To read more click here
Hungary Adopts New Data Protection Law
On July 24th The Hungarian Parliament adopted the Act on Informational Self-Determination and Freedom of Information (the new Data Protection Act), the domestic implementation of the European Data Protection Directive (95/46/EC). The new Act will enter into force by 1 January 2012 and same will replace the Act LXIII of 1992 on the Protection of Personal Data and Public Access to Data of Public Interest.
The new Data Protection Act mainly preserved the material provisions of the outdated former Law. Similarly to the Data Protection Act currently in force, the new legislation covers both the general material provisions of data protection as well as freedom of information. Since the new Data Protection Act is general law, the legislator may therefore derogate from its provisions through sectoral legislation.
To read more click here
Outsourcers Exempt from India's Privacy Regulations
The Department of Information Technology had notified Information Technology (Reasonable security practices and procedures and sensitive personal data or information) Rules, 2011 under section 43A of the Information Technology Act, 2000 on 11.4.2011 vide notification no. G.S.R. 313(E).

These rules are regarding sensitive personal data or information and are applicable to the body corporate or any person located within India. Any such body corporate providing services relating to collection, storage, dealing or handling of sensitive personal data or information under contractual obligation with any legal entity located within or outside India is not subject to the requirement of Rules 5 & 6. Body corporate, providing services to the provider of information under a contractual obligation directly with them, as the case may be, however, is subject to Rules 5 & 6. Providers of information, as referred to in these Rules, are those natural persons who provide sensitive personal data or information to a body corporate. It is also clarified that privacy policy, as prescribed in Rule 4, relates to the body corporate and is not with respect to any particular obligation under any contract. Further, in Rule 5(1) consent includes consent given by any mode of electronic communication.

To read more click here
Skeletons In The Closet: Can They Come Back To Haunt You?
A question that often arises when prospective employees apply for available positions, is exactly how far does the duty to disclose "skeletons in the closet" go, i.e. does a prospective employee have to disclose the reason why he left his previous employment and whether disciplinary action is pending if he is still employed? The Labour Court has recently dealt with this issue in the matter of the Gauteng Department of Education ("the GDE") and Mgijima.
The Labour Court concluded that the position which Mgijima applied for with the GDE was a senior position and that it required "unimpeachable honesty and integrity on the part of its incumbent" and further that Mgijima's failure to disclose material information in response to an express invitation to do so, deprived the GDE of the opportunity to make an informed decision as to the effect, if any, of the suspension and pending charges on the contemplated employment relationship. This judgment certainly highlights the responsibility of prospective employees to make full disclosure of any and all circumstances that may reasonably influence the prospective employment relationship. It also highlights the employer's recourse should relevant information not be disclosed. The determination as to what information is relevant and needs to be disclosed will of course depend on the specific position applied for, the seniority of the position and whether disclosure was specifically requested.
To read more click here
Duty of Care: Employers Beware

The recent case of Mr Robert McKie v Swindon College [2011] EWHC 469, serves as a warning to employers about the risk of poor communication regarding former employees. McKie was fired from a newly attained job at the University of Bath on the basis of an e-mail sent by his previous employer, Swindon College. The e-mail in question contained information about McKie that subsequently caused him to suffer damages and was determined by the Court to have "flouted elementary standards of fairness, diligence, proper enquiry, natural justice."

The Court ruled in favor of McKie and held that "an employer owed a duty to its former employee to take reasonable care when referring to that former employee in communications with a third party." This decision expanded the scope of the duty of care on the previously relied upon precedent case (The House of Lords in Spring v Guardian Assurance [1994] 2 A.C. 296), to include circumstances beyond simply providing a reference. This was the first time the Court acknowledged, "an employer can, outside a reference situation, owe a former employee a duty of care when communicating with a third party" and went on to say, "if that former employee suffers loss as a result of the communication, they may well be entitled to bring a claim in negligence against their former employer."

To read more click here
Home Office Plans For CRB Replacement
The Home Office has issued a tender for a company to run outsourced disclosure and barring services. The new service will bring the CRB and ISA together, and is aimed at supporting the implementation of the protection of freedoms bill. It will involve the receipt and processing of referrals for a barring decision, applications for disclosure, workflow management, customer and registration services, the issuing of certificates, payment services and running a call centre.
To read more click here
New G4S Alcohol and Drug Screening Service Ensures Safety at Work
A new service from G4S Secure Solutions (UK) aims to help employers in key business sectors ensure safer working environments, cutting accidents and improving the bottom line. As research reveals an alcohol-related productivity loss to the UK economy estimated at £6.4bn and 60% of employers attributing poor performance at work among staff to alcohol misuse, the Alcohol and Drug Screening service from G4S, the largest security company in the UK, has been launched to provide a complete testing solution to business.
The Drug and Alcohol Screening Service from G4S can be tailored to the precise requirements of the individual business, offering a closely managed but discrete process. This can include developing a comprehensive alcohol and drug policy, carrying out testing, secure on-site sampling, 'testing for a cause' (for example after a health and safety incident), and maintaining the secure chain of custody for any samples through to laboratory testing and delivery of results.
As part of its service G4S has certified Alcohol and Drug Screening Officers who can work confidentially on client premises to provide a seamless service, including the maintenance of testing records for audit and compliance purposes.
To read more click here
INTERNATIONAL: PROFESSIONAL WORKSHOPS AND ASSOCATION CONFERENCES
( Click Here to View full list of 2011 International Events ) - Updated Monthly
ADVERTISERS IN THIS EDITION

| | | | |
| --- | --- | --- | --- |
| | | | Background Screening Jobs |
Visit the Job Board for the Employment and Tenant Screening Industry. Here you will find resumes of people with industry experience and employers seeking applicants with experience in Employment and Tenant Screening and related businesses.
www.backgroundscreeningjobs.com

UPCOMING CONFERENCES, COURSES & EVENTS
2011 Events ( Click Here to View full list of 2011 Events ) - Updated Monthly
SHRM State Conferences, visit http://www.shrm.org/Conferences/StateAffilliateConferences/Pages/default.aspx
Drug and Alcohol Testing Industry Association (DATIA), 2011 Training Course Schedule, visit
http://datia.org
SAPAA Training Institute Learning Events, http://www.sapaa.com/
CUPA-HR Conferences: http://www.cupahr.org/
World Federation of People Management Associations, Events, http://www.wfpma.com/events/byregion.asp