BACKGROUND SCREENING NEWS
Results of the 2012 Employers Background Screening Practices Survey and Summary of Trends Since 2008
The 2012 Employers Background Screening Practices Survey was conducted at the 2012 SHRM Annual Conference held on June 25 - 27th, in Atlanta, GA at the exhibit booth of PreemploymendDirectory.com. Human Resource professionals that visited our booth were asked to participate in the survey and to complete the questionnaire. In addition, a post card mailing was conducted to the pre-conference attendee list which directed attendees to an online version of the same survey. We received a total of 325 people completed surveys.
While this survey does not rise to the level of being statistically significant we believe it offers some key insight on how background screening service providers from the end users perspective.
To read the survey results, click here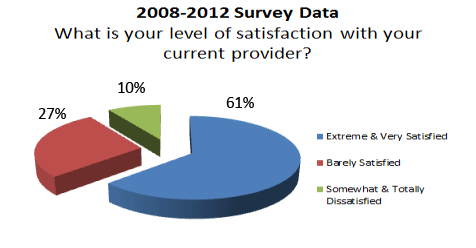 The range of responses to on this question have remained relatively steady over the five year period with the four surveys we conducted. We believe for the background screening industry to move beyond being view as a commodity industry the 'extreme and very satisfied' responses will need to exceed 80%. This is a steep growth curve. We believe the NAPBS Accreditation process will help move the scores in this direction.
To read the Consolidated Report Summarizing the Surveys since 2008 click here
Prior Convictions Missed by Three Criminal Background Checks
A Colorado school bus driver accused of sexual assault on a child had prior convictions that should have prevented him from getting a job. Robert Gordon, 48, was arrested on three counts of Sexual Assault on a Child stemming from an alleged sexual relationship he carried out with a 12-year-old boy in 2002. In the arrest warrant, Gordon admitted to detectives to having sex with the victim and another underage boy at his home on multiple occasions. Both Gordon and the victim described the sex to investigators as being consensual. Court records revealed Gordon was acquitted in a case of Sexual Assault on a Child in 2001. He also had prior misdemeanor convictions of Harboring a Runaway Child in 1998 and driving under a suspended license in 1996. Either misdemeanor would have disqualified any job applicant, however, neither conviction turned up in separate criminal background searches with the Colorado Bureau of Investigations, the Colorado Springs Police and the FBI.
To read more, click here
Screen Scraping Security
Increasingly, organizations are using automated tools to scan and collect information online. They're looking at sites such as social networks and blogs for reasons such as reputation management, public relations, market research, and background checks. Tools that can automatically scroll for data known as screen scrapers are also becoming more advanced, but companies that use them must avoid legal pitfalls, which could include personal privacy violations as well as copyright infringement. Social networking and other sites that collect user-generated data should also take steps to protect data on their sites, including establishing appropriate privacy policies and implementing the appropriate technical security measures. Sites should also provide their users with mechanisms for deleting their sensitive data whenever they choose or utilize tools such as captchas (squiggly letters and numbers that only a human can decipher and enter manually).

To read more, click here
BACKGROUND SCREENING NEWS continued
Research Reports that Youth Offenses, Sentences, Predict Little about Recidivism
Data emerging from a seven years' study of young offenders suggest that the nature of a serious juvenile crime or the length of time served for it, does not do a very good job predicting if a youth will re-offend. "Burglars are not all the same, neither are car thieves or assaulters," said Edward Mulvey, professor of psychiatry at the University of Pittsburgh. "Just because they've done a certain type of offense doesn't mean they're on a particular path to continued high offending or more serious offending."
"The way you code a presenting offense, you can do it violent or not violent, property or not property, you can do it a lot of ways; it never comes out as a real strong predictor of outcome," Mulvey said, explaining some of his latest analysis. Once a juvenile is in state custody, the length of stay appears to have nothing to do with the recidivism rate, said Thomas Loughran, of the University of Maryland's Department of Criminology and Criminal Justice. He worked on that issue with the Pathways data by comparing two similar groups of youth. "The more [time] we gave them, it didn't make any difference, there was no effect" on recidivism, he reported, though cautioning that the bulk of the kids in the study served between three and 13 months.
Further, Loughran said his numbers show "no significant difference" in the re-arrest rate for offenders who served probation versus detention.
To read more, click here
New FCRA Forms Will be Required by January 1, 2013
The Consumer Financial Protection Board (CFPB) recently issued regulations that call for the modification of three critical forms required by the Fair Credit Reporting Act (FCRA), which are typically used in the background
screening process. The regulations require that employers and affected consumer reporting agencies (CRAs) begin using these new forms by January 1, 2013. In particular, the CFPB has modified three specific forms to make clear that that the CFPB is the agency from which consumers may obtain information about their rights under the FCRA, not the Federal Trade Commission (FTC). The three forms to be modified are: 1) Summary of Consumer Rights under the FCRA; 2) Notice to Users of Consumer Reports of their Obligations under the FCRA; 3) Notice to Furnishers of Information of their Obligations under the FCRA. Employers and CRAs are well advised to keep abreast of the FCRA's requirements and the CFPB's rulemaking and enforcement.
To read more, click here
Must All Employers Check Applicants Against a Terrorist List Before Hiring?
While the short answer is no, there is a bit more to this question that employers should consider. Under the U.S. Treasury Department, the Office of Foreign Assets Control (OFAC) administers and enforces economic sanctions against certain countries and certain individuals, such as drug traffickers and terrorists. To help enforce these sanctions, the OFAC publishes a frequently updated list called the " Specially Designated Nationals ," or the SDN list, which lists individuals, companies and other entities that U.S. persons are prohibited from dealing with. Compliance with these sanctions means all U.S. persons (which, by definition, includes employers) cannot engage in any dealings with these countries or individuals, including hiring individuals on the list. Therefore, while checking the list is not specifically required, hiring someone on the list is prohibited.
So, shouldn't all employers check the list? Not necessarily. While this decision should be made with the guidance of legal counsel, the employers must address the following concerns.
Many background checking companies offer an add-on service to check not only the SDN but various other lists, such as those compiled by the United Nations, Interpol and the FBI. Employers should know what lists will be checked and how best to use that information in their hiring practices.
To read more, click here (may require SHRM membership to access)
Rental Protection Agency Launches New Alias Trace Technology for Tenant Screening
Rental Protection Agency (RPA) announced their latest alias trace technology for background checks and tenant screening. The new screening service allows landlords to accurately verify tenants through advanced alias matching algorithms that identify possible name changes, fake names, and married/divorced names. This change brings a higher standard to online background checks as it provides similar results a private investigator would take weeks to find. RPA offers resources to assist landlords in making informed decisions about their tenants and utilizes the latest technology to provide more accurate data to landlords and apartment complexes anywhere in the U.S. Screening potential tenants is a commonly overlooked process by smaller landlords and ends up being one of the riskiest decisions for rental properties. One bad tenant can cost landlords thousands of dollars in lost rent, legal fees and stress.

To read more, click here
Welcome to the U.S. Legal Challenge Question!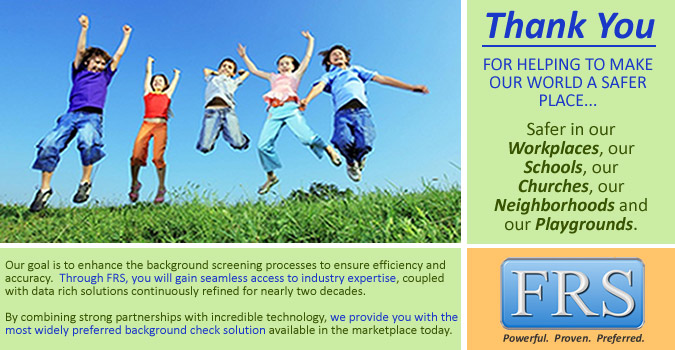 As the background screening industry continues to get more competitive the firms that will ultimately succeed will be those that create competitive advantage through their people by offering continuous learning opportunities to heightened their knowledge and capabilities. We believe that having employees that are very knowledgeable about the legal landscape of background screening is essential to continued success.
We are grateful to Ann Cun, Counsel and Principal Editor at LawLogix, Inc for providing the expertise for this valuable endeavor. For information regarding the answers to the Legal Challenge Questions, please contact Ann Cun, Counsel and Principal Editor, LawLogix Group, Inc. at (602) 357-4240 and for more information about LawLogix e-verify and immigration support services please visit www.Lawlogix.com
Please choose your answer by clicking on it:







The E-Verify Program is an electronic employment verification system available on the internet to all U.S. employers free of charge. Currently, USCIS is conducting audits into the usage of the system by enrolled employers. What is the most popular audit method that USCIS uses?

a) In-person visit to the employer's place of business
TENANT SCREENING NEWS (continued)
Tenant Screening News
In response to requests from housing advocacy groups, HUD has published two letters providing guidance to both managers of public housing and managers of private, federally assisted housing. The first letter, dated June 17, 2011 is written to public housing authorities. Click Here to read this letter from Secretary Shaun Donovan. The second letter, dated March 14, 2012 addresses private owners, managers and agents of HUD-assisted properties. Click Here to view that letter.
Both letters provide definition to what criminal offenses automatically disqualify an applicant for public housing assistance; yet they encourage PHA's and landlords alike to afford applicants a "second chance" whenever possible. The letters seem to indicate a shift from guidance documents set forth under previous administrations.
To read the Second letter click here
CoreLogic® Launches MyRental.com To Help Independent Landlords Lower Tenant Risk
CoreLogic, a leading provider of information, analytics and business services, today opened online access to comprehensive tenant screening data for independent landlords with the launch of MyRental.com. The new service provides the same applicant rental histories, eviction data, and criminal reports to small landlords who rent properties independently as those large apartment complexes and property management companies use to mitigate renter-applicant risk. Where services like these previously seemed cost prohibitive, the rates as low as $10 per assessment-with no minimum and no sign-up fee-MyRental.com gives independent landlords managing a small number of properties a way to cost-effectively compete for high-quality tenants while reducing their exposure to risk.
"The recent growth in U.S. rental households is sparking demand for risk management tools tailored for independent landlords," said Tim Grace, senior vice president of data & analytics product management at CoreLogic. "Previously, small landlords relied on their instincts, a few documents, and applicant-supplied character references to assess rental applicants. Now they have a tool to limit uncertainty and accelerate decision-making with more reliable information to qualify renters."
To read more click here
The Merits of Doing Background Check During Tenant Screening
When you do a tenant background check, you are able to track their tenancy history. From eviction histories alone, you'd be able to tell if a prospective tenant is going to be an asset or a liability. But, you also have to be aware that laws restricting what you can and cannot do when doing background check differ from state to state. Also, there are federal laws prohibiting landlords or landowners against discrimination. Thus, you cannot disqualify an applicant because of his/her religion, sex, nationality or age.
Another reason to do a tenant background checks during tenant screening is that you'd be able to avoid the woes of bad tenants - from those who don't pay to those who can do extensive damage to the property. If you are thinking how tedious it would be to do a check on one person alone, then think of how tedious it would be to replenish destroyed or vandalized furniture or to remodel the entire property.
A single background check will also help you know whether a future tenant has a good tenancy history. Can
he/she pay the rent regularly? You have a red flag when records show that a person have a lot of charge offs and late payments from former landlord or even other credit facilities.
To read more, click here
California (Surprisingly) Becomes First State to Take a More Balanced Approach to Social Media "Password Protection" Laws
California's legislature has sent to the governor for signature the nation's third "password protection" law. Unlike the preceding Maryland and Illinois laws, California's pending statute takes into account employers' legitimate business interests by not imposing a blanket prohibition on all employer requests for personal social media login credentials. In this way, California's bill adopts a more balanced and reasonable approach, which also permits employers to request that an employee divulge personal social media believed to be relevant to an investigation of allegations of employee misconduct. However, this exception does not apply to job applicants. In addition, employers remain barred from asking current employees to disclose their social media login credentials or to permit the employer to "shoulder surf."

To read more, click here
Dollar General's Use of Criminal Background Check Faces EEOC Scrutiny
Tennessse-based Dollar General Corp. says it could be hit with an Equal Employment Opportunities Commission (EEOC) lawsuit over the retailer's criminal background check policies. The EEOC has alleged that the company's criminal background check policy has a "disparate impact" on black job candidates and employees, a violation of the Civil Rights Act of 1964. Dollar General Corp.'s policy, "excludes from employment individuals with certain criminal convictions for specified periods," according to the company's filing. In general, the EEOC considers broad blanketed exclusions on any individuals with an arrest or criminal history to be in violation of federal law. The EEOC recommends companies review and revise their background policies and take into consideration the nature and gravity of the offense, the time that has passed since the conviction and/or completion of the sentence, and the nature of the job sought in order to be sure that the exclusion is important for the particular position.

To read more, click here
Facebook Privacy Protection Bills Pass New Jersey Senate Committee
In New Jersey, a bill to protect the privacy of job seekers has passed through a Senate committee and now moves to the full Senate for a vote, NJ 101.5 reports. S-1898 would prohibit employers from requiring applicants to provide passwords or access to private online accounts. Co-sponsor of S-1898 Sen. Kevin O'Toole (R-40), said ". "By no means should an employer be able to forcibly access such a broad scope of personal information against an applicant's will. There are plenty of other steps in a job application process for employers to gain a profound understanding of an applicant's experience, fitness and personality."
In June, the New Jersey Assembly passed a similar bill.
To read more, click here
U.S. Supreme Court to Hear Case About State Drivers License Agencies Selling Personal Info
The U.S. Supreme Court has agreed to hear a case in which a driver's license agency sold information about drivers such as home address, name and age. Several states including Florida have been selling DMV records, either
under the cloak of freedom of information or to help support the state's falling revenues.
While on the surface this case does not deal directly with background screening practices it may have implications worth keeping an eye on. This case deals with three South Carolinians who objected to solicitations from lawyers to join a lawsuit against car dealers. At issue is whether lawyers may use information gleaned from South Carolina driver records, which they obtained by filing open records requests. A federal law aimed at protecting driver records has an exception for lawsuits and the court will determine whether the lawyers' actions qualify.
Similarly, in another case in Florida, Kehoe v. Fidelity Bank, the 11th Circuit Court of Appeals has reversed a lower court and held that individuals suing to recover for violations under the Drivers Privacy Protection Act do not need to demonstrate actual harm in order to recover monetary damages. The American Civil Liberties Union of Florida, has submitted an amicus brief in the case arguing that individuals are entitled to damages under the law when businesses or data brokers intentionally access motor vehicle information. For more information, see EPIC's Kehoe v. Fidelity Page. (Sept. 1, 2004)
So far, Florida has sold more than 3 million names and addresses to marketing companies and data-mining companies such as Lexis Nexis which often produce reports about you without your knowledge or ability to contest the accuracy of the information and is used for background check by Insurance companies when handling claims, and by employers who are considering hiring you.
To read more, click here
Qualified Privilege for Reference Statements, September 2012
The following 31 states have qualified privilege laws for references provided in good faith:
| | | | | | | | |
| --- | --- | --- | --- | --- | --- | --- | --- |
| - AK | - GA | - IA | - MD | - NM | - OK | - TN | - WI |
| - CO | - HI | - KY | - MA | - NV | - OR | - TX | - WV |
| - DE | - ID | - LA | - MO | - NY | - PA | - UT | - WY |
| - FL | - IL | - ME | - NC | - OH | - RI | - VA | |
While some states offer an "absolute" privilege, most offer a qualified privilege, and that means, typically, that the privilege is lost if reference statements:
Are knowingly false
Are not made "in good faith"
Are made with malicious intent
Are made with "reckless disregard for the truth"
Are made in violation of a nondisclosure agreement
Contain information that is confidential under law
Many states also require that the request for a reference be made by the employee or prospective employer, and some states require that the request and/or the reference be in writing.

Source: http://hrdailyadvisor.blr.com/archive/2012/03/19/HR_Policies_Procedures_References_Immunity.aspx
Legal Hot Water in Giving a Bad Reference

In cases where an employee's contract was terminated for performance issues, it is unlikely HR would then provide a positive reference when contacted by any future employers. Yet, according to one workplace lawyer, providing a so-called 'kiss-of-death' style reference may be a ticket to legal hot water, including possible accusations of defamation, misrepresentation or an invasion of privacy. "Intentionally providing inaccurate information about someone or withholding critical information about an employee could land you in trouble with a claim for misrepresentation from the new employer with the potential to seek compensation for damages," Peter Ferraro, senior associate for Harmers Workplace Lawyers said. Ferraro recommends that if employers or HR are going to provide a reference, stick to the basic facts. In cases where HR may wish to provide a character reference, it should be done cautiously as there is potential to be held liable for defamation if an unfavorable reference meant someone didn't get a job. As a general rule of thumb, if in doubt, don't provide a written reference.
To read more, click here
STOP STRUGGLING WITH WRITING AND PUBLISHING YOUR NEWSLETTER:
We can help you have a high quality e-newsletter to help nurture your relationship with your clients and attract new clients. Our customized newsletter service will take over your newsletter task or create a new one for you. We can manage the creation of your newsletter for you.
We are constantly researching information to use for The Background Buzz and you can put our research to use for you. Using the information rich content from The Background Buzz (minus the ads and competitors information) we will create a custom newsletter for you.
Use your staff's time to do more valuable work and save all the hassle of researching or writing articles, formatting and managing all the other ezine tasks with our customized ezine process.
Contact Barry Nixon at 949-770-5264 or at wbnixon@aol.com for more information.
Innovative Enterprises Announces Integration Of Services With Imagination Technologies' FRS™ Screening Technology Platform
Innovative Enterprises, Inc., a strategic partner to the background screening industry and expert provider of court
research information products, smart data solutions and ancillary services, today announced the upcoming integration of its core suite of services with Imagination Technologies' Flexible Research System, 'FRS'. Once completed early this fall, the integration will provide users of FRS technology with secure, seamless connectivity to a number of best-in-class screening solutions, greatly enhancing the quality and value of the services they provide to their trusted clients.
Solutions to be made available on FRS include the National Criminal Information Scan®, the industry's leading multi-jurisdictional criminal search solution; OffenderScan™ sex offender screening; Sentinel™ watch list screening; AssuredTenant™ comprehensive resident screening; the Innovative Medical Solutions™ product suite including I-MED™ levels 1, 2 and 3; the Innovative Credentialed Practitioner Database™; the Innovative Provider Licensure Database™ and the Innovative Provider Observation Database™. FRS users will also gain access to real-time
arrest information through FirstAAlert™ as well as NCIS-FirstAAlert™, the most comprehensive examination of historical and real-time multi-jurisdictional records available in the commercial background screening industry.
To read more click here
Tazworks Background Screening Software Interfaces With Icims, The Leading Provider Of Talent Acquisition Software Solutions
TazWorks LLC, a web-based background screening software company, announces integration of their InstaScreen Premiere 2.0™ screening application with a leading Software-as-a-Service (SaaS) talent acquisition software provider, iCIMS. The integration enables Background Screening Agencies to combine the power of TazWorks InstaScreen Premiere 2.0™ with iCIMS, the leading provider of talent acquisition software solutions for businesses of all sizes.
TazWorks' revolutionary Standardized Data Exchange Gateway makes it easy to integrate background checks from InstaScreen Premiere 2.0™ into Third-Party Applicant Tracking Systems (ATS) and Human Resource Management Systems (HRMS). Integration improves turnaround, lowers costs, increases data security, and
reduces human error, allowing for a healthier bottom line. "This iCIMS integration adds another very exciting sales opportunity for our background screening agency clients." said Barton Taylor, Founder of TazWorks. "Employers utilizing the iCIMS Talent Platform will be pleased with the ease of ordering a background check from within the iCIMS platform, enabling TazWorks' background screening agencies to attract new employer clients and build customer loyalty."
To read more click here
LawLogix Ranked by Inc. Magazine as One of America's Fastest Growing Companies For Sixth Consecutive Year
LawLogix Group, Inc., the leader in I-9 Compliance, E-Verify and Immigration Case Management Software , announced today that it is one of America's fastest growing companies, according to Inc. magazine's 31st annual Inc. 500|5000 list. LawLogix, the only stand alone vendor in the I-9 and E-Verify management space to be included in rankings, was selected because of its outstanding year over year revenue growth.
"We are thrilled to be ranked as one of America's fastest growing companies by Inc. magazine," said Dan Siciliano, Co-founder of LawLogix. "The rankings validate our strong revenue and customer growth as well as leadership position in the I-9, E-Verify Software as a Service space."
"As the only I-9, E-Verify and Case Management provider ranked on this prestigious list, we believe this unequivocally demonstrates our market leadership position and confirms that LawLogix is the company that human resource managers and immigration practitioners have come to trust," said Javier Rey, LawLogix Vice President of
Sales and Marketing. "Even law firms that once shied away from cloud offerings are now leaving their antiquated systems and embracing our case management technology."

To read more, click here .
Neeyamo Enterprise Solutions (P) Ltd. Recognized as "Star Performer" and "Major Contender" by Everest Group in its Multi-process Human Resource Outsourcing Report
To read more, click here
Sponsored by:
BRB Update
By Mike Sankey, PRRN
Safe Hiring Manual Author Attorney Lester Rosen Updates Book for New Expanded Second Edition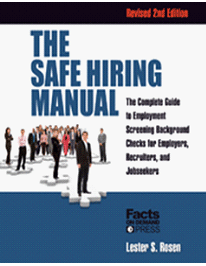 Attorney Lester Rosen, the Founder and CEO of Employment Screening Resources (ESR) who "wrote the book on background checks," has authored a new updated and expanded second edition of his comprehensive handbook on background screening, 'The Safe Hiring Manual - The Complete Guide to Employment Screening Background Checks for Employers, Recruiters, and Jobseekers' (Facts on Demand Press). The 736 page book, which will be published in October 2012, includes new chapters on the April 2012 Equal Employment Opportunity Commission (EEOC) Guidance on criminal records and social media background checks.

"This second edition of 'The Safe Hiring Manual' is intended to be the most all-encompassing and up to date guide to background checks for employers," explains Rosen, who completed a prior revision to the manuscript in 2007 and also wrote a second book, 'The Safe Hiring Audit,' in 2008. "'The Safe Hiring Manual' is a complete blueprint detail of how to exercise due diligence throughout the hiring process."

'The Safe Hiring Manual' is an ideal tool for employers, Human Resources, security professionals, private investigators, employment law attorneys, and background screening firms.
For more information and to order the book, visit:http://www.esrcheck.com/SafeHiringManual.php
BRB's FREE RESOURCE CENTER
For the MOST COMPREHENSIVE RESOURCE describing all access methods, restrictions, fees, and search procedures on over 26,000 government and private agencies visit the Public Record Research System (PRRS-Web) . We provide the extensive details and in-depth data you will not find doing a Google search!
CRA HELP DESK.COM
CRAHelpDesk
PO Box 27869
Tempe, AZ 85285
800-929-3811
Fax: 800-929-3810
mike@brbpublications.com
www.CRAHelpDesk.com

Compliance with the myriad of state laws is a complex subject affecting CRAs and their clients. The State Rules Register provides an uncomplicated explanation in plain English of state laws for what is reportable to the client, usable by the client, and the necessary steps to take to be in compliance with state laws. Also included are best practices, practical tips, and ongoing notification when state and federal laws change. Create your own matrix reports. Use the special Resource Tabs of Guidelines and Special Instructions.

See www.CRAHelpDesk.com.

We Help Consumer Reporting Agencies
For more information contact Michael Sankey at mike@brbpublications.com or visit www.brbpublications.com/updates.aspx
One Site! Many Suppliers!
Looking for the Top Suppliers in the Industry? Need to find a new Supplier?
Visit our VENDOR SHOWCASE which features suppliers to the Background Screening Industry.
2012 Winter Edition of Suppliers to the Background Screening industry Guide
Now Available!
Click here or on image to get a copy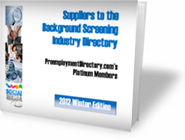 Contact Barry Nixon at wbnixon@aol.com for information on getting your firm listed in the Summer Edition.
The Fall Edition Coming Soon!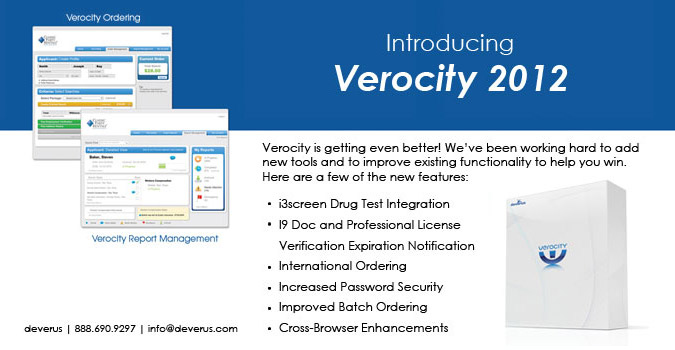 USCIS Releases New E-Verify Enhancements
The United States Citizenship and Immigration Services (USCIS) has released its latest round of E-Verify enhancements, which will go into effect immediately for all users of the E-Verify web interface. It's important to note that this latest E-Verify release only affects those organizations (or agents) that access E-Verify directly through a web browser and not those employers using an electronic I-9 system. E-Verify now supports the following browsers (in addition to Internet Explorer 6.0 and above): Firefox (version 3.0 and above); Chrome (version 7.0 and above); and Safari (version 4.0 and above). The USCIS has also added a new "Quick Audit Report" which will allow companies to generate an Excel spreadsheet of E-Verify case data for a particular time period and state location. Perhaps the most significant change is a new set of fields, which will automatically appear for "aliens authorized to work" who present a Foreign Passport with an attached I-94. Last but not least, the USCIS has added a new Web-based tutorial and a new E-Verify User Manual for Corporate Administrators.

To read more, click here

OSC Instructs Employers Regarding Software Features
Nowadays, it seems like the government is keen on keeping tabs on evolving workplace technology, particularly software that relates to the I-9 process. Software that automatically enables or requests data may inadvertently allow employers to more easily violate anti-discrimination provisions of the Immigration and Nationality Act (INA) 8 USC § 1324b.
The warnings are clear and quite generous: Employers should carefully vet their software systems for all aspects related to employment eligibility verification to ensure well-meaning software vendors do not inadvertently place additional risks onto employers.
The danger with well-meaning functionality in software is that software developers are not necessarily trained to review the software functionality for compliance with U.S. immigration laws. Because employers are essentially "on the hook" for the non-compliance of the software they select and utilize, it's imperative for employers to truly conduct a thorough evaluation of their I-9 software or any software that integrates an I-9 component.
Before the new I-9 Form becomes finalized, now is actually a good time for employers to consult with experienced legal counsel in evaluating existing or future I-9 software solutions, especially if payroll or other HR systems are incorporated into the I-9 software in light of the recent OSC advisories.
To read more, click here
Tale Signs Your I-9 Non-Compliance Warrants Criminal Defense Counsel
Since 2009, the realm of immigration compliance for employers has been dominated by administrative
I-9 audits. With each wave of audits, some may have been lulled into believing that the worst thing that could happen is the loss of undocumented workers and the payment of fines. The complacent may have forgotten that, from 2006 through 2008, the U.S. Immigration and Customs Enforcement's primary enforcement methods were covert criminal investigations and prosecution of felony harboring of immigrant workers and related charges.
ICE is still in the criminal enforcement game when it comes to worksites. ICE may even be in the process of bypassing I-9 audits and increasing its utilization of covert operations to directly seek asset forfeitures, as recently reported in a case involving hotel owners in the Kansas City area . Although none of these incidents will gain a fraction of the press the Swift or IFCO raids generated in 2006, each is a reminder that employers and immigration compliance counsel must remain vigilant and more than a bit wary. To that end, an employer may be on ICE's criminal investigation radar during these tell-tale signs:
To read more click here
White Paper Social Influence:
Thriving in a New World of Media Relations
Social media has created a world of dizzying potential: it's incredibly easy to share your news with press, analysts, and decision-makers. Yet media relations is tougher than ever! As the pendulum swings from print to online media, the traditional roles of journalists and analysts are merging into a community of bloggers, HR professionals, consultants and other influencers.
To download the free white paper click here
Manpower Report Finds Positives in Global Market Outlook
According to the Manpower Global Employment Outlook Survey for the fourth quarter of 2012, employers in the world's seven largest economies report that their hiring levels will remain positive through the end of 2012. The survey found that businesses in 22 labor markets around the globe expect to have improved or relatively stable hiring plans for the final three months of 2012 when compared to the previous quarter. But hiring will be at a slower pace when compared to the fourth quarter of 2011 and the first nine months of 2012. Although the pace of hiring is expected to weaken in 26 markets compared to the same period in 2011, the overall hiring outlook for most labor markets included in the survey remains positive.
"If the uncertainties of the debt crisis in Europe, a slowdown in China, the U.S. presidential election and health care
costs keep building, we will see the global labor market's slow, steady hiring mode shift to a pause," said Jeffrey A. Joerres, chairman and CEO of ManpowerGroup, in a press release. "I think that we're seeing the beginning of that in the data for India with employers not shedding staff, but downshifting hiring until they see more positive signals. On the other hand, in the U.S., employers remain confident enough to maintain the same steady hiring pace seen over the past year."
To read more, click here
Privacy in the Global Village
In the ever-changing world of privacy and data protection, global diversity is proven every day by fascinating developments taking place in every corner of the planet. At the same time, a common pattern can be seen in many of those developments: their attempt to strike the right balance between the exploitation and the protection of the most valuable asset of our time. The most veteran jurisdiction in this area of law in Asia, Hong Kong, has just had a revamp of its 15-year-old Personal Data (Privacy) Ordinance, which toughens the existing regime. In South Korea, the Personal Information Protection Act has only been in force for a few months but is already being branded as the toughest in Asia. The rest of Asia is not standing still either as countries like Malaysia, Singapore and the Philippines are also making progress in this area. This particular issue is one that concerns global organizations seeking to adopt a coherent and consistent methodology for compliance in respect of data flows. The European approach to international data transfers is intimidating to say the least, so it is understandable that those organizations that are investing in programs that want to take advantage of that solution on a truly global scale.

To read more, click here
Call for Criminal Background Checks on Parent Volunteers at Schools
Child protection campaigners are calling for parents who volunteer in school or for after school activities to be subject to mandatory child safety checks. The Bravehearts child advocacy group has made the call as part of a plan to make Australia the safest place in the world to raise children. The call follows the release of a report card on child protection policies across the states, which has ranked the Australian Capital Territory (ACT) and Tasmania the worst for child safety. Criminologist Carol Ronken from the Bravehearts, said there are three piers to preventing child sexual assault: educate children about personal safety, empower and train adults to respond, protect in terms of legislations and policies. In ACT and Tasmania, Ronken expresses a stronger need for legislation addressing child sexual assault and more emphasis on personal safety education within their curriculums and schools. Also as part of the push to improve child safety in schools, Bravehearts wants criminal background checks to be done on parents who volunteer at school activities, child care centers and sporting clubs.
To read more, click here
The House of Representatives Approves Sweeping Changes To The Privacy Act
Attorney-General Nicola Roxon said the changes would give power back to consumers over the way in which organisations used their personal information. They would simplify credit reporting and strengthen enforcement powers of the Privacy Commissioner, who would be able to apply for civil penalty orders of up to $220,000 for individuals and up to $1.1 million for companies. However, a Labor-dominated House of Representatives committee said the proposed changes were so complex stakeholders found them difficult to understand.
A report by the standing committee on social policy and legal affairs said the amendments were intended to reduce
complexity, but the committee was concerned by "the number of submissions that suggest significant confusion around the new provisions". It called for an education program because it was worried about whether the public would be able to easily understand new privacy rights and obligations.
To read more, click here (complimentary registration required)
Foreign Professionals Wanted in Brazil

The Brazilian government is looking at ways to relax immigration rules to attract up to 10 times more skilled foreign professionals into the country to spur growth. Despite being the world's sixth largest economy, Brazil is currently facing a talent deficit as companies struggle to find qualified workers to ramp up their operations. In the past, Brazil had waves of immigrants arriving from all over the world. However, the economic woes of the second half of the century led to a drastic slowdown of foreigners. Today, foreigners represent just 0.3% of Brazil's workforce, much lower than the figure of 7% at the beginning of the 20th century. Business leaders also complain that Brazilian bureaucracy makes it difficult and expensive to hire foreigners. In order to hire professionals from other countries, firms must first prove they were unable to find suitable local workers. They are also required to train Brazilians to eventually replace the foreign employees. Foreigners themselves face countless barriers and red tape - getting a temporary identity card can take more than six months.

To read more, click here
Privacy Policies Lacking In Ontario

The loss of personal information belonging to millions of Ontario voters earlier this year shows that even good privacy policies can be useless if they're not followed. Canada's Information and Privacy Commissioner, Ann Cavoukian, released a new report that calls on organizations to beef up the enforcement and understanding of their privacy policies after the breach. In April, Elections Ontario discovered a major privacy breach when two memory sticks containing the names, addresses and birthdates of some 2.4 million voters were lost. The information also indicated whether they voted in the last election. Cavoukian previously found that the staff who lost the USB keys didn't encrypt the files because they didn't know what encryption meant. Her report makes seven recommendations to improve privacy protection at any organization, including developing privacy education and awareness training programs. It also says organizations should have a protocol in place to deal with a possible privacy breach that includes notifying affected people as soon as possible.
To read more, click here
There Is An Urgent Need For Greater Fairness And Clarity In The Police Background Check Process
Canadian Civil Liberties Association calls for standards that would prohibit the release of information other than convictions, except in rare circumstances. It also says non-conviction records should be reviewed regularly and destroyed where warranted. It also says individuals should have a right to be notified on the information in their file and be able to appeal it before an independent adjudicator.
While there are laws governing the release of certain information, such as under the Privacy Act and the Youth Criminal Justice Act, the report says there are no set standards for what police services can or can't collect and release in police checks. It calls the situation across Canada "a patchwork" of policies that may violate Canada's
Charter of Rights and Freedoms.
The report says the problem is particularly acute in Alberta, where it says there is too much discretion is left to individuals in police services as to what information can and should be retained and released.
To read more, click here
Proposed New Privacy Law Open for Comment
A draft data protection bill aimed at regulating data collection and use by organizations in the public and private sectors has been released. The Data Protection Bill 2012 would provide individuals with more rights to access and control their personal data. A representative of the Information and Communications Technology Authority said, "Data protection affects everyone and the working group seeks to present a comprehensive bill to Cabinet that suits the needs of the Cayman Islands while meeting international standards." Officials said that the members of the Data Protection working group came up with a draft, which would not be over burdensome on government or the private sector but at the same time promotes best practice. Although the working group believes many businesses and organizations will already be in compliance with the provisions of the proposed legislation, the bill seeks to provide a minimum standard for protection of personal data.

To read more, click here
Cabinet Approves Changes to Data Protection Draft Bill

The Executive Yuan in China has approved a draft bill that seeks to address controversies arising from a 2010 amendment to the Personal Data Protection Act. The bill will now be submitted to the Legislature Yuan for final approval. One of the proposed changes in the bill involves personal information gathered without the knowledge or permission of the concerned individuals. The collectors of this kind of data should inform the concerned individuals before the information is processed or used. The 2010 amendment stipulates that the collectors should inform the concerned individuals within one year of the law's implementation, a requirement that is considered difficult to implement. Partly because of this controversy, the amendment was never put into force despite its promulgation in May 2010.
To read more, click here
Courts Seal Youth Criminal Records

Beijing courts are preparing for the adoption of a new nationwide criminal law next year, under which some convicted juvenile offenders are to have their criminal records sealed, making it easier for them to apply for jobs or further education. According to the current Criminal Law, amended in 2011, most convicted criminals must report their record when they apply to the military or for a job. The new law would not require those who were under 18 when they committed the crime, and were sentenced to less than five years in jail or to a non-custodial sentence, to tell prospective employers of their conviction, but the employer can still access the record by applying to the police. Some argue this law change is unfair to companies because such a person may be a security risk, while others want to provide those who have corrected their mistakes with a second chance.

To read more, click here
Introduction to China's Education System and Education Verification

Employers want to find people who are not only well qualified with relevant education background, but also ethical. Therefore, conducting an education background check should be on employer's priority list, especially because a significant amount of job applicants misrepresent their education background, costing employers time and money to replace unqualified hires. Some of those who don't have an advanced degree decide to resort to false diploma when they start job hunting. That explains why diploma mills or outright falsified diplomas are so popular among jobseekers. Common ways to confirm a diploma's authenticity include checking: the Higher Education Graduates Database in China - released by Ministry of Education, the nation's trusted source for education verification; the
China Academic Degrees and Graduate Education Development Center (CDGDC) - an organization with the independent qualification of legal entity directly under the joint leadership of Ministry of Education and the Academic Degrees Committee of the State Council (ADCSC); with the university directly.
To read more, click here
Commission Decisions on the Adequacy of the Protection of Personal Data in Third Countries

The Council and the European Parliament have given the Commission the power to determine whether a third country ensures an adequate level of protection by reason of its domestic law or of the international commitments it has entered into. The adoption of a (comitology) Commission decision involves: a proposal from the Commission; an opinion of the group of the national data protection commissioners (Article 29 working party); an opinion of the Article 31 Management committee delivered by a qualified majority of Member States; a thirty-day right of scrutiny for the European Parliament, to check if the Commission has used its executing powers correctly; and the adoption of the decision by the College of Commissioners. This decision would allow personal data to flow from the 27 EU countries and three EEA member countries (Norway, Liechtenstein and Iceland) to that third country without any further safeguard being necessary.
To read more, click here
Did You Know?
To date, the European Commission has recognized only a limited number of jurisdictions (Andorra, Argentina, Canada, Faeroe Islands, Guernsey, the Isle of Man, Israel, Jersey, Switzerland, Uruguay and the U.S. Department of Commerce Safe Harbor Privacy Principles) as providing an adequate level of data protection.
Source: http://www.huntonprivacyblog.com/2012/09/articles/article-29-working-party-issues-favorable-opinion-on-the-level-of-protection-of-personal-data-in-the-principality-of-monaco/
Article 29 Working Party Issues Favourable Adequacy Opinion

On July, 19, 2012, the Article 29 Working Party (the "Working Party") issued an Opinion finding that the Principality of Monaco ensures an "adequate level of protection" for personal data within the meaning of the European Data Protection Directive (Article 25 of Directive 95/46/EC) (the "Directive"). Under the Directive, strict conditions apply to personal data transfers to countries outside the European Economic Area that are not considered to provide an "adequate" level of data protection.

To read more, click here
More Japanese IT Firms Seek Young Chinese Graduates
An increasing number of Japanese firms, especially those in the IT sector, are seeking young graduates from Chinese universities to join them. Japan's HR service firm RGF recently organized a global recruiting project for the Japanese IT industry called "Work in Japan." RGF held a computer programming competition for graduates from top universities in China, South Korea and India. It selected a total of 92 graduates, which included 85 Chinese, from over 10,000 applicants and they were flown over to Tokyo for job companies in Japanese firms. Japanese IT firms are aiming to expand their global businesses and have strong demand for engineers who are willing to work both in Japan and abroad because local graduates are not enough to fill the gap. Chinese graduates are valued not only for their high technical skills and real-work experiences, but also stronger determination and Confucian work ethics.

To read more, click here
Personal Data Protection Law Coming This Year

The Government will introduce a Data Protection Act this year, which will regulate the use of personal information compiled on Jamaicans. The Act will seek to protect the privacy of individuals in relation to personal data and the regulation of the collection, processing, storing, use and disclosure of certain information relating to individuals. Ministry of Science, Technology, Energy and Mining Minister of State Hon. Julian Robinson, told the government recently that there is "a need for a more uniformed, robust and clear mandate to protect privacy and personal information." Robinson added that a position will be established for a single information and communication technology regulator within the next couple of years.

To read more, click here
Sex Offenders May Be Avoiding Detection

Sex offenders who have had their names suppressed could be avoiding detection because their crimes do not have to be revealed in their criminal records checks. The Ministry of Justice says about 400,000 applications for criminal records were made last year and the ministry is looking at the way its checks work to make sure they are operating properly. Sex offenders are often granted name suppression, because if they are a relative or are known to their victim, exposing who they are could easily identify the person they have abused. The ministry says both it and police can provide information about people's criminal records. The ministry's criminal record unit was set up to give people access to their own information and they can share this with prospective employers, but it should not be treated as a comprehensive security check. It says an approved list of employers who work with children or the elderly go through a police vetting procedure designed to flag risks that cannot be disclosed by the ministry.

To read more, click here
ID Card a Mandatory Document in the UAE
The UAE has implemented a National ID card which will be mandatory to complete any official transaction at almost all government departments and organisations across the country by the end of this year, a senior official said. "As part of the ID card being made a mandatory identity document, the Emirates ID has distributed thousands of electronic card readers to the government sector this year. "Our efforts to distribute card readers to government organisations will encourage more of them to adopt ID card as the mandatory document for identification," Al Khoury said.
To read more, click here
Sex Offender Doctors Still Allowed To Work
The GMC Chief Executive, Niall Dickson, said:"Cases of doctors convicted of sexual assault or child pornography offences are very rare and in the vast majority of these cases these doctors are struck off the medical register so they cannot practise medicine in the UK." However, a spokesman for the Council said the decision on whether to strike off a doctor was taken by an independent panel of experts. Individual hospitals, however, can impose their own sanctions on doctors.
An investigation found that of the 31 licensed doctors with convictions for sex offences, four have records of sexual assaults, four have been convicted of child pornography offences, two committed voyeurism or exposure offences and 21 solicited prostitutes or were caught kerb-crawling.
To read more, click here
Data Protection Notification: Is Your Organization Committing a Criminal Offence?
Some organisations may be falling foul of the Data Protection Act 1998 by failing to notify details of their personal data processing to the Information Commissioner's Office (ICO). Notification is a legal requirement for every organisation that processes personal information (unless they are exempt), and failure to comply with this obligation is a criminal offence.
The (ICO) maintains a public register of organisations that process personal data, together
with details about the types of personal information they process and the purposes for
which they process it. The register and each organisation's individual notification are publicly available to view via the ICO website.
To read more, click here
Data Protection During Recruitment: Top 10 Tips For Managers
Complying with the Data Protection Act ("DPA") is increasingly a concern for employers as failure to do so brings the prospect of negative publicity and ultimately, significant fines.
Personal data is defined as information which relates to a living person where that person can be identified from the data either alone or in conjunction with other data held by the employer. So, in
the context of recruitment, a completed application form is likely to constitute personal data. Some documents used during the recruitment process (e.g. medical questionnaires, interview notes) may also contain "sensitive personal
data." This is information which relates, for example, to the person's race, religion, political views, health information etc. Such data, because of its nature, attracts a higher level of protection and must be handled with particular care. The DPA requires all types of personal data to be processed fairly and lawfully in accordance with
the requirements of the legislation.
With this in mind, how should employers process personal data received during the recruitment
process to ensure that they are complying with the DPA? This article, suggest 10 "Top Tips" for dealing with personal data during the recruitment process.
To read more, click here
Uruguay Achieves Adequacy in Data Protection

Uruguay has been declared adequate by the European Union regarding Personal Data Protection. This recognition implies an approval of the legal security provided by Uruguay, which improves the flow of personal data between countries that have this distinction. It also sets a significant milestone that confirms the approval of regulations and national actions that guarantee the protection of this fundamental human right, which is customary to any technological and globalized society. Uruguay can now be seen as a country capable of assuming the challenge of taking care of the adequate controls that are required in the use and treatment of the personal data that has been provided. This is an opportunity for increasing businesses that involve or have as input the transfer of personal data, since control is offered as a guarantee that will facilitate interactions between countries.

To read more, click here
World Information Center:
Featured International Session at IAPP Europe Data Protection Congress 2012
Background Checks: Hiring the Perfect Employee without Breaking the Law
Employers use background checks to assess and verify the qualifications and qualities of applicants. Increasingly, employers retain specialised vendors to conduct background checks in order to supplement the information available from an applicant's CV, references and interviews. However, employers must take care to follow all applicable laws when obtaining and using these reports. In many countries, an employer must notify an applicant prior to conducting background checks and may also need to obtain the individual's consent. This session will review the types of information employers can, and commonly do, seek about applicants and how employers and the third party vendors engaged by them should go about collecting such information. The session will also discuss the potential liabilities associated with collecting other information, such as increased exposure to discrimination claims.
Ann Bevitt , Partner, Morrison & Foerster LLP
Carlos Garcia-Maurino , Senior Director Legal - Data Privacy, Oracle
ADVERTISERS IN THIS EDITION

| | | | |
| --- | --- | --- | --- |
| | | | Background Screening Jobs |
Visit the Job Board for the Employment and Tenant Screening Industry. Here you will find resumes of people with industry experience and employers seeking applicants with experience in Employment and Tenant Screening and related businesses.
www.backgroundscreeningjobs.com

UPCOMING CONFERENCES, COURSES & EVENTS
2012 Events ( Click Here to View full list of 2012 Events ) - Updated Monthly
SHRM State Conferences, visit http://www.shrm.org/Conferences/StateAffilliateConferences/Pages/default.aspx
Drug and Alcohol Testing Industry Association (DATIA), 2012 Training Course Schedule, visit
http://datia.org
SAPAA Training Institute Learning Events, http://www.sapaa.com/
CUPA-HR Conferences: http://www.cupahr.org/
World Federation of People Management Associations, Events, http://www.wfpma.com/events/by-region#quicktabs-tab-view__events__page_3-4