Featured Article:
2009 Background Screening Industry Outlook: Three trends and tips to navigate them

Today's economic climate will deepen major trends that have been impacting the background screening industry:
Courthouses will be even more strapped for funds with accelerated losses to the tax base forcing them to cut back staff and increase fees.
Background screeners will be squeezed by lower employment numbers and the push by their customers to reduce fees.
With top line revenues at risk, investors and shareholders will demand that you preserve the bottom line.
Staying ahead of your competition, being more efficient, retaining your customers and offering more value is key, but how?
1.Minimize use of live court runners by taking advantage of the improving quality of online data.
In the past, a courthouse search by a court runner was the most effective way to get an accurate criminal record. However, faced with today's economic situation, courthouses have slimmer staffs and fewer resources dedicated to manually fulfilling searches and turnaround times have been affected. The shift towards making criminal background information available online is growing exponentially. Out of necessity, the breadth, depth and quality of information online is dramatically improving. While some sites are still not up to speed, many sites are and should be used to your advantage.
2.Utilize automated fulfillment technology for online data sites and minimize operating expenses.

Businesses are feeling pressure to reduce operating costs. It is now more critical to find ways to automate business processes, become more efficient and cost-effective without compromising data quality or accuracy. CRA's have alternatives to manual data acquisition via courthouses or online sites today. Precision data extraction using advanced artificial intelligence technology, has proven to be effective in other industries, and is now making inroads into the background checking industry. Taking advantage of this sophisticated technology doubles your efficiency and in most cases these productivity gains come at half the cost of what you'll recognize in returns.
3.Explore new product opportunities and expand your involvement in the hiring process.
With pre-employment screening predicted to be at an all time low, CRA's need new data products that offer them more involvement in the hiring process. Clients are beginning to use new online information from a range of sources to get additional insight on job candidates. Now is your chance to be an information leader, retain these clients and gain additional revenue. There are low cost services available today that can instantly provide you with this data for your clients.
If thinking about these trends and the impact to your organization challenges you, you're not alone. If you're struggling with online sites and new information sources, there is help. Fetch FootPrint understands the industry, has the technology needed to support your business problems and has solutions that can help your organization succeed in these ever changing times.
For help, call Fetch FootPrint 877-713-3824 or visit us at: www.fetch.com/footprint.asp

Have You Received Your Copy of The Employment Screening Journal?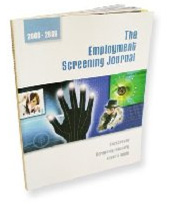 Don't miss this highly acclaimed magazine that sets the standard for publications in the background screening industry.
Learn industry best practices for selecting a background screening firm
Learn best practices for conducting background checks
Learn about legal requirements that impact screening practices
Learn about 'new' web based reference tool that is revolutionizing reference checking
Learn about new developments in international background screening
See the first industry background
Two easy ways to get your own copy. Go to www.PreemploymentDirectory.com and you can either order a hardcopy to be mailed to you or download the online version.
Click Here To Get Your Free Copy Today