A Hero Walks Amongst Us – Making Background Screeners Look Good
Last November The Christina Science Monitor ran an article entitled: "Who is checking the background checkers?" It cited the case of John McDonald, an information technology worker in the Boston area struggling to find a full-time job. Pre-employment background checks claimed that he had failed to disclose an arrest, used two aliases, and had never worked for two of his former employers. All of the claims were false. Mr. McDonald was astounded by the erroneous reports. But with no job, no money, and unaware of the legal recourse available to him, he felt powerless. For about two years, he had all but given up on finding a job. But last month McDonald contacted the Monitor to say that, thanks to the help of a kindly background screener, his record is almost completely exonerated. Vindication came in the form of Mary Poquette, co-chair of the National Association of Professional Background Screeners and president of her own firm, Verifications Inc., in Minneapolis. After reading the Monitor article in which she had also been quoted, Ms. Poquette contacted McDonald and offered to exonerate his record free of charge. For More Information go to http://www.csmonitor.com/2006/0202/p14s01-wmgn.html

Mary, thank you for a Job well done.
| | | |
| --- | --- | --- |
| 35% of the world's top 100 global financial institutions were victimized by attacks from within their organizations versus 26% from external sources. This reflects a 14% increase over the previous year, according to the 2005 Global Security Survey conducted by Deloitte Touch Tohmatsu. | | According to the United States Chamber of Commerce reports that $50 billion dollars are lost annually due to employee theft and fraud. The American Management Association and US Department of Commerce also reported that approximately 30% of all businesses in this country fail due to these types of crimes. |

| | |
| --- | --- |
| | A wholly owned subsidiary of Acxiom Corporation and a pioneer in the employment screening industry, Acxiom Information Security Services can offer you its 35 years of experience. We are committed to accommodating your evolving background screening needs with the latest technology options and a fully diligent solution, which helps to ensure you are creating and maintaining the most consistent, legally insulating background screening program possible. AISS provides multi-layer, 100% in-person/real time FCRA-compliant reports including, but not limited to, criminal record checks, credit reports, and driving records. These services, in combination with others such as employment, education and professional license verifications, aid businesses in reducing turnover and shrinkage, decreasing training costs and increasing productivity while protecting the integrity of the companies utilizing them. |
The proud quality of our service is best reflected through the caliber of the applicants we produce, as well as the durability of the relationships we have with our partners.
AISS is a proud member of the National Association of Professional Background Screeners. AISS is a founding member of the only association committed to:
Developing and promoting ethical business practices
Promoting compliance with the Fair Credit Reporting Act
Fostering awareness of consumer protection, privacy and other issues related to background screening
Acxiom Corporation
6111 Oak Tree Blvd.
Independence, Ohio 44131
http://acxiom.com
MilitaryStars Delivers on Employer Demand, Launches ClearedStars
MilitaryStars, the nation's largest military career expo company launches ClearedStars a security-cleared business unit that will connect active security clearance job seekers with top employers requiring cleared talent. CEO Hal Fischer said ". . . employers have been telling us, . . that they need more candidates with active security clearances." Fischer added that with "All of our expertise in the post-military employment market will transition flawlessly into the security-cleared hiring event industry," said Fischer. "What's more, we've hired a veteran security clearance recruiter to further develop our practice."Click Here for more information www.clearedstars.com, or call 800-775-1415 x183.
The Danger Comes from Within
As noted in the earlier listed factoids threats from inside the company make up a significant portion of many businesses' security concerns; because employees must, by the nature of their jobs, have access to some confidential information, they pose serious risks of either deliberate or accidental leakage of proprietary data. Some of the most serious risks can be reduced by developing a more careful security-minded hiring system. Many industries are working on databases that companies can consult to determine whether an employee has been disciplined or fired before for security-related matters. However, many insider security problems are not caused by "bad" employees, but simply by workers who accidentally release information because they do not have enough knowledge of proper security procedures. Clearly written policies and a strong security-training program can help reduce this type of incident. Limiting access to data based only on whether a given employee needs the data in order to do his or her job also reduces security breaches; data should be classified according to its level of security and which employees need access to it. Encryption and monitoring tools can also be used to prevent employees from accessing or releasing proprietary information.
Source: Wall Street Journal (02/13/06) P. R1 ; Totty, Michael
Self-Govern or Be Governed: Personally Identifiable Information, the Law and CRA's
By Duana C. Welch, Ph.D.

It is rather ironic that the Federal Government is targeting the Background Screening industry by the strict application of current laws, as well as by moving towards stringent, HIPAA-type laws and sanctions for the protection of personally identifiable information. These laws apply to any person and entity involved in the CRA process, and they protect all personally identifiable information--including that obtained from so-called "public record" sources. What can you do to protect your business as well as the integrity of the data you must transmit? Knowing the answers to these questions can maintain your businesses' viability and prevent legal sanctions due to illicit distribution of personally identifiable information. The required Federal Standards for a comprehensive personal data privacy and security program must be designed to fulfill three over-arching, essential needs for the protection of personally identifiable information.
Click Here for more information
BIZJUMP.COM – A GREAT SMALL BUSINESS RESOURCE: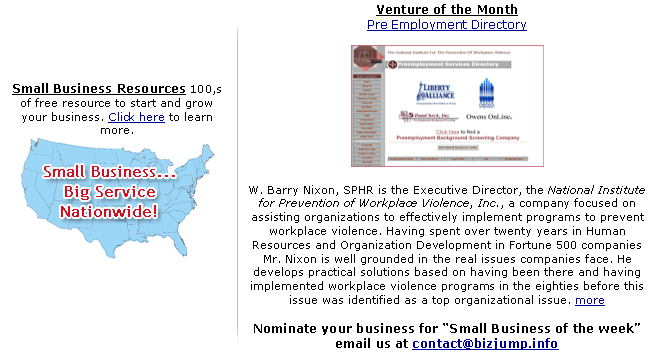 SURVEY RESULTS: Which of the following do you believe will become the key identifier of applicants in the future?
Survey Results: 83.3 % - Fingerprinting ( 5 responses), 16.7% - Retina Scan (1 responses)

Since the response rate was very low I am presuming that having to go to another site negatively impacted the response rate so I found a new survey tool that can embed the survey in the webzine making it much more convenient for you to respond.

PLEASE TAKE A MOMENT AND RESPOND TO THE QUESTION SO THAT WE CAN GUAGE WHAT THE BACKGROUND SCREENING INDUSTRY THINKS

(Would the six people who previously responded please respond again so that your input will be included in reporting next months results. Your support is very much appreciated.)
Choices must be consecutively ordered beginning with the number one (1). Which of the following do you believe will become the key identifier of applicants in the future?



Thank you for taking the time to answer the question. The results will be posted in the March edition.
THE NAPBS CONFERENCE - VISIT US AT TABLE 2 & 3
| | |
| --- | --- |
| | We will be running a Special for PreemploymentDirectory's Vendor Showcase and for the International Section. Visit our booth to check out the special deals, some great prizes or just to say hello. |
MARKETING INSIGHT: 5 WAYS TO BOOST YOUR TRADE SHOW EXHIBIT SUCCESS
A friend of ours tells a story of his early days in trade show exhibiting. As the tale goes, he and his partner were exhibiting at their first show. Their strategy was simple, just take along a few samples of their products, talk to the attendees and collect business cards in a fishbowl that was placed on the table at the front of their booth. Their show drew a large crowd: the fishbowl was nearly filled with business cards. They went home feeling that they had completed their mission. They returned to work and contacted the people who had dropped off business cards. The problem became apparent immediately.

Click here to read the full article on how to boost your success at your next trade show
AbsoluteHire Forms Partnership with Compli
Compli, headquartered in Portland, Ore., has formed a partnership with AbsoluteHire, of Roseville, Calif., in which the two companies will integrate AbsoluteHire's applicant-tracking and pre-employment screening software into the Compli DLMS system. The product for employment practice and regulatory compliance for auto dealerships will also feature legal content and training technology from Prevention Point, the technology subsidiary of Portland, Ore.-based employment law firm Fisher & Phillips.
Additional information can be found online at www.AbsoluteHire.com

USMA Theft Database Will Alert Retail Clients to Employee Theft Data Not Always Available in Criminal Searches
For the first time ever, USIS is making its USMA National Retail Theft Database available to retailers nationwide through Employment Background Investigations, Inc. (EBI). With this agreement, EBI and its clients gain access to USIS' exclusive and proprietary USMA National Retail Theft Database product. The database, which was previously offered solely by USIS, contains client-contributed incident records of confirmed employee theft and shoplifting. Through direct access to this database, EBI's clients will benefit from unprecedented access to information key to employee hiring and loss prevention efforts. The database houses information relating to theft and fraud (including employee theft, shoplifting, refund/credit card fraud and the passing of bad checks). According to the National Retail Security Survey, as much as 86% of retail theft is not criminally prosecuted. Retailers gain great value from the database because they're able to identify many of the individuals across the country who have admitted to stealing, but who may not show up in a typical criminal search, often because their crime was never prosecuted.
Click here for more information
EXTRAORDINARY OPPORTUNITY TO ADVERTISE IN PRIME LOCATION – MAXIMIZE YOUR VISIBILITY:
| | |
| --- | --- |
| | We are making the prime location on the landing page of the Preemployment Screening Directory available to a limited number of companies to promote their business (exclusively available to Platinum members). We will feature your logo with a live link that goes directly to your web site. |
Universal Background Screening Introduces OFAC SDN and USA SecuritySearch to Automate Employer Compliance with Anti-Terrorism Laws
Universal Background Screening introduced two products designed to help employers improve workplace security and comply with anti-terrorism laws. Universal's OFAC SDN search provides an immediate query of the Specially Designated Nationals (SDN) list maintained by the Office of Foreign Asset Control (OFAC). A more expanded product, USA SecuritySearch™, also includes OFAC plus thirteen other lists of dangerous individuals.

Additional information can be found online at www.universalbackground.com
START GETTING ADDITIONAL SALES OPPORTUNITIES TODAY:JOIN PREEEMPLOYMENTDIRECTORY.COM
PLATINUM MEMBERSHIP HAS IT'S PRIVELIGES
You are provided a full page to add copy to display your marketing message.
Your web site URL appears with your listing and is linked to your web site so potential clients can go directly to you.
You get a pop up email message that goes directly to your firm.
Your logo will rotate on the front page which means businesses will see your listing before they even enter the Directory giving you a substantial advantage over non Platinum members.
Your logo will placed at the top of the page along with other Platinum member's logos in the alphabetical and geographical (US or International) sections.
On your specific alphabetical and geographical (US or International) page your firm's logo will appear at the top ahead of all other non platinum listings.
You can update your ad copy at no charge if you introduce new products and services or your marketing campaign changes.

Exclusive Platinum Promotional Opportunities:
You can purchase a Diamond Sponsorship which will place your logo with a live link directly to your web site on the landing page of the Directory (see www.PreemploymentDirectory.com.) This means that businesses will go directly to your web site before they enter the Directory. This will give you 'first contact' advantage at closing them before your competitors even get a chance to sell. A maximum of ten logos will be given this priority placement to maximize your exposure.
You can purchase a Diamond International Sponsorship which will place your logo with a live link directly to your web site on the front page of the International Section of PreemploymentDirectory.com. This means that when businesses are searching for a firm to conduct international investigations they will see your logo first before they enter the International Section and are directed to a specific country or region. This will give you the first shot at closing them before your competitors even get a chance to pitch them.
Platinum members are periodically interviewed to make comments for articles we are submitting for publication which will include mentioning your firm, e.g., SecurityManagement, Security Products, etc.
Co-promotion opportunities at trade shows (we will display or distribute your materials)
Given our visibility in the human resource and security communities we are frequently contacted by firms interested in sourcing background screening firms or through our workplace violence consulting learn about firms who are searching for a background screening firm and we refer them to our Platinum members.

CLICK HERE TO BECOME A PLATINUM MEMBER TODAY
Background Checking Comes of Age in Australia

Already a long-established industry in the US, preemployment screening is taking off in Australia. It used to be a given that job-seekers embellish their CVs a little, but in these post-9/11, corporate scandalised days, telling a small fib could have serious career repercussions. Australian Background, one of this country's first such companies, finds that most requests for their service comes from the industrial, public sector and banking and finance industries. Given that Fraud cost the Australian economy $5.88 billion in 2002, which represents over 18 per cent of the total cost of crime, according to Dr Russell Smith, principal criminologist at the Australian Institute of Criminology. "Rates of reporting fraud are as low as 25 per cent in small businesses and only around 60 per cent in large companies," he says. Australian Background recently conducted a survey of 1000 candidates that were background checked, and found that 21 per cent of them had deceived their future employer to get the job. The area most commonly lied about was employment details (dates of employment, positions held, reason for leaving, etc.), followed by education and criminal record. The Australian Background survey also found that almost one in 20 candidates had a criminal conviction, and of these, 21 per cent related to theft, fraud or embezzlement.

http://www.humanresourcesmagazine.com.au/articles/EB/0C038CEB.asp?Type=60&Category=877
Indian IT sector to top $36 billion in '06
Nasscom, the premier trade body and 'voice' of the IT software and service industry in India, announced the key findings of the Strategic Review 2006. Commenting on the key findings of the Strategic Review 2006 findings, S Ramadorai, Chairman, Nasscom and CEO & MD, TCS, said: "The Indian IT-ITES sector continues to chart double-digit growth and is expected to exceed $36 billion in annual revenue in FY06. Out of this, software and services exports are estimated to grow by 32%, to reach $23.4 billion in FY06. Indian IT-ITES is well on track to achieve the targets that the industry aspires to achieve by the end of the decade." Kiran Karnik, president, Nasscom, said, "2005 offered a steady growth for the industry. Along with increased presence of Indian IT companies across the globe, we saw new services lines emerging and the Industry reached the next level in services offered. Mergers and acquisitions by Indian players was also a key trend. Inspite of the growth seen so far, it is estimated that less than 10 percent of the addressable market for globally sourced IT-ITES has been captured till date, indicating significant headroom for growth."
http://in.rediff.com/money/2006/feb/09nass.htm
TWO SPECIAL INTERNATIONALMARKETING OPPORTUNITIES:

Deliver Your Company Information Directly to Decision Makers in Europe

We are creating a special CD-ROM that will feature a limited number of Background Screening firm's to be distributing in Nice, France at the ASIS International European Annual Conference and Business Forum's International 's Employment Vetting Conference in Copenhagen, Denmark. This is a great opportunity to have your company information put directly in the hands of decision makers in Europe and the international community.
Click here for more information

Purchase a Platinum membership in March and Get a Fantastic '2 for 1' Deal

When you sign up for the International Directory on CD-ROM you will also get a 12 month Platinum listing in PreemploymentDirectory.com in the International Section with the full benefits of a Platinum member.
Click here for more information
PRIZE WINNERS FROM BACKGROUND INVESTIGATORS CONFERENCE:

Drawing Winners:

Scott J. Vanek, SJV $ 50.00 AMEX Card

George Brader, Jr., Tracer Info
$25.00 Starbucks card

Nilsa Maron, National Background Investigations, Inc. $25.00 Starbucks card


Click here for more information about advertising in The Background Buzz and PreemploymentDirectory.com (Sections: US Provider, International, Vendor Showcase.)
SHRM 20006 Annual Employment Management Association Conference & Exposition, March 30-April 1, 2006, Manchester Grand Hyatt, San Diego, CA – see www.shrm.org/conferences/ema/expo.asp

2006 Annual NAPBS Conference, April 2-5, 2006, Doubletree Nashville, Nashville, TN – see http://www.napbs.com/calendar/calendar.htm

Business Forums International, 2nd Annual European Pre-Employment Vetting & Screening Conference - 28 April 2006 – Copenhagen – see http://www.bfi.co.uk/

Business Forums International, Pre-Employment Vetting & Screening Conference USA - 11 May 2006 -New York - see http://www.bfi.co.uk/

SHRM 20006 Annual Conference & Exposition, June 25 – 28, 2006, Washington, DC Convention Center – see http://www.shrm.org/conferences/annual/
'Background Backfire' (Cover Story), Richard F. Stolz, Human Resource Executive, February 2006