Message from the Publisher
One of the faster growing areas of background screening is in the international marketplace with the business world truly moving towards a global economy and multinational corporations of all sizes. As talent shortages continue to loom in different countries, a clear alternative is to recruit people from another country. While recruiting internationally use to be almost exclusively for very technical engineering fields and senior management positions the scope of these type searches has grown tremendously. Along with this recruiting trend the need to verify a person's background has grown.
With this growth in mind we decided to create the International Background Buzz as a special edition. We are thinking we will publish it quarterly, however, our next steps will be guided by the feedback we get from you, our readers.
Most of the content of the International Background Buzz is taken from the monthly editions of The Background Buzz's International Section although there are some new articles included. We took this approach because it is our belief that many of the background screening firms that operate outside of the U.S. think of The Background Buzz's as a U.S. focused publication. Our goal is to move towards the creation of a truly international newsletter that background screening firms from around the world will embrace as their own. To build this new publication we will need your feedback, input and counsel.
Please tell us the type of information you would like to see in future editions of the International Background Buzz to make it relevant for you and to meet your needs. Also please tell us how frequent we should consider publishing it. Please send your comments and ideas to wbnixon@preemploymentdirectory.com.
We look forward to hearing from you to help shape the future of the International Background Buzz and are grateful for having you as a reader.
Thanks again and have a fabulous day!




Data Protection Laws of the World Handbook
In April DLA Piper published the first edition of the Data Protection Laws of the World Handbook 2011/2012 ("the Handbook"). The Handbook offers a high-level snapshot of selected features of national laws as they currently stand in 58 jurisdictions across the world. It is intended to provide a quick overview of features of data protection law that are often of greatest practical significance to businesses, such as international data transfer restrictions, security obligations and breach notification requirements. Also included is a section on enforcement, as this is always an important consideration in assessing the risk presented by any jurisdiction.

The Handbook has been prepared utilizing extensive international coverage of both DLA Piper and other law firms, whose details are set out in the Handbook.

To download a copy of the publication, click here
International Assignments on the Rise
Nearly half of the multinational companies responding to a recent survey expect to increase their international assignments through 2014, despite the high costs involved for such assignments. Towers Watson, a global professional services company and Worldwide ERC, a workforce mobility group, conducted the online survey with 113 respondents from September 2011 to January 2012. They then supplemented the report with interviews from some of the companies for its 2012 Global Talent Mobility Study, released in July 2012.
U.S.-based companies led the way in the number of multinationals expecting to increase the number of their traditional international assignments (54 percent), followed by Asia-based companies (43 percent). Traditional, long-term assignments generally last one to five years and short-term assignments less than a year, according to a Towers Watson spokesman. Organizations headquartered in Europe were more cautious in their expectations over the next several years, with only 26 percent planning to increase such assignments and 40 percent expecting to decrease the number of employees they will send on international assignments.
To read more, click here


Privacy in the Global Village
In the ever-changing world of privacy and data protection, global diversity is proven every day by fascinating developments taking place in every corner of the planet. At the same time, a common pattern can be seen in many of those developments: their attempt to strike the right balance between the exploitation and the protection of the most valuable asset of our time. The most veteran jurisdiction in this area of law in Asia, Hong Kong, has just had a revamp of its 15-year-old Personal Data (Privacy) Ordinance, which toughens the existing regime. In South Korea, the Personal Information Protection Act has only been in force for a few months but is already being branded as the toughest in Asia. The rest of Asia is not standing still either as countries like Malaysia, Singapore and the Philippines are also making progress in this area. This particular issue is one that concerns global organizations seeking to adopt a coherent and consistent methodology for compliance in respect of data flows. The European approach to international data transfers is intimidating to say the least, so it is understandable that those organizations that are investing in programs that want to take advantage of that solution on a truly global scale.

To read more, click here
World Information Center:
INTERNATIONAL RESOURCE CENTER FEATURE OF THE MONTH

Time Zone Converter – Time Difference Calculator
Find the time difference between several cities with the Time Difference Calculator.
Provides time zone conversions taking into account daylight saving time (DST), local time zone and accepts present, past or future dates.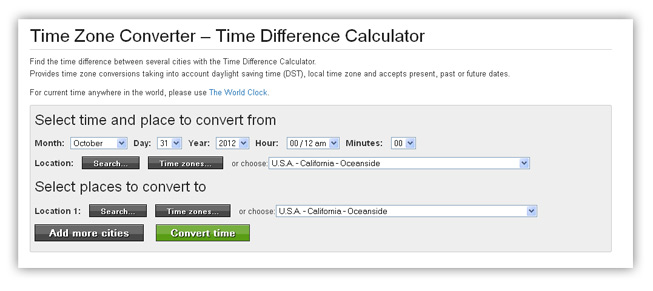 Click here to convert a time right now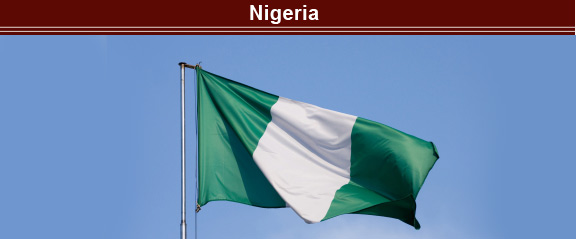 One Third of Graduates Carry Fake Credentials
According to Kola Olugbodi, CEO, Background Check International, BCI,, about 33 percent of applicants present forged credentials, submit fabricated, exaggerated and misleading CVs just to become employable. "Certificate forgery has gained ground because the Nigerian society places too much priority on certificates, thus the need for background checks during recruitment," Olugbodi said. Citing instances of doctors, bankers, lawyers, engineers, among others, that have forged certificates to get jobs, Olugbodi said that certificate forgery is not gender sensitive.
He said about 10 percent of most companies' workforce has tainted backgrounds or such tendencies.
More organisations are making background checks on new recruits. When they find out that you are fake, you won't have any excuse."
He also cited cases of people that didn't go to school at all but forged certificates just to gain employment.
To read more click here




- BACKGROUND SCREENING -

Job Candidate Discriminated Against Because of Criminal Record
The Australian Human Rights Commission (AHRC) has filed a report in Federal Parliament setting out its finding that an employer discriminated against an applicant for a market analyst position on the basis of his criminal record. The applicant, who had previously worked for the employer, had two drink-driving convictions. The applicant failed to disclose one of the offences to the employer. Despite being the preferred candidate and meeting the selection criteria, the employer did not offer employment to the applicant, on the basis that he was incapable of performing the inherent requirements of the position, including complying with the employer's drug and alcohol policy. The applicant made a complaint to the AHRC.
To read more click here


Call for Criminal Background Checks on Parent Volunteers at Schools
Child protection campaigners are calling for parents who volunteer in school or for after school activities to be subject to mandatory child safety checks. The Bravehearts child advocacy group has made the call as part of a plan to make Australia the safest place in the world to raise children. The call follows the release of a report card on child protection policies across the states, which has ranked the Australian Capital Territory (ACT) and Tasmania the worst for child safety. Criminologist Carol Ronken from the Bravehearts, said there are three piers to preventing child sexual assault: educate children about personal safety, empower and train adults to respond, protect in terms of legislations and policies. In ACT and Tasmania, Ronken expresses a stronger need for legislation addressing child sexual assault and more emphasis on personal safety education within their curriculums and schools. Also as part of the push to improve child safety in schools, Bravehearts wants criminal background checks to be done on parents who volunteer at school activities, child care centers and sporting clubs.
To read more, click here






- DATA PROTECTION AND PRIVACY -

A Push to Protect Personal Data
The State Council is pushing government departments, banks and e-commerce companies to better protect people's personal information, with the release of suggestions on enhancing the security of the data they collect. In guidelines released Tuesday the State Council suggested it will help fund new security technologies that promote digital signatures that could replace simple client-selected passwords. The development of enhanced security technology will focus on pilot industries, including software outsourcing services, information technology services and e-commerce. "Regulations and laws on personal information protection are urgently needed, as leaking personal information has seriously affected the security of all citizens," said Lü Benfu, vice dean of the Graduate School of the Chinese Academy of Sciences and an expert in information security. "The first step is to define what kind of release of personal information is illegal." The seventh Amendment to the Criminal Law regulated that "whoever illegally obtains the aforesaid information by stealing or any other means shall, if the circumstances are serious, be punished." However, no specific definition of the leakage of personal information is stipulated.
To read more click here


Cabinet Approves Changes to Data Protection Draft Bill
The Executive Yuan in China has approved a draft bill that seeks to address controversies arising from a 2010 amendment to the Personal Data Protection Act. The bill will now be submitted to the Legislature Yuan for final approval. One of the proposed changes in the bill involves personal information gathered without the knowledge or permission of the concerned individuals. The collectors of this kind of data should inform the concerned individuals before the information is processed or used. The 2010 amendment stipulates that the collectors should inform the concerned individuals within one year of the law's implementation, a requirement that is considered difficult to implement. Partly because of this controversy, the amendment was never put into force despite its promulgation in May 2010.

To read more, click here


-BACKGROUND SCREENING-

Courts Seal Youth Criminal Records
Beijing courts are preparing for the adoption of a new nationwide criminal law next year, under which some convicted juvenile offenders are to have their criminal records sealed, making it easier for them to apply for jobs or further education. According to the current Criminal Law, amended in 2011, most convicted criminals must report their record when they apply to the military or for a job. The new law would not require those who were under 18 when they committed the crime, and were sentenced to less than five years in jail or to a non-custodial sentence, to tell prospective employers of their conviction, but the employer can still access the record by applying to the police. Some argue this law change is unfair to companies because such a person may be a security risk, while others want to provide those who have corrected their mistakes with a second chance.

To read more, click here


-EDUCATION VERIFICATION-

Introduction to China's Education System and Education Verification
Employers want to find people who are not only well qualified with relevant education background, but also ethical. Therefore, conducting an education background check should be on employer's priority list, especially because a significant amount of job applicants misrepresent their education background, costing employers time and money to replace unqualified hires. Some of those who don't have an advanced degree decide to resort to false diploma when they start job hunting. That explains why diploma mills or outright falsified diplomas are so popular among jobseekers. Common ways to confirm a diploma's authenticity include checking: the Higher Education Graduates Database in China - released by Ministry of Education, the nation's trusted source for education verification; the China Academic Degrees and Graduate Education Development Center (CDGDC) - an organization with the independent qualification of legal entity directly under the joint leadership of Ministry of Education and the Academic Degrees Committee of the State Council (ADCSC); with the university directly.
To read more, click here



-DATA PROTECTION AND PRIVACY-

Hong Kong Personal Data (Privacy) Ordinance Amendment Prompts Reviews of Data Protection Policies and Practices
The Hong Kong Personal Data (Privacy) Amendment Ordinance was passed on 27 June 2012. This ends a nearly three year process initially spurred by the need to bring the existing legislation in line with technological and other advancements that occurred since it was enacted in 1996.

Some of the provisions of the Amendment Ordinance will come into effect on 1 October 2012. A number will come into effect at a later date. These include provisions relating to use/transfer/sale of personal data for direct marketing purposes and the legal assistance scheme provided by the Commissioner, all of which are expected to be implemented in the first half of 2013.
The Amendment Ordinance may be accessed here

To read more click here




Hong Kong Privacy Commissioner Publishes Guidance on the Handling of Data Access Requests and the Charging of Access Fees
The Hong Kong Privacy Commissioner for Personal Data recently issued a guidance note to provide data users with assistance on how to comply with data access requests, as well as how to calculate the fees to be charged in connection with such Access Requests. The Guidance Note was in part a response to the increasing number of complaints received by the Commissioner relating to Access Requests in recent years, approximately 10% of which concerned excessive Access Fees. Organizations may wish to establish detailed guidelines and procedures for the handling of Access Requests (including calculating Access Fees), to ensure that such requests are dealt with promptly and efficiently, and in accordance with the Ordinance. Failure to comply with the requirements in the Ordinance may constitute an offence and render the data user liable to a maximum fine of HK$10,000 (roughly 1,300 U.S. dollars).

To read more, click here




- BACKGROUND SCREENING -

Cops Book Security Agency that Hired Killer Watchman
Police in Wadala, India have arrested the heads of an Indian private security firm after a young lawyer was killed by one of the guards providing security at her Mumbai apartment building. Sajjad Moghul killed 25-year-old Pallavi Purkayastha after attempting to rape her in her apartment where Moghul worked as a security guard. Wadala police arrested Abdul Hamid Kahn and Aslam Wazir Khan, the owners of Abdul Hamid Enterprises, the security firm that hired Moghul. The Khans have been charged under the Private Security Regulation Act for failing to perform a proper background check on Moghul and failing to register him and their other guards with the Mumbai police. The act was passed into law in 2005 in an effort to bring professional standards to India's poorly regulated private security industry, but has only rarely been applied since then. The killing has thrust the issue of private security back into prominence in India and caused many "housing societies" to reevaluate and harden their physical security and security policies.

To read more, click here






-EMPLOYMENT OUTLOOK-

More Japanese IT Firms Seek Young Chinese Graduates
An increasing number of Japanese firms, especially those in the IT sector, are seeking young graduates from Chinese universities to join them. Japan's HR service firm RGF recently organized a global recruiting project for the Japanese IT industry called "Work in Japan." RGF held a computer programming competition for graduates from top universities in China, South Korea and India. It selected a total of 92 graduates, which included 85 Chinese, from over 10,000 applicants and they were flown over to Tokyo for job companies in Japanese firms. Japanese IT firms are aiming to expand their global businesses and have strong demand for engineers who are willing to work both in Japan and abroad because local graduates are not enough to fill the gap. Chinese graduates are valued not only for their high technical skills and real-work experiences, but also stronger determination and Confucian work ethics.

To read more, click here





- BACKGROUND SCREENING -

Sex Offenders May Be Avoiding Detection
Sex offenders who have had their names suppressed could be avoiding detection because their crimes do not have to be revealed in their criminal records checks. The Ministry of Justice says about 400,000 applications for criminal records were made last year and the ministry is looking at the way its checks work to make sure they are operating properly. Sex offenders are often granted name suppression, because if they are a relative or are known to their victim, exposing who they are could easily identify the person they have abused. The ministry says both it and police can provide information about people's criminal records. The ministry's criminal record unit was set up to give people access to their own information and they can share this with prospective employers, but it should not be treated as a comprehensive security check. It says an approved list of employers who work with children or the elderly go through a police vetting procedure designed to flag risks that cannot be disclosed by the ministry.

To read more click here





-DATA PROTECTION AND PRIVACY-

Philippine Data Privacy Law is Signed into Law
On August 15, Philippine President Benigno Aquino III signed into law the Data Privacy Act of 2012, formally titled "An Act Protecting Individual Personal Information in Information and Communications Systems in the Government and the Private Sector, Creating for this Purpose a National Privacy Commission, and for Other Purposes". The Act is modeled after the EU Data Protection Directive and the Asia-Pacific Economic Cooperation (APEC) Privacy Framework. The Act applies to "the processing of all types of personal information" and to any person, including both government and private-sector entities, "involved in personal information processing including those personal information controllers and processors who, although not found or established in the Philippines, use equipment that are located in the Philippines, or those who maintain an office, branch or agency in the Philippines." The Act contains provisions that govern the processing of personal information, the rights of data, and the security of personal information and sets forth a detailed schedule of penalties for violations of the Act, which include both imprisonment and fines.
To read more click here


BPO Companies More Bullish After Signing of Data Privacy Law
The Business Processing Association of the Philippines, the umbrella association of the information technology-business process outsourcing industry in the country, said the signing of the Data Privacy Act by Malacañang into law was an important first step to increase confidence among foreign investors.

President Benigno Aquino III signed Republic Act 10173 on Aug. 15, which requires the protection and preservation of personal data collected by public agencies and private organizations. Benedict Hernandez, BPAP president and chief executive, said the law "brings the Philippines to international standards of privacy protection."

The act is based on standards set by the European Parliament and is aligned with the Asia-Pacific Economic Cooperation Information Privacy Framework. The Data Privacy Act requires the creation of a National Privacy Commission under the Transportation Department. Angara said the implementation of the law would require the training of experts and development of rules and regulations.
To read more, click here




European Union:

-DATA PROTECTION AND PRIVACY-

Commission Decisions on the Adequacy of the Protection of Personal Data in Third Countries
The Council and the European Parliament have given the Commission the power to determine whether a third country ensures an adequate level of protection by reason of its domestic law or of the international commitments it has entered into. The adoption of a (comitology) Commission decision involves: a proposal from the Commission; an opinion of the group of the national data protection commissioners (Article 29 working party); an opinion of the Article 31 Management committee delivered by a qualified majority of Member States; a thirty-day right of scrutiny for the European Parliament, to check if the Commission has used its executing powers correctly; and the adoption of the decision by the College of Commissioners. This decision would allow personal data to flow from the 27 EU countries and three EEA member countries (Norway, Liechtenstein and Iceland) to that third country without any further safeguard being necessary.

To read more, click here





-DATA PROTECTION AND PRIVACY-

New EU Data Protection Regime Will Bring Significant Changes
On 25 January 2012 the Commission's official proposal for the reform of the European Data Protection Directive 95/46/EU was presented. We have analysed this 119-page draft and have summarized its main aspects. Although there will be further changes to the draft before its envisaged entry into force in 2015/2016, the decisive legislative phase begins now, with the possibility for interest groups to exert their influence.

On the whole, the Regulation is essentially in line with the law applicable in Germany to date. However, there will be numerous significant amendments in future.
To read more click here





- LEGAL ISSUES -

National Vetting Bureau (Children And Vulnerable Persons) Bill
The National Vetting Bureau (Children and Vulnerable Persons) Bill 2012 is part of a suite of complementary proposals aiming to provide a legislative basis for the vetting of persons who seek positions of employment relating to children or vulnerable persons. Currently persons applying for such positions are vetted on a non-statutory basis. This Bill will make this vetting mandatory. The Garda Central Vetting Unit, established in 2002, will be renamed the National Vetting Bureau. Employers would be wise, therefore, to ensure that the new provisions, when enacted, are reflected appropriately in staff handbooks and contracts of employment and that appropriate training is given. Once the new law is enacted, any employer who fails to ensure vetting is carried out will face criminal penalties. The Bill does not apply to any work or activity undertaken in the course of a family relationship or to persons who assist occasionally and on a voluntary basis in certain activities or events be they school, sport or community related.

To read more, click here




- BACKGROUND SCREENING -

Quarter of Those Claiming Sickness Benefits Have a Criminal Record
The findings from a Government research project show a high proportion of claimants who claim they are unfit for work appear to be fit enough to commit crime. Almost one in four people claiming sickness benefit have criminal records, an official analysis showed yesterday. The study found that 21 per cent of the 1,565,000 claiming incapacity benefit - the payment brought in during the Eighties for those too ill to work - had committed at least once offence over the last ten years, while 4 per cent were jailed.

But in a blow to ministers' hopes of reducing the number of claimants who abuse welfare handouts, researchers found that employment and support allowance (ESA) - the supposedly more rigorous replacement for incapacity benefit - was being paid to an even higher proportion of people who had committed crimes.

To read more click here


-DRUG TESTING -

Drug Tests At Work
A third of employers say alcohol and drug misuse is a problem at work, according to Acas. Substance misuse can have a damaging impact on workplace productivity, as problems don't just affect performance of individuals, but their colleagues as well. In extreme cases, substance misuse can also risk serious harm from accidents and injuries. With drug driving legislation soon to become a reality, drug and alcohol testing has emerged as an issue for employers and many are considering the options.
If introduced later this year, drug driving laws will mean UK police forces will have the ability to test for drugs in saliva. From a corporate perspective, employees caught with certain drugs in their system could face fines, a driving ban or even a jail term. This leaves employers to pick up the pieces, both in terms of cost and damage to reputation. Introducing a drug and alcohol policy into the workplace could help employers identify problems before they escalate.
Health and safety legislation means employers have a duty of care to employees and should be concerned about the general health and wellbeing of staff. As well as covering themselves from a legal point of view, a drug and alcohol policy makes a lot of sense from a commercial perspective. Statistics speak for themselves. US studies show employees using drugs are less productive, take more time off work and are almost four times as likely to have an accident in the workplace.

To read more click here


One In 30 Employees Would Fail a Drugs Test, Finds Concateno
One in 30 UK employees have drugs in their system at any point in time within the workplace, according to statistics released today by Concateno, a drug and alcohol screening provider. These findings, part of the High Society: Drug Prevalence in the UK workplace research report, are derived from the results of over 1.6 million UK workplace drug tests over the last five years (2007-2011). In the past five years, there has been a 43% increase in UK employees testing positive for drugs. Drug use was identified in 3.23% of the employees tested in 2011, rising from 2.26% in 2007.

There are 29.23 million people in employment in the UK. If the current 3.23% positivity rate from the report is extrapolated for the UK population, 940,000 British employees have drugs in their system whilst at work at any point in time.
To read more click here


More Than Half of Employers Don't Test Company Car Drivers for Alcohol or Drug Use
An annual survey report by the charity Brake, found that more than half of fleets (57%) do not test drivers for alcohol, and an even greater proportion (63%) do not test for illegal drugs. The report was sponsored by Licence Bureau and includes responses from 134 organizations on a range of road risk management issues. This report was published just a few days after the Department for Transport posted provisional figures for crashes involving drink driving during 2011 which revealed a 12% increase in deaths and a 3% increase in seriously injured causalities. Brake's report also benchmarks companies' approach to other causes of driver impairment such as driver tiredness, health and eyesight, with four in ten companies not offering eyesight testing for drivers. The survey report features expert advice on tackling driver impairment and case studies of companies who have successfully put procedures in place to mitigate the associated risks.
To read more, click here


- LEGAL ISSUES -

Licensing For Private Investigators Just Around The Corner
The House of Commons Home Affairs Committee today released its long awaited findings on private investigators. It will come as no surprise to many in the industry that the committee recommends full licensing and regulation of the industry by 2015, but whether the political will exists to do so remains to be seen.
Currently 2332 registered data controllers are listed as private investigators, although the Association of British Investigators (ABI) estimates the actual number of investigators at work in the UK today to be closer to 10,000. An estimated 65 percent of those are former police officers, which isn't as reassuring as it initially sounds. Many retain old contacts in the police and at government agencies to continue accessing databases on their behalf.
To read more click here




Next Steps Making midata a Reality
The Government has recently highlighted its proposals for the ground breaking midata programme, as part of its ongoing consultation and progress review which sets out measures to provide it with a legal framework. The Government is committed to putting the UK at the forefront of this rapidly developing market which is why the consultation proposes introducing a power that, when exercised, would give new rights to consumers to access their personal transaction data in an electronic, portable and machine-readable format. midata was launched in April 2011 as part of Government's consumer empowerment strategy, Better Choices: Better Deals. The programme is a partnership between the UK Government, consumer groups and major businesses aimed at giving consumers access to the data created through their household utility use, banking, internet transactions and high street loyalty cards. Allowing people to access and use this personal data has the potential to open up a wealth of opportunities for consumers and businesses, promoting growth across the wider economy.

To read more, click here
Disclosure and Barring
Information on changes to disclosure and barring, which will come into force in September 2012, is available in the leaflets below. There is a leaflet covering England and Wales, as well as a separate leaflet for changes in Northern Ireland. There is also a Welsh language version.
You can read the roadshow presentation, which outlines the work of government since the reviews into the criminal records regime and vetting and barring scheme were completed. There are also two information packs, which provide information to help organisations make decisions about CRB checks as part of their employment processes.
All the documents are available to download below.
Date: Thu Jun 07 15:36:00 BST 2012
To read more, click here
-DATA PROTECTION AND PRIVACY-

ICO Issues Top Five Areas for Improvement for SMBs
The Information Commissioner's Office (ICO) top five areas for improvement for small and medium-sized businesses are: Tell people what you are doing with their data; Make sure your staff are adequately trained; Use strong passwords; Encrypt all portable devices; and Only keep people's information for as long as necessary. The ICO has also recommended that charities and third sector organizations do a data protection 'check-up', as they often handle sensitive information such as individuals' medical details and are potentially more susceptible to encountering a serious data breach. An ICO advisory visit is offered free of charge to give small and medium-sized organizations the opportunity to discuss and receive practical advice from the ICO aimed at improving their data protection practices.

To read more, click here
Reach The Worldwide Background Screening Industry!
Get the Fall Edition of The Suppliers Guide!
Looking for the Top Suppliers in the Industry? Need to find a new Supplier?
2012 Fall Edition of Suppliers to the Background Screening industry Guide
Now Available!

Click here or on image to get a copy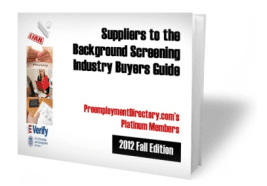 Contact Barry Nixon at wbnixon@aol.com for information
regarding how to include your firm in the Next Edition.



-DATA PROTECTION AND PRIVACY-

Privacy Policies Lacking In Ontario
The loss of personal information belonging to millions of Ontario voters earlier this year shows that even good privacy policies can be useless if they're not followed. Canada's Information and Privacy Commissioner, Ann Cavoukian, released a new report that calls on organizations to beef up the enforcement and understanding of their privacy policies after the breach. In April, Elections Ontario discovered a major privacy breach when two memory sticks containing the names, addresses and birthdates of some 2.4 million voters were lost. The information also indicated whether they voted in the last election. Cavoukian previously found that the staff who lost the USB keys didn't encrypt the files because they didn't know what encryption meant. Her report makes seven recommendations to improve privacy protection at any organization, including developing privacy education and awareness training programs. It also says organizations should have a protocol in place to deal with a possible privacy breach that includes notifying affected people as soon as possible.
To read more, click here


Privacy Commissioner Says Some Criminal Records Checks of B.C. Civil Servants Improper
Some B.C. government employees are being subjected to illegal criminal record checks, the province's privacy commissioner says. An investigation by Elizabeth Denham's office concluded Wednesday that the government is collecting too much personal information on prospective candidates, conducting criminal record checks for too many positions and failing to properly notify employees. "This investigation is quite detailed, quite nuanced, but what we found was that the government was overly broad in its requirements for criminal record checks, and government was subjecting too many employees to re-checks," said Denham, the independent information and privacy commissioner. The province has repeatedly broken the Freedom of Information and Protection of Privacy Act and must make changes to comply within a reasonable time, Denham said.

To read more click here
-TECHOLOGY-

Click With Caution: What Employers Should Know Before Conducting Social Media Background Checks On Prospective Employees
With the proliferation of social media sites such as blogs, Facebook, and LinkedIn, and their increasing prominence in the business realm, it is not surprising that employers have begun to access the information posted on these sites in the course of conducting background checks on prospective employees. However, legal risks may arise for employers even before the employment relationship has begun as a result of using social media websites to collect information about job candidates.

Although employers may consider reviewing the contents of a prospective employee's Facebook page part of their due diligence, this practice would likely be considered a collection, use or disclosure of personal information under Alberta's Personal Information Protection Act, which governs how private organizations collect, use and disclose personal information. To that end, the Office of the Information and Privacy Commissioner of Alberta has recently released "Social Media Guidelines1" which identify the legal risks that arise in this context. In order to "click with caution," employers should keep the following eight pointers in mind.
To read more click here


- DRUG TESTING -

The Drug and Alcohol Risk Reduction Pilot Project (DARRPP) Begins
An interesting pilot project to evaluate random drug and alcohol testing has commenced with several owners and employers. The Drug and Alcohol Risk Reduction Pilot Project ("DARRPP") is aimed at evaluating the effectiveness of a comprehensive testing program that includes mandatory testing of a segment of workers on a random basis. The website containing comprehensive information about the program is now live: www.darrpp.ca.

DARRPP is led by a working group made up of major oils ands industry employers and labour providers. Participating employers will introduce and monitor random workplace testing programs for safety-sensitive positions and share statistics related to their implementation.

To read more click here


Coming to a Workplace Near You: Random Drug Tests?
Random drug testing among employers in Canada is no where near as widespread as it is in the U.S., largely due to a tangle of constitutional rights, legislation, and privacy laws that make such practices a legal uncertainty. However, with the Canadian Supreme Court set to a hear a high profile case on the issue this fall, and private and public sector employers across the country implementing some form of random drug screening program, there is a chance that the practice will become more common in Canada. But employers hoping for a blanket green light like the U.S. will be disappointed. The best guess here is that random tests will only ever be allowed for employees in safety sensitive positions. And, since alcohol and drug addiction are disabilities under human rights laws, employers that conduct tests will also have to ensure they have excellent resources available to help employees who test positive.
To read more, click here



-DATA PROTECTION AND PRIVACY-

Proposed New Privacy Law Open for Comment
A draft data protection bill aimed at regulating data collection and use by organizations in the public and private sectors has been released. The Data Protection Bill 2012 would provide individuals with more rights to access and control their personal data. A representative of the Information and Communications Technology Authority said, "Data protection affects everyone and the working group seeks to present a comprehensive bill to Cabinet that suits the needs of the Cayman Islands while meeting international standards." Officials said that the members of the Data Protection working group came up with a draft, which would not be over burdensome on government or the private sector but at the same time promotes best practice. Although the working group believes many businesses and organizations will already be in compliance with the provisions of the proposed legislation, the bill seeks to provide a minimum standard for protection of personal data.

To read more, click here






-DATA PROTECTION AND PRIVACY-

Personal Data Protection Law Coming This Year
The Government will introduce a Data Protection Act this year, which will regulate the use of personal information compiled on Jamaicans. The Act will seek to protect the privacy of individuals in relation to personal data and the regulation of the collection, processing, storing, use and disclosure of certain information relating to individuals. Ministry of Science, Technology, Energy and Mining Minister of State Hon. Julian Robinson, told the government recently that there is "a need for a more uniformed, robust and clear mandate to protect privacy and personal information." Robinson added that a position will be established for a single information and communication technology regulator within the next couple of years.

To read more, click here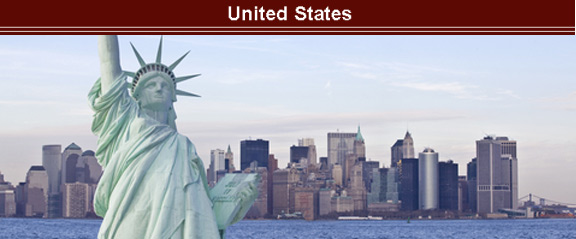 To access articles for the US please click here and you will be directed to the archive for The Background Buzz.







-IMMIGRATION-

Foreign Professionals Wanted in Brazil
The Brazilian government is looking at ways to relax immigration rules to attract up to 10 times more skilled foreign professionals into the country to spur growth. Despite being the world's sixth largest economy, Brazil is currently facing a talent deficit as companies struggle to find qualified workers to ramp up their operations. In the past, Brazil had waves of immigrants arriving from all over the world. However, the economic woes of the second half of the century led to a drastic slowdown of foreigners. Today, foreigners represent just 0.3% of Brazil's workforce, much lower than the figure of 7% at the beginning of the 20th century. Business leaders also complain that Brazilian bureaucracy makes it difficult and expensive to hire foreigners. In order to hire professionals from other countries, firms must first prove they were unable to find suitable local workers. They are also required to train Brazilians to eventually replace the foreign employees. Foreigners themselves face countless barriers and red tape - getting a temporary identity card can take more than six months.

To read more, click here





-DATA PROTECTION AND PRIVACY-

Uruguay Achieves Adequacy in Data Protection
Uruguay has been declared adequate by the European Union regarding Personal Data Protection. This recognition implies an approval of the legal security provided by Uruguay, which improves the flow of personal data between countries that have this distinction. It also sets a significant milestone that confirms the approval of regulations and national actions that guarantee the protection of this fundamental human right, which is customary to any technological and globalized society. Uruguay can now be seen as a country capable of assuming the challenge of taking care of the adequate controls that are required in the use and treatment of the personal data that has been provided. This is an opportunity for increasing businesses that involve or have as input the transfer of personal data, since control is offered as a guarantee that will facilitate interactions between countries.

To read more, click here

Click here to view the full list of 2012/2013 events



The Background Buzz is a service of http://www.preemploymentdirectory.com, the premier listing of Preemployment Background Screening companies on the Internet for employers to search for a firm to meet their preemployment background checking needs. The Background Buzz is published by the National Institute for the Prevention of Workplace Violence, Inc. All logos highlighted in 'New Featured Clients' and 'Advertisers in this edition' are the sole property of the companies named and copyright protected by the respectively named company. Please direct questions, feedback or request to be added to or deleted from our distribution list to wbnixon@aol.com.
Disclaimer Statement: All information presented is for information purposes only and is not intended to provide professional or legal advise regarding actions to take in any situation. Advertisements are presented for information and marketing purposes only and the National Institute for Prevention of Workplace Violence, Inc. makes no representations for any products or services that are promoted and accepts no responsibility for any actions or consequences that occur as a result of any purchases from advertisers.