BACKGROUND SCREENING NEWS
Backgrounds to the Foreground
The National Law Journal called it one of the "Top 100 Verdicts of 2007." A truck driver for a hazardous waste company in Texas caused an accident that led to a man's death. A jury awarded $20.7 million to the deceased's estate, agreeing with the plaintiff that the employer was negligent in hiring the driver without adequately checking his drug use or driving record. State courts are hearing more civil suits like this, based on negligent hiring claims. Plaintiffs argue that employers knew, or should have known, about a hire's potential threat to others. Juries usually find against employers and, on average, award damages of $1 million or more. For this and other reasons, more employers are conducting pre-employment background checks.
But there's a catch: While juries punish employers for inadequate background checks, the EEOC has stepped up enforcement against overzealous use of background checks in ways federal officials say violate federal law. Federal officials are looking closely at hiring practices and policies related to criminal and credit histories. In addition, there are many variations in state laws governing criminal records and credit histories which amplify the reality that background checks are legal landmines. Hence, HR professionals must not take the choice of a screening partner lightly.Darby James, staffing director, at Continental Airlines states: "I expect the screening partner to protect me and to know when I shouldn't know or ask for information. They have to know all the various laws from state to state. I can't know that."
To read the full article go to: http://findarticles.com/p/articles/mi_m3495/is_12_55/ai_n56520022/
http://www.shrm.org/Publications/hrmagazine/EditorialContent/2010/1210/Pages/1210roberts.aspx
One in Four Federal Offenders Goes Back to Jail
A study of 150,000 federal offenders conducted by the Office of Probation and Pretrial Services shows that almost 1 in 4 or 23.9% of offenders on "supervised release" or probation will be re-arrested within a short three year period. Of this number re-arrested within three years, drug-related offenses accounted for almost seven percent of the first re-arrest events, violent offenses almost six percent, and property offenses about five percent. All other types of offenses are represented in the remaining five percent. The reason for the study is to allow system stakeholders to measure not only what the federal probation and pretrial services system does, but how well they do it. Their goal being to reduce to rate at which federal offenders recommit a serious crime. Never before has a criminal justice agency had the capability to study-and to build upon-such a large number of offenders residing in every state, whose new criminal conduct can be studied both during their term of community supervision and beyond.
Source: Handcuff Headlines, January 2011; Printed with permission of Kress Employment Screening
To read the full study go to:
http://www.uscourts.gov/viewer.aspx?doc=/uscourts/FederalCourts/PPS/Fedprob/2010-12/index.html
Pima County, Ariz., Considers Widening Background Check Authority
In an effort to protect children and threats to critical infrastructure, the Pima County, Ariz., Board of Supervisors approved preliminary language, Jan. 4, which would allow county agencies to fingerprint employees without getting special permission from the board. If passed, the proposed ordinance would grant department heads the authority to require employees to get fingerprinted and undergo a background check. The language would apply to current and perspective employees, contractors and volunteers who interact with minors and vulnerable adults; or have access to critical infrastructure; sensitive information; locations and equipment; or money.

"The documented increased threats to critical infrastructure, as well as increasing awareness of the risks associated with the county's fiduciary and operational responsibilities results in the need to perform more in-depth background checks for those individuals performing specific jobs that involve access to certain vulnerable individuals, restricted information or critical locations," Pima County administrator C. H. Huckelberry wrote in a memo recommending the language in the draft ordinance.
To read the full article go to: http://www.emergencymgmt.com/safety/Pima-County-Arizona-Background-Check.html
USCIS Publishes First Issue of E-Verify Connection Newsletter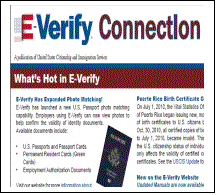 The United States Citizenship and Immigration Services (USCIS) has released a new E-Verify news publication called the "E-Verify Connection" on its its public web site . The inaugural issue of the EV Connection includes 'What' Hot in E-Verify' topics and recent developments relating to E-Verify, as well as information on free webinars and live presentations from the E-Verify staff. [...]
To get your own copy of the E-Verify Connection newsletter go to: http://www.uscis.gov/USCIS/Verification/E-Verify/Publications/E-Verify-Connection.pdf
Third Circuit Clarifies that Bankruptcy Code Does Not Prohibit Employers from Considering Previous Bankruptcies in Hiring Decisions
In Rea v. Federated Investors, No. 10-1440 (3d Cir. Dec. 15, 2010), the U.S. Court of Appeals for the Third Circuit weighed in on a timely issue for private sector employers: whether Section 525 of the Bankruptcy Code prohibits a private employer from rejecting job applicants based on a bankruptcy filing. The Third Circuit held that the statute's reach does not extend to the hiring process, and it affirmed the district court's order dismissing the case on the pleadings. The court's decision is plainly favorable to private sector employers with operations in the Third Circuit, but employers still should be mindful of several related legal considerations. To learn more about the decision and its implication for employers, please continue reading Littler's ASAP, Third Circuit Clarifies that Bankruptcy Code Does Not Prohibit Employers from Considering Previous Bankruptcies in Hiring Decisions by Rod Fliegel and William Simmons.
To read the full article go to: http://www.littler.com/PressPublications/Lists/ASAPs/DispASAPs.aspx?id=1570
USCIS Revises the M-274 Handbook for Employers on Completing the Form I-9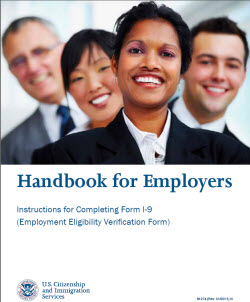 The United States Citizenship and Immigration Services (USCIS) has posted a newly revised version of the M-274 Handbook for Employers, Instructions for Completing Form I-9, on their public web site. The I-9 handbook (often referred to as simply the "M-274") provides guidance on how to properly verify employment authorization of new employees and complete the I-9 form.
To access the full hand book go to: http://www.uscis.gov/files/form/m-274.pdf
FTC's Interim Report On National Study Of Credit Report Accuracy Warrants Pause Before Doing Credit History Checks On Employment Candidates
The FTC's Interim Report demonstrates that the accuracy of credit history reports remains an open question. The FTC is studying 1,000 random consumers credit reports with an "expert who will help identify potential errors on their reports. Participants will be encouraged to dispute errors that could affect their credit standing, and credit reports with alleged errors will be sent to Fair Isaac Corporation (FICO) for rescoring. Overall, the study will categorize errors by type and seriousness in terms of potential consumer harm."
The Commission's next interim report to Congress, which is intended to provide a full analysis of the collected data, is not due until December 2012. In the meantime, both the EEOC's new aggressive approach to credit history checks and the rise of legislation outside of Ohio suggests that employers consider whether there is a business necessity for seeking credit history on employment candidates.
To read the full article Click Here
Welcome to the Legal Challenge Question!

As the background screening industry continues to get more competitive the firms that will ultimately succeed will be those that create competitive advantage through their people by offering continuous learning opportunities to heightened their knowledge and capabilities. We believe that having employees that are very knowledgeable about the legal landscape of background screening is essential to continued success.
We are grateful to Pam Devata, Seyfarth Shaw LLP for providing the expertise for this valuable endeavor. For information regarding the answers to the Legal Challenge Questions, please contact Pamela Devata at Seyfarth Shaw LLP at pdevata@seyfarth.com or 312-460-5000 or visit www.seyfarth.com.
Please choose your answer by clicking on it:
Alexandra Kelly Named Managing Director of HireRight's EMEA Region
London, 19 January 2011 - HireRight, Inc., a global leader in employment background screening and drug screening , has appointed Alexandra Kelly as managing director (MD) of its Europe, Middle East, and Africa regional operations. Kelly, based in London, will report to HireRight's vice president of international business, Dan Shoemaker. HireRight recently expanded its international capabilities, through its acquisition of Powerchex Limited in 2010, and Altegrity, Inc.'s acquisition of Kroll Background Worldwide Limited - uniting three of the world's most successful and respected employment background screening providers under the HireRight brand. Kelly, founder and current MD of Powerchex, will oversee all HireRight operations in EMEA, drawing on her extensive background screening experience to help expand HireRight's global reach. Kelly brings a wealth of leadership experience from a career in a range of sectors including banking and insurance, consulting, manufacturing and publishing, both in the UK and internationally. A successful entrepreneur, Kelly started Powerchex five years ago, quickly building it into one of the UK's fastest growing companies, winning a number of awards along the way.
For more information, visit the company's web site at http://www.hireright.com/pressreleasedetail.aspx?dpid=64
CoreLogic Announces Closure of Sale of First Advantage Businesses
January 3, 2011, Santa Ana, California - CoreLogic, a leading provider of information, analytics and business services, announced today the December 31, 2010, closing of the previously announced sale of its Employer Services and Litigation Support businesses to Symphony Technology Group (STG) for all-cash proceeds of $265 million. CoreLogic also estimates that it will realize a tax benefit in excess of $25 million in connection with the transaction.
STG will operate these businesses under the brand name First Advantage. CoreLogic will retain the remaining businesses that had been part of the former First Advantage Corporation that were acquired in November 2009.
To read the full announcement go to: http://www.corelogic.com/About-Us/News/CoreLogic-Announces-Closure-of-Sale-of-First-Advantage-Businesses.aspx
ANNOUNCEMENTS - Continued
New Comprehensive Medical Screening Suite Reduces Risk in the Health Care Setting
Newport News, VA January 22, 2011 - Innovative Enterprises, Inc., a strategic partner to the background screening industry and expert provider of court research information products, smart data solutions and ancillary services, today announced the official launch of Innovative Medical Solutions™, a powerful suite of comprehensive medical screening solutions designed to reduce risk in the health care setting by assisting in the verification of practitioner credentials and the identification of sanctioned individuals. Innovative Medical Solutions™ combines the core screening methodologies that professional screeners have come to expect with Innovative's powerful decisioning apparatus and highly unique data repositories and includes I-MED™ Levels 1, 2 and 3 Innovative Medical Sanctions Database™, I-CRED™ Innovative Credentialed Practitioner Database™, I-PRO™ Innovative Provider Licensure Database™ and the Innovative Provider Observation Database™.
Innovative Medical Solutions™ is not sold directly to employers but is instead available through Innovative's carefully-selected network of Screening Industry Partners™.
For more information, please or visit http://www.knowthefacts.com .
Premier Employment Screening Services Rebrands Itself As Tandem Select
Premier Employment Screening Services has changed its name to Tandem Select. "The name Tandem Select better reflects our personality as a company and communicates our customer-focused approach of working "in tandem" with organizations to help them better meet their objectives", said Chris Baker, CEO of Tandem Select.
Tandem Select's ownership and management team remains intact and they will continue to operate out of Fort Collins, CO. "Tandem Select is proud to be based in Fort Collins, Colorado.
For more information go the new Tandem Select website, www.tandemselect.com
TazWorksInstaScreen Premiere 2.0 Integrates with Yardi Property Management System
Salt Lake City, UT, January 15, 2011, TazWorks LLC, a web-based background screening software company, has successfully integrated their InstaScreen Premiere 2.0™ screening application with Yardi Systems' Voyager software. Yardi is a respected provider of property and asset management software. The integration enables screening agencies to combine the power of TazWorks' InstaScreen Premiere 2.0™ background screening software with the increased client retention and market opportunities that an interface with Yardi Voyager software provides. Property management companies utilizing Yardi can easily add a screening agency utilizing TazWorks software as their integrated credit report and background check provider.

TazWorks' revolutionary Standardized Data Exchange Gateway makes it easy to integrate credit reports and background checks from InstaScreen Premiere 2.0™ into third party Property Management Systems. "We are very excited about the opportunities this new interface brings to our clients in the tenant screening industry." says Barton Taylor, CEO of TazWorks. "Get your sales force busy identifying clients and prospects utilizing Yardi Voyager and be ready to grow your business. The interface will provide client stickiness and an incredible value proposition for prospects. What an easy sale."

Learn more about TazWorks by visiting http://www.tazworks.net
The Privacy Professor, Uncovers 2011's Top Five Privacy Predictions.

To honor Data Privacy Day, kick off the year and the new website secureyourwireless.org, Rebecca Herold, the Privacy Professor, reveals the top five privacy predictions for 2011:

1- All types of organizations must consider the risks involved with using
cloud computing.
2- Every organization is affected by social media sites.
3- Healthcare privacy issues will become more problematic and comeunder
heavier scrutiny.
4- All organizations that collect, store or handle personal information will increasingly perform privacy impact assessments to determine how to best address their individual circumstances.
5- All organizations must address the risks inherent with mobile computing.
The weakest link in information security and privacy is people. Studies show that most incidents and breaches occur because people simply didn't know what they were doing, they made a silly mistake, or they had ill intent because they knew that they would likely not get caught. Many laws and regulations explicitly require formal, ongoing training and awareness - not only HIPAA, HITECH, and GLBA, but also many other federal, state and local level laws, regulations and industrystandards. Penalties will become increasingly heavier for organizations that lack effective training and awareness activities.
To learn more, please visit http://news.brothersoft.com/international-data-privacy-day-is-january-28-rebecca-herold-the-privacy-professor-uncovers-2011-s-top-five-privacy-predictions/201101-61264.html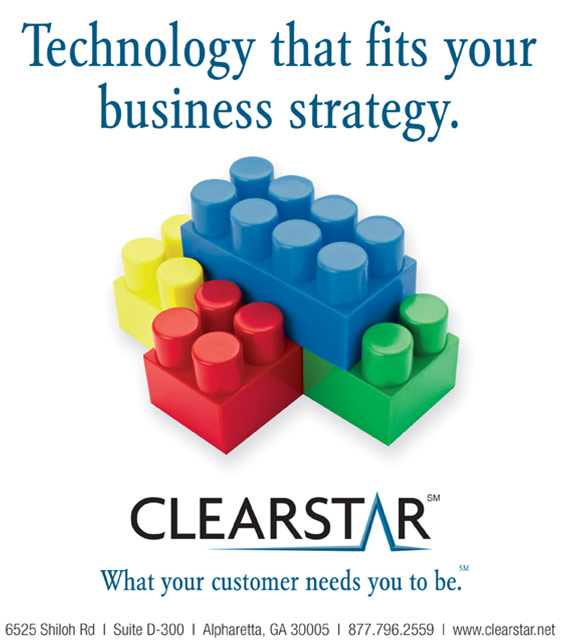 DATA PROTECTION, FRAUD (continued)
Fraud Incident Reports Down, Says Report
Reports of fraud incidents are on the down swing according to the latest quarterly findings of the Quarterly Corporate Fraud Index, which examines fraud incident report activity from 12 million employees worldwide. The index is compiled from actual incidents reported by clients of The Network, Inc., a provider of governance, risk and compliance (GRC) solutions, and BDO Consulting, a division of BDO Seidman, LLP. Fraud-related incidents include reports on corruption and fraud, misuse of assets, conflicts of interest and FCPA violations.
According to the index, in third quarter 2010, fraud incident reporting accounted for 18.8 percent of all compliance reporting activity from more than 1,000 organizations worldwide. This percentage has trended downward over the past six consecutive quarters since the second quarter of 2009, when fraud-related reports accounted for 20.7 percent of all reports made.
To read the full article go to: http://www.csoonline.com/article/654420/fraud-incident-reports-down-says-report?source=CSONLE_nlt_update_2011-01-18
One Site! Many Suppliers!

Looking for the Top Suppliers in the Industry? Need to find a new Supplier?
Visit PreemploymentDirectory.com's VENDOR SHOWCASE which features suppliers to the
Background Screening Industry.
The New 2011 Winter Version of the Special Directory featuring Suppliers to the background screening industry is coming soon!
Hiring Limited in January, but Opportunities Increase Compared With Last Year
The U.S. private-sector labor force is expected to add jobs in manufacturing and services in January, but the pace will follow a recent slow-growth pattern, according to the Society for Human Resource Management's (SHRM) Leading Indicators of National Employment (LINE) survey for January 2011.
Year-over-year hiring expectations rise in January.
Despite the lack of widespread job creation,
hiring rates are at three-year highs in January in manufacturing and services.

Recruiting difficulty index increases in December.
More HR professionals in both sectors reported an increase in difficulty recruiting for key positions in December compared with a year ago.
To read the full SHRM Leading Indicators of National Employment Report go to:http://www.shrm.org/Research/MonthlyEmploymentIndices/line/Documents/LINE%20January%202011.pdf
Employment Trends Index Edges Up
The Conference Board's U.S. employment trends index edged up to a reading of 99.3 in December from 98.5 in November. The index is also up 7.6% from its December 2009 reading. "The improvement in the employment trends index in recent months suggests employment growth is likely to accelerate moderately in the first half of 2011," said Gad Levanon, associate director of macroeconomic research at The Conference Board. "While this is a welcome improvement, we don't expect employment to grow fast enough for the unemployment rate to dip below 9 percent for the rest of the year."
Source: www. Staffingindusty.com
Business Confidence Remains High Among CFOs; Recruiting Challenges Rise
Eighty-eight percent of CFOs expressed confidence in their firms' growth potential in the first quarter, and businesses also report greater hiring difficulty. Half of executives interviewed said it is challenging to locate highly skilled finance professionals, four points higher than the previous quarter and up from 34 percentin the second-quarter survey. The Robert Half Financial Hiring Index is based on telephone interviews with more than 1,400 CFOs across the U.S. It was conducted by an independent research firm and developed by Robert Half International, a staffing services firm specializing in accounting and finance.
To read the full report go to: http://www.accountingweb.com/topic/cfo/business-confidence-remains-high-among-cfos-recruiting-challenges-rise
Implementing A Drug And Alcohol Testing Program - Things To Consider
Employee and applicant drug testing is a tool employers have to ensure their workforce is drug-free. Studies have shown employers lose between $60 and $100 billion annually because of employee drug abuse. Other employers implement drug testing in order to compete for federal contracts or to meet requirements of certain Department of Defense contracts, or they may be subject to Nuclear Regulatory Commission or Department of Transportation testing programs. Employers must consider a variety of factors when implementing a drug and alcohol testing program and probably the most important of these considerations is the type of drug test that will be used, including: Pre-employment testing, Reasonable suspicion, Post-accident, Random, Follow-up and Periodic.
To read the full article Click Here

We invite you to pull up a chair, grab your latte and take a break while you join us for this month's issue of The Background Bistro. This week's guest is Pam Devata.
Company Information:

How Long have you been in the background screening industry and what led you to join the industry?

I have been providing FCRA and background screening advice consistently to employers and CRAs since 2003. As a Labor and Employment Attorney, we found that many of our employer clients--large and small--were struggling with how to comply with the FCRA and the myriad of state laws related to background checks. A colleague who was working for a CRA recommended that we come to the first NAPBS conference in Scottsdale.

If you could meet any one regardless of whether the person is alive or not who would you want to meet and why?

I would love to meet Queen Elizabeth and learn about leadership style, her struggles, her tactics and her motivations.

What is an accomplishment that you are especially proud of?

Managing a full time career and raising two amazing boys.

What is important about your company that it is important for people to know?

Seyfarth Shaw is a full service law firm that has

If you had a Crystal Ball and could look into the future what do you see happening in the background screening industry 10 years from now?

I think we are on the brink of some serious regulations by state and federal government and even from the Court systems. It will be an interesting time.

Pam can be contacted at pdevata@seyfarth.com

Seyfarth Shaw LLPTitle: Partner



Education:


College Name:
Washington University in St. Louis

Law School:
Chicago-Kent College of Law




Husband's Name:
SandeepDevata

Children's Names:
Dru and Arik



Entertainment Interest:


Favorite Musical Group or Artist:
Dave Matthews Band

Favorite Sport Team(s):
Chicago White Sox

Favorite Food:
Chocolate covered strawberries



Favorite Vacation:


Location: Paris

Why Favorite:
Because it is Paris!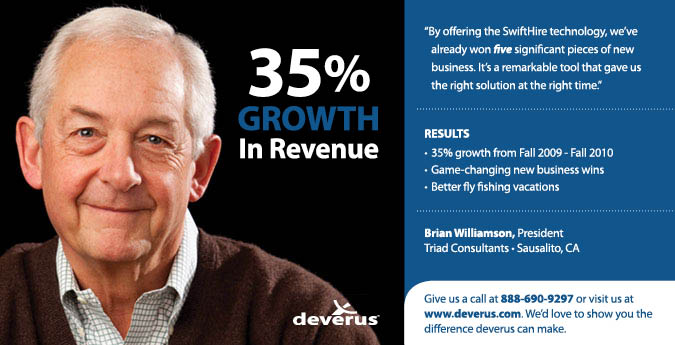 Privacy Commissioner Says She May Need Power To Fine
Privacy Commissioner Jennifer Stoddart says the complaints-based system for regulating privacy breaches may not be enough and that her office may need the power to levy fines to get companies to pay attention. The commissioner discussed the priorities of her office as House of Commons ethics committee prepares to conduct a five-year, statutory review of the Personal Information Protection and Electronic Documents Act (PIPEDA). "I am increasingly of the view that we may need stronger powers to be an effective privacy guardian for Canadians. Canada has become one of the few major countries where the data protection regulator lacks the ability to issue orders and impose fines," Stoddart said. She said the Federal Court can seek damages from companies that violate PIPEDA, but the court has set a high threshold for damages and invoked them only once in the 10 years that PIPEDA has been in force.
http://www.thewirereport.ca/reports/content/11856-privacy_commissioner_says_she_may_need_power_to_fine
The Ins and Outs of Employment Background Checks in China
It is common for employers in China to run background checks on job applicants before making an employment offer. Required information may typically include criminal records, educational background, qualifications, and references from previous employers.
Chinese citizens' criminal records are stored in government databases, which are administered by the PRC Ministry of Public Security and its local counterparts ("Criminal Record Database"). According to relevant laws and regulations, only persons without any criminal convictions may perform certain jobs, 1 and applicants must obtain a Certificate of No Criminal Conviction ("CNCC") from a local public security bureau before performing such jobs ("CNCC Jobs").Employers are not allowed to check criminal records directly in the Criminal Record Database. They may either require a job applicant to obtain a CNCC, or run a check via a commercial investigator. Commercial investigations may violate privacy laws and those regarding state secrets so their use is not recommended.
Employers may request relevant diplomas and/or certificates to verify educational backgrounds and qualifications. Of course, diplomas and certificates might be counterfeit, and if necessary, employers may verify their authenticity.It is a general and lawful practice in China for an employer to make an employment decision based on a job applicant's educational background and qualifications.
With a job applicant's written consent, an employer may ask for a reference from a previous employer and use the reference to help decide whether to employ the applicant.
To read the full article Click Here
New Direction Discussed for European Data Protection
"Saving jobseekers from themselves," is the purpose of the German draft law which will regulate the use of information concerning job applicants collected on the internet by employers. Currently we work with very general criteria of transparency and accuracy, with the obligation to inform and with the evaluation of the principle of incompatibility and purpose, but these criteria are no longer sufficient. The European Commission's Communication announced their commitment to insert privacy by design in the principles of the new discipline. This principle should help us to face problems from the beginning of every project in order to avoid the difficulty of developing data protection systems subsequently, when all the choices have already been made.
The main point is to do things in a more responsible way; data controllers should not consider these principles as something to comply with only when there is a problem, a complaint or an appeal. They should consider their duties as something to be put into practice on a day-to-day basis. They should take on the responsibility of transforming into internal procedure everything which is necessary to adhere to the principles of law. So, we will no longer have a situation in which data controllers choose not to fulfill their privacy obligations and run the risk of incurring fines, thinking that an inspection may never arrive. Instead we will have a new scenario in which the data custodian controller is conscious that protection of privacy is a daily obligation.
To read the full article go to: http://www.blogstudiolegalefinocchiaro.it/miscellanee/interview-with-mr-buttarelli-european-data-protection-assistant-supervisor-english-version/
Article 29 Working Party Releases Opinion on the Applicability of European Data Protection Law
The Article 29 Working Party issued its Opinion on applicable law, providing guidance on the scope of EU data protection law and the practical implications of Article 4 of the EU Data Protection Directive (95/46/EC, the "Directive"). The purpose of the Working Party's Opinion 8/2010 (the "Opinion") is twofold. First, it intends to clarify the current scope of EU data protection law with regard to the processing of personal data within and outside the European Economic Area (the "EEA"). The clarifications by the Working Party are aimed at enhancing legal certainty for data controllers, providing a clearer framework for individuals and stakeholders and avoiding legal loopholes and potential conflicts between overlapping national data protection laws. Throughout the Opinion, practical examples are used to demonstrate the clarifications, such as in the context of centralized HR databases, geolocation services, cloud computing and online social networks.
The Working Party's main suggestion for the improvement of Article 4(1)a is to shift back to the country of origin principle. This would mean that only the laws of the Member State in which the main establishment of the controller is located would apply. For Article 4(1)c, in situations where the controller is established outside the EEA, the Working Party suggests that additional criteria be developed to ensure that a sufficient connection with the EEA territory exists.
As a final recommendation, the Working Party calls for greater harmonization and clarification regarding the requirement that data controllers located outside the EEA appoint a representative within the EEA.
To read the full article go to: http://www.huntonprivacyblog.com/2011/01/articles/european-union-1/article-29-working-party-releases-opinion-on-the-applicability-of-european-data-protection-law/#more
Industry Experts Predict The Creation Of +360,000 New Jobs In 2011
A new survey carried out by German newspaper Bild among industry associations and industry experts forecasts that +360,000 new jobs will be created in Germany in 2011. According to the IGK Institute, the health and carer sector is growing very strongly because of the ageing population and the fact that more and more people are willing to invest in their health. The institute forecasts that +150,000 new jobs will be created in the sector in 2011. The Association of Temporary Employment Agencies (BZA) forecasts double digit growth in the sector in 2011. Currently there are 923,000 temporary employees in the country.
To read the full article Click Here
71% Of Employers Plan To Recruit Next Year
Three out of four employers plan to recruit more staff in 2011. That was one of the main findings of research conducted by staffing agency Hays Ireland among 242 employers and 1,215 employees across Ireland. The survey results pointed to a more active jobs market as the number of people seeking alternative employment has risen by 25%. Hays also canvassed unemployed professionals across Ireland and found half (47%) of them are feeling positive about their chances of securing employment in Ireland in 2011. Richard Eardley, Managing Director of Hays in Ireland, said "it's great to observe such a positive attitude to employment at ground level. Recent headlines would suggest the country is heading downwards, but our experience is that people are very definitely hiring again and candidates have more confidence with regards to moving jobs."
To read the full report please click here
Source: www.staffingindustry.com
Benvenuti the International Legal Challenge Question!
We Specialize in Promoting the Products and Services of businesses in the Background Screening Industry.
Click on the specific Marketing Portfolio above that fits your business.
INTERNATIONAL LEGAL CHALLENGE QUESTION
Most industries and firms now compete in a global marketplace which is continuing to increase the need for background checks for new hires that will reside in another country or that are being hired from another country. Commensurate with this growth in background checks is the need to understand the myriad of data protection, privacy, human rights and local laws that govern the practice of conducting background checks. To help background screening firms around the world to further enhance their knowledge we have launched this International Legal Challenge.
We are grateful to Brian Arbetter a Partner with the global law firm of Baker & McKenzie LLP for providing the question and answer to the questions in the International Legal Challenge. Brian is based out of the Firm's Chicago and San Diego offices. His practice focuses on international law issues, with particular emphasis on labor and employment, as well as workplace privacy. For information regarding the answers to the International Legal Challenge questions, please contact Brian at brian.arbetter@bakermckenzie.com.
Please Choose One of the Following Answer in Response to the Question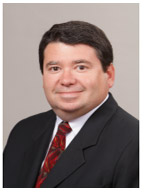 In Italy, does a company that gathers commercial information have to give notice to or obtain consent from an individual subject before gathering data about them?
A. No notice; no consent. Italy does not have data privacy requirements.
B. Notice required; no consent.
C. No notice; but consent required.
French National Assembly Votes on Amendments to Data Protection Act
A Bill containing several amendments to the French Data Protection Act was adopted by the French National Assembly. If enacted, the Bill would amend several key provisions of the French Data Protection Act.The Bill increases the deterrent effect of the CNIL's sanctions by explicitly authorizing the CNIL to publish the sanctions it imposes on data controllers.
The State Council ruled that data controllers must be given advance notice of their right to object to an on-site inspection by the CNIL. The State Council also ruled that the CNIL may not conduct surprise inspections without notifying the data controller or obtaining the prior approval of a judge.Further to these rulings, the Bill adds a new provision to the Data Protection Act which would require the CNIL to obtain a court order to conduct an on-site inspection if the relevant data controller objects to such inspection. However, under exigent circumstances (if, for example, there is risk that the data controller might destroy or conceal evidence), a judge may authorize a surprise inspection without advance notice to the data controller.
The Bill also reduces the Chairman's powers by limiting his involvement in the decision-making process with respect to investigations and sanctions. The power to impose sanctions would lie entirely in the hands of the CNIL's "restricted committee" (la formation restreinte).
To read the full article go to: http://www.huntonprivacyblog.com/2011/01/articles/european-union-1/french-national-assembly-votes-on-amendments-to-data-protection-act/
Pakistan's First Private Detective Agency Opens
Fact Finders private investigative services is ready to launch in Karachi. They will offer a variety of services including intellectual property and copyright infringement, tenant screening, verification for embassies, pre-employment screening and personal protection. (A complete list of services can be found on www.factfinders.com.pk). The 25-member Fact Finders team comprises retired army and police officers as well as former Federal Investigative Agency officials and a clinical psychologist.
The client then identifies their "wish list" or requirements for their case. This is, for example, the length of time they want surveillance, the type of evidence required - video, audio or digital or all of the above. "In cases of adultery or marital disputes we offer consultations with a clinical psychologist as well," Masood explains.
To read the full article go to: http://tribune.com.pk/story/99647/watch-out-cheating-spouses-pakistans-first-private-detective-agency-opens/
References - Still A Risky Business
A recent case has confirmed that if an employer gives a negative reference for an employee who has raised a complaint of discrimination against it, that employer will be liable for compensating the employee fully. The fact that third parties may have also acted unlawfully in refusing to employ the person will not limit the amount that the original employer has to pay.
Current case law shows that if an employer provides a reference, it must be prepared with reasonable care and be fair, accurate and not misleading. This essentially means that an employer can prepare a positive or a negative reference, providing its decision to do so is justified.
To avoid disagreements or protracted discussions with employees about the content of a reference, employers often have a policy which is consistently applied to all staff of providing a basic factual reference. This might, for example, simply give the dates of employment and the employee's position on leaving. Such a policy (if applied uniformly to all staff) is also useful for avoiding potential claims from the ex-employee or prospective employer if the reference is misleading in any way.
To read the full article go to: http://www.mondaq.com/article.asp?articleid=119052&email_access=on
Cost Of Retail Theft Soars Despite Increased CrimePrevention Spend
The cost of retail crime soared year-on-year in 2010 despite retailers investing more than £210m in crimeprevention. The number of offences affecting retailers dropped by 11% year-on-year, but thieves increasingly targeted higher value products. The average value of goods stolen rose to £70 from £45 the previous year. Shoplifters stole goods worth almost £400,000 every day last year according to the BRC's Retail Crime Survey. Over £137m of goods was stolen, up from £99m in 2009.
To read the full article go to: http://www.retail-week.com/in-business/policy/cost-of-retail-theft-soars-despite-increased-crime-prevention-spend/5021287.article
INTERNATIONAL: PROFESSIONAL WORKSHOPS AND ASSOCATION CONFERENCES

Featured Course:

( Click Here to View full list of 2011 Events ) - Updated Monthly
STOP STRUGGLING WITH WRITING AND PUBLISHING YOUR NEWSLETTER:
We can help you have a high quality e-newsletter to help nurture your relationship with your clients and attract new clients. Our customized newsletter service will take over your newsletter task or create a new one for you. We can manage the creation of your newsletter for you.
We are constantly researching information to use for The Background Buzz and you can put our research to use for you. Using the information rich content from The Background Buzz (minus the ads and competitors information) we will create a custom newsletter for you.
Use your staff's time to do more valuable work and save all the hassle of researching or writing articles, formatting and managing all the other ezine tasks with our customized ezine process.
Contact Barry Nixon at 949-770-5264 or at wbnixon@aol.com for more information.

It's that time of year... BUDGET time!
Compare your budget to industry trends.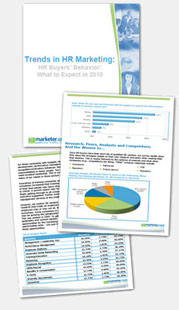 According to the 2010/11 Trends in HR Marketing Report, a sizable majority of HR suppliers are optimistic about 2011 and plan to increase their marketing budgets.
Where's that budget money going? Here are the top three budgeted marketing activities reported to get the biggest increases in 2011:
1. Search Engine Optimization (SEO)
2. Direct Marketing - e-mail
3. Create original content (e.g., white papers)
Learn more about the Trends in HR Marketing report and download it with no registration required.
ADVERTISERS IN THIS EDITION

| | | | |
| --- | --- | --- | --- |
| | | | Background Screening Jobs |
Visit the Job Board for the Employment and Tenant Screening Industry. Here you will find resumes of people with industry experience and employers seeking applicants with experience in Employment and Tenant Screening and related businesses.
www.backgroundscreeningjobs.com
UPCOMING CONFERENCES, COURSES & EVENTS

2011 Events (Click Here to View full list of 2011 Events)