BACKGROUND SCREENING NEWS
Liars Index® Remains Elevated

The Liars Index®, which tracks the changes in the percentage of education misrepresentations among executives, again skewed high in the second half of 2010, although retreating to 17.46%, from the 21.43% rate of mid-2010. The two-year running average remains high, at 17.71%, on a par both with recent trends and the high recessionary levels of ten years ago.

Issue 24, January, 2011
Reprinted with Permission of ®2011 Jude M. Werra & Associates, LLC
To read more Click Here
GOP Lawmakers Push For Mandatory E-Verify
House immigration subcommittee chairman Elton Gallegly (R-Calif.) said Thursday that he plans to introduce the bill to mandate the use of E-Verify within the next month. The program is already mandatory for government agencies and contractors and used voluntarily by nearly 250,000 businesses to check the legal status of potential hires. But Gallegly said he hopes making it a requirement for all U.S. enterprises will drive out illegal workers entirely. "If there was ever a need to do something quickly, when we have 14 million Americans who aren't working today, I think they deserve to be put in the front of the line," the California Republican said at a hearing on the use of E-Verify.
For their part, however, farm owners say few U.S. citizens want the type of jobs taken by undocumented workers, including fruit-picking and similar low-paying, backbreaking work. Since a bill to create more agricultural work visas died in Congress last session, critics say mandating E-Verify would abruptly cut off the supply of agricultural workers, leading to higher food prices and creating more demand for cheaper imported foods. "Pressing harder on the gas without fixing the vehicle will only hurt our economy," Rep. Zoe Lofgren (D-Calif.), the ranking member of the immigration subcommittee, said Thursday. "Particularly in agriculture, mandating the use of E-Verify would reverse the polarity of the magnet, shipping millions of jobs overseas."
To read more Click Here
Close-Up On Screening
Employers face a thicket of state and federal laws that govern pre-employment background screening. Now, these laws are in flux because legislators and policy enforcers are scrutinizing the use of criminal records and credit histories in hiring decisions.
With a law that took effect Jan. 1, Illinois became the fourth state to restrict the use of credit histories in hiring decisions. Similar measures have been narrowly defeated in other jurisdictions, and the previous U.S. Congress introduced a bill on the subject, but did not vote on it.
In November 2010, Massachusetts became the second state, after Hawaii, to prohibit private employers from asking job applicants about their criminal records on initial written applications. Massachusetts already prohibited the question on public-sector job applications, as do several other states and more than two dozen cities and counties. The laws and policies require employers to wait until later in the hiring process to ask applicants about their criminal records.
These examples do not constitute a complete list, and the scrutiny is not likely to subside. Behind the debates lie two fundamental values that often conflict:
Employers' rights to maintain safe workplaces and to conduct
business without interference.
Individual rights to privacy and to fair treatment in the job
market.
In this uncertain environment, the best way to avoid legal problems is to mind your p's and q's-the practices you follow and the questions you ask when using criminal records and credit histories in hiring decisions.
Source: HR Magazine, Vol. 56, Number 2
To read more Click Here (May need to be SHRM member to access)
Spokeo Charged With Violating Fair Credit Reporting Act
In his new legal papers, filed on Wednesday, Robins asserts that inaccurate information on Spokeo has cost him money by hampering his job search. "Robins has been actively seeking employment throughout the time that Spokeo has displayed inaccurate consumer reporting information about him and he has yet to find employment," he alleges. "This harm is also imminent and ongoing."
Robins' lawsuit is one of several actions brought recently against Spokeo. The company operates an online search engine that allows Web users to search for detailed reports about individuals by name, email address, screen name or phone number. Spokeo gleans information from a variety of databases, including social-networking sites. It offers some basic information for free, but also sells a variety of data, including estimates of individuals' financial wealth. Robins says that Spokeo correctly lists neighborhood and siblings' names, but that most of the other data is wrong -- including his age, marital status and field of employment.
To read more Click Here
Bill Requiring National Background Checks For Health Professionals Gains Traction.
State Sen. Pat Miller (R-Indianapolis) is shepherding a bill through the Indiana Senate requiring national criminal background checks on health professionals like nurses and physicians. Miller, chair of the Senate Committee on Health and Provider Services, said the committee voted unanimously in support of the proposal. Miller stated that the state currently relies on health professionals to self-report arrests and convictions. "While the majority of those working in health-related fields are honorable law-abiding citizens, news reports of health care workers being convicted of crimes without the knowledge of the state licensing board are unacceptable," Miller said. "This legislation would help ensure health care workers who have been convicted of a crime in Indiana or any other state would be screened out in the licensing process."
If passed, the legislation would require health professionals, such as nurses, physicians, pharmacists and optometrists, applying for licenses to receive national criminal history checks. Miller said the Indiana State Police would then submit the applicant's information and fingerprints to the FederalBureau of Investigation.
To read more Click Here
Welcome to the Legal Challenge Question!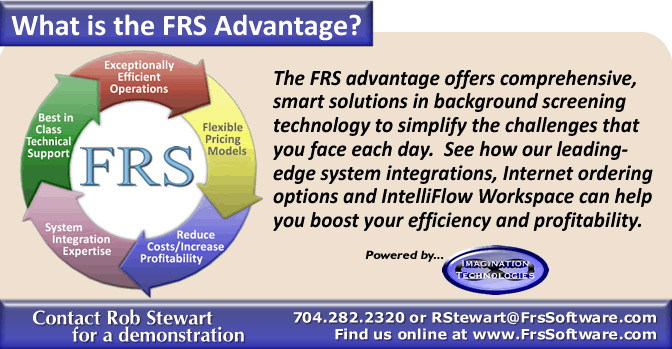 As the background screening industry continues to get more competitive the firms that will ultimately succeed will be those that create competitive advantage through their people by offering continuous learning opportunities to heightened their knowledge and capabilities. We believe that having employees that are very knowledgeable about the legal landscape of background screening is essential to continued success.
We are grateful to Pam Devata, Seyfarth Shaw LLP for providing the expertise for this valuable endeavor. For information regarding the answers to the Legal Challenge Questions, please contact Pamela Devata at Seyfarth Shaw LLP at pdevata@seyfarth.com or 312-460-5000 or visit www.seyfarth.com.
Please choose your answer by clicking on it:
LEGAL ISSUES (continuted)
New Background Check And Registry Check Requirements For Tennessee Health Care Providers
Effective as of October 1, 2010, health care facilities and health care professionals in Tennessee who employ individuals to provide direct patient care will be required to perform a registry check on those individuals, or obtain written assurances that the requisite registry check has been performed, if a full backgroundcheck has not been performed. Those health care providers who comply with this requirement will be immune from civil or criminal liability based solely upon the information provided through the registry check, including claims related to the provider's refusal to employ or contract with an individual based on the information in the registry check. Mental health organizations also have expanded responsibilities under the new laws with respect to backgroundchecks that must be performed on those individuals having direct contact with or responsibility for their service recipients. The specific requirements of the new laws are outlined below.
To read more Click Here
Negligent entrustment
The act of leaving an object, such as an automobile or firearm, with another whom the lender knows or should know could use the object to harm others due to such factors as youth or inexperience.
Negligent entrustment claims arise when an unlicensed, incompetent, or reckless driver causes damages while driving a motor vehicle owned by someone else. A party injured by such a driver must generally prove five components of this tort: (1) that the owner entrusted the vehicle to the driver; (2) that the driver was unlicensed, incompetent, or reckless; (3) that the owner knew or should have known that the driver was unlicensed, incompetent, or reckless; (4) that the driver was negligent in the operation of the vehicle; and (5) that the driver'sNegligence resulted in damages ( Amaya v. Potter, 94 S.W.3d 856 [Tex. App. 2002]).
If a plaintiff proves these elements, an owner may be liable for the full amount of damages caused by the driver. In some instances, the plaintiff may also recover Punitive Damages from the owner, particularly if the owner himself acted recklessly in entrusting the vehicle to the driver ( Allstate Ins. Co. v. Wade, 579 S.E.2d 180 [Va. 2003]).
ClearStar Enhances International Background Screening Technology Capabilities and Certifies Safe Harbor Compatibility
ClearStar, a leading background screening industry technology and services provider, today announced significant enhancements to the international background screening capabilities of its Aurora technology platform and certification of its compatibility with the U.S.-European Union (U.S.-EU) and U.S. Switzerland (U.S.-Swiss) Safe Harbor Frameworks. The new Aurora International Applicant Profile Control functionality utilizes the applicant's country of residence to drive applicant information data field labels and filters service listings by country of residence and service groups. In addition, the technology supports document upload at the order level to accommodate the complex documentation needs of performing legally compliant background checks on job applicants who lived, worked or studied overseas. "International background checks are one of the fastest growing segments of the employment screening industry. Industry analysts predict that this growth will accelerate as globalization increases and emerging markets recover from the recession," stated ClearStar President Vince Pascarella. "ClearStar is committed to providing our clients the tools they need to compete for this business."
For more information please Click Here
Accurate Background Welcomes New Leadership for Global Screening Division

Accurate Background, a global leader in the background screening industry, is pleased to introduce Traci Canning as their new Vice President of International Development. Canning brings extensive global leadership experience in the background screening industry with a focus on operations, product development, and compliance. During her career, she has led the development of technology solutions and implemented efficient global operations methods that resulted in cost savings for her clients and better overall effectiveness from her international teams. Before joining Accurate Background, Canning was Managing Director of EMEA and APAC for Kroll. Based in the United Kingdom, she was responsible for overall business performance including brand development, technology, client acquisition and satisfaction, and management of teams across Europe and Asia. "I am excited to join the Accurate Background team," says Canning. "Their dedication to exceptional customer service and their history of innovation sets them apart in our industry."

To read more Click Here
Hireright Names Steven Spencer Vice President Transportation Solutions
HireRight , a leader in employment background screening and drug screening solutions, today announced the appointment of Steven Spencer as vice president of transportation solutions and head of its transportation business unit. "Steven's appointment is a significant step in strengthening our capabilities and commitment to the transportation industry as we look to expand on our more than 30 years of knowledge and expertise in serving the screening needs of motor carriers through our DAC Trucking brand," said Mike Petrullo, HireRight president and CEO. Mr. Spencer joined HireRight Solutions (then USIS Commercial Services) in 1999, and has helped establish the group as the acknowledged leader in its field, providing a wide range of services including the unique DAC Employment History Database, the only such resource of its kind. In 2008, he was promoted to senior director of transportation sales, where he headed all customer relations and sales efforts for transportation customers, giving him firsthand, day-to-day experience with the background checking and drug testing demands of motor carriers as well as other transportation industry segments.
"We work closely with our customers in everything we do," said Mr. Spencer. "Currently, our business unit is responding to two important customer demands. The first is the need to make screening faster and more efficient through the application of technology and integration. Secondly, our customers are faced with managing a huge amount of data and regulatory requirements, plus analyzing that data to determine how it fits into safety programs like CSA. They need a trusted and reliable partner to help them manage their programs, provide actionable information, and support their efforts in meeting compliance requirements."
To read more Click Here
HR Plus Teams Up With Strategic HR
HR Plus, www.HRPlus.com, a leading provider of comprehensive solutions for employment and background screening and a division of AlliedBarton Security Services, announces a strategic business collaboration with Strategic HR. Founded in 1996, Strategic HR has provided human resource and safety service solutions to more than 5,000 companies. "Strategic HR provides an additional value to our customers by supplying a complimentary human resource solution that includes consulting and staffing services. They also supply an excellent knowledge resource to our clients by providing ongoing webinars, newsletters and access to HR forms, guidelines and policies online," said Jeff Wizceb, Vice President, Business Development, HR Plus. "We are dedicated to providing additional offerings to our clients and prospects."
To read more Click Here
Innovative Enterprises Announces Launch of New Web Site

Innovative Enterprises, Inc., a strategic partner to the background screening industry and expert provider of court research information products, smart data solutions and ancillary services, today announced the official launch of its newly-designed website. The site redesign was undertaken to enhance visitors' experience and to provide an intuitive interface for navigating the company's rapidly-emerging suite of solutions. "Professional background screeners turn to us for consultative assistance with their most perplexing problems," commented Clifford J. Williams, Innovative's Vice President and Chief Operating Officer. "Our redesigned website is just one of the many avenues that industry professionals can use to connect with us and to find these answers. It also creates an effortless pathway for members of the Human Resources community to make direct connections with our exclusive Screening Industry Partners™."
"One of the features we're most excited about is our new blog," continued Williams. "By creating an interactive user community, our goal is to facilitate a forum in which visitors and members can communicate with one another and with us, discuss how they've successfully implemented our solutions, seek peer advice and relate other shared experiences."
To visit the new web site go to: http://www.knowthefacts.com
Hireright Introduces Hireright DAC Edition™
HireRight , a leader in employment background screening, drug screening, and employment eligibility solutions, announced the general availability of HireRight DAC Edition™, the first integrated screening management solution of its kind available to transportation companies. Using HireRight DAC Edition, hiring and safety specialists at transportation companies can access and manage employment applications, background screening, drug and health testing, I-9 verification and contingent workforce screening all from a single dashboard. Leveraging the company's 30 years of experience in serving the transportation industry, HireRight DAC Edition is specially designed to help organizations manage and meet the regulatory requirements for screening and testing of commercially licensed drivers.
HireRight DAC Edition is designed to increase efficiency and reduce time-to-hire of qualified candidates. It allows all background screening and drug testing and employment eligibility programs to be managed through a single platform that is easily configured to each company's screening policies and requirements. Features such as management dashboards, status alerts, multitasking, user management, instant search and streamlined reporting speed the screening process and improve program visibility and consistency. We believe DAC sets a new benchmark for screening in the Transportation Industry; a solution that makes it easier to manage a comprehensive screening program, while improving process efficiency, reducing costs and promoting regulatory compliance."
To read more Click Here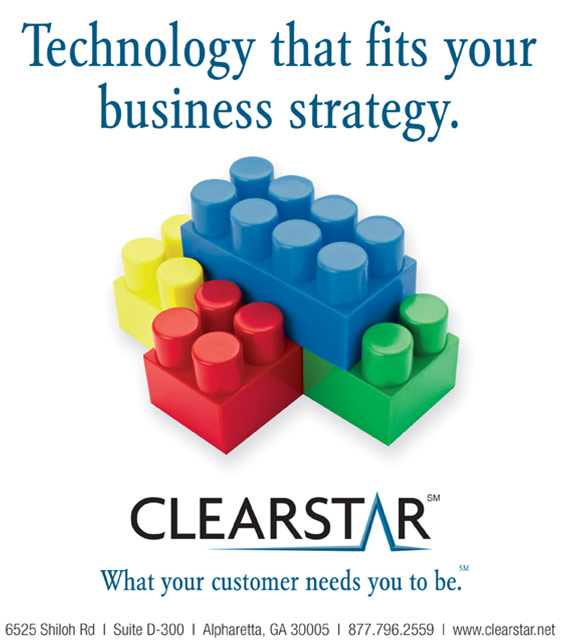 One Site! Many Suppliers!

Looking for the Top Suppliers in the Industry? Need to find a new Supplier?
Visit our VENDOR SHOWCASE which features suppliers to the Background Screening Industry.
The New 2011 Winter Version of Suppliers Now Available - Click Here!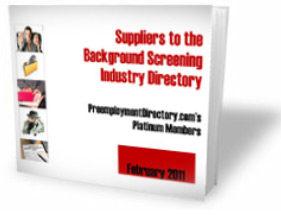 The Conference Board Employment Trends Index™ (ETI) Increased Again
The Conference Board Employment Trends Index™ (ETI) increased in January for the fourth consecutive month. The index now stands at 100.5, up from December's revised figure of 100.3. The index is up 7 percent from a year ago.The Employment Trends Index aggregates eight labor-market indicators, each of which has proven accurate in its own area. Aggregating individual indicators into a composite index filters out so-called "noise" to show underlying trends more clearly.
Says Gad Levanon, Associate Director, Macroeconomic Research at The Conference Board: "Despite anemic job gains in January, the Employment Trends Index suggests that employment growth is poised to accelerate. Both 'hard' economic data as well as confidence measures have improved, and since employment growth typically lags, we expect larger numbers of jobs to be added back into the economy in the coming months."
To read more Click Here
The SHRM LINE Employment Expectations Report for February 2011 has been released.
Key findings:
-- Hiring expectations increase in February
-- Recruiting difficulty index rises in January
To read more Click Here
Sponsored by:
Public Record Update
By Mike Sankey, February, 2011
Changes to Electronic Access of NC Criminal Court Records
At present, millions of North Carolina criminal record searches are processed annually by licensees of the ACIS Daily Criminal Extract. Licensees receive a daily bulk feed provided by the North Carolina Administrative Office of the Courts' (NCAOC). The data includes full information on criminal court cases. Effective March 1, 2011, NCAOC will terminate the inclusion of criminal court case details from these daily ACIS extract feeds. The NCAOC will replace the current extract with a stripped down version dubbed the "Demographic Extract" which will include name, address, DOB and the last four digits of the SSN. However, to retrieve specific case details including charge, level of offense, method of disposition, plea, and sentencing, all licensees (or vendors or end users) will now have an added manual step and incur additional fees to access the Remote Public Access system.
A Restraining Order May Override the Mandate
Several consumer reporting agencies are in the process of filing a restraining order on the NCAOC to stop the mandate. A court date to hear the motion is expected to be set before March 1. If the restraining order is granted, BRB Publications will post a notice at www.brbpublications.com .
Reprinted with permission of BRB Publications, Inc.
To read the full article Click Here
How To Get The Most Out Of A Reference Check
Recruiters and managers who see reference checks as the last hurdle to jump before hiring their favourite candidate can end up compromising the whole checking process, says Joshua Wood of Adaps IT Recruitment. "The danger of doing it late is that the HR professional has invested so much time in the process already that they don't really want to find out anything bad," says Wood, an organisational psychologist. "It's better if you see it as a serious part of the recruitment process, rather than just a hurdle to get past. Because if you just see it as the final step... you don't probe on the hints of negative information, you just breeze through it."

Some employers call referees before narrowing the shortlist to two or three candidates, Wood says. "They'll make [the check] like an interview, and they won't just reference check the one person who they think is going to get the job, they'll reference check four or five people, which is a completely different mindset. "It's treating the reference check as one of the serious stages of the recruitment process [and] saying, 'We've got some information from an interview', for example, 'but we want to verify that or triangulate that with information from another source. If it doesn't match up we need to do more investigation'."

Even if a recruiter or HR manager has limited time and resources, and can only call referees for a few candidates, they can strengthen the integrity of the process by having "the right mindset".
To read more Click Here
Seeing Behind the Mask
The top candidate for a physician's job in a small-town Midwestern hospital seemed to be a shoo-in-until it was discovered on Facebook that she liked books on witchcraft. While that might not have been an issue in other areas, the hospital's chief executive officer didn't think it would go over well in the conservative community the hospital serves. The physician wasn't hired, recalls Van Allen, the recruiter who conducted the search."There's nothing that screams more accurately who you are than a Facebook page," says Allen, owner of The Hire Connection in Lake of the Ozarks, Mo.
Most employers, like that CEO, are looking for ways to see behind the mask that a job candidate often wears to discover what the individual is really like. Traditionally, employers have relied on professional reference checks to determine whether a potential new hire's descriptions of his past performance, job skills and integrity are accurate. They contact former supervisors or co-workers to help them decide whether the applicant would be a good fit with the organization.
Source: HR Magazine, Vol. 56 No.2
To read more Click Here (may require SHRM membership to access)
Drug Testing Integrity Act of 2011
H. R. 707 introduced In The House Of Representatives to prohibit the manufacture, marketing, sale, or shipment in interstate commerce of products designed to assist in defrauding a drug test on February 15, 2011. The bill states It shall be unlawful to knowingly manufacture, market, sell, ship, or otherwise provide to another individual any product with the intent to assist such other individual to use such product to defraud a drug test.
As used in this Act, the term ''defraud a drug test'' means- (1) submit a substance that purports to be from an individual other than its actual source, or purports to have been excreted or collected other thanwhen it was actually excreted or collected; or (2) engage in any other conduct with the intent to produce a false or misleading outcome of a test for the presence of a controlled substance. The Federal Trade Commission will be responsible for enforcement of the Act.
To read more Click Here
Drug Use At Work: Higher Than We Thought
The number of Americans using cocaine at work has declined sharply in the past couple of years, falling 29% between 2008 and 2009 alone, however, since the federal government tightened testing requirements last October, drug testing of employees like pilots, airplane mechanics, and train operators reveals that twice as many employees are using heroin. "We're also seeing dramatic increases in on-the-job use of prescription opiates such as Vicodin and Oxycontin, among others," he says. Results from more than 5.5 million tests showed an 18% jump in opiate positives between 2008 and 2009, and a rise of over 40% since 2005.
Oral fluid testing of 320,000 employees, between January and June 2010, detected the heroin marker 6-acetylmorphine at a rate of 0.04%, a huge increase over the 0.008% that had been found through urine tests. Separately, from the time new federal standards went into effect last October through the end of 2010, the marker showed up in 20% more transportation workers than before. "It's still a low incidence rate," says Dr. Barry Sample, head of employer drug testing at Quest Diagnostics. The findings are based on the results of over 350,000 random drug tests.
Post-accident employee drug tests are four times as likely to show employee use of opiates than pre-employment drug screening suggesting that the substances have played a role in workplace accidents.
To read more Click Here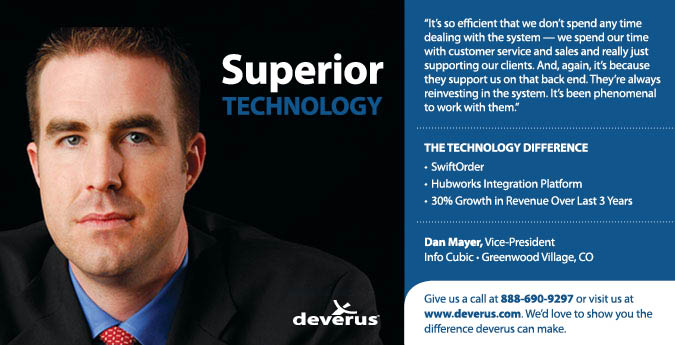 The Future Ain't What It Used to Be
David Arkless, president of global corporate and government affairs at Manpower Inc. in London, explains the mismatch of available labor and lack of skills: "In Europe, we've lost 10 million jobs due to the recession, but we can't fill 3.5 million skilled positions. "The school system isn't producing the necessary skilled workers," he adds. "At the same time, the European Union [EU] is erecting barriers to immigration of skilled workers from countries outside the EU."
The story is similar in the United States, where numbers of graduates in science, technology, engineering and math have flattened to roughly 225,000, well short of the estimated 400,000 needed by 2015, according to the Business-Higher Education Forum, a coalition of chief executive officers, university presidents and foundation leaders. In addition, U.S. executives have failed to persuade Congress to lift the cap on the annual number of H-1B visas for skilled immigrants.
Despite such barriers to immigration, Arkless predicts a diverse and challenging workforce in the future. "We estimate that 500 million people-or double the number today-will legally work outside their countries in the next 20 years due to conflict, natural disasters and climate change, and economic opportunism," he says.
To read more: Click Here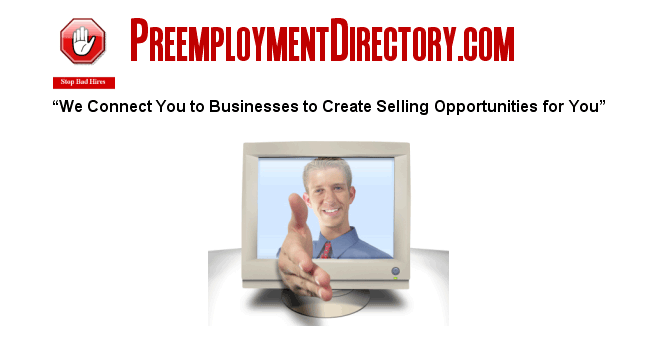 We Specialize in Promoting the Products and Services of businesses in the Background Screening Industry.
Click on the specific Marketing Portfolio above that fits your business.

How long have you been in the background screening industry and what led you to join the industry?

I've been involved in the industry for 26 years. Initially, I was working with a data communications company providing drug testing communication devices/ software and credit reporting systems. The Mayo Clinic, as well as all of the major drug testing companies, including Quest and Lab Corp, were clients and I supported those systems prior to moving into management and sales. When I was the National Sales Manager for another software integrator, one of the major credit bureaus (back when there were 5 credit bureaus) became our client and asked us to develop a system for this industry. Evaluating the process first hand, we contracted with them and I helped design the flow and named the system. It made me aware of the gap in technology and client service systems and how the industry itself needed to be professionalized. We sure needed NAPBS in the early 90's.

If you could meet any one regardless of whether the person is alive or not who would you want to meet and why?

I would love to meet Paul McCartney. I'm a huge music fan and he seems to truly be a good person especially with all the fame. He and the rest of the Beatles changed the world in many ways and I couldn't imagine what the music scene would be like now without them. Growing up I remember listening to them and Ray Charles and it helped shape me. Look at the guy now…. ready to hit 70 and when we saw him in concert in Nashville recently he never left the stage, let his band members all take breaks and he appeared to have never even taken a drink of water. Amazing!

What is an accomplishment that you are especially proud of?

My greatest accomplishment is having two sons and a daughter and seeing them grow into good, ethical adults. I'm proud we had the resources (with the help of this industry) to send them to private Christian schools from day one through high school. I keep thinking I'm going to add the cost up, but never have. It really doesn't matter because it was money well spent. It sure was nice, though, to save money when they went to college. Second on my list would be that I recently rode my 2010 Harley Davidson Ultra Classic around the perimeter of the United States; 9000+ miles. Having success financially allowed me to do this and that was certainly a goal early on. While in California, I had one guy ask me if I won the lottery.

Stop by Booth 301 while in Denver at the NAPBS conference and ask me about the journey.

What is important about your companies that it is important for people to know?

Personal service that keeps our clients' goals and objectives as our focus. Listening is key! We try very hard to deliver and strive to help our clients be successful and grow their businesses. No two companies operate the same and developing tools for everyone certainly takes Epic Concepts and a well thought-out system. We provide a software platform called EZyCHECK™ and have the Volunteer/Applicant entry link portal called EZyAppthat we will be showing at the NAPBS conference.

We have totally updated the look and feel and have one of the cleanest drug screening interfaces on the market. At VeriCORP, we offer wholesale data and do back office processing for those wanting a seasoned, professional staff's assistance. It is an optional service for our software Distributors as we never want to dictate which vendor someone wants to integrate with.

For quality control, we do use VeriCORP as a Beta site to test software enhancements prior to releasing them to our CRAs and other clients. EZyCHECK™ works equally as well for wholesalers as retailers since we use it ourselves for that now. We started the design and used the system for reports we processed as a retail CRA until we divested our retail client base in December 2005.

VeriCORP processed reports as a CRA for a decade, incorporating in early 1996. We now are offering a variety of Human Resource products and services since our new company President, Steve Kraus, joined the company. Steve actively manages the operation.

If you had a Crystal Ball and could look into the future what do you see happening in the background screening industry 10 years from now?

More automation and fewer staffing needs. That's already happened over the last decade. We process more information faster now with 1/3 rd of the staff. Systems do pay for themselves quickly when you factor in the staffing costs . . . actually almost immediately. Down the road though I think value adding the reports with services will continue the next wave. The human aspect will differentiate the CRAs and researchers /data providers that are going to continue to grow regardless of what laws are passed and what the individual states do. I still see screening being viable and growing, but we have to provide a service that assists our clients reach their goals. Helping to make their jobs easier and providing additional services will be the trend so they can focus on other priorities.

Gary can be contacted at (877) 717-3515 or gdewitt@epicconcepts.net

Company Information:

Company Names:

Epic Concepts LLC

Title: President

VeriCORP, Inc.

Title: CEO



Education:


College Name: University of Louisville and IVY Tech - Computer Sciences Digital Electronics

High School Name:

DeSales High School, Louisville, KY



Birth City:


Louisville, Kentucky

Wife's Name: Sherrian

Children's Names:

Aaron, Clinton and Britany

Pets: Izzy& Bongo, our 2 Schnauzers



Entertainment Interest:


Favorite Musical Group or Artist:

Right now (it changes often) Amos Lee and Gillian Welch

Favorite Sport Team: University of Louisville Cardinals

Favorite Food: Italian and seafood



Favorite Vacation:


Location: Maui

Why Favorite:

We were able to take the entire family there recently with their friends and enjoy pure beauty. This trip was special knowing that getting everyone together as a group for over a week will be more of a challenge as they start having families.
STOP STRUGGLING WITH WRITING AND PUBLISHING YOUR NEWSLETTER:
We can help you have a high quality e-newsletter to help nurture your relationship with your clients and attract new clients. Our customized newsletter service will take over your newsletter task or create a new one for you. We can manage the creation of your newsletter for you.
We are constantly researching information to use for The Background Buzz and you can put our research to use for you. Using the information rich content from The Background Buzz (minus the ads and competitors information) we will create a custom newsletter for you.
Use your staff's time to do more valuable work and save all the hassle of researching or writing articles, formatting and managing all the other ezine tasks with our customized ezine process.
Contact Barry Nixon at 949-770-5264 or at wbnixon@aol.com for more information.

Sponsored by: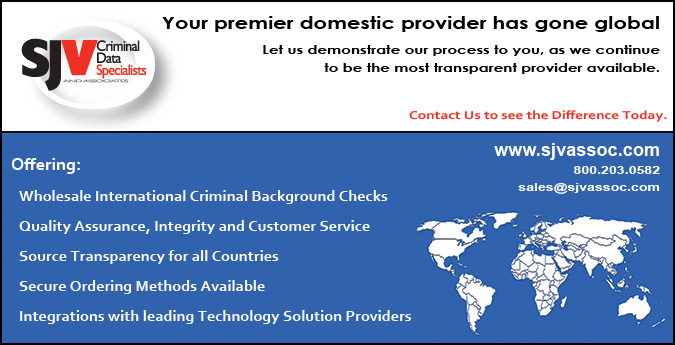 INTERNATIONAL LEGAL CHALLENGE QUESTION
Most industries and firms now compete in a global marketplace which is continuing to increase the need for background checks for new hires that will reside in another country or that are being hired from another country. Commensurate with this growth in background checks is the need to understand the myriad of data protection, privacy, human rights and local laws that govern the practice of conducting background checks. To help background screening firms around the world to further enhance their knowledge we have launched this International Legal Challenge.
We are grateful to Brian Arbetter a Partner with the global law firm of Baker & McKenzie LLP for providing the question and answer to the questions in the International Legal Challenge. Brian is based out of the Firm's Chicago and San Diego offices. His practice focuses on international law issues, with particular emphasis on labor and employment, as well as workplace privacy. For information regarding the answers to the International Legal Challenge questions, please contact Brian at brian.arbetter@bakermckenzie.com.
Please Choose One of the Following Answer in Response to the Question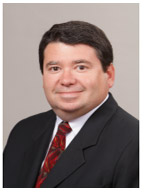 In Brazil, is it legal for companies to provide to public databases information about an individual's history in terms of their timeliness of payments and performance of obligations?
A. No, it violates Brazilian privacy law to provide such information.

B. Yes, but only about timeliness of payments, not about other performance of obligations.

C. Yes to both, but certain conditions must be met first.

D. Yes to both, period, no conditions.
For information on sponsoring The International Legal Challenge Question please Click Here

NAPBS Goes International
The National Association of Professional Background Screeners (NAPBS®) has approved their first international affiliated chapter, NAPBS Asia-Pacific (APAC). The APAC region By-laws were approved by the NAPBS Board of Directors on Friday, September 17, 2010 and the NAPBS membership approved the chapter affiliation in January 2011.
NAPBS started their global outreach in October of 2007 when it formed an International Committee. Robert Capwell, Chief Knowledge Officer, Employment Background Investigations, Inc. (EBI) and Barry Nixon, COO, PreemploymentDirectory.com were appointed Co-Chairs of the International Committee and led the initiative to forge relationships with employment background screening, investigation and vetting firms around the world. The goal of the International Committee was to explore the feasibility of establishing a worldwide network of employment background screening firms, to promote the development of guidelines and standards for the industry and to promote the growth of the overall background screening industry. Barry Nixon stated "this historic achievement was made possible because of the leadership, hard work and commitment of the APAC Steering Committee comprised of Wayne Tollemache, Executive VP Asia Pacific Region, First Advantage, Nick Wright, Director, IDS Group, and Nobby Nazareth, Chairman & Managing Director, Evaluation India Private Limited and the staunch support of the NAPBS Chairpersons from the beginning of this effort.
The Canadian and European Steering Committees are close to submitting their applications for becoming affiliated chapters of NAPBS shortly.
The Number Of Embellished CVs Is On The Increase As Competition For Jobs Intensifies
According to Kroll Background Screening which is owned by HireRight, reports a 115% increase in CV discrepancies in the past 12 months. More than two-fifths (42%) of CVs it screened in 2010 contained some form of inconsistency - nearly double the 19% it found to have problems in 2009. The most popular areas job hunters lied about were their employment history (41% of inconsistencies) and their education (19%). Only 4% lied about directorships held, while 2% made up that they held a professional qualification.
To read more Click Here
World Health Organization Says Alcohol an Overlooked Killer, Calls for More Action
Alcohol is "the world's third largest risk factor for disease and disability," and is responsible for nearly four percent of deaths worldwide -- more than AIDS, violence or tuberculosis -- according to the World Health rganization's (WHO) Global Status Report on Alcohol and Health 2011 . More must be done worldwide to combat alcohol's negative impact on health, WHO said in the press release . Alcohol is a "causal factor in 60 types of diseases and injuries and a component cause in 200 others," and is "associated with many serious social issues, including violence, child neglect and abuse, and absenteeism in the workplace," according to the report on global alcohol consumption.
"Many countries recognize the serious public health problems caused by the harmful use of alcohol and have taken steps to prevent the health and social burdens and treat those in need of care. But clearly much more needs to be done to reduce the loss of life and suffering associated with harmful alcohol use," said Dr. AlaAlwan, WHO Assistant Director-General for Non-communicable Diseases and Mental Health.
Worldwide alcohol consumption averaged 6.13 liters of pure alcohol per person in 2005 and 9.4 liters in the United States. Although drinking is common, the majority of people do not drink, according to WHO. In 2005, almost two-thirds of women and nearly half of all men abstained entirely from drinking.
To read more Click Here
CNIL Exempts Foreign Based Companies From Filing Notifications With Respect to Certain Processing

A "Deliberation" of the CNIL (French Data Protection Authority) published in the February 16, 2011 Official Journal of the Republic of France as "Deliberation No. 2011-023" should ease the burden on companies that have no operations in France, and engage France-based subcontractors (or cloud service providers) in order to process their data on the French territory. This is the case, for example for US based companies that hire French service providers to process their payroll or manage databases of client information, where the concerned individuals (employees or customers) are located outside of France.Under the Deliberation certain categories of data will be exempt from the requirement to request an authorization. The exemption applies specifically to three categories of activities: (i) processing of payroll; (ii) management of workforce; and (iii) management of database of clients and prospects.The exemption is very narrow and very limited.

Only the requirement for declaration or request for authorization is lifted. The remainder of the obligations remains. In particular, the Declaration stresses that there must be a written agreement between the foreign data controller and the French based data processor to ensure security and confidentiality of the data, and require the processor not to use data other than as requested by the data controller.
To read more Click Here
Click here for the text of the Deliberation as published in the Journal Officiel (pdf) in French.
German Government Budgets 10 Million EUR to Set Up Data Protection Foundation
On February 8, 2011, the German Federal Commissioner for Data Protection and Freedom of Information issued a concept paper setting forth concrete suggestions for the creation of a Data Protection Foundation (the "Foundation"). The Foundation is intended to function in a manner similar to the German consumer protection organization ( StiftungWarentest) that evaluates and compares products and services for German consumers. Among its tasks, the Foundation will (1) test products and services for data protection compliance, (2) educate citizens to help improve "self" data protection, (3) conduct research activities, and (4) establish a data protection seal.
To read more Click Here
Business Climate Improves Further
The latest Business Climate Index for German industry and trade published by research institute IFO rose in February 2011 for the ninth time in succession. More companies have reported a better business situation than in the previous month. With regard to their business prospects for the coming six months, they also continue to be optimistic.

To read the full report in German language please click here
To read more Click Here
India Needs Law Against Invasion of Privacy: Ratan Tata
New Delhi: Tata Group Chairman Ratan Tata has said there is a need for a law to keep a tab on invasion of people's privacy. The call follows an incident last year in which Tata's private conversation with a corporate lobbyist was leaked to the media. "There should be a law against invading people's privacy, unless it's for an investigative purpose," Tata said in an interview to the 'Wall Street Journal'.

To read more Click Here
Indian Data Protection Law Encourages Outsourcing
India's data protection law, which came into force in February 2009, is already beginningto show its effectiveness according to PavanDuggal, an Indian legal expert. Duggal told the annual international Privacy Laws & Business conference in Cambridge that the act, known as the Information Technology Amendment Act 2008, was starting to 'flex its muscles.' He added: "The law encourages more outsourcing of high end operations to India. The legal regime now in place in India to deal with data protection will increase confidence. Effective civil and criminal remedies provided for under the act enhance the comfort factor of corporate organizations which can resort to these remedies."
The law means that companies outsourcing work to India must ensure that their serviceproviders comply with the requirements of the Act. Companies who set up, or who havededicated outsourcing units, must also ensure that these units comply with the amended Act.Breach of the Act is now a crime punishable by a fine of INR 50 million and imprisonment.MrDuggal said: "For companies doing business in and with India the new law is a breath of fresh air. How the law is implemented will determine its efficacy."
Japan to Implement National ID System
The Daily Yomiuri reports on privacy concerns about recently announced government plans for a comprehensive identification system to be implemented in 2015. The Council for a Number System for Social Security and Taxation drafted the plan, which would assign each citizen a unique number. The system would store such personal information as name, gender, annual income and number of dependents, the report states. But the plan calls for a third party to monitor the stored data, and it has yet to be determined what information could be used for business purposes, prompting concerns about data protection and privacy. A bill pertaining to the ID system is expected this fall.
To read more Click Here
The Significance of Data Protection In Korea
Korea JoongAng Daily reports on a new version of the Data Protection Act currently before the Korean National Assembly and experts' calls for the reforms. Prof. Park Whon-il describes Korea's data protection legislation history and the effect of current technological advances extending personal information from "the data of a living person such as character, voice, sound and image...to include data such as e-mail addresses, credit card numbers and log files." With proposed revisions to the act aimed at regulating the public and private sector, Park notes the importance of an independent data protection authority and provisions for breach notifications.
To read more Click Here
Drugs On The Job
Worried bosses are resorting to more workplace drug-testing and uncovering hundreds of drug-using Waikato workers - including a concerning amount testing positive for methamphetamine (also known as P).
Workplace drug testing in the Waikato more than tripled last year over 2009, according to statistics supplied by the New Zealand Drug Detection Agency. The company - one of the country's biggest drug testers - performed 2864 workplace tests in the Waikato in 2010, up from 934 in 2009. Of those, 8 per cent tested positive to having drugs in their system - about 229 people in 2010 and 75 in 2009. The Waikato region was above the national average for both methamphetamine (also known as P) and amphetamine use.
In 2009 12 per cent of workers who tested positive to drug use had P in their system compared with 7 per cent nationally. In 2010 it was 9 per cent, compared with 6.7 per cent nationally. Cannabis made up 68 per cent of the positive tests. The prevalence of P in workplace tests came as no surprise to Foundation of Alcohol and Drug Education executive director Colin Bramfitt.
To read more Click Here
Data Privacy Bill Hurdles 2nd Reading
The country's booming BPO sector has something to look forward to this year as the House of Representatives passed last week on second reading the proposed Data Privacy Act, which seeks to govern and establish fair practices in the collection and use of personal details stashed in the computer systems of the private sector and the government. The outsourcing sector is the one of the primary backers of the proposed law since a huge number of confidential data is processed in the country from other countries, particularly the US. The House action came shortly after the committee on information and communications technology, along with the committee on government reorganization, endorsed the bill authored chiefly by representatives Roman Romulo of Pasig City and Susan Yap of Tarlac.
To read more Click Here
Vetting Scheme To Be Less Bureaucratic And Intimidating In New Common Sense Approach
Deputy Prime Minster Nick Clegg announced that more than nine million people working or volunteering with children and vulnerable adults will no longer need to register and be monitored by the state following a scaling back of the Vetting and Barring scheme (VBS). Criminal record checks will be portable between jobs to cut down on needless bureaucracy. "The new system will be less bureaucratic and less intimidating. It will empower organisations to ask the right questions and make all the appropriate pre-employment checks, and encourage everyone to be vigilant," Clegg said. The plans are part of a new Protection of Freedoms Bill and update the VBS, which was due to start in July. The bill includes an end to a requirement for those working or volunteering with vulnerable groups to register with the VBS and then be continuously monitored by the Independent Safeguarding Authority, and a halt to employers knowingly requesting criminal records checks on individuals when they are not entitled to them.
"The Freedoms Bill will protect millions of people from state intrusion in their private lives and mark a return to common sense government. It delivers on our commitment to restore hard-won British liberties with sweeping reforms that will end the unnecessary scrutiny of law-abiding individuals," said Clegg.

To read more Click Here
INTERNATIONAL: PROFESSIONAL WORKSHOPS AND ASSOCATION CONFERENCES

Featured Course:

Document Verification for non-UK National Employees Workshop - London - March 2011
( Click Here to View full list of 2011 Events ) - Updated Monthly
ADVERTISERS IN THIS EDITION

| | | | |
| --- | --- | --- | --- |
| | | | Background Screening Jobs |
Visit the Job Board for the Employment and Tenant Screening Industry. Here you will find resumes of people with industry experience and employers seeking applicants with experience in Employment and Tenant Screening and related businesses.
www.backgroundscreeningjobs.com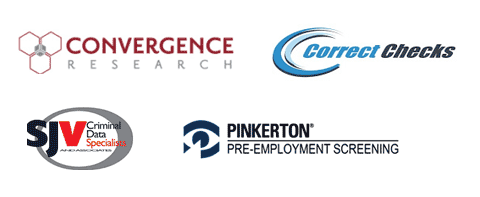 UPCOMING CONFERENCES, COURSES & EVENTS

2011 Events (Click Here to View full list of 2011 Events)

SHRM State Conferences, visit http://www.shrm.org/Conferences/StateAffilliateConferences/Pages/default.aspx
Drug and Alcohol Testing Industry Association (DATIA), 2011 Training Course Schedule, visit
http://datia.org
SAPAA Training Institute Learning Events, http://www.sapaa.com/
CUPA-HR Conferences: http://www.cupahr.org/newsroom/news_template.asp?id=5445
World Federation of People Management Associations, Events, www.wfpma.org/default.asp