Screening Industry Vendor Showcase

Educational Verification Services: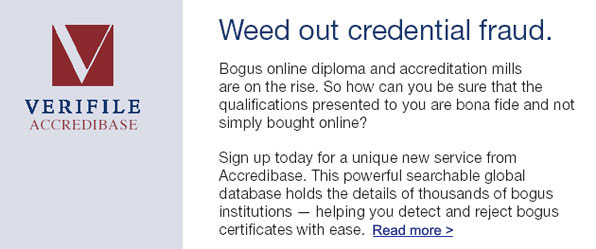 ---


Craig Caddell
VP & General Manager
ReferencePro, LLC
9 S. Washington St., Ste. 515
Spokane, WA 99201
415-606-6365
866-647-5564 x5
ccaddell@referencepro.com
www.referencepro.com



Celebrating ten years as the U.S. based verification experts! Outsourcing domestic and international verifications to ReferencePro has improved the quality, turnaround time and cost for hundreds of firms. Our secure, onshore, 24x7operation is committed to protecting your data. We do not use overseas or at-home operators.

· Employment & Education Verifications
· Professional & Personal References
· Credential Verifications
· DOT Verifications

Available through Accio, BackChecked, Clearstar, DigitalDelve, Epic Concepts, FRS, ISS, TazWorks, TeamScreen, or XML integration.
Whether for overflow or daily processing, our solution may be your best option. Call us today to find out more.

Read more >


---



Berg Consulting Group
561-712-1277
bruce.berg@bergconsultinggroup.com
www.bergconsultinggroup.com



Join the 21st century method of doing Verifications of Employment and Education and References.

Use "TBW" to take on your most difficult background work. Fast turnaround, up to 9 attempts per search, complete transparency on every time-stamped action taken on the search. Total flexibility on client specified call times and days and client specific question sets. Fixed cost per search. Huge capacity during your very busy times. Fully automated including XML integration to your platform. 100% USA based callers.

The Background Warehouse guarantees its work.
---
SkillSurvey
565 East Swedesford Road, Suite 315
Wayne, PA 19087
( 610) 947-6300 ext. 1203

Checkster
35 Miller Ave, #183
Mill Valley, CA 94941
(415) 381-2083
ERC Dataplus, Inc.
50 Washington Street, Suite 510
Norwalk, Connecticut 06854
Toll-free 855.HR.by.ERC (472-9372) or 203-750-5800
National Student Clearinghouse
13454 Sunrise Valley Drive, Suite 300
Herndon, VA 20171
703-742-4200
Click Here to Upgrade to an Enhanced Listing