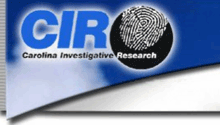 "Thorough investigative research is essential in today's world. Carolina Investigative Research is committed to providing thorough, accurate and timely information."

Carolina Investigative Research is a private investigation company, licensed in North Carolina and South Carolina. We are fully insured.

The company is headquartered in Cary, North Carolina. Our staff includes a licensed private investigator and associates who have extensive experience in pre-employment screening.

Carolina Investigative Research provides thorough, detailed and professional background services. No matter what the scope of the background search, CIR conducts the investigation promptly, discreetly, and ethically. We will verify the information supplied by the applicant and will develop all required information utilizing acceptable methods. The methods may involve use of telephone inquiries, on-line retrieval of information, written correspondence, or face-to-face interviews.
All public record searches require the following:
Individual's Full Name (First, Last, Middle or Initial / Maiden if known)
Date of Birth
Social Security Number
Current Address (Previous address/es if available)

To provide you with more detailed information, we have created several pages explaining the various types of public record searches available to our clients.


Civil Court Record Search
Bankruptcy Record Search
Driving Record Search
Applicant Verifications


Federal Record Search
Credit Record Search
Social Security Traces

Applicant Verification

Requirements: All of the following checks require copies of Applications and/or Resumes.
Employment Verification
Applicants often misrepresent their position or responsibilities. Only by checking with prior employers can a human resource person verify that the individual has given an accurate detail of his or her prior work experience.
Carolina Investigative Research verifies the following information, if available, with prior employer(s): Date Hired, Position(s) Held, Reason for Termination and Date of Termination Carolina Investigative Research will attempt to verify whether the individual left his employment on good terms and if they are eligible for rehiring.

Education Verification
Applicants frequently claim to have education that they have not earned. Carolina Investigative Research will verify the individual attended the institution(s) on the application, degrees earned, or verify years of attendance and major field of study.

Reference Check
Carolina Investigative Research will interview prior supervisors and other designated references. References can be developed. Carolina Investigative Research will ascertain the position of the applicant; the job responsibilities; success in the position; strengths and weaknesses; and whether or not the reference would recommend the individual for a position.

Additional Requirements: List of references names and telephone numbers.
Reference Interviews
Questions are designed to determine competency and skill level. Interviews are done by telephone.

Additional Requirements: List of supervisory references.
Professional License Verification
Many positions require a license to work. Carolina Investigative Research will verify with the State of Issuance that the individual is licensed to work and the license is in good standing.
Carolina Investigative Research
106 D Fountain Brook Circle
Cary, NC 27511
Ph: (919) 460-7799
Fax: (919) 460-5338
www.carolinainvestigativeresearch.com
cir@bellsouth.net