Screening International is Born
Control Risks Group Holdings Limited of the United Kingdom, the world's leading independent, specialist risk consultancy, and Intersections Inc (NASDAQ: INTX) of the US, a leading provider of branded and fully- customised identity management solutions, today announced agreement on the formation of a joint venture in the rapidly growing background screening business. The joint venture will benefit from ABI's systems and operating capability while Control Risks provides its global reach and international marketing presence. The joint venture, to be called Screening International LLC, will comprise Intersections' wholly-owned subsidiary American Background Information Services, Inc (ABI) and Control Risks Group Holding's UK background screening business Control Risks Screening Limited. "With the increasing trend for business to recruit across operating markets and move staff between international locations, the need for high quality international background screening has never been greater. So said John Conyngham, Global Director of Corporate Investigations at Control Risks. He continued, "With Control Risks' international experience and ABI's breadth in technical expertise, the combined operation intends to establish a new standard in background screening."
For more information go to:
http://phx.corporate-ir.net/phoenix.zhtml?c=175233&p=irol-newsArticle&ID=856784&highlight=
USIS Launches Guardian National Sex Offender Searches
USIS has launched Guardian National Sex Offender Search, a cost-effective solution that an employer can use to screen for potential sex offenders. The product is offered by USIS's commercial services business. Previously, sex offender searches could only be conducted on a state-by-state basis, and many employers would run a sex offender search for only the state in which the business was located. However, this sometimes resulted in missed information, as some sex offenders fail to register when moving to a new state of residence. "Guardian protects against missing critical information, since it is a nationwide search of 47 state registries, plus Washington, D.C.," said Kyle Jacobsen, of USIS's commercial services business. "Because it is not a database search, employers can be assured they are receiving the most up to date and comprehensive information available."
For more information go to: http://www.marketwire.com/mw/release_html_b1?release_id=137622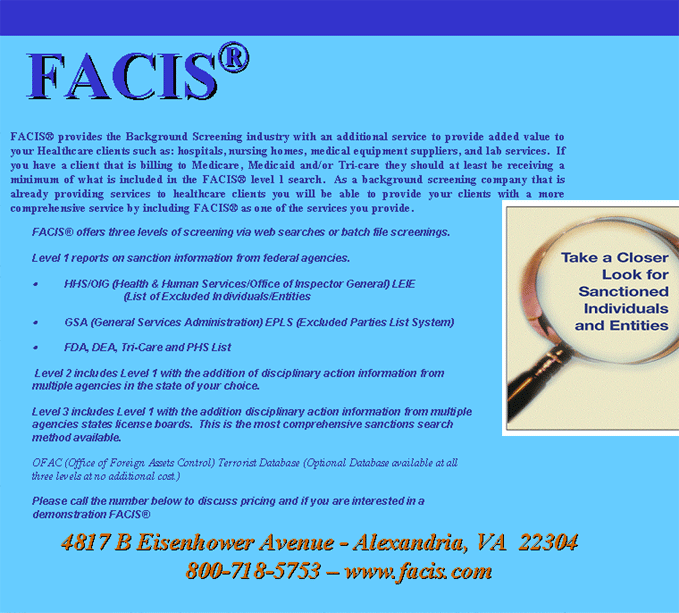 Verifications Becomes First Organization in the Country to Earn SAPAA Certification
Verifications, Inc., a leading global provider of employment screening and applicant processing services, was recently designated a Certified – Third Party Administrator (C-TPA) by the Substance Abuse Program Administrators Association (SAPAA). Verifications became the first company in the country to earn the C-TPA designation. TPAs must meet a number of minimum requirements in order to qualify for designation as a SAPAA Certified TPA. Verifications earned the C-TPA designation by participating in industry trade associations, completing a minimum number of SAPAA Training Institute courses and employing a Certified Substance Abuse Program Administrator. The C-TPA designation signifies Verifications' dedication and experience while indicating to employers that Verifications is committed to a consistently high level of professionalism.
For more information go to: http://www.verificationsinc.com/pr-03202006.htm


902 East 5th Street Suite 101
Austin Texas, 78701
(v) 888.690.9297
(f) 512.485.3111
sales@deverus.com



What if you could give HR exactly what they really want? What if you had the cutting edge solutions to the most pressing issues, the best technology and expert team to make it happen?

deverus is the leader in technology solutions for the background check industry. From the most powerful industry software applications and data exchange solutions to process consulting and tools that connect disparate background data sources, we enable background check companies to deliver more of what HR wants, quickly and profitably.

Call us today to find out how we can help 888.690.9297

Merlin Information Services and IRBsearch Announce Letter of Intent to Merge
KALISPELL, MT and TALLAHASSEE, FL., May 31, 2006—Merlin Information Services and IRBsearch, leading providers of public record and proprietary data to professionals for civil and criminal matters, jointly announce the signing of a letter of intent to merge. Terms of the merger were not disclosed.
The merger, which is subject to the execution of a definitive agreement and board approval of each company, provides the opportunity to significantly expand operations into a greater nationwide presence. The combination of Merlin's state of the art data center and development capabilities along with IRBsearch's unmatched person and asset locate products will provide professional investigators with a greater range of products and services.
Edward Eckland, Chief Executive Officer of IRBsearch, stated "This merger combines two highly experienced teams of dedicated professionals who share the same vision, values and goals." Both Michael Dores, the founder of Merlin, and Darrell Goodwin, founder of IRBsearch, are licensed investigators with 39 years of combined investigative experience.
"We are very excited about the opportunities this merger will provide for our customers," said Keith Brown, Merlin's Chief Executive Officer. "The strength of products and services that IRBsearch provides in the investigative industry combined with Merlin's skiptracing products and development capabilities, will truly create a one-stop shop for the markets we serve." Brown continued.
The merged companies will continue to operate offices in Montana and Florida.
www.merlindata.com www.irbsearch.com

Sterling Testing Systems Launches CourtDirectSM To Provide 50% Faster Turnaround Times

Sterling Testing Systems, Inc., a leading provider of employment screening services, today announced the launch of CourtDirect. This proprietary technology platform allows Sterling to electronically access federal, state and local courthouse data to conduct background checks for employers worldwide. With CourtDirect, Sterling can provide background checks on current or future employees that are 50% faster than the rest of the industry. Today, most courthouse data for background screening is retrieved by individuals, physically going to courthouses, laboriously pouring over files and inputting the results into online systems for retrieval. With its breakthrough platform, Sterling has successfully digitized and integrated primary source data from more than hundreds of U.S. court jurisdictions in just 18 months. By eliminating human intervention from the process, and creating direct pipelines of information from nationwide courthouses to Sterling,
For more information go to: http://www.sterlingtesting.com/news/press.aspx?prId=29
Housing Inspectors
"In order to become a home inspector in Florida, all you need to do is go down to your occupational license bureau, pay $35 and you're in business," said Jim Nolan, president of the Home Inspectors Association of Florida, who estimates that there are between 2,000 and 3,000 home inspectors in the state. Nolan, whose business is based in Orlando, said he charges $275 to conduct an inspection of a three-bedroom, two-bath house, compared with the legislature's estimate of $150 per home. Under the new law, inspectors are required to have some prior training in hurricane mitigation procedures and undergo a background screening and drug test.

Source: http://www.palmbeachpost.com
Private Equity as an Option for Raising Capital
The words, "venture capital," are used quite frequently in discussions of entrepreneurial finance, but to different people, they mean different things. "VENTURE CAPITAL" is professionally managed investment capital targeted for new and emerging companies in which investments have the potential to yield extraordinary returns. Venture capitalists are professional investors who specialize in funding and building young, innovative enterprises. Venture capitalists are long-term investors who take a hands-on approach with all of their investments and actively work with entrepreneurial management teams in order to build great companies.So what's the difference between a bank and a venture capitalist? Banks provide term loans and working capital to companies. The company has to make interest payments and pay back the principal within a stipulated timeframe. In comparison a VC subscribes to the equity shares of a company for a stake in the company at a negotiated valuation.
Click here to read the full article
May 31, 2006 KPMG Valuation Update for the Security Industry
Although consolidation has been robust in the background screening industry, the industryremains highly fragmented with literally thousands of service providers. In 2002 wedescribed the industry as being "barbell shaped," and that remains true today, with a handfulof large participants on one end and a large number of smaller players on the other, andrelatively few mid-sized companies in between. Our extensive network of contacts amongprivate and public background screening services providers and our targeted research hasprovided us with an overall snapshot view of the industry:
Only four companies have screening revenues exceeding US$100 million annually, with two exceeding US$500 million.
Less than 10 companies have screening revenues over US$50 million.
Less than 15 companies have screening revenues over US$25 million.
Less than 35 companies have screening revenues over US$10 million.
While some companies with greater than US$10 million in revenue were acquired over thispast year, a number of other mid-sized companies have broken (or are about to break through)the US$10 million threshold.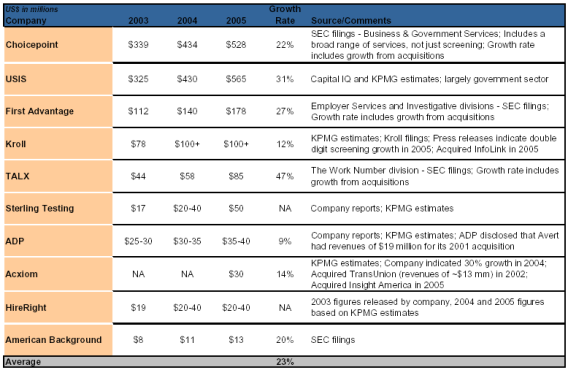 For more information Contact Cherie Smith Homa, Managing Director, Baltimore at Csmith@KPMG.com
Learn How To Take What Looks Like A "Puny" $Profit/Search Into A Healthy $$Profit/Search!
How many times have you been pushed out of a competitive situation because you didn't feel you could compete on price? There is no reason you can't be competitive at just about any price level and still make a handsome profit. Your standard retail price for a county criminal search is probably in the $12-$15.00 range. Your average cost is probably around $5.00, all depending on volume and how much work you do yourself vs. outsourcing to those all-important wholesalers.
Let's say you get into a competitive bid that drives the price down to a $7.00 level. Is this still worthwhile? Well, sure it is. Even if you can only make $2.00 on each search, why not make $2.00? Not worth it, you say? Look deeper. You can achieve much more than a $2.00 margin because the larger volume can get you lower costs.
To read the full article go to: http://www.workplaceviolence911.com/servlets/wpvDoc?action=display&key=2045
The number of responses were too insignificant to report any results.
Make Your Ezine Sizzle with the Right Content!
The most important decision you make regarding your ezine will be about the content that you choose to deploy. Whether It is original content specifically written for you, content sourced from other providers or some combination, the road to success is paved with relevant, informative, quality and timely content.
Some experts suggest that all original content is the way to go. While I accept that this is a good argument a major consideration is do you have the resources, e.g., internal staff with competency and time to dedicate to researching and writing these articles or financial resources to pay professional writers. There is another option for writers that involves identifying industry experts that would be willing to contribute articles at no or little cost to your ezine, but as I am sure you already guessed, this can be a time consuming process since you must have multiple sources to ensure you will have content.
The other clear option is to source other providers content. In this day and age this is a very popular method because of the great diversity of resources that are available on the Internet and in specialized printed media. Most newspapers, magazines and newsletters use this method.
Beyond choosing the right content it is critical that you focus on the other factors mentioned above - relevant, informative, quality and timely.
Click here to Read the Full Article and to learn about an exciting way to increase your sales opportunities or contact Barry Nixon for more information at wbnixon@aol.com.
If The Truth Be Known
A recent Management Recruiters International, Inc poll of 1267 candidates asked 'Have you ever lied on your resume? Number 1 answer was 'No' coming in at 79% while 14% said maybe a little and 7% indicated a definitive yes.
http://www.mrinetwork.com/press/pollarchive.htm
States Fight Meth Plague With Registries
Tennessee brought the nation's first such registry online in 2005, and it now carries information on almost 400 convicted meth manufacturers, according to the state Bureau of Investigations. In Illinois, Gov. Rod Blagojevich (D) signed a law June 4 creating a convicted meth manufacturer registry. The registries mark a new tool for states in combating the abuse and production of the illegal drug, also known as crystal meth, ice, glass and speed.
http://www.stateline.org/live/ViewPage.action?siteNodeId=136&languageId=1&contentId=117748
DATA PROTECTION & PRIVACY:
If You Can't Protect It, Don't Collect It
The House Energy and Commerce Committee unanimously approved new data security laws Wednesday that will ensure consumers' personal information is closely guarded and consumers are notified when they are at risk. "Nobody needs to be left in the dark when their data has been compromised by a crook," said Chairman Joe Barton, R-Texas. "Financial information has benefited from security protections for many years. But criminals can cause harm with other sensitive personal information that many companies have and it is time for a federal standard which protects that information." Identity theft, a growing criminal problem that has affected at least 10 million Americans. The bill "sends a clear message: 'If you can't protect it, don't collect it,'" said U.S. Rep. John Dingell, D-Mich., the committee's ranking member.
To find out more go to: http://energycommerce.house.gov/108/News/03292006_1830.htm
How to Keep Portable Data From Escaping
Laptops and Handheld computers are easy to carry around and just as easy to steal or lose. This article includes a buyer's guide to options for protecting the data they hold.
For full article go to: http://www.csoonline.com/read/050106/portable_data.html
JOB BOARD DEDICATED TO THE BACKGROUND SCREENING INDUSTRY LAUNCHED
Find resumes of people with industry experience and industry employers seeking industry experience.
BackgroundScreeningJobs.com - your one stop source to quickly and easily find people in the background screening industry. Go to backgroundscreeningjobs.com today!

START GETTING ADDITIONAL SALES OPPORTUNITIES TODAY:
JOIN PREEEMPLOYMENTDIRECTORY.COM

PLATINUM MEMBERSHIP HAS IT'S PRIVELIGES
1. You are provided a full page to display your marketing message.
2. Your web site URL appears with your listing and is linked to your web site so potential clients can go directly to you.
3. You get an automatic pop up email to connect visitors directly to your sales staff. Your logo will rotate on the front page giving you a substantial advantage over non Platinum members.
4. Your logo will be placed at the top of the page along with other Platinum member's logos in the alphabetical and geographical (US or International) sections.
5. On your specific alphabetical and geographical (US or International) page your firm's logo will appear at the top ahead of all other non platinum listings.
6. You can update your ad copy at no charge if you introduce new products and services or your marketing campaign changes.
CLICK HERE TO LEARN MORE ABOUT PLATINUM MEMBERSHIP AND TO BECOME A PLATINUM MEMBER TODAY
European Employee Vetting Conference
Business Forums International's European Employee Vetting Conference
In Stockholm, Sweden was a success where lots of information and business cards were exchanged. There were attendees from all over Europe and US attendees included Terry Conley, Global Screening Solutions, Mark Owens, Owens Online, Traci Carpenter, HireRight and Chris Andrews, Screening International. Chris, CEO, Screening International announced the merger of American Background Information Services and Control Risk Screening into a new firm called Screening International. The speakers from top firms in Europe shared very practical insights and experiences with implementing vetting programs along with current and future developments that may affect firms doing business in Europe. Specific components for creating a workable European vetting policy were shared including how to get that much needed senior management buy-in, the right mix of using outsourcing, in-house resources, best practices, matching risk levels to the level of screening necessary as well as good sources of information on applicants. Speakers also talked about the emerging issues with employee vetting across the European Union and the challenges associated with the Safe Harbor approach for US multinationals. Of particular interest was Dan Cooper, Special Counsel, Covington & Burling presentation which noted that in many EU countries 'applicant consent' may not be as legally acceptable as many firms believe and about tools for International data transfers as well as the latest data protection developments. In addition presentations discussed the latest in drug testing trends in Europe and the growing problem of Identity Fraud. Vendors exhibiting were Control Risk, HireRight and PreemploymentDirectory.com.
Don't miss Business Forums International Global Employee Vetting Conference in New York on September 22, 2006 in which similar areas will be addressed from the US multinational viewpoint.
To view the full conference agenda and to learn More Information Click Here

1 In 12 `High Risk` Persons Is Indian
Over 121,000 Indians in anti-money laundering database for banks. One in every 12 "high risk" individuals for the global banking system is an Indian. Over 121,000 Indians have been categorised as high-risk individuals in global anti-money laundering (AML) databases. The number could go up further as newer individuals get identified by various agencies. These Indians are among the 1.4 million people listed as risk entities from across the world. The database gets updated daily with about 25,000 records getting added on average every month. "This should not sound sensational as India is the second-most populated country and one in every seven persons in the world is an Indian," said the CEO of a foreign bank operating in India.
The AML database is compiled by the IntegraScreen Group, a Singapore-based company having research centres in Mumbai, Beijing, Amman, Penang and Shenzhen.
For more information go to: Source: http://www.integrascreen.com.hk/news_innews_bs21may.html
Job Applicants Subjected To 'Illegal' Record Checks
Thousands of people in the United Kingdom have been subjected to illegal background checks when they applied for jobs that did not require vetting, according to a report on the Criminal Records Bureau. As demand for checks from the bureau grows, there are increasing concerns that employers are misusing the system. Job applicants have been subjected to scrutiny when they applied to be refuse workers, dog wardens, car park attendants and train drivers. On one occasion checks were sought on people applying to take part in a television game show. Disclosure of information should occur only when people are applying for jobs that involve working with children and vulnerable adults or certain financial and security- related occupations. There are now 14,750 organisations that have the right to ask the bureau to check out a prospective employee. The bureau, which has admitted incorrectly labelling almost 3,000 people as criminals because of vetting errors, admitted yesterday that it was concerned about "unmanageable demand."
For more information go to: Source: http://www.timesonline.co.uk/article/0,,200-2192329,00.html
2006 Background Buzz MEDIA RATES:
Click here for more information about advertising in The Background Buzz and PreemploymentDirectory.com (Sections: US Provider, International, Vendor Showcase.)
Manpower Employment Outlook Survey for 3rd Quarter
June 13, 2006 – Of the 16,000 U.S. employers surveyed, 31% expect to add to their payrolls during the third quarter of 2006, while 6% expect to reduce staff levels. Fifty-seven percent expect no change in the hiring pace, while 6% are undecided about their July – September hiring plans. When seasonal variations are removed from the data, some positive industry trends emerge. Employers in four sectors - Transportation/Public Utilities, Finance/Insurance/Real Estate, Services and Public Administration – expect slightly improved employment prospects for the third quarter versus second quarter. Durable and Non-Durable Goods Manufacturing, Wholesale/Retail Trade and Education employers expect the hiring pace to remain about the same. Employer optimism about hiring is starting to fade in Construction and Mining.
On the global front the strongest 3rd quarter hiring prospects reported globally were in India, Hong Kong, Japan, Taiwan and the United States with only German employers reporting a negative hiring outlook for the quarter ahead. Adjusted data shows employers in 10 of 12 European countries surveyed expect to add to their workforces in the next three months, and half are reporting improved hiring expectations from last year at this time. Third quarter hiring prospects are strongest in Ireland, Norway, UK, Austria, Spain and Belgium, with Belgian and Irish employers reporting their most optimistic hiring plans to date. Germany reported the weakest and only negative hiring outlook in Europe.
http://www.manpower.com/mpcom/viewMeos?name=US_MEOS_Release_3Q06.doc
UPCOMING CONFERENCES & SEMINARS:
Association of Certified Fraud Specialist (ACFS) National Fraud Conference, Sept. 26-28, San Francisco, CA; http://conference.acfsnet.org/
Business Forums International's Global Employee Vetting Conference, September 22, 2006, New York Hilton, New York, NY http://www.bfi.co.uk
Global Security China 2006, Shenzhen Convention & Exhibition Centre, Shenzhen, China5 - 7 September 2006, http://www.globalsecchina.com/docs/GSC-brochure.pdf
PRINT ARTICLES OF INTEREST:
Everybody Screen! By Ron Lashier, Security Products, June 2006
Even as background screening becomes an industry standard, it is clear that not all background screening is created equal. Applying background screening haphazardly and without a carefully formulated plan can leave organizations vulnerable to the negative events they are trying to avoid, as well as to criticism, employee dissatisfaction and even litigation. One of the best ways to avoid these problems is to make background screening an accepted and standard part of company security through the implementation of a carefully considered background screening policy based on best practices.