Final Rule on Address Discrepancy Will Go In To Effective November 2008
With November just around the corner background screening firms are making preparations to comply with a final rule on address discrepancies from consumer reporting agencies. The Federal Trade Commission, the Comptroller of the Currency, the Office of Thrift Supervision, the Federal Reserve System, the Federal Deposit Insurance Corp. and the National Credit Union Administration issued a final rule in the Nov. 9, 2007, Federal Register, concerning address discrepancies under the Fair and Accurate Credit Transaction Act of 2003 (FACT Act) and identity theft red flags. Covered entities must be in full compliance with the rule by Nov. 1, 2008. The final rules state the actions that an employer must take upon receiving an address discrepancy and apply to all employers conducting background checks, not just businesses extending credit.
For More Information Go To: http://www.ftc.gov/os/fedreg/2007/november/071109redflags.pdf
Automatic Expungement Law Has Helped Thousands Clear Arrest Records
Thousands of Marylanders have had their arrest records removed from public view because of a new state law that requires automatic expungement for those who are detained and released without charge. Proponents say the nine-month-old law is working as intended, removing potential barriers to obtaining employment, housing and loans. Another major change in state expungement law takes effect Oct. 1, when some criminal convictions in Maryland can be wiped out without a pardon from the governor. The changes are seen as especially important in Baltimore City. Tens of thousands of residents, many of them young men, have minor criminal records - sometimes as a consequence of "zero-tolerance" policies that result in large numbers of arrests without charges or convictions.
For more information Go To: http://www.baltimoresun.com/news/local/crime/bal-
te.md.expunge07jul07,0,7083942.story
The Internal Revenue Service Has Changed The Due Date For Filing Certain Business Tax Returns

The Internal Revenue Service has changed the due date for filing deadlines on certain business tax returns from Oct. 15 to Sept. 15.The change helps taxpayers who must report information from Schedule K-1 - income, deductions and credits from partnerships, S corporations, estates and trusts - on their individual tax returns.The filing extension has been the same for both businesses and individuals. Now, the businesses will file their returns a month earlier, giving the individuals the information they need to file their returns Oct. 15.

We are eliminating the same-day deadline for these returns, which causes needless hardship and puts the individual taxpayer in an awkward position," said IRS Commissioner Doug Shulman. "We want to correct this timing issue to ensure that all taxpayers have the information they need to file timely and stay in compliance with the law."This change applies to business entities that file the following returns and forms that have a tax year ending on or after Sept. 30, 2008.

DATA PRTECTION, FRAUD & THEFT
Shrink Rate Drops To Lowest Level In 17 Years
With talk of the growing risk of organized retail crime, active shooters and data breaches getting prime spotlight at this year's National Retail Federation's Loss Prevention Conference & Exhibition, the news that inventory shrinkage as a percentage of sales fell to its lowest level in 17 years in 2007 was warmly welcomed. The shrink rate of 1.424 percent represents a 9.3-percent decline from the 2006 results of the National Retail Security Survey, said Dr. Richard Hollinger, professor of criminology, law and society at the University of Florida and author of the report. This figure marked a six-year downward trend and is also the lowest rate in the history of the NRSS. Total losses – $34.38 billion -- were also down approximately 15 percent, while LP budgets as a percentage of sales reached a seven-year high of 0.62 percent.
For More Information Go To:
http://www.securitydirectornews.com/index. php?p=article&id=sd200807DRK4i4
Accountant Charged in $2.8 Million Theft From Company

When John Hoeffner, an accountant, filed papers to incorporate a company called Mr. John, he had no plans to specialize in the portable toilet business, prosecutors said on Wednesday. Instead, the fictitious company was part of Mr. Hoeffner's plan to embezzle millions of dollars from his employer, Tishman Construction, according to the Manhattan district attorney's office. Mr. Hoeffner, 47, of Beechhurst, Queens, was charged on Wednesday with grand larceny in a ruse in which prosecutors said he stole $2.8 million. He faces 20 other charges and could spend up to 25 years in prison if convicted. On Jan. 30, Mr. Hoeffner was sentenced to community service and probation and ordered to pay restitution for a similar embezzlement plan in which he stole nearly $400,000 when he worked for a different construction company, Bovis Lend Lease. In the Tishman case, prosecutors accused Mr. Hoeffner of creating fake invoices and checks from March 31, 2006, to May 13, 2008, for a Tishman construction project at Albert Einstein College of Medicine of Yeshiva University in the Bronx. He created the fake documents along with real ones that he used to pay the vendors that Tishman had hired, the prosecutors said.
For More Information Go To:
http://www.nytimes.com/2008/07/03/nyregion/ 03invoice.html?_r=1&scp=1&sq=%22accoun
tant+charged%22&st=nyt&oref=slogin (If this article is not avaialble when you try to access plese email me at wbnixon@aol.com)
Welcome to the Legal Challenge Question!

As the background screening industry continues to get more competitive the firms that will ultimately succeed will be those that create competitive advantage through their people by offering continuous learning opportunities to heightened their knowledge and capabilities. We believe that having employees that are very knowledgeable about the legal landscape of background screening is essential to continued success.
We are grateful to Pam Devata, Seyfarth Shaw LLP for providing the expertise for this valuable endeavor. For information regarding the answers to the Legal Challenge Questions, please contact Pamela Devata at Seyfarth Shaw LLP at pdevata@seyfarth.com or 312-460-5000 or visit www.seyfarth.com.
Please choose your answer by clicking on it:
DATA PROTECTION, FRAUD & THEFT (continued)
IT administrator pleads not guilty to network tampering
City prosecutors and San Francisco Mayor Gavin Newsom were still seeking to resolve the crisis by having experts try to take back the city's compromised network from 43-year-old Terry Childs, who was arrested when he refused to relinquish network control. There's worry that Childs, who has worked for the city for five years but faced firing for alleged poor performance, may have installed the means to electronically destroy sensitive documents. Childs, being held in a jail cell on $5 million bond, also happens to be a former felon convicted of aggravated robbery and burglary stemming from charges over two decades ago, which the city knew when it hired him as a city computer engineer.

And in another IT insider case, William Sullivan, the former database administrator at Fidelity National Information Services (not related to Fidelity Investments) in Jacksonville, Fla., this month was sentenced to 57 months in prison and ordered to pay $3.2 million in restitution for a crime he committed through his power to gain access to databases in the Certegy Check Services division of the firm. Sullivan pled guilty in November to stealing consumer information on 8.4 million people in the United States and various foreign countries, including bank account and credit and debit card information, and selling it for about $600,000 to marketing firms between 2002 and 2007. So far, there's no evidence the information has been used for other than marketing purposes.
For More Information Go To: http://www.networkworld.com/news/2008/071608-insider-threat.html?page=1
USIS names former Pres-CEO Marsh & McLennan to CEO

Michael Cherkasky, former President & CEO of Marsh & McLennan Companies (MMC), the global professional services firm, will become CEO of USIS and serve on the corporation's boards of directors effective Aug. 1, 2008. Randy Dobbs, CEO, will transition to Executive Chairman of the USIS Boards of Directors. Dobbs will continue his close association with USIS. "Mike Cherkasky's comprehensive knowledge of the professional services industry, customer focus, and strategic vision make him the right leader to move USIS forward," said Julie Richardson, Chairman of the USIS Boards of Directors & Managing Director of Providence Equity Partners. "During Randy's tenure as CEO we made significant progress, and under Mike's leadership we will build upon this success. We believe we can expand USIS' leadership in the government markets we serve while we grow our presence in the commercial background screening marketplace."
For More Information Go To:
http://www.usis.com/news/2008_07_23_USIS_CEO_Randy_Dobbs_to_become_Executive_Chairman.aspx
or Contact Michael.john@usis.com; 703.637.1694
Ted L. Moss Named Rotarian of the Year

Ted L. Moss has been named the Rotarian of the Year by the Berea, Ohio Rotary Club. Ted L. Moss, CPP is the President and CEO of Crimcheck.com, one of the nation's leading pre-employment screening providers. Mr. Moss is an expert on matters of pre-employment screening, identity theft, Fair Credit Reporting Act compliance, and safe hiring practices. Additionally, Mr. Moss is a past Regional Vice President for ASIS International, the preeminent organization for security professionals and a member of NAPBS and SHRM and a proud Rotarian. He has previously won the Paul Harris Fellowship Award, one of the highest honors that can be bestowed upon a Rotary member.
If you would like to learn more you can visit Mr. Moss's website at www.tedlmoss.com or visit his business website at www.crimcheck.com.
Background Checks An Emerging Differentiator Among Staffing Firms?
Todd Owens, General Manager of Screening Services at Intelius to speak at onrec.com's third annual Online Recruitment Conference & Expo 2008 in Chicago, on September 9 & 10, where the industry's global recruitment visionaries, award winning authors and recruitment thought leaders will deliver a high profile, exceptional value program that you won't want to miss!
If you're not talking about your sophisticated, complete candidate screening solution with your customers, beware: your competitors are. And they're winning in your market. Background checks no longer need to be a pesky cost-driver for your business; a painful check in a box. Addressed early in your sales cycle and in partnership with a capable screening firm, your background check offering can quickly differentiate your staffing services from those of a competitor, increasing your sales, productivity and retention of key accounts. By presenting a comprehensive array of robust and price-competitive screening options in collaboration with your unique staffing solution, your prospect will immediately have a higher level of trust in the quality of those you place, and greater loyalty to you, their partner and staffing expert.
To Read More About The Session and onrec.com's third annual Online Recruitment Conference & Expo Go To: http://www.onrec.com/conferences/090908/topics.html



Tazworks Partners With Convergence Research
TazWorks, LLC a web-based background screening software company has teamed up with Convergence Research, to deliver the most Simple.™ Powerful.™ software in the industry. The partnership will combine the power of TazWorks InstaScreen Premiere 2.0™ with the accuracy and reliability of Convergence, a wholesale criminal researcher. "For 15 years we've been dedicated to giving our clients a competitive advantage by partnering with leading solution providers. Convergence Research is a perfect fit. They share our commitment to provide superior products and excellent customer service. The accuracy and attention to detail of Convergence Research combined with our InstaScreen™ will be a powerful asset for background screening companies," said Barton Taylor, president of TazWorks.
For More Information Go To: http://www.tazworks.com/taznews-convergence.htm
US Trade Representative Releases 2008 Priority Watch List
The "Special 301" Report is an annual review of the global state of intellectual property rights (IPR) protection and enforcement, conducted by the Office of the United States Trade Representative (USTR) pursuant to Special 301 provisions of the Trade Act of 1974 (Trade Act). The 2008 Special 301 review process examined IPR protection and enforcement in 78 countries. Following extensive research and analysis, USTR designates 46 countries in this year's Special 301 Report in the categories of Priority Watch List, Watch List, and/or Section 306 Monitoring status. This report reflects the Administration's resolve to encourage and maintain effective IPR protection and enforcement worldwide.
For More Information Go To: http://www.ustr.gov/assets/Document_Library/Reports_Publications/2008/2008_Special_301_R
eport/asset_upload_file553_14869.pdf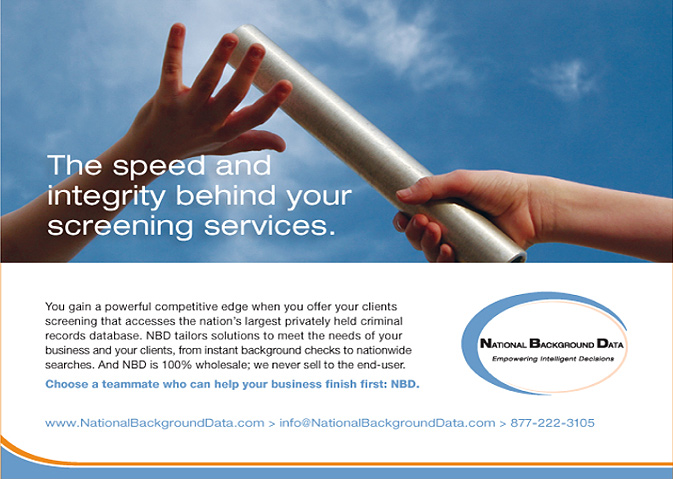 NEW BOOK ON BACKGROUND SCREENING AND INVESTIGATIONS:
Background Screening and Investigations
Managing Hiring Risk from the HR and Security Perspectives

By W. Barry Nixon, SPHR and Kim Kerr, CPP
352 pages 16 ills
Copyright 2008
USD 49.95, Reference

Butterworth-Heinemann Title
ISBN: 978-0-7506-8256-5

To Order Go To www.PreemploymentDirectory.com and click on the book cover
STOP STRUGGLING WITH WRITING AND PUBLISHING YOUR NEWSLETTER:
We can help you have a high quality e-newsletter to help nurture your relationship with your clients and attract new clients. Our customized newsletter service will take over your newsletter task or create a new one for you. We can manage the creation of your newsletter for you.
We are constantly researching information to use for The Background Buzz and you can put our research to use for you. Using the information rich content from The Background Buzz (minus the ads and competitors information) we will create a custom newsletter for you.
Use your staff's time to do more valuable work and save all the hassle of researching or writing articles, formatting and managing all the other ezine tasks with our customized ezine process.
Contact Barry Nixon at 949-770-5264 or at wbnixon@aol.com for more information.
TIP OF THE MONTH – NEWLETTER NO NO'S
Focusing on yourself, instead of your audience. Are your readers really interested in the new employee gym at your office or the retirement party for your receptionist? Probably not. Save that info for an internal publication and give your readers useful, timely and relevant content to build newsletter loyalty. Bottom line the content should be viewed as valuable to your audience.Source: MarkingProfs
One Place! Many Suppliers!
Looking for the Top Suppliers in the Industry? Need to find a new Supplier?
Visit PreemploymentDirectory.com's VENDOR SHOWCASE which features suppliers to the Background Screening Industry (go to www.PreemploymentDirectory.com, click on 'Click Here' and then scroll down to Vendor Showcase for Background Screening Industry Suppliers)
THE LATEST DEVELOPMENTS ON THE WORLD WIDE WEB FOR BUSINESS OWNERS
Are you interested in keeping up with the latest developments on the world wide web and with web site technology from a business owner or business development perspective? If so you may want to sign up for Web Site Magazine. It is complimentary and written in a straightforward, easy to read and understand manner. It is published in hardcopy.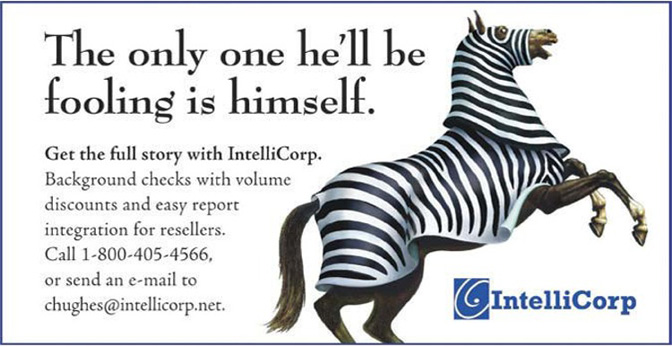 BACKGROUND SCREENING SURVEY FROM SHRM CONFERENCE
Survey Reveals That 23 – 74% of Clients May Be Considering Changing Their Background Screening Supplier
The following results are based on a survey that was conducted at the 2008 SHRM Annual Conference in Chicago at the exhibit booth of PreemploymendDirectory.com. HR professionals that visited our booth were asked to participate in the survey and to complete the questionnaire. A total of 233 people completed surveys in varying degrees. While this survey does not rise to the level of being statistically significant we believe it offers some interesting insights on how clients are feeling about their background screening service provider.
1. Are you considering changing you current background screening provider in the next 12 months?

To See Complete Results Go To: http://www.workplaceviolence911.com/docs/7-8results.pdf


In a slow economy, the first part of the budget to get cut is often marketing. While some cuts may be justified, deep cuts are a mistake.

Now is the perfect time to make potential customers aware of your company. Companies who market aggressively during a slow economy are the first to secure sales when the economy improves.

HRmarketer.com offers three resources to help your company maintain visibility, improve traffic to your web site and generate sales leads during a slow economy.


HRmarketer.com

At $325 per month, HRmarketer.com is a proven low cost, high value investment to keep your marketing and PR going during a tough economy. Learn more


HR Mailing Lists

HRmarketer offers an extensive e-mail and postal address database of opt-in HR decision makers. Our lists pull – often achieving above average click-thru rates. Our lists are available at $0.25 per email. Learn more


HRmarketer Services Group

Now is the time to invest in marketing and PR to "be ready" for the recovering economy and the Q4 RFP season. Our HRmarketer Services Group is the #1 marketing and PR firm in the HR marketplace. Whether you're looking to search-optimize your web site, update your site for lead acquisition or develop white papers for direct email campaigns, we can help. Learn more




Complimentary eBook
No Registration Required

How to Reach and Engage Human Resource Buyers and Convert Them to Leads.

This new eBook is a 29-page, three-step marketing guide to achieve increased publicity, web site traffic, improved SEO and more HR sales leads – at minimal cost.

Download Now

Fraud Costs Rise 40%: PricewaterhouseCoopers' Survey
The average direct financial loss to companies has risen to US$2.4m from US$1.7m during the period 2005-2007. Fraud remains a major threat to companies around the world. Nearly half of all organisations (same level as 2005) reported they were victims of some form of economic crime in the past two years, according to a survey. The average direct financial loss to companies has risen nearly 40% to US$2.4m from US$1.7m during the period 2005-2007. The biennial survey, PricewaterhouseCoopers' 2007 Global Economic Crime Survey, revealed that of the 43% that experienced economic crime in the last two years, the total direct losses exceeded US$4.2bn. The losses arose from a variety of economic crimes, including asset misappropriation, accounting fraud, bribery and corruption, money laundering, and intellectual property infringement. Of those reporting fraud, 88 % reported the fraud had damaged their brand and impacted staff morale, 84 % said it had harmed their relations with other companies, and increased the costs of dealing with regulators, and 69 % said it had negatively affected their share price. Theft was the most common type of fraud, reported by 30 % of those who said they had experienced economic crime. Of those responsible for committing fraud, more than half were employed by the defrauded company, 26 % in senior management.
For More Information Go To:
http://www.strategicrisk.co.uk/story.asp?source=srbreakingnews&storycode=366836
First Advantage Releases Inaugural "Background Screening Trends – India" Report
Mumbai - The Employer Services segment of First Advantage Corporation (NASDAQ: FADV), Asia-Pacific's largest background screening and talent acquisition solutions provider, has released its pioneering quarterly report "Background Screening Trends – India".
Background screening is rapidly gaining acceptance across different industry verticals. First Advantage, credited as the pioneer of background screening in India, has assimilated the best practices prevalent globally to the Indian context. "Background Screening Trends – India" sets another precedent by providing employers with data that can be used to benchmark their background screening experience against industry standards. It also highlights the need for employment and education checks to be part of the background verification process as against the usual practise of limiting it to reference checks.
More information about First Advantage is available at www.FADV.com
IT Firms Have No Place For A Fake Resume
The IT-BPO industry is becoming increasingly clear that a fake resume can cost you your job with India's largest IT servIces provider, Tata Consultancy Service (TCS), being the latest to recently ask close to 20 employees at its Kolkata centre to leave. The company, during the background verification, found that these employees have used fudged resumes to get jobs. In the recent past all the major IT firms including Infosys, Satyam and Wipro Technologies and many mid-cap firms have taken a hard stand on fake or fudged resumes. However, the incidents continue.

For More Information Go To:
http://www.business-standard.com/common/storypage_c_online.php?leftnm=10&bKeyFlag=IN&autono=42021


July 28, 2008 - Fake Universities in India

State-wise List of fake Universities as on 13thJune,2008
http://studyinindia100.blogspot.com
/2008/07/fake-universities-in-india.html

*Please note that the universities listed here have not been vetted by us so please be cautious in using this information and make sure you validate information before acting on it. We accept no responsibility for the accuracy of this information and disavow any responsibility for results that may arise by using the information.

Past Imperfect

Despite the economic realities many firms have not institutionalized background screening as a part of their selection process. Resistance to making background screening mandatory persist despite firms like Tata Consultancy Service which recently summarily terminated the services of twenty junior employees for faking information on their resumes which came to light through background screening. However, at senior levels, there are several tainted managers who seem to be hopping from one company to the other with effortless ease.

Among the first Indian background screening that has sought to differentiate itself in terms of institutionalising its processes is Bangalore based Verifacts. Owned and operated by a former army officer, the firm conducts background screening for five of the top ten IT majors. The firm has recently acquired an ISO certification from BNV, the most credible ISO certifier. In a business which continues to be fragmented, this management initiative of Verifacts is probably a sign of things to come.

The best practices in the background screening business are usually set out by the US based National Association of Professional Background Screeners. The majority of North American background screening companies are members of NAPBS and self-regulate themselves on the basis of the Association's charter of best practices. A few Indian background screening companies are also aligning their operating model to that of NAPBS. One of them is New Delhi based TACT India which is also owned and managed by a former army officer, Capt Akhilesh Kapoor who has been able to draw some retired general officers to his firm.

For More Information Go To:
http://www.asianage.com/archive/htm
lfiles/Business/Past%20imperfect.html

IT Firms Have No Place For A Fake Resume
The IT-BPO industry is becoming increasingly clear that a fake resume can cost you your job with India's largest IT servIces provider, Tata Consultancy Service (TCS), being the latest to recently ask close to 20 employees at its Kolkata centre to leave. The company, during the background verification, found that these employees have used fudged resumes to get jobs. In the recent past all the major IT firms including Infosys, Satyam and Wipro Technologies and many mid-cap firms have taken a hard stand on fake or fudged resumes. However, the incidents continue.

.For More Information Go To: http://www.business-
standard.com/common/storypage_c_online.php?leftnm=10&bKeyFlag=IN&autono=42021
Casino Owners To Face Rigourous Background Checks
Casino owners will undergo in-depth criminal and financial background checks before being granted a licence under new proposals revealed today. A new report recommended business dealings and tax history must also be scrutinised in a bid to combat money laundering in the gaming trade. The government appointed casino committee said that if gaming laws are updated, a new regulatory body should develop and implement anti-money laundering strategies and have the power to enforce the law and prosecute. Some 32 recommendation were made in the report of the casino committee - Gaming in Ireland - which will be scrutinised by a cross-party committee after the summer recess. Justice Minister Dermot Ahern said he was anxious that the government get things right in relation to gaming and betting codes. "I want to ensure that betting and gaming activities are carried out within a responsible framework that recognises the reality of these activities, but which ensures they are properly managed, particularly as regards problem gamblers," he said.
For More Information Go To: http://breaking.tcm.ie/ireland/mhgbsncwkfcw/
HR, Recruiting Trends in South Korea
South Korea, Asia's third-largest economy, is becoming more information-intensive, requiring increased employment of technicians and information-technology specialists. The demand for such highly skilled workers, combined with a decline in Korea's population growth, has caused employers to recruit Korea's seniors to fill gaps. In order to persuade seniors to keep working past the accepted retirement age, employers are providing the necessary education and training. While there is a focus on seniors, overall, and interestingly despite being perceived as one of the most male-oriented societies in Asia, Korea has witnessed an increase in the participation of women in the workforce.
For More Information Go To: http://www.shrm.org/global/news_published/CMS_025909.asp (SHRM Membership may be required to access)
Ruling Could Wipe Out Tens Of Thousands Of Criminal Records
Tens of thousands of criminal records could be deleted after a landmark ruling that police were breaking rules on the holding of personal details. Police reacted with dismay to a judgment by the Information Tribunal, which could force them to review millions of records of minor crimes. The ruling opens the way for all those who have been convicted of a minor offence when young, and who have since remained out of trouble, to apply for their record to be removed from the Police National Computer. Police privately cautioned last night that there were potentially much widerimplications. "A crime may look very trivial, but it might still be of significance to a person's potential behaviour," a police source said. The police can appeal against yesterday's judgment. Mr Readhead said: "We will now take some time to discuss these implications with the service and decide on the most appropriate course of action."
For More Information Go To: http://www.timesonline.co.uk/tol/news/uk/crime/article4375311.ece
Arts Graduates 'More Likely To Lie On CVs'
One in six graduates lie on their CVs to get a good job, according to new research. Students completing arts and humanities courses are most likely to be guilty of "embellishment" - along with those with relatively poor degree results, it is claimed. Graduates have been found fabricating employment histories, lying about previous job responsibilities and inflating their degree mark. Some job applicants were even guilty of hiding criminal records from would-be employers. According to the report by Powerchex, the City-based employee screening company, students from former polytechnics are among the worst offenders.
For More Information Go To: http://news.bbc.co.uk/1/hi/education/7517918.stm
United Kingdom: Employers Steal The March On Dishonest Employees
The statistics are well documented. Thefts by staff cost UK businesses 100's of millions of pounds. But employers, it seems, are increasingly galvanised in efforts to reduce the alarming statistics. Recently, plans were announced for an employer crackdown on staff who are caught stealing, or committing forgery or fraud, were announced by Action Against Business Crime (AABC). The National Staff Dismissal Register (NSDR), as it will be known, is due to be launched any time now. The register will contain details of employees who have been dismissed for acts of dishonesty or who have left employment whilst under investigation for such conduct. Employers who subscribe to the register will be able to search against the names, addresses, national insurance numbers and dates of birth of prospective employees for any entry against those details. Records will be retained for five years. From a data protection perspective, NSDR presents many practical and legal challenges, both of which leave employers potentially exposed if the information they provide breaches their data protection obligations and/or is wrong. An added risk is that they may be exposed to costly defamation actions. AABC claims to have consulted the office of the Information Commissioner regarding NSDR. It seems likely that a more public expression of his views will now be called for in respect of this project.
For More Information Go To: http://www.mondaq.com/article.asp?articleid=61460&email_access=on
INTERNATIONAL RESOURCE CENTER
We have enhanced our International Resource Center to be a valuable resource for anyone looking for information on doing international background verifications, vetting or verifications. It includes information on international data protection and other laws, terrorist searches and much more. Also included is very practical information on time zones, locating cities, holidays in different countries, etc.
U.S. Network for Education Information
For International Students and Professionals, information and links about coming to the United States, recognition of foreign qualifications, accredited U.S. institutions and programs, avoiding frauds, and financial aid.

For International Educators and Officials, information about the U.S. education system, U.S. accreditation and quality assurance, recognized institutions, avoiding fraudulent providers, and related resources.
For U.S. Students, information about studying abroad, financial aid, and links to official information about education in other countries.
For U.S. Educators, information about international education, other education systems, teaching overseas and the recognition of foreign education within the United States.
For U.S. Human Resources Professionals and Officials, information about foreign education systems, recognized foreign institutions, and U.S. credential evaluation for foreign degree-holders.
http://www.ed.gov/about/offices/list/ous/international/usnei/edlite-index.html
International Training Resources
Bookmark this valuable resource so you can use it over and over.

To view the International Section go to www.PreemploymentDirectory.com and look under the gray line like below in the middle of the page:

We invite you to pull up a chair, take a break and join us in the Background Bistro to sip a latte and chat with this weeks guest:
This week we have the pleasure of talking with an icon in the industry, Bruce Berg, CEO of Berg Consulting Group and Background Screening Jobs.

In 1967 Bruce earned his MBA from Eastern New Mexico University and immediately went on to work for several Fortune 1000 companies including Jostens and Medco. Somewhere along the line he started HireCheck and after he sold his very successful background screening company he decided to retire. The word got out quickly that he had retired and his phone started ringing. "Once people found out that I was retired, they started calling and wanted me to help build their businesses. I had a non-compete agreement with the people I sold my company to and I wanted to keep my word not to get back into the industry, but once the contract ended, I began doing the consulting and background screening work," states Bruce. He loves what he does and prefers to work. "I actually live in a country club
community and don't even play golf, although, I am at the fitness center three times a week. My biggest outside activity is my grandson, he's about to turn six and is a blast," says Bruce.
Although a sports fan, Bruce moved around quite a bit early on in his career, and consequently was not able to develop a favorite team. "I really like the Buccaneers, but it is kind of hard to get behind the Dolphins, Marlins or Jaguars. Oh, I also really love the Williams sisters, I just think that they are great, I really give them kudos. They actually live two streets down from me."
While owning two businesses keeps this grandfather busy, Bruce indicated he recently purchased an iPod and loaded 14 books on tape on it. " I am not really into music that much, although I love "American Idol" and "So You Think You Can Dance," but when it comes to music, if it came out after 1962 then I just can¢t relate to it,"says Bruce.
Like most people who work hard, playing hard is part of the equation and Mr. Berg is no exception to that rule. A frequent traveler, Bruce will be taking a month long vacation to New York later this year. "We plan on taking in some theatre, shopping and a little business." Most recently he went on a safari in Africa and says it was the most phenomenal trip he has ever taken.
From a business perspective, both his companies and the industry, Bruce sees strong growth ahead. "In the short range, especially in the next five years, background check companies are going to continue to expand and generate more and more income. For me, I have my reputation to rely on, so I do not have to do a lot of advertising, plus I have a lot on my plate and I am not really interested in growing any more than what I already have," says the CEO. Sounds like Bruce is in a very comfortable business niche and a very good place in his life.
For More Information on Berg Consulting or Background Screening Jobs contact Bruce Berg at Phone 561-712-1277 or bruce.berg@bergconsultinggroup.com.
ADVERTISERS IN THIS EDITION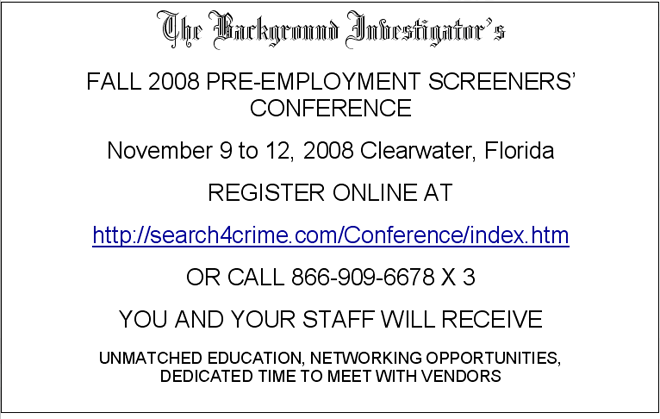 UPCOMING CONFERENCES & EVENTS
2008 Events (Click Here to View full list of 2008 Events) – Updated Monthly
SHRM State Conferences, visit http://www.shrm.org/conferences/state/CMS_004287.asp
Drug and Alcohol Testing Industry Association (DATIA), 2008 Training Course Schedule, visit http://datia.org/
National Association for Professional Background Screeners (NAPBS), 2008 Webinar Schedule, visit http://www.napbs.com/content.php?id=289
World Federation for Personnel Management, Events, http://www.wfpma.com/dates.html