CRIMINAL BACKGROUND CHECKS AND THE RACIAL HIRING PRACTICES OF EMPLOYERS
In this paper, we analyze the effect of employer-initiated criminal background checks on the likelihood that employers hire African Americans. We find that employers who check criminal backgrounds are more likely to hire African American workers, especially men. This effect is stronger among those employers who report an aversion to hiring those with criminal records than among those who do not. We also find similar effects of employer aversion to ex-offenders and their tendency to check backgrounds on their willingness to hire other stigmatized workers, such as those with gaps in their employment history. These results suggest that, in the absence of criminal background checks, some employers discriminate statistically against black men and/or those with weak employment records. Such discrimination appears to contribute substantially to observed employment and earnings gaps between white and black young men.
Click Here to Read More About this Study: http://www.emaxhealth.com/38/8363.html or Click on the following URL to Purchase the Full Study in the Journal of Law and Economics
http://www.journals.uchicago.edu/ucp/


TOP EMPLOYMENT RELATED SCREENING PROVIDERS IN 2006
Workforce Management expands their 2006 Hot List to feature the top eleven employment background screening firms in the industry. These eleven firms collectively account for 78.2 million screenings within the past year. This years industry leader is USIS which leaped frogged from a tie for third position in 2005. Choicepoint and First Advantage maintained the second and thirds spots respectively. ADP joined the list in the fourth spot and Acxiom, Hireright and Verifications tied for the fifth ranking. See the November 6, 2006 edition of Workforce Management to see the full list and read the details about the rankings. To compare to last years rankings go to http://www.workforce.com/tools/hot_list/HL12_12_05.pdf.
Accurate Background, Inc. has been named to Deloitte's prestigious Technology Fast 50 Program for Orange County, CA. This is a ranking of the 50 fastest growing technology, media, telecommunications and life sciences companies in the area by Deloitte & Touche USA LLP, one of the nation's leading professional services organizations. Rankings are based on the percentage revenue growth over five years from 2001–2005.
Winners of the 16 regional Technology Fast 50 programs in the United States and Canada are automatically entered in Deloitte's Technology Fast 500 program, which ranks North America's top 500 fastest growing technology, media, telecommunications and life sciences companies. For more information on Deloitte's Technology Fast 50 or Technology Fast 500 programs, visit www.fast500.com.Click Here for More Information: http://www.emediawire.com/releases/2006/10/emw447191.htm


NEW BREED OF ASPS GIVE EMPLOYERS COMPREHENSIVE WEB BASED I-9 SOLUTIONS
Thanks to the 2005 law and a new interim rule issued by DHS in June 2006, employers can use technology to complete, sign and store I-9 forms electronically. Electronic storage can alleviate storage challenges and allow for quick retrieval. Employers can scan completed paper I-9s and store them as PDF files on their company server. Acceptance of electronic signature technology allows the process to become entirely paperless. Options include electronic signature pads, biometrics, "click to accept" dialog boxes, and entry of personal identification numbers and/or passwords. A new breed of application service providers (ASP) give employers a comprehensive web-based I-9 management system.
Click Here for More Information:(To access this article will need to be a SHRM member)
http://www.shrm.org/hrtx/library_published/nonIC/CMS_018961.asp



FORMER SECURITY GUARD SHOOTS EMPLOYEES
Two weeks ago, it was Michael Blas Rivera's job to provide security for a Phoenix office. On Thursday, he was arrested after police believe he shot two men who work there. On Thursday morning, police said Rivera returned to the northwest Phoenix office, got out of his car, and fired a semiautomatic rifle at an assistant manager for Pitney Bowes and at the security guard who replaced Rivera. The two men were standing outside the office at the time of the shooting. Rivera called 911 from inside his apartment and briefly spoke to the operator before surrendering to police without incident. Pitney Bowes spokeswoman Sheryl Battles said there are about 150 employees who work at the building where the shooting occurred and that no one else was injured. Rivera began working for Securitas USA in March, Glovka said in a statement.
Click Here to Read the Full Article: http://kvoa.com/Global/story.asp?S=5628841


Liars Index® Climbs to Highest Percent in Five Years
Jude Werra, President, Jude M. Werra & Associates, LLC, a leading executive search firm with more than 30 years experience in searching out star quality Board Members and Corporate Officers says The Liars Index® reached its highest mark since 2001, climbing up to 16.07% for the first half of 2006. Three years ago the Index bottomed out at 6.06%. The two-year running average is up to 12.57%. According to Jude the issue of resume fraud, particularly misrepresentation of education, is receiving increasing attention. ABC News reported earlier this year that the State of Washington was set to approve a $1,000 fine for people claiming fake degrees on their resumes.
Here's our latest data:
Data Point

2ndHalf
2002

1stHalf
2003

2ndHalf
2003

1stHalf
2004

2ndHalf
2004

1stHalf
2005

2ndHalf
2005

1stHalf
2006

Semi-annual
Percentage

11.19%

10.59%

6.06%

9.82%

11.88%

10.73%

11.61%

16.07%

Prior Two Year
Average

13.71%

11.25%

9.76%

9.41%

9.59%

9.62%

11.01%

12.57%
Reprinted with permission of Jude M. Werra Associates
Click Here for More Information


COST OF DATA BREACHES RISES SHARPLY

According to the Ponemon Institute's Data Breach Study data breaches this year cost U.S. companies an average of $182 for every compromised record, compared to last year's $138, which is an approximately 31 percent increase. The study reports that roughly $128 of the 2006 figure is related to indirect fallout from information leaks, such as higher-than-normal customer turnover. Other associated costs spurred by data mishandlings or thefts were an average price tag of $660,000 per company in expenses related to notifying customers, business partners and regulators about data leaks. Total costs for each cited records loss studied in the report ranged from less than $1 million to more than $22 million. "The burden companies must bear as a result of a data breach are significant, making a strong case for more strategic investments in preventative measures such as encryption and data loss prevention," said Dr. Larry Ponemon, chairman of Ponemon Institute.

For More Information Go To http://www.ponemon.org/policy.html


DATA PROTECTION: (continued)
2006 E-CRIME WATCH SURVEY FROM CSO MAGAZINE REVEALS INSIDER THREATS ARE ON THE RISE
CSO 's 2006 E-Crime Watch survey reveals a decline in security events, yet an increase in the financial and operational losses caused by such electronic crime incidents. The third annual survey of 434 security executives and law enforcement personnel was conducted in cooperation with the U.S. Secret Service, Carnegie Mellon University Software Engineering Institute's CERT® Coordination Center and Microsoft Corp. Survey results also show that while respondents continue to be most concerned with intruders from outside their organization (58 percent of events were reportedly committed by outsiders; 27 percent by insiders), the insider threat is getting worse. Of those organizations experiencing security events, the majority (55 percent) report at least one insider event (up from 39 percent the year prior).
Click Here to Read More About the Survey Results: http://www.cert.org/archive/pdf/ecrimesurvey06.pdf
11TH ANNUAL COMPUTER CRIME AND SECURITY SURVEY

According the latest Computer Crime and Security Survey conducted by the Computer Security Institute and FBI the percentage of organizations reporting computer intrusions to law enforcement has reversed its multi-year decline, standing at 25 percent as compared with 20 percent in the previous two years. Negative publicity from reporting intrusions to law enforcement is still a major concern for most organizations. Also the survey reported that the percentage of losses that 19% of respondents identified insiders as being responsible for more than 60% of their losses.

Click Here to Read the Complete Survey: http://i.cmpnet.com/gocsi/db_area/pdfs/fbi/FBI2006.pdf

RESEARCH : FRAUD AND RETAIL THEFT
GUIDE TO PREVENTING WORKPLACE FRAUD: TAKING ACTION TO REDUCE BUSINESS CRIME EXPOSURE

Regardless of size, all organizations are vulnerable to workplace fraud. Fraud can take many forms—including embezzlement, forgery, theft of inventory and other assets, and computer crime—and can continue unchecked for years. The financial impact on an organization of these so-called "white collar" crimes can be devastating. As a leading provider of crime insurance (sometimes known as fidelity bond), the Chubb Group of Insurance Companies believes the most cost effective way to deal with fraud is to prevent it.

To find out more about this informative Guide or to get a copy go http://www.chubb.com/businesses/csi/chubb5305.pdf

DISHONEST EMPLOYEES STOLE 5.7 TIMES THE AMOUNT STOLEN BY SHOPLIFTERS.
Hayes International recently completed their 18th Annual Retail Theft Survey which showed that Shoplifters and dishonest employees continue to steal in record numbers from U.S. retailers. The survey reports thieves stole more than $5.8 billion from these retailers in 2005 and it is particularly noteworthy that on a per case average, dishonest employees stole approximately 5.7 times the amount stolen by shoplifters ($724.15 vs $126.87). The scope of the Survey covers 24 major retail companies, representing 13,313 stores, with retail sales exceeding $519 billion (2005).
One out of every 26.5 employees was apprehended for theft from their employer in 2005. (Based on comparison data of over 1.8 million employees.)
Survey participants apprehended 68,994 dishonest employees in 2005, an increase of 11.49% over 2004's apprehensions.
Dollars recovered from dishonest employee apprehensions totaled over $49.9 million in 2005, a dramatic increase of 17.87% over 2004's recovery dollars ($42.3 million).
For the fifth straight year, the dollars recovered from those apprehended shoplifters ($77.0 million) increased. In 2005, this increase was an amazing 16.9 percent, over 2004's shoplifter recoveries. (The dollars recovered from shoplifters where no apprehension was made increased 14.2 percent in 2005; this was the 9th consecutive year of increases.)
Click Here for More Information About the Survey: http://www.hayesinternational.com/ts_emply_thft.html
AMERICAN HOSPITAL ASSOCIATION LAUNCHES APPLICANT SCREENING & DRUG TESTING SERVICES
AHA Solutions, a subsidiary of the American Hospital Association (AHA), announced that it is developing a platform of AHA-endorsed products and services for Human Resources (HR) departments within hospitals. The goal is to identify a set of high quality tools that help optimize the efficiency and effectiveness of HR's ability to attract, manage and retain a qualified workforce. "We've now expanded our portfolio to include the broader HR role because we understand that the HR function is a key to creating the fully staffed, skilled and motivated workforce necessary to deliver 24/7 access to health care for our communities," states Anthony J. Burke, president and CEO of AHA Solutions. The first components of AHA Solutions's HR Platform and their respective companies are: Applicant Screening & Drug Testing Services, provided by Certiphi Screening; Applicant Tracking through OnBase®; Enterprise Document Management Software, provided by Hyland Software; and Performance Appraisal Systems (Halogen eAppraisal Healthcare™), provided by Halogen Software.
For More Information Click on http://www.aha-solutions.org/aha-olutions_app/ControllerServlet?action=displayCompon
ent&componentID=76460220&categoryID=151427316&platformID=224965033
| | |
| --- | --- |
| | One of the true test of any association or organization is the added value it gives to its members. In today's fast pace environment busy professionals have to make choices about how to spend their time and which organizations they want to be associated with. The following is one person's experience that clearly demonstrates the value that NAPBS has contributed to him. |
According to Craig Caddell, Vice President, Reference Pro, 415-606-6365, http://www.referencepro.com/, "NAPBS has provided Reference Pro, a wholesale employment and education verification provider, with direct access to our target customer group. Additionally, the NAPBS Provider Committee has given us a voice and an opportunity to contribute to the guidelines for verifications and references in the industry. We are very proud of the rapid progress NAPBS has made and our role as a founding member."
What's the use of an online system too difficult for your clients to use?

InstaScreen™ background screening software is so easy to use that your clients will actually enjoy placing orders!

If your current applicant screening system is so cumbersome it discourages end-users from using it, you owe it to yourself to choose a system your customers will actually use. Imagine receiving more orders and saving your processors valuable time by getting your clients to enter the orders for you.

Simple and powerful, InstaScreen™ is intuitive, easy to use, and flexible to accommodate your clients specialized needs.

Call (801) 572-7401 or visit www.tazworks.net and demo our easy-to-use technology first hand.
SEVEN INSIDER SECRETS TO CREATING GREAT WEBZINES
Creating a successful webzine is an art form. Even so, there are a number of key considerations that will help your webzine stand out and to be a very effective marketing and communications tool.
Secret #3 - Learn how to seduce your readers with a well crafted headline that will determine if your email gets opened and read or not. Create headlines that appeal to reader's emotions or create curiosity or that promise to solve a problem.
Click Here to Learn the Seven Insider Secrets
Remember we can help you create a webzine to send to your clients and/or prospects that will uniquely reflect your company's brand and image by creating a private label version of The Background Buzz just for you. Contact Barry Nixon at wbnixon@aol.com or at 949-770-5264 to discuss how we meet your marketing needs.
JOB BOARD DEDICATED TO THE BACKGROUND SCREENING INDUSTRY
Find resumes of people with industry experience and industry employers seeking industry experience.
BackgroundScreeningJobs.com - your one stop source to quickly and easily find people in the background screening industry. Go to backgroundscreeningjobs.com today!
FINALLY THE FIRST IMPROVEMENT IN THE EMPLOYMENT APPLICATION IN 50+ YEARS!
JobApp eliminates old-fashioned paper-based employment application processes, virtually unchanged for the last 50-years, with a revolutionary phone-based employment application. JobApp leverages the phone and Internet in the first and only cross-platform service that combines candidate sourcing, screening, scoring and selection into one quick step that speeds the hiring process by up to 70%, lowers cost-to-hire by 50%, and delivers better-qualified applicants that reduces turnover. Employers will be pleased to learn that the JobApp Network solution can be deployed as a low cost-high value stand alone solution or be integrated into a larger end to end HR plan.
Click Here For More Information: http://www.hrmarketer.com/~blog/2006/10/finally-first-improvement-in.html
APARTMENT COMPLEX GUILTY OF NEGLIGENT HIRING
Mark Wilton operated an apartment complex in San Joaquin County, California. To help provide security for the complex, Wilton hired David Rodriguez as a guard. Rodriguez was a tough man, and had previously served a prison term for voluntary manslaughter. Unfortunately, Rodriguez also didn't get along so well with all the tenants at the complex. Tenants complained to Wilton that Rodriguez was "dangerous," "tweeking on crank," and frightened them and their children. In May 2003, Rodriguez shot a tenant, Michael Hawkins, while they were on the sidewalk outside the complex. Rodriguez was convicted of attempted murder. Hawkins then sued Wilton, claiming that the complex negligently employed an unfit worker and was liable for the shooting committed by its employee. The Court ruled that the apartment owners could be liable for employing a dangerous employee.
Click Here to Read the Full Case: http://www.lawroom.com/Story.asp?P=B&STID=1538
ALL SEVEN OF THE TOP BACKGROUND SCREENING FIRMS IN WORKFORCE MAGAZINES RATINGS ARE CLIENTS OF PREEMPLOYMENTDIRECTORY.COM
Become a Platinum Member and Join the Success Brigade
PLATINUM MEMBERSHIP HAS IT'S PRIVELIGES
CLICK HERE TO LEARN MORE ABOUT HOW TO CREATE ADDITONAL SALES OPPORTUNITIESFOR YOUR FIRM AND TO BECOME A MEMBER OF THE PLATINUM CLUB
EUROPEAN WORKPLACE VIOLENCE SURVEY REPORT
Around 5% of European workers have experienced violence, bullying or harassment in the workplace. However exposure to workplace violence and threats of violence is 'higher than average' in Ireland, a new survey has found. According to the fourth European Working Conditions Survey, 8% of workers here are exposed to violence and threats of violence, just behind the UK (9%) and France (10%). The survey revealed that overall, women, particularly younger women, suffer more from bullying and harassment than men. Meanwhile, a greater level of bullying and harassment is reported in large establishments (over 250 workers). These problems are most often reported in the education, health, hotel and restaurant sectors.
For More Information contact - kwells@caepv.org re: caepv Digest Number 567
"GOT INTERNATIONAL INFORMATION?"
We have greatly enhanced our International Resource Center to be a valuable resource for anyone looking for information on doing international background verifications, vetting or verifications. It includes information on EU countries data protection and other laws, Canada, terrorist searches and much more. Also included is very practical information on time zones, locating cities, etc. Check it out and I am sure you will want to Bookmark it so you can use it over and over. To view the International Section go to www.PreemploymentDirectory.com and look under the line in the middle of the page:


National Institute for Prevention of Workplace Violence, Inc.
Launches New Consulting Practice – Infinity Screening Solutions
With 'Continuous Employee Screening' tools now becoming available we believe this will be an invaluable tool to assist firms to better manager their risk by knowing important information about their employees and will also help to prevent negligent retention. This tool will help firms to be able to identify whether mandatory licenses or professional certifications are current as well as derogatory issues such as DUI's, criminal warrants, convictions, etc. that could have an impact on an employee continuing to qualify for their position or a proposed one.
Implementing a continuous screening program will require careful consideration by organizations because of a number of potential employee relations, organizational and legal issues that need to be addressed. To begin with it will be critical that firm's have a comprehensive background screening policy in place that addresses how problem situations will be handled. In addition, the need to have pre-identified 'sensitive jobs' with clear qualifications and prerequisites included in job descriptions will become even more important than ever. Each company will need to develop a decision tree regarding how potential issues will impact employees. Because of these issues the National Institute for Prevention of Workplace Violence, Inc. has established Infinity Screening Solutions, a new consulting practice, specifically focused on addressing these issues and helping firms to implement continuous screening
Since overwhelming employers use outsourced background screening firms to conduct their background checks, we have decided to primarily offer this consulting service through background screening firms. This will be a value added service that you can offer to your clients when you are selling them your 'continuous screening' tool. We have developed a proprietary implementation process for assisting firms with continuous screening that you can offer to your clients. Contact Barry Nixon at 949-770-5264 or online at wbnixon@aol.com for more information.
Call Barry Nixon at (949) 770-5264 today to find how the Continuous Employee Post Hire Screening consulting can contribute to increased sales, revenue and increased customer satisfaction
BACKGROUND INVESTIGATORS' ANNUAL PRE-EMPLOYMENT SCREENING CONFERENCE UPDATE:
THE BRUCE BERG REPORT ON BACKGROUND INVESTIGATORS' ANNUAL PRE-EMPLOYMENT SCREENING CONFERENCE
Congratulations to Steve Brownstein and Phyllis Nadel of The Background Investigator for another superb conference. Attendance was 401, up substantially from 2005, with more than two dozen vendors exhibiting their services to the industry and a slate of interesting, professional presenters keying in on topics extremely important to the attendees.
Click Here to Read the Full Report : http://www.bergconsultinggroup.com/id42.html
IS HAIR TESTING A RELIABLE WAY TO TEST FOR USE OF DRUGS?
Men pay to make it grow. Women spend lavishly to dye, cut and coordinate it with their wardrobe. But these days, hair isn't just a key accessory to looking good. It also can give government agencies a way to determine who might be abusing drugs in the workplace. Currently, the federal government is reviewing whether to expand its existing employee drug-testing guidelines to include analyzing hair for evidence of illicit drug use. As screening methods for hair, saliva and sweat have improved in recent years, there has been a long-running and often contentious debate over whether these should be added to the current gold standard, the urine test. Forensic experts agree there are benefits to both urine and hair analysis. Although urine testing can find traces of a drug for about five days after being ingested, trace amounts of a chemical substance entrapped in the cortex of a hair strand can be found up to three months later. But in July, the U.S. Department of Health and Human Services Substance Abuse and Mental Health Services Administration abruptly backed away from a proposal that would allow federal agencies the leeway to include saliva, sweat and hair testing along with urine tests, officials said. Unlike urine screening - which has standardized testing guidelines that each laboratory must follow - there are no current rules for hair analysis. In addition, Department Officials said there are also concerns that a positive test result may not be an indication of drug abuse.
Click Here For More Information: http://www.newsday.com/features/printedition/ny-hscov4984171nov21,0,1338561.story?page=1
2006 Background Buzz MEDIA RATES:
Click here for more information about advertising in The Background Buzz and PreemploymentDirectory.com (Sections: US Provider, International, Vendor Showcase.)
UPCOMING CONFERENCES & EVENTS:
What New Immigration Rules Mean for Employers
Presenters: Lynn Shotwell, American Council on International Personnel; Gerri Ratliff, U.S. Department of Homeland Security; Michael Aitken, Society for Human Resource Management
Date & Time: Wednesday, December 6, 2006, at 2 PM (EST)
at 2:00 P.M. GMT-05 Eastern Standard Time (US/Canada)

Sponsored By: This program, sponsored by SHRM, the American Council on International Personnel, CUPA-HR, HR Policy Association, and the International Personnel Management Association, is available free-of-charge to all SHRM members.

Click Here to Register:
https://compx08.eventcenterlive.com/cfmx/ec/register/reg.cfm?BID=1&RegID=2F657C7F
CUPA-HR National Conference & Expo 2007, November 8-10, 2007, http://www.cupahr.org/ http://www.cupahr.org/conferences/conference/exhibitsponsor.html For Details on Regional Conferences go to http://www.cupahr.org/newsroom/news_template.asp?id=1982
Society for Human Resource Management (SHRM), Annual Conference, Las Vegas, NV, June 24-27, 2007, http://www.shrm.org/conferences/annual/
For Details on State Conferences, go to http://www.shrm.org/conferences/state/CMS_004287.asp
World Federation of Personnel Management Associations (WFPMA), World Congress, XXXX For Details on International events by date go to http://www.wfpma.com/dates.html
2006 Events (Click Here to View full list of 2006 Events)

2007 Events (Click Here to View full list of 2007 Events)
"SPECIAL FREE INTRODUCTORY OFFER:"
Get a free Comprehensive Guide for Selecting a Background Screening Firm – Everything you need to know to select a firm that will help you to avoid bad hires. Learn about industry best practices and standards.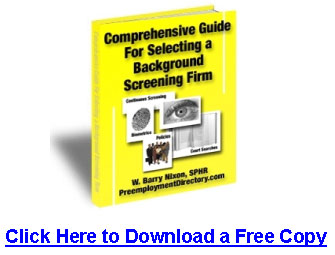 Learn how we can create a custom private label version of the Comprehensive Guide for Selecting a Background Screening Firm for your marketing efforts