PRRN Announces Public Record Researcher Agreement Document
Effective Friday April 23, the Public Record Retriever Network (PRRN, www.prrn.us) is releasing a model template of a Public Record Researcher Agreement to be used by public record researchers and Consumer Reporting Agencies (CRAs). The Agreement represents a best efforts work to provide a starting point for a written agreement that is fair to both parties and not one-sided in nature. Designing the Agreement as a template gives both parties the ability to modify text to properly reflect their business practices and services, as well as recognize that different jurisdictions have different demands on public record research. the Agreement is designed to comply with Clauses 4.1 and 4.3 of the NAPBS Accreditation Rules Document.
To Read The Full Article Click Here
Accenture Sued for Discrimination Over Criminal Background Checks
In April 2010, Roberto J. Arroyo filed a class action suit under Title VII of the Civil Rights Act of 1964 (Title VII) against Accenture, a national management consulting firm, alleging that Latino and African American individuals were denied employment or terminated based on their actual or presumed criminal backgrounds. In his complaint, Arroyo asserts his employer rejected job applicants and terminated employees with criminal records, even where the individuals' criminal histories had no bearing on their fitness or ability to perform the jobs. Arroyo worked for his employer for 17 months before being terminated based on a prior conviction of vehicular manslaughter in 1997.
To Read The Full Article Go To: http://www.mondaq.com/unitedstates/article.asp?articleid=98546&email_access=on
Do You Conduct Credit Background Checks for Job Candidates?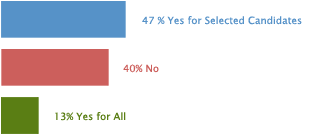 Source: SHRM Credit Background Checks Poll, January 2010
Tackling the Tenant Blacklist With New Legislation
IF you have ever been in housing court for an eviction proceeding - whether you withheld rent because of the hole in your ceiling or because of the ticket you bought to Maui - your name may be on a list that screening companies sell to landlords to help them spot potentially troublesome tenants. Even if you won the case.  The list of those named in eviction filings has remained, by and large, relegated to the murky status of urban legend. But in February the City Council passed legislation, introduced by Councilman Daniel R. Garodnick, called the Tenant Fair Chance Act. It requires landlords, property managers and brokers to disclose which screening company, if any, they plan to use for these background checks. Starting this summer, tenants will have the chance to order their files from the firms in question, and correct any inaccuracies.
To Read The Full Article Go To: http://www.nytimes.com/2010/04/11/realestate/11posting.html
Applicant Insight Named Top Workplace 2010 by St. Petersburg Times
Applicant Insight, Inc. has been named as a 2010 Best Places to Work by the St. Petersburg Times and Workplace Dynamics. The purpose of evaluating the "Best Places to Work" is to distinguish companies that possess an outstanding culture and promote positive a working environment. The results of the survey were based solely on employee satisfaction. Applicant Insight employees took an online, multiple choice questionnaire that surveyed their level of satisfaction with their jobs, their confidence in the future of the company, trust in co-workers, manager effectiveness, compensation & benefits and whether they felt valued by the company. "Applicant Insight possesses strong corporate values and some unique workplace philosophies", says Bon Idziak, CEO. "We have many programs in place to constantly keep our workplace fun and engaging despite the serious job we do. The culture here is one of family and I'm delighted that our employees have passion for their jobs and believe in this company and its leadership."
To Read The Full Article or For More Contact Dawn Standerwick at (800) 771.7703 x 2095
or visit their web site www.ainsight.com
Employment Screening Resources Announces Free Employer Background Check Tools
Employment Screening Resources (ESR), a leading national employment screening firm recently announced free tools available on it Resources Center to help employers hire safe, honest and qualified applicants. The Resources Center provides employers with "All Things Background Checks."  Employers can find among other tools:
The features are part of a commitment to provide a centralized location for employers to keep current on the critical task of hiring a workforce that is safe, qualified and honest. 
For More Information Contact Jared Callahan for additional information at 415-898-0044 or by email jcallahan@ESRcheck.com.
ANNOUNCEMENTS (continued)
HireRight Receives Two MarketTools CustomerSat Achievement in Customer Excellence (ACE) Awards
HireRight, announced that the company has won two 2009 MarketTools CustomerSat Achievement in Customer Excellence (ACE) Awards - one in Overall Satisfaction in Customer Service, and the second in Satisfaction in Speed of Service. This is the third year in a row that HireRight has been recognized with the prestigious MarketTools CustomerSat ACE award. "We are honored to again be recognized with the MarketTools CustomerSat ACE Award. The ACE Award is a testament to our commitment in delivering the best customer experience possible," said Mike Petrullo, president and CEO of HireRight. "At HireRight, our objective is customer success and we depend on customer feedback as a key input for continuous improvement and innovation."
For More Information Go To www.HireRight.com Innovative Enterprises Announces the SafeGuard™ Volunteer Screening Program
Innovative Enterprises Announces the SafeGuard™ Volunteer Screening Program
Innovative Enterprises, Inc., a strategic partner to the background screening industry and expert provider of court research information products, smart data solutions and ancillary services, announced the official launch of the SafeGuard™ volunteer screening program as an integrated solution in the Innovative Data Solutions™ suite of services. The SafeGuard™ Volunteer Screening Program is designed for use by background screening professionals providing services to qualified volunteer and non-profit organizations.  Using SafeGuard™, screeners are able to simultaneously search billions of public records to discover and identify volunteers' known aliases, past addresses and movement patterns, as well as hundreds of millions of criminal, arrest and sex offender records through the National Criminal Information Scan™. For an even deeper examination, an enhanced option, SafeGuard-Pro™, will automatically search all discovered aliases and maiden names through the National Criminal Information Scan™, consolidating what would normally require several disparate screening steps into a single search.

For more information, please call 1-888-777-9435, email solutions@knowthefacts.com , or visit us online at http://www.knowthefacts.com .
SJV & Associates Announces XML Integration with System Integrator Epic Concepts
SJV & Associates, the only nationwide wholesale research firm to maintain an ISO Certified Quality Management System, announced today the completion of an XML-based integration with leading technology solutions provider Epic Concepts. Now users of Epic Concepts' technology have access to services with superior quality assurance from SJV & Associates, in the areas of county level criminal, civil, and federal research. A system integrator, Epic Concepts has first hand experience processing reports for end users for nearly two decades. Their mission is to lower the risk of liability in the hiring process and workplace by providing reliable background check information via automated channels, so users can process reports in a thorough, timely, and personable manner. "Our goals mirror that of Epic Concepts, in that we provide clients with the highest level of quality assurance, while reducing their overall nationwide turnaround times", said Scott Vanek, President of SJV & Associates. "At the same time, we're providing our services at a cost that remains among the most competitive in the industry." "We sought an integration with SJV & Associates due to their long standing efforts within NAPBS, and their commitment to the highest standards of quality in the areas of research and reporting." said Gary DeWitt, President of Epic Concepts. "We are very excited about our customers having direct access to the only wholesale research firm that maintains a sophisticated certification for their entire quality management system, in ISO 9001:2008."
For more information please visit www.sjvassoc.com, or call (770) 917-0979 or please visit www.epicconcepts.net, or call (800) 870-4163.
Tracers Launches New One-Click Social Network Profile Search
Tracers Information Specialists, Inc. announces the launch of its newest, cutting edge information tool, the Social Network Profile Search. The new search, which was launched March 1st, traces and identifies the actual owner or user of a specific email address, identifies other email relationships, web postings, pictures, personal details, friends, family and more. The search, which is run by inputting an email address into Tracers' simple user interface, allows qualified users to search over 50 different social networks and World Wide Web sources with one search. The Social Network Profile Search was developed by Tracers' Chief Operating Officer, Terry Kilburn, in response to growing demand for a simple solution to problems that arise from an increasingly mobile society. Tracers' E-People Search, which traces and identifies the actual owners or users of a specific email addresses, was a giant first step in closing in on child predators who use the internet as a hunting ground. Within weeks of the E-People Search's launch last summer, thousands of child predators were positively identified and located, saving law enforcement agencies across the country months of work. "The Social Network Profile Report was the next logical step," reports Terry Kilburn. "It identifies information available on the Web associated to the input email address, locates other email addresses associated with that individual and then identifies information available on the Web about those email address and puts the whole thing together for you in an easy-to-read format."
To Read The Full Article Go To: www.Tracersinfo.com
Welcome to the Legal Challenge Question!
As the background screening industry continues to get more competitive the firms that will ultimately succeed will be those that create competitive advantage through their people by offering continuous learning opportunities to heightened their knowledge and capabilities. We believe that having employees that are very knowledgeable about the legal landscape of background screening is essential to continued success.
We are grateful to Pam Devata, Seyfarth Shaw LLP for providing the expertise for this valuable endeavor. For information regarding the answers to the Legal Challenge Questions, please contact Pamela Devata at Seyfarth Shaw LLP at pdevata@seyfarth.com or 312-460-5000 or visit www.seyfarth.com.
Please choose your answer by clicking on it:
DHS Unveils Initiatives to Enhance E-Verify
On March 17, Department of Homeland Security (DHS) Secretary Janet Napolitano joined U.S. Citizenship and Immigration Services (USCIS) Director Alejandro Mayorkas to announce a trio of initiatives to strengthen the efficiency and accuracy of the E-Verify system. These initiatives include a new agreement with the Department of Justice that will streamline the adjudication process in cases of E-Verify misuse and discrimination; an informational telephone hotline for employees to provide a more timely, effective and seamless customer experience for workers seeking E-Verify information; and new training videos focusing on E-Verify procedures and policies, employee rights and employer responsibilities in English and Spanish.
For More Information Click Here
Jury Finds Housing Authority Negligent in Elderly Woman's Murder after Tenant Background Check Misses Neighbor's Criminal Past
In a story that shows the importance of using overlapping tools to do criminal background checks, a jury recently ruled that negligence by the Housing Authority in a North Carolina city led to an elderly woman's death at the hands of her crack cocaine addicted neighbor in 2007. A story on CharlotteObserver.com revealed that attorneys sued the agency on behalf of the 63-year-old woman's estate after she was strangled in her apartment at a public housing complex for the elderly and disabled. Her 46-year-old neighbor – who reportedly had a history of violence, drugs, and mental illness – was later convicted of her killing. The jury agreed, and CharlotteObserver.com quoted the foreman as saying that the just felt like the elderly woman's murder could have been prevented with better background checks.
To Read The Full Article Click Here
New Oregon Law Prohibits Credit Checks
On March 29, 2010, Oregon Governor Ted Kulongoski signed into law Senate Bill 1045, making it an unlawful employment practice for most Oregon employers to use credit history in making hiring decisions or any decisions affecting current employees. The law becomes effective July 1, 2010, and gives Oregon employees the right to file an administrative complaint or a private lawsuit for alleged violations. Employees who prevail in court may recover lost wages and attorneys' fees. There are a few exceptions to the new Oregon prohibition. Specifically, federally insured banks and credit unions, businesses required by law to consider employee credit history, and police and other public employers hiring for law enforcement and airport security. In addition, the law includes an exception for employers conducting credit checks for "substantially job-related reasons," so long as those reasons are disclosed to the employee in writing.
To Read The Full Article Go To: http://www.mondaq.com/unitedstates/article.asp?articleid=97690&email_access=on
Oklahoma Legislation Would Exempt Government Employees Birth Dates from Open Records
At least $65 million has been made in the past five years from the sale of millions of motor vehicle records. Birth dates and personal information flow freely on a daily basis to insurance companies, employment screening services, government agencies, attorneys, individuals and more. While the state earns money selling records that include birth dates, lawmakers and some labor groups are working to shut off access to birth dates of public employees to the public, The Oklahoman and others working on the public's behalf. Two Oklahoma senators, Sen. Debbe Leftwich, D-Oklahoma City, and Rep. Randy Terrill, R-Moore, have introduced legislation that would exempt government employees' birth dates from the state's Open Records Act. Leftwich, Terrill and supporters of the bill claim releasing birth dates could endanger the safety of employees and lead to identity theft. They have provided no evidence of such harm being done in the past as a result of birth dates being public.
To Read The Full Article Go To: http://newsok.com/state-brings-in-millions-by-selling-personal-data/article/3451253#ixzz0klFM5txa
SHRM Survey Indicates More Optimism About Q2 Hiring
According to a SHRM Survey of 400 Human resources professionals they are more optimistic about hiring in the second quarter than they were a year ago. The study found 24% of human resources managers expect their companies to hire in the second quarter of 2010. That compares with 18% who said the same a year ago. Small organizations planned the most hiring in the second quarter with 32% reporting hiring plans. Twenty-one percent of large companies -- those with more than 500 employees -- planned to hire in the second quarter.
Source: Staffingindustry.com, Click Here To Read
Monster Index: Online Hiring Highest Since December 2008
Online recruitment activity rose to its highest levels since December 2008, according to the latest Monster Employment Index. The Index rose two points led by growth in marketing, PR and media, while Northern Ireland, London and Scotland witnessed the best annual improvement of all the regions. Julian Acquari, managing director at Monster UK and Ireland, says: "The March Index findings show that UK online recruitment activity continues to trend higher, with the annual growth rate hitting 15%. "We are seeing encouraging signs in online hiring trends for hard-hit sectors like marketing, while arts and healthcare have seen improvements both on the month and the year. Overall, however, the outlook for the UK economy remains cautious, with unemployment and job creation trends still tenuous."
Source: http://www.recruiter.co.uk/1005084.article?cmpid=REC01&cmptype=newsletter

Find out how to turn our release of the Guide into a great marketing opportunity for your firm.
Background screening firms Click Here
Providers to the background screening industry Click Here
STOP STRUGGLING WITH WRITING AND PUBLISHING YOUR NEWSLETTER:
We can help you have a high quality e-newsletter to help nurture your relationship with your clients and attract new clients. Our customized newsletter service will take over your newsletter task or create a new one for you. We can manage the creation of your newsletter for you.
We are constantly researching information to use for The Background Buzz and you can put our research to use for you. Using the information rich content from The Background Buzz (minus the ads and competitors information) we will create a custom newsletter for you.
Use your staff's time to do more valuable work and save all the hassle of researching or writing articles, formatting and managing all the other ezine tasks with our customized ezine process.
Contact Barry Nixon at 949-770-5264 or at wbnixon@aol.com for more information.
One Site! Many Suppliers!

Looking for the Top Suppliers in the Industry? Need to find a new Supplier?
Visit PreemploymentDirectory.com's VENDOR SHOWCASE which features suppliers to the Background Screening Industry (go to www.PreemploymentDirectory.com, click on 'Click Here' and then scroll down to Vendor Showcase for Background Screening Industry Suppliers)
Platinum Member Directory of Suppliers Now Available
Click Here to Download Your Copy
Workers On International Assignments Expected To Rise By 50%
The number of people on international assignments is set to grow by 50% by 2020, according to research from PricewaterhouseCoopers. This compares with 25% in the past 10 years. Global firms placed employees in an average of 13 locations in 1998. This rose to 22 by 2009, and could reach 33 in 2020. The report also predicts that governments will share costs and knowledge to remove barriers to mobility and manage regulation.
For More Information Go To: http://www.recruiter.co.uk/1005025.article?cmpid=REC01&cmptype=newsletter
NAPBS Continues Outreach Efforts in Africa, Latin and South America
The NAPBS International Committee has Exploratory Subcommittees set up to focus on extending the international network of background screening firms to professional background screening firms located in Africa, Latin and South America. We are seeking a few good people that have native language speaking skills and interest in assisting us in this important outreach effort. You can be a part of helping to shape the future of the background screening industry. Interested in helping? Contact Kola kola@bcilimited.com for interest in working with African Subcommittee and Reid Rodriquez at reid@softechinternational.com for the Latin and South American Subcommittee.
Agreement in Principle Reached with RCMP Regarding Criminal Record Checks
Members of NAPBS have worked collectively in Canada with the RCMP on the recent CPIC issue and have successfully reached agreements in principle, that should make it easier for Canadians to obtain and share information relating to their criminal histories. The recommendations and agreements in principle were contemplated and put forth in Ottawa at the    January Public Safety working group, which was comprised of Federal, Provincial and Territorial public safety representatives.  The specific details are to be announced shortly.
European Data Laws To Face Scrutiny
The European Commission is to review a number of data laws and regulations to gauge whether they are necessary and proportionate as part of an action plan that was drawn up following the endorsement by European leaders of 170 initiatives known as the Stockholm Programme. The data retention directive, which compels ISPs to hold communications data for a minimum of six months, will be scrutinised, according to Justice, Fundamental Rights and Citizenship spokesman Matthew Newman, who spoke to ZDNet UK on Wednesday. European data protection law may be outmoded and may not adequately protect the privacy of users of new technologies, said Newman. The 1995 Data Protection Directive will be reviewed, said Newman, as there is a danger that the law may now be out of date . "This law came out before the internet took off, before emailing was as common [as today], and before social networking. It needs to be looked at," said Newman. "Maybe it doesn't adequately protect data."
To Read The Full Article Go To: http://www.zdnet.co.uk/news/security-management/2010/04/22/european-data-laws-to-face-scrutiny-40088718/
German Data Protection Activists Have Filed A Complaint With The Country's Highest Court To Stop The Storage Of People's Employment Data.
More than 22,000 Germans have joined an initiative aiming to have the wholesale storage of employment data stopped by Germany's Constitutional Court. Lawyers for the German civil rights group FoeBud filed a formal complaint with the country's highest court on Wednesday, claiming the government's electronic wage verification system (ELENA) was in breach of privacy laws. Under the ELENA system, German companies in January began feeding confidential data on their employees into a central computer based with the state-run pensions agency.  The data included information about wages and days of absence from work as well as reasons for dismissals and disciplinary action. "The centralized storage of people's employment data is unnecessary, and apparently aimed at monitoring the population", said Meinhard Starostik, a lawyer representing FoeBud. The law establishing ELENA came into force on April 1, 2009, and is part of a government effort to slash an estimated 85 million euros ($114 million) in bureaucracy costs for German companies.
To Read The Full Article Go To: http://www.dw-world.de/dw/article/0,,5416790,00.html
German Ministry Releases Key Issues Paper on Upcoming Employee Data Protection Regulation
In the wake of recent amendments to the German Federal Data Protection Act , the German Federal Ministry of the Interior (the Bundesinnenministerium des Innern) is working on a draft law on special rules for employee data protection.  The draft law is intended to provide clarification on some issues that were not addressed fully in the amendments that entered into force on September 1, 2009.  The Ministry's overarching considerations are set forth in a key issues paper that was published April 1, 2010. In the original coalition agreement, the parties agreed that there should be a separate chapter on employee data protection to complement the Federal Data Protection Act.  According to the Ministry, drafting of the law for this new chapter is now in its final phases.  After consultation with other federal ministries, the bill will be submitted to the German Parliament before its summer break. The draft law is based primarily on case law from labor courts.  It aims to ensure legal certainty and to close existing gaps in the current law, goals which the key issues paper indicates are guided by the principles of transparency and necessity. 
To Read About the key issues the paper covers Go To: http://www.huntonprivacyblog.com/2010/04/articles/enforcement-1/german-ministry-releases-key-issues-paper-on-upcoming-employee-data-protection-regulation/ or For further information on the new draft law, please contact Dr. Jörg Hladjk in the Brussels office of Hunton & Williams.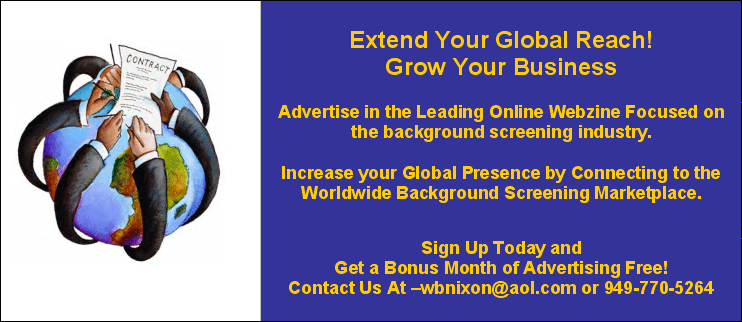 Personal Data Protection Bill Passed
The Personal Data Protection Bill 2009 was passed by Malaysia without any "fireworks" as had been expected. Debate on it lasted less than three hours and was mainly focused on several issues, specifically credit reference agencies, in particular Credit Tip Off Sdn Bhd (CTOS), time frame of data protection and the factor of implementation of the act. Information Communication and Culture Minister Datuk Seri Dr Rais Yatim, when winding up debate on the bill, said the Personal Data Protection Commissioner who would be appointed to enforce the act would be responsible for monitoring the activities of all credit reference agencies. The act also seeks to prevent abuse of personal data of citizens for commercial purposes.
Malaysia is among the first countries in Asia to introduce such legislation.
To Read The Full Article Go To: http://www.bernama.com/bernama/v5/newsgeneral.php?id=488203
The Top Nine CV Lies To Look Out For
Any claim at all on a CV could be a lie, but recruiters should scrutinise nine particular areas to avoid being duped. According to organisational psychologist Joshua Wood hiring managers and recruiters should be on the lookout for embellishments or "flourishes."  Woods' says "His favourite example of CV embellishment was given to him from a fellow recruiter," he says. "The candidate had listed himself as the director of a national community service organisation. In interview, after a long series of probing questions, it turned out that the candidate's organisation amounted to him and his sister moving some boxes from the garage for an elderly lady next door... once!" Subtleties in the language the candidate uses can hint at embellishments, he says. For example, did the candidate do the whole lot, or "initiate the project"? Did they make important decisions or did they "research the issue", "analyse the problem" or "make recommendations"? Did they work with other employees as opposed to "managing" or "supervising" them? In addition, he names his top nine CV lies to look for.
To Read The Full Article To See All the Tips Go To: http://www.recruiterdaily.com.au/nl06_news_selected.php?act=2&nav=1&selkey=42205
What Companies Need To Know About The New Blacklisting Regulations
Guidance has also been issued by Department for Business, Innovation and Skills (BIS) on the recently passed Blacklists Regulations. Subject to certain exemptions, the regulations make it unlawful to compile, use, sell or supply 'prohibited lists'.  Candidates and employees now have the right not to suffer a detriment (such as not being employed, having a job offer withdrawn, or being refused the services of an employment agency) or to be dismissed if the reason is connected to a prohibited list, and can seek redress through the employment tribunals or county courts. 
A prohibited list is one that contains details of people who have been members of trade unions or who are taking part or have taken part in trade union activities. This would not cover someone who has taken part in unofficial industrial action, and the Union of Construction, Allied Trades and Technicians (UCATT) has criticised the definition as being too narrow. The prohibited list must be compiled with a view to being used by employers or employment agencies for the purpose of discrimination. 
To Read The Full Article Go To: http://www.hrmagazine.co.uk/news/bulletin/weeklyupdatebulletin/article
/995426/?DCMP=EMC-Dailynewsalert
Thousands Wrongly Labeled by Criminal Record Checks
The Criminal Records Bureau has paid out compensation of £290,124 to people wrongly labelled criminals during background checks by the agency. The CRB issued 3,855,881 certificates in 2008/2009. In the same year there were 2,522 disputes handled, and upheld. These claims were brought by the registered body or by the applicant because they believed the information either related to someone else or was in some other way incorrect. The organisation said it could not provide any further breakdown of how the money was divided between claimants. Hat tip to The Sun for making the Freedom of Information request, which also found there have been 15,000 other bungles in the last six years. Most of the mistakes involved either mixing up records checks or incorrect information from the police.
To Read More Go To: http://www.pinewswire.net/tag/background-check/
Woman who lied on her CV receives prison sentence
A woman who lied about her A levels and forged employment references has been given a six-month jail sentence. Rhiannon Mackay applied for a £23,000-a-year role as a Capital Projects Administrator for Plymouth Hospitals NHS Trust. The role required two A levels and Mackay claimed to have two B-grade A levels. When asked for a reference from her previous employer, the Royal Navy, she provided a forged one along with a fake Navy discharge certificate. Although was given the job and carried it out for over a year, the falsifications came to light when she was eventually challenged by managers who raised concerns about her performance. Mackay confessed to fraud and to making a false instrument (the false reference) and discharge certificate. The court heard that she had also applied for 11 other roles using fraudulent information.
To Read Full Article Go To: http://www.workplacelaw.net/news/display/id/27088
INTERNATIONAL RESOURCE CENTER
We have enhanced our International Resource Center to be a valuable resource for anyone looking for information on doing international background verifications, vetting or verifications. It includes information on international data protection and other laws, terrorist searches and much more. Also included is very practical information on time zones, locating cities, holidays in different countries, etc.
New Information Added:
Educational Institution Verification and Validation
Weed out credential abuse with Accredibase™
At a time when unaccredited educational establishments, diploma mills and unrecognised accrediting agencies are on the rise, Accredibase™ offers you an invaluable new resource.This searchable global database brings together powerful information on bogus institutions from a variety of sources with the purpose of helping employers, educators and background screening companies secure only the best candidates with bona fide qualifications. http://www.accredibase.com/upload/documents/accredibase_report_20_jan_2010.pdf

U.S. General Administration Organization - Office of Special Investigations - Report on Diploma Mills
Summary of US Federal Government investigative findings of Diploma Mills. http://www.quackwatch.org/04ConsumerEducation/dm4.html
Search / Validate / Verify College Degrees and other Educational Qualifications
Validation or Verification of College Degrees and other educational qualifications is regularly used by headhunters, employers, and other verifiers. This report verifies educational qualifications* and degrees of any person. This Information is generally verified through the schools or universities. If you do not know an individual's educational qualification, you can search those possible qualifications through this search. You can also find out if the degrees are genuine or fake or have been awarded through diploma mills. For USA education searches can be run by state or nationwide and returns possible colleges or universities attended or degrees earned.
Click here for education and college degree verifications outside the USA . http://www.abika.com/Reports/Samples/Verifycollegedegree.htm
Avoid Fake-Degree Burns By Researching Academic Credentials
The Federal Trade Commission (FTC), the Department of Education, and the Office of Personnel Management (OPM) have teamed up, putting new tools in place to help you weed out bogus academic credentials and insure the integrity of your hiring process.
http://www.ftc.gov/bcp/edu/pubs/business/resources/bus65.shtm
International Training Resources
We have added International Training Resources to the International Resource Center. We update this section monthly.  Bookmark this valuable resource so you can quickly find the information you need.
To view the International Section go to http://www.preemploymentdirectory.com/ and look under the gray line like below in the middle of the page:

Pull up a chair and grab a latte to join us in the Background Bistro as we talk with Cliff Williams, Vice President & Chief Operating Officer of Innovative Enterprises, Incorporated, to get an inside look at his firm as well as a peak into his life outside of the company. 
Cliff is a native Virginian. He was born and raised in Virginia Beach, Virginia and graduated from Kempsville High School.  "College… hmmm… I guess there was a time when I would have best been described as a career college student," smiled Cliff when we talked about his college years.  "I did a stint at Old Dominion University, then Thomas Nelson Community College, and then Averett University, but never really finished anything with any of them." Cliff chuckled as he asked, "Does a Ph.D from Life's School of Hard Knocks count?"
Prior to getting into the screening business, which he started with his wife, Cliff managed a large, regional staffing firm.  "With this experience and my background in law enforcement, along with my wife's experience as a deputy court clerk, we recognized that there was a better way to do court record searches, and so Innovative was born."
When asked about major challenges Cliff responded that, "the greatest challenge is keeping things fresh. About the worst thing you could do in this or any other industry, especially in the midst of a recession, is to circle the wagons, build fortresses and attempt to maintain status quo. If you're looking for a recipe to destroy your business, that's probably the most effective one.  So our greatest challenge has always been keeping things mixed up a little bit and making sure that we never fall into the death trap that is status quo.  It's taking a perfectly good process, breaking it, and rebuilding it even better.  Keeping the eyes on the horizon line instead of on the hood ornament to imagine the next big thing. We move at a thousand miles an hour, nonstop, every hour of the day and every day of the week. Our business is about 1% perspiration and 99% inspiration and imagination."
Cliff also had some interesting insights regarding the industry and factors that are impacting it now and in the future. Cliff believes that the industry still has great strides to make to get past the notion that we're perpetuating a permanent underclass of unemployable individuals. Regardless of where you fall within the political spectrum, this remains the hot-button issue that NAPBS was formed around to begin with.
"Joe Public doesn't get the job, he calls his Representative or Senator, and next thing you know, these knee-jerk reaction pieces of legislation start to fly off the printing presses. For decades the relationship between the courts and other custodians of records and our industry has been adversarial to lukewarm at best.  We've got to continue to demonstrate, through both our actions and some intuitive public relations, that we're the good guys and not the bad."
He also stated that technology has and will continue to have an immense impact on the industry. "It's all about technology today, and certainly even more so moving forward. It wasn't that long ago that this was all fax machines, paper and lots of people. Today, technology is a necessary ingredient not only to maintain your edge, but also to maintain your margins. I can't imagine trying to operate in this space without the right technology. That being said, even the best technology won't make up for having the worst people. Start with the best people. Add to that the best technology. Then, you're unstoppable."
Speaking of hiring the best people, you have recently hired Bill Bollinger, one of the most talented people in the industry and a seasoned veteran in creating innovative products. Cliff lit up when he responded, "I can't tell you enough how excited I am to be working with Bill. He's relit my creative fire and energized me in a way I haven't felt since the startup days of our company. We're building tremendous velocity and are working to bring the industry improved versions of the things they're used to, but the exciting part is the new stuff.  We've got some industry-changing things coming off the assembly lines, and I can't wait to bring these to market."
Thanks for telling us about the business, how about sharing with us what keeps you occupied outside of running your company. Cliff doesn't think that his story is much different than some of the other entrepreneurs in our industry. "I'm pretty much married to this business, and fortunately I have a very understanding wife who is perfectly okay with this.  I don't get much time for hobbies that aren't related to the company, but if there's anything remotely related to a hobby of mine, it's computer programming.  I bought my first computer when I was in 5th grade - a Commodore VIC-20 that I bought with lawn mowing money.  It even had - get this - a cassette tape drive for storage."  Cliff taught himself BASIC, C and Pascal and later bought better computers and moved on to Visual Basic, ASP, VBScript and the like.  He wrote programs for friends and family and then dabbled in it for profit for a bit.  "We actually built our company around the operating system that I wrote, which has evolved over the years and is still used in our business every day.  I still enjoy supporting some of our own software, but in order to actually sleep at night I've hired people much smarter than me who actually know what they're doing to take care of the state of the art stuff."
In addition, Cliff added that he recently celebrated his 15th wedding anniversary with his wonderful wife Betty.  "I'm so fortunate to have a wife who is both my best friend and my business partner.  She's been there living and breathing this business since day one right alongside me, and we're so much stronger because of it."  Cliff and Betty have one daughter, Katelyn, who turned eight in March.
And despite having work as a hobby he finds time to vacation with his family. For years the family has gone to the Blue Ridge Mountains during the winter, and they love it there.  "We both grew up in the city, and you don't stop to realize just how fast a pace things move at until you step outside of that for a while. In the rural mountain communities things slow down a good bit, and my favorite part of the trip has always been the drive out there." With a wanderlust glee in his eyes Cliff explained, "I love to drive, and it literally feels like my stress just melts away as drive out of the city and head for the hills. By the time we get there, I'm completely at ease. We're also not the touristy type. We leave town with no particular agenda, no schedule, and nowhere to be at any particular time. Actually, just thinking about this makes me want to go out there again."
He is also a bit of a history buff and when asked to identify the person he would most like to meet, past or present, he quickly responded, "Thomas Jefferson, most definitely.  I have a special affinity for the people and events that led to the creation of our great American experiment. That period leading up to the American Revolution really represented the perfect storm of extraordinary individuals and exceptional circumstances. Jefferson and other enlightenment-era thinkers dared to suggest that there were certain rights that man was born with that no one - not even the king - could take away.  Life, liberty, the pursuit of happiness… radical stuff for the time that rose to the level of treason to even suggest."
Bring the conversation back to focus on the business, one of the key points that Cliff emphasized is that he's worked hard - very hard - to build a rock solid reputation. He proudly stated, "Our Company's reputation is second only to our people as our most valuable asset. It's taken a long time, and a lot of work, to reach a level where people know they can depend upon us and can count on us under the toughest of circumstances. I've been very deliberate about the people I've surrounded myself with for this very purpose. I think that our industry partners know this, and they'd be the best people to relay this feeling to others who may not know us as well. Trust is absolutely everything. You're building a business, and you've got to trust the people you depend upon."
Finally, I asked Cliff my favorite question, "If you could look into a crystal ball, lets' say ten years down the road, what do you see happening in the background screening industry?"  Cliff pondered for a moment and then said, "I definitely still see a growing and viable industry ten years down the road. As an industry we sell peace of mind, but unlike the insurance industry which merely insures against risk, we actually reduce risk.  We live in an increasingly litigious society, with tort litigation increasing at a mind-boggling rate.  Businesses will continue to lean heavily on our industry to mitigate these risks. At the same time, our industry continues to evolve and transform at a very rapid clip, and savvy businesses in our industry who challenge their employees every day to reinvent themselves will be the leaders five and ten years out."
To find out more about Innovative Enterprises, Incorporated. contact Cliff at cliff@knowthefacts.com.
Using Traditional and Search Engine Marketing (and Social Networking) to Leverage Your Investments in Original Content and SEO

This complimentary article The Web has had a huge impact on how people research senior care products and services. Because of this shift, you must have a search-optimized "marketing" Web site with lots of original/educational content.  Download today!
BOOK ON BACKGROUND SCREENING AND INVESTIGATIONS:
Background Screening and Investigations
Managing Hiring Risk from the HR and Security Perspectives

By W. Barry Nixon, SPHR and Kim Kerr, CPP

352 pages 16 ills
Copyright 2008
USD 49.95, Reference

Butterworth-Heinemann Title
ISBN: 978-0-7506-8256-5
ADVERTISERS IN THIS EDITION

UPCOMING CONFERENCES & EVENTS
2010 Events (Click Here to View full list of 2010 Events) – Updated Monthly
SHRM State Conferences, visit http://www.shrm.org/Conferences/StateAffilliateConferences/Pages/default.aspx
Drug and Alcohol Testing Industry Association (DATIA), 2010 Training Course Schedule, visit
http://datia.org
CUPA-HR Conferences: http://www.cupahr.org/newsroom/news_template.asp?id=5445
World Federation for Personnel Management, Events, http://www.wfpma.com/events/byregion.asp