BACKGROUND SCREENING NEWS
73% of Employers Check Job Applicants' Social Media Profiles Before Offering Roles, Why Didn't Kent Police & Crime Commissioner?

Online recruitment agency, RecruitmentRevolution.com, has commented on the resignation and current police investigation of Paris Brown, the seventeen-year-old Kent Police Youth Crime Commissioner who resigned after media reports that she had made "racist and homophobic" comments on her personal Twitter account. Kent Police & Crime Commissioner, Ann Barnes, had a duty of care to investigate the social media profile of Brown prior to offering her the role of Youth Police Crime Commissioner," said Anna Taylor, Co-founder and director or RecruitmentRevolution.com. "Had Barnes checked the social media profiles of the candidates, it is unlikely that Brown would have been placed in this position," said Taylor. A survey of 1,700 UK employers, undertaken by RecruitmentRevolution.com, found that almost three quarters of employers regularly check the social media pages and profiles of potential employees before offering them roles. Only 27% of employers surveyed do not check Twitter, Facebook, LinkedIn and other social media sites for information on job candidates. "We need to educate our young people that whatever they post on social media is on public record, can be easily discovered online and can come back to haunt them," concluded Taylor.

Read more


Survey Reveals Criminal Records Aren't Deal-Breakers
A majority of HR professionals who responded to a recently released survey are screening candidates in a conscientious manner, auditing providers and educating themselves on legal-compliance issues. The survey report was conducted by EmployeeScreenIQ, a provider of background-screening services that is accredited by the National Association of Professional Background Screeners. The report tracks employers' attitudes and actions regarding the impact of criminal records on hiring, the use of social networking in the screening process, the implications of new EEOC guidance and the practice of asking candidates to disclose criminal records. An interesting finding was that criminal records aren't deal-breakers. In fact, 71% of respondents said that in a mere 5% or less of cases, candidates with criminal records are not hired for this reason. "The overarching takeaway from this survey is that employers seem to be screening and hiring candidates in a responsible, acceptable and legally compliant fashion," said Nick Fishman, chief marketing officer at EmployeeScreenIQ.

Read more
| | |
| --- | --- |
| | BACKGROUND SCREENING INDUSTRY ACTION ALERT |
Texas SB 990 is a fast moving bill that would eliminate exemptions, found in the current law, for entities regulated by the FCRA and the Gramm-Leach-Bliley Act thus creating conflict and duplication with these existing federal laws.
This bill has the potential to impact all of our NAPBS members, especially those who do business and have customers in Texas.
Read the full alert and how to contact your representative to voice your concerns.
EEOC Guidance Complicates Background Check Process
Some staffing buyers demand criminal background checks for contingent workers. On the other hand, the EEOC is seeking to protect worker rights and ensure that those in protected groups more prone to incarceration aren't unfairly treated by such checks. The EEOC once had guidelines that were fairly concise. But in April 2012, it made a decision to replace concise and workable guidelines with a 52-page long, somewhat confusing document that leaves a lot of guessing room for employers. Angela Preston, a board member for the NAPBS and general counsel and vice president of compliance for EmployeeScreenIQ, comments that the new guidance says if you want to avoid being investigated you should conduct an individualized assessment, however; there is no meaningful instruction in the guidance on how to take that step. A recommended practice with the new guidance is to not conduct a background check until there's a conditional job offer. However, that adds time when a check ultimately turns up information that disqualifies a potential candidate. Because the EEOC's guidance is just guidance and doesn't have the force of law, it remains to be seen what deference courts will give it as they are not bound by the guidance.
Retailers Track Employee Thefts in Vast Databases
Facing a wave of employee theft, retailers have amassed vast databases of workers accused of stealing and they use the information to keep employees from working again in the industry. The repositories of information often contain scant details about suspected thefts and routinely do not involve criminal charges, but the information can be enough to ruin a job candidate's chances. Some employees who submit written statements after being questioned by store security officers have no idea they admitted committing a theft or that the information will remain in databases. The databases, which have tens of thousands of subscribers and are used by major retailers like Target, CVS, and Family Dollar, are aimed at combating employee theft. While the databases are legal, they face scrutiny from labor lawyers and federal regulators, who worry they are so sweeping, that innocent employees can be harmed. The lawyers say workers are often coerced into confessing, sometimes when they have done nothing wrong, without understanding that they will be branded as thieves. The FTC has fielded complaints about the databases and is examining whether they comply with the FCRA, a federal law aimed at curbing inaccurate consumer information and giving consumers more control.

Read more
BACKGROUND SCREENING NEWS - continued
Know Your Enemy? Cut The People Risk
Human risk specialist, Jenny Reid, says hiring decisions can be made safer by looking behind the job applicants' mask and knowing your enemy. These days, companies can call on screening companies with the required skills, contacts and equipment to look behind the mask. Specifically trained and technologically enabled researchers will get that job done thoroughly and quickly saving companies from making personnel selection mistakes, and saving them time and money. Reid pointed out that human nature has changed very little in the last 15 centuries; mostly it is good and conforms to decency, fairness and lawfulness. But, she warned, dishonesty persists in society. In the corporate arena, companies must be scrupulously and constantly on their guard if they are to identify today's workplace enemies. Crime in the corporate environment has its own 'state of the art' driven by technology just like everything else. New electronics, software and cyber and digital engineering helps the criminal as much as it does the straight and narrow of us. She warned that reaction often means too late, while pro-action provides a fighting chance to thwart attacks on companies, or could dissuade would-be criminal acts because the perpetrator regards installed safeguards effective enough to send lawbreakers looking for easier prey.

Read more
ACLU Suit: Tenant Screening Company Illegally Flagged Woman
The American Civil Liberties Union (ACLU) has filed a lawsuit on behalf of a woman who says her decades-old drug convictions cost her a chance to rent an apartment-a violation of Washington state law. In addition, hundreds others may have been illegally rejected for apartments in the state because of unfair background checks. Washington law says any criminal record older than seven years can't be counted. The ACLU is now suing the tenant screening company, Yardi Systems, in King County Superior Court, and plans to ask that the case be certified as a class-action. Jonathan Grant, who heads the Tenants Union of Washington State, says his group sees hundreds of cases like this every year but that most people don't have the means to hire a lawyer. "That's why this class action is necessary-so that it can spread light on these bad practices, so that people can join that lawsuit and actually take action," said Grant.


A Basic "Tenant" of Credit Reporting
The Federal Trade Commission (FTC) has sent letters to six companies warning them to "double-check" their Fair Credit Reporting Act (FCRA) responsibilities. The selected companies specifically collect information about the rental histories of tenants and share the data with potential landlords. "If you assemble or evaluate information on individuals' rental histories," the FTC press release states, "and provide this information to landlords so that they can screen tenants, you are a consumer reporting agency that is required to comply" with FCRA. Companies collecting and sharing this information have an obligation to make sure that whoever is asking has a legitimate reason - a "permissible purpose" - for getting the info. Companies compiling the information also have an obligation to ensure it's as accurate as possible. If consumers ask, they have to give them copies of their reports and allow them to dispute anything that might be inaccurate. Companies also have a legal obligation to remind landlords of certain responsibilities they have under the FCRA. The letter makes it clear that the FTC hasn't evaluated the companies' practices to determine if they're complying with the FCRA, but suggests they visit the Credit Reporting page in the BCP Business Center for FCRA compliance resources.
Criminal Checks on Adviser Applicants Reach Bay State's Radar

Securities regulators in Massachusetts have floated a plan to conduct criminal background checks on anyone applying to be an investment adviser representative in the state. The securities regulator is taking advantage of the access it recently obtained to the state's electronic criminal history database. The new rule would require that anyone applying to be an investment adviser sign a consent form allowing the division to run his or her name through the system. The securities division believes "it is in the public interest and for the protection of investors to conduct criminal background checks of those individuals seeking IAR registration in order to ensure that the applicant is not subject to a statutory disqualification, and has truthfully and accurately disclosed any criminal background required on Form U-4". The practical effect of the new rule likely will be limited. Applicants already must reveal past criminal activities, and according to some, a clean criminal slate is no guarantee of good behavior. Conducting the checks will help Massachusetts argue that it has done as much as it can to prevent future investor rip-offs. And, since Massachusetts is a leader when it comes to state securities regulations, the move may influence others to propose similar rules.

Read more (Requires Free Registration)
New Jersey Poised to Enact the Most Aggressive Social Media Password Protection Law to Date, Adding to a Patchwork of Conflicting Laws Across the U.S.
New Jersey is expected to shortly join California, Illinois, Maryland, Michigan, and Utah in prohibiting employers from seeking employee or applicant passwords to social media accounts or services. New Jersey's law is more pro-employee/applicant than any such law enacted to date, providing the broadest protections, the narrowest exceptions, and the most generous remedies. The bill apparently would prohibit an employer from asking an employee who complains about the social media activity of a coworker, such as online sexual harassment, for access to the complaining employee's personal social media account to observe what the alleged harasser posted. Moreover, unlike similar laws, the New Jersey bill contains no exception for workplace investigation into suspected unlawful conduct or violations of employer policies. The New Jersey bill also has the most generous remedial scheme. It confers a private right of action on applicants or employees to recover unlimited compensatory and consequential damages. Before investigating information present on an employee's or applicant's "personal account," HR professionals are encouraged to seek guidance from inside or outside counsel to ensure compliance with this proposed law.
Read more
Welcome to the U.S. Legal Challenge Question!
As the background screening industry continues to get more competitive the firms that will ultimately succeed will be those that create competitive advantage through their people by offering continuous learning opportunities to heightened their knowledge and capabilities. We believe that having employees that are very knowledgeable about the legal landscape of background screening is essential to continued success.
Nicole A. ("Nici") Kersey is the Managing Director of Kersey Immigration Compliance, LLC. She is an attorney whose practice focuses on the Form I-9, E-Verify, and related immigration compliance issues. Ms. Kersey partners with law firms, businesses, and other employers to provide advice, project management, and consulting services to organizations of all sizes to help them avoid civil and criminal penalties, as well as ancillary damage to reputation, caused by weaknesses in their immigration-related hiring and record-keeping practices. She provides training, policies, and auditing services and represents employers during I-9 inspections and settlement negotiations.
Please choose your answer by clicking on it:

Proposed "Ban the Box" Bill Would Greatly Restrict Use of Applicants' Criminal Background Information by New Jersey Employers
On February 7, 2013, "The Opportunity to Compete Act" was introduced in the New Jersey Senate, seeking to dramatically curtail the ability of New Jersey employers to obtain or use a job applicant's criminal history during the hiring process. The proposed bill would require employers to engage in a multi-step process before rejecting an applicant based on a criminal record. Unfortunately, the process proposed in the Act lacks clarity as currently drafted. Under the Act, most employers would be prohibited from inquiring about an applicant's criminal history during the application process, either directly or via a background check, until after a conditional job offer is made. Once a conditional job offer is made, an employer would be permitted to inquire about the applicant's criminal history only after providing a detailed notification form, obtaining written consent from the applicant, and then providing the applicant with a standardized Notice of Rights form. Employers would then be permitted to consider only those specific types of convictions or pending charges expressly identified within the Act, and would be precluded from considering non-pending arrests, or erased, expunged, pardoned, or juvenile convictions. Employers who violate the bill may be subject to civil penalties.

Read more


OFCCP Issues Guidance on Use of Criminal Records in Employment Decisions
The U.S. Department of Labor's Office of Federal Contract Compliance Programs (OFCCP) has posted a Directive on "Complying with Nondiscrimination Provisions: Criminal Record Restrictions and Discrimination Based on Race and National Origin." The Directive incorporates guidance issued on the same subject by the EEOC. The OFCCP Directive and the EEOC Enforcement Guidance emphasize the racial and ethnic disparities reflected in incarceration rates and advise contractors to proceed with caution when relying on job applicants' criminal records for employment decisions. The OFCCP warns that policies and procedures that categorically exclude individuals based on criminal records and do not take into account the nature and age of an offense may violate federal antidiscrimination laws such as Title VII. The agency clarifies that this is because an automatic bar to hiring those with a criminal record will likely result in an adverse impact on certain racial or ethnic groups. If an employer's exclusion policy creates adverse impact on a protected class, it will need to prove that it is job-related and consistent with business necessity.

Read more


Utah Passes Internet Employment Privacy Act
The controversy over employers requesting or requiring employees or applicants to disclose their usernames or passwords for their online accounts at services like Facebook and Twitter, has led some states to pass laws restricting employers' rights to make such requests. On March 7, 2013, the Utah State Legislature joined these states and passed the Internet Employment Privacy Act (the Act). Under the Act, Utah employers may not request that an employee or job applicant disclose a username and password allowing access to a personal Internet account. It also prohibits employers from taking an adverse employment action (like refusing to hire, demoting or firing) against an employee who fails or refuses to disclose a username or password for a personal Internet account. A "personal internet account" is defined under the Act as an online account used by the employee or applicant for purely personal reasons unrelated to work. The Act provides a private right of action for any person aggrieved by such an action, but limits any potential award to $500. Even with this limited exposure, the Utah Internet Employment Privacy Act requires that employers proceed with caution when accessing or requesting access to employee information on the Internet.

Read more
Limits on the Use of Credit Reports for Employment Screening
Democratic Representative Steve Cohen from Tennessee, has introduced H.R. 645 in the House of Representatives. The legislation would amend the Fair Credit Reporting Act (FCRA) to prohibit employers from using credit reports in the hiring process as well as prohibit the use of credit reports for the purpose of making adverse employment decisions. The only exceptions to this would be for jobs which require a security clearance, are with state or local government, or for certain individuals working in the financial industry (i.e., supervisory, managerial, professional, or executive positions).
If this legislation passes, it means employers would not be able to consider one's credit history as part of a background check by a background screening company for lawyers, cashiers, pharmacists, NBA referees, executives in non-financial institutions, jewelers, academic financial aid offices, Human Resources employees, procurement employees and so on.
Montserrat C. Miller, NAPBS Washington counsel suggest that you check out the bill and see if your representative is a co-sponsor of the bill as so far the legislation has 29 co-sponsors. The bill, the Equal Employment for All Act is pending in the House Financial Services Committee. You can contact your member of Congress to share your concerns about the legislation by calling the Capitol Hill switchboard at 202-224-3121 and asking to be directed to your members office.
You can download a copy of the Equal Employment for All Act H.R. 645
Bill Proposes Fingerprinting
Oklahoma schools could increase school safety and security by expanding the use of fingerprint background checks of adults who regularly interact with students, according to one state lawmaker.
House Bill 2228, by state Rep. Joe Dorman, would allow schools to authorize fingerprint background checks on anyone interacting with students in school-sponsored activities, including volunteers. Currently, schools cannot conduct these checks unless specifically authorized by state law. The legislation was approved by the House Public Safety Committee and now advances to the House Calendar Committee.
Connecticut Proposes Legislation Concerning Employee Passwords
The Connecticut General Assembly's Labor and Public Employees Committee is drafting Bill No. 159, titled "An Act Concerning Employee Privacy," which would "prevent current or potential employers from requesting or requiring that employees or potential employees provide passwords to their personal accounts as a condition of their employment."
New Mexico, Utah Curb Employers from Demanding Private Social Media Information

New Mexico and Utah are joining California, Illinois, Maryland and Michigan in limiting employers' access to social media accounts. A new law signed by New Mexico Governor Susana Martinez makes it illegal for employers to request or require an applicant to provide his or her password, or demand access in any manner, to the applicant's social media accounts or profiles. The statute appears to apply only to prospective employees, not current employees. In addition, Utah Governor Gary R. Herbert has signed the state's "Internet Employment Privacy Act" (IEPA) into law. Under the IEPA, employers are prohibited from asking an employee or applicant to disclose the username and password to access his or her "personal Internet account," as well as taking adverse action against the individual for refusing to make the disclosure. Employees and applicants may sue employers for violating the IEPA. Damages are limited to $500 per violation. In this developing legal area, employers need to keep on top of developments and ensure their managers and supervisors are trained so they know their limitations in attracting, managing and disciplining employees.

Read more
Richmond City Council Unanimously Passes 'Ban the Box' Ordinance
The Richmond's City Council voted unanimously to eliminate requirements that applicants for many city jobs acknowledge prior felony convictions on initial applications. Though the "ban the box" ordinance's passage was never in doubt - it was on the council's consent agenda. Many said they didn't expect the measure to end the difficulty that convicted felons face finding employment and housing after release, but added that the city could set a powerful example. The ordinance - similar to measures adopted in dozens of cities across the country - won't prevent the city from conducting background checks and asking about felony convictions in the interview process. Rather, it is intended to avoid applications from being rejected outright based on a conviction that may not be relevant to the position. City positions that will still be subject to the check-box requirement range from public safety jobs such as police, firefighters and animal control to positions with financial responsibilities and those that require work with children and confidential documents.
New York City Council and Bloomberg Administration Clash Over Proposal to Prohibit Employment Discrimination Based on Credit History
The New York City Council has proposed Int. #0857-2012 (the Proposal), which would amend the New York City Human Rights Law (NYCHRL) to prohibit discrimination against job applicants and employees based on their credit history, and provide expansive whistleblower/retaliation protections to employees. If the Proposal becomes law, it would join a growing number of laws and proposed laws to limit employment discrimination on the basis of credit history. Although the Proposal exempts employers required by law to run credit checks on their applicants and employees, its silence as to these other standard exceptions should give New York City employers particular pause should the Proposal become law. Given recent trends, employers across the country should brace for continued legislative efforts to curtail employer consideration of credit history in their hiring and personnel decisions.
DATA PROTECTION & PRIVACY
Expected FTC Chair Ramirez Could Push for Global Privacy Rules
Federal Trade Commissioner Edith Ramirez, recently designated by the Obama administration as the next chair of the Federal Trade Commission, is expected to champion globalized approaches to consumer privacy protection and to clamp down on fraudulent marketing aimed at Spanish-speaking communities. The fact that the Obama administration chose a woman comes as no surprise, considering criticism of the president's male-centric senior advisory staff. Ramirez has a background steeped in antitrust and competition issues, and served as director of Latino outreach for the Obama 2008 campaign. Jeffrey Chester of the Center for Digital Democracy said, "Under (Ramirez's) leadership, we expect the FTC to blaze a new ground on privacy." Ramirez has expressed interest in leadership on APEC's cross-border privacy rules and the intersection between privacy and technology. She has also indicated support of robust rules around children's data collection and raising the profile of the agency's work on behalf of all minority and underserved communities.

Read more


Prepare for the Coming of the Privacy Police
The Federal Trade Commission (FTC) is employing its authority to regulate deceptive and unfair practices to go after companies that impinge on consumer privacy. The agency is also finding new ways to apply old laws to current practices. As the amount of online data about consumers multiplies, so does the number and sophistication of attackers trying to get it. And the issue becomes critical as the attacks target corporate intellectual property and the nation's infrastructure. "Paying attention to cybersecurity is a business imperative," said Christopher Wolf, a Hogan Lovells partner. "There are repeated attacks on infrastructure, and businesses need to protect their trade secrets and preserve the ability to operate their business. There are also privacy issues if personal data is affected. I expect to see more attention by Congress and the SEC [Securities and Exchange Commission] to corporate disclosures on cybersecurity." Although there is a lot of interest in consumer privacy on Capitol Hill, rifts between and within the parties stand in the way of Congressional action.
Getting More Privacy Pros into HR
Recently in The Globe and Mail's "Nine to Five" column, an employee working for a U.S.-based public company expressed concerns about having to submit to a mandatory criminal background check. The employee had been at the company for 15 years, and until recently, only new employees would have to consent to a background check. "I do not have a criminal record, but I have serious objections to this," the employee expressed. "I don't want this confidential personal information held by a third party, and I find it to be an intrusion on my privacy. Surely there are limits to what an employer can request?" One of the HR experts in the column stated, "While I understand your concern about your information and privacy, these policies are typically initiated for the greater protection of the firm's integrity, not to make you feel uncomfortable." Wouldn't having a privacy department or the presence of a privacy professional help in communicating out such a drastic policy change to employees in a way that doesn't alienate them? If so, perhaps there wouldn't be as many employees steeped with a sense of discomfort (assuming this person isn't the only one). But clearly, the damage, in this case, has been done. Alienated employees can damage a company's integrity as much as anything else.

Read more
Was He Fired for Addiction - or for Lying About it?

A company hires an employee. Years later, HR learns he lied about being a drug and alcohol addict on his application. Can he be fired for his dishonesty? The answer is yes. After the employee sued the company, claiming disability discrimination, the court ruled in favor of the company. The court said the issue wasn't whether the employee was a recovering alcohol or drug addict; it was whether the company could believe the employee's responses on his application were dishonest. The evidence that came out after the employee's on-the-job injury makes it clear. He had received treatment at a drug and alcohol facility in the mid-90s after a DUI conviction and he also admitted to attending Alcoholics Anonymous (AA) and Narcotics Anonymous (NA) meetings. Despite that, the employee marked "no" on his application form when asked if he had ever been recognized, diagnosed or treated for addiction. Since the company fired him for lying (and not for being a former addict), the termination was legal. Though this firing was upheld, remember this: employees who are recovering from drug or alcohol addiction may be protected under the Americans with Disabilities Act. But it's different when employees are instructed to tell the truth - and they still lie.

Read more


Kansas Governor Signs Public Benefits Drug Test Bill
Kansas Gov. Sam Brownback (R) has signed into law a bill that requires applicants for welfare and unemployment benefits to undergo drug testing if there is "reasonable suspicion" they are using drugs. People who test positive would have to undergo drug treatment and job training at state expense before becoming eligible for cash assistance. According to Senate Bill 149, "reasonable suspicion" may be derived from "applicant's or recipient's demeanor, missed appointments and arrest or other police records, previous employment or application for employment in an occupation or industry that regularly conducts drug screening, etc." Brownback says the state had an obligation to its residents to help them break their addictions and improve their lives through treatment and job training. Critics of the bill, including the American Civil Liberties Union state chapter, argued that public benefits recipients don't use drugs any more frequently than anyone else, that such laws perpetuate existing stigmas, and that they unnecessarily invade privacy. But those arguments did not sway the legislature or the governor.

Read more

Pre-Employment Drug Test Positives Increase More Than 5%, According to New Data from Quest Diagnostics Drug Testing Index(TM)
Job candidates subject to pre-employment drug screening tested positive for illicit drugs at a greater rate in the first six months of 2012 than in all of 2011, according to Drug Testing Index (TM) (DTI) data released by Quest Diagnostics DGX -2.81%, the world's leading provider of diagnostic information services. The positivity rate from pre-employment urine drug screening in the U.S. general workforce increased by 5.7% in the first half of 2012 compared to 2011, while the positivity rate from random urine drug testing in the U.S. general workforce was down 5.8%. DTI data also reveal a jump in positivity rates for marijuana in oral fluid vs. urine in the U.S. general workforce. Due in part to advances in oral fluid testing technology implemented in late 2011, the oral fluid marijuana positivity rate was 70% higher than that of urine in the first half of 2012 as compared with 2011. Marijuana continues to be the most commonly abused drug. Cocaine use is decreasing and amphetamines use continues a five-year upward trend. Substance misuse negatively affects the workplace through lost productivity, workplace accidents and injuries, employee absenteeism, low morale and increased illness and can have a serious impact on business operations.

Read more
| | |
| --- | --- |
| | Innovative Enterprises and the National Consumer Reporting Association (NCRA) Announce Strategic Partnership |
Innovative Enterprises, Inc., a strategic partner to the background screening industry and expert provider of court research information products, smart data solutions and ancillary services, today announced that it has entered into a strategic partnership with the National Consumer Reporting Agency (NCRA). Through this new alliance, NCRA members gain immediate access to Innovative's business-building, growth and support resources and receive highly-competitive, preferred pricing on several of the industry's best information products, including the National Criminal Information Scan®, the industry's leading multi-jurisdictional criminal search solution; NCIS-Alias™ and the AssuredTenant™ comprehensive resident screening solution.
"We are excited to forge this new partnership with NCRA," stated William J. Bollinger, Innovative's Executive Vice President. "NCRA members will now have access to the most advanced set of services in the background screening industry, while realizing significant cost savings. I am confident that this program will provide NCRA members a distinct competitive advantage in the marketplace, helping to ensure their long term growth and success."
Terry Clemans, NCRA Executive Director, added, "We are thrilled to offer these great new programs to our expanding membership. Innovative is a proven industry leader, and their history of data integrity, blended with advanced customer service, is exactly the combination we look for when developing strategic partnerships to add value to the NCRA membership experience."
Jobs, Factory Data Point to Slowing Economy
The number of Americans filing new claims for unemployment benefits have risen and factory activity in the nation's Mid-Atlantic region cooled in April, further signs of a moderation in economic growth. Underscoring the softening growth outlook, another report showed a gauge of future economic activity fell in March for the first time in seven months. They were the latest data to indicate a step-back in the economy after a brisk start to the year as tighter fiscal policy began to weigh. While claims, they were still at levels economists normally associate with average monthly job gains of more than 150,000. That helped ease concerns of a deterioration in labor market conditions after an increase in nonfarm payrolls in March was the smallest in nine months. "This report has to raise some concerns that the nation's manufacturing sector may be starting to feel the impact of the higher taxes on households and the cutbacks in government spending," said Joel Naroff, chief economist at Naroff Economic Advisors in Holland, Pennsylvania. The data provides ammunition for the Federal Reserve to maintain its aggressive policy easing, despite a rift among policymakers on continuing asset purchases.

Read more
Sponsored by:
Public Record Update
By Mike Sankey, PRRN
BRB's FREE RESOURCE CENTER
For the MOST COMPREHENSIVE RESOURCE describing all access methods, restrictions, fees, and search procedures on over 26,000 government and private agencies visit the Public Record Research System (PRRS-Web) . We provide the extensive details and in-depth data you will not find doing a Google search!
For more information contact Michael Sankey at mike@brbpublications.com or visit www.brbpublications.com/updates.aspx



Compliance with the myriad of state laws is a complex subject affecting CRAs and their clients. The State Rules Register provides an uncomplicated explanation in plain English of state laws for what is reportable to the client, usable by the client, and the necessary steps to take to be in compliance with state laws. Also included are best practices, practical tips, and ongoing notification when state and federal laws change. Create your own matrix reports. Use the special Resource Tabs of Guidelines and Special Instructions.
For more information contact Michael Sankey at mike@brbpublications.com or visit www.brbpublications.com/updates.aspx
FREE GOVERNMENT PUBLIC RECORD SITES
Important Facts to Know About Searching Government Records
There are four important truths about searching public records online from government agencies-
Less than 70% of government maintained public records are found online. For example, only 65% of the state and local courts place access to felony data online.
Government sites can be free or fee-based. Generally, the fee-based sites are more robust.
Most free government public record websites contain no personal identifiers beyond the name. This can be a problem when researching a common name.
Depending on the type of record, often the searchable and viewable information found online is limited to name indexes and summary data rather than document images. Most access sites - especially the free access sites - permit the former, not the latter.
Keep these four truths in mind and your public record searching will lead to better results.
If you are looking for the more than a links list - please check out BRB's Public Record Research System (PRRS).

We invite you to pull up a chair, grab your latte and take a break while you join us for this month's issue of The Background Bistro. This week's guest is Barton Taylor CEO, Tazworks.
Before coming to the background screening industry Barton owned a printing company and sold business forms to credit agencies. At the time, he indicate he would often have the opportunity to interface with the people who ran these agencies and the software providers that they used. It wasn't hard to see that the form business was dying. He noted that he had already been asked to help clients make electronic form overlays for their laser printers. Recognizing that he was essentially putting himself out of business he decided to open a credit reporting agency in Salt Lake City, and he went straight to the use of modems and electronic forms. While growing his credit reporting agency, he realized that every time interest rates went up, business dropped despite his best laid plans. So in 1997, he diversified into background screening. After doing it for some time, he realized that the current background screening software was lacking. Knowing that his current company didn't have the budget to fund the development of a new software product, he formed a separate company and sold the software to his first company and all of my peers in the industry. In 2004, he sold the credit reporting agency and background screening company and focused solely on the software.
Reflecting, he said he is a serial entrepreneur, having started and grown 7 different successful companies throughout my life.
Barton felt that Credit reporting was fun when remote dial up was still the standard. He smiled as he reflected and said he loved seeing all the blinking lights and hearing all the sounds the modems would make when someone would connect to our server. You knew it was the sight and sound of money coming in. Then in 1998 we went to the internet and suddenly everything was silent. I didn't know what to do with myself and I was depressed for months. It didn't feel like I was making any money! As far as background screening goes, I have always enjoyed reading the interesting and off beat cases that come in. In addition to that, one of my favorite things about being on the software side of things is taking business calls and trying to figure out a software solution to meet the needs of the client. It's like a puzzle.
Our primary aim at TazWorks is to empower our background screening partners with the most Simple. Powerful.™ software in the industry. This is the mission that we focus on each and every day.
In addition, our goal for 2013 is to exceed the expectations of our clients. We look at our clients as part of an extended family. Collaboration is the power behind the screening tools and features we develop into our background check platform. We make sure that our clients are connected at all times. Our clients are constantly telling us how much they appreciate being a part of the feature development process. Their knowledge, input, feedback, and suggestions have helped us to create the most simple, yet powerful background screening software available on the market.
We have a few industry-changing projects in the works that we are very excited about. Unfortunately, we can't share anything just yet.
This has been the most enjoyable business of my career. Barton indicated that he loves providing a great work environment for my team and helping my business peers succeed. One of the most pleasing facts about TazWorks has been its steady and predictable growth over the years, even during the recession in 2008.
In response to my question regarding what he sees happening 10 years down the road in the background screening industry, he state that he sees more opportunity as technology becomes a much bigger part of the process. He believes that people will need technology to simplify things and facilitate automation. He added that he thinks that background screening will become much more of an art than a science and people will have to adapt to it. He also remarked that the good news is that it will not become a commodity.
Before closing the interview I asked him what was a recent book that he read. He indicated that he is currently reading a book called Peopleware: Productive Projects and Teams by Tom DeMarco. He has found the book to be very interesting because the whole premise is that it's not all about technology, but also the team you build. The people you hire are just as big of a factor in the software development process. He thoughtfully added that he would like to take this notion one step further and apply the same idea to his clients because he strongly feels that they are integral part of the process and success.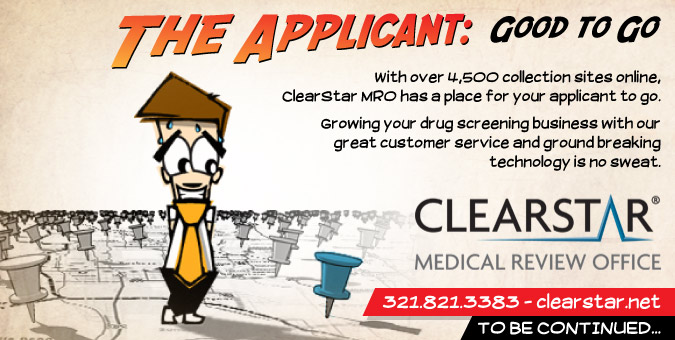 Kevin Coy is a Partner in the Washington DC office of Arnall Golden Gregory LLP. Kevin advises background screening companies and other clients on a wide range of privacy and consumer regulatory issues, including Fair Credit Reporting Act, Gramm Leach Bliley Act, Drivers' Privacy Protection Act, and Dodd Frank Act compliance issues, as well as data breach matters. Kevin also represents clients with matters before the Federal Trade Commission, the Consumer Financial Protection Bureau, and other consumer protection agencies.
Kevin can be contacted at Kevin.Coy@agg.com or 202-677-4034.
THE WASHINGTON REPORT - April 2013
On the Hill
So far this year background checks in the context of proposed gun control legislation has received the most attention on the Hill. With immigration reform looming background checks related to immigration are likely to receive increased attention by Congress.
E-Verify is expected to play a significant role in the immigration reform debate, as various immigration proposals are expected to call for expanded use of E-Verify as a means of ensuring that those seeking jobs in the United States are legally eligible for employment.
At the FTC
The FTC continues to warn potential background screeners that the FCRA applies to websites and mobile applications. On April 3rd, the FTC sent letters to the operators of six websites that sell tenant history information advising them of their obligations if they are consumer reporting agencies or nationwide specialty consumer reporting agencies subject to the FCRA.
The FTC also continues to use its FCRA and other enforcement authorities to pursue information security safeguards and settlements.
At the CFPB
At the end of March, the CFPB released an expanded data set regarding complaints that the CFPB had received from consumers about certain financial services companies and how those companies responded to the complaints.
As yet, complaints about consumer reporting agencies have not been added to the dataset (although the CFPB already is collecting complaints about credit reporting).
Read More
One Site! Many Suppliers!
Get Your Copy of the Suppliers Buyers Guide
Looking for the Top Suppliers in the Industry? Need to find a new Supplier?
Visit our VENDOR SHOWCASE which features suppliers to the Background Screening Industry.
Suppliers to the Background Screening industry Guide Now Available!

Click here or on image to get a copy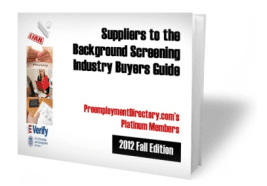 Contact Barry Nixon at wbnixon@aol.com for information on getting your firm listed in the

Protect Your Company From Internal Damage
A recent case has highlighted the need for companies to put strategies in place to protect their businesses from internal fraud. A former company director pleaded guilty to 14 counts of fraud in the Brisbane District Court after being prosecuted by the Australian Securities and Investments Commission. Reports have shown that employees facing difficult financial times can come under increased pressure to commit fraud. Everybody in an organization can help to reduce fraud - but having a risk management strategy in place can be especially helpful. To reduce the risk, companies can: put policies in place which define fraud; put policies in place to detect fraud; regularly review fraud-related policies; and insure against losses resulting from fraud. Employees are especially well-placed to detect fraud, and should feel empowered to do so. It is especially important that they feel they can report any suspicions they have without fear of retribution.


Three Quarters of Applicants Have Already Lied to You
It could be embellishing a former job title, talking-up responsibilities or even fudging qualifications - you name it, an applicant has done it. The problem is it's happening more often than many employers realize. According to one background check firm, as many as 75% of resumes contain an inaccuracy. Some are fairly minor in nature, while others are out-and-out falsehoods, designed to tailor the resume to a specific job or to mask aspects of their background that are less favorable. "A candidate's resume is their marketing tool to gain employment and hence they use it to portray themselves in the best light possible," said Greg Newton from background-search firm Verify. According to Verify, the most common omissions or embellishments include: leaving out positions which are less flattering to a person's 'on paper' career profile; modifying job titles to portrait a higher level position was occupied; and listing qualifications that were only commenced and not yet completed. Recent data has also indicated that candidates are more honest in their online profiles, such as on LinkedIn, than on their paper resumes, however; Verify found the opposite to be true.
Lying in the Hiring Process: What HR Needs to Know

People lie all the time during the hiring process. It's up to HR and hiring managers to catch those liars. In this intense job market, it's no surprise that many applicants exaggerate parts of their resumes to look more enticing to potential employers. The concept is so widespread, however, that nearly half of all applicants admit to lying on their resumes. But no matter how clued in you are to what applicants fib about, you'll still inadvertently bring many of them in for interviews. That's when your skills at judging character come in, and being skeptical can actually work against you. A recent psychological study found that people who trust others - or who assume the best in other people - are the best at identifying liars. Adam Grant of The Washington Post says, "… lie-detection skills cause people to become more trusting. If you're good at spotting lies, you need to worry less about being deceived by others, because you can often catch them in the act." Therefore, Grant advises employers to put individuals who tend to see the best in others in the interviewer role to prevent applicants from duping you into hiring them. Even still, it is important to sprinkle a few ounces of skepticism into each pound of trust.
STOP STRUGGLING WITH WRITING AND PUBLISHING YOUR NEWSLETTER:
We can help you have a high quality e-newsletter to help nurture your relationship with your clients and attract new clients. Our customized newsletter service will take over your newsletter task or create a new one for you. We can manage the creation of your newsletter for you.
We are constantly researching information to use for The Background Buzz and you can put our research to use for you. Using the information rich content from The Background Buzz (minus the ads and competitors information) we will create a custom newsletter for you.
Use your staff's time to do more valuable work and save all the hassle of researching or writing articles, formatting and managing all the other ezine tasks with our customized ezine process.
Contact Barry Nixon at 949-770-5264 or at wbnixon@aol.com for more information.

Congress Loves E-Verify: Grants $111 Million Funding, Conducts Research Study

Last month, both houses of Congress agreed to grant USCIS an additional $111 million dollars to fund the E-Verify Program. H.R. 933 is currently enrolled in the House of Representatives and has yet to be signed off by the President. To be fair, the E-Verify Program isn't the only program receiving funding. H.R. 933 would grant Customs and Border Protection an additional $324 million to fund border security fencing, border security infrastructure, and technology. With the influx in funding for the E-Verify Program and "border" security of our nation (both the interior and borders), Congress is getting serious about immigration reform. It's also making good on its promise to "get tough" on immigration violators. A Congressional report recently issued detailed the historical development of E-Verify and its impact on businesses if the program were to be nationally mandated. The report was well-written but unremarkable in its objections to the E-Verify Program, paving the way for Congress to adopt the program on a nationwide scale.


G8's Immigration Bill Shakes Up E-Verify, I-9 and More!

The Senate's "Gang of Eight" Senators have released its comprehensive immigration reform bill entitled, the "Border Security, Economic Opportunity, and Immigration Modernization Act of 2013." Congress wants to implement the E-Verify program on a mandatory, national basis and the bill proposes employers enroll according to a specified timeline, which is contingent on DHS publishing regulations. The bill also incorporates protections for workers that are lacking in the existing E-Verify System. Individuals who wish to appeal a non-confirmation would finally, under this bill, have a procedure by which to do so, by filing an administrative appeal. This bill carves out protections for employers from liability based on good faith reliance on E-Verify results. To ensure E-Verify will increasingly become more accurate, the bill would require the General Accounting Office to conduct an annual study on E-Verify's accuracy, efficiency, integrity and impact. There's also a possibility of future changes to the current Form I-9. Civil penalties will become effective one year after the date of enactment of the bill and the bill is serious about punishing employers. Therefore, partnering with experience counsel to ensure your organization properly understands and complies with any enacted law will be critical.

Read more
I-94 Automation Makes Life Easy for Form I-9 Process

Last August, when U.S. Customs and Border Protection (CBP) officially announced it was automating the I-94 process, many of us were unsure of the impact on foreign nationals and on employers during the Form I-9 verification process. After months of anticipation, CBP has published the official details in the Federal Register. Part of I-94 automation enables CBP to pull and organize this data, and provide it to the foreign national electronically rather than via paper (a process that was duplicative and time/cost-consuming). One concern was the availability of the data to the foreign national in order to present to the employer during the Form I-9 process. It has been confirmed that foreign nationals arriving by air and sea, who enter at a port that has implemented I-94 automation, will have immediate access to their I-94 data. The data can be accessed on a secure website and printed out for presentation during the Form I-9 identity and employment verification process. CBP also clarified that the I-94 number available online to foreign nations who receive an electronic I-94 record will be the "true" I-94 number. In essence, they'll only receive one number electronically rather than multiple numbers for that initial entry.

Read more
Increased Cooperation Between EU and APEC on Cross-Border Data Transfer Rules
A joint EU-APEC committee, which includes the French and German data protection authorities as well as the European Data Protection Supervisor and the European Commission, has been studying similarities and differences between the EU's binding corporate rules ("BCRs") framework and APEC Cross-Border Privacy Rules. The committee's goal is to facilitate data protection compliance in this area for international businesses operating in the EU and the APEC region, including by creating a common frame of reference for both sets of cross-border data transfer rules.
Some FOIA Amendments to Take Effect in May or June
According to the Information Commissioner's Office (ICO), the following amendments to the Freedom of Information Act (FOIA) are likely to take effect in May or June: Amendments to the FOIA in section 102 Protection of Freedoms Act (POFA) - duty to provide data sets in re-usable form; Amendments to the FOIA in section 103 POFA - meaning of "publicly owned company"; Amendments to the FOIA and the Data Protection Act in Sections 105-108 POFA - the Information Commissioner's appointment, tenure etc. The ICO says that it will publish guidance on the data sets provisions once the code of practice on datasets and the new fees regulations for the re-use of data sets are in force. The government has not announced whether the FOIA will be extended to cover private sector bodies, which provide public services.

Read more (Requires Login)


Global Employee Mobility Assignments Expected to Increase in 2013
More than 70% of employers expect to increase short-term overseas assignments in 2013, according to a report on expatriate policies and practices by consultancy firm Mercer. The report found 55% of employers expect to increase long-term overseas assignments and highlighted for the last two years there has been an increase in the overall number of international assignments. It found China, United States, Brazil, UK and Australia are the priority destinations in their respective regions for expatriates. The report also showed more than half of employers reported an increase of long-term (52%) and short-term assignments (53%) in 2011 and 2012. The top five reasons cited for international assignment programmes are: to provide specific technical skills not available locally (47%), to provide career management/leadership development (43%), to ensure knowledge transfer (41%), to fulfill specific project needs (39%) and to provide specific managerial skills not available locally (38%). Anne Rossier-Renaud, principal in Mercer's global mobility business said, "Mobility and HR directors now face great complexity in the number and type of international assignments that need managing."
Economy Adds 112,450 Jobs
Brazil's labour ministry reported a rise in formal jobs during March, following an increase in economic activity. But the number of jobs added grew at a slower pace compared to a year ago. Brazil's economy created 112,450 jobs last month, an increase of +0.3% from February, with the number of jobs added meeting market expectations. The ministry said that 1,849,148 people were hired in the month, compared to 1,736,698 who lost their jobs. The latest figures show that the country has added around 306,068 formal jobs this year. "This result is an effect of economic growth, and the country needs to create even more jobs," said Labour minister Manoel Dias. "We expect to create more than 1.7 million jobs this year." Last year, Brazil created 1.3 million formal payroll jobs, the lowest number since 2003. Most jobs in March were created in the service sector, posting 61,349 new roles. The processing industry showed net hiring of 25,790 while manufacturing and construction also posted an increase in the number of jobs created. However, payrolls fell in the agricultural sector. In February, joblessness rose for the second consecutive month with companies cutting back on seasonal workers. The unemployment rate in the month was 5.6%, up from 5.4% in January. Despite the increase, unemployment remains historically low. The average unemployment rate in 2012 reached a record-low of 5.5%, a fall of -0.5% from the previous year.

Read more

Many Alberta Firms Ignoring Privacy Laws, Says FOIP Office Customer Complains Car Dealership Did Not Safeguard Personal Information

Many businesses are not complying with Alberta's law surrounding the collection, use and storage of customers' personal information, says the province's privacy office. The Personal Information Protection Act (PIPA), has been law for nine years, but a survey conducted by Alberta's information and privacy commissioner found 50% of companies haven't trained staff on protecting customers' information. A recent example of this involves an Edmonton woman who received a series of late-night text messages from a mechanic at Sherwood Ford who got her number when she had her car serviced, more than a year ago. Her privacy complaints to the company, the RCMP, Ford of Canada, and the Better Business Bureau, were ignored and dismissed. Brian Hamilton of the privacy commissioner's office says the case raises several concerns, including how many people in a business have access to customers' personal information. A greater privacy breach is using a customer's contact information for purposes other than the business reason for which it was gathered. The woman said her complaint would never have gone so far if the company had taken her concerns more seriously.


Employer References in the Age of Privacy
The law around references given to prospective employers by ex-employers is changing. There is no positive obligation on an employer to provide a reference for an ex-employee. On the other hand, the failure of an employer to give a reference has been found to be a factor courts will consider when determining the period of reasonable notice in a wrongful dismissal case. There are also risks in giving references. Whatever reference is given, and however it is given, it must be truthful. There have been cases where an employer has been sued for giving a false reference. There have also been cases where writers of 'bad' references were found to have defamed the person for whom the reference was written. If an employer is going to give references, it should have a policy, or standardized reference process. A policy helps to ensure consistency. A policy may also help an employer avoid liability in a case where a reference is given by someone not authorized to do so, and which is not in keeping with the employer's policy. Employers should also require, as a practice, consent from job applicants to seek out references.

Data Protection Law Goes Into Force
The Colombian Data Protection went into effect on 18 April 2013. The Law introduces a comprehensive privacy regime in Colombia for the first time and regulates, among other things, notice and consent requirements, cross-border data transfers, and the processing of children's data. The Law also contains data subject rights and registration requirements. Under the law, the Superintendence of Industry and Commerce will have the power to sanction violations of the provisions.

Read more

EU Postpones Crucial Vote on European-wide Data Regulation Law
The EU has delayed the vote on a controversial reform of data protection laws, which seek to implement a single law across all 27 member states. Industry bodies are running a lobbying campaign against the proposals, which they claim will have a "chilling" effect on UK business and prevent the UK from being the home of the next Twitter or Facebook. Organisations including the Internet Advertising Bureau, Interactive Media in Retail Group and Coalition for a Digital Economy signed an open letter to ministers, warning them that the European Commission's proposals to clamp down on data violations would hamper growth of the digital industry in the UK. It is understood the crucial vote was delayed in order to concentrate on the fallout from the Cyprus banking crisis. The EU argues that a single data protection law across all its member states would save businesses €2.3bn a year by removing "fragmentation and costly administrative burdens" and will boost growth and jobs by reinforcing "consumer confidence in online services". John Pooley, managing director at specialist agency The Data Partnership, said, "It seems the EU data regulators need to review their objectives and encourage data responsibility, rather than set out restrictive and widespread 'data gatekeeping'."

Read more


Privacy a Central Issue in New Schengen D atabase

The European Information System called SIS (Schengen Information System) II is launching after substantial delays. The new database is intended to allow security officials faster and easier ways to exchange information, but privacy concerns abound. The main goal of the Schengen Agreement is to have a space of free movement without controls on the internal borders. All EU member states belong to the Schengen area with the exception of Great Britain, Ireland, Cyprus, Romania, and Bulgaria. In light of security concerns, the member states established the SIS in 1995 as a joint database to be used in manhunts. This system has now been reformed and enables European customs and border officials as well as police and prosecutors to search not just for missing people or criminal offenders, but also for cars and weapons. National and European privacy authorities are intended to help determine whether the SIS II conforms to their countries' standards. Some have reservations about the lack of uniform privacy standards in the EU. Federal Commissioner for Data Protection and Freedom of Information, Peter Schaar, believes that such a concentration of power is not in accordance with data protection standards. He also says a situation is developing in which information about not just suspected criminals or criminal deeds is being collected, but simply everyday behavior.

CNIL Sets Forth Guidelines for Workplace Privacy Protection

The French CNIL has adopted and published a new set of guidelines that set forth "best practices" about privacy protection at work. According to the Guidelines, employers can monitor an employee's Internet use such as web-surfing and electronic mail. They can keep track of the list of websites visited and of the amount of time an employee spends online. However, they cannot use "keyloggers" to track all activities on a computer. Any monitoring must be declared by employers to the CNIL. Employers must inform their employees about the procedure in place, its aim and duration. Employers cannot access any email marked as "private" or "personal," except during a trial, and based on a court order. Additionally, employers cannot receive a copy of every email sent by employees. The first principle set forth by the Guidelines is that employers cannot use the result of illegal monitoring during a performance evaluation or against an employee under disciplinary procedure. The CNIL recommends that employers set up policies in their companies to notify their employees of every rule, or monitoring procedure in place.

Read more

Recruitment Moving into Positive Direction

Hiring sentiments in India's formal sector was +9% higher in February when compared to a year ago, with the pharma, IT and BPO sectors posting increased activities. The latest job index by local job board Naukri.com found that recruitment prospects are looking brighter than in 2012. However, sectors like banking, oil and gas, telecom and insurance saw dips in hiring levels, ranging between -9% and -13%. The auto sector posted flat hiring levels while capital goods (+9%), software services (+5%) and the pharma (+2%) sector all posted growth in hiring levels. In February, the highest demand was seen for professionals in HR, software services and accounts domains. Sales and engineering design professionals were also much sought after while demand for banking professionals unsurprisingly dropped during the month. Barring Hyderabad which saw stable hiring levels, hiring activity grew across major cities, particularly in Pune and Kolkata, Delhi, Mumbai, Bangalore and Chennai.
Mexico: Mexico's New Privacy Notice Guidelines Require Immediate Action
On April 17, 2013, Mexico's new Privacy Notice Guidelines will go into effect. The Guidelines impose extensive requirements for furnishing adequate data privacy notices and obtaining consent before personal data is collected directly from a person or electronically via "cookies," "web beacons" or other automated means. The Guidelines are mandatory and particularly important to employers that regularly collect, process, and/or transfer personal data about employees or job applicants, and to companies operating or advertising in Mexico that use cookies, web beacons, and similar media technology that automatically collects personal data online. As shown in a recent decision by the Federal Institute for Access to Information and Data Protection ("IFAI" for "Instituto Federal de Acceso a la Información y Protección de Datos"), sanctions may be imposed for noncompliance.
Privacy Matters
An increasing number of employers have begun demanding private login information to applicants' social media accounts. In the U.S., such practices may be a breach of privacy, however; there is no law in Singapore that guarantees employee privacy. Although this may change in the future, employers now are legally free to monitor their employees through any means - including tracking Internet history, e-mails, chat sessions and file downloads. Some companies even use GPS tracking on company devices to check on employee location. As a result of this lack of legislation, nothing is sacred when it comes to employee privacy - not even employees' social network accounts. Employers may not need to worry about legal ramifications, but employee privacy is still a minefield that should be approached with caution. With the boundary between an employee's personal and professional line is getting increasingly unclear, it is important that HR professionals do draw a line and stick to it. The best way to do this is to institute a social media policy and provide training and resources for employees to turn to.
ADVERTISERS IN THIS EDITION

| | | | |
| --- | --- | --- | --- |
| | | | Background Screening Jobs |
Visit the Job Board for the Employment and Tenant Screening Industry. Here you will find resumes of people with industry experience and employers seeking applicants with experience in Employment and Tenant Screening and related businesses.
www.backgroundscreeningjobs.com

UPCOMING CONFERENCES, COURSES & EVENTS
Feature Education:
FCRA Basic Certification Webinar Series Update

The FCRA Basic Certification program series is now available for purchase.
2013 Events ( Click Here to View full list of Events ) - Updated Monthly
SHRM State Conferences, visit http://www.shrm.org/Conferences/StateAffilliateConferences/Pages/default.aspx
Drug and Alcohol Testing Industry Association (DATIA), 2013 Training Course Schedule, visit
http://datia.org
SAPAA Training Institute Learning Events, http://www.sapaa.com/
CUPA-HR Conferences: http://www.cupahr.org/
World Federation of People Management Associations, Events, http://www.wfpma.com/events/by-region#quicktabs-tab-view__events__page_3-4