BACKGROUND SCREENING NEWS
Sex Offender Collects Census Data In Pennsauken
For at least two days in early May, Frank Kuni, a registered sex offender, rode his bike through a Pennsauken neighborhood with an official census badge, bag and list of area residents who hadn't responded to the government survey. At least twice he questioned residents there, asking how many people lived in the home, their names and dates of birth. Kuni was arrested after a wary resident recognized the 47-year-old from the state's Internet sex offender registry. He was charged with using a fraudulent document to obtain government identification, police said. Kuni, who had applied with the Census Bureau under the alias of Jamie Shepherd, passed an initial name check, was hired and was sent to four days of training from April 27 through April 30, according to a Census Bureau official. On the first day of training, Kuni, along with the other workers, wasfingerprinted as part of a more in-depth background check. Amy Schmalbach, who was visited by Kuni at her Pennsauken home, said she thinks the bureau's screening system is "tragically flawed."
http://www.courierpostonline.com/article/20100519/NEWS01/5190331/1006/news01
Beta Testing Complete For National Association of Professional Background Screeners Accreditation Program

The National Association of Professional Background Screeners (NAPBS®) today announced the completion of beta testing for the Background Screening Agency Accreditation Program (BSAAP), the first ever industry-specific program of its kind. The BSAAP advances professionalism in the employment screening industry through the promotion of best practices, awareness of legal compliance and development of standards that protect consumers. Consumer reporting is currently regulated at both the federal and state level, and NAPBS created the BSAAP to provide a cohesive standard for the background screening industry. Using a strict professional standard of requirements and measurements, the BSAAP is a seal of approval that brings national recognition to background screening-affiliated organizations known for their commitment to excellence, accountability, high professional standards and continued institutional improvement. "The BSAAP is the ultimate advantage in highly competitive environment," said Tracy Seabrook, CAE, executive director of NAPBS. "Accreditation strengthens a background screening firm's commitment to best practices, compliance and consumer protection; validates clients' trust in Credit Reporting Agencies (CRA); and minimizes risk in the workplace."
For More Information Go To: www.NAPBS.com
Bill Introduced to Provide Safeguards Regarding FBI Criminal Background Checks
Rep. Robert Scott, D-Va., has introduced legislation (H.R. 5300) to "provide safeguards with respect to the Federal Bureau of Investigation criminal background checks prepared for employment purposes." The bill was introduced on May 13 and has four co-sponsors. Co-sponsors include Reps. Steven LaTourette, R-Ohio, Frank LoBiondo, R-N.J., Candice Miller, R-Mich., and Loretta Sanchez, D-Calif.
The legislation was referred to the House Judiciary Committee. To provide safeguards with respect to the Federal Bureau of Investigation criminal background checks prepared for employment purposes, and for other purposes. The Bill charges the Attorney General with the responsibility to ensure the accuracy of information in the FBI database and to promptly correct in inaccurate information. In addition the responsibility includes determining if information is incomplete or cannot be verified and to either update the information or delete it. In addition the Bill includes provisions requiring the notification and consent of the person whom the inaccurate and/or incomplete record is about.
For More Information Go To: http://www.opencongress.org/bill/111-h5300/text
Calif. DMV Workers Arrested On Fraud Charges
Four employees of the California Department of Motor Vehicles were arrested earlier today on multiple counts of fraudulently processing driver licenses and effecting a title-washing scheme that involved several vehicles. The employees allegedly worked to secure and perpetuate the distribution of fraudulently issued DMV vehicle records, such as a Certificate of Titles to further their criminal subleasing enterprise. During the investigation, it was determined that the employees, allegedly conspired with a middleman to illegally issue driver licenses. The five co-conspirators would charge$350 to $6,000 to process the applications fraudulently. DMV Internal Affairs Investigators, in conjunction with investigators with the California Highway Patrol (CHP) and Los Angeles County Sheriff's Department, Homeland Security Division, served arrest and search warrants at several locations throughout Los Angeles and Orange counties. The four were taken into custody without incident shortly before 8 this morning. The four employees are being charged with conspiracy, grand theft, illegal computer access and bribery.
For More Information Go To: http://www.dmv.ca.gov/pubs/newsrel/newsrel10/2010-13.htm
NTN Redefines Resident Screening
Since 2005 the credit industry in the US has implemented rigid credentialing rules for those requesting access to consumer credit files to help combat the 50 billion dollars lost each year to credit fraud and identity theft. Confirmation of identity, permissible purpose and data security constitute the focus. Remaining responsive to problems in the US real estate industry, National Tenant Network created NTN DecisionPoint to serve the interests of subscribers from Enterprise Level Managers to independent landlords. NTN DecisionPoint reviews an applicant's background and produces an overall score, much like a credit score, along with a corresponding rental recommendation - both of which are based on a thorough and objective analysisof both the applicant's credit record and his or her history of eviction(s) and/or lease violation(s). NTN DecisionPoint also takes into account longevity of employment and longevity of residence, thereby ensuring a higher probability of overall resident retention.
For More Information Go To: http://www.ntnonline.com
National Association of Professional Background Screeners Launches Enhanced Tenant Screening Services; Effort Supports Compliance and Best Practices
The National Association of Professional Background Screeners (NAPBS®) today announced the launch of a suite of enhanced services for tenant screeners. NAPBS has always served the tenant screening industry and is the voice for organizations interested in offering high-quality data and services to their customers. The improved tenant screening services offered by NAPBS will follow its promotion of compliance and best practices among these organizations. The importance of screening prospective tenants may seem obvious, but comprehension of the consequences of not conducting professional investigations that are compliant with federal laws is imperative. In addition to financial losses, improper screening can put landlords in a position of legal liability if FCRA provisions are not followed. Liability can include lawsuits and/or criminal prosecution. The NAPBS tenant screening enhancements provide benefits for both screeners and end-users. Screeners are given direction in consumer dispute processing, proper handling of data including security storage and displaying social security numbers, and Experian Independent Third Party Assessment (EI3PA) requirements for platform providers.
For More Information Go To: www.napbs.com
Connecticut May Limit Use of Background Checks
Despite initial opposition from the Chief State's Attorney and other state officials, the Connecticut House of Representatives approved a bill that would limit the use of criminal background checks on state workers. Under current law a state agency must consider past criminal convictions at the beginning of the hiring process, but the bill passed Wednesday would only allow a criminal background check at the end of the hiring process. The bill specifies the following: "Except for a position for which any provision of the general statutes specifically disqualifies a person from employment by the state or any of its agencies because of a prior conviction of a crime, no employer, as defined in section 5-270, shall inquire about a prospective employee's past convictions until such prospective employee has been deemed otherwise qualified for the position." LaResse Harvey of A Better Way Foundation said called the bill a step in the right direction. "It restores justice to those discriminated against because they made a mistake in their past," Harvey said. Harvey said if the bill passes the Senate and is signed by the governor, the state will join four municipalities that already have passed similar ordinances. Those communities include New Haven, Hartford, Norwich, and Bridgeport.
For More Information Or To Read The Full Article Go To: http://www.ctemploymentlawblog.com/2010/03/articles/legislative-issues/bill-limiting-use-of-criminal-background-checks-on-state-workers/
HireRight Launches HireRight FastForward - New Co-Branded Background Checking Solution for Distributed Organizations
HireRight, has announced a new screening program designed for organizations with related independent businesses such as franchises, dealerships and associations. The HireRight FastForward™ solution allows a "parent" organization to easily and conveniently offer its independent entities a pre-approved employment background checking solution that aligns with its own policies, and helps to protect its brand, reduce liability, shorten time-to-hire and improve the quality of new hires. HireRight FastForward is designed for employment background checking simplicity, speed and cost-effectiveness for both small businesses, which often do not have dedicated HR personnel, as well as larger organizations. It includes best practice package options, and advanced compliance, reporting and program management tools come standard. Flexible options for payment include by credit card and by invoice. Searches available include the full menu of more than 100 services offered by HireRight.
For More Information Go To http://www.hireright.com/pressreleasedetail.aspx?dpid=54
Innovative Enterprises and TeamScreen Solutions Announce the Integration of the IDS™ Suite with the MyScreen Web-Based Data Management System
Innovative Enterprises, Inc., a strategic partner to the background screening industry and expert provider of court research information products, smart data solutions and ancillary services, and TeamScreen Solutions, a leading provider of web-based data management solutions for the pre-employment screening industry, has announced the integration of Innovative's full array of search services with MyScreen. Innovative's market-leading products include solutions covering the entire screening spectrum, including NCIS™, OffenderScan™, Sentinel™, SafeGuard™ and FACT™, as well as a full line of enhanced jurisdictional search products and services. Through its Screening Industry Partner™ program, Innovative works directly with background screening professionals to build and strengthen their businesses.
For more information visit http://76.160.5.18/site/Press_Release/Press_release_05122010_TeamScreen.pdf
Berg Consulting Group Opens Denver Office
Berg Consulting Group, the nations number one consultant to the background screening industry based in West Palm Beach, Florida, announced today the opening of our Mountain States office. Senior Sales Executive, Evan Zatt, will be headquartered in Denver and will continue to serve our clients nationwide. With Evan's relocation to Denver, his new contact number is 303-875-1718. His email contact will remain evan.zatt@bergconsultinggroup.com
For More Information Go To www.bergconsultinggroup.com
Kenexa and HireRight Create Alliance to Deliver New Streamlined Recruitment, Background Screening Solution Ease of Use and Improved Workflow
Kenexa, a global provider of business solutions for human resources, has announced a new partnership with HireRight, Inc., an Altegrity company and leader in on-demand employment background and drug and health screening, to provide integrated employment screening services within Kenexa's on-demand talent management solutions for global organizations. As a preferred background screening partner, HireRight's services and comprehensive screening program management features are built into Kenexa 2x BrassRing™ and Kenexa 2x Recruit™. This integration enables a more streamlined hiring process for recruiters and hiring managers, allowing them to make smart hiring decisions faster, while saving time and money and improving the candidate experience. Jim Restivo, chief technology officer, Kenexa, commented, "Our partnership with HireRight allows recruiters to seamlessly order and manage a background check or drug test within Kenexa 2x BrassRing and Kenexa 2x Recruit. By incorporating HireRight's solutions into our Integrated Talent Management solutions, Kenexa continues to help businesses improve their outcomes by identifying the best individuals for every job."
For More Information Go To http://www.hireright.com/HireRight-Press-Releases.aspx
Welcome to the Legal Challenge Question!

As the background screening industry continues to get more competitive the firms that will ultimately succeed will be those that create competitive advantage through their people by offering continuous learning opportunities to heightened their knowledge and capabilities. We believe that having employees that are very knowledgeable about the legal landscape of background screening is essential to continued success.
We are grateful to Pam Devata, Seyfarth Shaw LLP for providing the expertise for this valuable endeavor. For information regarding the answers to the Legal Challenge Questions, please contact Pamela Devata at Seyfarth Shaw LLP at pdevata@seyfarth.com or 312-460-5000 or visit www.seyfarth.com.
Please choose your answer by clicking on it:
The SHRM LINE® Employment Expectations Report for May 2010 has been released.
Key findings:
· Hiring rates in May will reach levels not seen in almost three years
· Good workers are getting slightly harder to find
· New-hire compensation continues to increase in April
Please visit:
http://www.shrm.org/Research/MonthlyEmploymentIndices/line/Documents/LINE%20May%202010.pdf for details.
Using Traditional and Search Engine Marketing (and Social Networking) to Leverage Your Investments in Original Content and SEO

This complimentary article The Web has had a huge impact on how people research senior care products and services. Because of this shift, you must have a search-optimized "marketing" Web site with lots of original/educational content.  Download today!
OTJ Is A-OK

Executives say employee training is important, but few companies do it well.

A new survey from McKinsey & Co. paints a decidedly mixed picture of corporate training initiatives. On the one hand, executives rank "capability building" as a top priority — 15% of senior leaders, in fact, rate it as the top priority, while 55% place it in the top three. But when it comes to actually employing various training methods to develop certain skills, on-the-job training is by far the dominant approach, used twice as often as more-formal and more-structured methods. Lack of resources and funding inhibit such efforts, but so too do organizational resistance to change and inconsistent application of training methods. Fewer than 10% of companies develop training efforts with an eye toward competitors' capabilities; those that do tend to achieve more-positive results.

Source: McKinsey & Co.

For More Information Go To: http://www.cfo.com/article.cfm/14485473/c_14485781?f=magazine_alsoinside
The Mind of a Murderer:The Psychology of Workplace Violence and Boulder Suicidal Killer Robert Mongomery

Robert Montgomery gunned down the two owners of the store he worked in. How could he have justified killing others? How could he have rationalized killing himself? Then the details emerge, in dribbles, via the media, in the following days. The victims' names were Sean and Staci Griffin, who lived in the south Longmont development of Prospect, where yellow ribbons have appeared by the dozens around trees and lamp posts. Montgomery had worked at the store since 2003. The Griffins bought the business in 2007, and recently made some changes to the bonus and commission policies that Montgomery didn't like. He felt like he was getting a raw deal. Even though the store's accountant told reporters he was actually making more under the new system, he thought he was making less. The previous owner who hired Montgomery at Boulder Stove and Flooring told the Camera that he was "rather aggressive" about getting the job, that he "would get hung up on the details of things and not let them go," and that he was "not the most pleasant person." A friend says that while he was normally happy, over the past five months, he was "not smiling. He was not laughing anymore. Things were turning serious."
To Read The Full Article Go To: http://www.boulderweekly.com/article-2649-the-mind-of-a-murderer.html

Find out how to turn our release of the Guide into a great marketing opportunity for your firm.
Background screening firms Click Here
Providers to the background screening industry Click Here
One Site! Many Suppliers!

Looking for the Top Suppliers in the Industry? Need to find a new Supplier?
Visit PreemploymentDirectory.com's VENDOR SHOWCASE which features suppliers to the Background Screening Industry (go to www.PreemploymentDirectory.com, click on 'Click Here' and then scroll down to Vendor Showcase for Background Screening Industry Suppliers)
Platinum Member Directory of Suppliers Now Available
Click Here to Download Your Copy
STOP STRUGGLING WITH WRITING AND PUBLISHING YOUR NEWSLETTER:
We can help you have a high quality e-newsletter to help nurture your relationship with your clients and attract new clients. Our customized newsletter service will take over your newsletter task or create a new one for you. We can manage the creation of your newsletter for you.
We are constantly researching information to use for The Background Buzz and you can put our research to use for you. Using the information rich content from The Background Buzz (minus the ads and competitors information) we will create a custom newsletter for you.
Use your staff's time to do more valuable work and save all the hassle of researching or writing articles, formatting and managing all the other ezine tasks with our customized ezine process.
Contact Barry Nixon at 949-770-5264 or at wbnixon@aol.com for more information.
New Notification Requirements for Privacy Breaches and for Using Foreign Service Providers
Organizations operating in the Alberta private sector will now have to comply with more stringent privacy requirements. The amendments prescribed by Bill 54 clarify and expand organizations' obligations under PIPA relating to collecting, using or disclosing employee information. Specifically, the definition of "personal employee information" is expanded to include information about a former employee as well as information used for managing a post-employment relationship, providing for more consistent standards of handling personal information of employees. Further, organizations now have a positive obligation to destroy or anonymize personal information once the organization no longer requires it for legal or legitimate business purposes. And lastly, the new amendments also increase the ambit of penalties for noncompliance. The "wilful" requirement has been removed such that an organization could commit an offence even if it acted unintentionally. But perhaps the most important amendments to PIPA are the new notification provisions requiring organizations to notify individuals before transferring personal information to a foreign service provider, and to notify the Privacy Commissioner of Alberta if personal information is lost, accessed or disclosed without authorization.
To Read The Full Article Go To: http://www.gowlings.com/Events/Announcements/2010/TOR_0503.en.html
Assistant Privacy Commissioner Says Canada's Privacy Watchdog Needs More Teeth
The message from Elizabeth Denham, Assistant Privacy Commissioner of Canada at a recent meeting focused on gathering input on updating PIPEDA was that the Office of the Privacy Commissioner of Canada may need stronger powers to deal with challenges posed by the likes of Facebook and Google. Currently the Privacy Commissioner's office plays the role of an ombudsman and has powers to investigate, and bring a company to Federal Court. "Given some of the challenges we're facing right now with new technology, we very well may need stronger powers," she says. "We have a study underway at our office with two academics looking at whether stronger enforcement powers are warranted."
For More Information or To Read The Full Article Go To: http://www.itbusiness.ca/it/client/en/home/News.asp?id=57420
Insights on Conducting Legally Compliant Background Checks In Canada
Conducting reference checks is a critical part of the hiring process. However, given the existence of privacy legislation that restricts employers' ability to collect, use, disclose and retain personal information, such checks are not always clear-cut. Private sector employers in British Columbia, Alberta and Québec, as well as federally regulated employers, are subject to personal information protection legislation. Avoid violating human rights legislation — When conducting background checksfor education, previous employment and criminal records,1 employers must comply with human rights legislation in the applicable province. Employers are restricted from basing hiring decisions on prohibited grounds such as race, creed, ethnic origin and criminal record.
Topics covered include:
Beware of differences between the provinces
Consider the timing of any background check
Understand the activities of your background check provider
Keep good notes
Always follow through
Even in jurisdictions without privacy legislation, employers should be cognizant of Canada's growing privacy culture and the expectation of many applicants for employment that prospective employers will safeguard their personal information. All employers are cautioned to incorporate developing privacy laws into their employment practices, including reference checks.
For More Information Or To Read The Full Article Go To:
http://www.mondaq.com/canada/article.asp?articleid=98376&email_access=on&print=1
(Complimentary Registration May Be Required)
Changes to the Criminal Records Check Process May Impact Human Rights Implications of Criminal Records Checks
Employers should note that the definition of "criminal record" varies from province to province, as do its implications. It is important for employers to consult the provincial (or federal) human rights legislation applicable to their business in order to understand their obligations. Generally, however, in order to be legally entitled to discriminate on the basis of an employee or prospective employee's criminal record, a clear criminal record must be a bona fide occupational requirement (BFOR) and meet a three-part test:
a. there must be a rational connection between the BFOR and the performance of the job;
b. the BFOR must have been established with an honest and good faith belief that it is necessary to fulfil a legitimate work-related purpose; and
c. the BFOR must be reasonably necessary to meet that purpose (i.e., it is impossible to accommodate the employee without imposing undue hardship upon the employer).
Accordingly, in order to determine whether it has grounds to deny employment on the basis of a criminal record check, an employer must have sufficient, specific information with respect to whether any such record exists, what the nature of the offences contained on that record are, whether they have been pardoned, and how such a record might impact the employee's ability to perform the job in question.
For More Information Or To Read The Full Article Go To:
http://www.mondaq.com/canada/article.asp?articleid=98550&email_access=on
(May Require Complimentary Registration)
Is the Cost of Labor in China Still Cheaper?
If you were of the opinion that China is a low-cost developing country, for the production of any kind of industrial part, then the graph below from Hewitt should disavow you of this view. China is simply no longer cheap.
This has huge implications for HR, who will have to stop operating the unskilled-bums-on-seats hiring and retention model, and start to look for people with the capability to operate and improve automated, lean production systems. Some will make the transition, and some will not.
Source: http://english.talent-software.com/?p=3454

Private Eye On False Resumé
Flooded with resumés making false claims about salary and qualifications, several city firms are hiring private detectives to checkthe background of recruits, from driver to chairman. Human resource managers agree that resumés making false claims are not new but their number has multiplied since the downturn last year leaving companies with little option, but to hire security experts.
"The number of background checks has gone up 40 to 60 per cent in the past year," said Satnam Ahluwalia, the CEO of Kolkata Response Group, a private security agency in the city. According to the agencies that specialise in running such checks, about 25 per cent of the resumés that are submitted to companies contain false claims.
To Read The Full Article Go To: http://www.telegraphindia.com/1100506/jsp/calcutta/story_12415664.jsp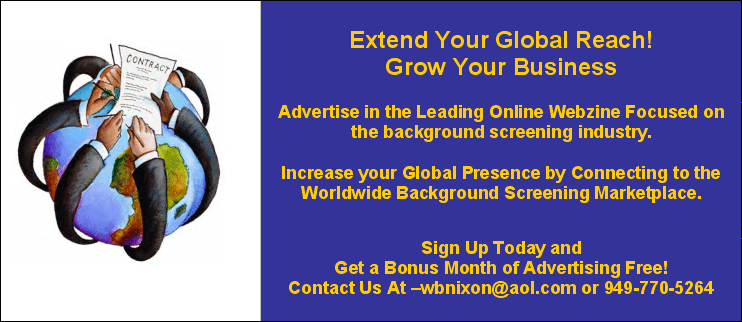 Mexican Congress Passes Sweeping Data-Protection Bill
People convicted of selling confidential personal data collected by the government will face up to five years in prison under a bill passed this week by Mexico's Congress. The measure also mandates fines as high as $2.9 million for the improper use of sensitive data." Mexico's Federal Institute for Access to Public Information, or IFAI, said in a statement that the new law gives citizens assurance their information will be used only for legitimate purposes. The new law adds the phrase "data protection" to IFAI's name and amends Mexico's freedom of information act to give citizens the right to view their government files and have erroneous items removed. EFE
For More Information Or To Read The Full Article Go To: http://laht.com/article.asp?CategoryId=14091&ArticleId=356141
Mexico passes Federal Data Protection Act
After nine years of intense efforts the Senate unanimously approved the Federal Data Protection Act fulfilling the duty of the Mexican Constitution and international standards on the matter. The Federal Act on Transparency and Access to Government Public Information (FOIA) recognises the right to personal data protection and establishes the rights and principles of protection that must be observed by all government entities. With the FOIA Act the current Federal Institute of Access to Public Information changes its name to Federal Institute of Access to Information and Data Protection. Accordingly, the institute´s jurisdiction will expand to include the protection of personal information of private individuals and entities as well as the access to information right. In addition, the institute becomes the guarantee institution for data protection in both public and private spheres at the federal level in Mexico. The new act also protects third generation rights and takes into account the development of the international recognized principles of data protection.
To Read The Full Article Go To: https://www.privacyassociation.org/publications/2010_04_30_mexico_passes_federal_data_protection_act/
CCMA Checking As A Screening Tool
It is a well known adage that "a persons past behaviour is a good predictor of their future behaviour". This adage is supported by EMPS Annual Screening statistics from 2009 that revealed - 40% of job applicants with criminal convictions were convicted of 2 or more crimes. The latest screening tool that can now be used by employers on their potential job candidates as a means of looking at past employment behaviour is a CCMA check which will establish whether a candidate has any CCMA Awards or Labour Court Judgments against or in favour of themselves. A further CCMA transcript check can then be done to get the full CCMA transcript report.
So, how can checking an applicants CCMA records add any value to the screening process?
For More Information Or To Read The Full Article Go To: www.emps.co.za
Legislature Amends Data Protection Act; All Private and Public Entities Must Now Comply
Taiwan's Legislative Yuan passed a bill to amend the Computer-processed Personal Data Protection Act, which will be renamed as the Personal Data Protection Act (the "Act"). This is the first major overhaul of the legislation since it entered into force in 1994. The major amendments include the following:
1. All public and private entities will be subject to the Act, (until now, the law only applied to selected sectors) and the licenseand registration requirements will be abolished "Personal data" will include passport number, medical history, genetic records, sex life, health check results, criminal records, contact information and any other information that may directly or indirectly identify a person. Unless otherwise specified in the Act, no person may collect, process or use the medical history, genetic records, sex life, health check results and criminal records of another. Even if it is permitted by the Act, the collection,processing or use must comply with the regulations set by the central competent authorities and the Ministry of Justice. Whenever an entity collects personal data, it must inform the data subject about (i) its identity; (ii) the purpose of collection; (iii) how the collected personal data will be used; (iv) his/her rights; and (v) the consequences of his/her failure to provide the required personal data. If personal data is not provided by the data subject, an entity must inform the data subject of the source of the data before processing or using the data, in addition to the five types of information described above. In principle, prior consent from the data subject is required for the use of his/her personal data. This requirement is exempted if the use relates to public interests or the information is available from the public domain and the interest to be protected is more important than the privacy of the data subject.
For Information or To Read The Full Article Go To:
http://www.etaiwannews.com/etn/news_content.php?id=1238994&
lang=eng_news

Data Protection: ICO Finally Granted New Powers To Fine
The Information Commissioner's Office (ICO) in charge of UK data protection and privacy has long suffered as an enforcement agency in terms of its historic inability to impose a meaningful penalty on those in breach of the Data Protection Act (DPA). Data protection laws have been in force in the UK since 1988, but it is only now that the ICO has been given a sensible sanction. With effect from 6 April 2010, the ICO will have the power to impose financial penalties of up to £500,000 on organisations that seriously and deliberately or recklessly contravene the DPA. This power is generally perceived to be long overdue.
For More Information Or To Read The Full Article Click Here
The International Screener Spotlight
We are adding 'The International Screener Spotlight' column. In this column we will feature one International Screening firms' owner or executive. The column will focuse on helping clients and potential clients get to know the interviewee on a more personal level, beyond just your products and services, because ultimately people buy from people they know and can relate too. This is a value added service for our Platinum Members. Click here for more information about Platinum Membership.

The program is also available to other international screening firms that are not members of our Platinum Club.

To learn how you can participate in The International Screener Spotlight Column program please click here for more information.
JOB BOARD DEDICATED TO THE BACKGROUND SCREENING INDUSTRY
Background Screening Jobs

Visit the Job Board for the Employment and Tenant Screening Industry. Here you will find resumes of people with industry experience and employers seeking applicants with experience in Employment and Tenant Screening and related businesses.
For More Information Go To: http://www.backgroundscreeningjobs.com/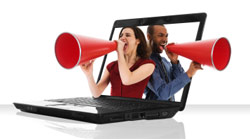 PreemploymentDirectory.com's 2010 Marketing Portfolios for:
We Specialize in Promoting the Products and Services of businesses in the Background Screening Industry.
Click on the specific Marketing Portfolio above that fits your business.
ADVERTISERS IN THIS EDITION

UPCOMING CONFERENCES & EVENTS

2010 Events (Click Here to View full list of 2010 Events) – Updated Monthly
SHRM State Conferences, visit http://www.shrm.org/Conferences/StateAffilliateConferences/Pages/default.aspx
Drug and Alcohol Testing Industry Association (DATIA), 2010 Training Course Schedule, visit
http://datia.org
CUPA-HR Conferences: http://www.cupahr.org/newsroom/news_template.asp?id=5445
World Federation for Personnel Management, Events, http://www.wfpma.com/events/byregion.asp