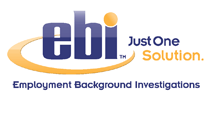 GREAT SERVICE AND ONE-STOP SHOPPING FOR ALL YOUR BACKGROUND SCREENING AND OCCUPATIONAL HEALTHCARE REQUIREMENTS.

Tailoring Our Services To Your Needs.
From the moment you decide to work with us, our team will join with yours to define the essentials of your situation; then we'll craft a set of custom-made solutions to meet your objectives. It's as simple as that.
We'll apply our years of expertise to ensure an elegant design functionality as well as compliance with all legal guidelines, local and federal. Our aim? A seamless, user-friendly implementation. Complete program management, performed to your complete satisfaction.
You get the world's best services from EBI because we offer market-leading efficiencies of scale. That's the benefit in working with a world leader. We're the company that pays attention to your needs. Because, to stay on top, we can't afford not to.
Your Systems, Our Results. Perfectly Integrated. Totally Secure.
Every hour of every day you can order, track and view reports real-time directly from our secured website – you can even opt for secured e-mail notifications. Our enterprise technology solutions work for, not against, you. No more paper mess. No more wasted time and effort.
XML Means Perfect Results.
Through the power of XML, we integrate flawlessly with your HRIS or ATS, so it's a snap to blend our suite of services into your current workflow. EBI's XML-LinX™ eliminates duplications, reduces data entry errors and improves turnaround so you can make the offer before your competition. With dynamic management reporting, our systems allow you to work faster, not harder. And we can add and tailor features as your needs change.
Comprehensive, Speedy, ONE-STOP Solutions.
The whole point of EBI's one-stop program is to shift responsibility from your team to ours. So, as you might anticipate, we'll take care of everything from random program management to consolidated billing. With EBI on top of things, your program will run like clockwork. Around the clock.
From knowledgeable laboratory selection and collection site identification to physical evaluation programs, the convenience of consolidated billing along with a full suite of domestic and international background screening services, at EBI we provide precisely the services you need . . . customized to perform brilliantly in your workplace.
Multiple background screening vendors? That's a thing of the past when you work with EBI! Are you dealing with multiple invoices from multiple laboratories, vendors, clinics? Are your background screening and drug testing reporting and management programs on two different platforms or calling two different phone numbers for customer service? Those headache's are gone, too. We offer the background investigative industry's finest solutions in the development and maintenance of a drug free workplace. Regardless of level – national, regional, local – we can provide enterprise management for your drug testing program. That's what we mean by comprehensive. With results provided within 24 hours. Speedy.
Call EBI today, 800.324.7700 or visit us at www.ebiinc.com.

Employment Background Investigations, Inc. (EBI)
P.O. Box 629
Owings Mills, MD 21117
Toll Free: (800) 324-7700
Ph: (410) 486-0730
Fax: (410) 486-0731