Browse by Company Alphabetically:
A
B
C
D
E
F
G
H
I
J
K
L
M
N
O
P
Q
R
S
T
U
V
W
X
Y
Z
Employment Screening Companies "T"



TruDiligence
3190 S. Wadsworth Blvd, Suite 260
Lakewood, CO 80227
Toll Free: (800) 580-0474
Fax: (303) 692-8511
www.trudiligence.com
info@trudiligence.com



It never has been our goal to be thought of as a "data provider." We chose the name TruDiligence for a reason. Our mission has always been to be a comprehensive applicant screening company that provides:

nearly two decades experience;
unsurpassed diligence and client education;
a complete arsenal of screening tools;
assistance and consulting on regulatory compliance;
ongoing technological innovation to streamline the applicant screening process;
all backed by an unparalleled customer service experience.
---


TazWorks
1192 East Draper Pkwy
#401 Draper, UT 84020
Voice: (801) 572-7401
Fax: (866) 203-9020
http://www.tazworks.net

InstaScreen™ background screening software is so easy to use that your clients will actually enjoy placing orders!

If your current applicant screening system is so cumbersome it discourages end-users from using it, you owe it to yourself to choose a system your customers will actually use. Imagine receiving more orders and saving your processors valuable time by getting your clients to enter the orders for you.

Simple and powerful, InstaScreen™ is intuitive, easy to use, and flexible to accommodate your clients specialized needs. Read more >


---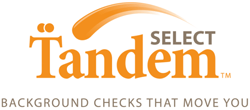 Tandem Select
113 South College Avenue
Fort Collins, Colorado, 80525, USA
Telephone Number: 970-491-9655
Fax Number: 800-355-7941
Web Site Address: www.tandemselect.com
EMail Address: jthurber@tandemselect.com


| | |
| --- | --- |
| | What if you could find a background screening company that is fast, accurate and friendly? What if that company understands how important it is for you to hire people quickly? What if those background checks came to you how you wanted them and when you needed them? The Tandem team believes we are in the people business: your people + our people make for the very best business. We help you build strong teams by helping you select the right people for your business. We care what happens after the background check is delivered and we care about making sure we provide you with fast, accurate and even thoughtful employment screening services. Who you do business with helps define who you are; we'd like to think we belong as part of your business solution. Read More > |
---



TeamScreen Solutions
Phone: (866) 367-8555
http://www.teamscreen.biz

Clean up with MyScreen – we deliver unsurpassed value and flexibility for any size company for both pre-employment and tenant screening. MyScreen's robust features and unparalleled reliability helps you compete more effectively for new business, improve client service and vendor management, operate more efficiently and lower your costs for pre-employment and tenant screening! Do your research… Compare all the systems… We think you'll choose MyScreen. After all, it's only your company's future at stake!

Call 1-866-367-8555 for your Web demo today and don't forget to ask about our System Conversion Special - It Can Save You Thousands!
---



TalentWise
P.O. Box 1048
Bothell, WA 98041
877-893-1665
sales@talentwise.com
http://linkd.in/TWdotcom
http://on.fb.me/TWcom


| | |
| --- | --- |
| | TalentWise is the leading provider of hiring process management (HPM) solutions for over 3,000 companies throughout North America. Our fully-compliant, highly-configurable products include: background checks, paperless drug screening, skills/behavioral assessments, new hire forms, and more. TalentWise is consistently recognized by industry publications for our innovative technology and award-winning customer service. |
---



Tracers
15470 Flight Path Drive
Brooksville, Florida 34604-6823
877 592-8511
www.tracersinfo.com


Since 1996, Tracers Information Specialists, Inc. has been providing companies with the data and intelligence needed to conduct business in the information age. By combining technology with innovation, we deliver access to billions of public records and proprietary data sources to
qualified organizations across multiple industries. Our robust database and powerful search technology make us the premier solution provider in several markets, including: collections, law enforcement, news media, private investigation, insurance, corporate, legal, banking and finance to name a few.

Tracers was built on the principle of providing excellent service and outstanding value to our customers. We pride ourselves in the personal attention we give each of our clients and are committed to being their trusted information partner.
---



Trak-1 Technology
2705 E. 21 st Street
Tulsa, OK 74114
Phone: 800-600-8999
www.trak-1.com


| | |
| --- | --- |
| | Trak-1 Technology delivers online, at-your-fingertip solutions for your business needs. Whether you are looking for professional background screening, people management and mobilization, web-based training or assessment tools, we stand ready to produce solutions that deliver information designed to protect and transform your people and your organization. To meet your personal Trak-1 assistant, visit us at www.trak-1.com or call us at 1.800.600.8999. |
---
Tabb Inc.
555 E. Main St.
Chester, NJ 07930
Toll Free: (800) 887-TABB
TACT India Pvt. Ltd.
F-1/6, Hauz Khas Enclave
New Delhi-110016.
INDIA
Voice 1+ 91 - 11 - 41653415
FAX 1+ 91 - 11 - 41651067
Taitle Dingxin Screening Co., Ltd.
16th Fl., Tower A, Full Link Plaza, Chaoyang Dist.
Beijing, China
PRC 100020
08.6010.6588.5656
Fax-08.6010.6588.1759
Talon Executive Services, Inc
Orange County, CA
P. O. Box 8509
Fountain Valley, CA 92728
Voice: (714) 434-7476
Fax: (714) 434-7350

Talon Investigation LTD
Scott Hielsberg
P.O. Box 600058
Saint Paul, MN 55106
Voice 651-774-6977
Fax 651-771-1576

TAOnline.com
Transition Assistance Online
3384 Peachtree Road, NE
Suite 700
Atlanta, GA 30326
Ph: (888) 213-8587
Fax: (404) 239-5690
TASK FORCE CONSULTING & SECURITY
A division of Martin Investigative Services, a Professional Corporation
2400 E. Katella Ave.
Suite 675
Anaheim, CA
92806-5961
Phone: (800) 588-507
Fax: (714) 939-1020
Tazworks
1192 East Draper Parkway, #401
Draper, UT 84020
Ph: (801) 478-3400
Fax: (801) 478-3401
TClogiQ Inc
629 N. Weber Ste. 7C
Colorado Springs, CO 80903
719-761-3688

TeamRewards
5301 North Ironwood Rd.
Milwaukee, WI 53217
1-800-270-9740
Tejas Detective Agency
14/147, Sector-3, Rohini, New Delhi 110 085, India.
+91-11-65175007
Teledata Communication Inc.
100 Engineers Road, Suite 200
Hauppauge, NY 11788
Ph: (631) 231-6700
TeleScreen, Inc.
P.O. Box 831
Athens, AL 35612
Ph: (800) 654-7898
Fax: (205) 771-7568
Tenant Data Services Inc.
P.O. Box 5404
Lincoln, NB 68505
Ph: (800) 228-1837
Fax: (402) 933-9928
Tenstar Corporation
315 South College Rd., Suite 251
Lafayette, LA 70503
Ph: (877) 443-CORP
Toll Free: (800) 960-2214
Fax: (337) 235-5318
Terence Keen & Associates
69 Southampton Row (LLA)
London, WC1B 4ET,
England
Phone.....011 44 [0] 788 425 0125
Fax.........011 44 [0] 207 583 1531
Teter Security Associates, Inc.
PIO Box 8212
Saginaw, MI 48608
Phone: 989-781-7100
Fax: 989-781-7103
Thorougbred Racing Protective Bureau (Specialty)
420 Fair Hill Drive, Suite 2
Elkton, MD 21921
Ph: (410) 398-2261
Fax: (410) 398-1499
Ticarta Background Services
P.O. Box 161
Hampstead, MD 21074
Phone: 410-302-9763
Fax: 410-871-9385
Times Detectives Agency
2251, Raja Park, Rani Bagh,
New Delhi - 110 034, (India)
+91 11 65175007, +91 11 27155168
Trace Investigations
P.O. Box 2603
Bloomington, IN 47402
Phone: 812.334.8857
Fax: 812.334.2274
Tracers Information Specialists, Inc.
4538 Commercial Way
Spring Hill, FL 34606
Voice: 877-723-2689
TrackAndScreen.com
A division of Best Available Background Checks, Inc.
8805 Route 415
Campbell, NY 14821
Phone 888-845-5219
Fax 607-936-2300
TransUnion Vantage Data
800-568-5665
Triad Consultants LTD.
314B Caledonia Street
Sausalito, CA 94965
Phone: 415.332.4400
TriCor Employment Screening
110 Blaze Industrial Pkwy
Suite C
Cleveland, OH 44017
Phone: (800) 818-5116
Fax: 1(800) 818-5212
Tri-Star Employment Services
2331 Belleair Road
Clearwater, FL 33764
727-532-3005
TR Information Services
P.O. Box 780254
Orlando, FL 32878-0254
Ph: (407) 823-9211
Fax: (407) 306-0277
TruDiligence, LLC
3190 South Wadsworth Blvd., Suite 340
Lakewood, CO 80227
Ph: (303) 692-8511
Fax: (303) 692-8511
Toll Free: (800) 580-0474
Truescreen, Inc.
1105 Industrial Hwy.
South Hampton, PA 18966
888-276-8518
Trustar Solutions
10029 E. 126th Street
Suite D
Fishers, IN 46038
Toll-Free: (888) 547-4472
Local: (317) 813-0500
Fax: (317) 813-0501
TrustPoint Inc.
P.O. Box 2020
Santa Maria, CA 93457
Ph: (805) 346-6250
Fax: (805) 346-6483
Trust Screening Systems
5675 Woodrow Bean Ste. 5
El Paso, TX 79924
Phone 915.225.2283
Fax 915.975.8181
TSD Security Consulting Group, Inc.
60 State Street, Suite 700
Boston, MA 02109
Tel. 617-973-5768/Fax: 781-631-1347


Browse by Company Alphabetically:

A B C D E F G H I J K L M N O P Q R S T U V W X Y Z
Click Here to Upgrade to an Enhanced Listing